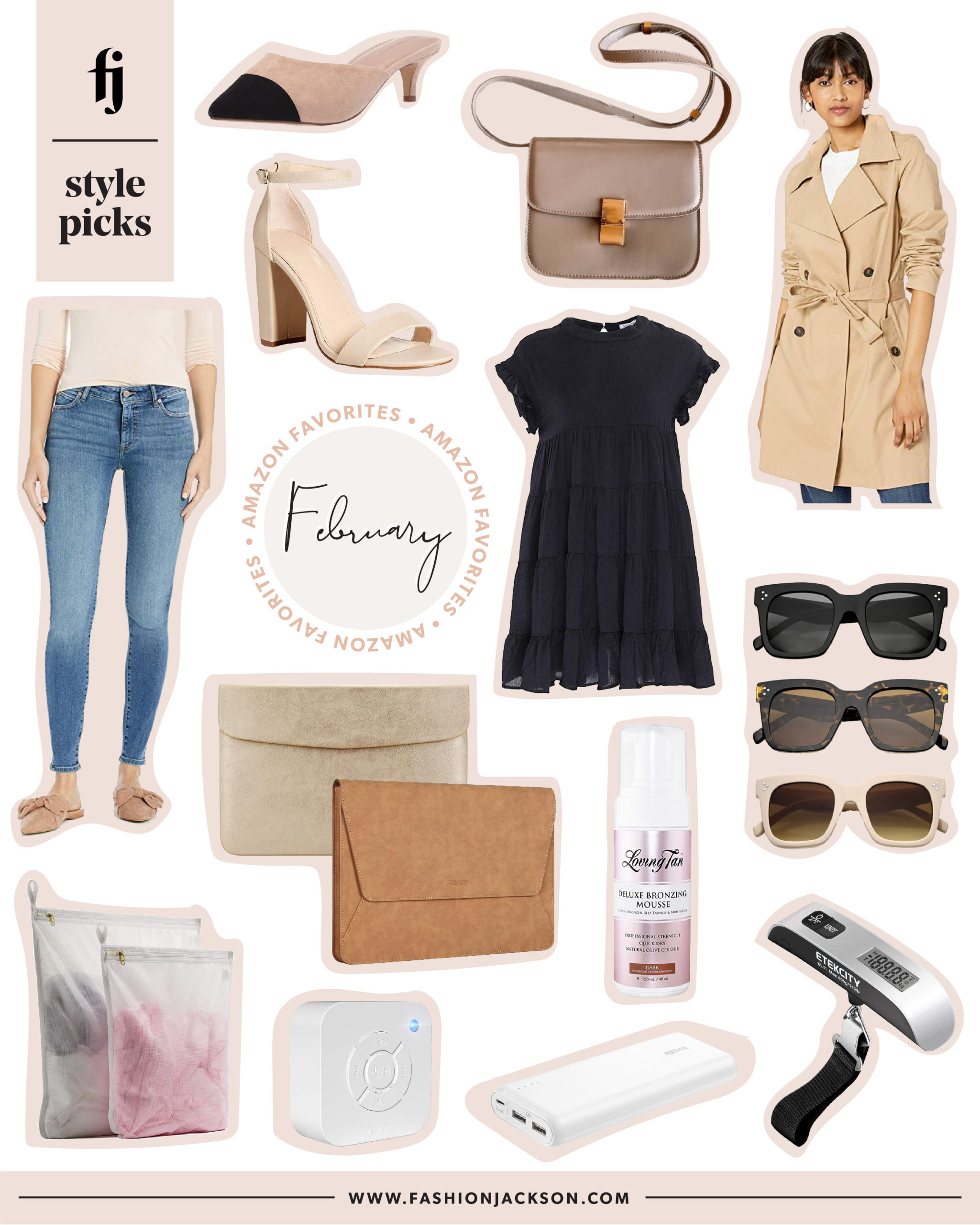 Today I'm rounding up everything I bought (and loved) on Amazon for the month of February. This amazon haul features a lot of items that are available on prime, too! Some of my favorites are from The Drop by Amazon, my new favorite self-tanner, and my luggage scale. Keep reading below to see everything I bought on Amazon this month! Let me know some of your favorite Amazon purchases.
Trench Coat: This trench is a Staple from The Drop and is SO good! It's under $100 and such great quality, I'll definitely be wearing this all spring
Skinny Jeans: Ok these jeans are under $50 and so comfortable. They are high-rise, have stretch and are super flattering! Definitely going to get a few more washes.
Heeled Sandals: I live in this style of sandal during the spring/summer months. They are great for day to night, comfortable and look good with anything.
Black Ruffle Dress: I got this dress last year in white and loved it so much I had to get the black version. It's one of my favorite dresses in my closet right now.
Self Tanner: This is THE BEST self tanner I've ever used (and application mitt). It gives a natural looking tan, it lasts longer than most, and smells so good - not like self tanner at all.
Crossbody Bag: I was on the hunt for a neutral budget friendly handbag to share with you guys and fell in love with this one! It's designer inspired and great quality!
Oversized Sunglasses: I love my designer sunglasses, but when I travel I'm always nervous taking them with me, fearful that I'll lose a pair. These sunglasses are all under $20, no no big deal if I lose a pair. They are light weight and comfortable to wear hours at a time.
Two-Tone Mules: Another amazon Amazon Drop find. As soon as I saw these I added them to my cart. They are SO pretty. I've been wearing them with jeans, but they would also be great for the office.
Portable Charger: I never leave home without my Anker. This charges my phone 7x as fast as a regular charger. I use the short cord when I'm on the go, that way I'm not carrying a huge cord with me.
Laptop Sleeves (Gold & Brown): I have both laptop sleeves and use this one daily (while working from coffee shops), and this one while traveling. Its an easy way to keep my laptop protected from all the other items in my tote bag.
Laundry Bags: These are essential. I use them to keep the dirty clothes separate from my clean clothes while traveling and then I can just throw everything straight into the wash! Just make sure you don't mix the colors.
Luggage Scale: If you're like me and constantly overpacking, this luggage scale is a MUST. I can check everything before arriving to the airport and make sure I'm within the weight limit.
Travel Sound Machine: I recently bought this mini sound machine to take with me when traveling. I was actually surprised at how well it worked, especially since its such a small device. There are tons of different sounds to choose from. We use one at home so its nice to have a small one I can bring with me!