Happy Friday! I hope everyone is looking forward to the weekend ahead! I know we will be taking Scout back to the beach as he had such a great time last weekend (it was his first visit). In case you missed it on Instagram stories, make sure to check back because I'll definitely be documenting it again. We plan to spend Father's Day with the whole family for brunch and then the beach later that afternoon, so I'm looking forward to a relaxing weekend! Will and I are still trying all the new restaurants everyone recommended (thank you!), and look forward to trying another new one tonight!
Today I wanted to take the time to answer my top asked questions either via email or DM on Instagram. I definitely try to answer as many as I can, but I thought this would be a good way to keep them all in one place for the future. Let me know if you have any other questions and I'll try to answer as soon as possible!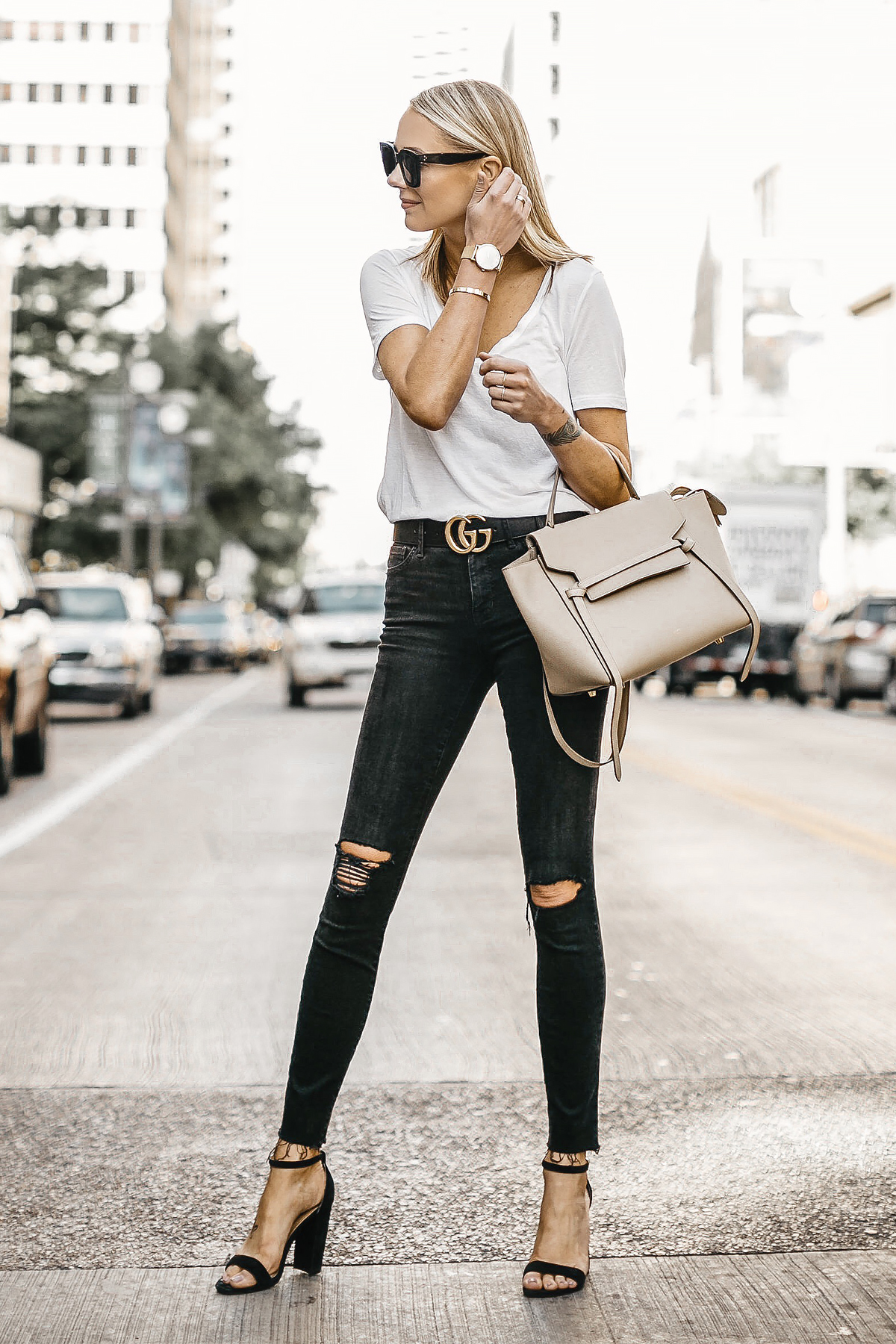 What style are your Celine sunglasses?
I have two pairs of Celine sunglasses that were both bought in store at Nordstrom. The black pair is style CL 41076/S and the aviators are style CL 41391/S. I have a friend who bought the aviators at a discounted price on Overstock and they were authentic. I have also purchased designer items on eBay, which sells a lot of sunglasses. Just make sure to filter to North America, new with tags, and returns accepted for the best options.
How tall are you and what size do you wear?
I'm 5'10 and wear different sizes depending on the brand. I'm typically an XS-S in tops, 2-4 in dresses, 25-26 in denim, and 8.5 or 39 in shoes.
Who does your hair?
I see two different people for cut and color. I get my hair cut every 8-12 weeks from Clint at Salon Benjamin. He normally travels to Dallas to visit his long time clients, so that's when I would see him. But now that I'm living in San Diego, I will visit him at his salon in LA. I know it seems far to go just for a hair cut, but he is the best, plus it gives me an excuse to have a day in LA. He also has his own site for hair inspiration, news, and interviews called Lost Hairdressers - check it out!
For color I go to Adriana Martinez (owner) of Revel Workshop in the Design District in Dallas. I have been going to her for about 5 years and think she does the best at blonde hair! We typically alternate sessions with highlights and Balayage. She is one of the coolest people I know, has an adorable golden doodle, Paw Rudd, and just started a vegan company, LuckyMouth, with her husband.
Will you do a hair tutorial on your curls?
Read this post on how I curl my hair using the T3 wand.
What size/color is your Celine bag?
I have the Celine Mini Belt bag in light taupe calfskin. Out of all my designer bags, it is hands down my favorite and worth the investment. I have had it for close to two years and use it 90% of the time, and it's still in great condition. It's the perfect size to hold a little more than my usual smaller bags. I highly recommend this bag.
What size did you get in your Gucci belt?
To be honest, I have no idea. I purchased it when it was nearly impossible to find anywhere. My exact size was not available, nor would be for months. Instead of waiting, I purchased one that was too big at the Gucci store and had them add 2 additional holes in store (that's the most they will allow). I then took it to my local leather goods repair shop and had them cut down a few inches. The only issue with this was they had to cut where the logo buckle is (not the end of the belt with the curve), so the Gucci stamp with size that is on the underside of the belt is gone. I don't care about this since I plan to keep it forever and know that it is authentic.
What kind of dog do you have?
Scout is a malti-poo (Maltese Poodle mix). He will be 8 at the end of July, but still has the energy of a puppy. He is literally the sweetest dog you will ever meet. He has the best personality and loves anyone that will show him attention. His favorite things to do are play with his ball, sleep, and now the beach!
What do you do for workouts?
I have a personal trainer I meet with 3 times a week and we focus on strength training for long and lean muscles. I was a member of Equinox while in Dallas, and LOVED it, however the Equinox in San Diego is too far of a drive, so I joined Fit Athletic Club. I'm loving it there too! I honestly don't like high intensity cardio, so you won't see me running on a treadmill, elliptical or spin class. I much rather prefer getting my heart rate up with high intensity exercises designed by my trainer. Its what works best for me! This post also shares my favorite workout gear.