Thank the Lord—it's September! Don't get me wrong, I loved August. It was a wonderful month. However, the heat is really getting to me and knowing that we're that much closer to the fall season makes me unreasonably happy. I am so excited to go shopping for fall clothes but before I start sharing what I have my eye on this season, let's take a second to see what you guys were loving the most last month!
Check out July Top 10 and best purchases of 2020!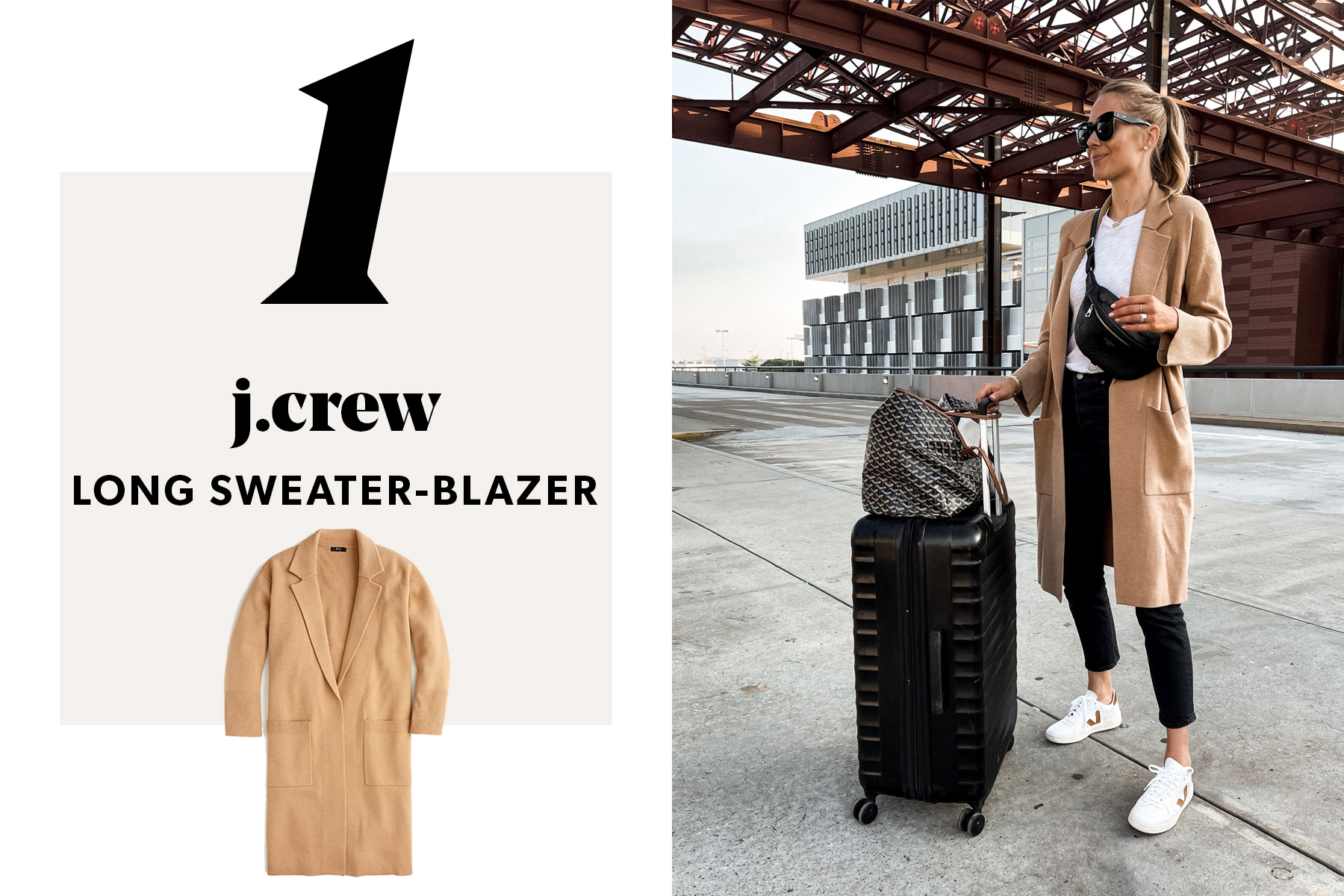 Long Sweater Blazer: AKA The Coatigan. This has been a fall/winter staple of mine since last year, and it makes me so happy you guys are buying it up already this year! You will wear this constantly when the temperature drops, trust me. It completes an outfit and is a perfect layering piece for when a full coat is too heavy. Fits slightly oversized; wearing an XS.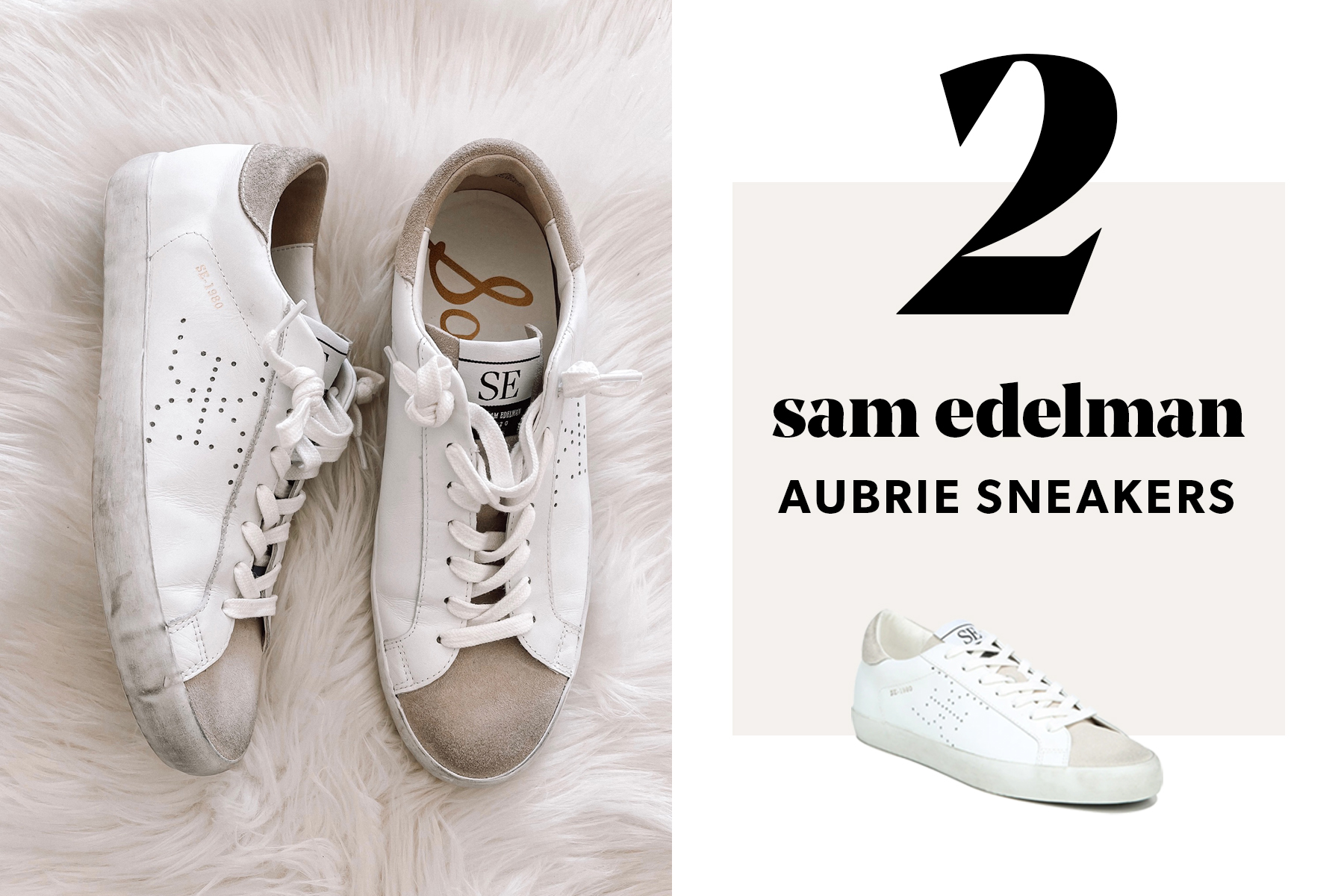 Aubrie Sneakers: These are the best Golden Goose lookalikes I've found and so comfortable. They are the perfect simple white sneaker for now and throughout fall/winter! Definitely grab a pair while you can—they're a staple in my shoe lineup now. FYI I always go down half a size in Sam Edelman.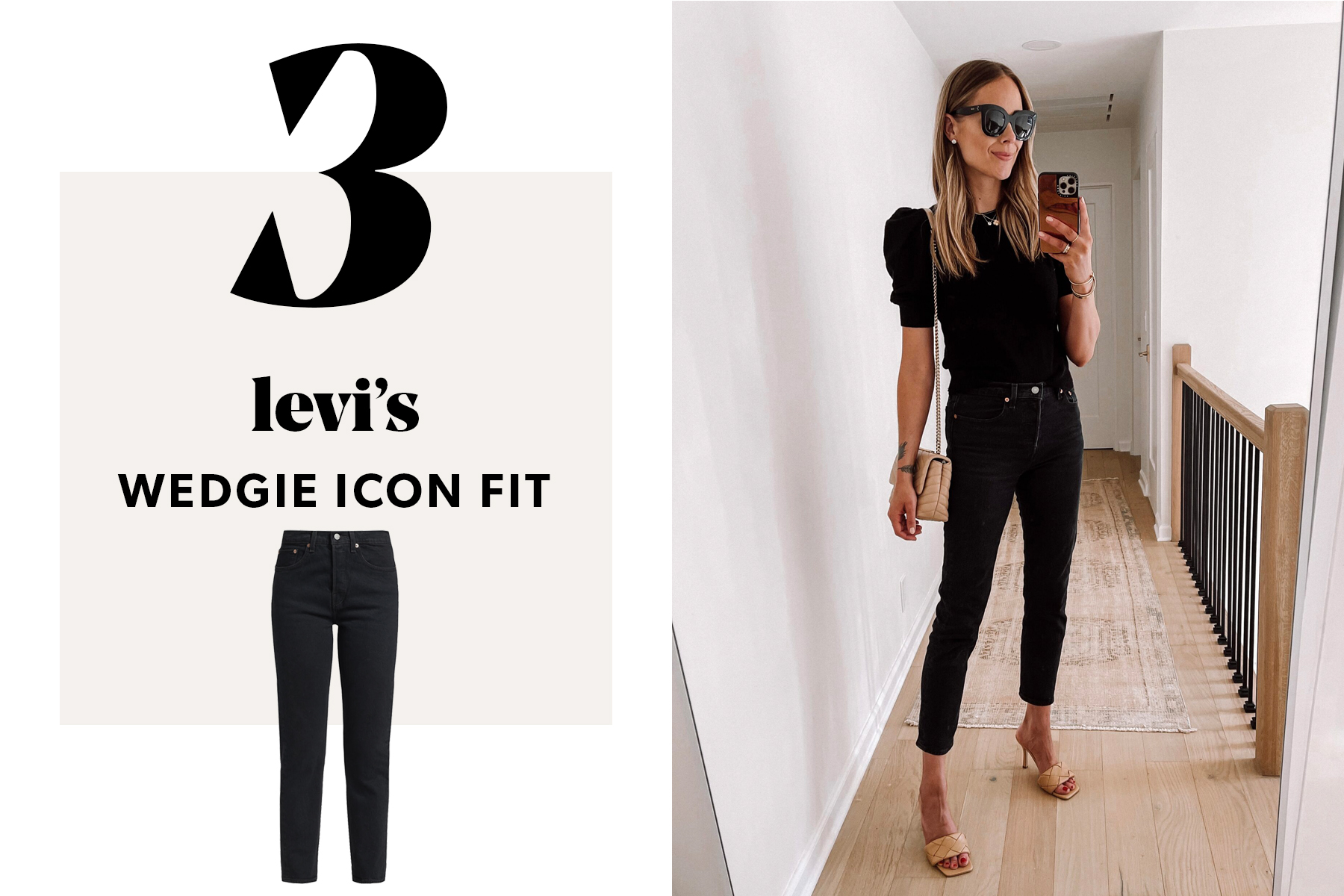 Levi's Wedgie Icon Fit: 'Tis the season to bust out your best black jeans! If you don't have a pair you love, you will love them. The Levi's Wedgie Icon Fit Jeans are my go-to black denim and so flattering. They fit true to size for me, but be sure to take a peek at the size guide! I did size up in these jeans, this fit runs small.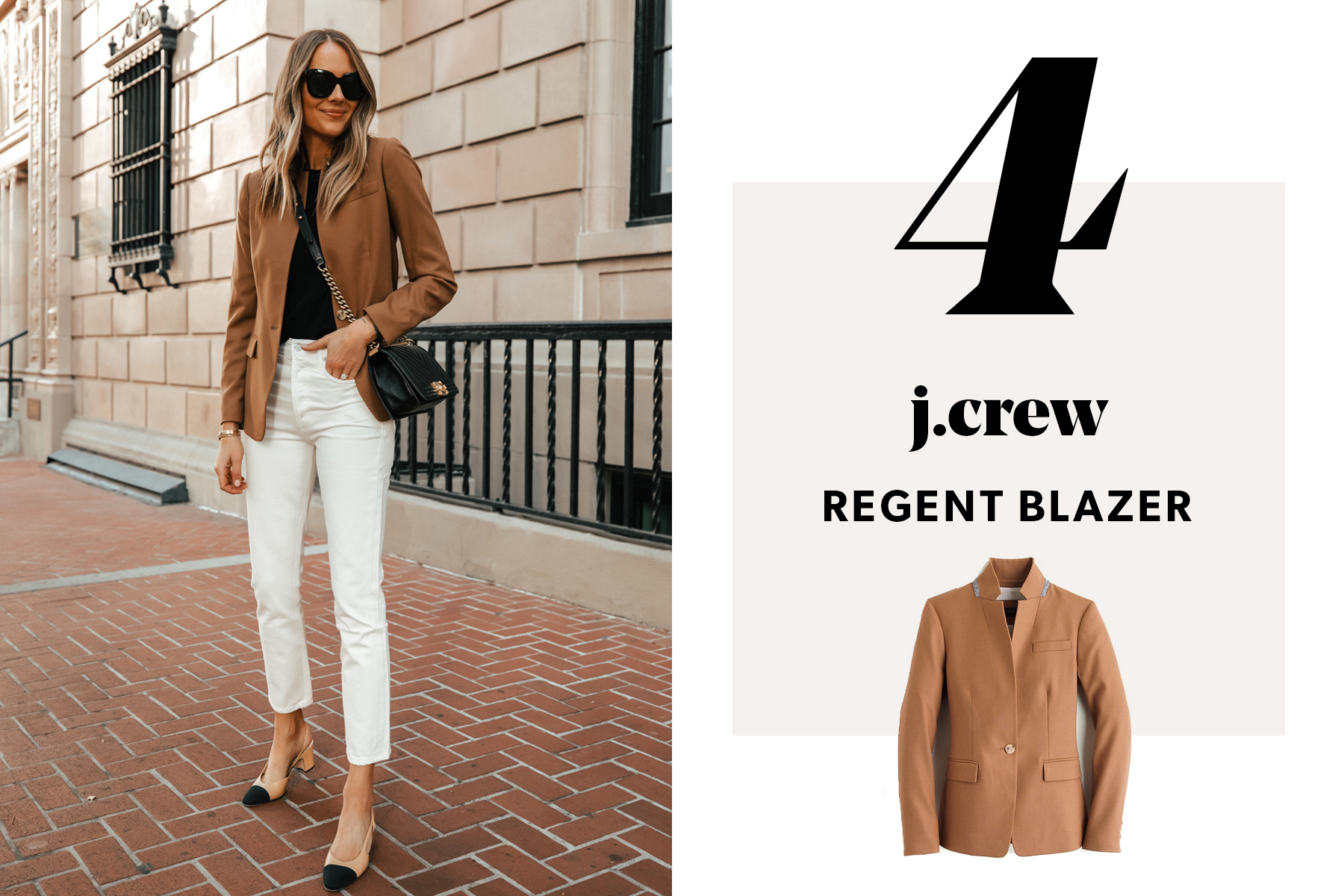 Regent Blazer: OMG Blazer season. I am way too excited writing this post, you guys! The Regent Blazer from J.Crew is the most traditional, classic, perfect blazer out there. It's been a staple of theirs for years because nothing beats it. The camel color is so rich and caramely and perfect with a white tee, pair of jeans, and booties or sneakers! I wear size 2 (fits TTS).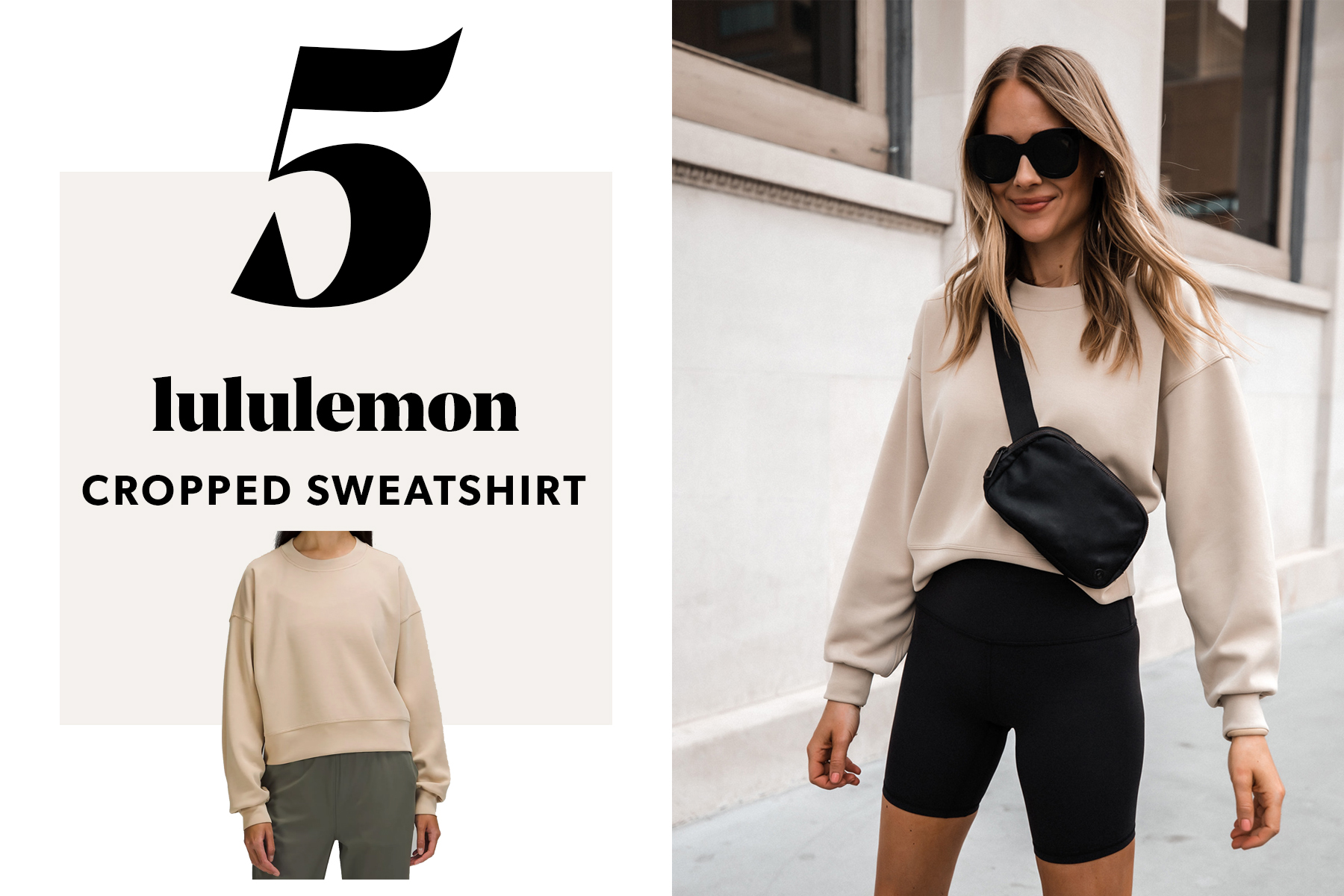 lululemon Sweatshirt: You can never have too many easy throw-on sweatshirts. This cropped one from lululemon has been a favorite of mine the last few months. I wear it around the house or even to run errands if I know the majority of the errands will be indoors! It comes in so many colors, too, so you can pick one that speaks to your personal style best. FYI I wear this at least once a week and have zero issues with water spots like some reviews mention. Fits TTS wearing size 4.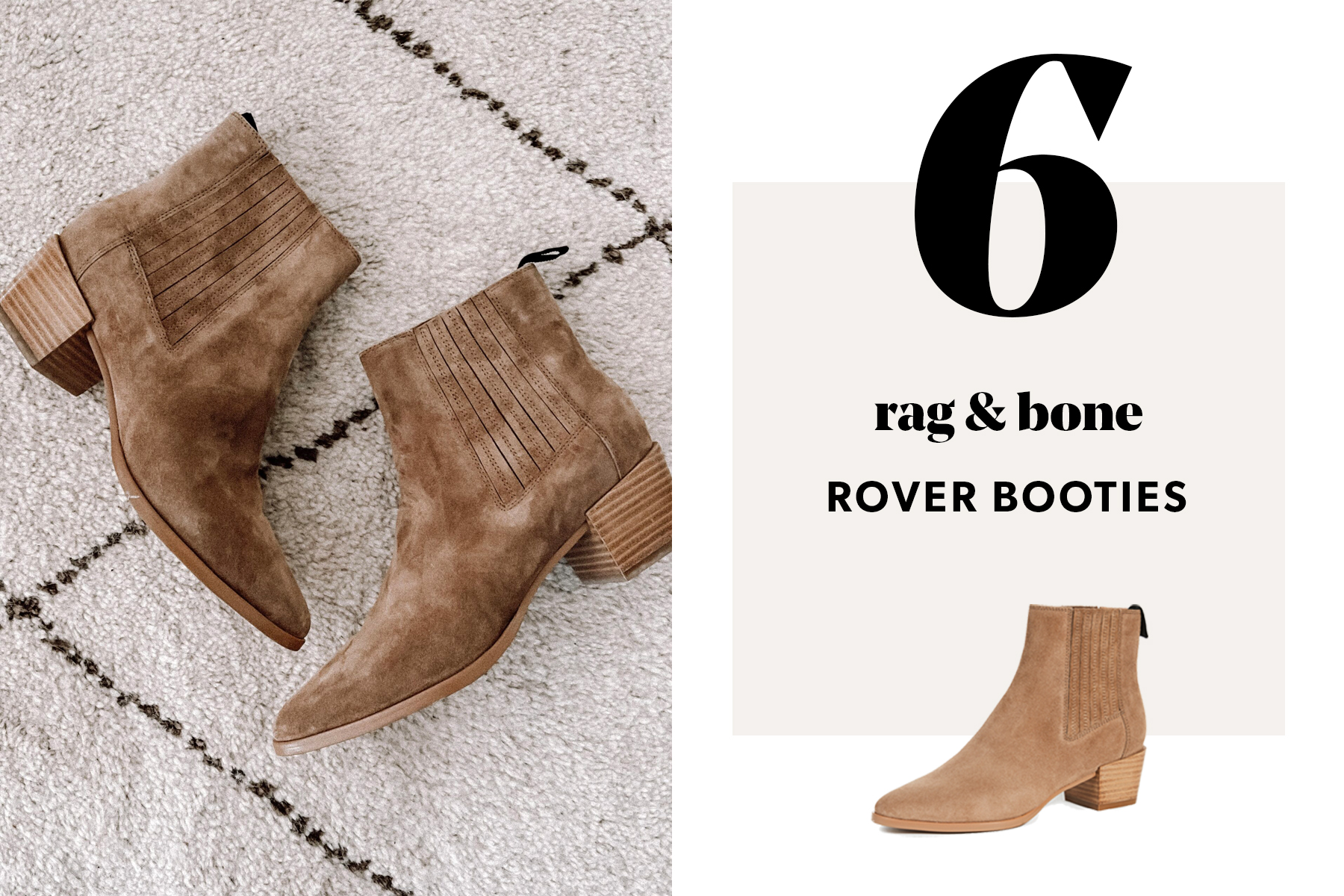 Brown Suede Booties: If you were to think of the quintessential bootie, this would probably pop into your head. They're the perfect camel suede booties for fall. Perfect to wear to brunch, dinner, or just to crunch leaves under! I took my true designer size in these, so if you're unsure, I would recommend going up 1/2 a size.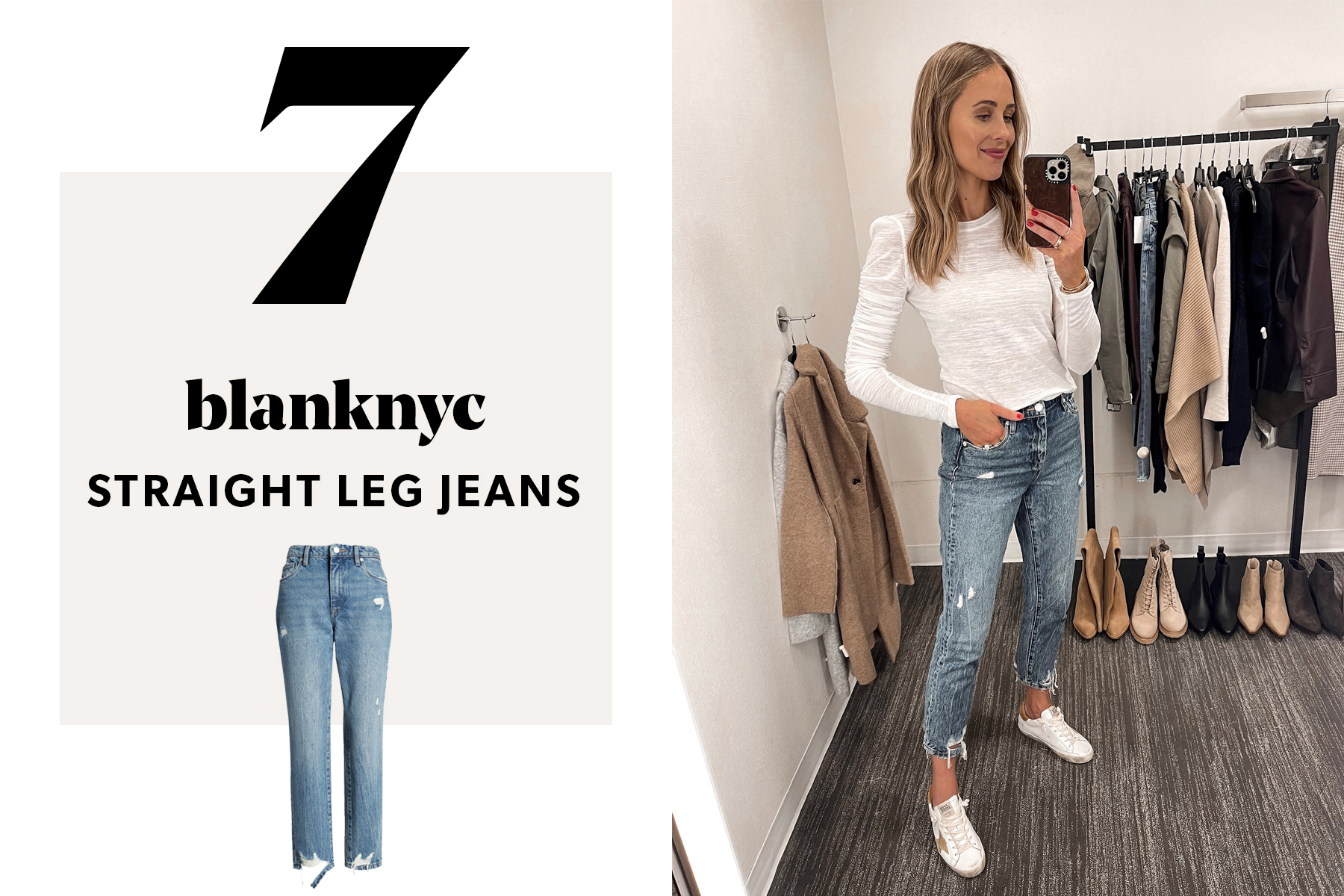 Ripped Straight Leg Jeans: Straight leg. Undone hem. Classic blue. These BLANKNYC jeans were a best seller in August for good reason. They're a great pair of blue jeans that you can pair with just about everything! I sized up in these jeans, they don't have stretch.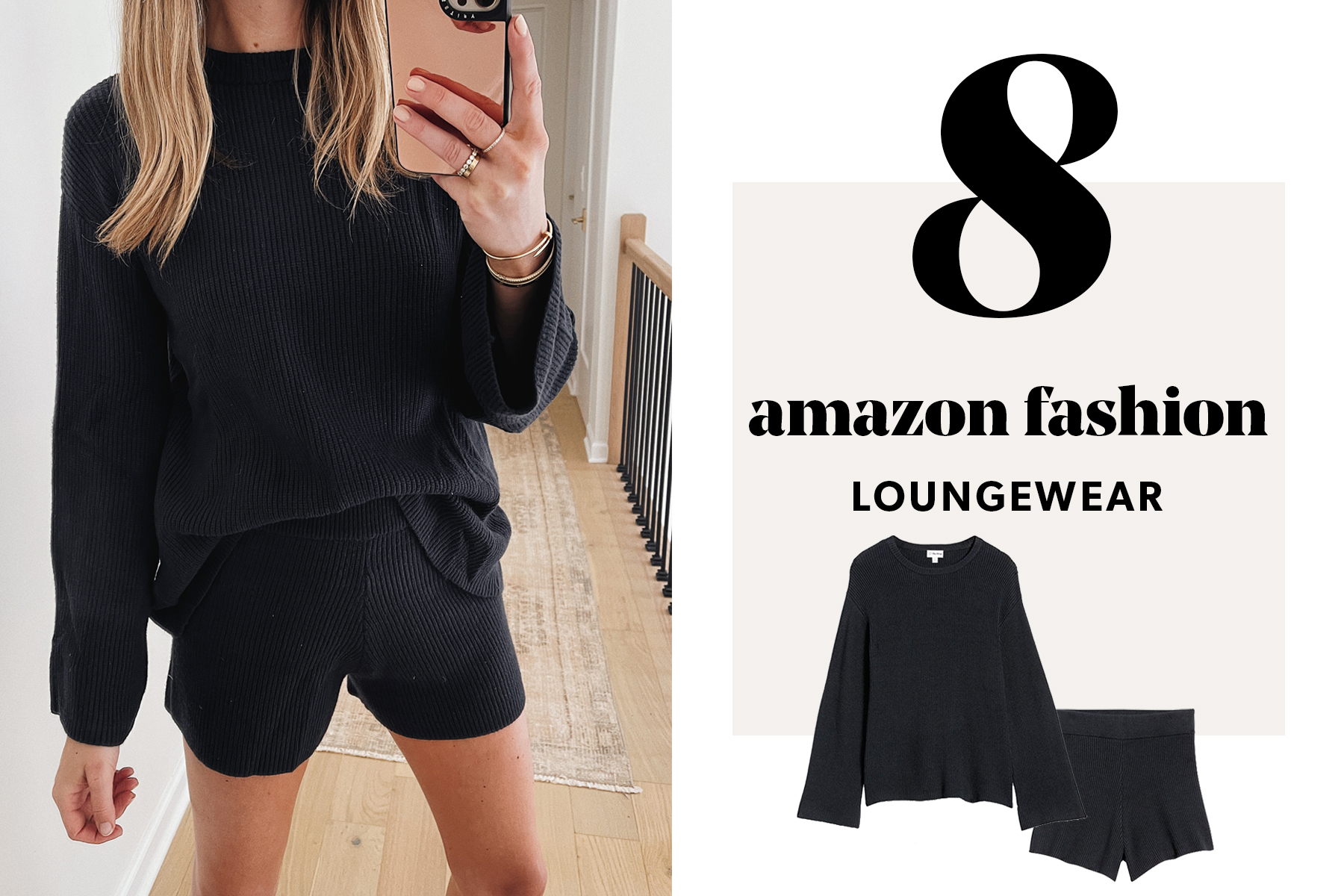 Amazon Lounge Set: I am completely obsessed with this loungewear sweater top and sweater shorts from Amazon! I love the ribbed texture, the long sleeves mixed with shorts, and how comfortable it is. I have it in both black & porpoise! I took my true size in the top and sized up in the shorts.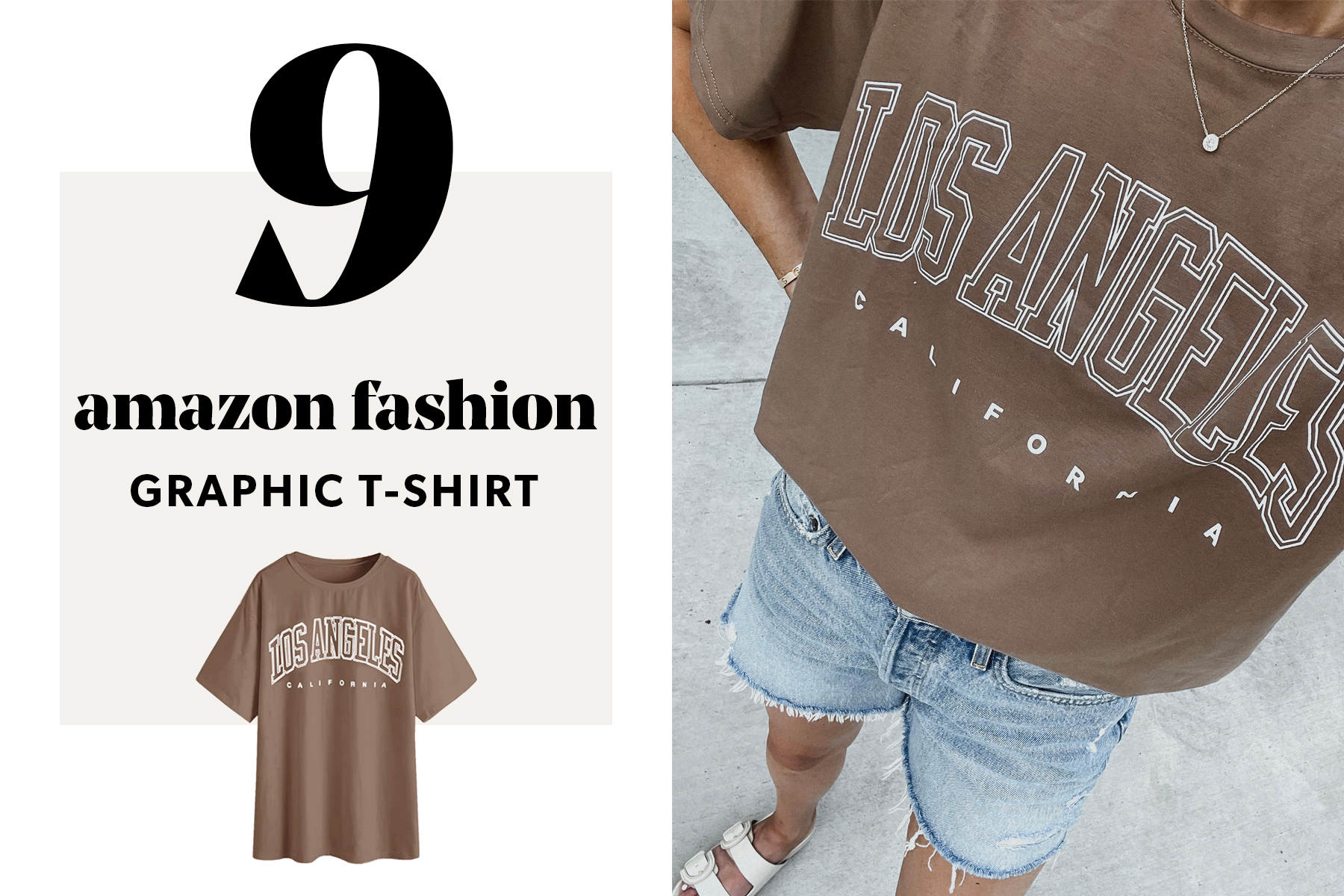 Graphic T-Shirt: You can't go wrong with a graphic tee. This Los Angeles tee was a bestseller last month. It's under $20 and looks so good with jeans and white designer sneakers. A perfect late summer into early fall transition outfit! Fits slightly oversized, wearing a small in color Khaki.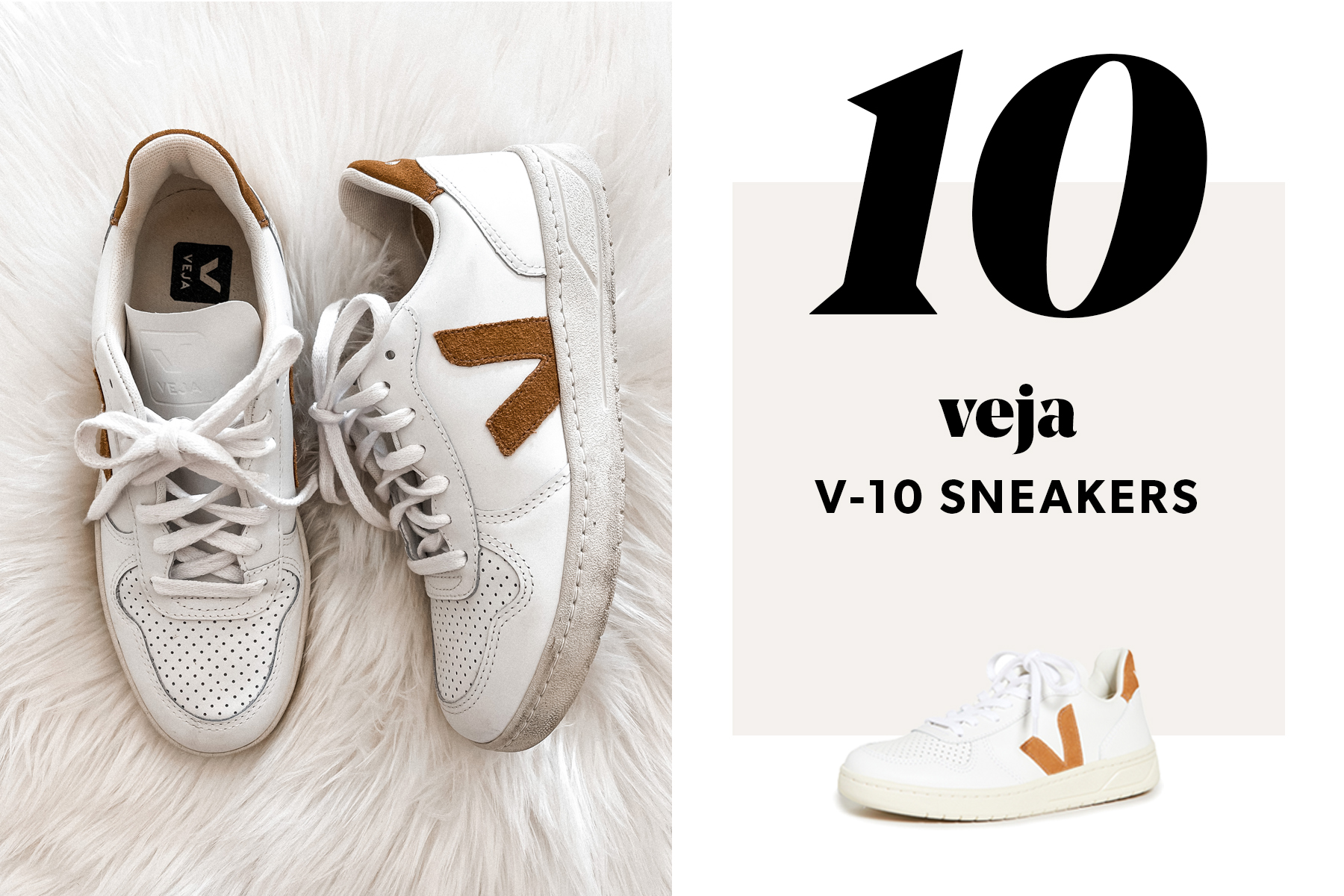 Veja Sneakers: My favorite Veja sneakers EVER. The camel suede detailing really sets these apart, and they are so comfortable! Plus, they look good with everything. A total win-win! Read this post for sizing and comfort. I will say this pair is more comfortable than the original V-10, the tongue feels shorter and softer!
This post may contain affiliate links, meaning when you click the links and make a purchase, we receive a commission.