Happy Friday! I have been wanting to start a new series on the blog where I can share more of my favorite items. Whether it's new finds that I'm currently loving, or the best tried and true pieces that I can't live without. I love hearing about items you guys like when we connect on social media, and I get so many questions looking for recommendations, so I figured this would be a fun way for me to share everything with you all.
So today I'm kicking the series off with my favorite denim shorts! Some are new and some I've been wearing for years. Continue reading below to see which pairs made the cut and why I love them! Comment below and let me know what categories you would like me to share in the future!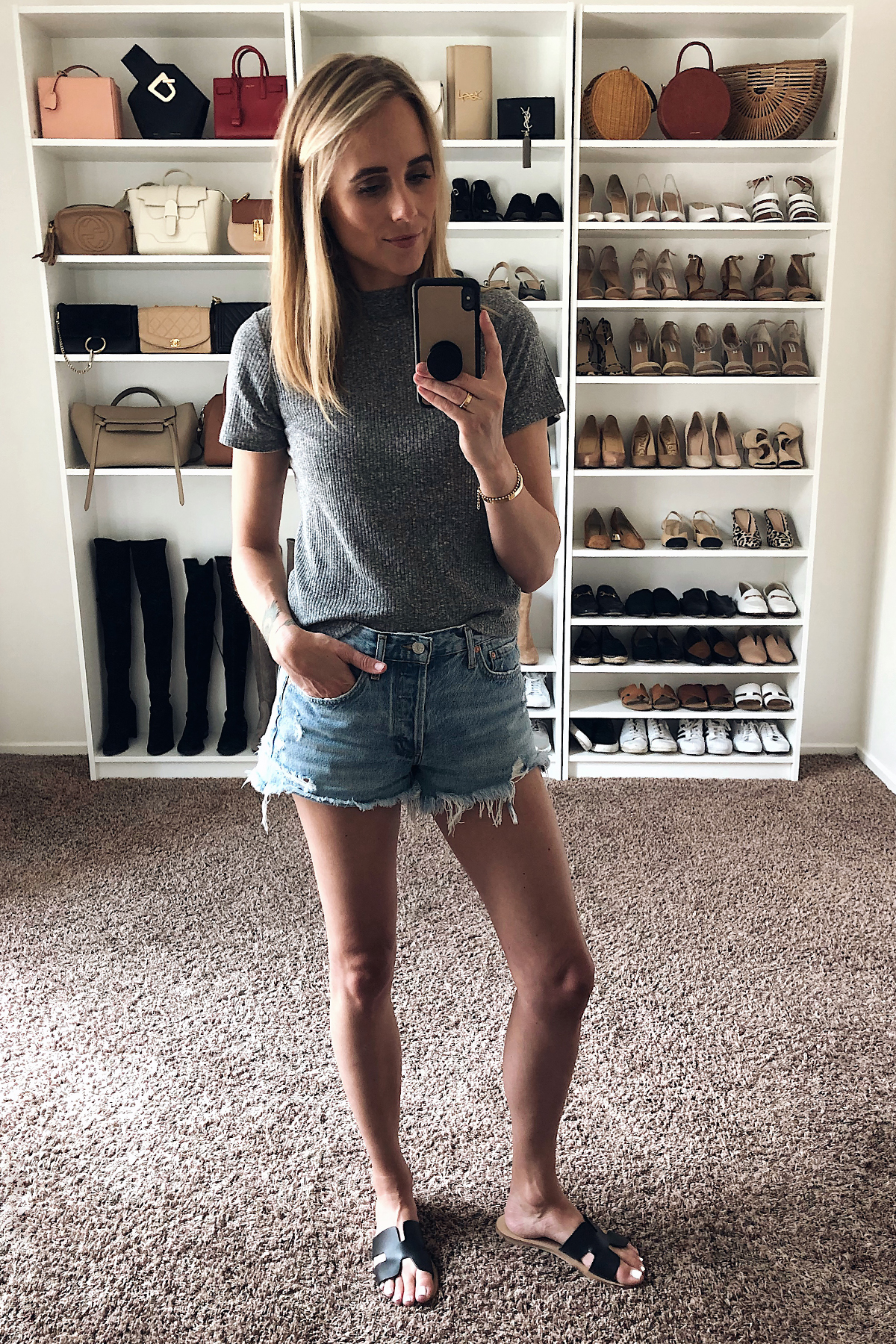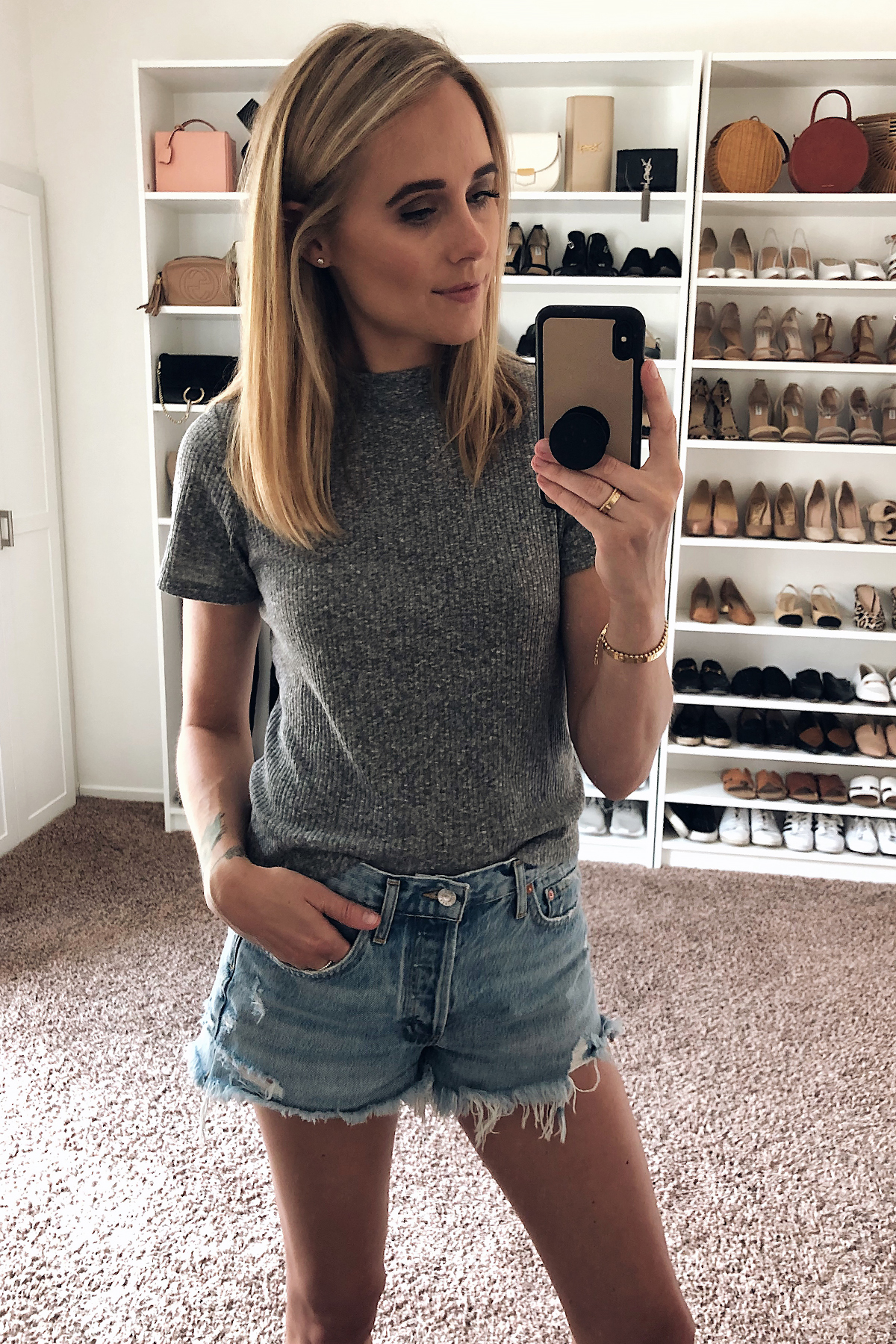 These are my new favorite - I can't stop wearing them! They are a more loose fitting pair, making them incredibly comfortable to wear all day. I took my normal size (26) I love the fit. They will get more relaxed after a few wears, but once I washed and let them air dry, they fit almost like new. I personally would not size down because they are supposed to be relaxed and I love exactly how they fit. FYI These do not have any stretch in the denim, they are 100% cotton.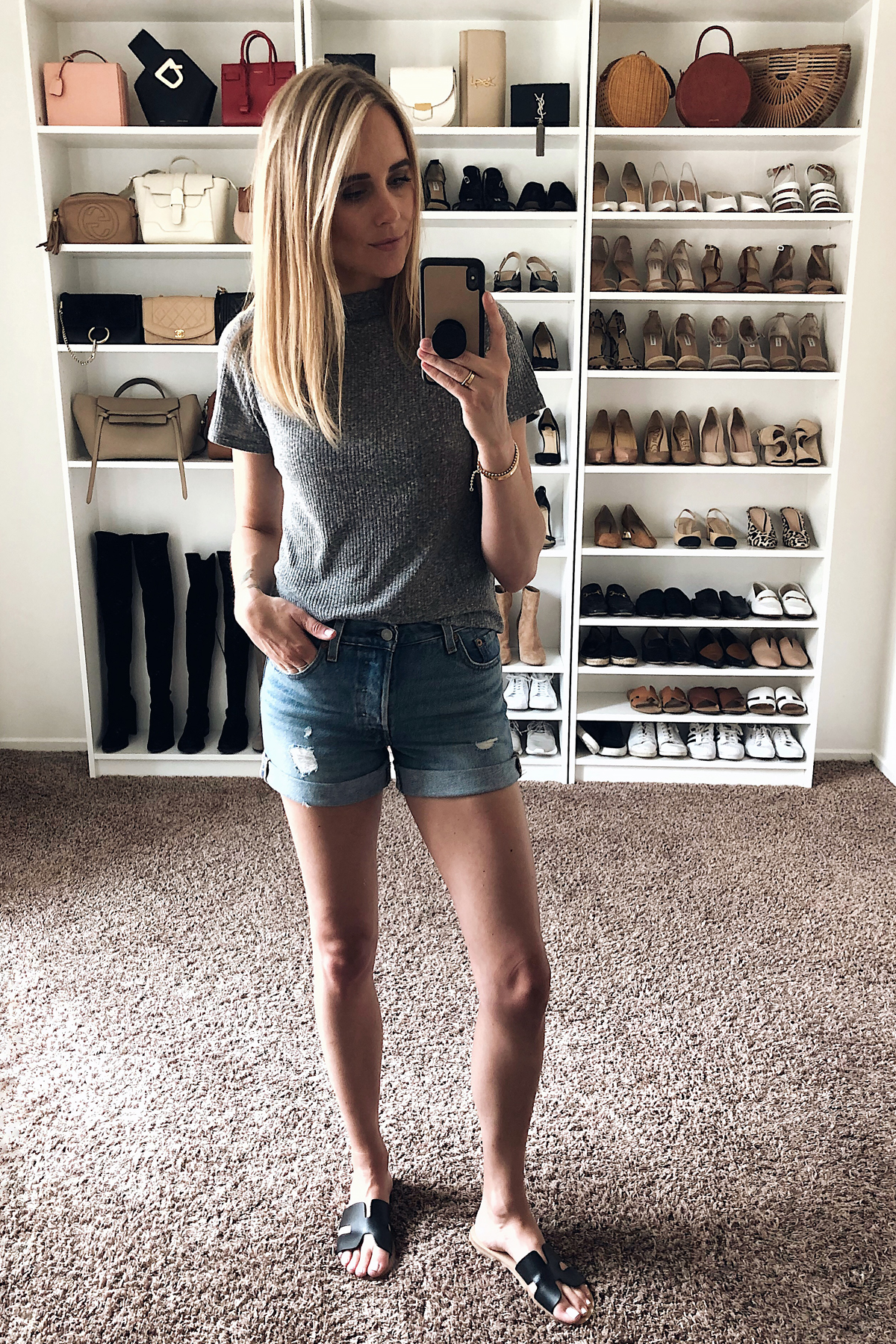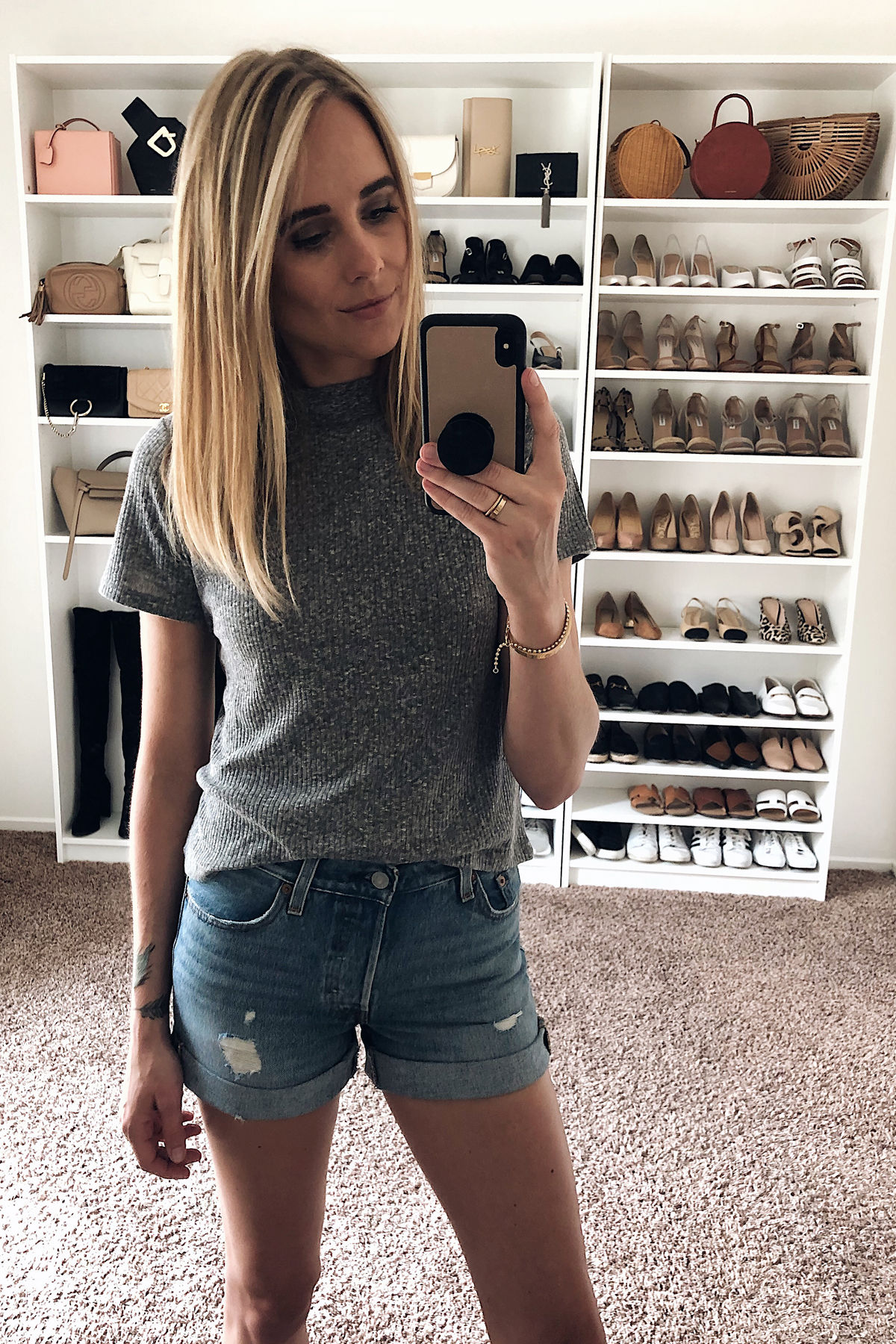 Levi's have always been my go-to when I'm looking for denim shorts. There is just something about the fit that is so good! Not to mention they are pretty affordable! What I really loved about this pair was the rolled cuff. They have a little bit of a longer inseam making them more appropriate covering your bum. There is some stretch which helps with the comfort! As far as sizing, I would have taken my normal size 26, but it wasn't available at the time, so this pair is size 25. They were a little snug at first, but now fit nicely. However, if the option was there to get my normal size, I would recommend that!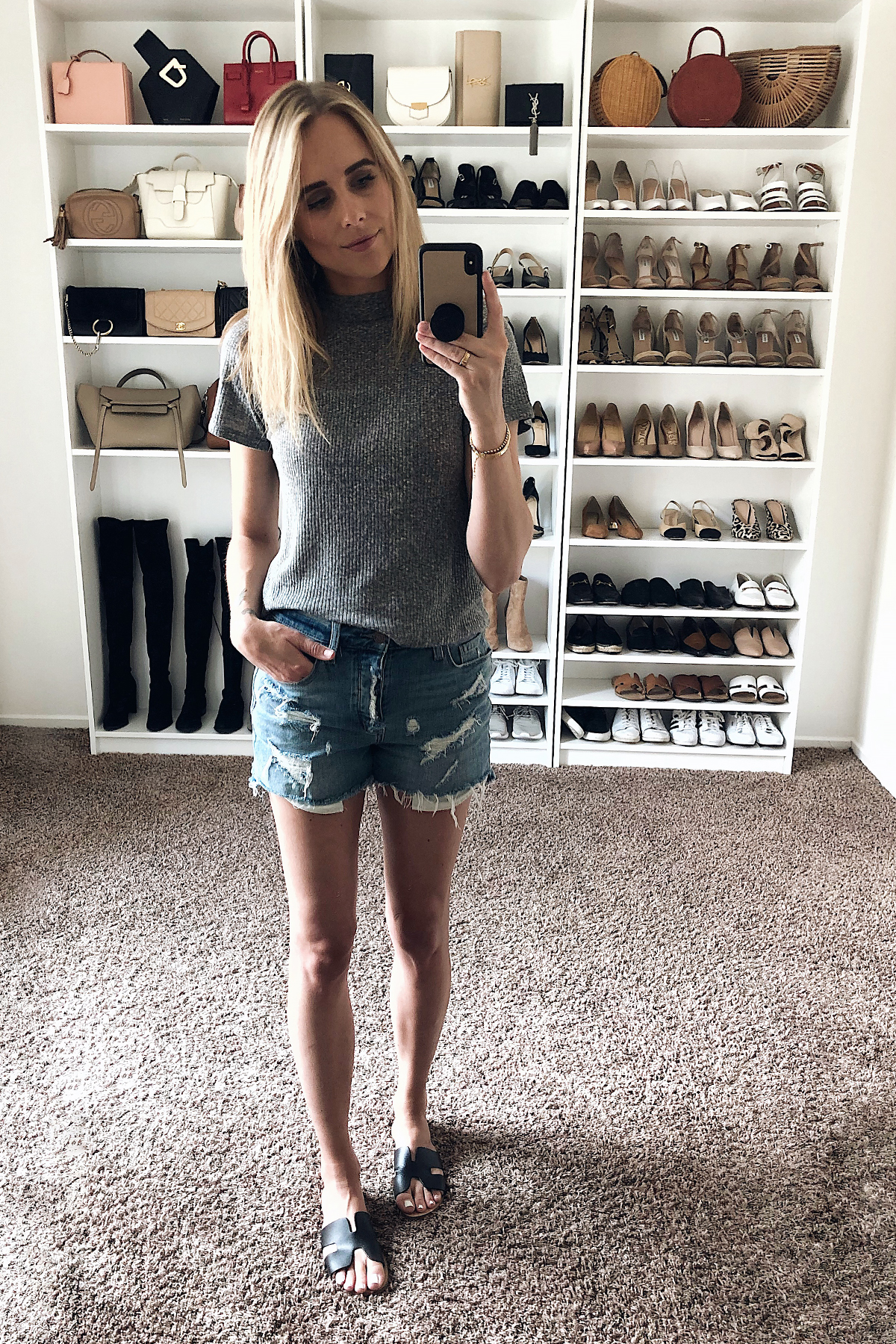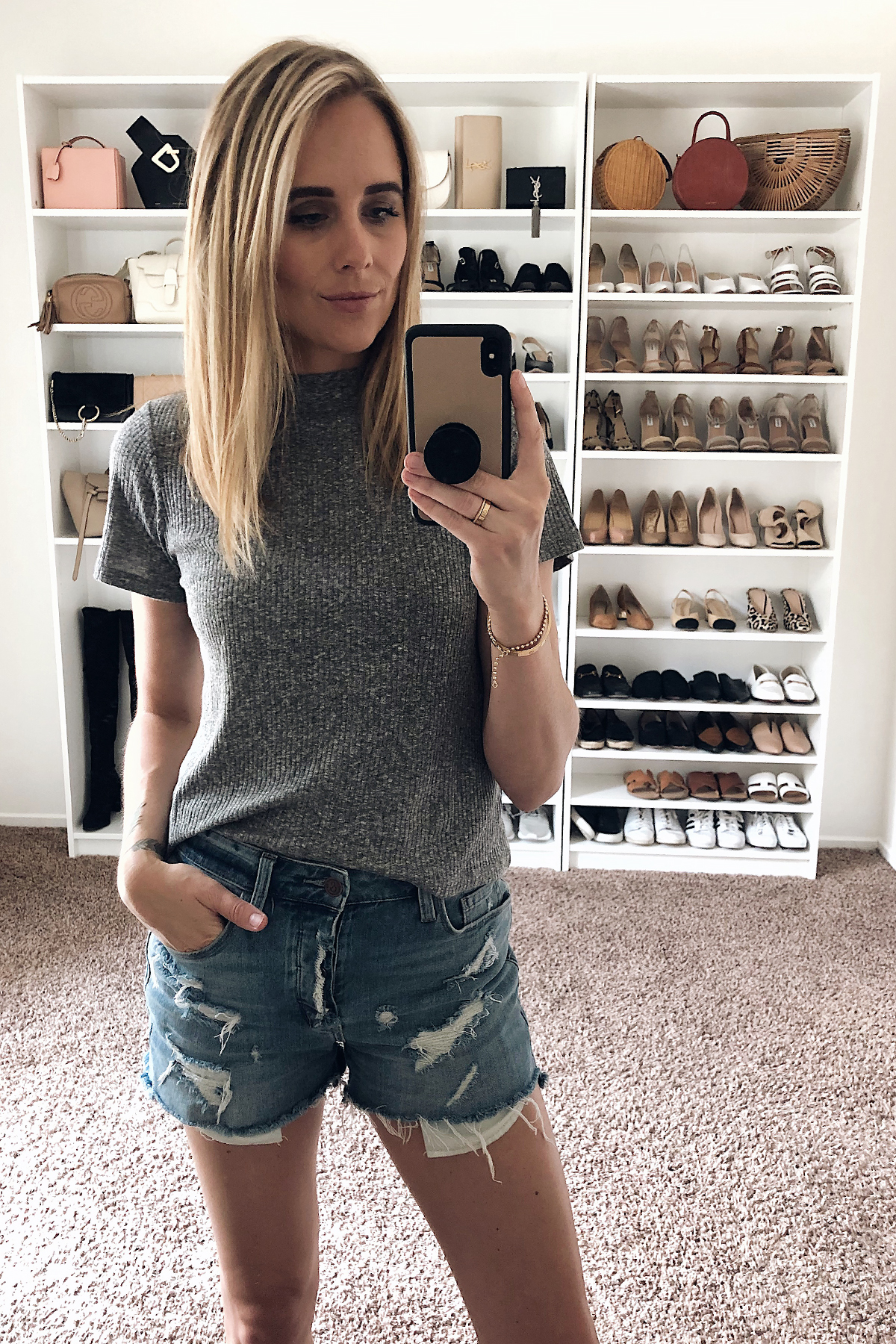 I bought these shorts at the beginning of summer and wore them almost everyday! You probably already recognize them! They are SO comfortable! I love the high waist, longer inseam, and distressed detail. The color of the denim is also really versatile, I wore them with everything! I know they are almost sold out, if not already, so I found this pair, which is the exact style, just a different color. I actually really like this pair too so I'll definitely be buying them as well! FYI I always size down in Treasure & Bond, so I'm wearing a 25 here.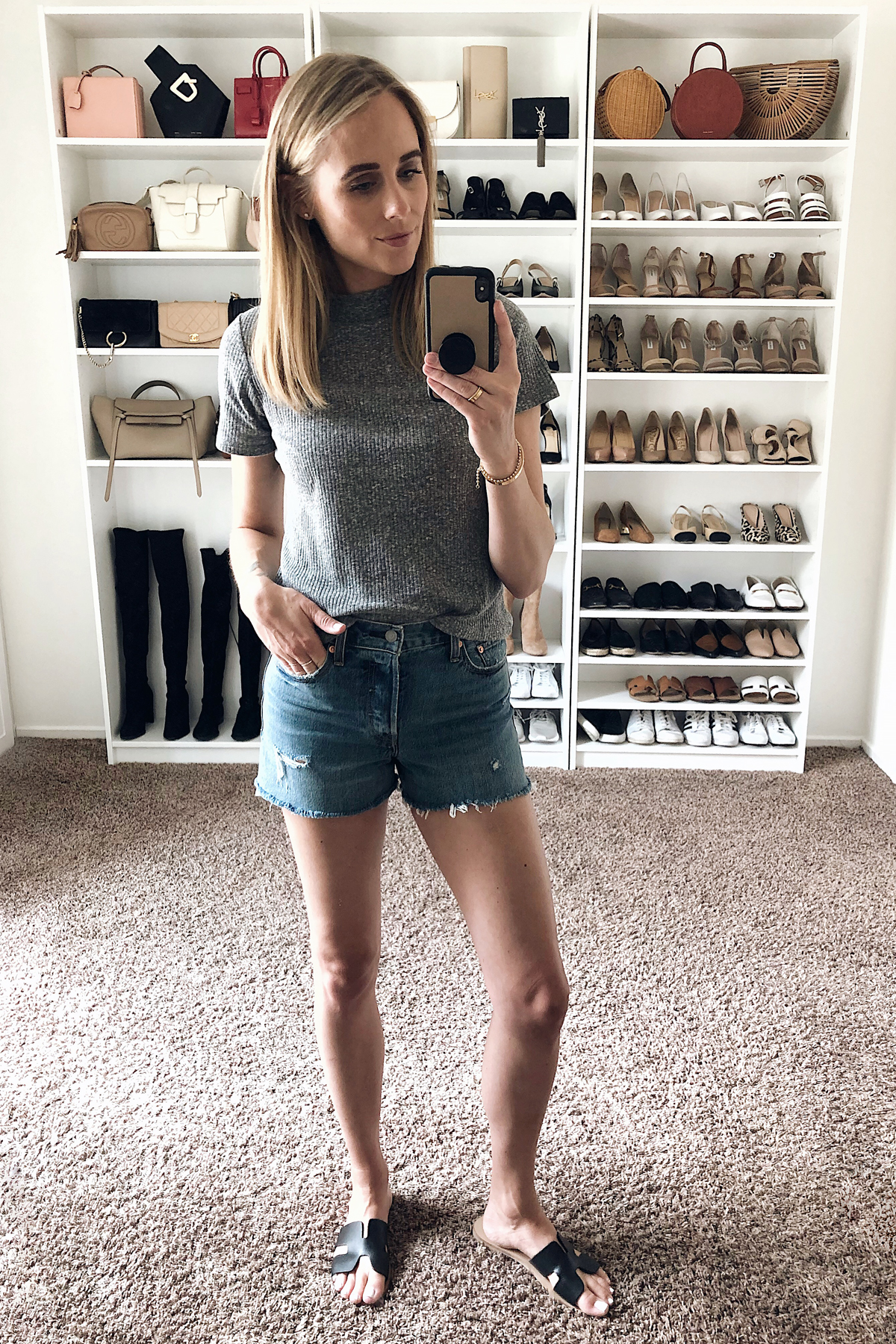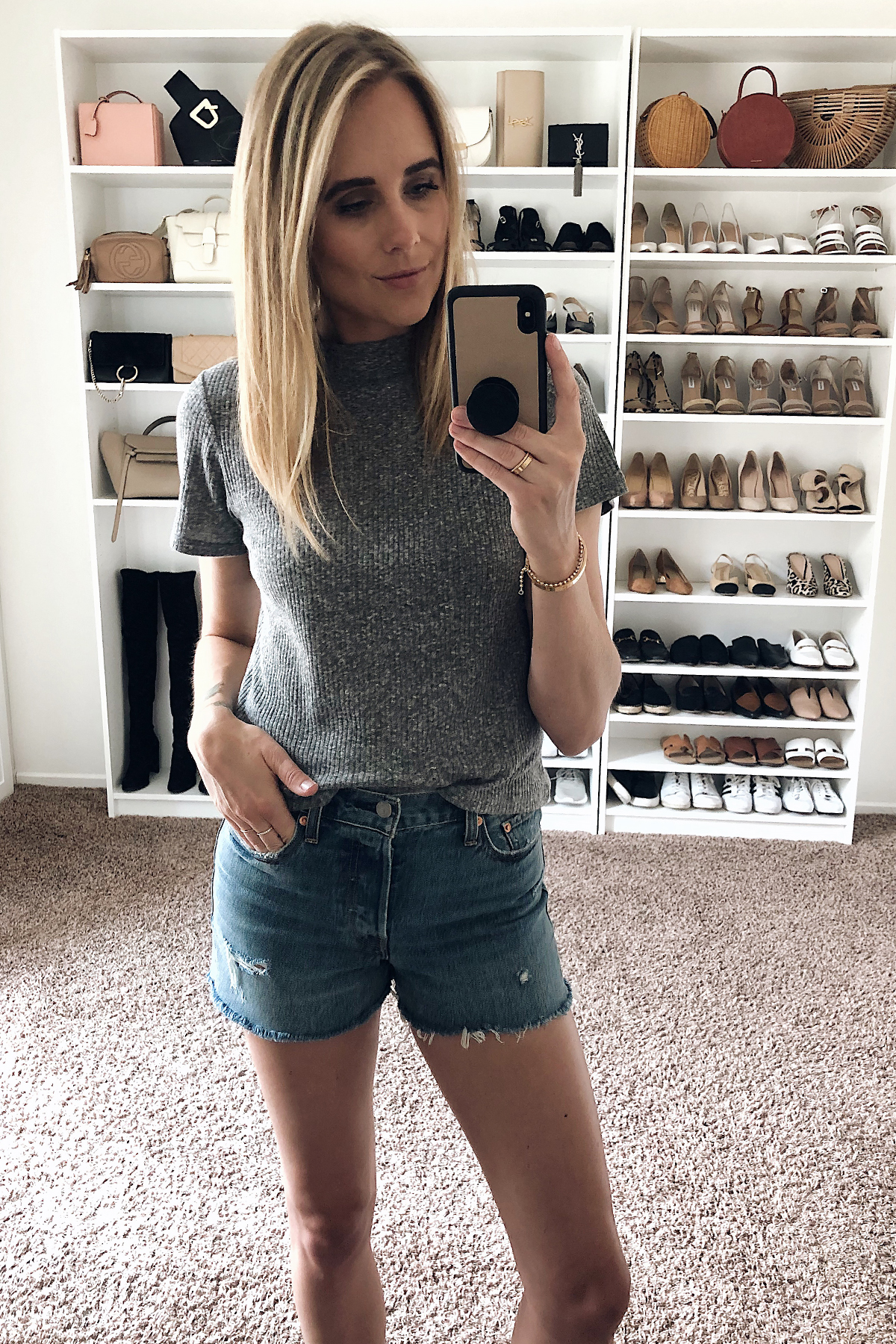 Again, another great pair of Levi's! This is now my second pair of this style, just two different wash colors. These might be a more iconic style from Levi's, also known as 'the wedgie' shorts. This style you definitely have to size up. But don't let that discourage you. I attempted to try on a size 26 and couldn't even button them, so I'm wearing a 27. It's the cut of the short that make them run small but they make your bum look so good! This pair doesn't have any stretch, so they will feel tight at first, but they definitely relax after a little time wearing.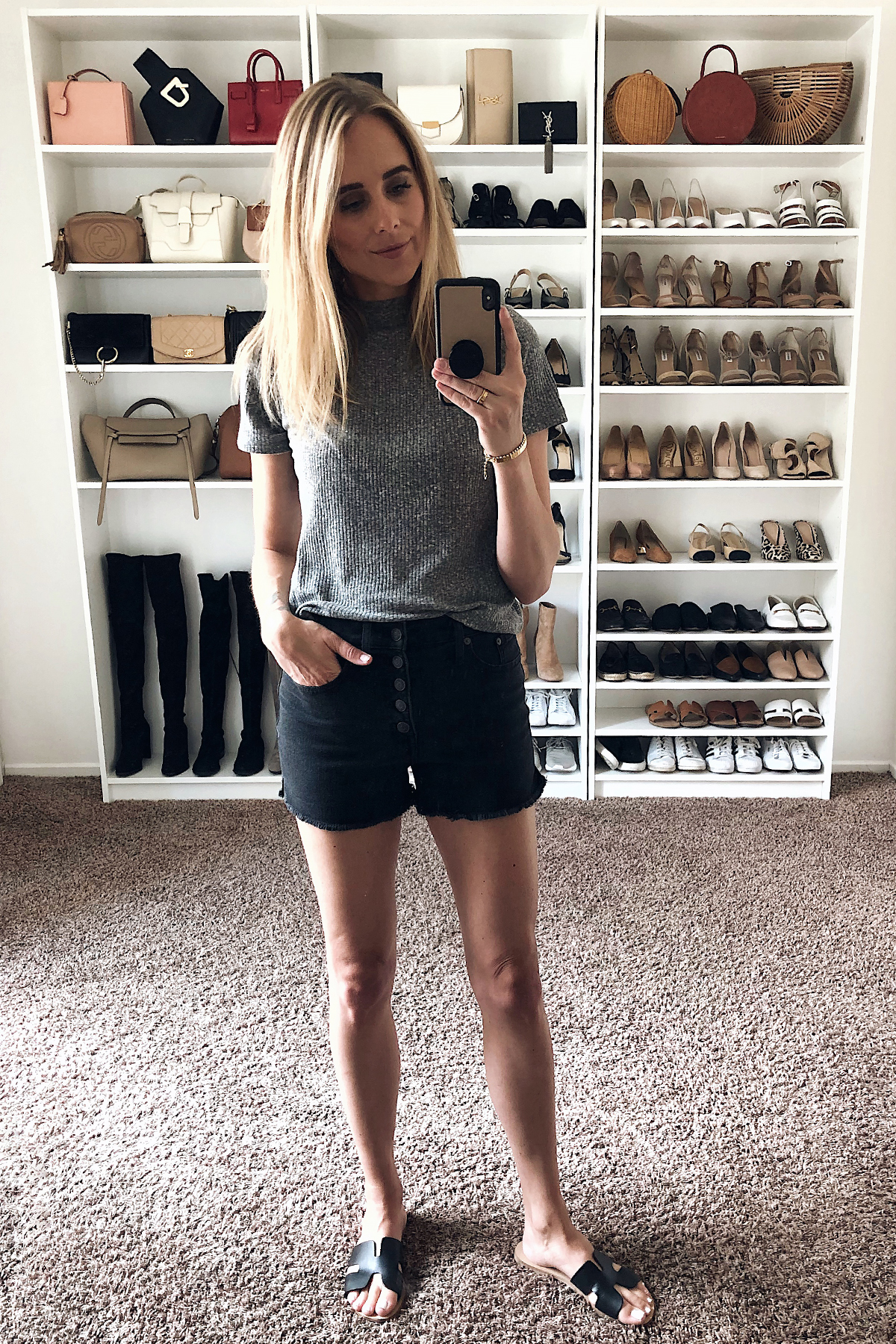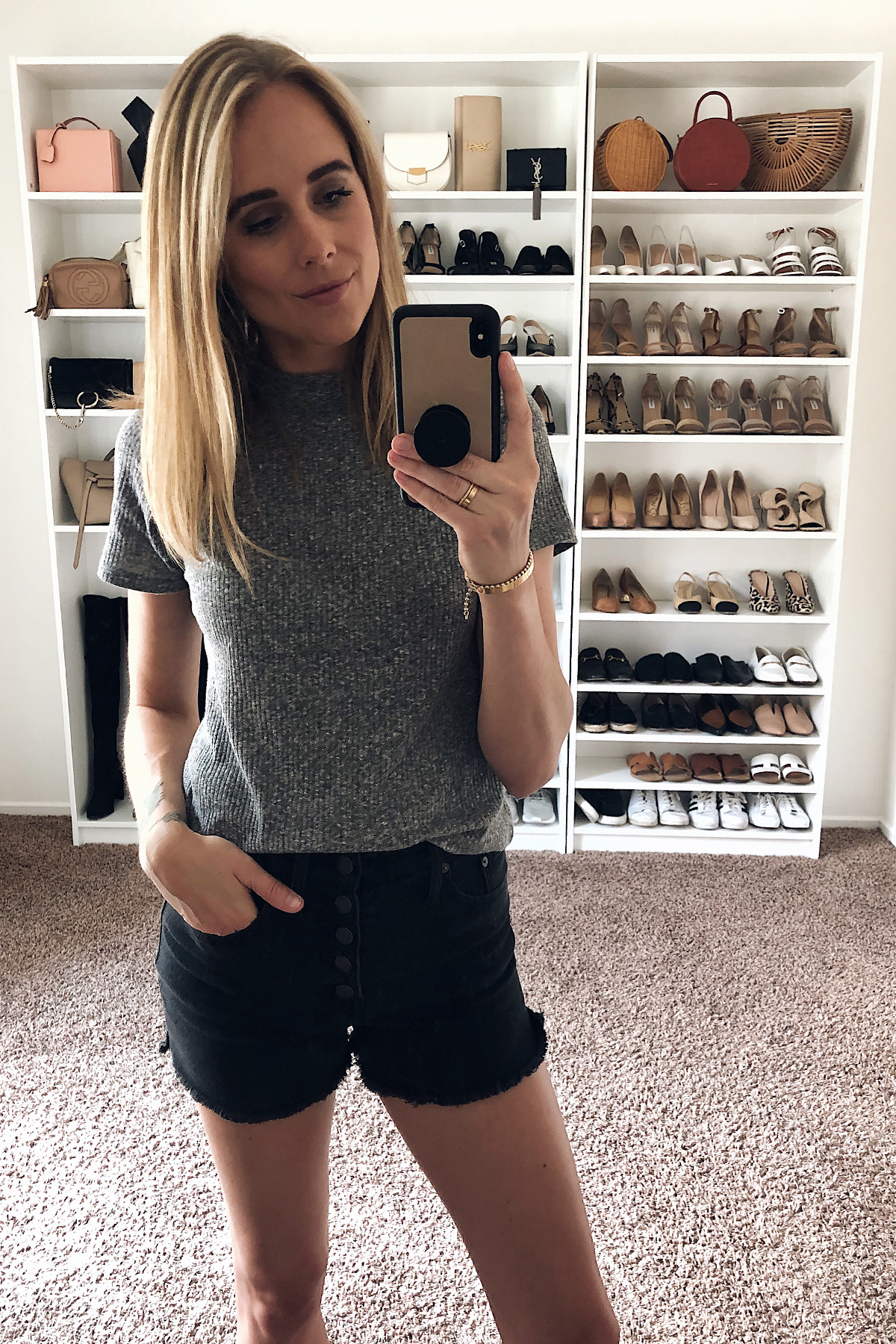 I know these are not blue denim, however, everyone needs a pair of black denim shorts, and I've been hunting my size down all summer! (also available here). I finally was able to get them and I never want to take them off. I've been a huge fan of Madewell jeans for years, and the shorts are just as good! In Madewell I always wear a size 25 (compared to my normal size 26), so that's what I'm wearing in these. They have stretch, high waisted, frayed cuff, and a longer inseam, so you have the option to roll or not. I left mine unrolled as I am 5'10 and didn't want them too short! They do come in a blue denim option - definitely buying these while they still have my size!