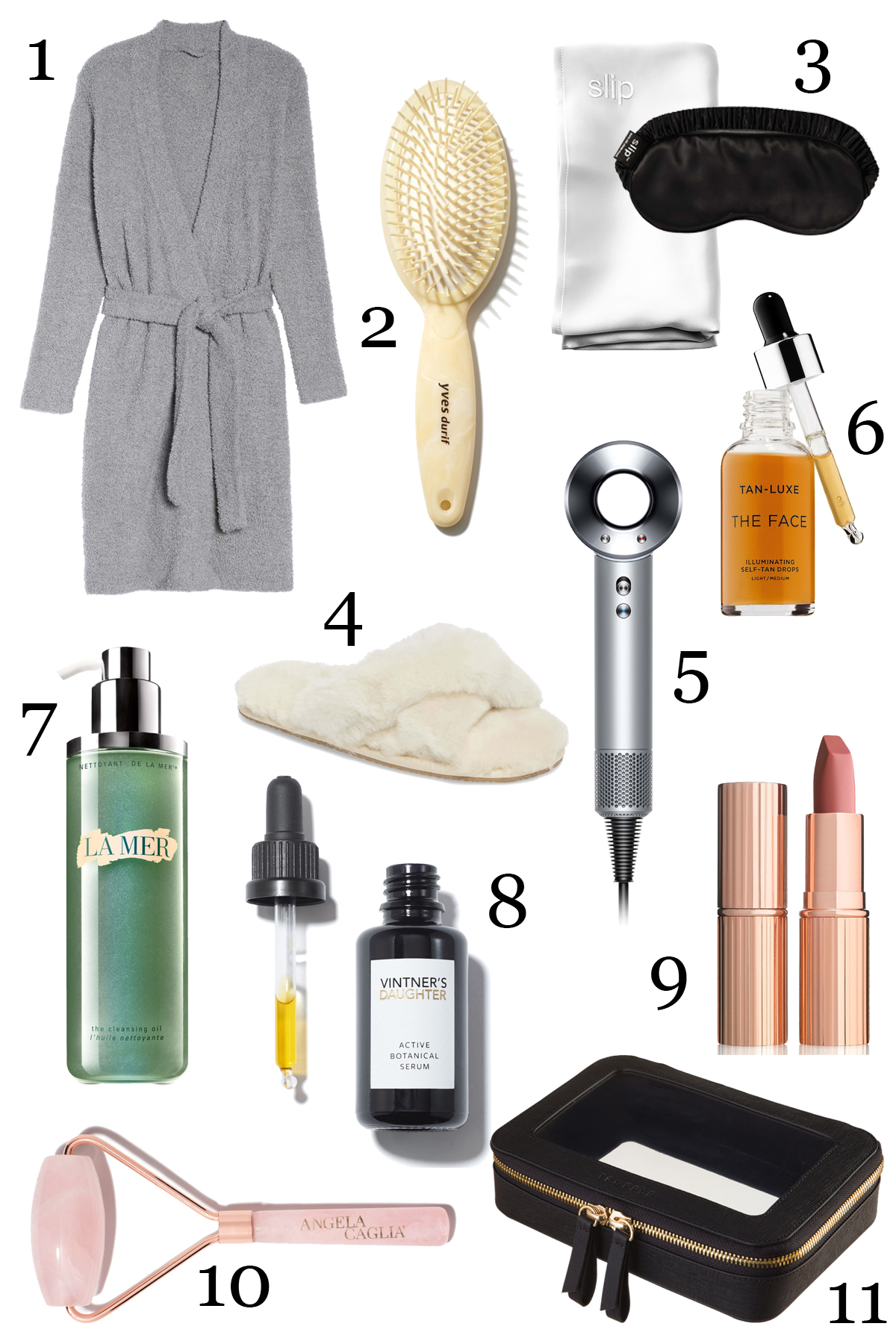 1 // 2 // 3 // 4 // 5 // 6 // 7 // 8 // 9 // 10 // 11
Whether you're looking for the best of beauty or self-care favorites, I'm sharing of few of my tried-and-true beauty items that any gal on your list would love to receive. These are products I either currently use (and LOVE), or they are at the top of my list to try this year! Some of these beauty gifts would be great for stocking stuffers. Read below to see which one is my personal favorite!
1 // I always get a new robe every year and this one looks so soft and cozy - perfect for a day of pampering!
2 // I'm trying to take better care of my hair, and this luxe brush looks like the perfect way to start! It gently detangles wet or dry hair while stimulating circulation in the scalp and distributing natural oils.
3 // Bringing beauty sleep to a whole new level! Highly recommended by doctors, I think its time to get a silk pillowcase & sleep mask to help with anti-aging, anti-sleep crease, and anti-bed head!
4 // These cozy slippers might not seem like your typical beauty item, but they are definitely great for self-care! Stay cozy while going through your daily beauty routine.
5 // If you could only buy one item on this list - THIS. IS. IT. I cannot say enough WONDERFUL things about the Dyson hairdryer. It's one of the best purchases I've ever made!
6 // I use these tan drops about 1-2 times a week and they seriously give the perfect glow. No bad tanning smell and no orange color! Just mix w few drops (I do 3) with your moisturizer at night and wake up to the best natural glow.
7 // I use this oil cleanser to remove my makeup before washing my face. It helps to get everything, I mean everything, off before washing your face. That way you know you're going to bed with a perfectly clean face. And La Mer for under $100 - yes please!
8 // I'm OBSESSED with this serum. I've been using it for a year now and cannot live without them! I mix a few drops in with my moisturizer for healthy, radiant, youthful skin.
9 // This is my everyday shade of lipstick (pillow talk) - it's the perfect nude color and works great for all skin tones!
10 // This is my favorite face roller I've found. It helps to drain fluid, boost circulation, improve elasticity and promote cell turnover for a brighter, healthier glow. It feels so great using first thing in the morning.
11 // The perfect travel case for all your beauty items. They come in a few colors and are TSA approved. Every beauty babe needs at least one!