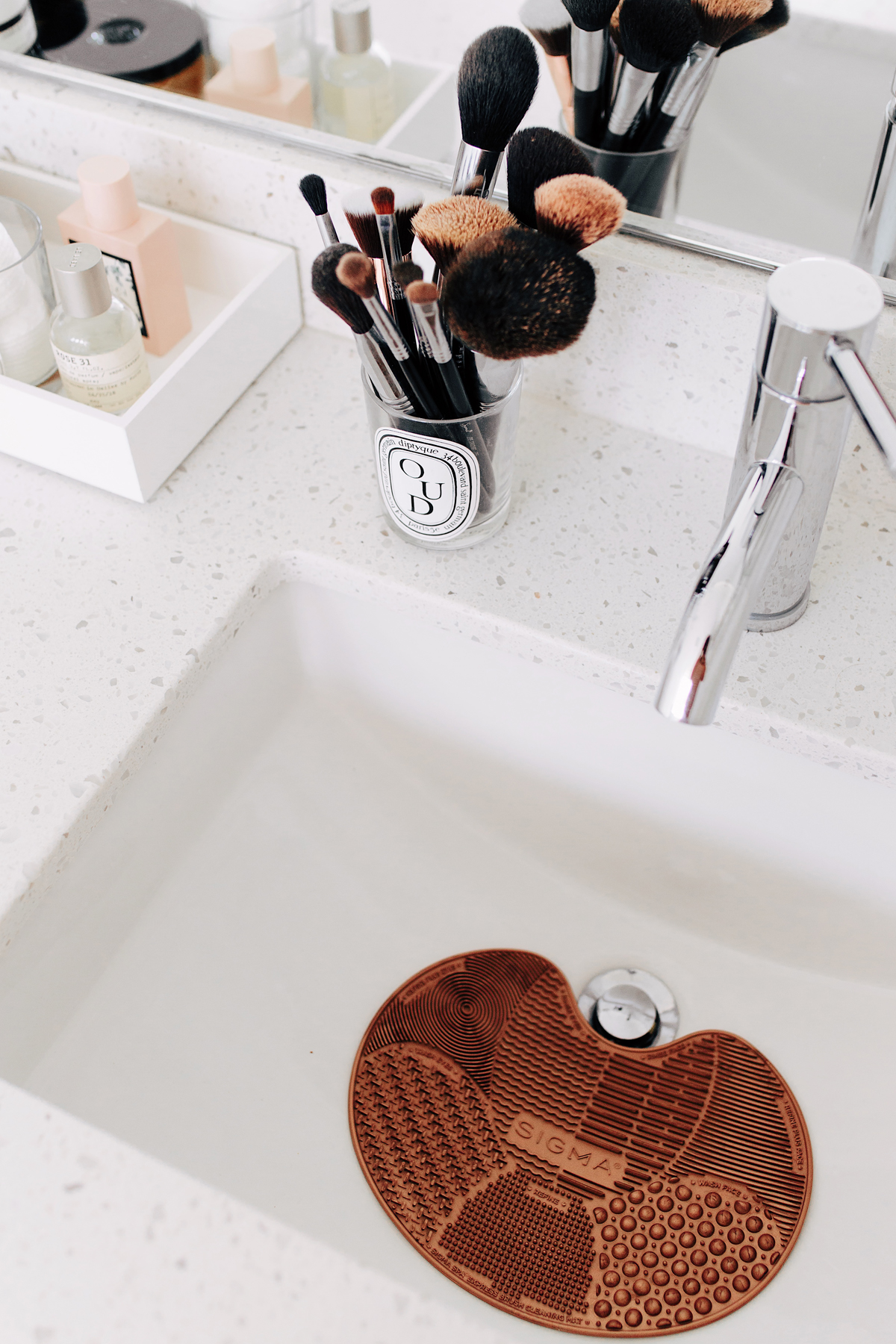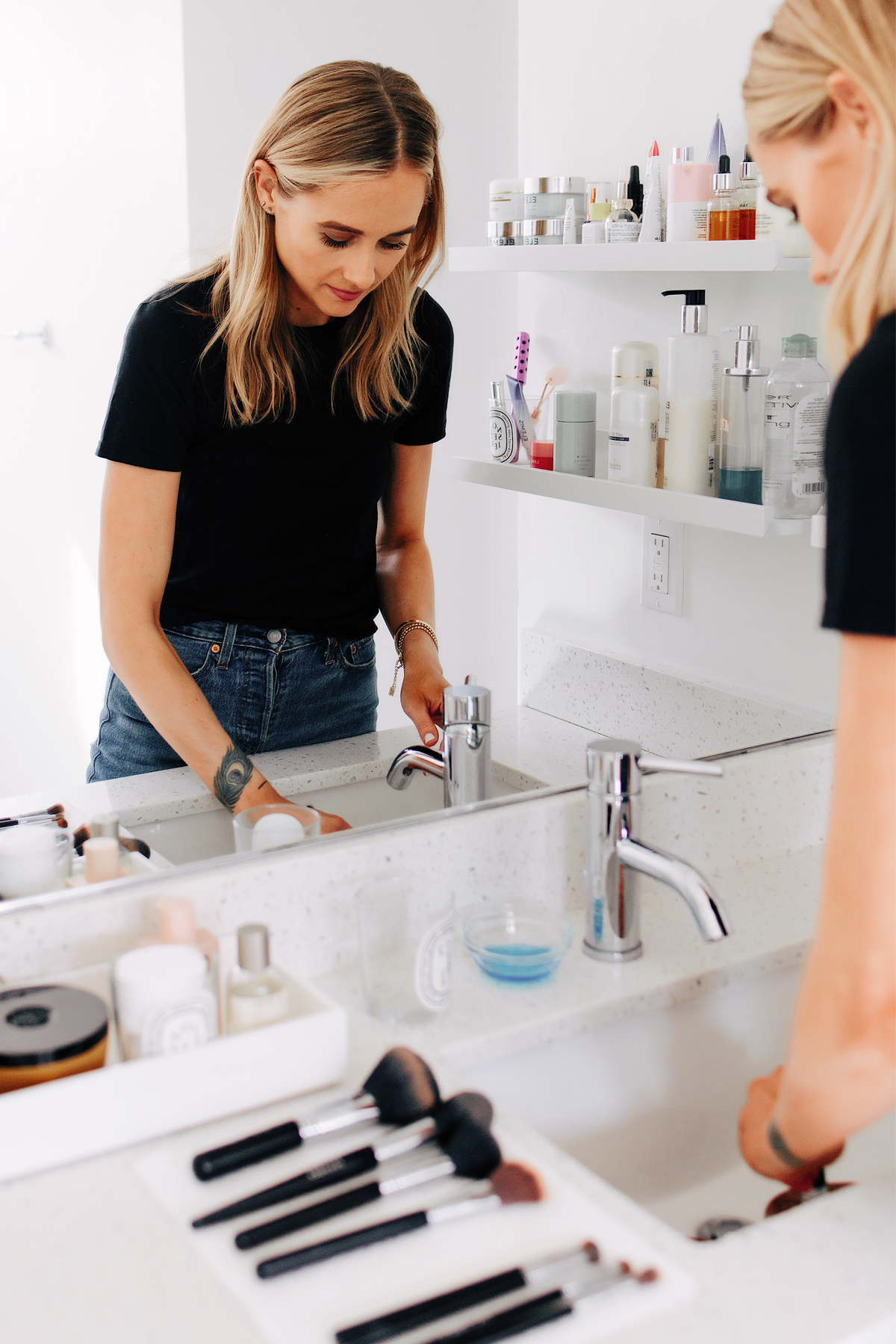 My daily routine is apart of my lifestyle- caring for my face, proper use of my makeup products, and deliberate systems that wake me up and freshen my morning. So focusing on all of the benefits during my morning routine is the easy part, but keeping that going can be challenging sometimes. We all can tend to forget the maintenance of our beauty tools and the fact of the matter is: It matters. A dirty and gunky brush is rife with bacteria, ultimately leading to the very blemishes we want to avoid. Read on to find out how simple it is to care for your makeup brushes.
Shop the Post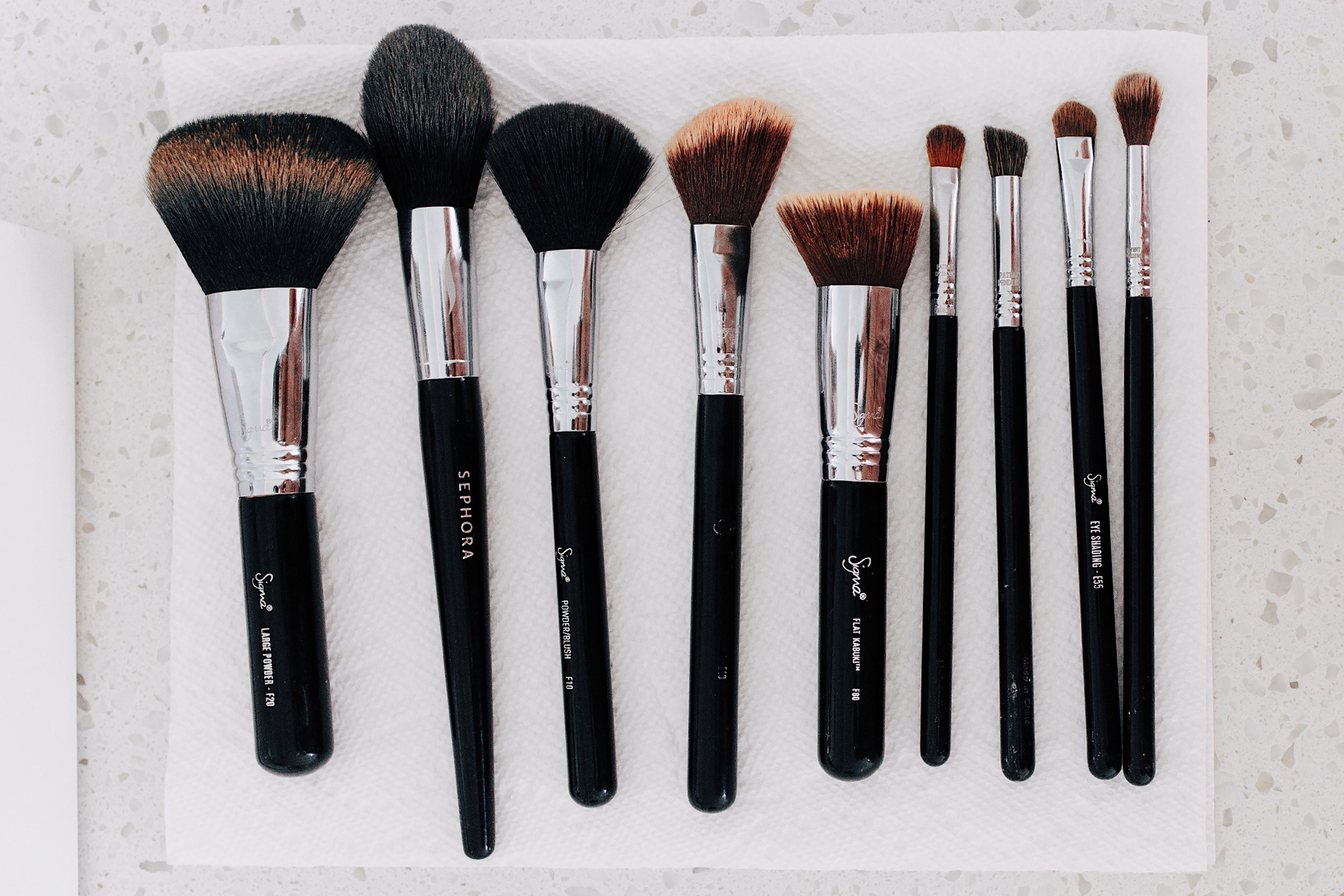 Prep, Cleanse, Rinse, Repeat
Make sure you have a clean towel, cleansing soap, cleaning mat, and designated drying space.
1. Gently wet the bristles under lukewarm water.
2. Lightly dip the brush into a makeup cleanser or gentle soap- I use Dawn dish soap.
3. Massage the brush on your cleaning mat to ensure all the makeup buildup has been removed.
4. Rinse the bristles until the water is clear. Make sure not to get the base where the bristles are glued wet, as this can damage your brush.
5. Squeeze any excess water out with a clean towel.
6. Fluff the brush back to its original shape.
7. Lay the brush flat to dry with the bristles hanging off the edge of the counter, this will help the brushes to dry quicker & prevent mildew.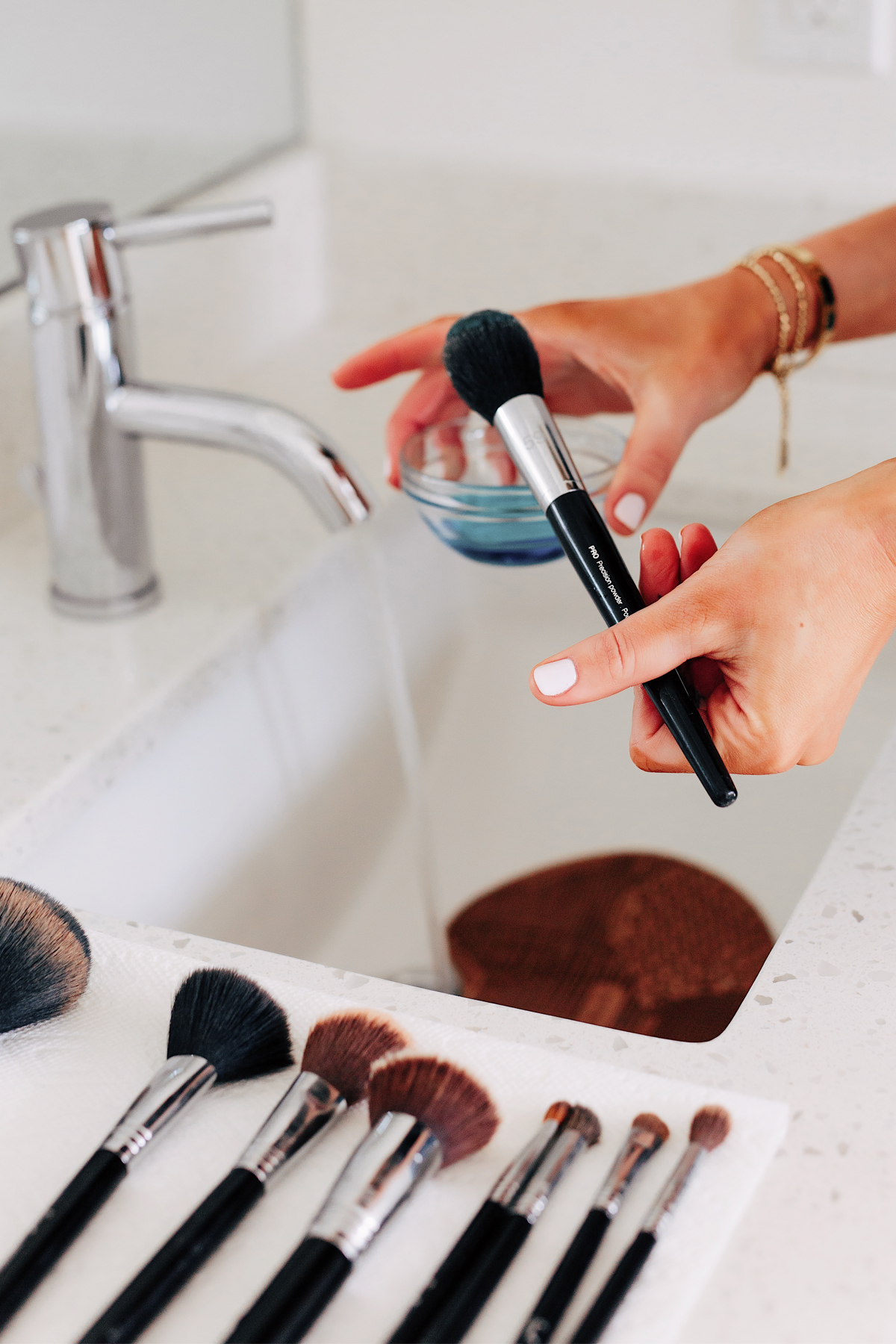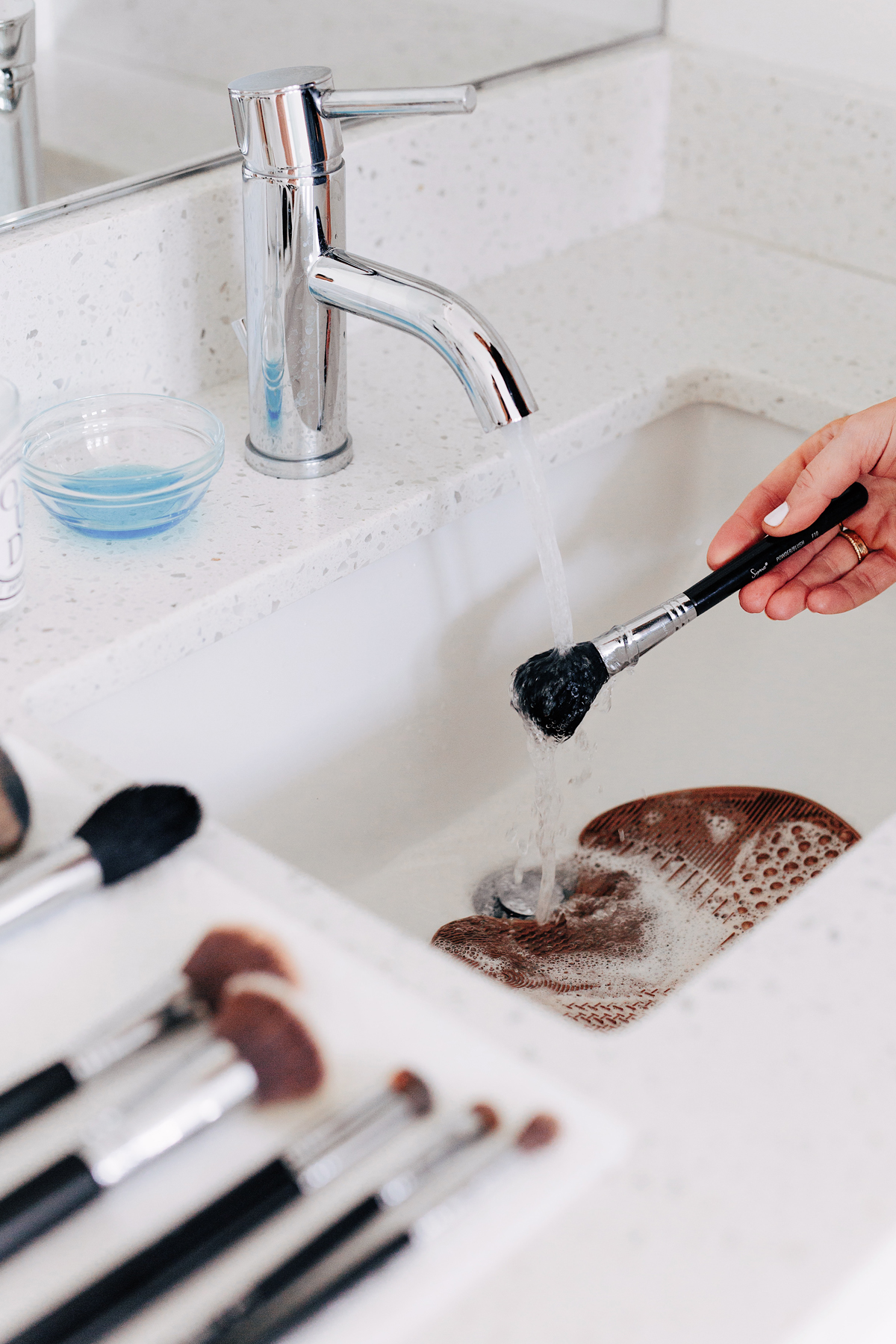 How Often You Should Clean Your Makeup Brushes & Why
Technically you should clean your makeup brushes as often as you wash your face, but that isn't very realistic. Most dermatologists or MUAs would recommend at least once a week at minimum. This will help to prevent buildup in your brushes as well as help to avoid any unwanted breakouts or skin irritations. However, you can get away with cleaning once a month- I currently clean mine every other week.
Why clean your brushes you ask? Not only are you keeping your skin healthier, but you are extending the life of your brushes. You may also notice that once your makeup brushes are clean, your makeup goes on much more flawlessly. Having clean bristles makes the makeup application process much better.