This post is a little more personal, but it's also something I'm super excited to share with you guys! We are all unique individuals, and I can probably guarantee we all have insecurities. Today I'm discussing one of mine, and how I turned that insecurity into something I'm now the most confident about. A few of you reached out after you noticed, and, complimented it as soon as I confirmed your question. You might remember late this summer Will and I were spending more time in Scottsdale than one typically might during the heat of summer (haha). Well it was all for a great reason, I was working with Dr. Scott Harris, one of the best in the industry I might add, to help me create the best smile with veneers! In this post I'm going to share my journey, why I decided to do it, the process, and some FAQs. If you have ever considered perfecting your smile and didn't know where to start, I would highly recommend looking into Harris Dental. They have numerous options and treatments that can help you get that confidence or the best smile you've been wanting.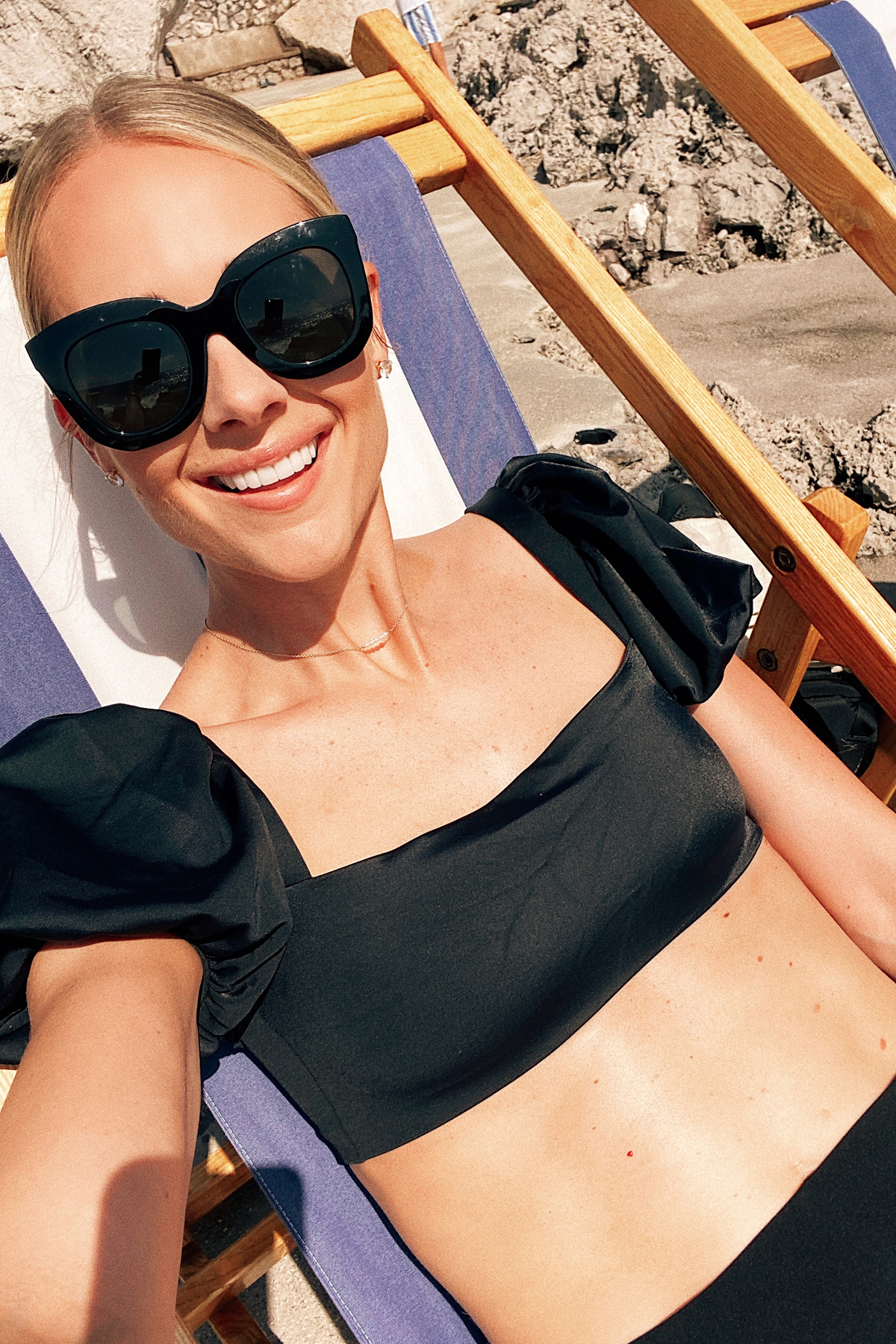 Why I Decided to Get Veneers
Over the last 10-15 years I have noticed my teeth beginning to move and shift. I had braces (twice) growing up, as well as retainers, but over the years I pretty much stopped using them (#lazy). I thought about Invisalign, but knowing I probably wouldn't keep up with the retainers again, I wanted to look into something more permanent. I'll also be the first to admit I'm a little lazy when it comes to whitening my teeth, which was also an area I was looking to improve, so I needed an option that would give me the best smile with little work on my side. Might sounds bad, but I'm just being honest! 
I reached out to a girlfriend who had cosmetic dentistry done as well to learn more about her experience and she recommended Harris Dental. After looking into it, I knew this was the option I was searching for. In order to make sure this wasn't an impulse decision, I decided to think about it for a little while to really make sure it was the right choice. I also talked it over with Will, and while he loved my smile as is, he supported my decision. With our wedding coming up, I thought it was the perfect time to perfect my smile. It was just a few months later that Dr. Scott Harris reached out to see if I would be interested, of course I said yes, and thus began the process!
Video Consultation
We began with a free video consultation; he does these with most of his clients since so many travel to have treatments done. I sent in some pictures (these are not flattering pictures as you will see below, but its what my teeth looked like!), told him what I was looking for and he gave me a detailed overview of what my new smile could look like. He also pointed out some things I hadn't noticed that would further improve my smile (i.e. creating symmetry in the gum line) and also determined how many veneers I would need for my new smile. After the consultation, we set up a timeline to start the process. I had to get impressions, temporaries, and finally the permanent porcelain veneers. FYI the impressions can be taken in person, or Dr. Scott will mail you an easy, do-it-yourself at-home kit that you will send back to his office. He was actually in town visiting, so he was able to do mine in person, but it's fool-proof if you decide to do it on your own.
The Temporaries
About three weeks later Will and I went to Scottsdale to have my temporaries put on. I won't lie, this time wasn't the most fun (more on that later). The purpose of temporaries are to finalize the details of the shape of the veneers while they are being made specifically for my mouth shape (the process takes about 2-3 weeks).
During the treatment, I was completely numb so I didn't feel anything. I was actually nervous about the injections, but Dr. Scott did such a good job, I literally didn't feel them at all! I had my gum line evened out using their precise and delicate Soft Tissue Dental Laser System. This treatment painlessly removed excess gum tissues while aesthetically evening out my gum line. After that, they proceeded with applying the temporaries. They were adhered to the top of my original teeth and this was done in order to show me what my new teeth would look like. I also selected the color of my veneers. I didn't go with the whitest because I wanted more of a natural look; Dr. Scott can definitely help you select the color that is best for your smile. FYI the permanent veneers would look better, feel better, and be much stronger than the temporaries. I really didn't have any pain after the numbing wore off. Just was a little tender in my gums from the numbing injections for a day or so. This entire process took about 2-3 hours.
During the time with temporaries, you can't bite into food using your front teeth as they could pop off. I was so nervous about this that I pretty much ate pasta and soup the entire time. This is why I mentioned the time period wasn't fun. I also had a little lisp with the temporaries at first, but I think after a week I was used to them (or the lisp haha).
The Veneers: Before & After
Three weeks later Will and I made our way back to Scottsdale to have my temporaries removed and my new porcelain veneers put on. They numbed me again, took off the temporaries (very easy to remove), and then the veneers were placed on with a temporary gel. The purpose of this was for me to double check every detail and make sure I LOVED them. The procedure is irreversible, so you definitely want to make sure you love what you're getting! If there was anything I wanted to change, now was the time! I walked around the room, checked out my smile in different lighting, but knew immediately they were perfect!
From there they completed the process of applying the veneers; I would say this took around 1-2 hours. Again, this was completely painless! After that, I had a teeth cleaning service and then got to see my new and improved bright white smile. I couldn't be happier! FYI I only had the top 8 teeth from the center treated. 
My Honest Review of Porcelain Veneers & Harris Dental 
I'll be the fist to admit I never thought I would get veneers, especially after having braces twice. However, after having multiple girlfriends with successful treatments and beautiful smiles, I was ready to really consider it. Weighing the pros and cons to different types of cosmetic dentistry I knew porcelain veneers were the best fit for me. I couldn't be more in love with my new smile, and if you have ever thought about perfecting yours, I highly recommend looking into it. As I mentioned the video consultation is free, and I know you would be impressed seeing what your new smile could look like!
Dr. Scott made the process as smooth and easy as possible. He is such a great dentist and his staff is so professional and friendly. Everyone in the office makes you feel right at home. Will even decided to get his teeth whitened while we were there and he loved it too! We both highly recommend Dr. Scott and his staff and know you won't be disappointed.
FAQs
How much do veneers cost?
The cost can vary depending on what you're having done, how many teeth are being treated, etc. The estimate is about $1500 per tooth. You will need to have a video consultation to get a better understanding of what the final cost will look like.
What is the video consultation & how do I do it?
Click here to begin the consultation process (its free)! You can upload a couple of photos and give him an explanation of what you're wanting to change about your teeth. Within 7-10 days you will receive a video back from Dr. Scott and he will explain his recommendation and why. He also explains the process and gives a breakdown of different cost options. This will include before and after photos to show what he has done for other clients that have been in a similar situation. If you have additional questions, he will also do a FREE consultation in person.
Can you apply veneers the bottom teeth?
Yes of course! However, you really won't notice your bottom teeth as much when your top teeth are done (sounds opposite, but its true)!
A very special thank you to Dr. Scott Harris for helping me perfect my smile. This post is written in partnership. I was compensated for some of the procedure, but did pay out of pocket for a portion of it. As always, all thoughts and opinions are honest and my own.