Happy Friday! Today I'm kicking off my weekly blog Q&A series. Last week on Instagram I had you guys ask any questions you wanted, and I got A TON! I love being able to open up and share a little bit more about myself with you guys. Plus it also allows me to connect with you more, which I'm excited about. Still trying to come up with a catchy name for the Q&A series, so leave a comment with your recommendation and you might win a gift card (wink, wink).
I won't be able to answer every question I received last week in today's blog post, so I'm going to keep it focused on my fashion favorites because that was definitely a reoccurring question. I will try to answer the rest on IG Stories over the weekend, but some I'm saving for next week because there are so many good questions!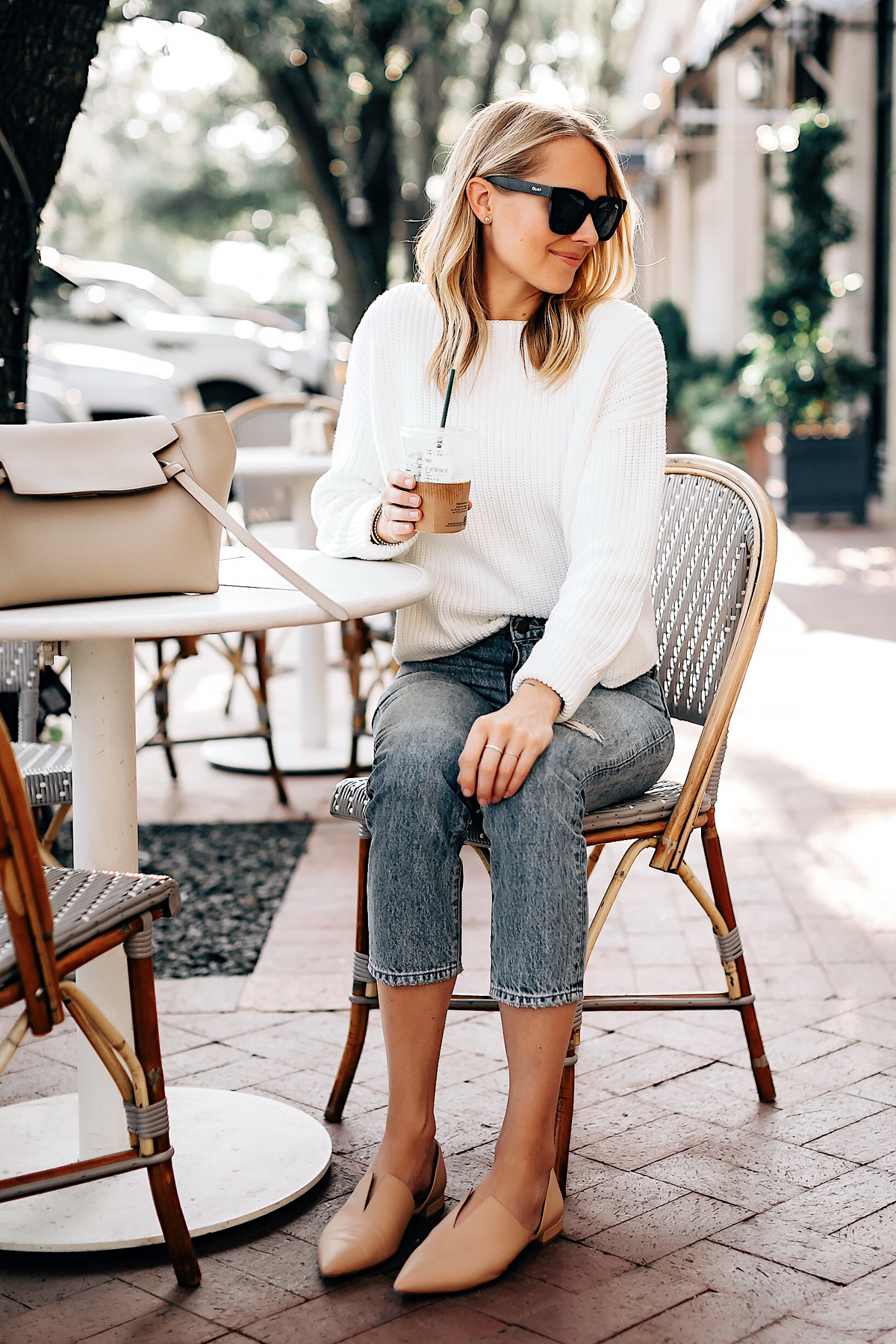 1. What is your favorite brand of designer denim?
I feel like I should preface this by stating what my body shape is because that is a factor into my favorite designer denim. I'm 5'10 so I need longer lengths, and I have a boyish figure (straight up and down with little waist definition), plus I have a bootie. I'm not curvy, I just have definition in my bum 🙂 Based on this, my favorite brands for designer denim are Frame, Hudson, & AG. However, if I'm searching for cropped or relaxed jeans, I love Paige denim because I don't need something so long.
If you're looking for the best pair of designer denim for your shape, I recommend looking at either Nordstrom or Bloomingdales. I think they have the best selection for designer denim. Go in and try on as many brands and styles that you can and you'll quickly realize which brands you like and don't like. Once you've narrowed it down, it will be easier shopping for designer denim in the future!
2. What is my favorite go-to outfit?
I definitely have my trusty go-to outfits, but it all depends on what I'm doing. My casual outfits always include a t-shirt, jeans, and flats. This week I have been living in this tee, these jeans, and sandals. I really don't stray from this. If we are going out to dinner or I want to dress up just a bit, I will wear skinny jeans, a cami, heels, and I always bring a jacket because I get so cold.
3. What are your favorite loafers for fall?
Last year I finally splurged and purchased the Gucci Princetown mules and I LIVED. IN. THEM. If you've been on the fence, I say go for it. They are classic and I don't think they are going away this season. FYI I'm an 8.5 and took a size 39. But if you're looking for something more affordable but still great quality, I love Everlane for shoes. Their styles are more minimal and classic, but have on trend elements. Anytime I wear my Everlane shoes, I get so many compliments!
4. Favorite brand for bags?
I personally prefer to invest in my handbags, so 90% of them are designer. I made the decision to start investing in handbags in my 30's because I felt like it was time to stop wasting money on trendy bags that weren't going to last a season. You can read more about my tips to buying a designer handbag here. With that said, I don't really have a favorite brand for bags, but I do have a favorite designer bag, and it's my Celine.
I get asked about my Celine bag so often - it's the mini belt bag in taupe and it's hands down the best purchase I've made in apparel/accessories. Out of all my bags, I use it 9 times out of 10. I think it's the best bang for your buck, classic, functional, and it really goes with everything.
5. Favorite Brand for T-shirts?
I've said it once, and I'll say it again. Everlane is my favorite for basics and their t-shirts are SO GOOD. They have so many styles and colors you'll definitely find what you're looking for! Plus most short sleeve are under $20 and most long sleeve are under $30. Best quality and best pricing!
6. What are your favorite tall boots?
I mentioned I invest in bags, but I also invest in shoes. Yes, I still buy trendy under $100 styles for the season, but for shoes that I know I'll want year after year, I definitely invest because they are so much better comfort and quality wise. For tall boots, my favorite have been Stuart Weiztman. I have one pair of flat over-the-knee boots in black (the lowland) and two pairs of heeled over-the-knee boots (the hiline). One pair is black, the other is taupe. During the fall/winter seasons I live in these boots. They pair so well with dresses and jeans and really are comfortable.
7. What are your favorite brands for basics?
Depending on the style I'm looking for, I have a few brands I like for basics. Everlane wins again for t-shirts and sweaters. They have the best crewneck cashmere sweaters in the fall (I have 3 colors!). I love Madewell (the high rise skinny) & Topshop (the jamie) for basic denim styles. Topshop is also great for basic but still on-trend styles that are affordable. Halogen (a Nordstrom brand), also has good basic styles. One of my favorite and most worn cardigans is from their line.