Happy Friday, everyone! I've received so many questions about my daily makeup routine, so today I'm sharing a post dedicated to it and answering your questions. I've mentioned my beauty favorites in previous posts, but this one is updated with my current all-time and new favorites. I'm by no means a beauty expert but these are the products that I love and that work best for me! Leave a comment and let me know if you've tried any of them, or what your current favorites are. I'm always looking for new products to try!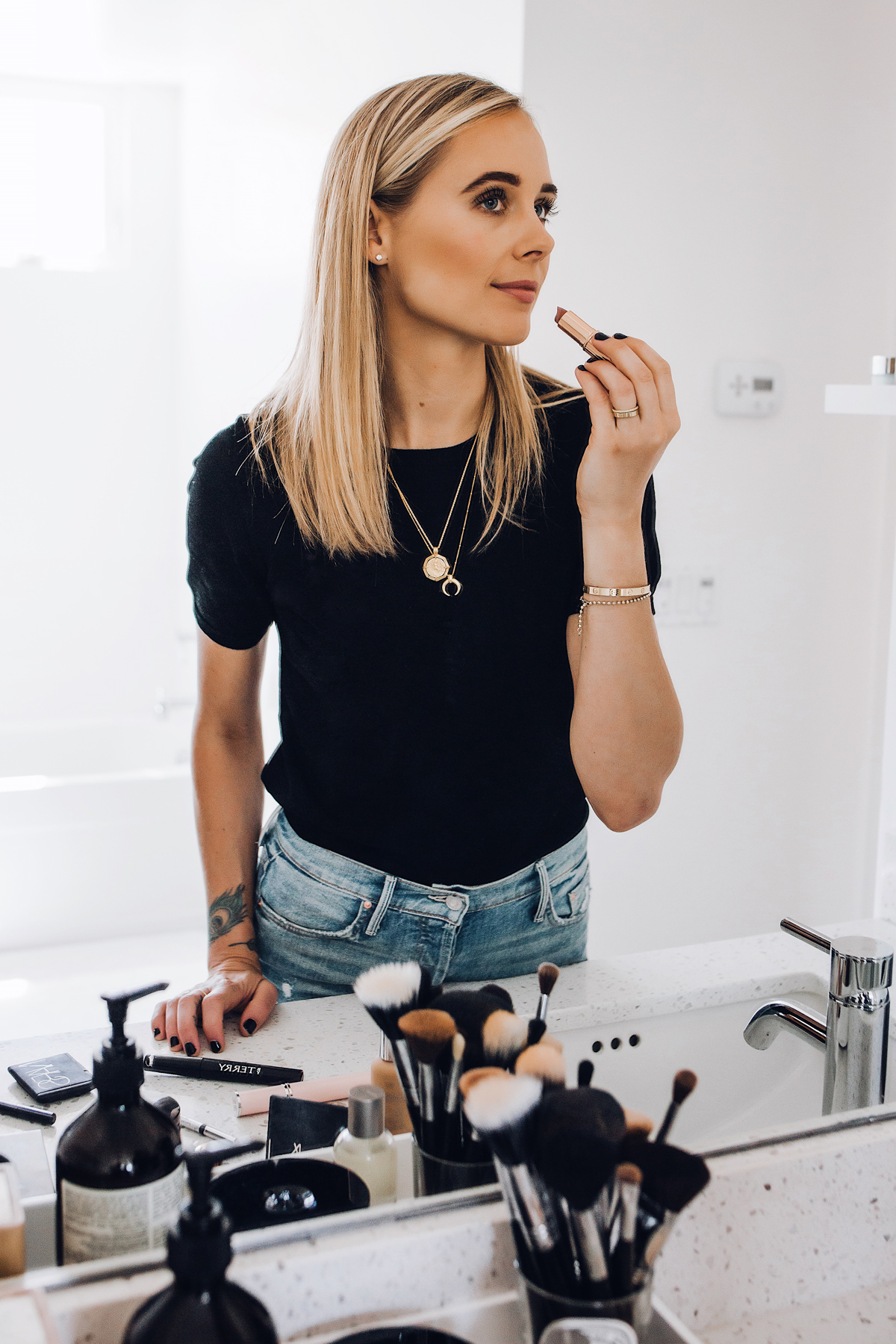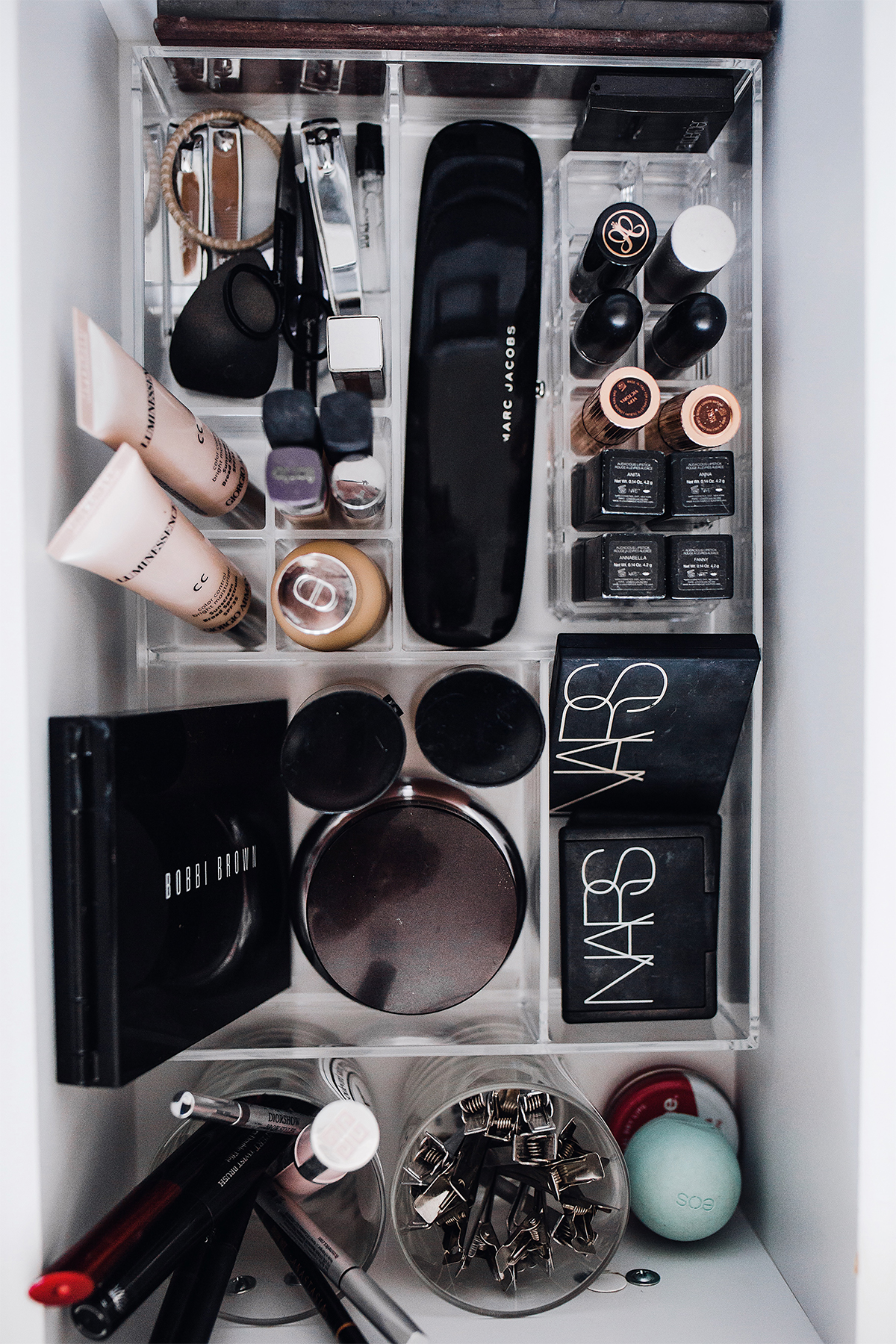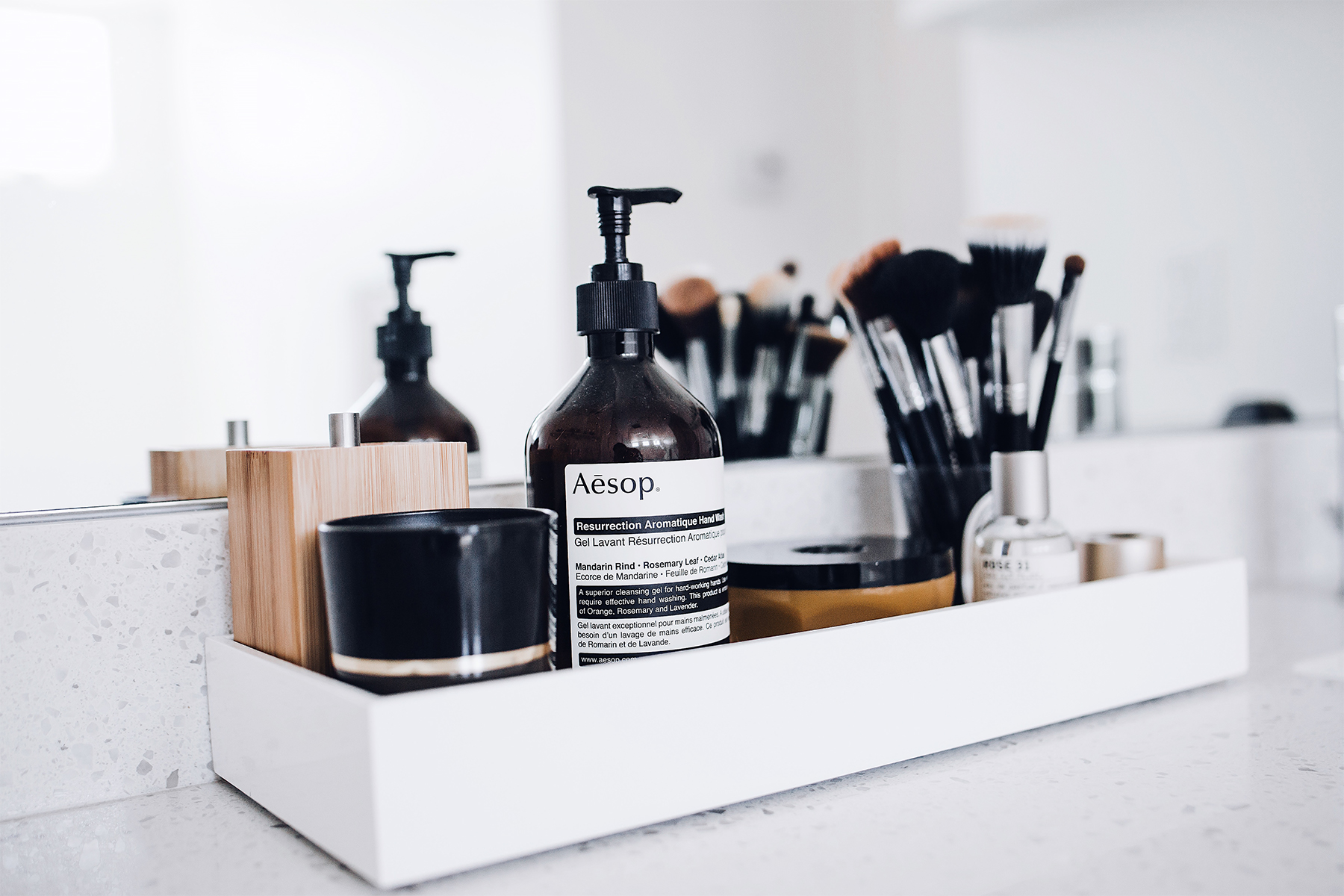 1. Do You Use Primer?
As of 2 weeks ago, yes. I had tried different primers in the past that had been highly recommended, but I honestly felt like they didn't do anything. I actually thought a few of them changed the tone of my face making my foundation color off. It wasn't until I read about this primer from Tatcha that had me intrigued. It blurs imperfections for a soft-focus finish, increases the longevity of makeup, and guards your skin against acne and pollution. It goes on silky and creamy and really feels nice while applying. It acts like a magnet when I apply my foundation and keeps my makeup looking fresh all day. There is a little disc applicator to tell you exactly how much to use and a little goes a long way, so I know this will last me a while. While it is pricier, I think it's definitely worth it.
2. What is Your Favorite Foundation?
For about a year I had been alternating between the Giorgio Armani CC cream & the Giorgio Armani Luminous Silk Foundation depending on the coverage I wanted. While I still LOVE them both, I recently picked up the Dior Backstage Foundation and I'm obsessed! (FYI there are so many color options, I definitely recommend going into Sephora and having it matched for your skin). I love the texture, it also has a nice scent, and paired with my primer it really gives the ultimate coverage without looking or feeling heavy/cakey. After applying my foundation and concealer, I use the Laura Mercier powder, very lightly, to set everything in place. FYI I don't wear foundation everyday, only when taking pictures for the blog, or a special night out.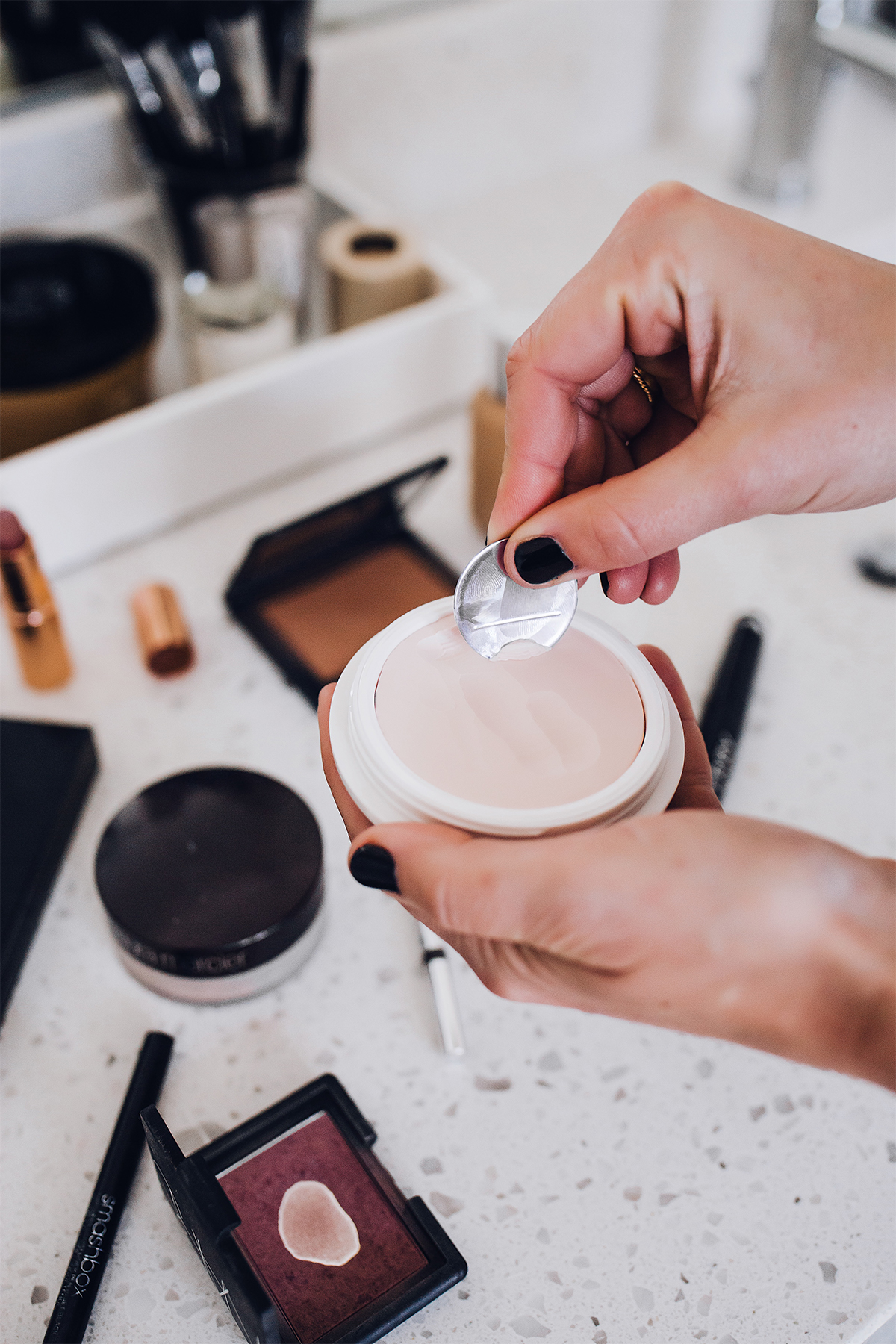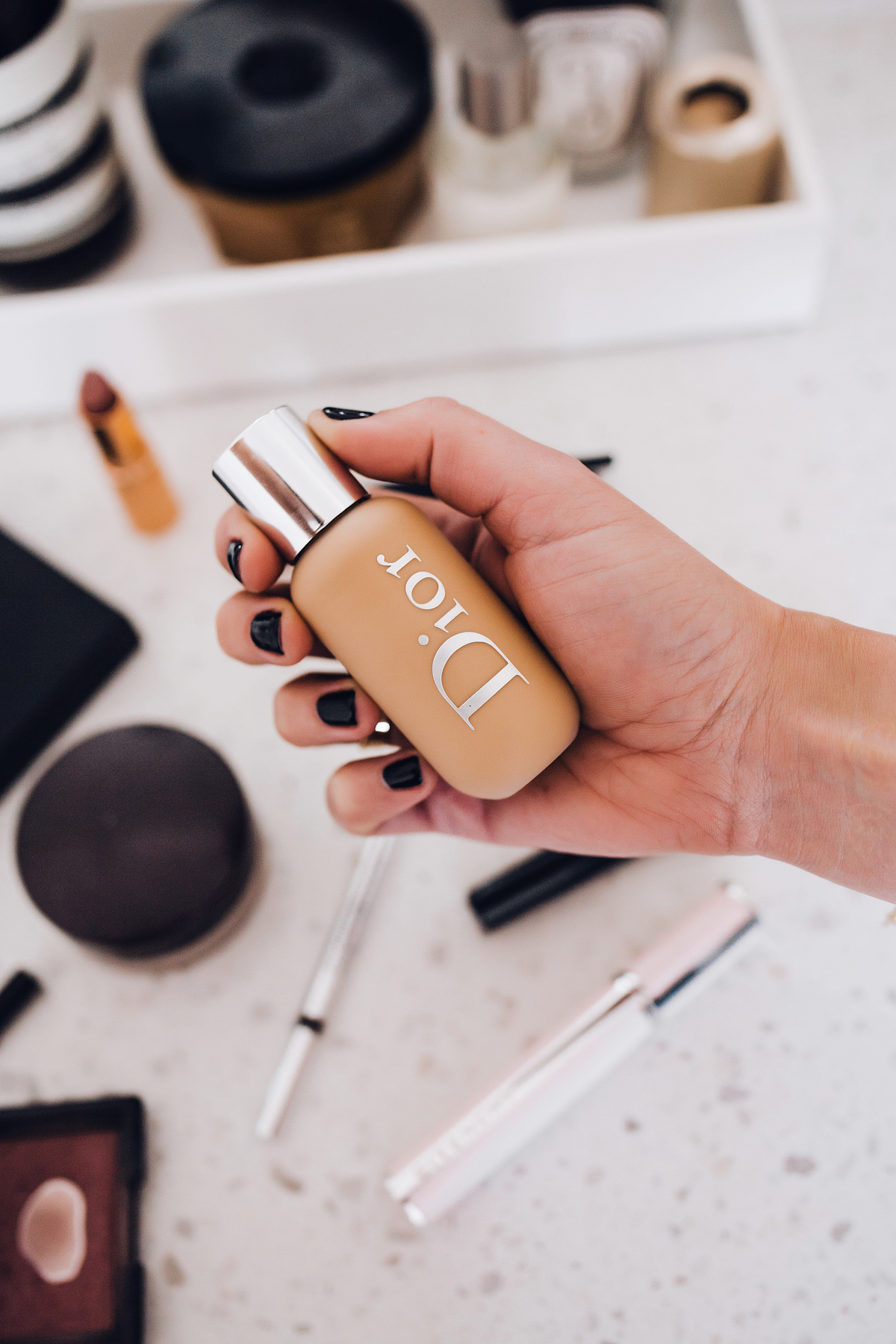 3. How Do You Get Rid of Dark Circles?
Hopefully this was more of a generic question instead of personal haha. I don't really have dark circles unless I haven't been sleeping or drinking enough water. My skin definitely reacts to it's environment! I had been using a very expensive concealer only because I received it as a gift, but I loved it. However, I was running low an didn't want to spend that much again unless I absolutely had too. I started looking for new concealers and found that this one from Tarte was one of the best selling concealers and much more affordable than my previous concealer. It had my interest with "creaseless" in the name, because that can be such an issue when it comes to concealers. I found that by applying with the brush then setting with a sponge blender gives the best application.
4. Do You Wear Bronzer & If So, Which One?
I have been using this NARS bronzer for years! I honestly love everything NARS, and think they have such great pigmented colors. I love that this bronzer in particular has a matte finish. I do not want shimmer/glitter or anything similar on my face and I found so many bronzers had that affect. I randomly found this one while shopping one day and have been using it ever since. It adds natural looking warmth, goes on smooth, and stays in place all day. Sometimes I even use it as eyeshadow for a quick makeup trick! I wear the shade Laguna and love applying it with this brush by Sigma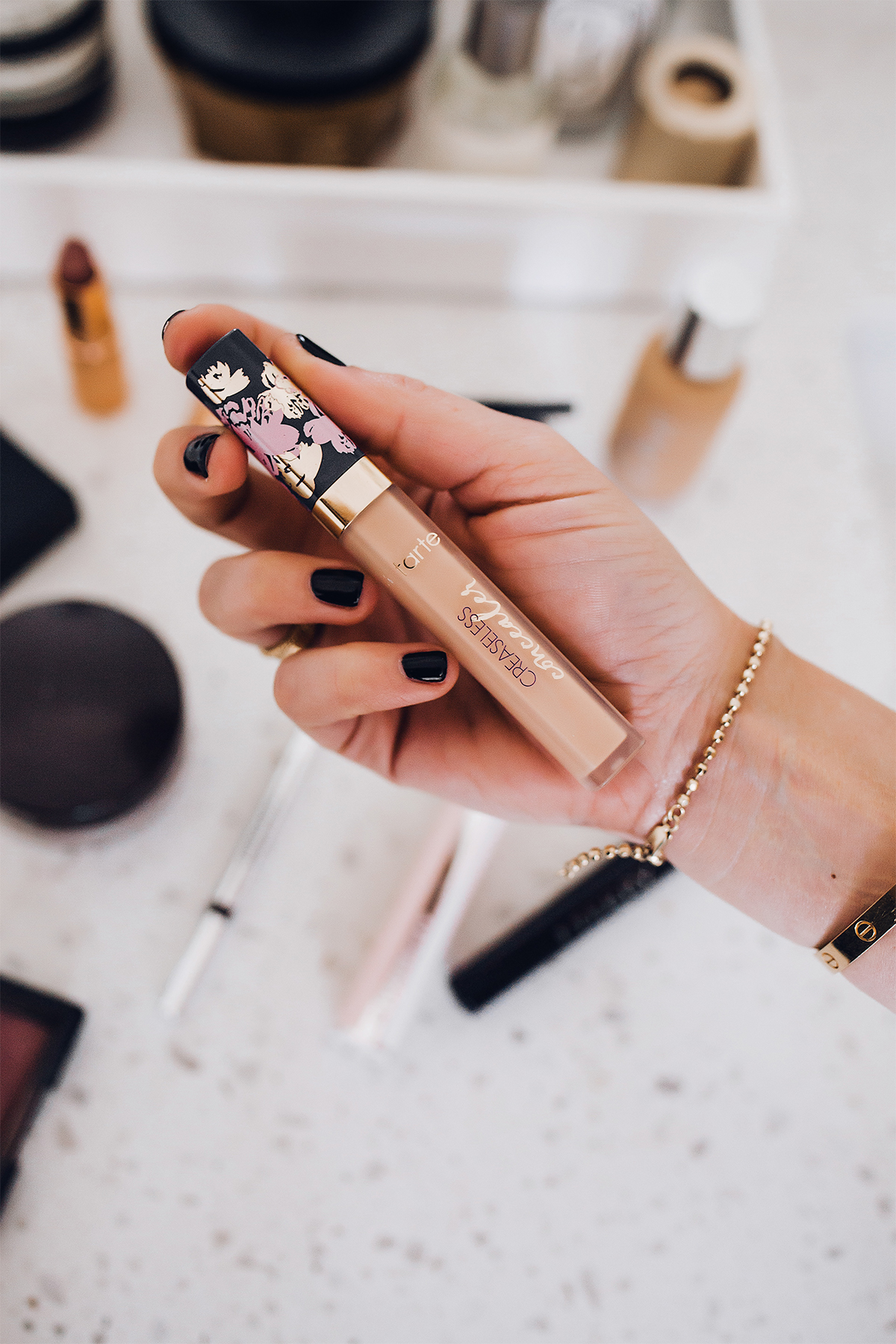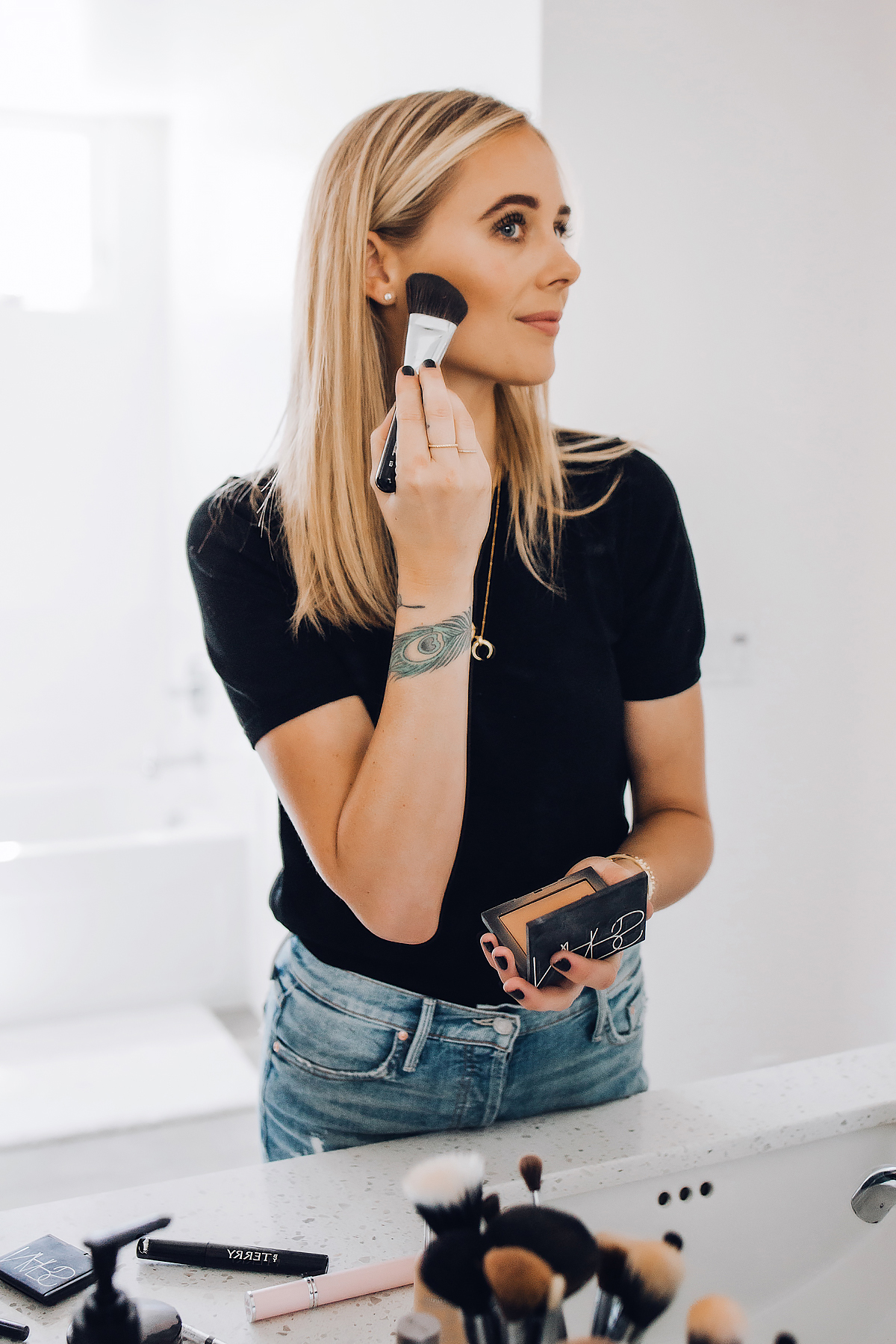 5. Which Blush Do You Wear the Most?
I only have 3 blushes in my makeup drawer right now, and they are all NARS. Sin, Impassioned, and Super Orgasm. I wear Sin 99% of the time. I think it is the perfect amount of rosy, without being too pink. I only apply to the apples of my checks and use this sigma brush.
6. What Eye Makeup Do You Wear?
Like I mentioned, I'm not a beauty expert and I also like to keep my makeup pretty simple. When I'm in a hurry I'll just use my NARS bronzer as eyeshadow, but if I have time, I will wear eyeshadow, eyeliner, & mascara. I have been using this Marc Jacobs and this Urban Decay Naked eyeshadow palette for years. I recently bought this set by Bobbi Brown during the Nordstrom Anniversary Sale and have been using it the most lately. This palette has some of the same & similar color options (I like wheat and woodrose). For eyeliner, I only line my top lid and have been using this liquid eyeliner from Smashbox. I'm not the best with liquid liner, but prefer the look of it. Would love your recommendations for something else!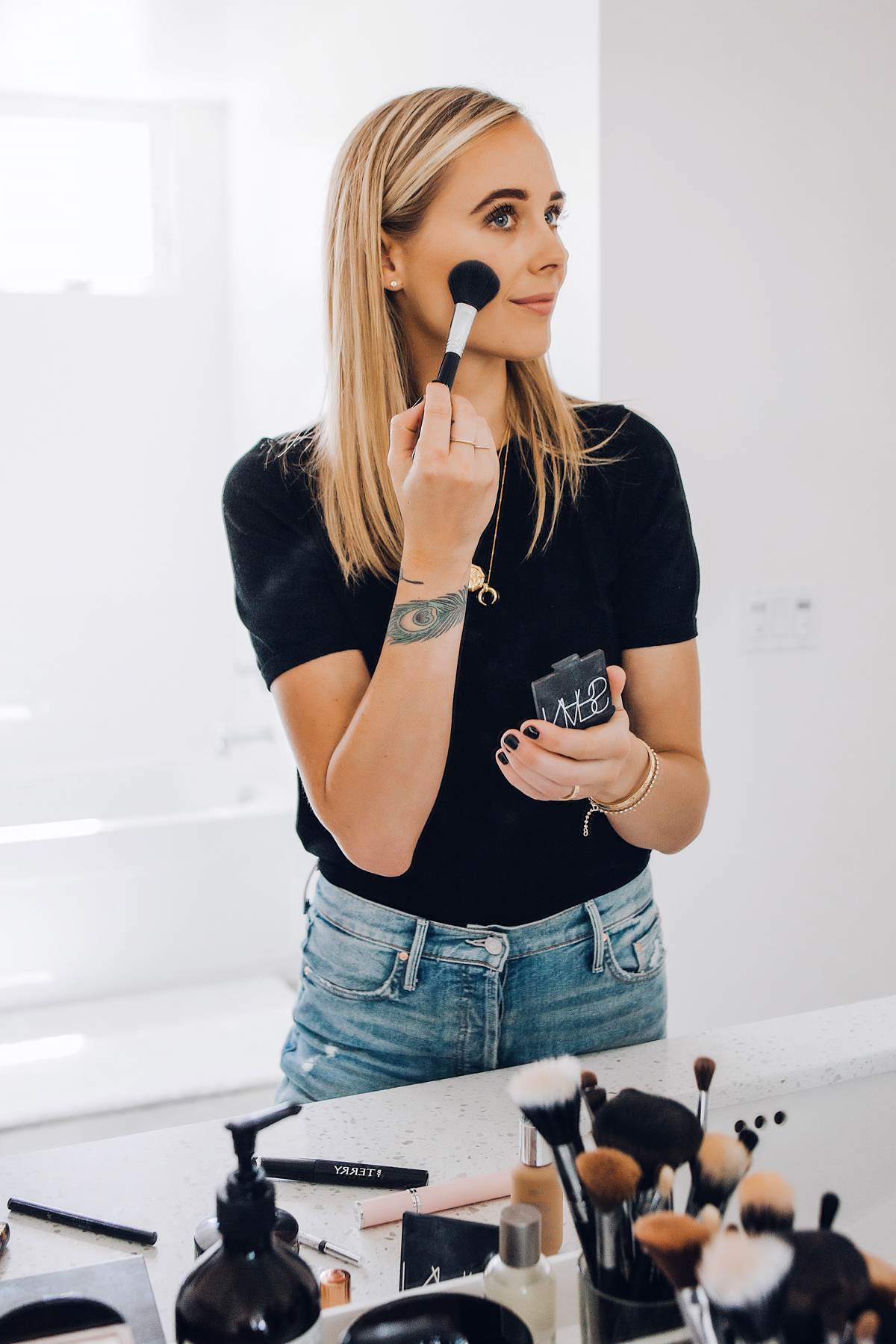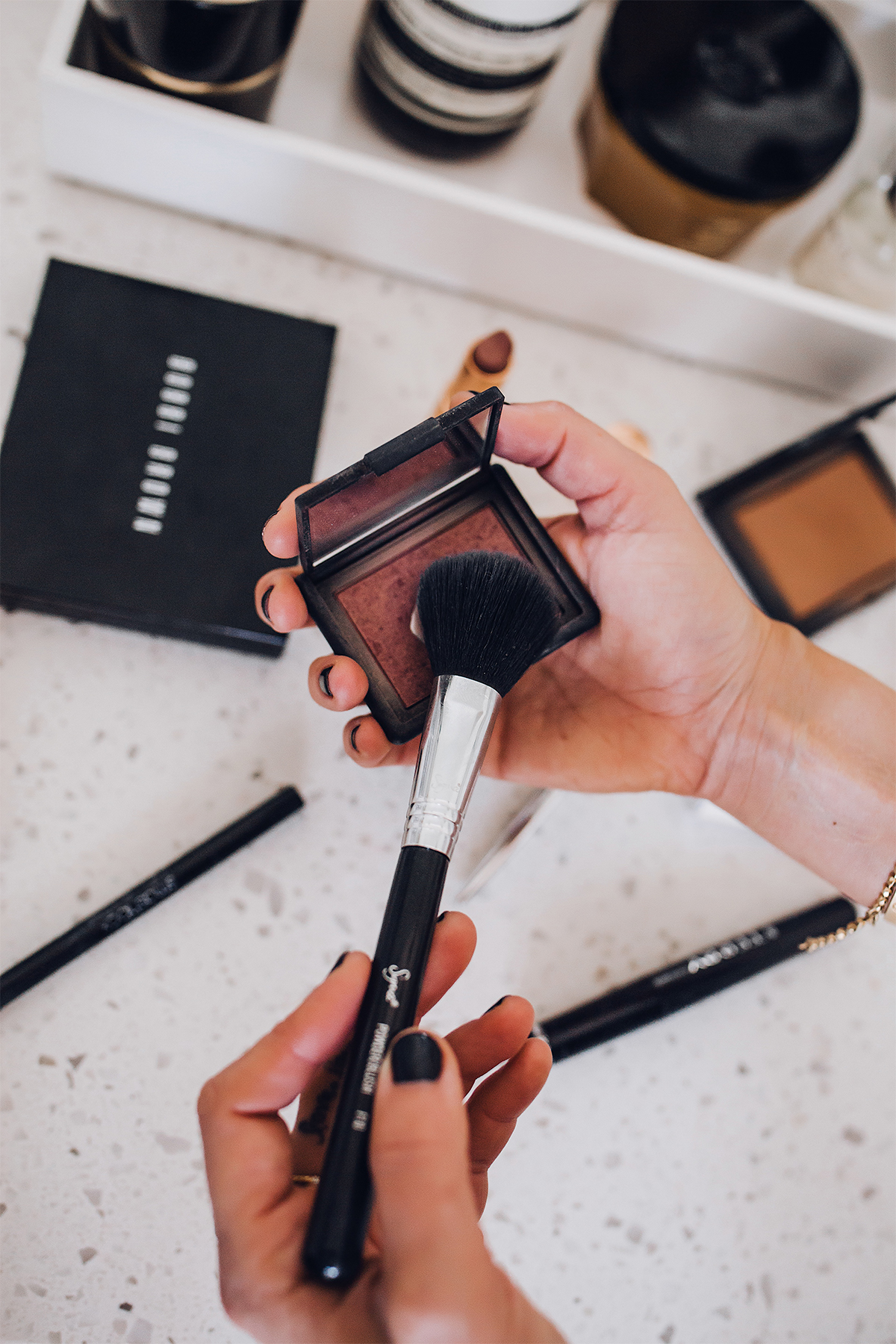 7. What is Your Favorite Mascara?
You might remember about a month ago I asked you all for your favorite mascara recommendations. I had been using Too Faced 'Better than Sex' mascara on and off for a while, but always felt like there could be something better. So I asked you guys! I was blown away with all the responses and shared the results with you. In case you missed it, #1 was L'Oreal Voluminous Lash Paradise (which is under $10!). However, there were a few recommendations for this mascara from By Terry and after reading a ton of reviews, I was pretty much sold. I have been using it paired with my Givenchy Lash Primer (this makes SUCH a difference) and I'll I can say is I'm obsessed. I love how the brush has two settings as pictured below. I use the straight wand first, add more mascara from the tube, then twist to the second setting and apply a second coat. This routine makes my lashes looking full without being clumpy.
FYI a few of you asked if I had lash extensions or use anything for length. I naturally have long lashes, but I did start using Neulash a year ago and it really helped to give more length and fullness. I used for 2 weeks morning and night, then I cut back and applied as needed. Highly recommend!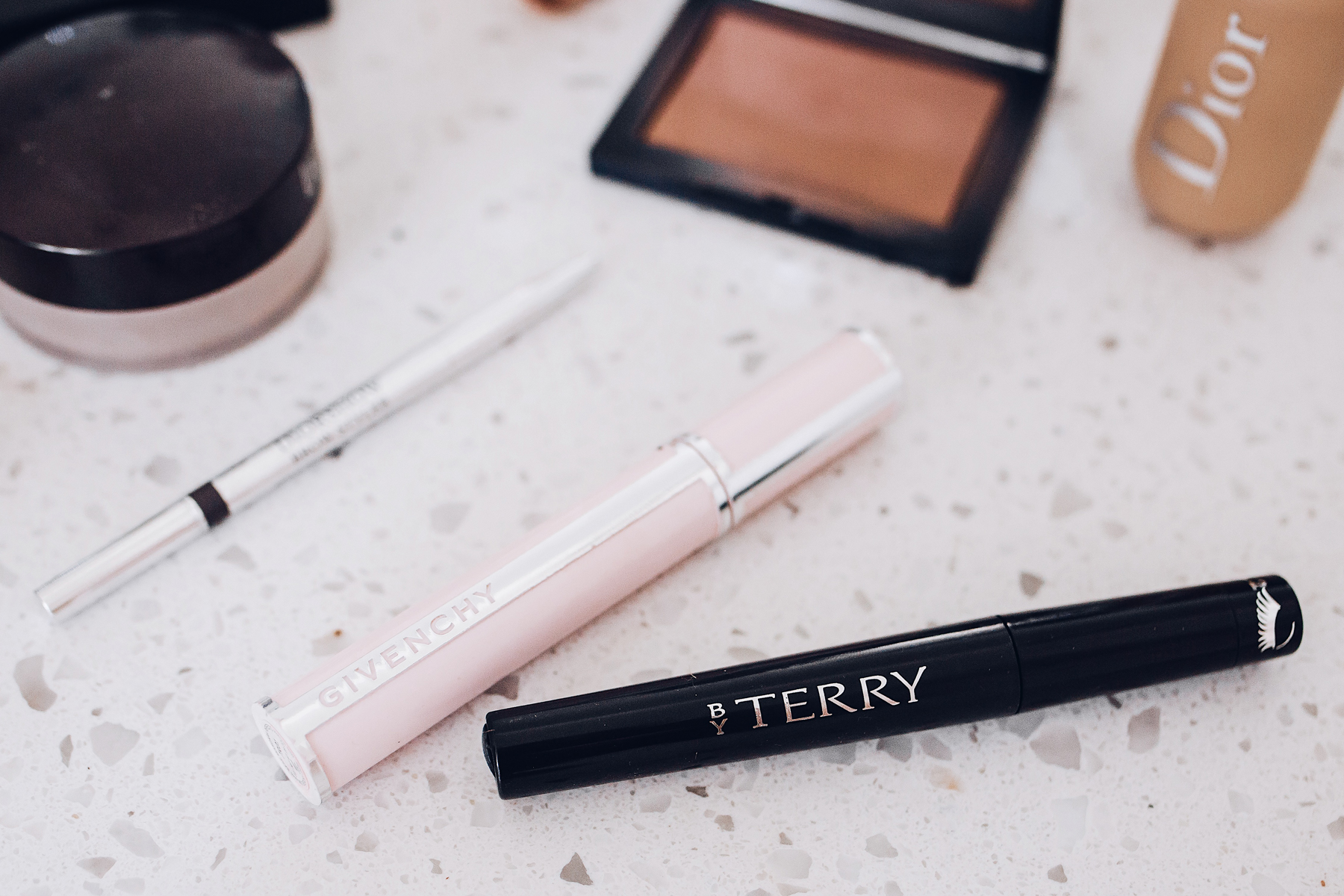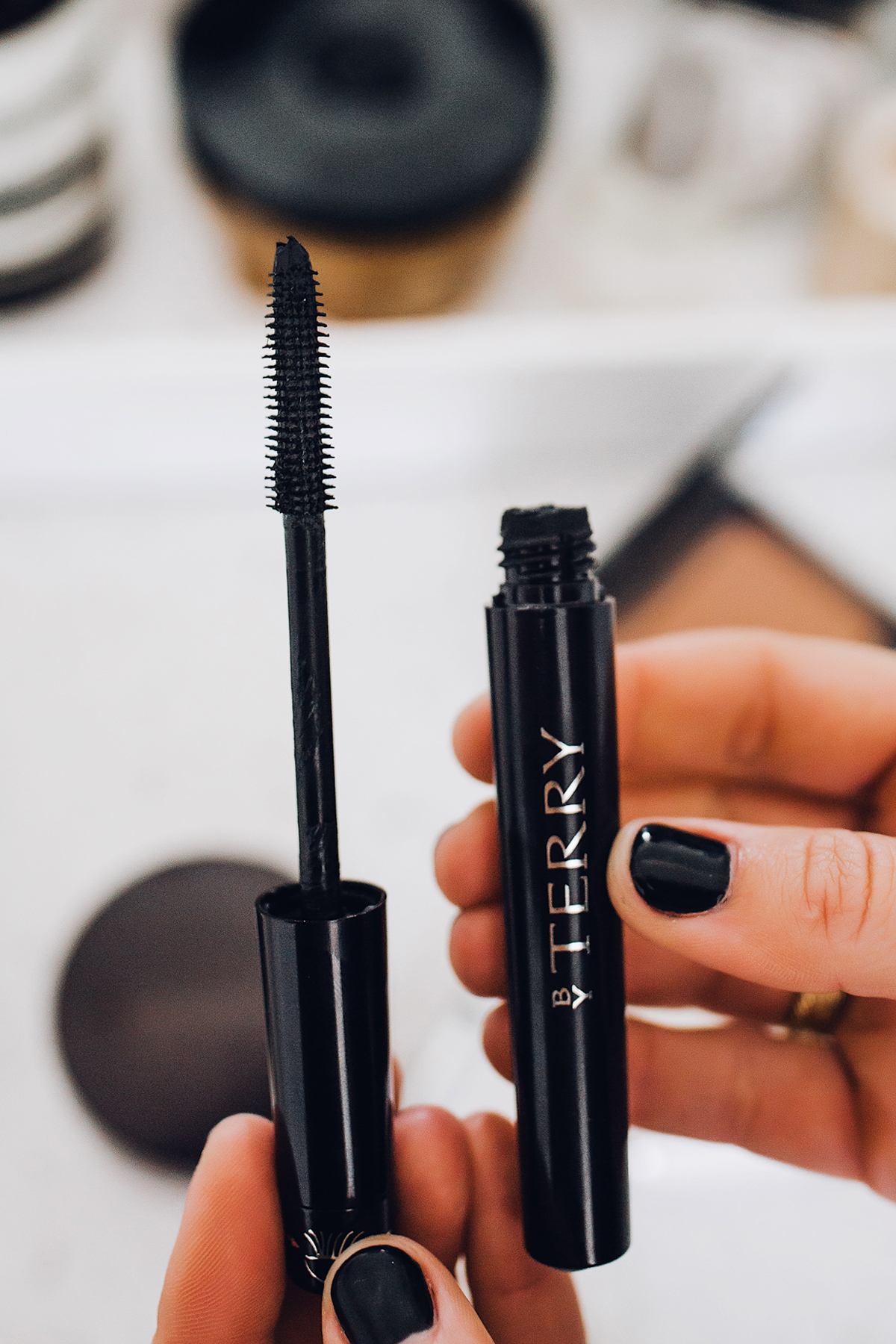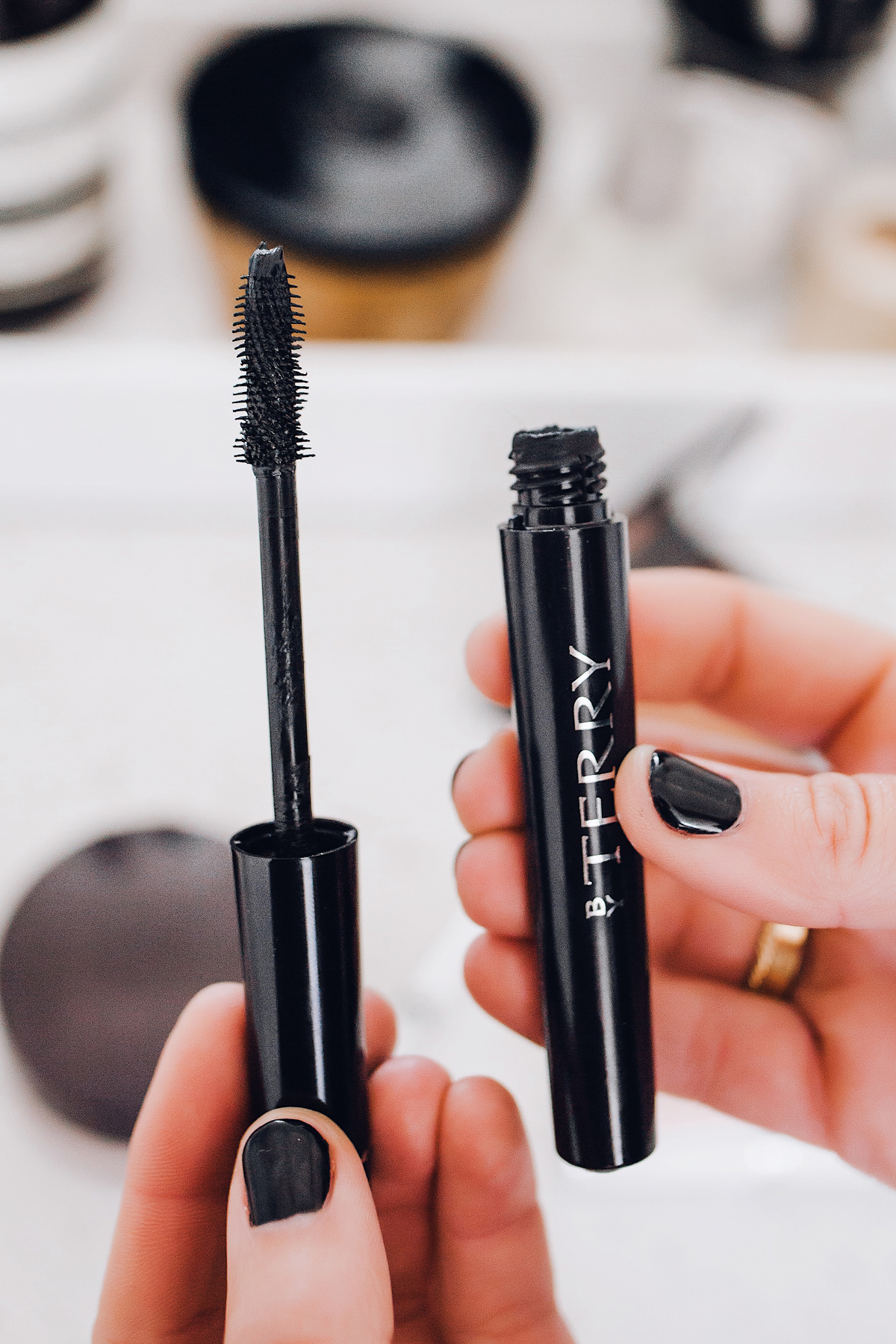 8. What is Your Everyday Lipstick Color?
I naturally have rosy/pink lips so a lot of the time when you guys ask what color I'm wearing, its just this lip balm. I'm sorry! But when I do want more color I alternate between a lipstick or tinted lip treatment. This lipsitck by Charlotte Tilbury in 'Very Victoria' has been my go-to. I love the natural color with a little rosy shade to it. It has a matte finish, feels super hydrating, and lasts most of the day. This tinted lip treatment is great when I don't want a lot of color/coverage. Rose has been my favorite color for years!