Happy Friday, everyone! So as I mentioned on Instagram Stories earlier this week, I'm heading to London on Monday, and I'm so excited! I asked for recommendations while visiting London, as well as any travel questions you may have. I seriously received more questions regarding travel than any other topic I've ever asked about, which I love! However, because of this, I had to categorize everything and will be doing separate blog posts over the next few weeks regarding travel. In those posts I'll cover my travel skincare routine, best luggage recommendations, how to create a capsule wardrobe for a long vacation, carry-on must haves, and more! So for today I'm going to try and just answer a few of the more general questions before deep diving into specifics.
If you have specific questions about an upcoming trip, feel free to email me, that way I can be sure to answer any questions you may have.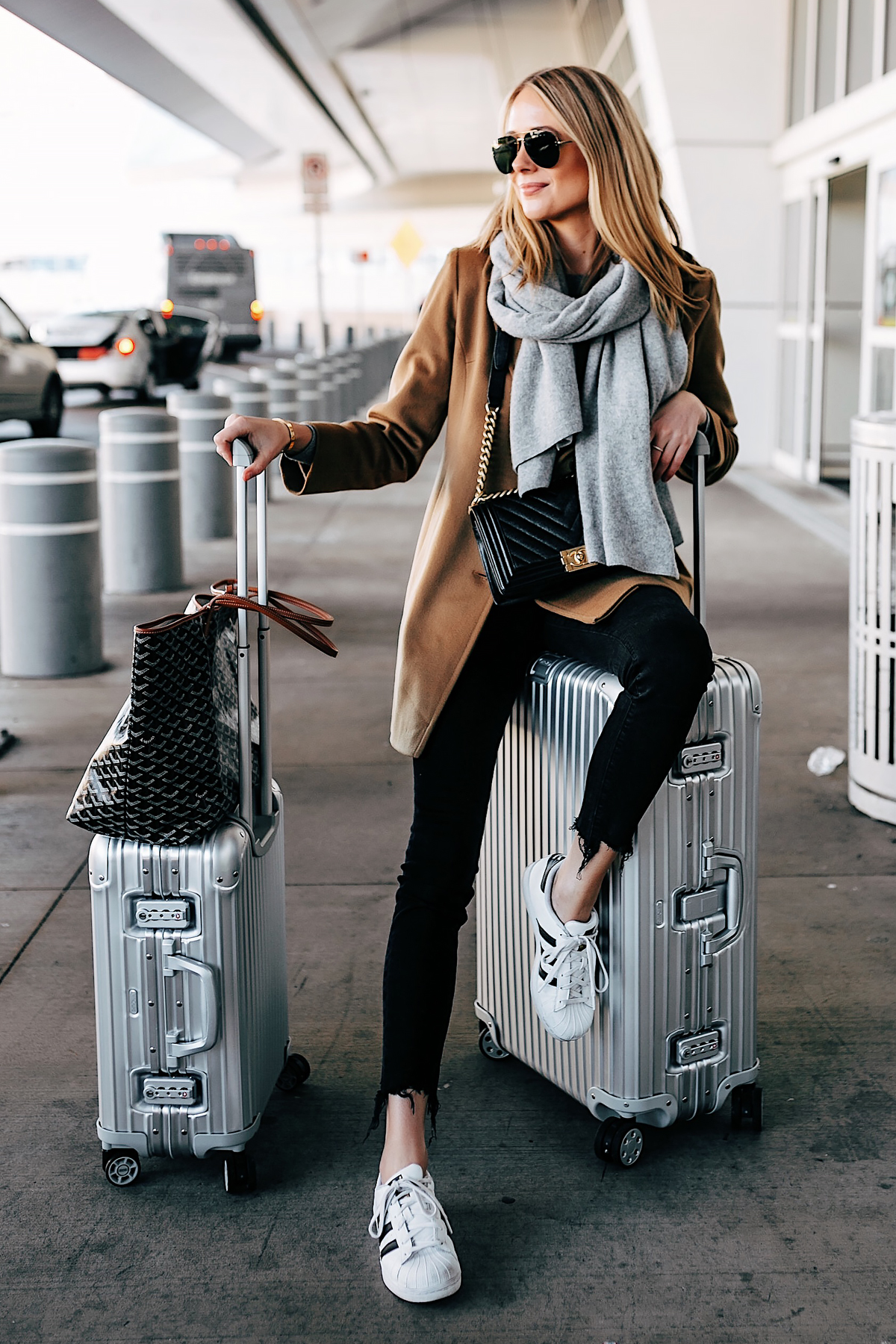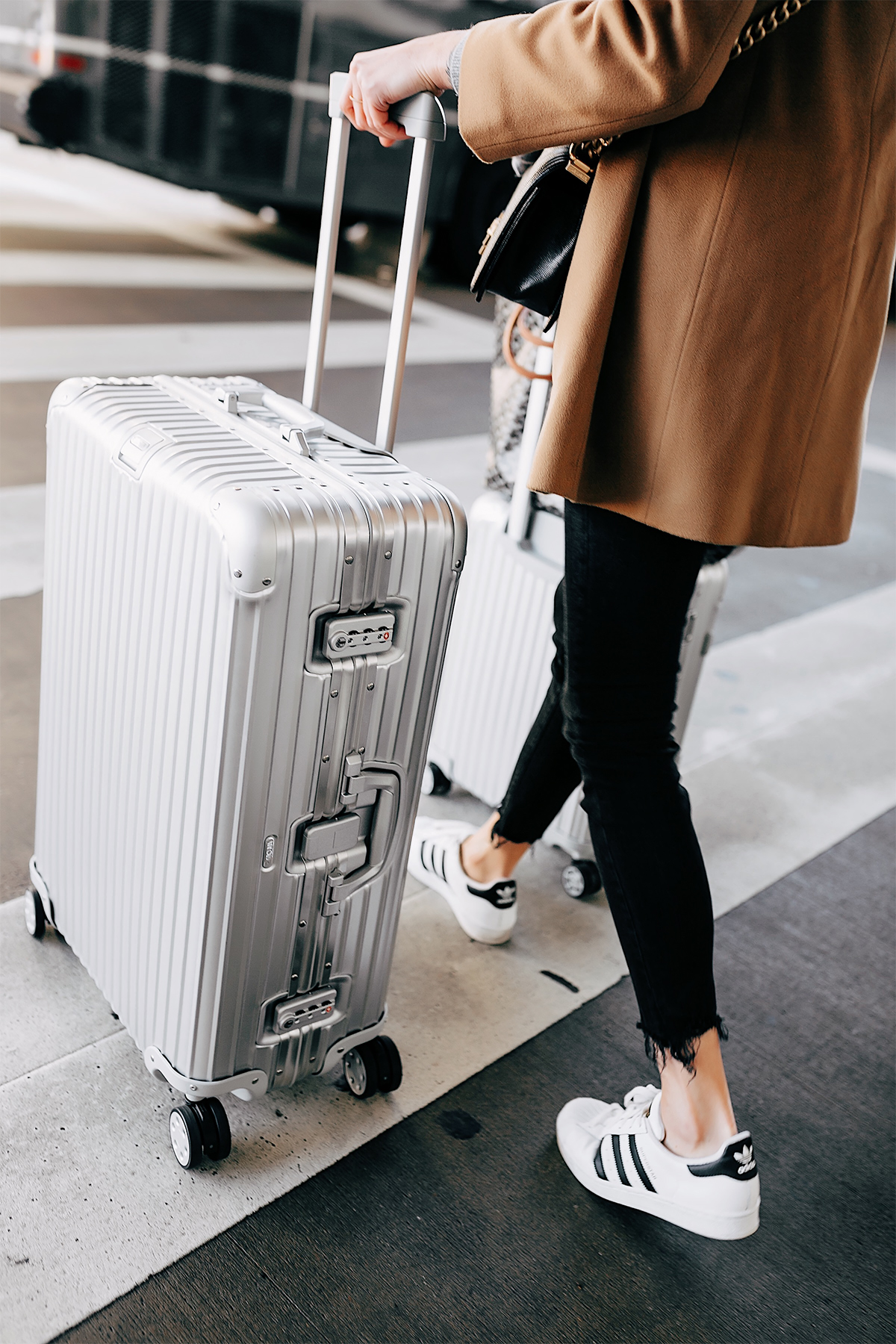 1. What Luggage Do You Use?
I purchased the Rimowa 29" suitcase and Rimowa cabin suitcase (pictured above) at the beginning of 2018. I'm still on the fence about it. I wanted to invest in a nice set of luggage since I travel so much. I figured it was worth the upgrade, so I finally bit the bullet and purchased the pair. Honestly the only thing I love about the suitcases is the look of them. I find them incredibly difficult to pack a lot of items and easily shut the suitcase. I'm normally one to pack a little more than necessary, and these just don't hold as much as my previous suitcases (which were the same size). If I don't fill them all the way up, which is rare, I don't have any issues. I just bought this set for my trip to London, so I'll keep you posted if I enjoy them better!
2. What is Your Go-To Travel Outfit?
This really depends on where I'm going, what I'll be doing as soon as I get there, and how long the flight is. I know, it's a lot to consider. But for the most part the outfit usually involves lots of layers. I'm normally freezing on planes and unless its winter, I'm not dressing for both the season and the plane. So during warmer months its typically jeans with stretch, a tshirt and either a sweater or denim jacket. That way I stay warm on the plane, but I'm not too hot when I arrive at my destination. If its an overnight or international flight, you'll definitely find my in my high waist leggings, a tunic sweater/sweatshirt, jacket, and sneakers. I try to be as comfortable as possible for those longer flights and this outfit has been my favorite.
3. How to Travel with Only Carry-Ons?
This is a bit challenging depending on the time of year and how long the stay is, but it is possible! I used to challenge myself to only travel with a carry-on and did it for years! Summer months or tropical destinations are easy because the clothing is minimal and I can get away with only taking two pairs of sandal style shoes. But during colder months you need sweaters, coats, and boots, which are bulkier and take up so much more room. So here are a few tips for traveling with only a carry-on:
Buy toiletries at your location or use the hotel's (if possible). If the hotel doesn't offer them, I would rather spend $20 on generic shampoo/conditioner, body wash, toothpaste than pack those items that you already have to consolidate to meet the liquid size requirements. I have done this numerous times and it's really not bad at all, plus it saves time taking them out in the security lines!
Plan your outfits in advance. This will help you from overpacking! Try to wear each item you take at least 2 times to get the most out of your looks. I also stick to only taking neutral items so I can mix and match outfits. I like to take outfit pictures prior so my looks are already styled. If you only wear one item once, ask yourself if you really need it.
Roll Roll Roll. This is an old trick but it seriously works! I roll all my clothes and it saves a ton of space! I just bought these packing cubes and I'm anxious to see if they really work! I've heard so many great things about them.
Maximize the carry-on limit. No matter what I make sure my carry-on is a hard case and the exact size airlines allow, that way they can never turn you down at the gate (soft cases expand if you over pack and sometimes don't fit). After that you are allowed one personal item - but I really have two. I wear a crossbody handbag (the one I picked to use for the entire trip), and my tote. My tote typically has my laptop, electronics, and makeup. Before boarding, I take my handbag off and place inside my tote, and walk though like I know what I'm doing.
4. What is Your Tote You Always Use?
The tote you always see me with for travel (and pictured above), is my Goyard tote. I purchased this in Paris last fall at the Goyard store. It's the large size and I'm seriously in love with it. Yes, it is pricey, but its very roomy and I never have an issue when it comes to storage! You can find some really great gently used styles on eBay via their authenticated bags. This was definitely a splurge, so if you're looking for something a little more budget friendly, I recommend this tote; it's incredibly chic.
5. How Do You Handle Jet Lag?
After making the DFW-HKG-DFW flight numerous times during my corporate career, I learned a few tricks that really helped fight jet lag:
Get on the destination time zone as soon as you board the plane and set an alarm to wake up at the time you normally would for that destination. When I traveled to Asia, I would be on a flight anywhere from 14-17 hours. UGH. Most of the time we would land at night and have a full day ahead the next morning, so there wasn't time to have jet lag. With my time zone trick, once we arrived to the hotel, it would be time for dinner, and then I would go to bed and wake up feeling refreshed the next day.
Avoid alcohol and airplane food. Wait what? Yes, skip the wine and drink water. Your body needs to stay hydrated, especially since flying can be so dehydrating. Plus drinking lots of water will keep your skin looking fresh and help to reduce any swelling or puffiness. I bring my Hydro Flask and fill it at the airport. As far as food goes, your digestive system has to work so much harder at higher altitudes, and as a result this leaves you feeling more groggy and tired than usual. Try to eat a healthy meal prior to the trip, and pack fruits/veggies as snacks. Obviously use your best judgement for those 10+ hour flights.
Hit the ground running. Once you get to your destination, try to avoid taking a nap. I have found that even going for a quick 30 min run at the hotel gym has helped with my energy levels. If that's not possible, take a brisk walk at your destination, and familiarize yourself with the area. Being in a new place can be inspiring and also boost energy levels.