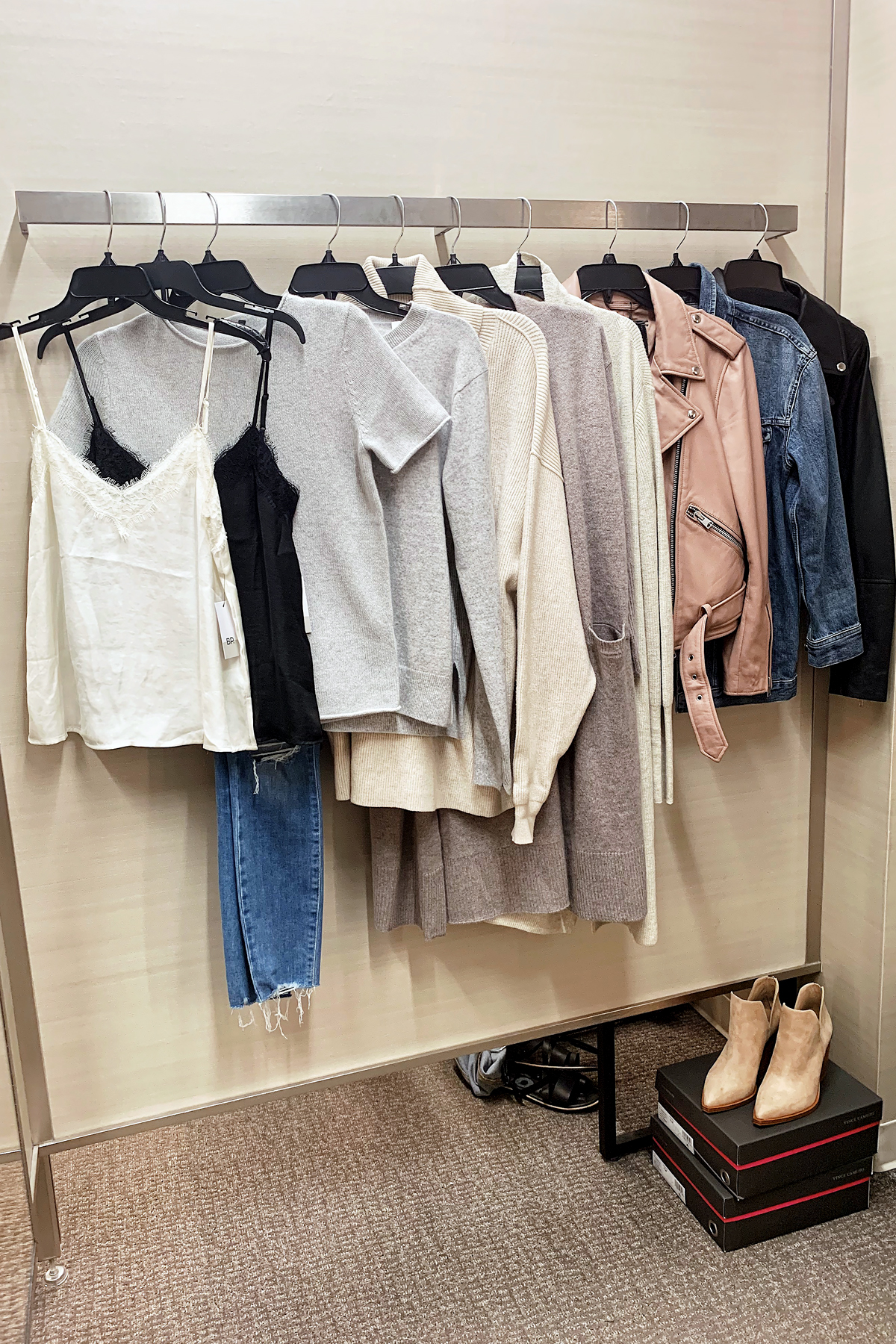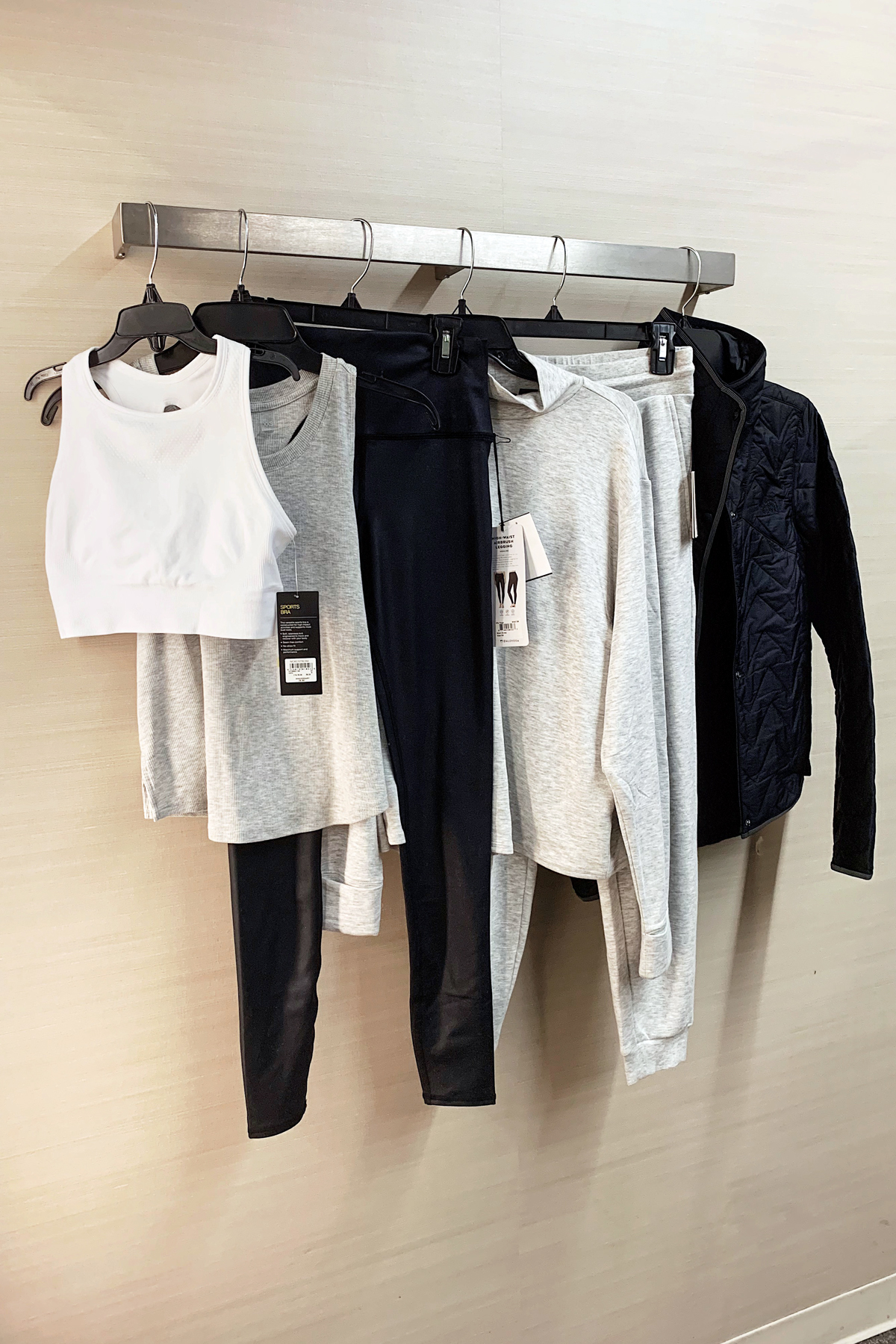 Yesterday I shopped the 2019 Nordstrom Anniversary Sale and I'm SO excited for all the items I came home with! If you followed me on Instagram stories, I told you guys that this year I would only be investing/buying the items I truly believed in (aka not just buying something because it's on sale). I'm super proud of my purchases and I know these will be some of my favorite pieces. I will say, coats/jackets are always one of my FAVORITE things to buy during the sale, but I guess living in southern California the stores just don't get the assortment I was hoping for. So, I will be shopping the sale online today hoping to grab a few items I couldn't get in store. FYI if you're a card holder with Icon or Ambassador status you can shop on 7/11 at 12:30PM EST!
Ok so let's get to it. First of all, I TOTALLY forgot to take a picture of everything in the dressing room before starting (blogger fail). I did share on stories, no pictures just video, so you'll have to check my #NSALE Instagram highlights. I tried on SO much more than this, but kept my final assortment super edited this time. The items featured above are what I took home with me! If I had to choose my top three items it would be this sweater, these jeans, and these booties!
At the end of the post I'm sharing the pieces that weren't in store, but I'm hoping to buy online!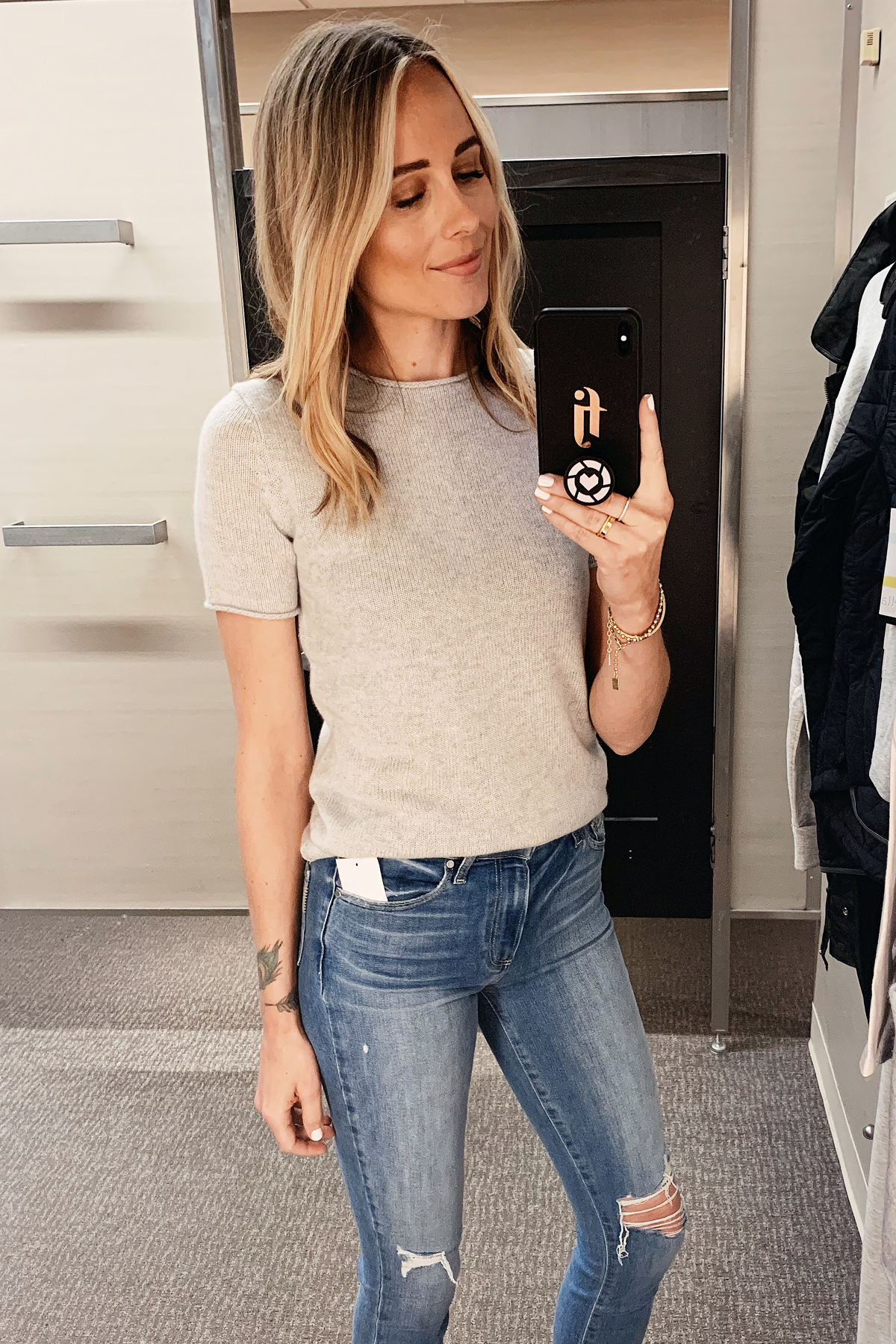 Theory Short Sleeve Sweater
So this cashmere sweater was at the top of my list and I'm so happy they had it available! It is an investment piece, but 100% worth it. I pretty much live in sweaters and you guys know how much I love cashmere, so finding this short sleeve option was super exciting! It will also be available in navy and camel.
Fit: TTS. I'm wearing a size P (petite = size 0). FYI this is not a petite cut, it's just how the brand labels 'XS'
Suede Heeled Mules
I didn't actually buy these heeled mules, and I was never planning on it. However they are SO similar to my Vince mules I had to share them with you since they will be under $50! These are suede (my Vince are leather), but I think its a great texture to add in for fall. They are so comfortable and work well with all neutral colors!
Fit: TTS wearing an 8.5.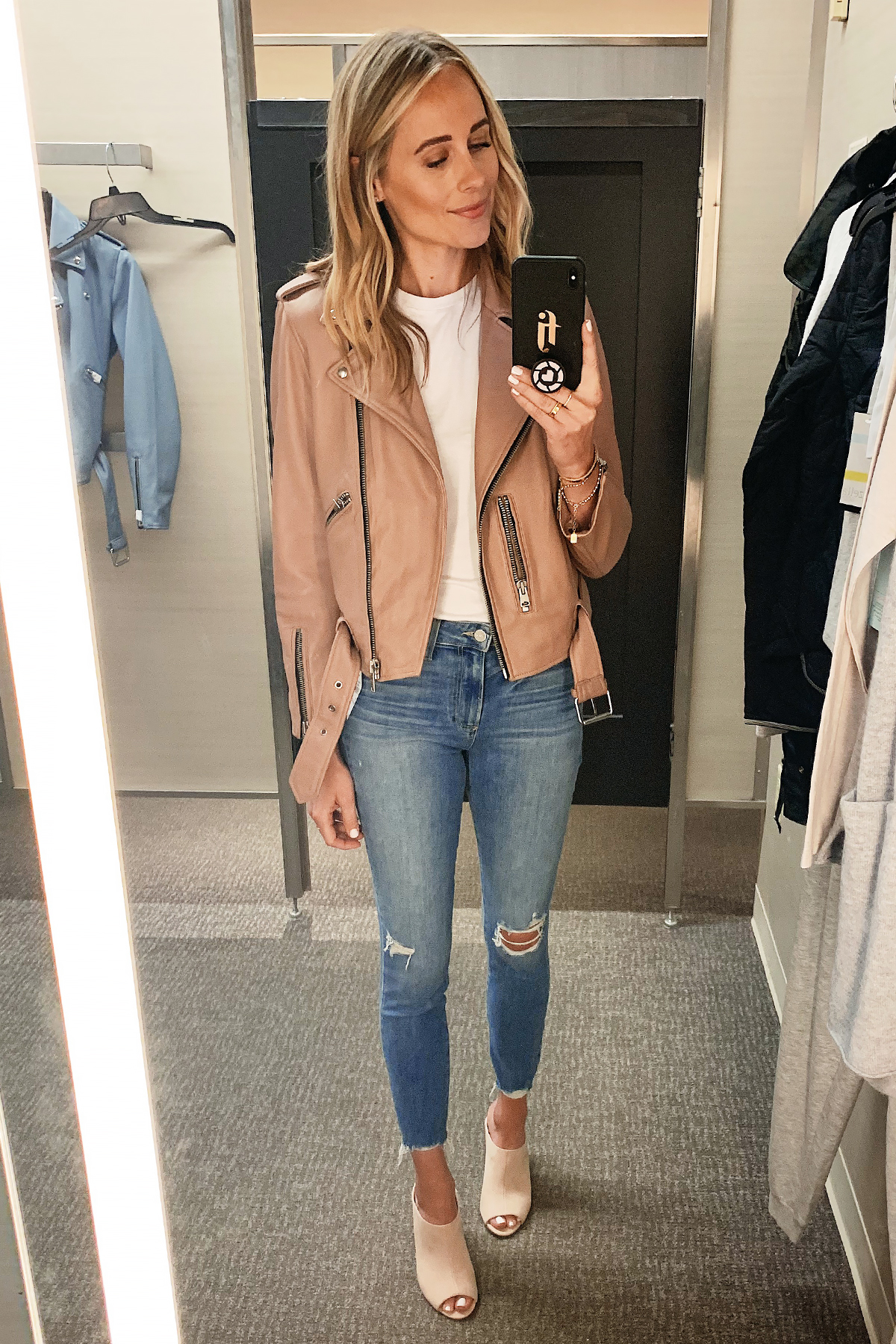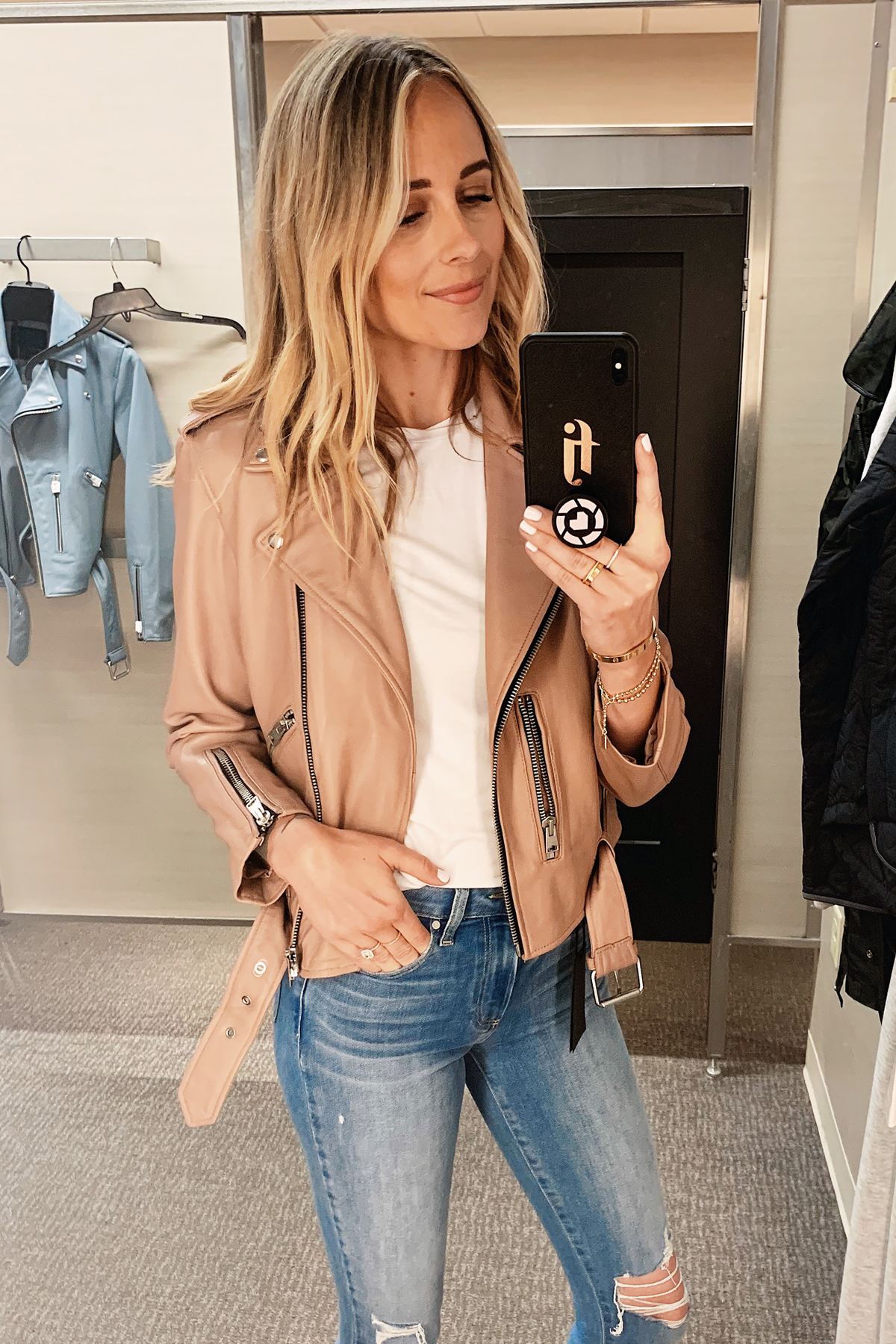 ALLSAINTS Leather Moto Jacket
It wouldn't be a Nordstrom Sale without a moto jacket! I have been a fan of ALLSAINTS for a while and I'm so glad I was finally able to score one of their beautiful leather jackets on sale! I'm obsessed with this blush color and think it will look so good with fall styles too! I also really wanted this one, but my store didn't have it, so hopefully I can get it today online!
Fit: Runs small. Wearing US6. I sized up because the US4 was tight in my shoulders. I always size up in ALLSAINTS jackets. 
Paige Ripped Skinny Jeans
Last year my favorite pair of jeans from the Nordstrom Anniversary Sale were my Paige jeans. Well, they came through again with this pair of ripped skinny jeans! Truthfully though, the LAST thing I need right now is another pair of jeans; I have far too many. But, I don't have a pair like these which is shocking and I know I will get so much wear out of them. I styled them with pretty much every outfit here, which just proves their versatility.
Fit: Runs big/TTS. So I typically size down in Paige. I'm a 25 and bought a 24. I also tried on the 26 since the other sizes couldn't be found at first. The 26 also fit, but they were more relaxed and I didn't want to risk them stretching out further. So technically you can size up/down or take your true size!
*Editor's Note: I did not buy the white t-shirt featured because I have so many already. But it is $10, so sharing it just in case you want to buy. Fits TTS for the brand, I'm wearing a small.
Leith Longline Cardigan
Last year I bought a cardigan very similar to this one, so I was so excited to see an updated style. This cardigan wasn't originally on my list, but as soon as I saw it in store and tried it on, I knew it needed to come home with me. It's a really lightweight style making it perfect for layering during the summer, but will also transition into fall! The beige color looks so pretty pair with lighter tones too. FYI there are A TON of cardigans this year and all are very similar. I looked at every style that compared to this one and it was by far my favorite. The quality felt the best, the fit is great, and it's priced really well!
Fit: TTS. Wearing size XS.
Ivory Lace Cami
This lace cami has been going strong for the past few Nordstrom Anniversary Sales! I got the black one last year, and work it all the time! I decided having the same style in ivory would be a good choice for the summer months! FYI It's not see through, but I do wear a nude bra underneath.
Fit: TTS. Wearing size XS.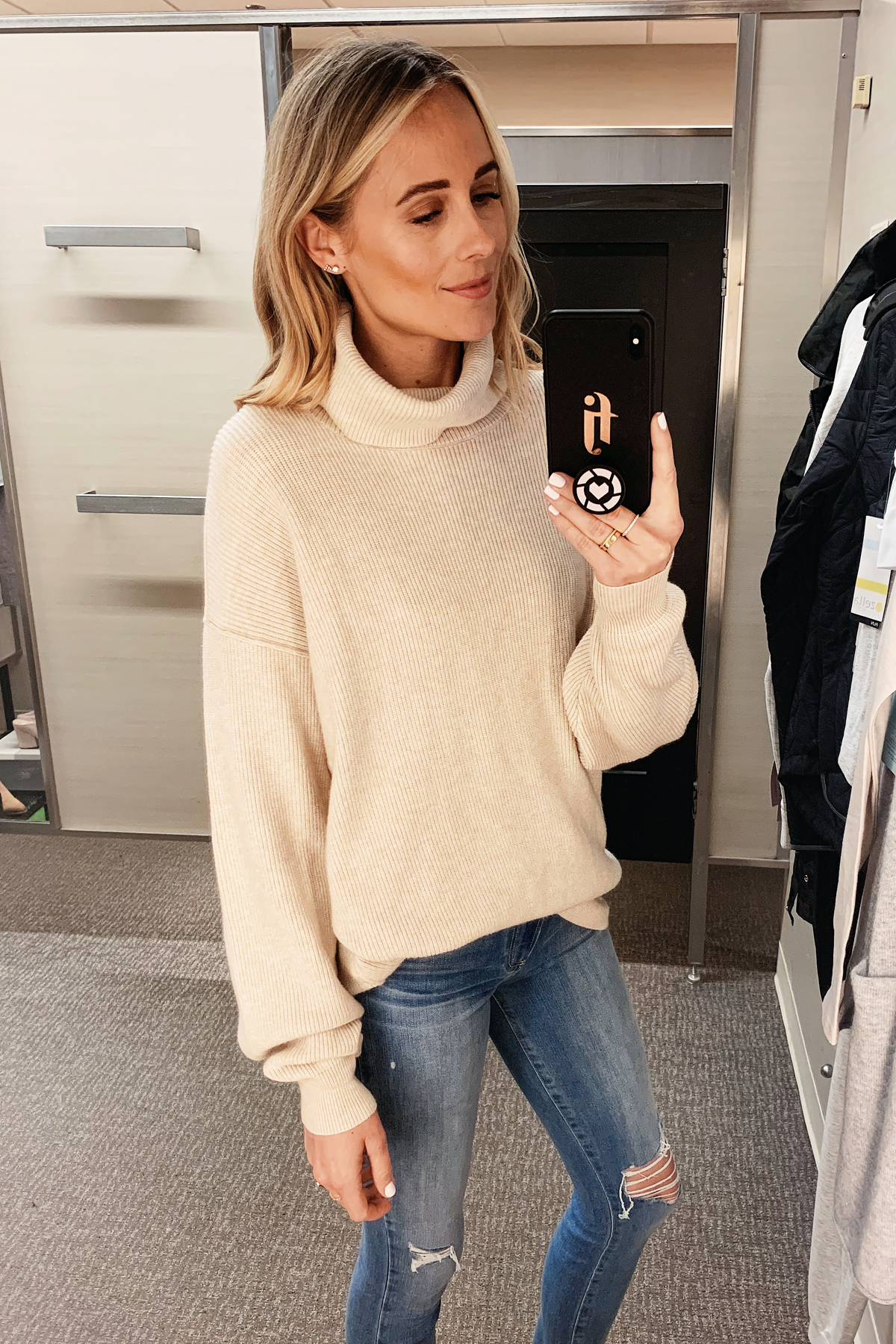 Free People Turtleneck Tunic
So this tunic sweater is very similar to the mock neck style that was super popular last fall/winter. A lot were able to wear it as a dress, but it's definitely too short for me if I do that (I'm 5'10). But I loved this style the second I put it on. It's the epitome of a cozy/comfortable sweater. I loved that it's still a little oversized and has longer length sleeves. It's not too heavy so I'll definitely be able to wear it sooner rather than later! And if you aren't as tall as me, you can definitely wear it with boots this fall!
Fit: TTS. Wearing an XS.
Vince Camuto Tan Booties
I'm so happy I was able to find these booties in stock. Booties are typically one of the first categories to sell out super quick, and I've had my eye on these! I love the cut out detail on the inside and outside of the ankle. It's super flattering and elongates your legs! I'm going to have to find some relaxed summer dresses so I can start wearing these soon! Oh and the best part - they are under $100!
Fit: TTS. Wearing an 8.5 in color Tortilla Suede.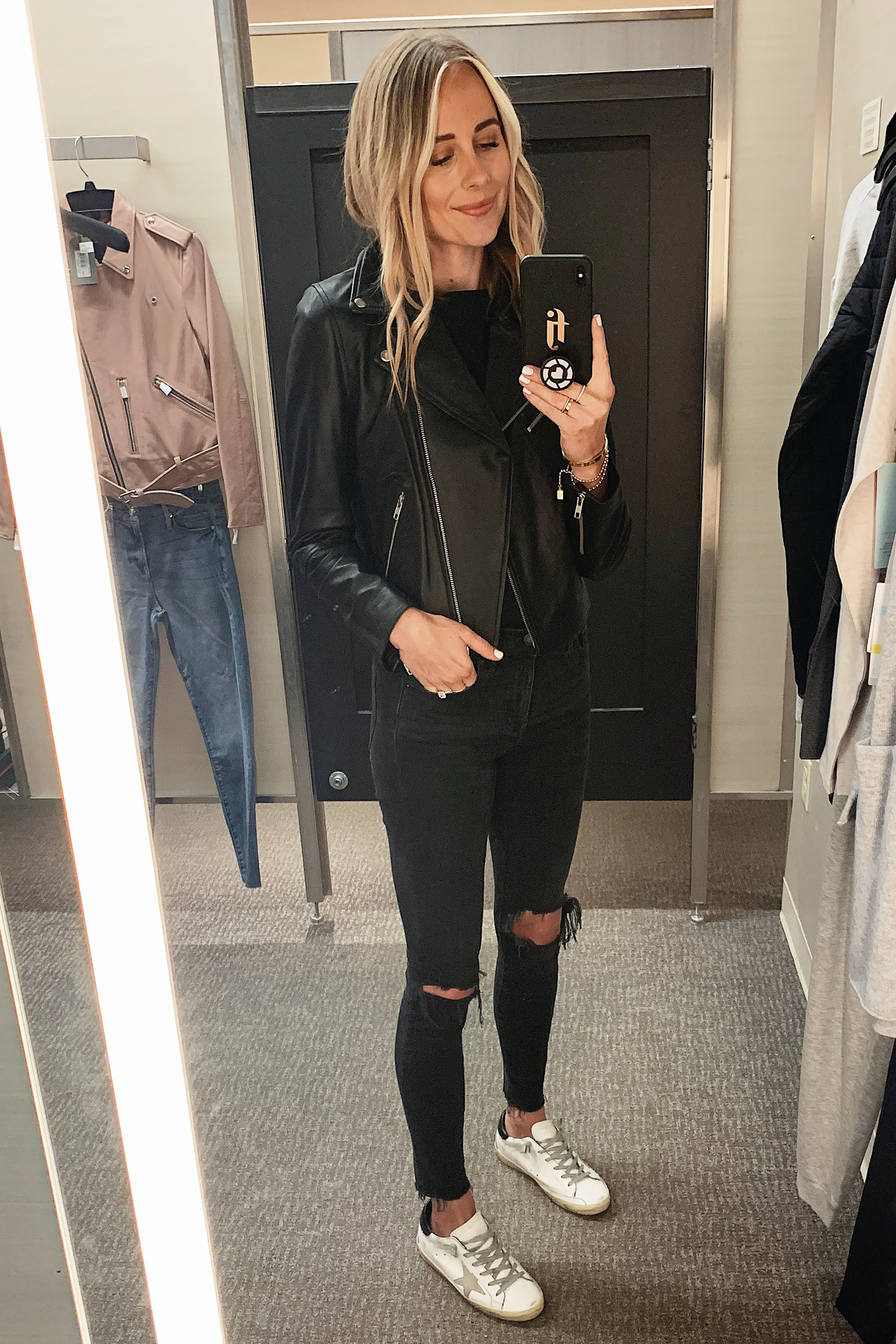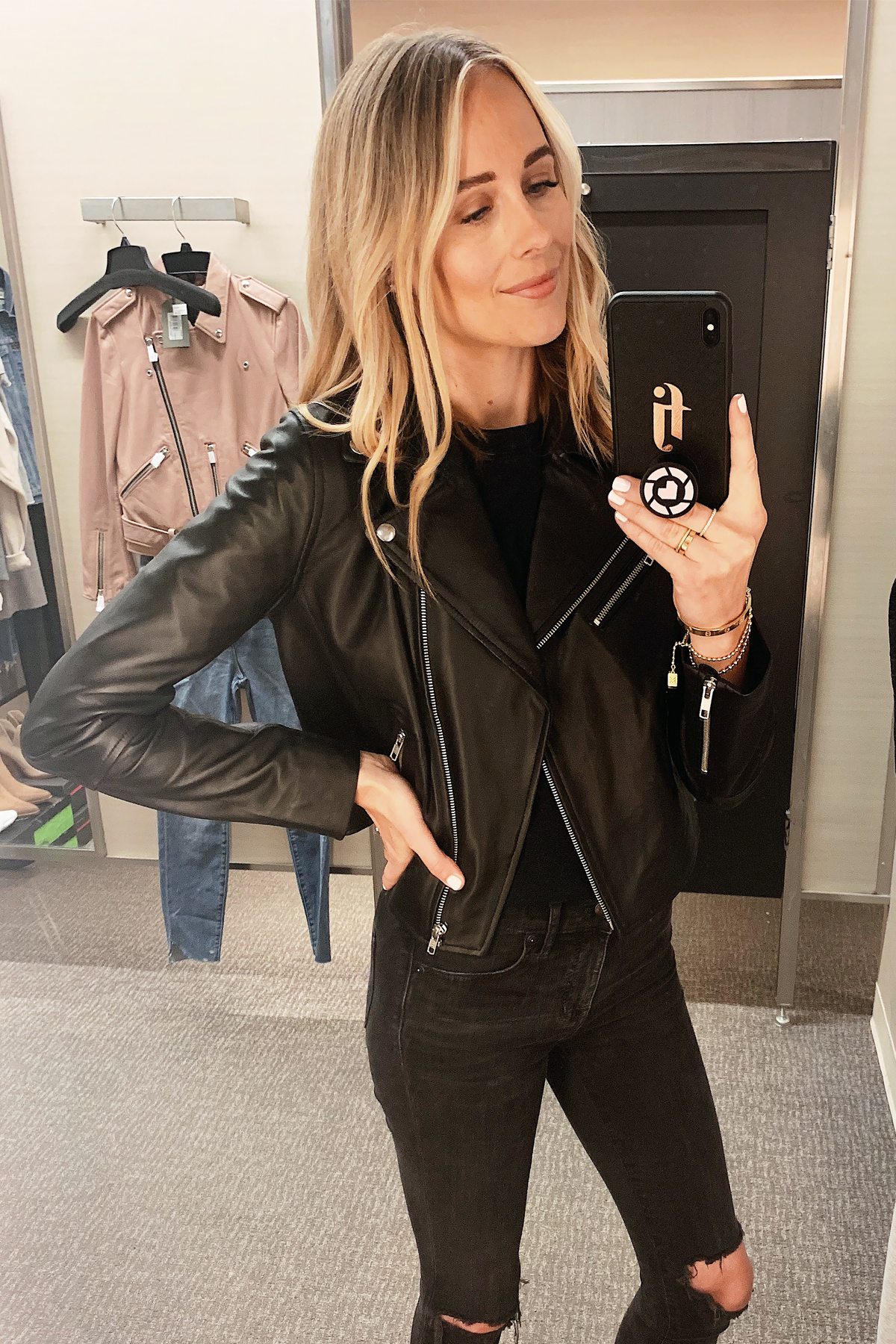 Halogen Black Leather Jacket
Did you think I was going to pass up the opportunity to get another black leather jacket?! Truth be told, I only own two (now three), and the first two are very different, so it works. I love the leather quality on this one - it's buttery soft. The silhouette is nice and fitted making it a great option to wear not only casually, but dressed up too! I would definitely layer it over a dress like this and some sandals for a summer date night!
Fit: TTS. Wearing a small.
*Editor's Note: Wearing my own items here, but linked in case you want!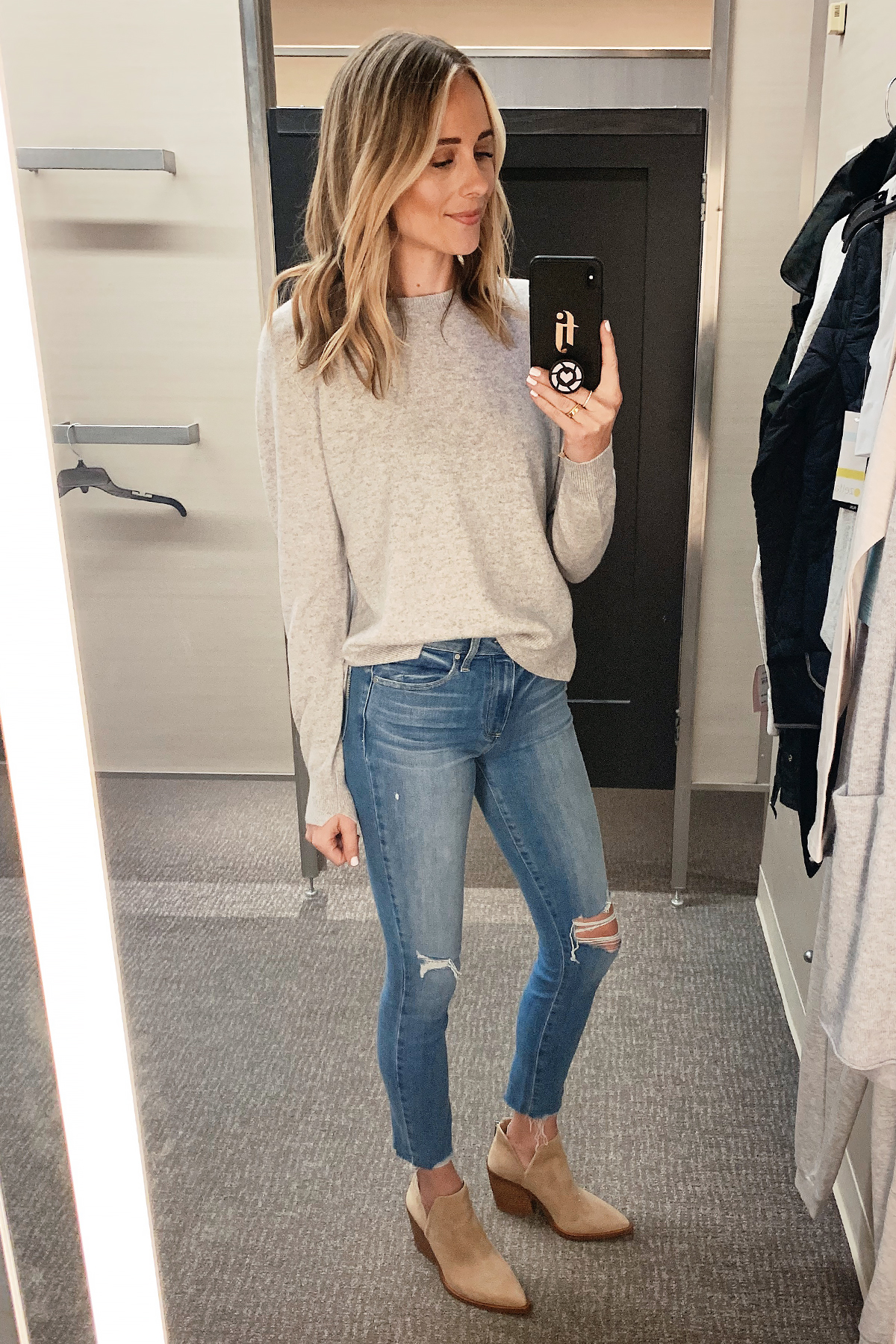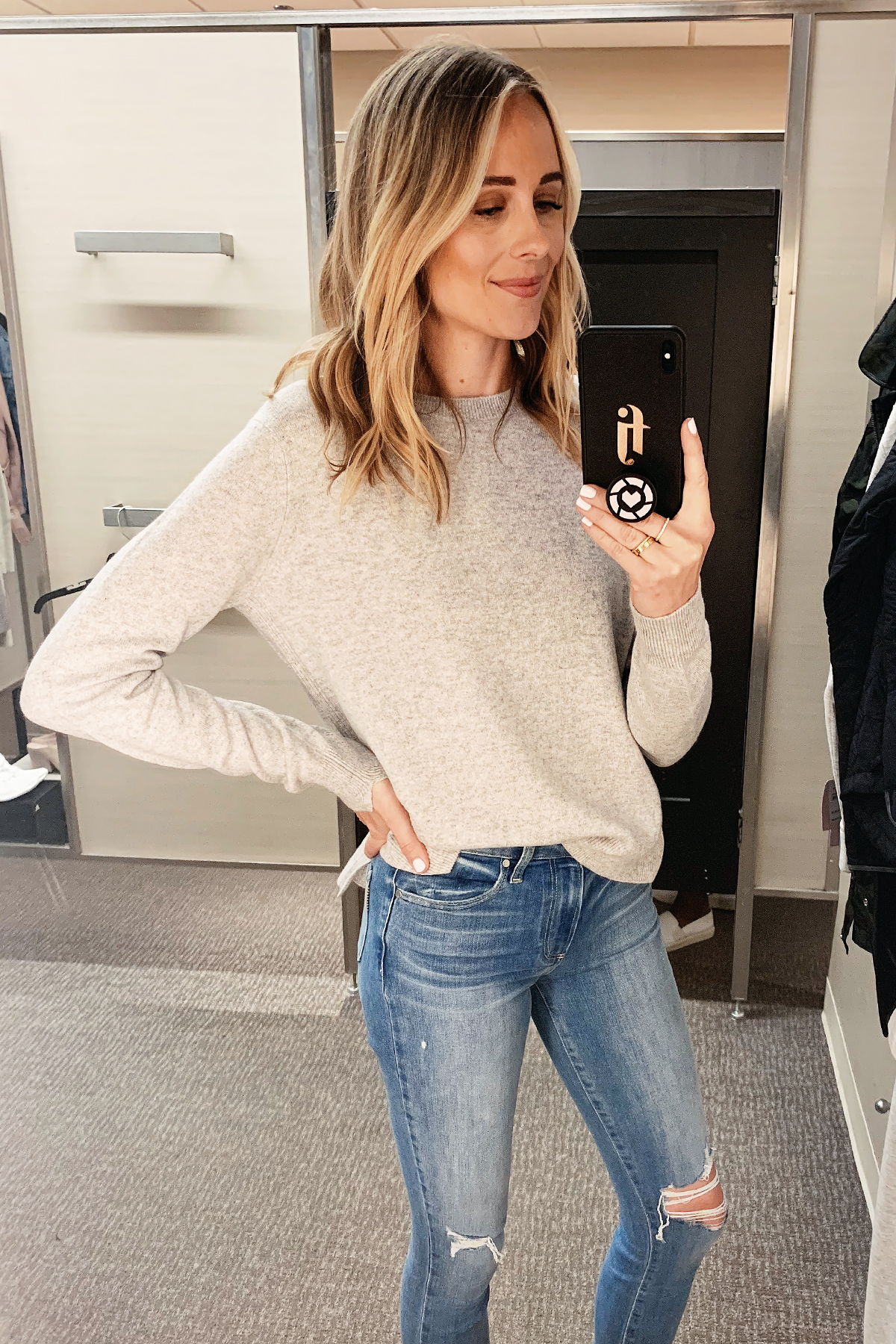 Vince Cashmere Sweater
This cashmere sweater is an update to the Vince cashmere sweater I bought last year. And you might be wondering why I'm getting something so similar. Because I love sweaters. This one is a little different, and I actually prefer the fit of this one more. It's like a tissue cashmere; super light weight and incredibly soft.  Definitely one of my favorite purchases!
Fit: TTS. Wearing size small. FYI I did try on the XS and while it fit, I preferred it to be a little more relaxed, so I opted for the small.
Halogen Wool/Cashmere Cardigan
This cashmere cardigan is always one of my favorite items to get during the sale. Last year I bought the similar style, but this year the fit is so much better. Again, you can't go wrong with buying anything cashmere during this sale because it's such a great deal. Because this cardigan is more fitted and has nice long lines, I can definitely see myself dressing it up, wearing it over the weekends, and also for travel. It's a great staple that will last years!
Fit: TTS. Wearing an XS in the color Heather Tan Cobblestone.
Black Lace Cami
I won't go into too much detail here since I talked about the ivory one already and they are identical. This is my second black lace cami since I bought one last year too. I wore the black one a ton all year and just decided I should swap out for a fresh one - they are only $26!
Fit: TTS. Wearing XS.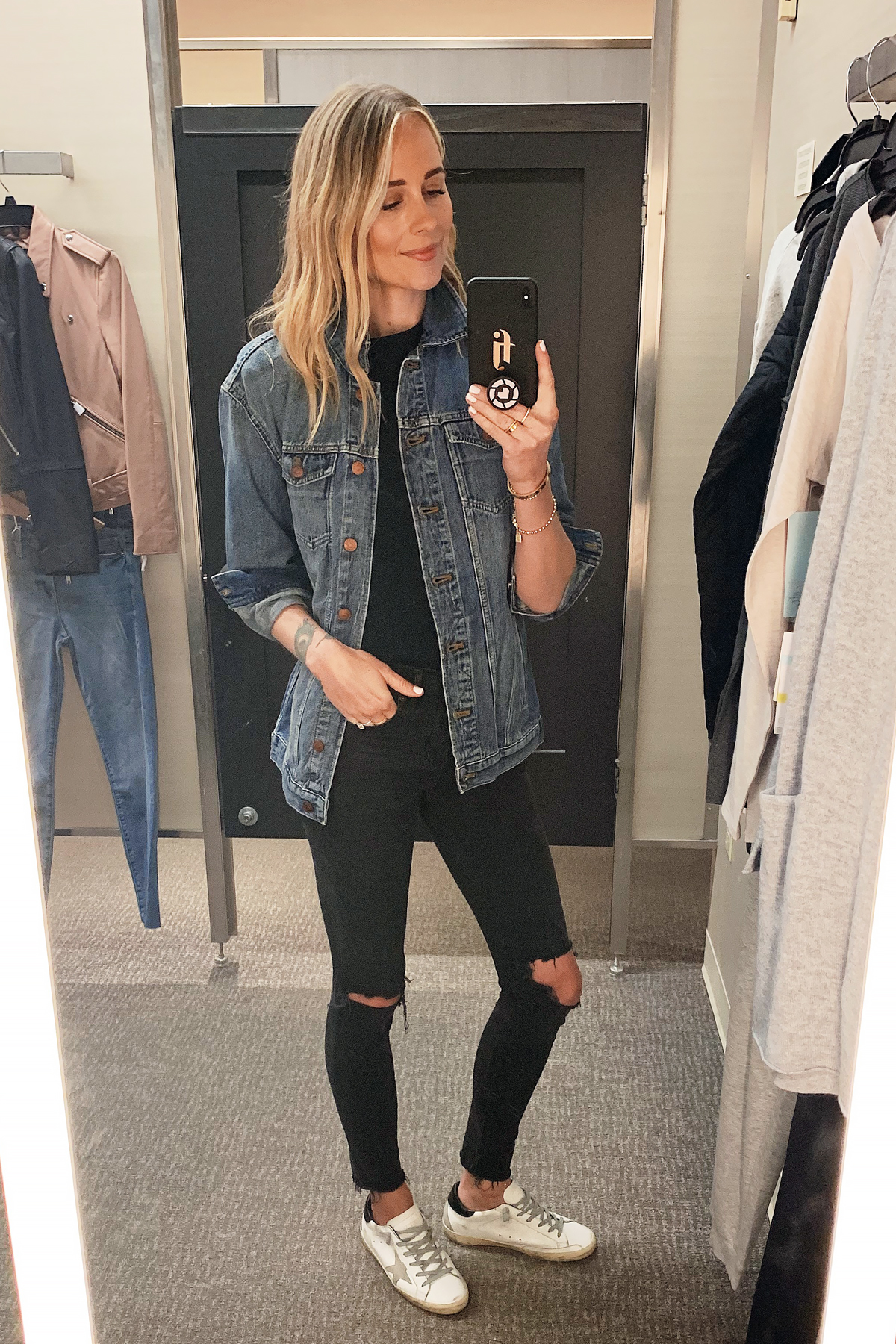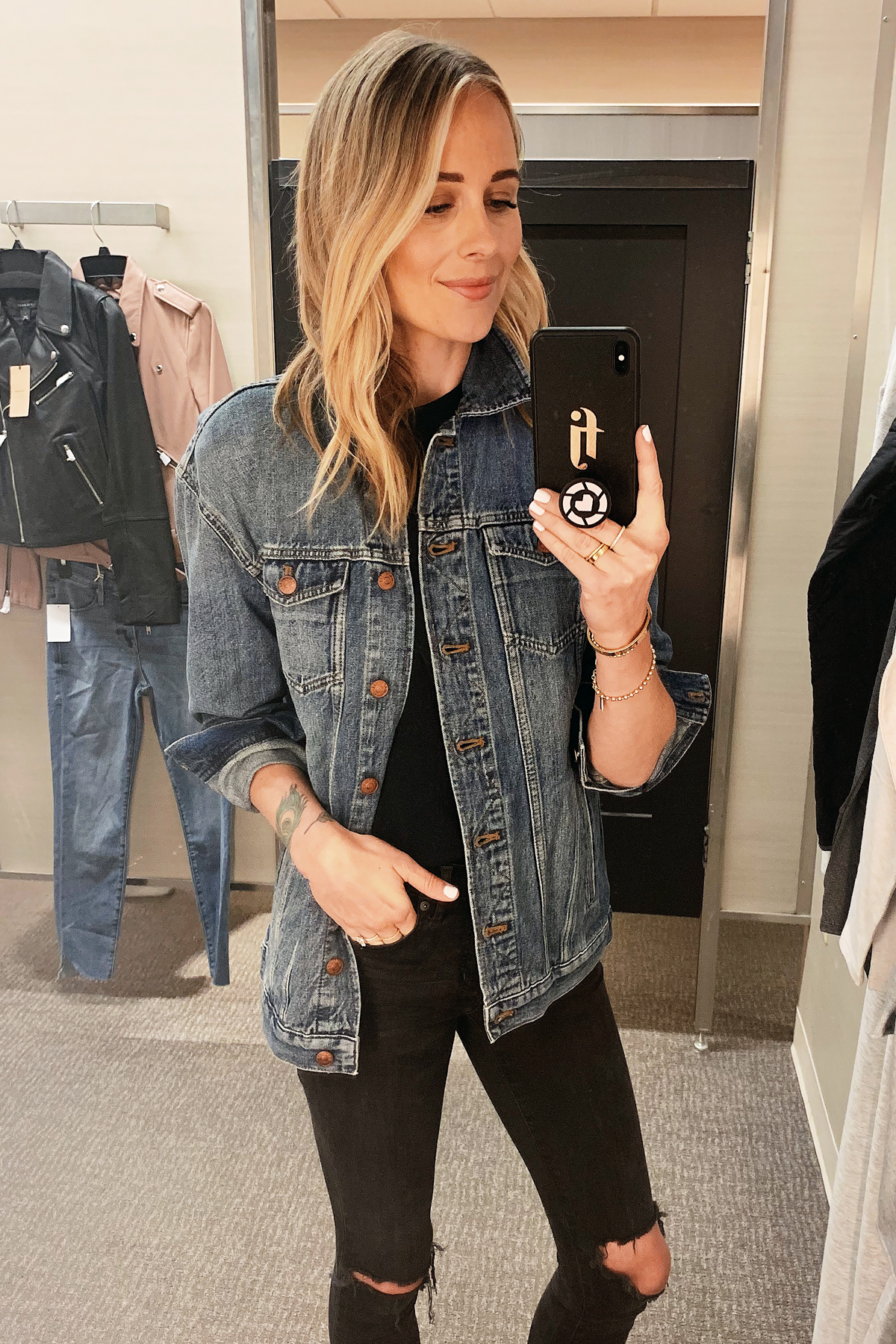 Madewell Oversized Denim Jacket
This was one of the items at the top of my list (because you can never have too many denim jackets), and the first item I tried on. I have been loving the oversized denim jacket silhouettes, I have two already in different washes so I know this style will get lots of love and wear. It's a little bit of a lighter denim, so it has a little more drape to it, if that makes sense. Basically it's not super rigid. The only thing I was a little hesitant about was the sleeve length. They are a little short but I'm also 5'10 and lots of items are short on me. So, I just rolled the sleeves and didn't mind it at all! This jacket is also under $100 and you know I'm going to wear constantly!
Fit: TTS. Wearing XS.
Editor's Note: Wearing my own items here, but linked in case you want!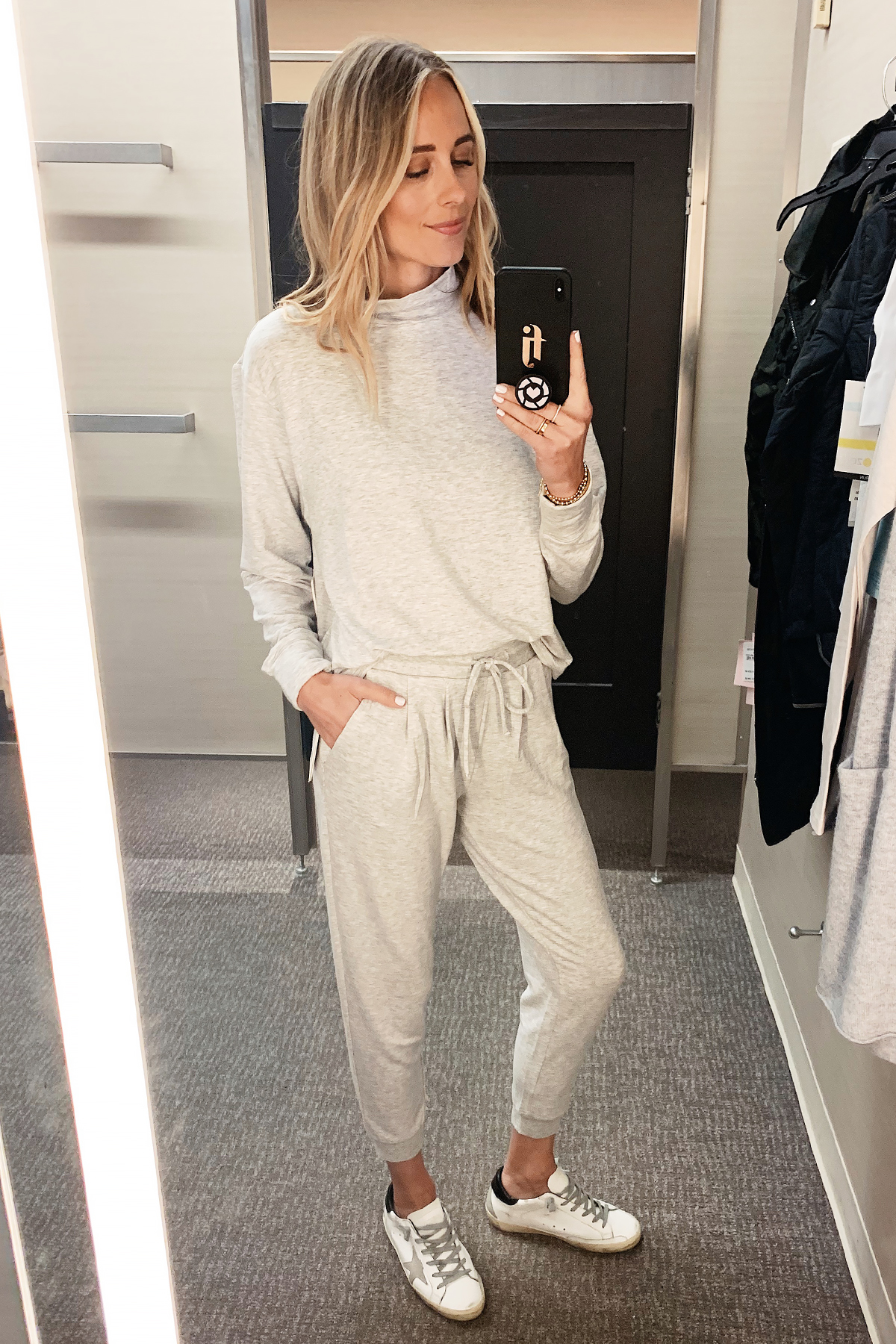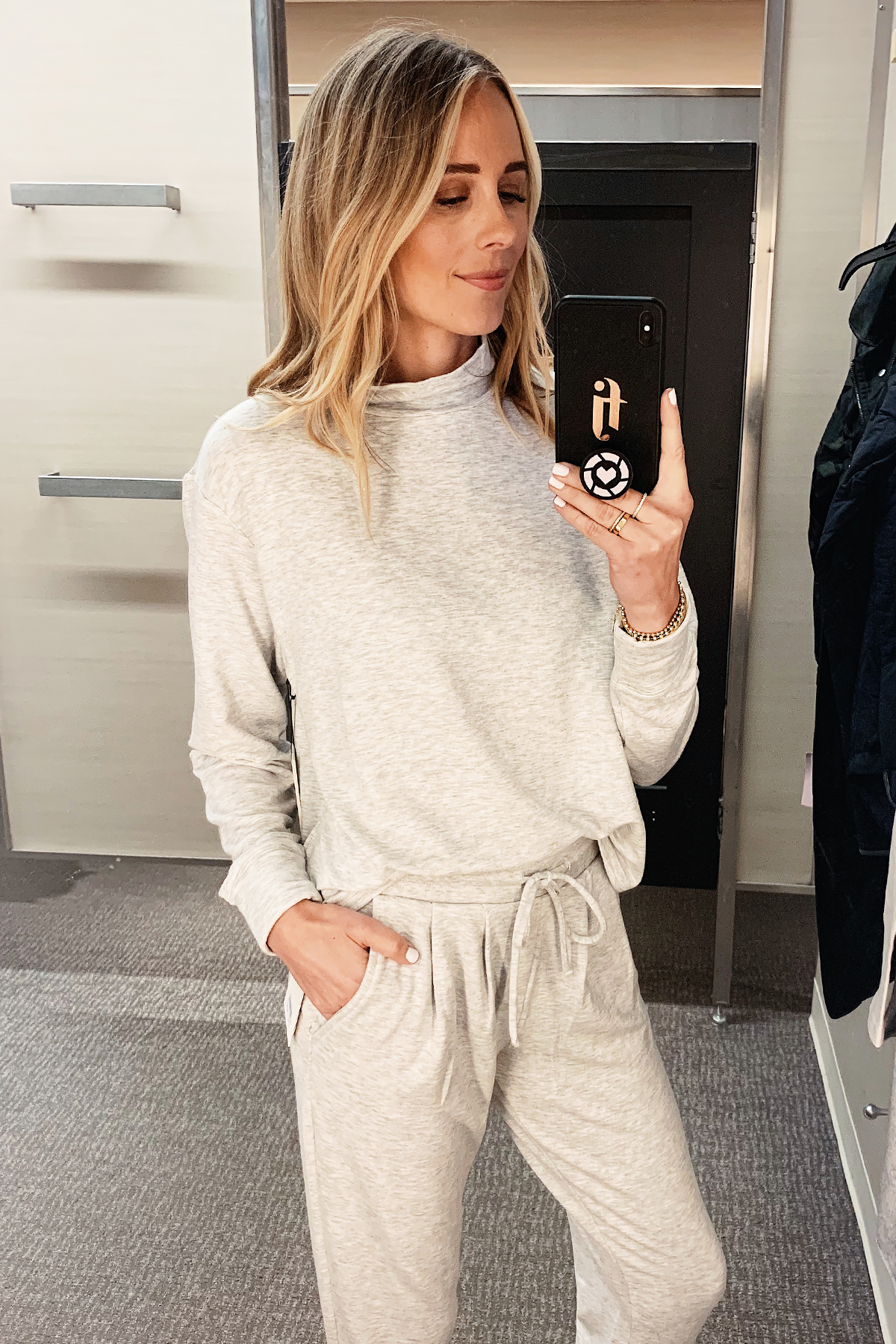 Something Navy Loungewear Set
I don't normally pick up pajamas or loungewear during the sale, I just have too many other priorities. Plus I'm the person who still has college t-shirts I wear around the house and to sleep in (maybe its time for a sleepwear makeover haha). However, the sweatshirt and joggers caught my eye as I walked past and as soon as I felt the fabric I was sold. I didn't even care what they looked like on me. It's literally the softest buttery fabric and I want to lounge around in them all day. You might be able to get away with wearing in public and style with sneakers and a jacket (I only wore them with sneakers because I don't like to be barefoot in dressing rooms). FYI the items are sold individually.
Fit: TTS. Wearing a small in both top and bottoms.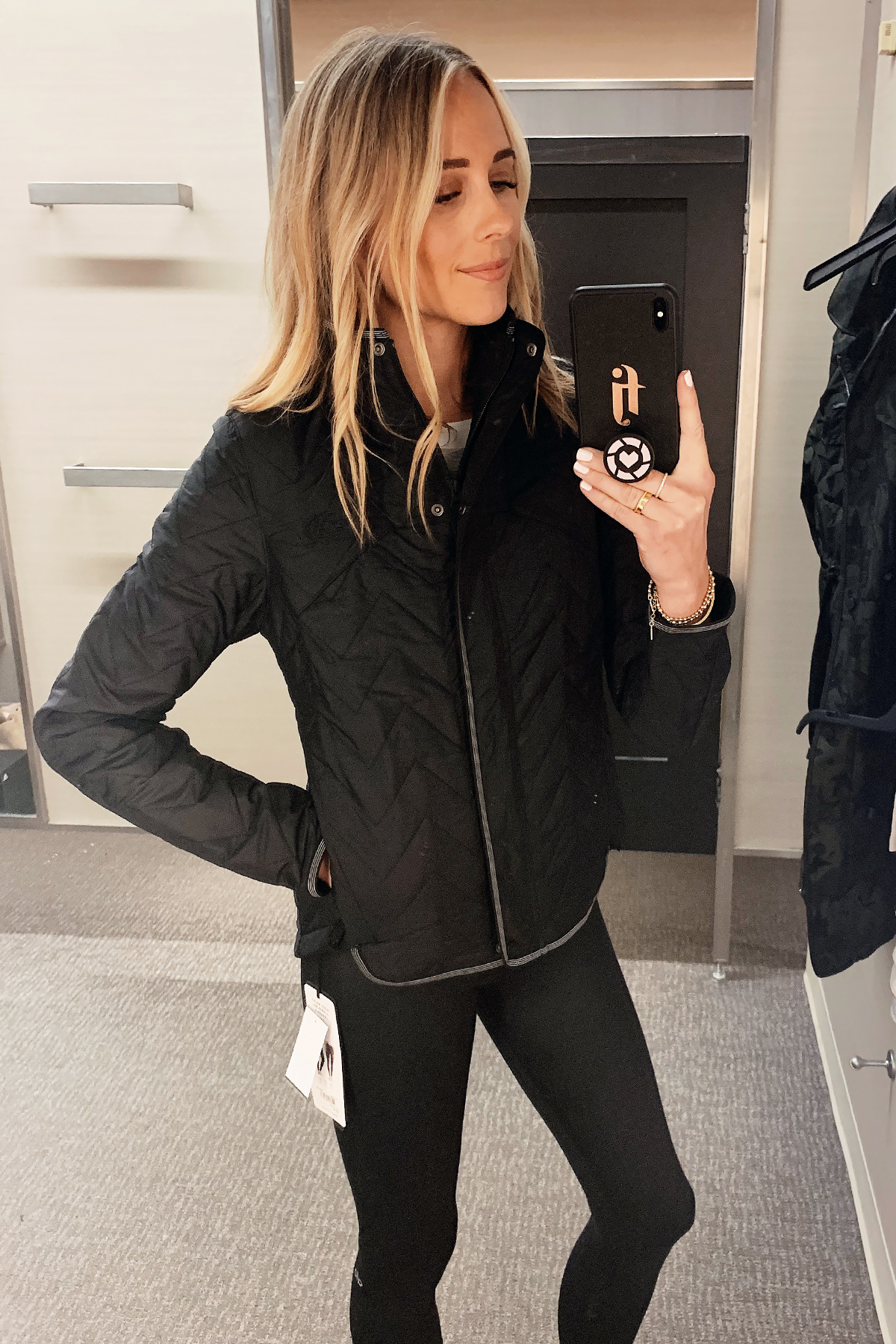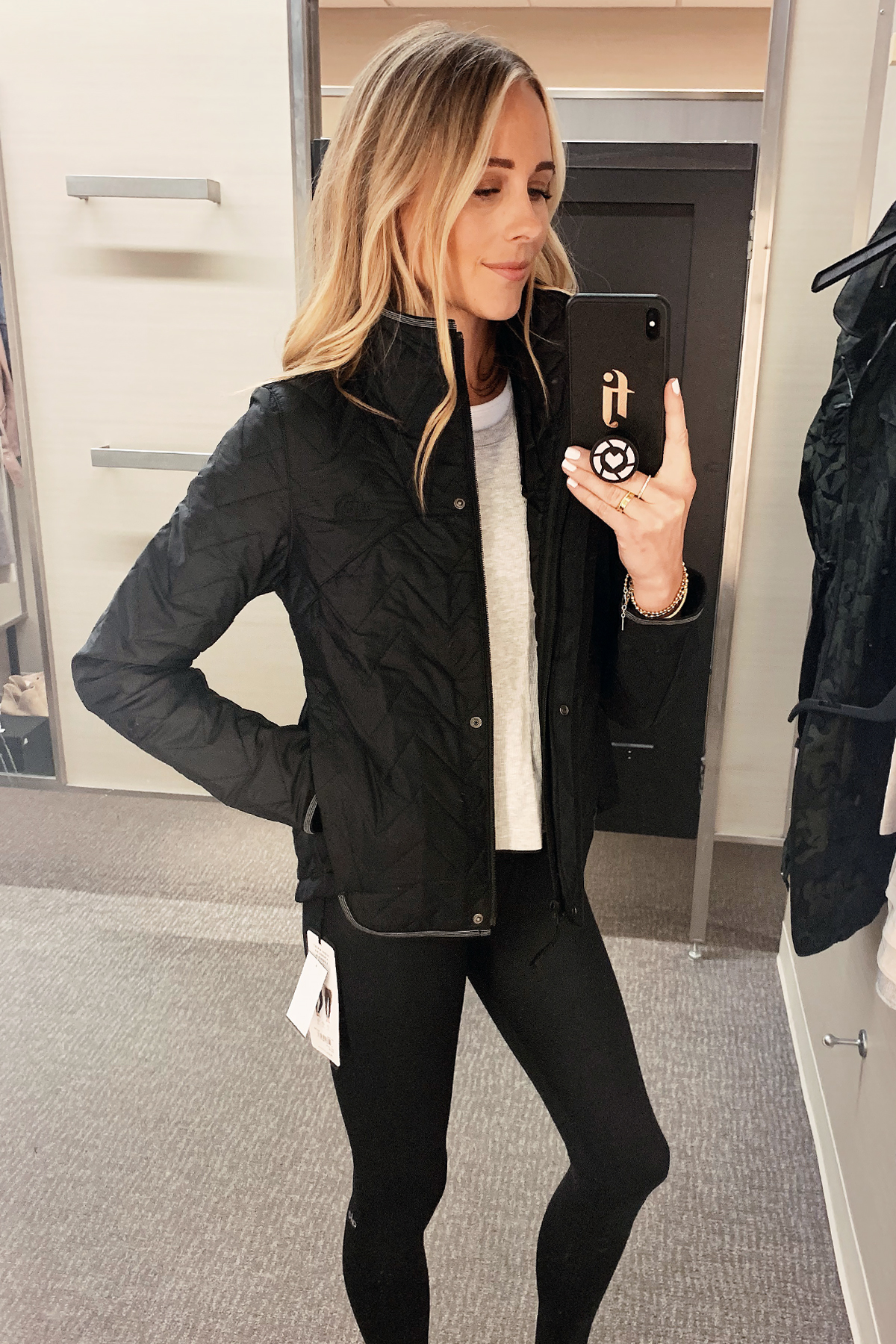 The North Face Quilted Jacket
So this jacket wasn't on my list, and I definitely didn't need it. I have a pretty similar style by Patagonia at home already. But I tried it on just because you CANNOT beat the price. A North Face jacket for under $100?! Sold. Also, as soon as I put it on I fell in love. The only drawback is the zipper is on the opposite side, so I just had to get used to that. I love the structure of the jacket and think maybe I'll just retire the Patagonia for this one, what do you think?
Fit: TTS. Wearing a small.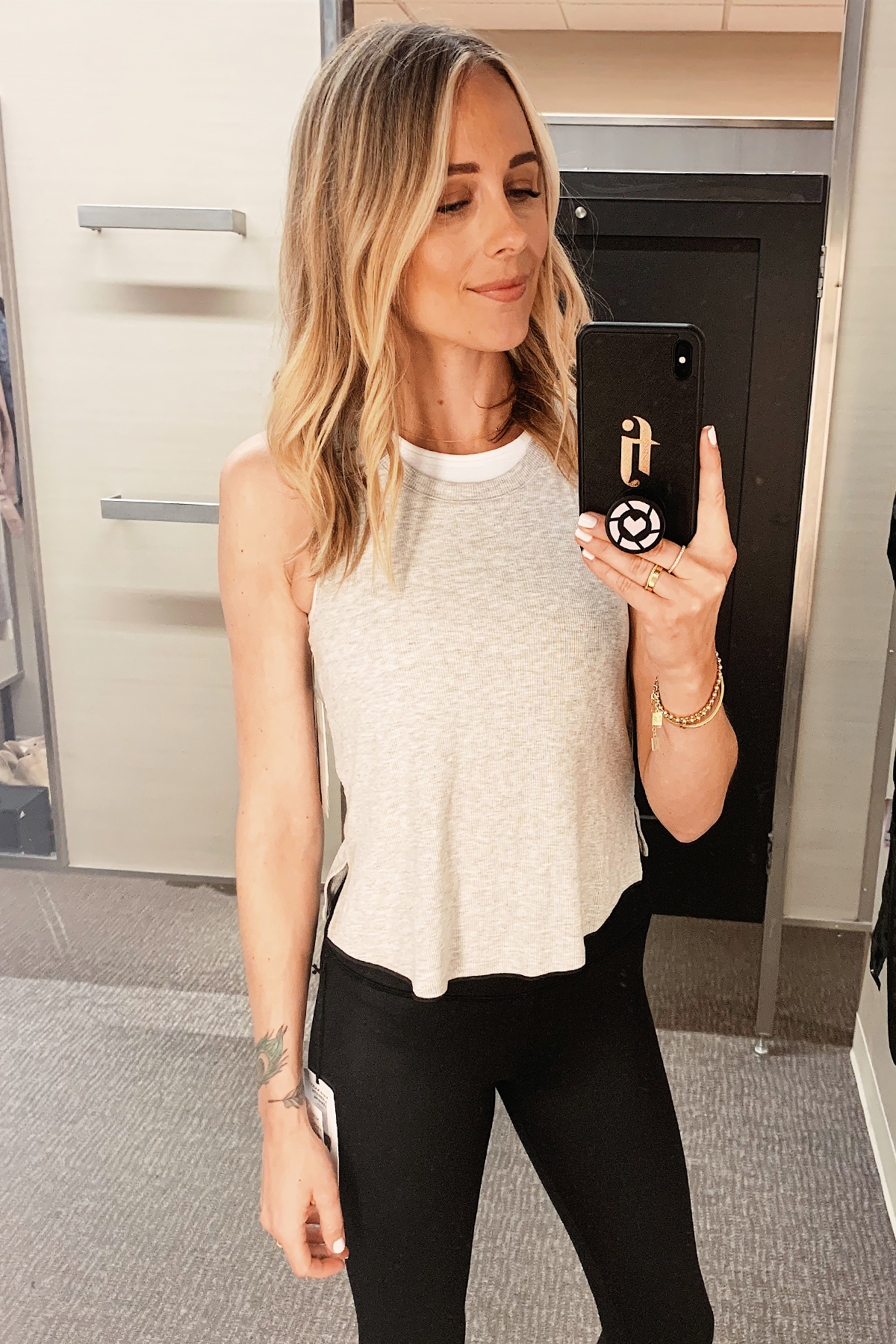 Alo Airbrush High Waist Leggings
Alo is one of my favorite workout leggings and I was so excited to see this pair on sale! They have the coolest glossy/sheen to them making them almost look like a pair a faux leather leggings (speaking of Spanx will be on sale)! You can't tell from the pictures but they really do have the coolest finish to them and since Alo is typically a little more expensive, I was so happy to find this pair.
Fit: TTS. Wearing XS.
Racerback Ribbed Tank
I love a good workout tank and especially one that is super breathable. I'm always needing more tanks and this one is similar to one of my favorite styles from home. It's super soft, and style is a little more relaxed/oversized.
Fit: TTS. I would have bought the XS, but they were sold out, so I'm wearing and XXS. It's a little more cropped than I'm used to however, I still love it and think it will totally work out (haha).
adidas Edge Lux 3 Running Sneakers
I always get a new pair of workout sneakers during the sale, even if I don't need a new pair quite yet. The deals are always too good to pass up. I LOVED thewhite/rose gold adidas sneakers, so I made sure to snag them! They are SO comfortable, have a ton of support, but I still feel like I'm walking on clouds. I can't wait to test them out soon!
Fit. Runs big. I always size down in adidas sneakers. I'm an 8.5 and bought the 8.
Zella Body Fusion Sports Bra
I bought this sports bra in black last year during the sale and it's still one of my favorites! I love the high neck and comfort this bra has. I knew I would get 1-2 more again this year, so I'm glad they are on sale. If you haven't tried this sports bra out yet, I definitely recommend it!
Fit: TTS. Wearing a small.
Items Still on My Wishlist
A special thank you to Nordstrom for sponsoring this post. All thoughts and opinions are my own.