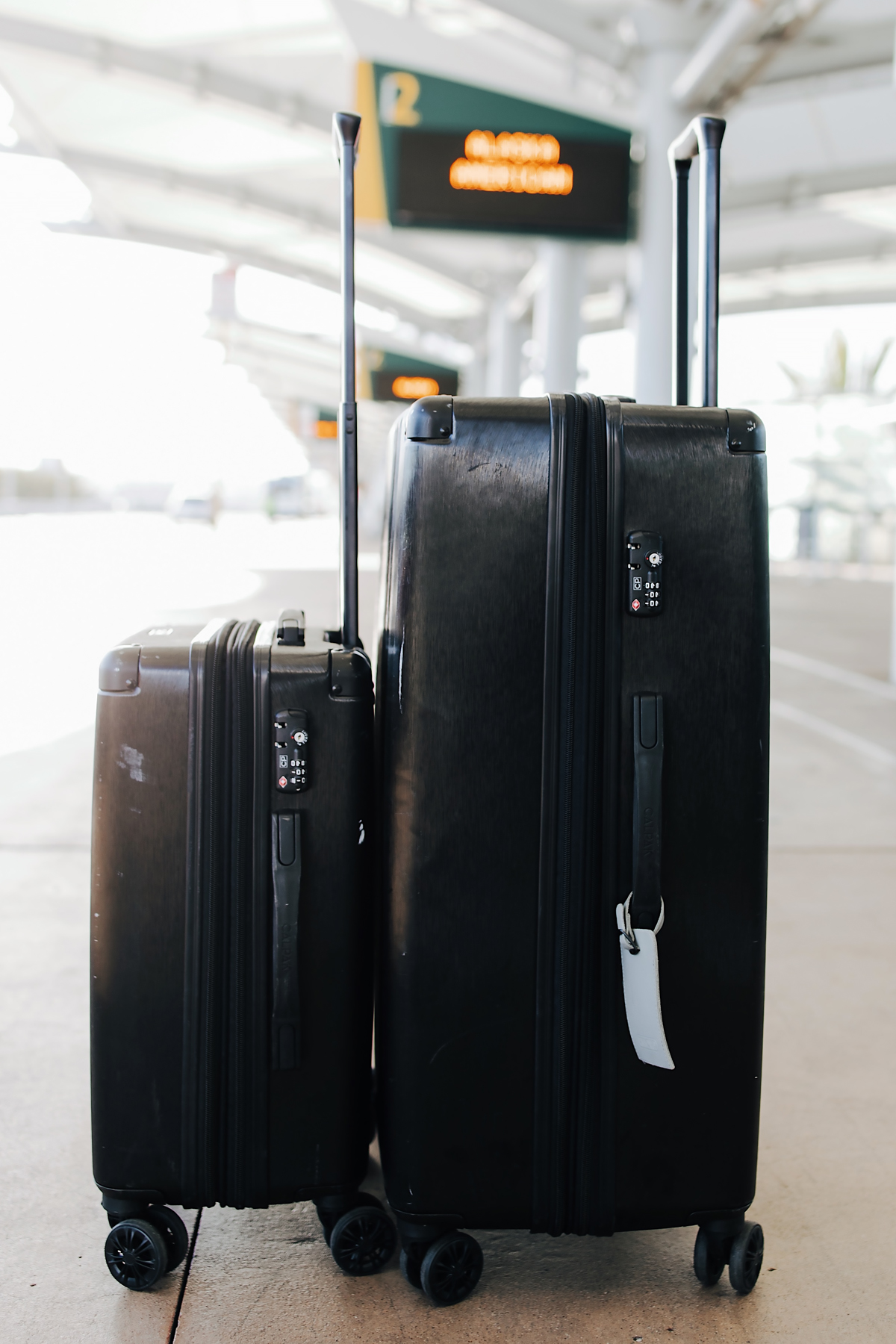 Anytime I travel, I always get so many questions asking about my luggage. Anything from what I use, to if I like it, how it's held up, how much it holds, etc. I wanted to finally share my review of the CALPAK Ambeur Luggage Set since I get so many questions and it's definitely a brand worth knowing/sharing. While I've only had the set since October 2018, it has quickly become my absolute favorite set of luggage I've ever owned. So much so, I purchased this CALPAK backpack (obsessed) and was also gifted this neck pillow (seriously the best I've tried). Keep reading for my honest review of the CALPAK Ambeur Luggage Set. The FAQs are at the end of the post.
Outfit Details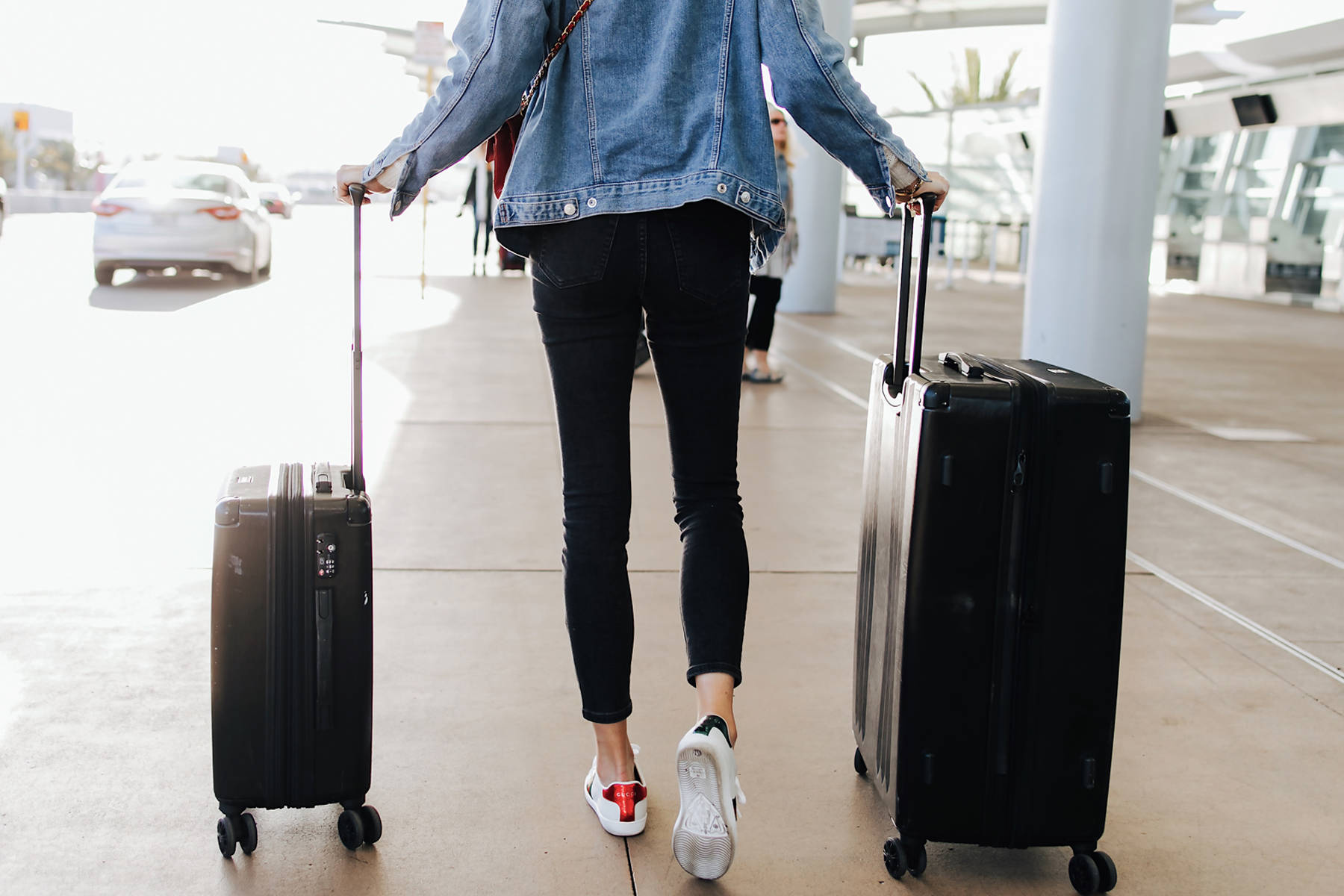 Why I Picked CALPAK Luggage
Rewind to January 2018, I was in the market for a new "grown up" set of luggage and had been lusting over Rimowa. Because of the amount of travel I do, I justified the price tag since I figured the Rimowa set would last a lifetime. I purchased a large suitcase and carry-on suitcase right before a ski trip. I was a little disappointed in how little the luggage held and how difficult it was to close when it was filled to the max. I told myself I would just have to get used to it. As soon as I arrived to my destination I noticed the suitcase was SO beat up, it even had a puncture! It did not look like the first use, more like the 100th. I was so annoyed. Any other time I use the Rimowa set I was extremely unsatisfied. I was planning a trip to London, and knew I was going to pack a lot, so I was dreading the thought of having to use the Rimowa set. I finally decided to try out the CALPAK luggage set that I had seen so many other people using. After packing for the London trip, I knew this was my new favorite set.
Where to Buy CALPAK Luggage
There are a few online retailers (besides the CALPAK site), which carry the luggage. Nordstrom always has the best selection, Shopbop & Nordstrom Rack carry the line as well, and sometimes I can find a few pieces older pieces on Amazon.
My Review of the CALPACK Ambeur Luggage Set
I really don't think I need to go into too much detail here. As I mentioned, this luggage set is my absolute favorite I've ever owned (I've had Samsonite & Rimowa most recently). When I first got my CALPAK luggage set, I was a little taken back by the exterior quality. I don't know what I was expecting, but I thought it would feel a little more sturdy. I was nervous to take it all the way from California to London and was unsure if it would hold up. Boy was I surprised. It still looked brand new coming off the conveyor belt (minus a few scratches to be expected).  It's the easiest luggage to pack, and it holds SO much. When I went to London I took nearly 10 coats, a ton of sweaters, jeans, dresses, probably around 5 handbags, and at least 6 pairs of shoes. I still had room to bring home items I purchased.
If you want to know more about what the luggage is made out, how it's manufactured, and its durability, watch this video and I dare you not to be sold after.
Pros & Cons
Pros: high quality, durable, holds a ton, priced incredibly fair, expandable for additional packing capacity
Cons: The checked bag is 10.6 lbs empty. As someone who maximizes the weight limit, this is downside; FYI the carry-on weighs 6 lbs
FAQs About the CALPAK Ambeur Luggage Set
What are the dimensions?
Carry-On: 22" x 14" x 8.5" / Large:30" x 19" x 12"
What is it made of?
Exterior: Polycarbonate, ABS / Interior: Polyester
How much does it hold?
I can't say exactly how much it holds, but I've never had a problem fitting everything, especially on 10+ day trips in the winter.
Interior dimensions: Carry-On: 19" x 14" x 8.5" / Large: 27.5" x 19" x 5"
Do the handles get stuck?
I've never had an issue with them getting stuck. I will note my CALPAK backpack has a strap that slips over the handle - it's such a cool feature! (image here)
How well do the wheels roll?
So smooth! I haven't had any break or issues of them getting stuck
Does it come with packing cubes?
Are there other styles to choose from?
Tons of options! As I mentioned the best selection I've found is via Nordstrom
Does it come with a warranty?
CALPAK products carry either a 1-year or 2-year limited warranty, as stated on the individual products