Recently, I've been asked tons of questions about my jewelry. It's rare that I will wear all these pieces at once, but as with everything, there are some go-to pieces that I won't take off. Some of these items I've had for years, and others are fairly new; Some were gifted or milestone pieces, as well as investment items, or just fun fashion jewelry. I've assembled a list of the essentials here, but there are some that I remove and others I don't. Keep reading to find out a little more about each pieces from my everyday jewelry and a discount code at the end for Miranda Frye jewelry!
And my key to keeping all my jewelry, especially rings, looking perfectly clean, is this dazzle pen! Trust me, its THE BEST cleaner!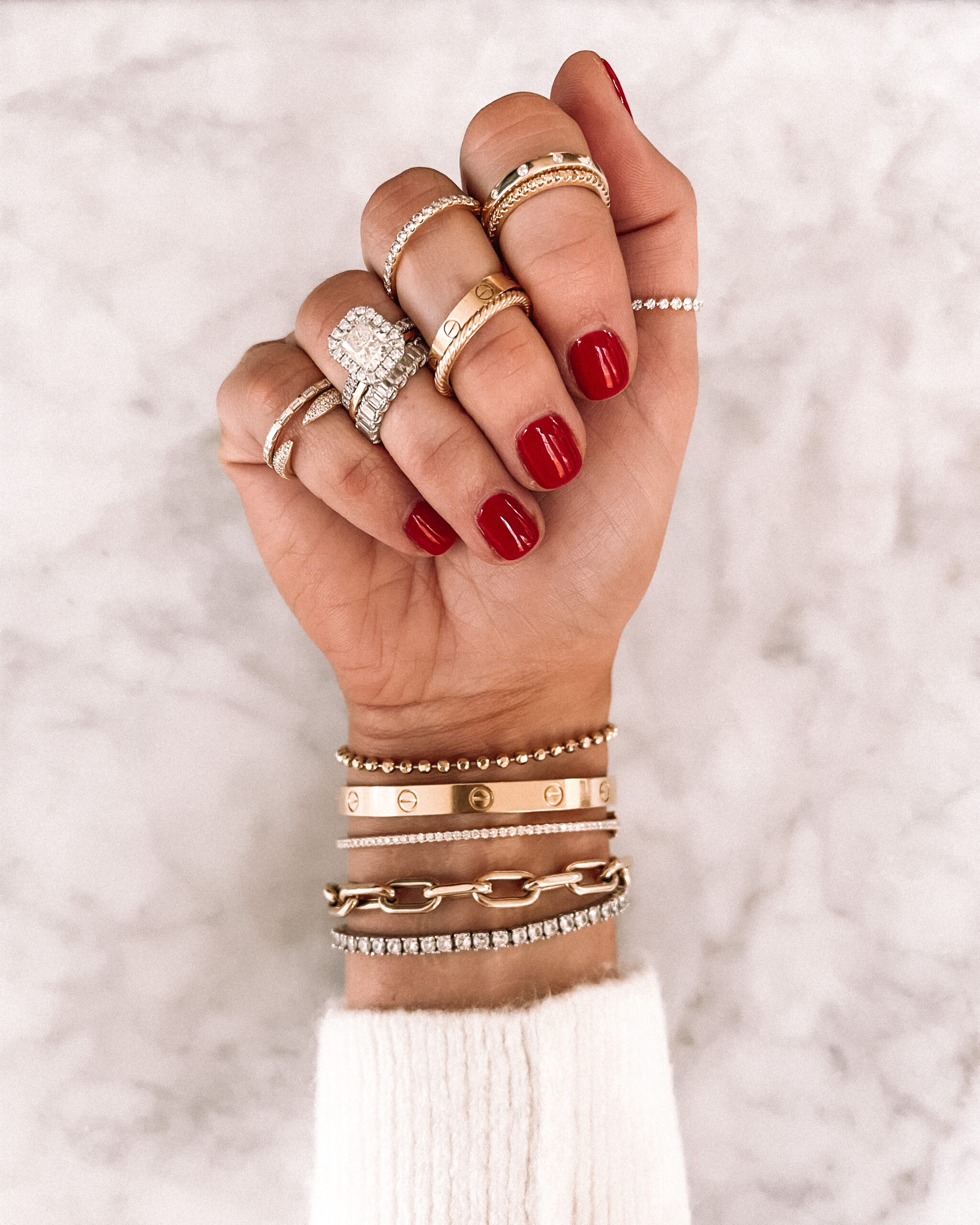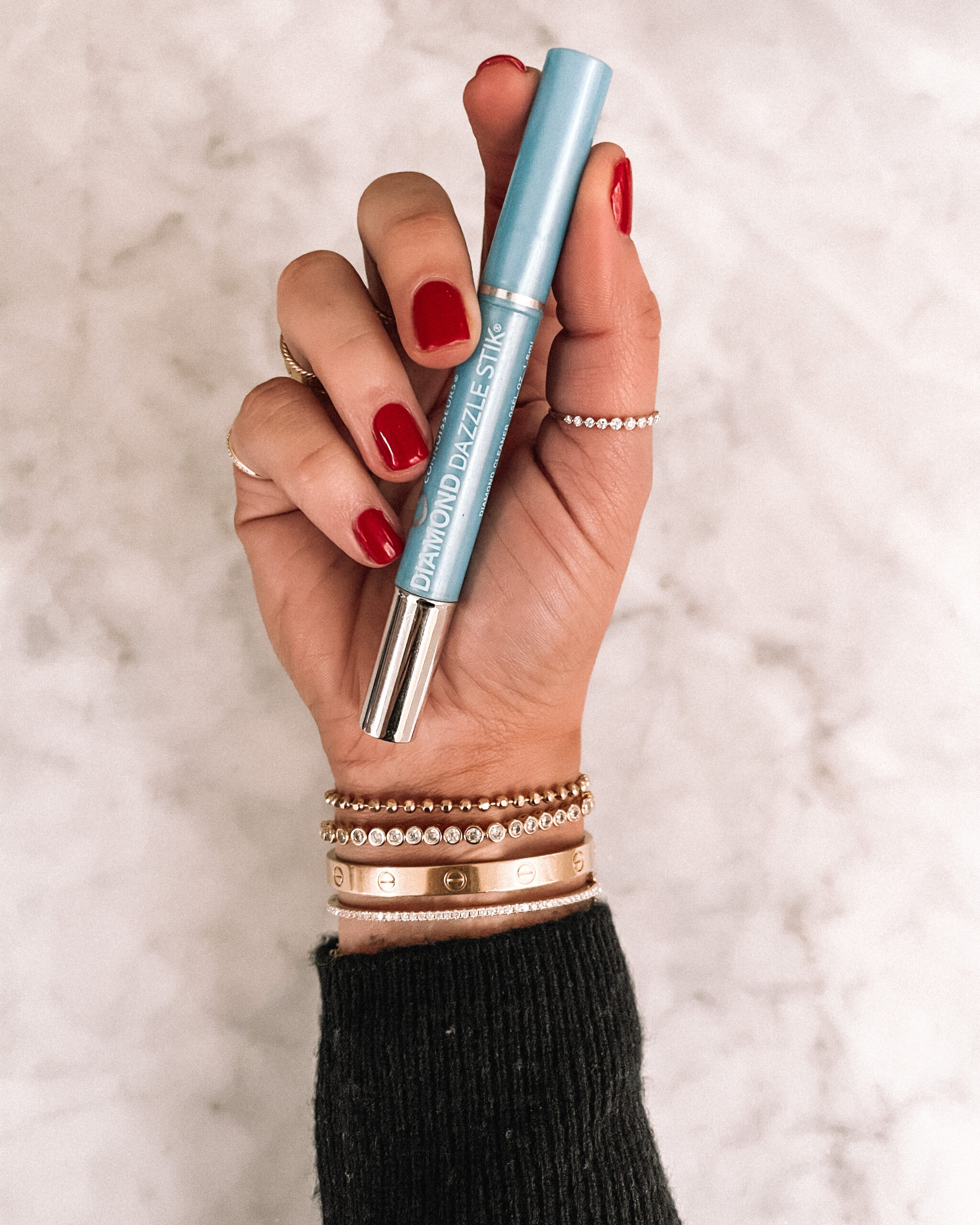 Bracelets
Fashion: You guys ask about my gold beaded bracelets more than anything! I have two that I wear everyday, the London, which are the smaller beads, and the Fashion Jackson, which are the larger beads. They are both from Miranda Frye so you can use code FJ10 for a discount! I rarely take these bracelets off, really only for the gym. I shower/sleep in them and they still look new! My newest ones from Miranda Frye are the Amy, Peyton and Meggan! These are all stunning pieces to add to any stack. We can't forget about the best tennis bracelet for under $15 from Amazon! I get so many compliments and the quality is really quite nice (FYI I don't shower in this one).
Investment: My most recent investment bracelets have been the diamond bezel bracelet & diamond bangle (size 17) from Ring Concierge as well as the beaded chain and chain link by Adina Reyter (via Emerson Grace).
Milestone: My Cartier Love bracelet was a piece I knew I would have to buy myself if I wanted it. Not only was it an investment, but it was purchased as a milestone piece. I had my first Instagram takeover on the LIKEtoKNOW.it account in 2017 and it was a HUGE achievement for me personally & professionally. While some might think it's silly that I bought myself a Love bracelet, I think it's extremely meaningful that I rewarded myself after an incredible accomplishment. I'm planning to have the inside engraved with "fashion jackson". I have never taken this bracelet off. I wear size 17.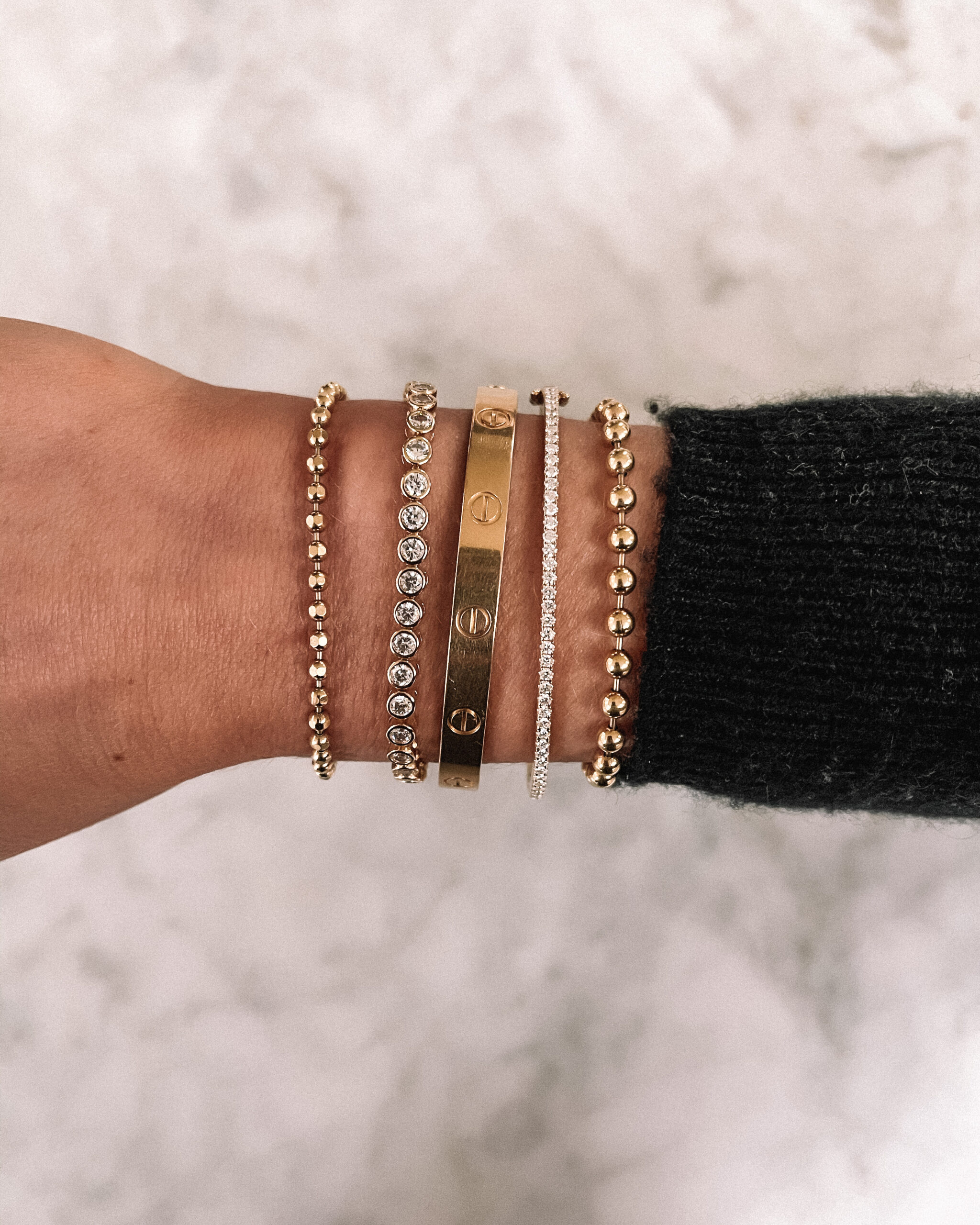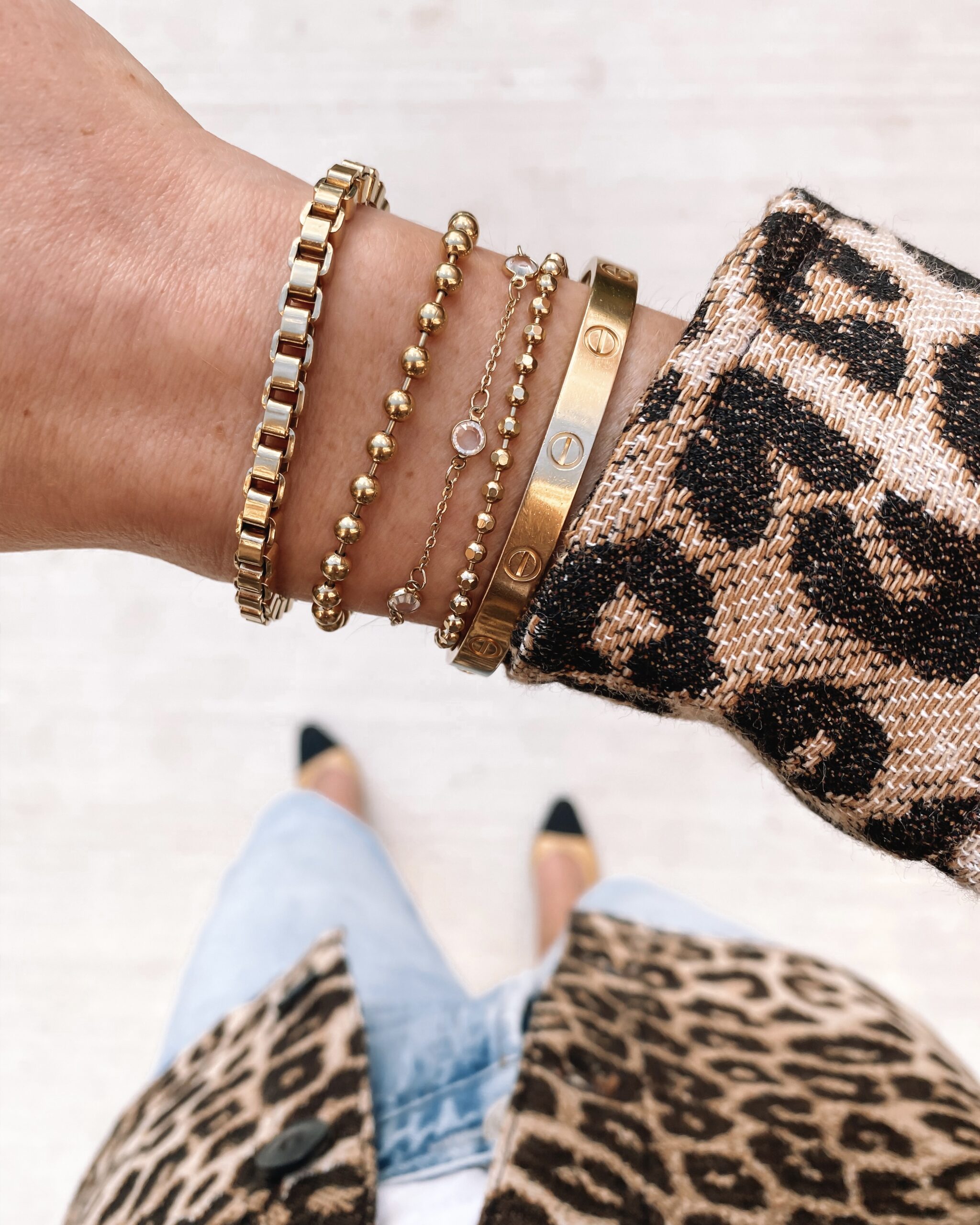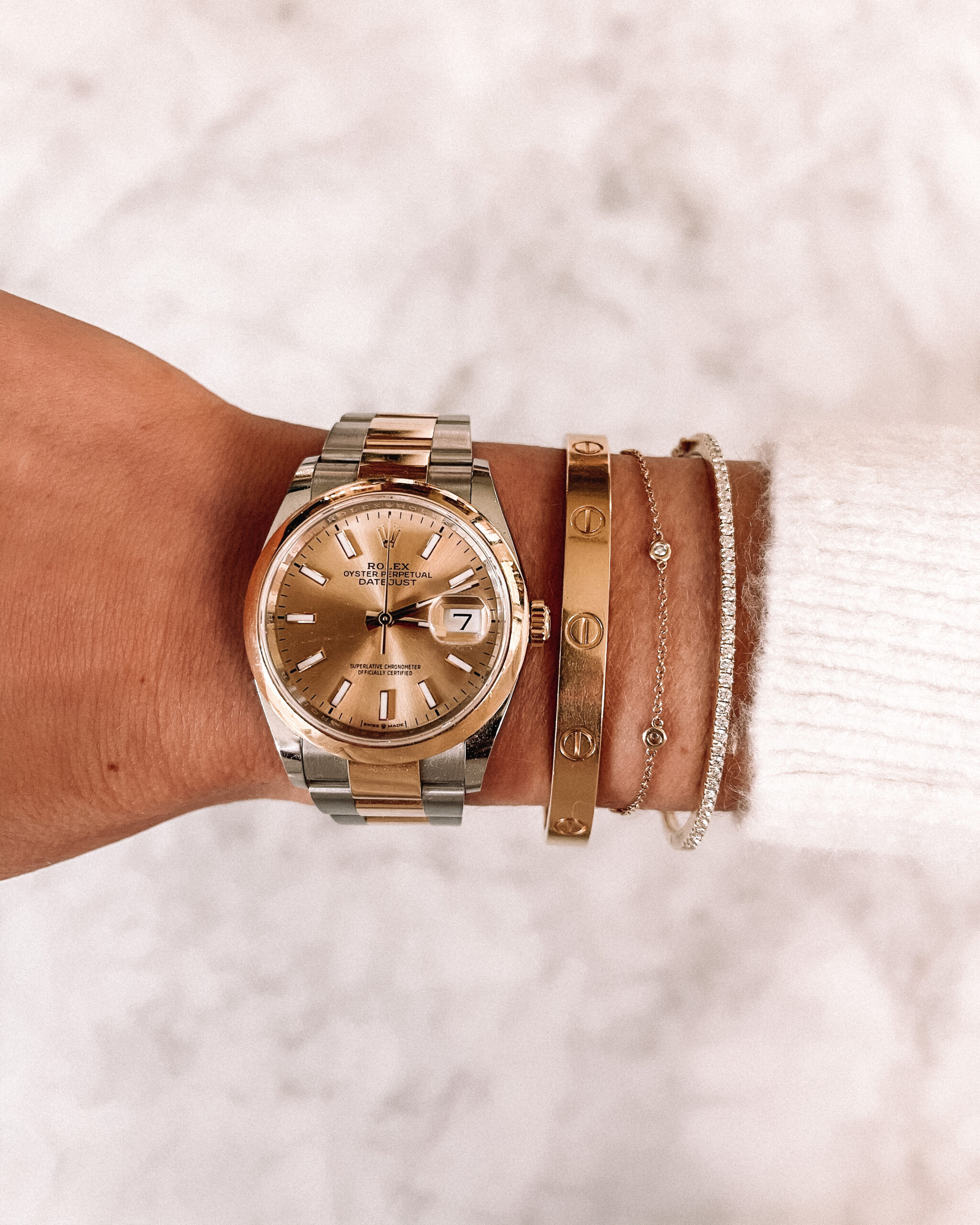 Necklaces
Fashion: The best fashion necklace you will ever buy is this bezel pendant from Amazon for $13! I've had it for almost a year and and it still looks new! The other one I wear with it daily is the Bezel Bar necklace from Dana Rebecca. Recently, Dana Rebecca gifted me this Double Bezel necklace and I think its the perfect delicate layering addition! This large link necklace was another purchase from Emerson Grace, I actually love wearing the clasp at the front to give more dimension to the layers!
Investment: I have been falling in love with Adina Reyter and her gorgeous pieces. I bought this dog tag necklace from Emerson Grace and I'm obsessed with the look! It pairs so well with my other styles and will be great in the spring/summer dressing up a white t-shirt.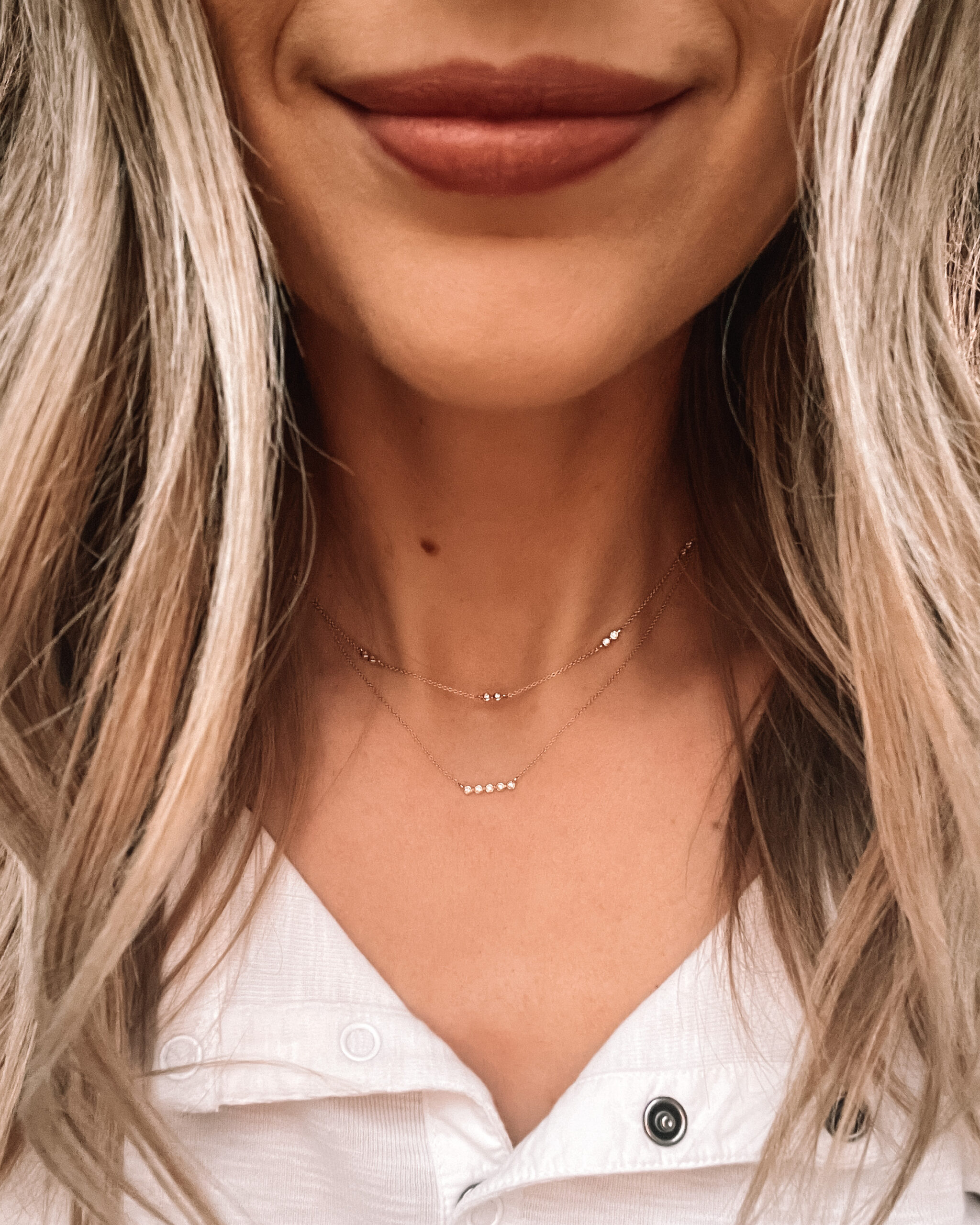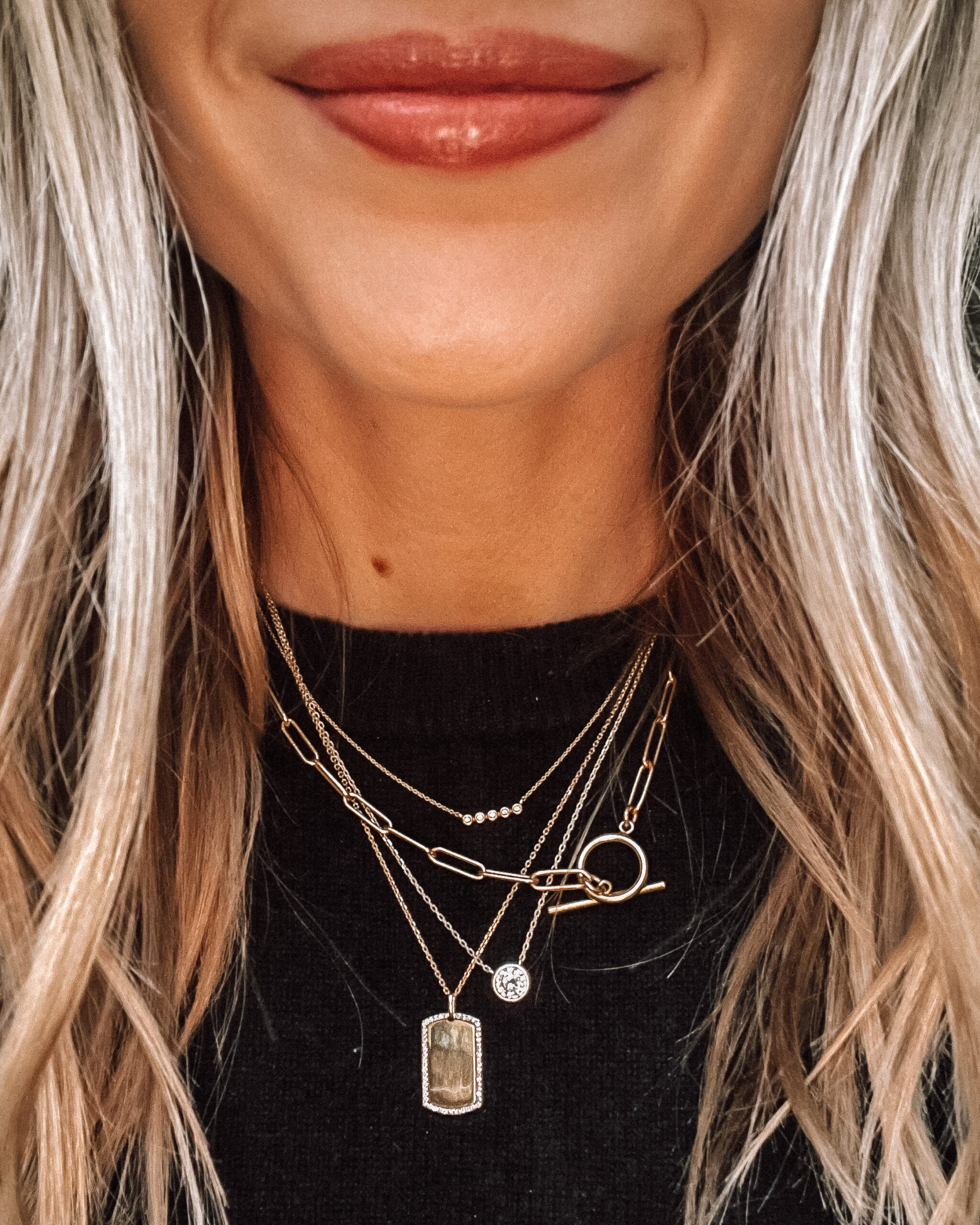 Watches
Sentimental: I have always dreamed of having a Rolex watch, and professionally 2019 was my best year ever. This was a piece I got at the end of the year rewarding my hard work. I think it is important to reward yourself, no matter the size. Setting goals, achieving them, learning from them, are all things to be proud of. This is a Rolex Oyster Perpetual Datejust 36 in Yellow Rolesor and features a champagne-colour dial and an Oyster bracelet.
Fashion/Function: I partnered with Garmin last year with the launch of their new Vivomove Luxe watch, which is actually a smart watch! Its the chicest smartwatch I have ever seen and its functionality is superb. You can read this post explaining why I love my Garmin Vivomove watch so much. I wear the 42mm in Gold with the white leather band or black leather band for daily wear, or the black silicone band for activities including fitness.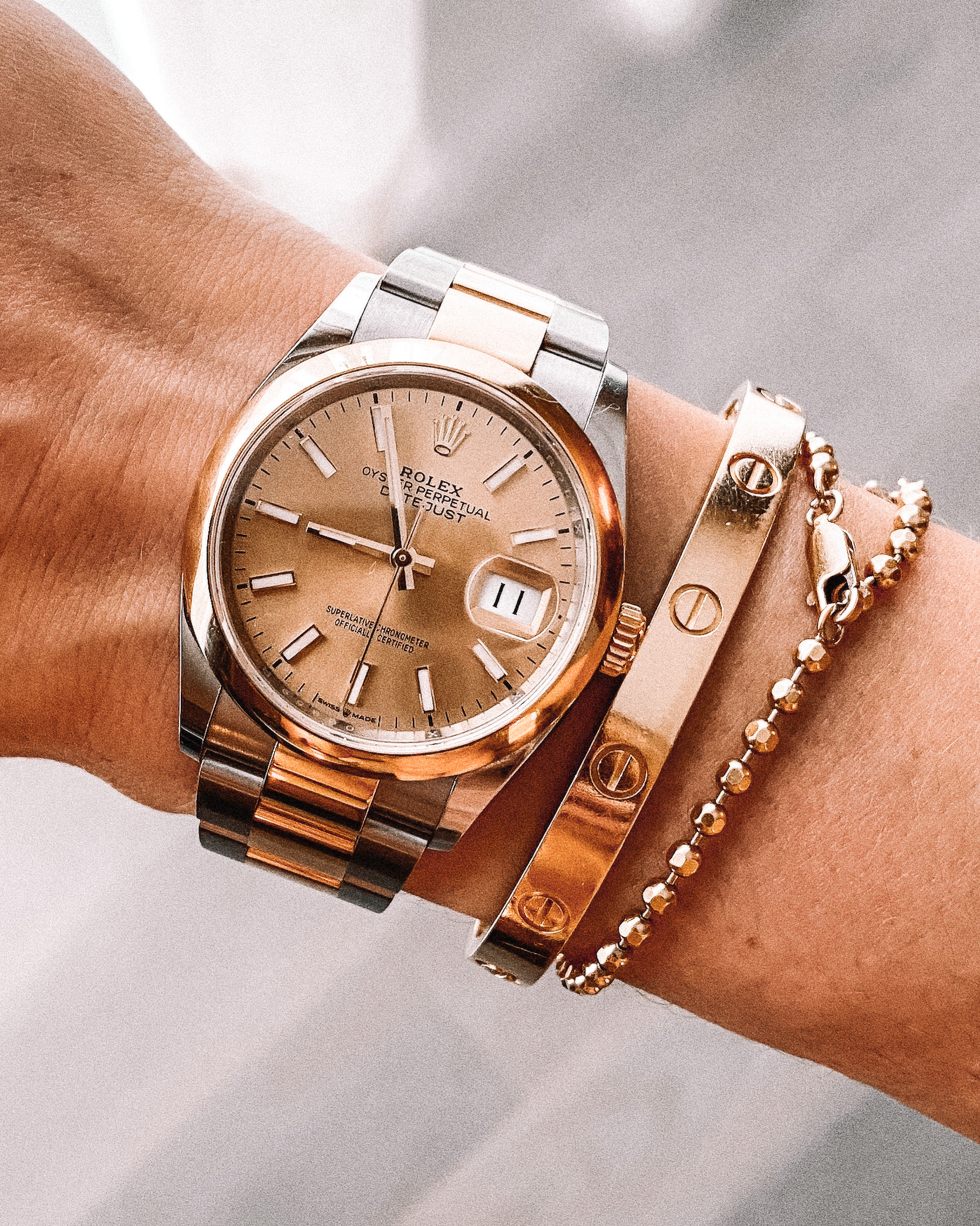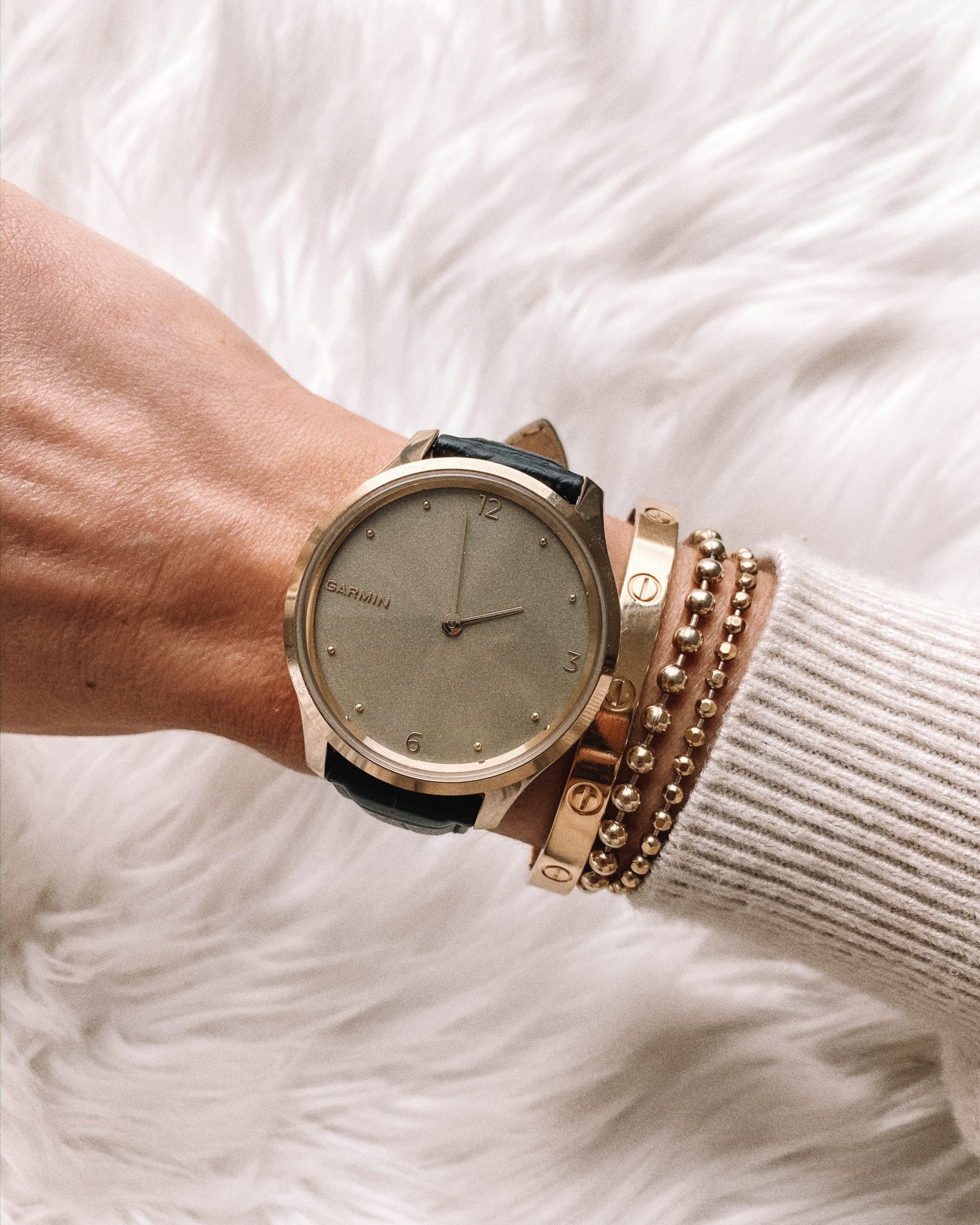 Earrings
Everyday: I got this pair of CZ studs (6 ct/gold) a few months before my wedding and I ended up loving them so much, they have become my daily pair! I used to wear a pair of real diamond stud earrings, but I was always worried about losing them I decided to put away and save for special occasions. I'm obsessed with this CZ pair, they look great and I always get compliments on them! And just to offer an alternative option, I bought this 5ct pair from Amazon and wear them more than the Nordstrom pair! They are SO good!
Fashion: For days I want to switch it up, the Ansley studs from Miranda Frye are my go-to. Use code FJ10 for a discount. I love that they are still similar to "diamond" studs, but they are a little more elevated and fun.
Investment: I do have a pair of vintage Chanel earrings (similar here) that I bought from What Goes Around Comes Around at the beginning on 2018. I only wear them on special occasions, or when I feel like dressing up a t-shirt and pair of jeans. I think everyone needs vintage jewelry at some point, and Chanel is definitely the way to go! I know they are not pictured, but they are definitely worth mentioning.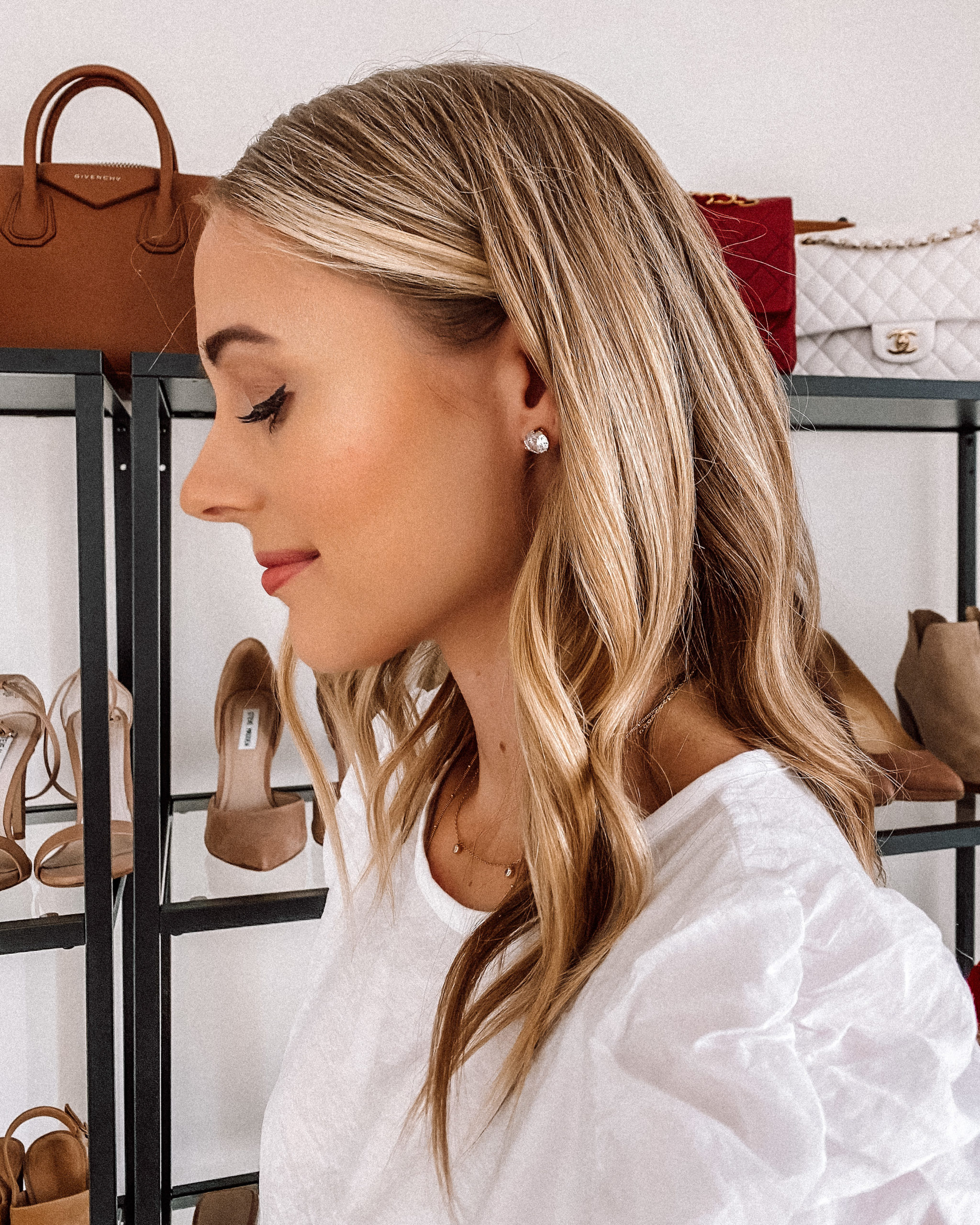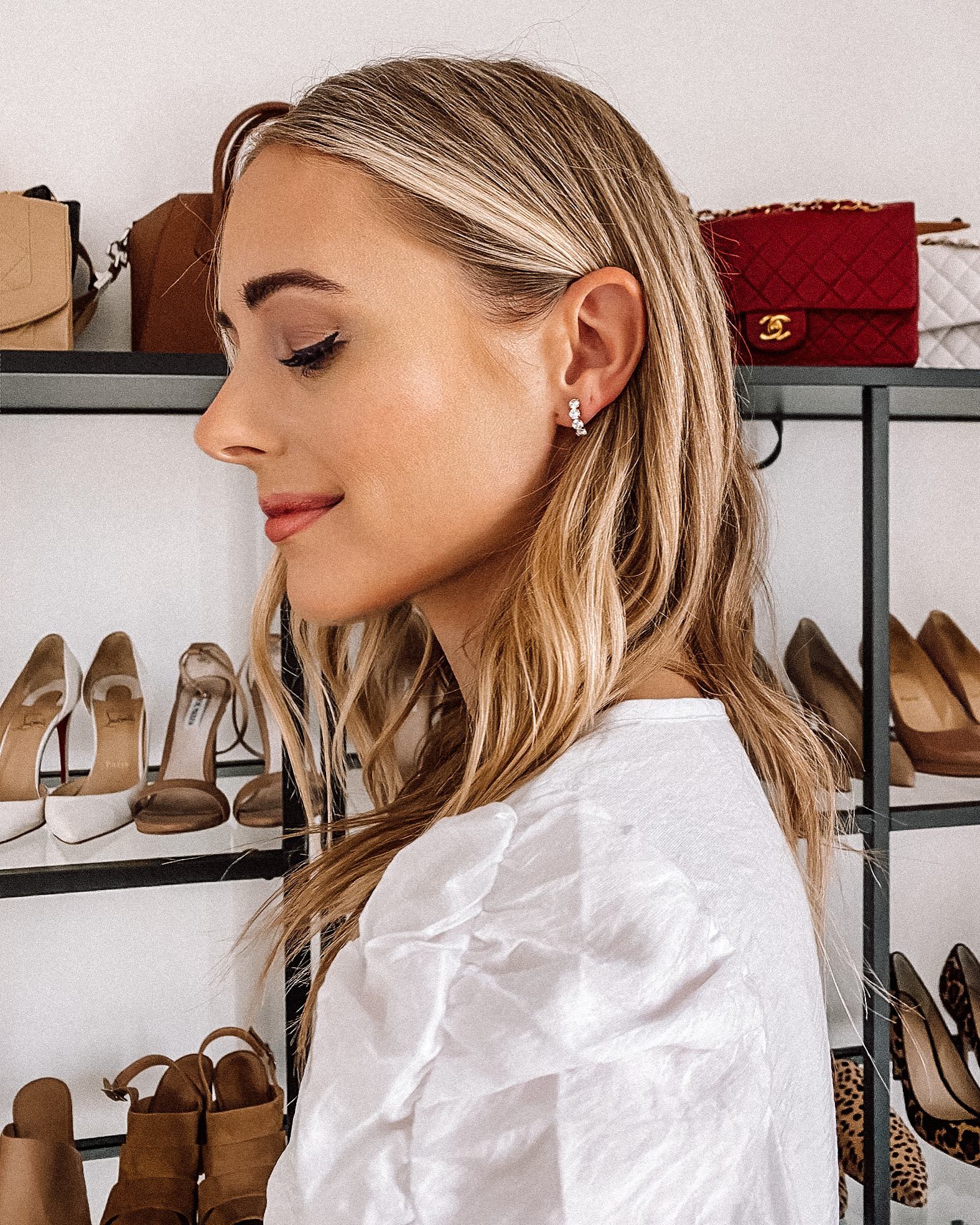 Rings
Fashion: On my right hand ring finger I have a plain gold cable ring from David Yurman, a thin gold Cartier Love ring (no diamonds), and a baguette diamond eternity ring from Dana Rebecca (gifted). I like having the two stacked together, I think it's a fun way to wear the pieces. I also have a few Ring Concierge styles I like to alternate wearing. The first is the Triple Row Diamond Claw Ring (gifted). I love pinky rings, I think they have such a cool vibe. Next is the Graduated Single Prong Ring (gifted). I alternate this between my thumb and index finger just depending on what I feel like. And last is the Inlay Diamond ring. This one I wear on my left hand index finger or paired with my David Yurman diamond cable ring. Stacking rings is such an easy and fun way to mix up the look. I definitely recommend getting this ring sizer from Ring Concierge so you know exactly what size to order!
Milestone: On my right hand middle finger I wear this David Yurman diamond/cable ring. I bought it as a gift to myself when I hit 100K followers on Instagram. I love looking at it as a reminder of how hard I've worked. I think it pairs so well with the other two rings on that hand.
Investment: On my left hand middle finger I have a pave diamond eternity ring made of yellow diamonds set in yellow gold. It almost looks like a gold band, but when you get close you can see all the delicate yellow diamonds. Its perfect for stacking or wearing solo. I purchased this from a local jewelry store, but I did find some similar on Etsy.
Sentimental: I honestly didn't want to share my wedding rings, just because they are so personal, but I get asked about them so much. For my engagement ring, I have a radiant cut diamond with a pave stone halo and band (please don't ask for size/cut/clarity). My wedding band is a petite emerald cut eternity band. It is low profile so it fits perfectly under my engagement ring without getting in the way. I wear this thin gold band between the two rings for a more fun/fashion look. I love how it mixes in gold with the platinum.