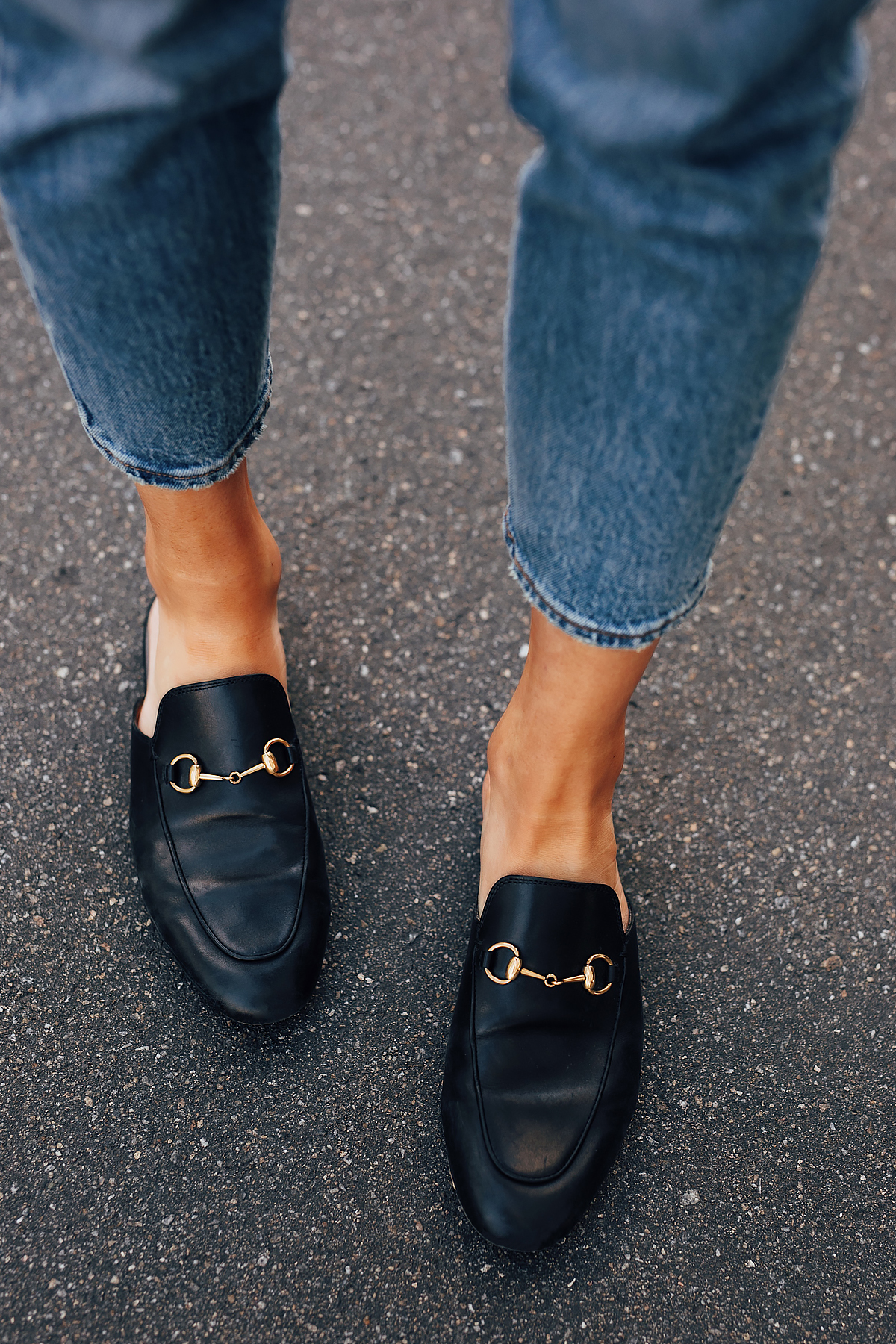 One of my most asked questions on Instagram has to do with the Gucci Princetown Mules. Anything from size/fit, if they're worth it, will they go out of style, etc. I purchased these shoes almost 2 years ago and they are definitely my top 3 most worn shoes. They are so comfortable, go with every style of jeans I own, dresses/skirts, shorts, you get it. I didn't wear them as often when I first bought them (really no clue why), but with in the last year they have become my go-to. So much so I'm considering a second color for spring/summer. Keep reading for my honest review of the Gucci Princetown Mules. The FAQs are at the end of the post.
Outfit Details
Where to Buy Gucci Princetown Mules
There are a ton of retailers that sell the Gucci Princetown Mules online & in-store, including the Gucci store. Some retailers have unique colors/materials, but every option (to the best of my knowledge) can be found via Gucci. Other retailers that sell the Gucci Princetown Mules:
Nordstrom | SSENSE | Bloomingdale's | MyTheresa | Neiman Marcus | Saks | Bergdorf Goodman
How to Find the Best Size
Ultimately if you live near a Gucci store or retailer that sells the Gucci Princetown Mules, I would recommend trying on in person. I always suggest trying on investment shoes prior to purchasing whenever possible. However, if you're confident in your designer shoe sizing, there should be no issue to purchase online. The Gucci store recommends going up 1/2 a size, which is the exact fit I needed. I'm an 8.5 and took a size 39. This follows pretty true to all my other designer shoes with the exception of a couple that run differently. If you can't try on in person, Nordstrom is so good about returns you could purchase 2 sizes from them and return the pair that doesn't fit.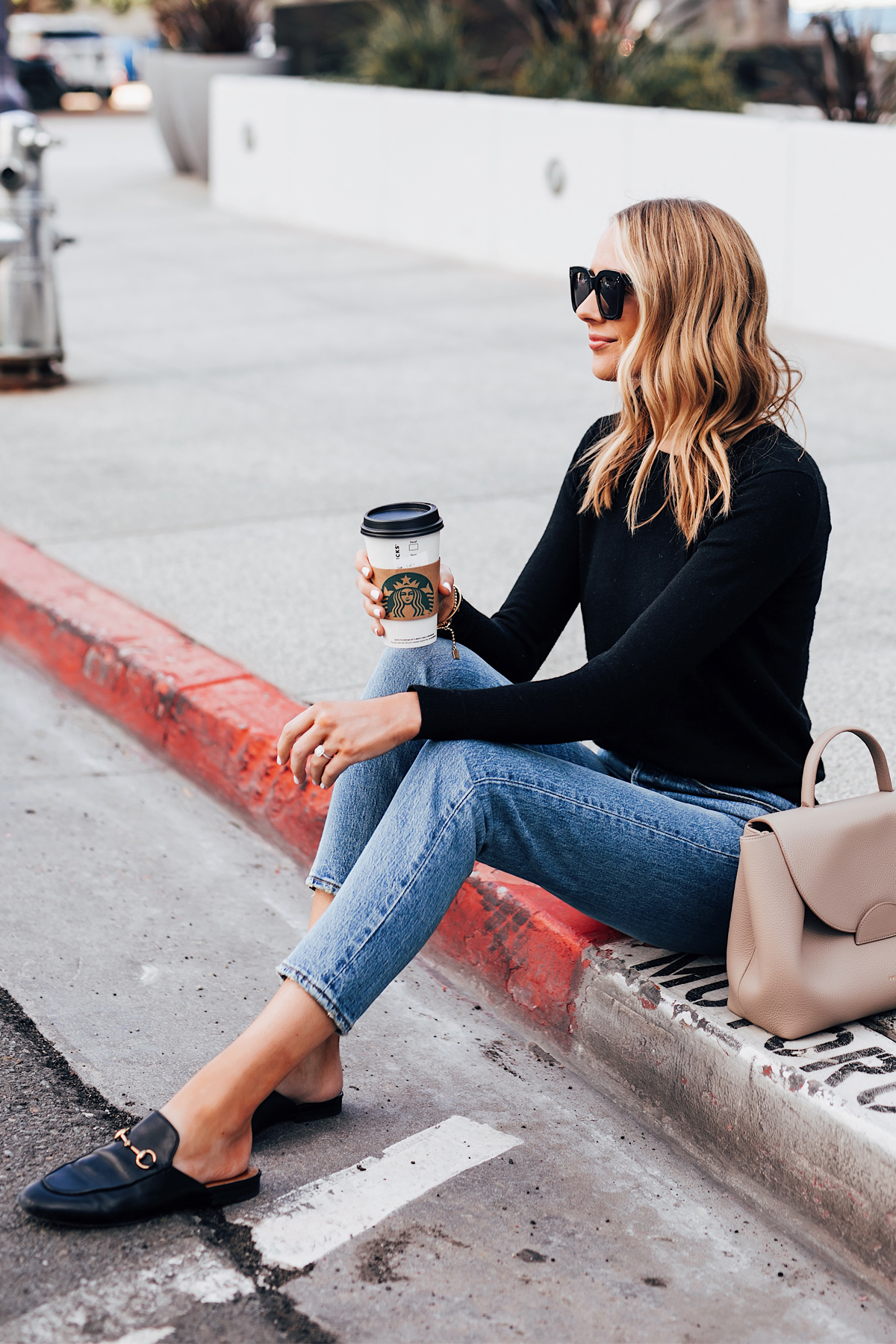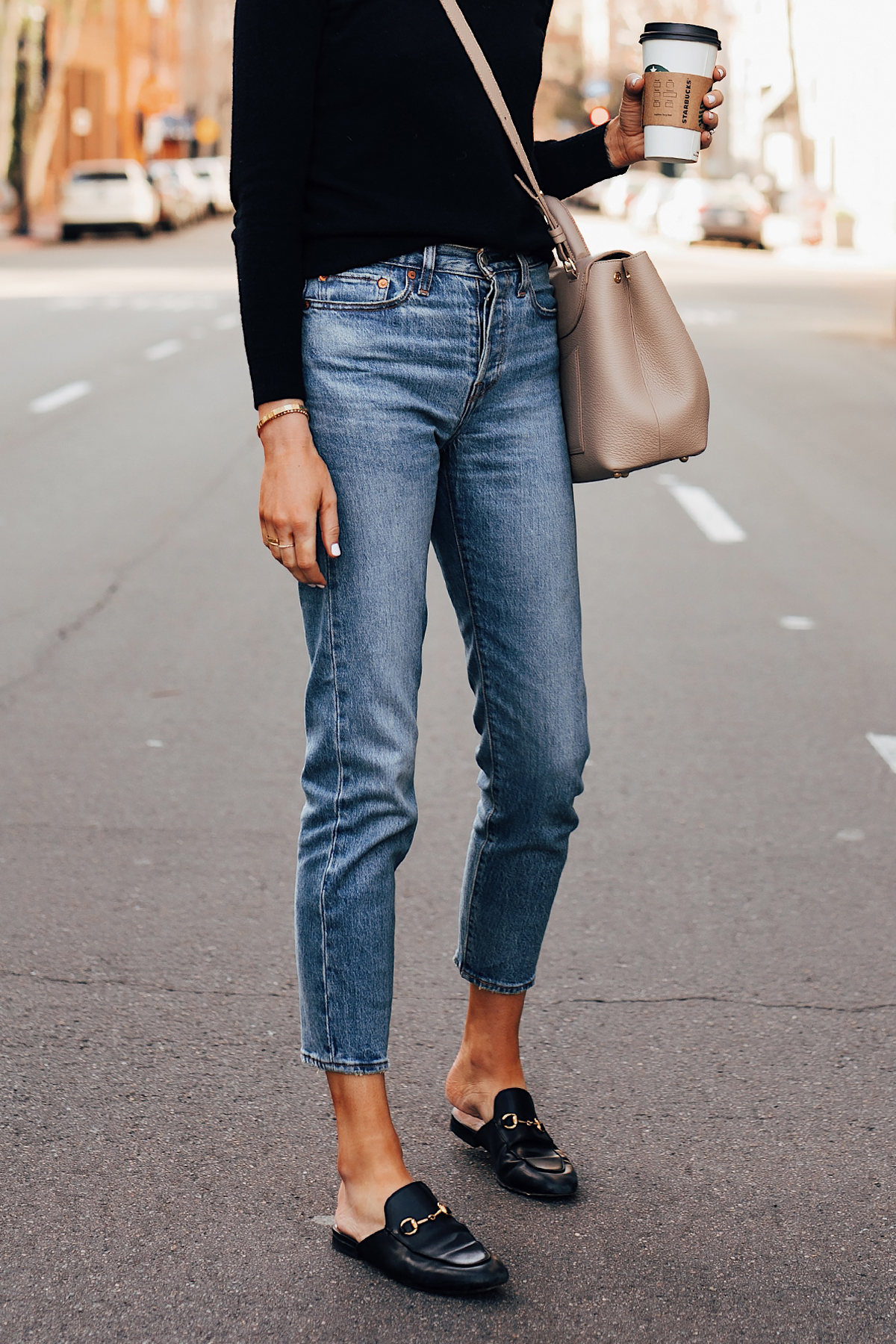 My Review of the Gucci Princetown Mules
I really don't think I need to go into too much detail here. As I mentioned these shoes are one of my top 3 favorites. I wear them almost every day. They are so easy to slip on before walking out the door, and instantly elevate any outfit. I wear them the most with cropped denim and casual sweaters/tops. But they also look so great dressed up. I would definitely recommend these mules if you're looking for something stylish, comfortable, and on-trend.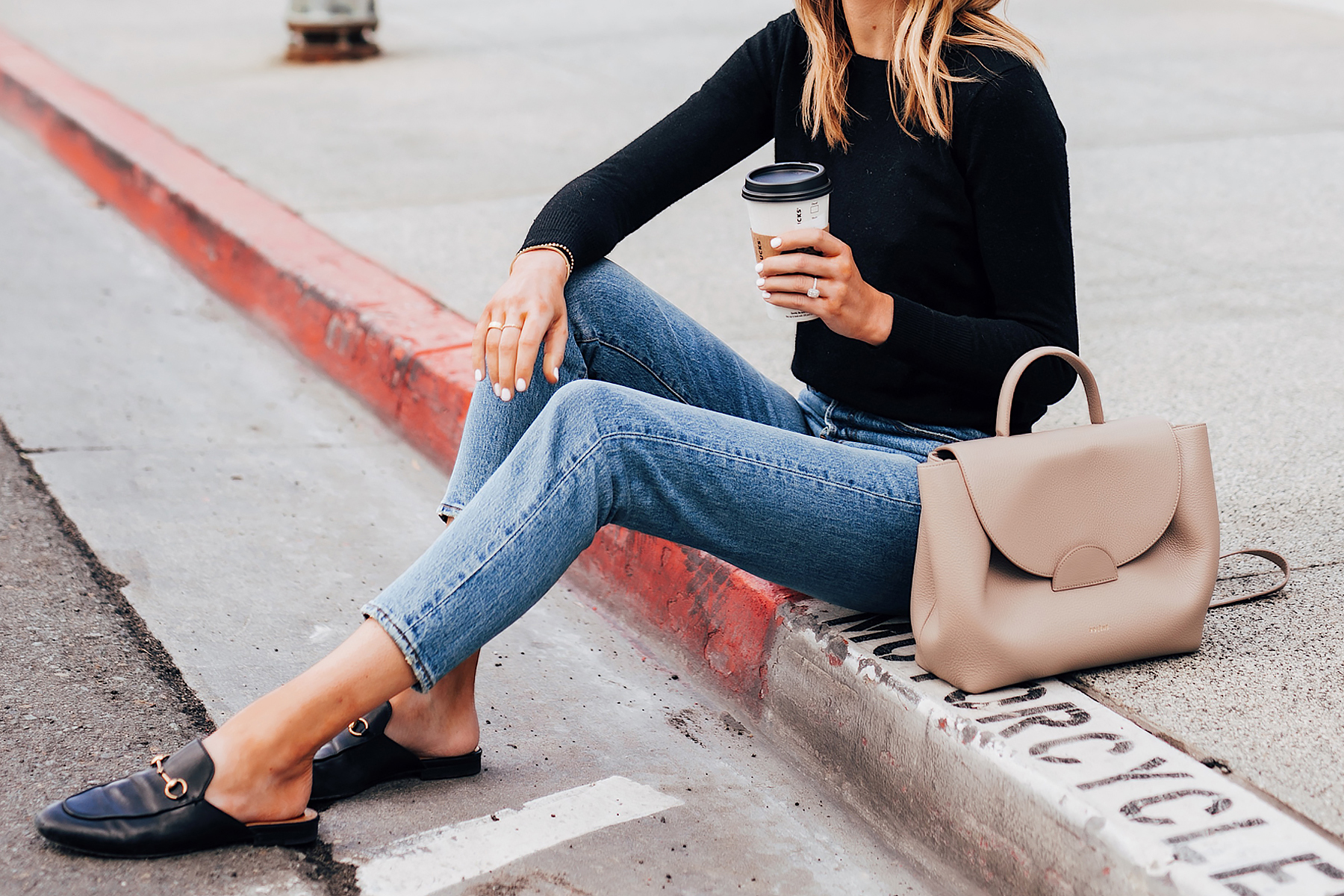 Pros & Cons
I will say it was a little hard finding cons for these shoes since they are one of my favorite pairs.
Pros: high quality, classic, comfortable, pairs well with many apparel styles
Cons: expensive, toes scuff easily, leather crease marks on light colors (top of shoe)
I want to elaborate a little more on the cons. Even though I listed that they are expensive, most of the Princetown styles are under $700, while most designer shoes are close to $1000. So even though they are expensive, they aren't as expensive as other designer shoes. Also, I have noticed from friends that their mules in lighter colors show the crease marks at the top of the shoe (from walking) rather quickly. I haven't noticed crease marks on my black pair, so I don't know if it depends on the color, or if I just walk walk in a way that doesn't create crease marks. The toes have started to show scuff marks with normal wear, but I have a shoe cobbler that can take care of the issue, no problem.
Would I buy the shoes again? Absolutely yes. Since last summer I was contemplating getting the white pair, and because I'm still thinking about them a year later, I think I will invest in a second color. Even though the light color has the potential to show crease marks, I still really want them!
See below for the FAQs and me know in the comments if you still have more questions.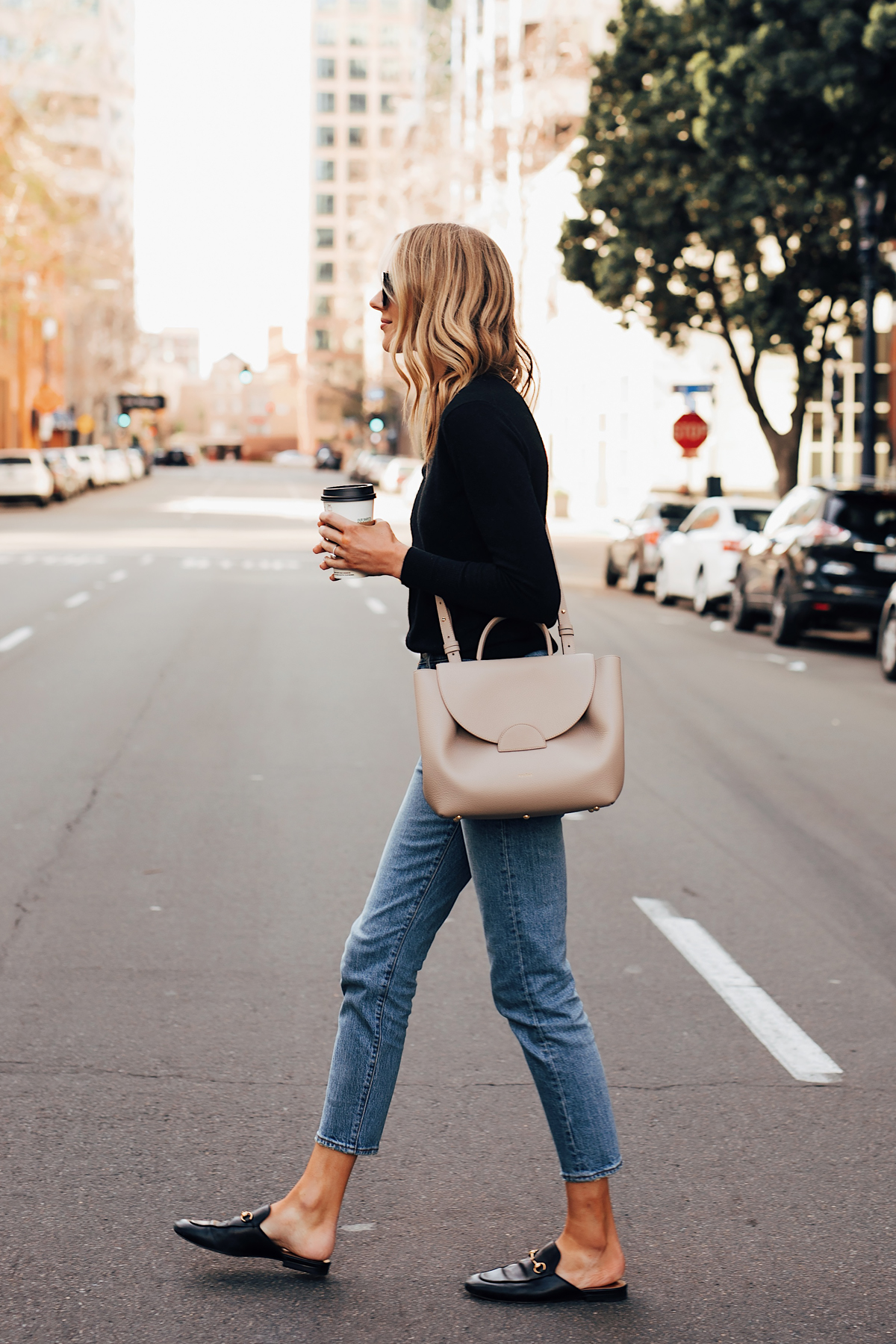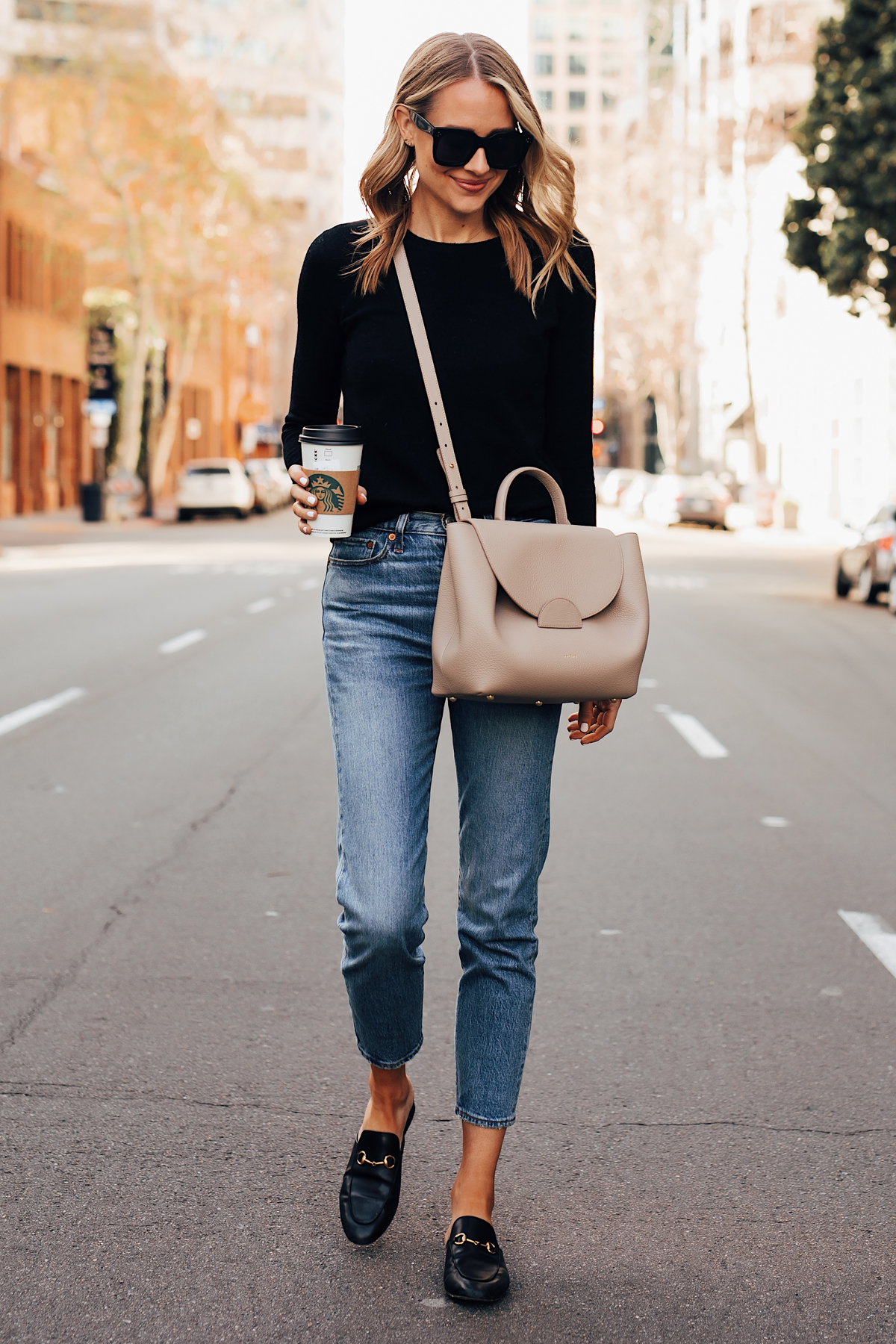 FAQs About the Gucci Princetown Mules
Do they slip off your feet easily?
Not at all, I just grip my feet the same way I would on a pair of slip-on sandals. I don't even notice it anymore.
How far can you walk in them?
I wear them all day with no issues
Does the leather soften/stretch out?
Yes & no. The leather maintains the same structure, they just relax after a few wears of getting broken in. They don't stretch out to the point of being too big.
Do they wear fast or slow compared to other loafers?
Normal. I don't remember a time when they didn't feel broken in after the first few wears.
Is this a timeless investment?
Absolutely. They are very classic in styling and silhouette. If you stick with a neutral color, you should be able to wear them for a very long time.
Do you use any sole protection?
I didn't, but experts always recommend adding a sole protector to extend the life of shoes
How do you keep them clean?
They don't really get dirty, but since I keep them on an exposed shelf, I dust every 2 weeks.
Why did you pick the mules instead of the loafers?
This was just a personal preference for me. They are both great styles, I just liked the look of the mules a little more!
Do they smell?
Can you feel the gold hardware?
Not at all. They are seriously very comfortable!
Do you have any dupe recommendations?
I can't recommend any dupes (designer knock-off), but I will share some Gucci-inspired styles that are more budget friendly. FYI I haven't tried any of these on, so I can't speak to the quality or comfort.