I'm obsessed with Marie Kondo's Netflix series "Tidying Up". I utilize (most) everything she touches on within the series to tidy up my own life. If you're living in your home, there's no limit to the organization potential you can employ. And the Kondo method brings not only a semblance to the chaos, it is also a proactive and adaptive system for your daily life.
But there's a lot of information to glean from her. And let's face it, if "tidying up" was so easy, she wouldn't have a job because everyone could do it. After involvement of her methods while simultaneously trying to weed out my own bad habits- I've found that my bag is the best place to start showing you how Marie Kondo can greatly improve the areas of your life that need the most help.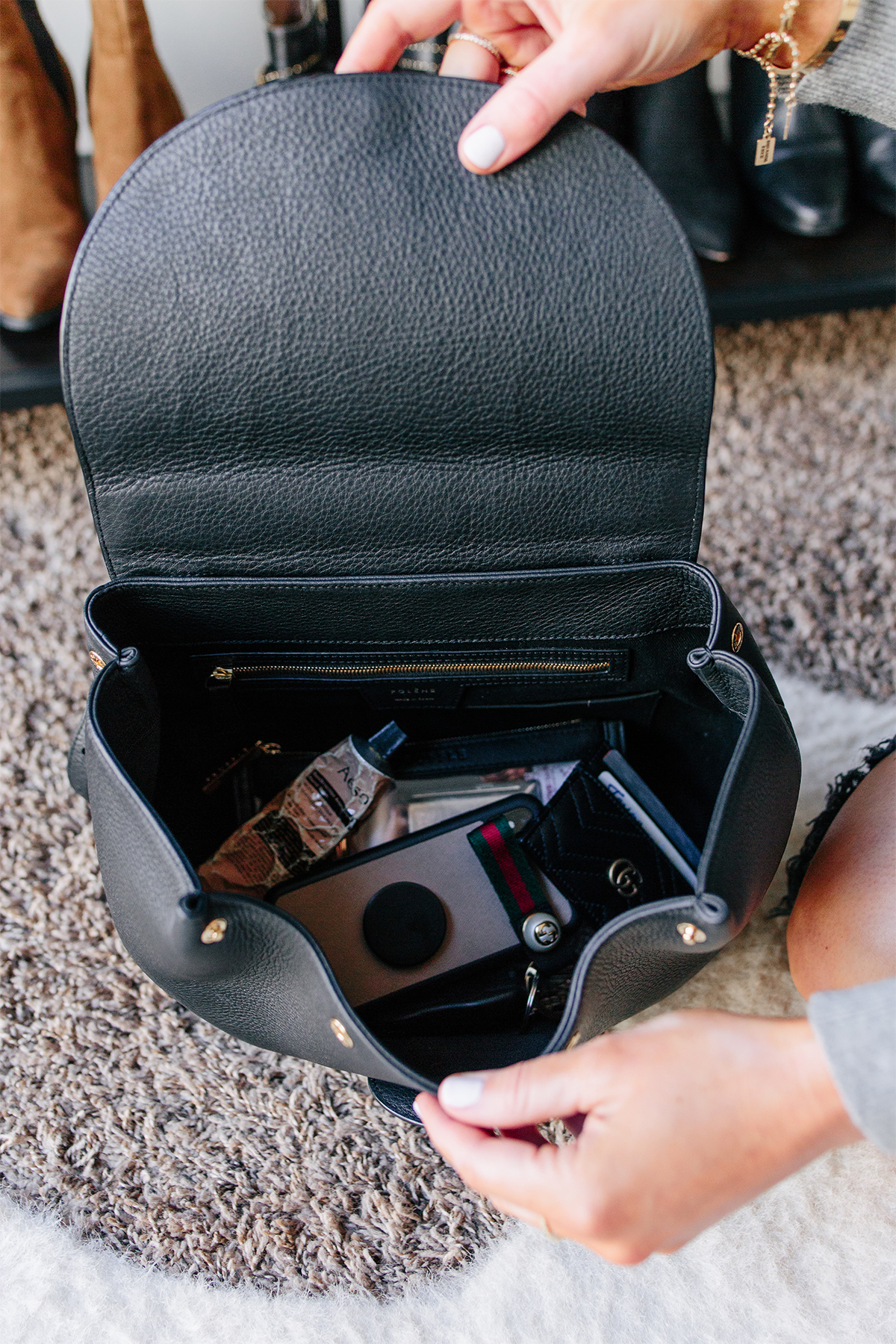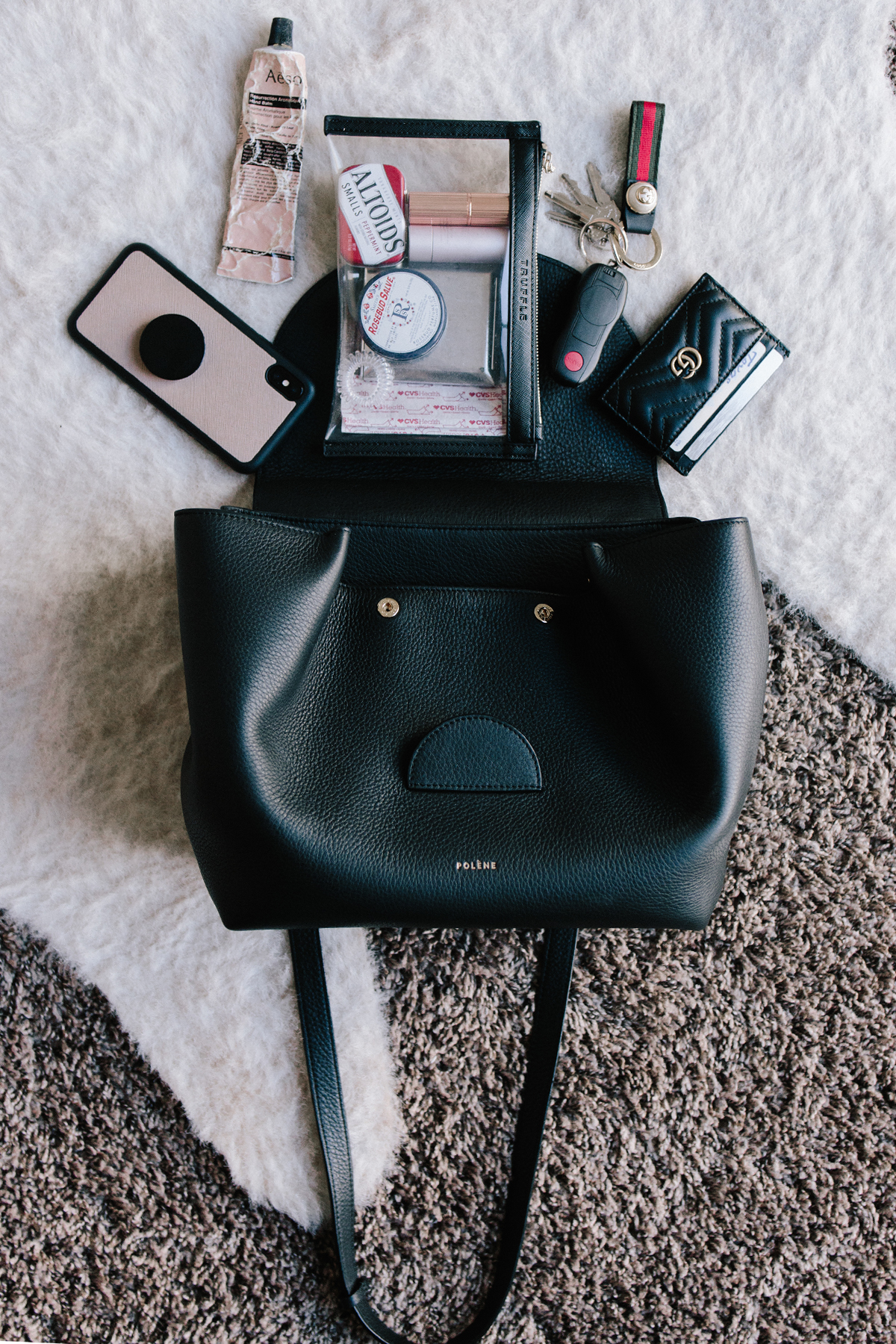 ITEMS THAT BRING JOY
I carry my bag with me all over the city as I move through my day, and there's inherently a lot of items that happen to fall into it. While I use a lot of them, maybe I won't use them all and certainly not all the time. One of Marie's first steps in Tidying Up for the owners of the space to pick up, look at, and decide if certain items bring them joy. If not, throw them out. This is a great way to bring some organization to your bag. 
THANK ITEMS FOR THEIR SERVICE
Now, I'm not telling you to verbally thank your chapstick for always being by your side. However, this step does add value into each item in your purse and makes you cherish the things you didn't throw out.
USE SOMETHING NEW
This is a hot ticket item point from Marie for her 3 New Year Traditions movement. I'm a fan of this because the centric notion behind my fashion is elevated and effortless. The better the item, the more effortless my style. So I'm always daring to try the new and bold- you should as well.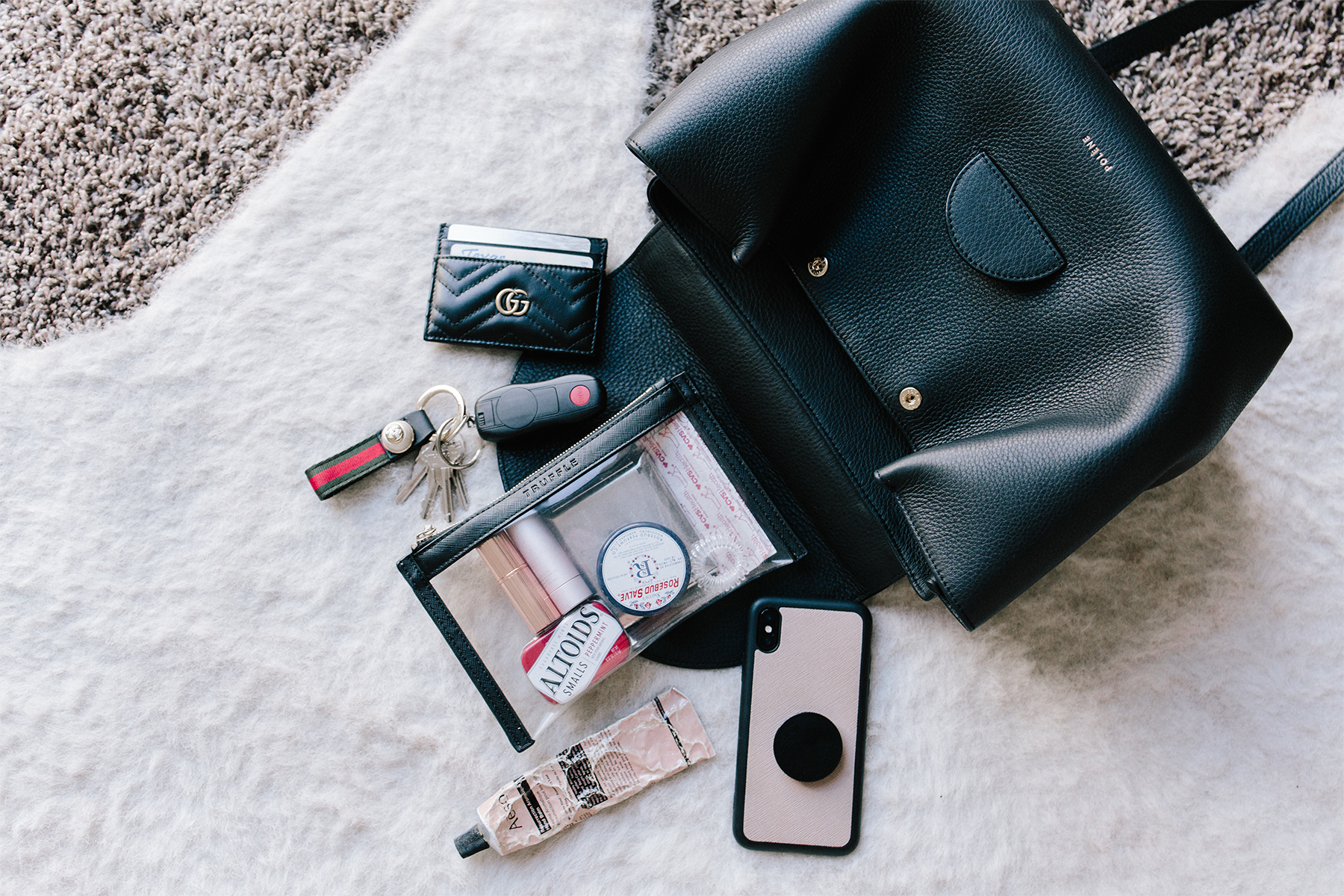 THE ESSENTIAL CATCH-ALL
Continuing down the path of getting things KonMari'd, I want to touch on this clear case from Truffle that I use everyday, or my truffle sidekick, if you will. It's a clear case with a stylish gold zipper that itemizes everything regarded as a "catch-all", but are nonetheless essential and used throughout my day. This is definitely the first item that brings me joy in my bag. This piece is crucial.
ELIMINATING THE CLUTTER
I've found that the big 3: Cards, Cash, and Keys- are always unorganized and that had to change. As you see, my previous wallet set up was disorganized, cluttered, and gave me a little anxiety every time I opened the wallet. I spent no more than 30 min synching my membership cards to either a phone number or email address that way I don't have to carry them around any more.
KEEPING IT SIMPLE
I went for something minimal to keep only the necessities with me at all times with this Gucci card case. Restructuring my matching Gucci Wallet and Keychain allows me to access the contents in my bag effectively. I love the stitch detail on the wallet and the pocket for cash so I'm not fumbling through my day. I have found that keeping my keys separate from my wallet is essential and functional.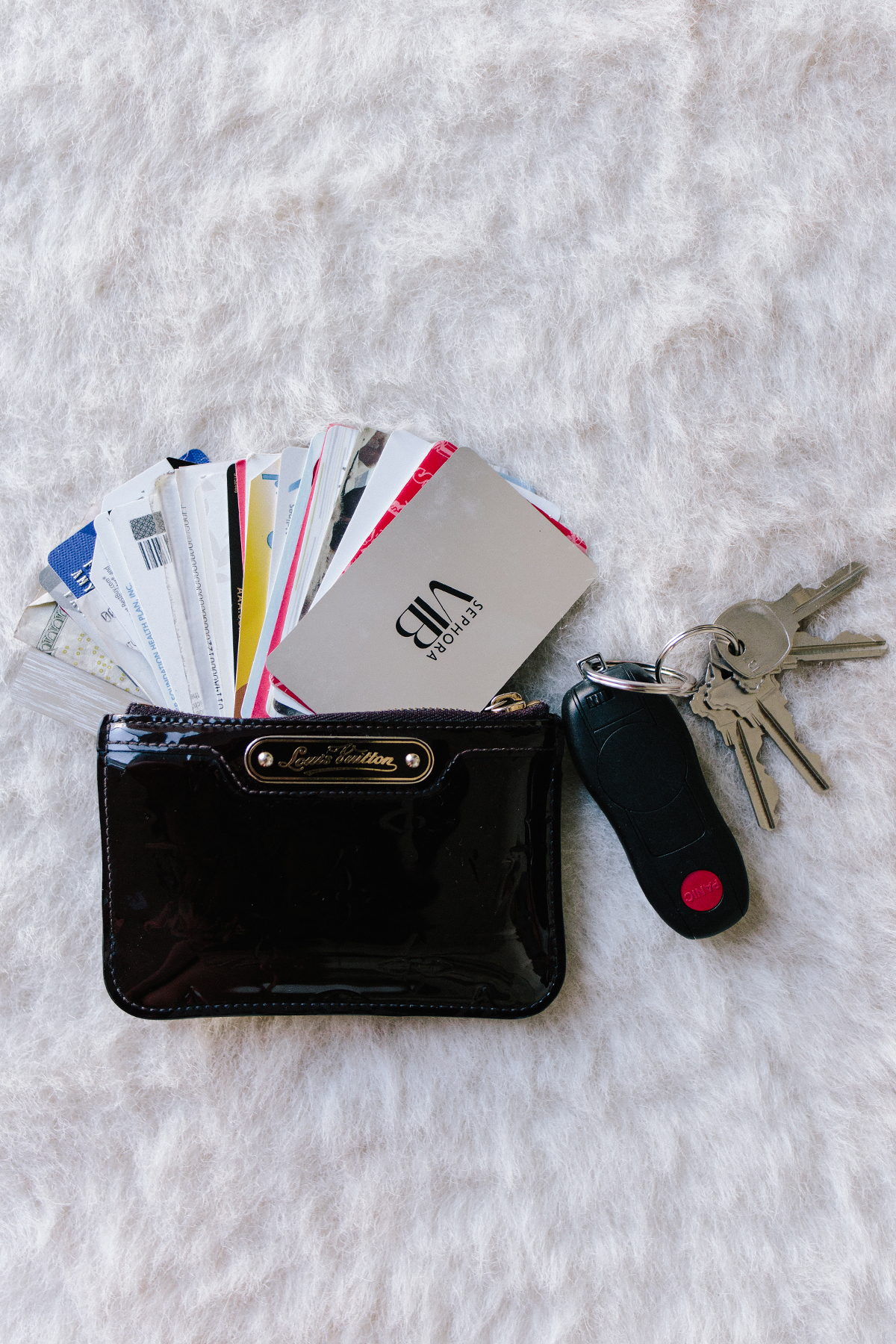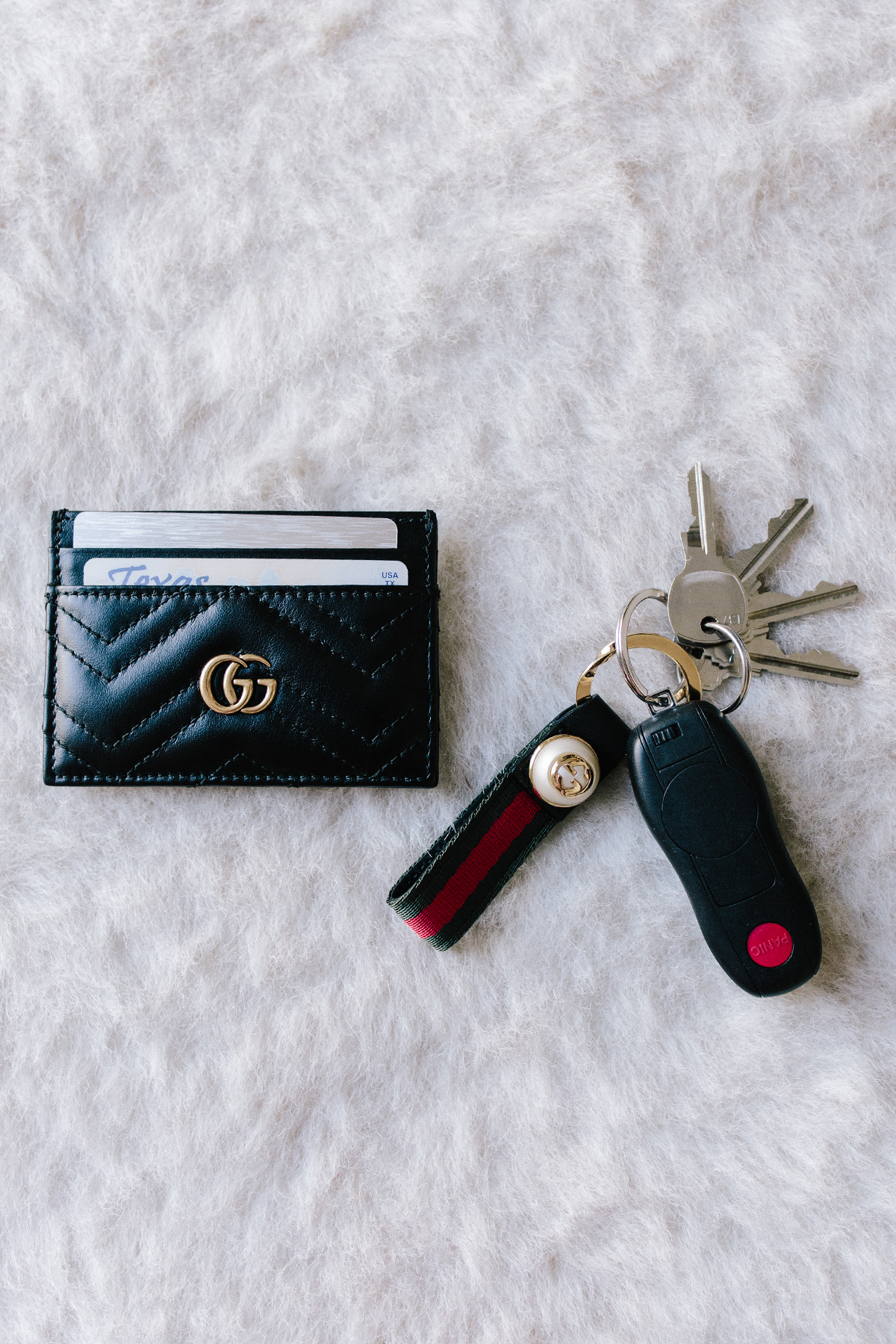 Categorizing my bag into must haves using Marie Kondo's method's revolutionizes the way my bag works. I take everything out of my bag when I get home, and set in their designated areas. This helps to prevent clutter or keeping unnecessary clutter. I always know where everything is now, and I have a few new gorgeous pieces to add to my already stylish arsenal.