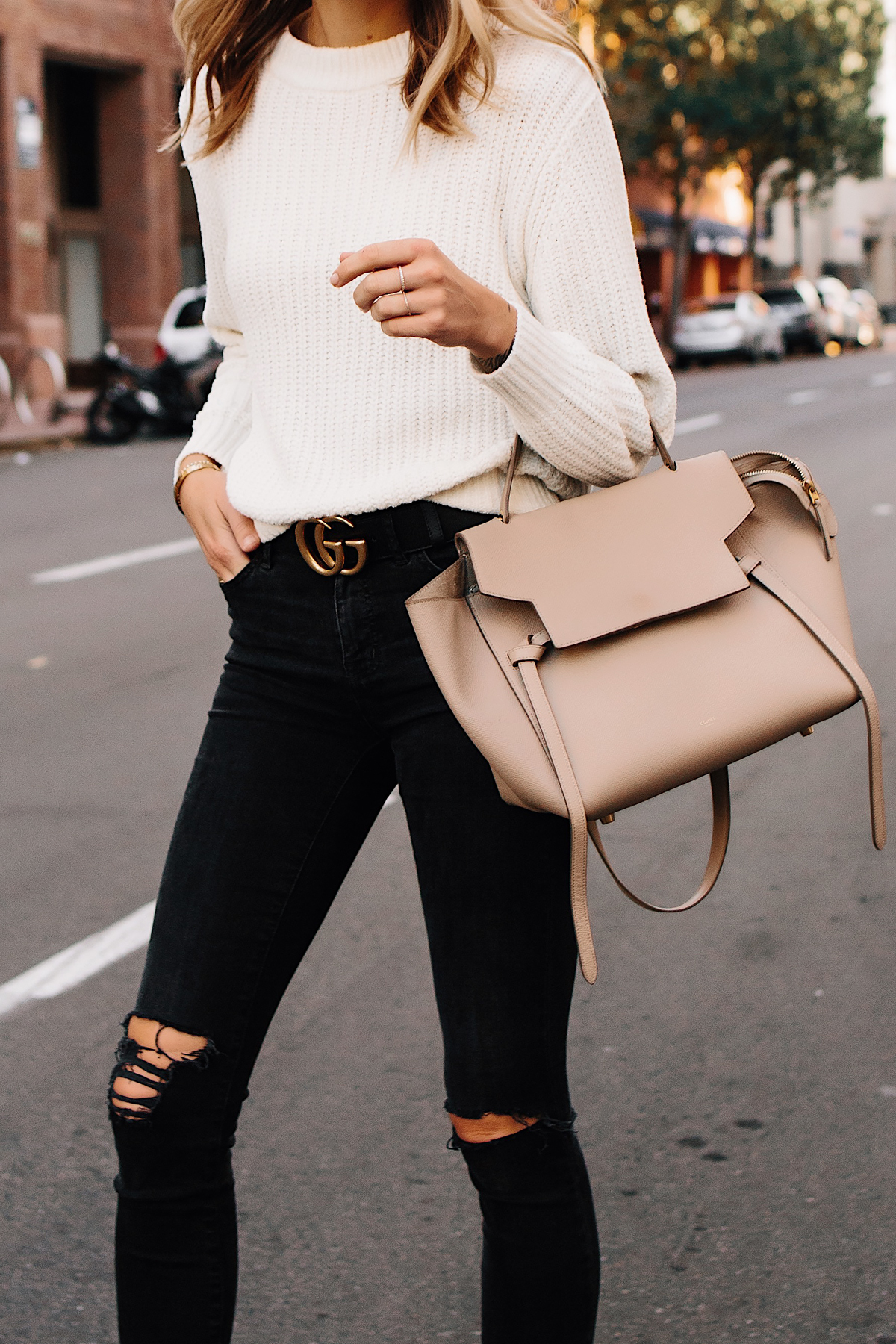 This post is a little overdue - I've received a ton of questions about my Gucci belts - the fit/sizing and where to purchase, so today I'm sharing a few tips you should know before making the purchase. I currently have the Gucci leather belt with double G buckle in both black & brown. The belt width is 1.5" with antique brass hardware. I bought my first Gucci belt last year (the black one) and wore it so much I decided the brown version would be a great addition. So many of you have asked if I think they will still be in style for the next few seasons, and I say yes. It's a classic belt, and as long as you purchase a color that you'll wear often, it's a great investment. Sometimes I have to stop myself from wearing it because I'm always wanting to!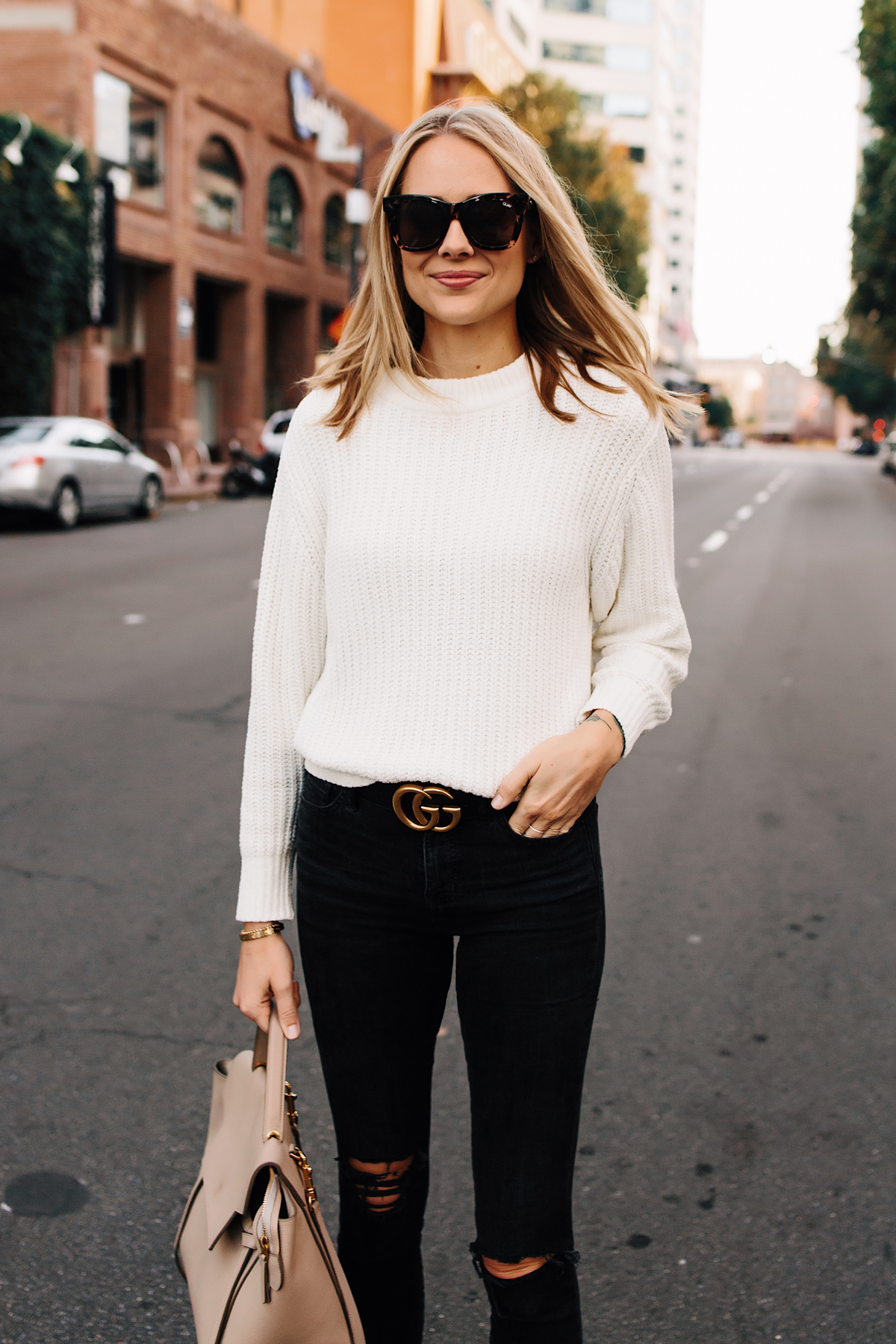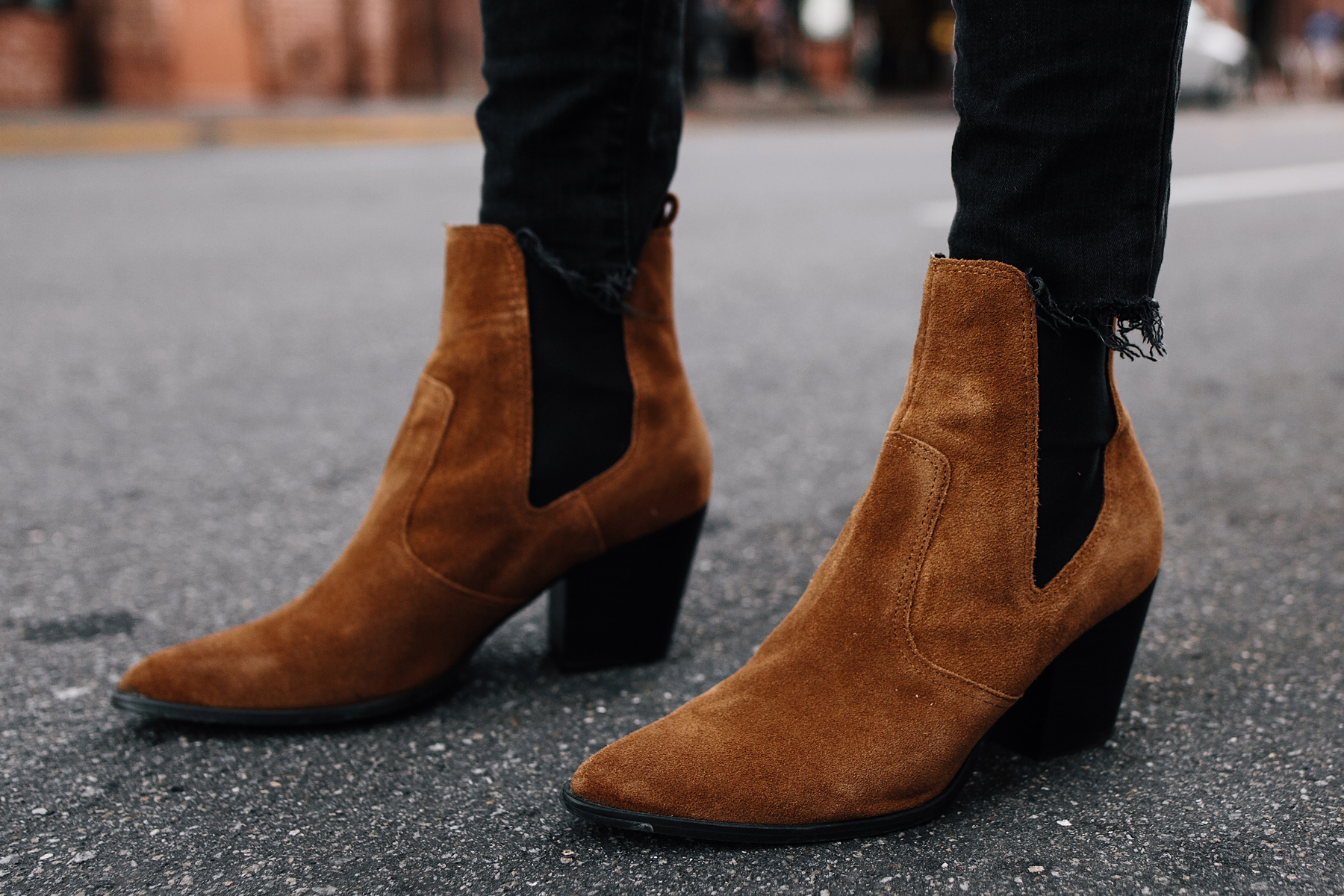 Sizing
The belt comes with 5 holes, but you can have more holes added at your local leather shop, or DIY with this tool.
I honestly have no idea what size I got in the black version. I think it was maybe a 95 or 100? This was at the time when they were very difficult to find, so as soon as my local Gucci store had one in stock, I purchased it immediately. The black belt was still a little too big. At the time Gucci added 2 holes for me, but they don't do this anymore. Even with the additional holes, so I took it to Deno's in Dallas and they ended up cutting 3 inches off. The only downside to this was they had to cut at the base where the logo is (not at the end of the belt), so I lost all the stamping with the serial number, size, etc. This would just be a disadvantage if you plan to resell because there really isn't a way to guarantee the authenticity at that point. But I plan to keep mine forever, so I didn't mind.
I bought my brown belt (same exact style), this past June in size 85 and still had the Gucci store add 2 additional holes. This one was not cut down, but it is 1 inch longer than the black version. If available, I would have picked an 80 because that would have been the best fit. But, I love that by having additional belt holes I'm able to wear with jeans lower on my waist, or up high with skirts/dresses. It gives the belt more versatility, which is great since it is an investment.
I'm a 25/26 in jeans and think the 80 would be the best fit. But really, if you buy one larger, you'll be able to make it fit your waist with minor alterations no matter what. Gucci has a size guide on their site for reference too.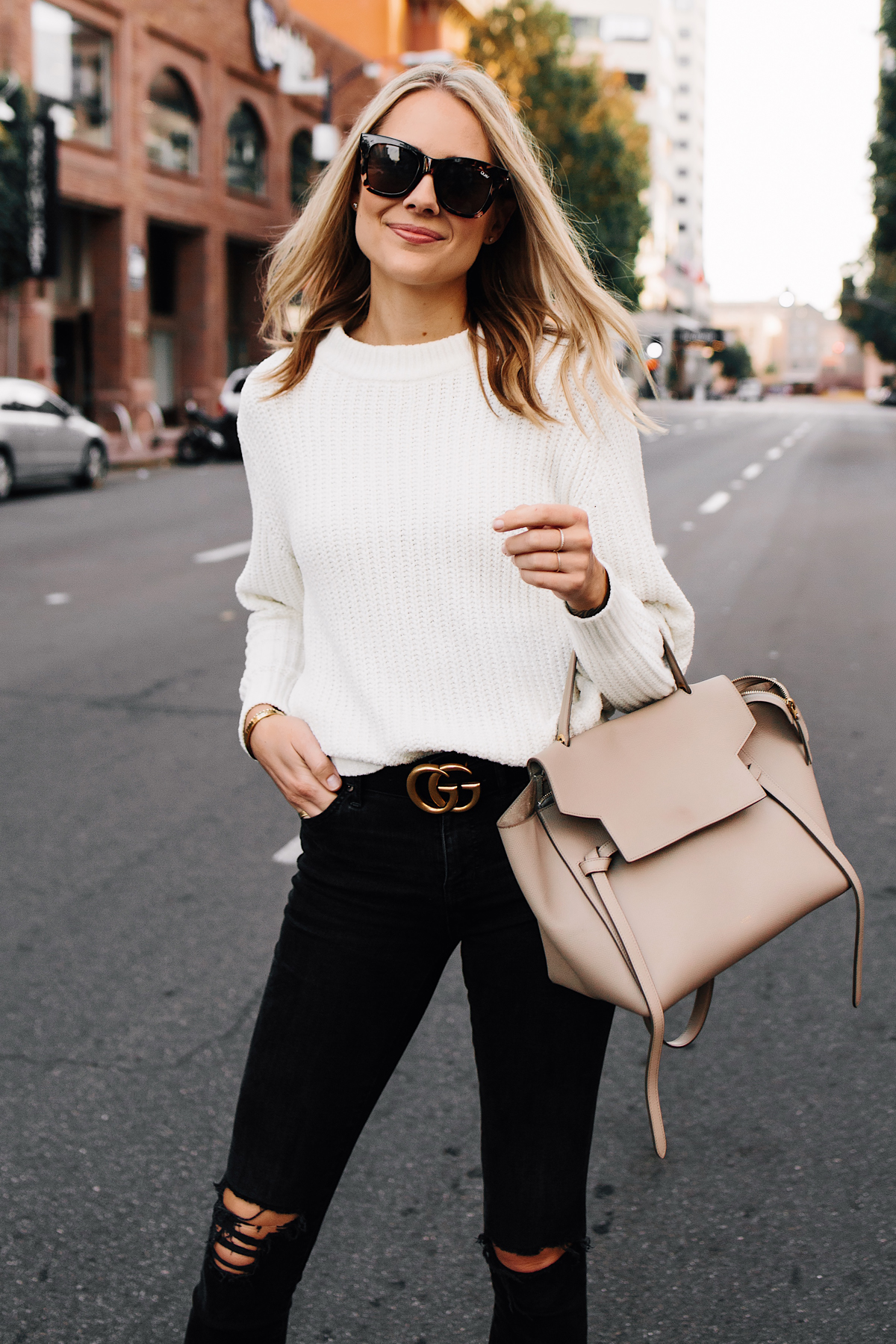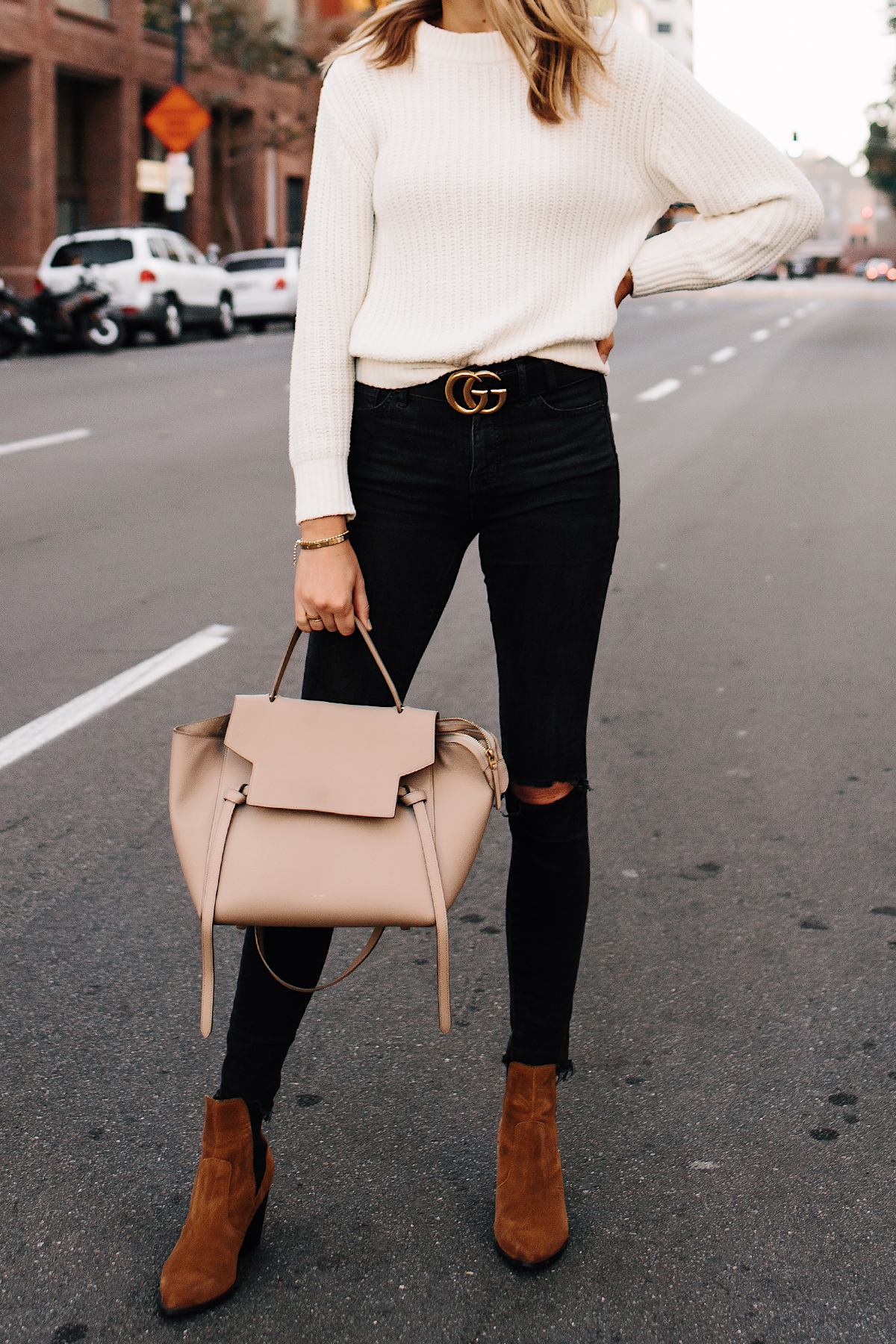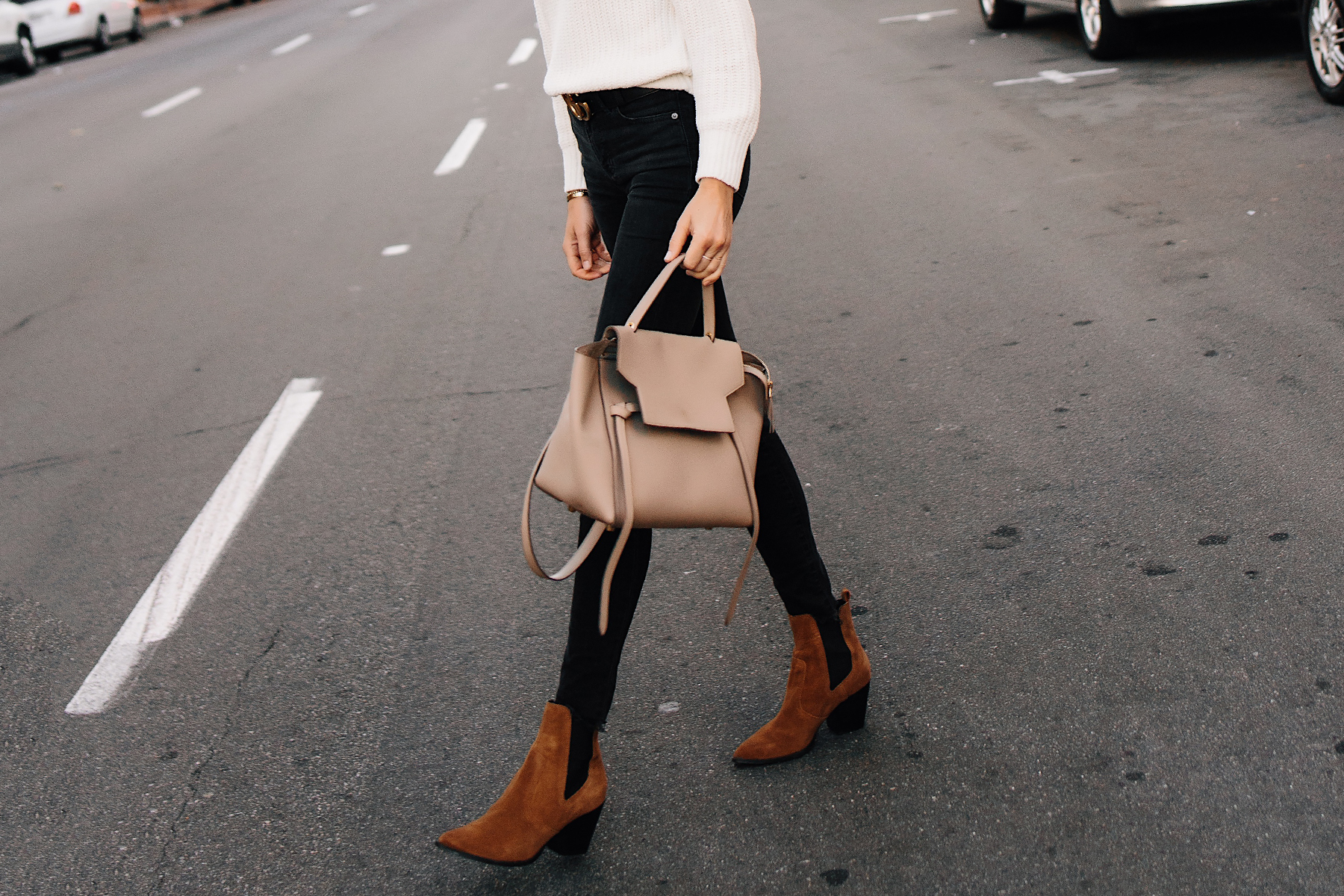 Where to Buy
As mentioned, I've only purchased mine from the Gucci store, but Nordstrom, Net-a-Porter, & Mytheresa carry them almost all the time. They also have additional options when it comes to the style, size, and color. I love the look of the wider belt, which is why I've purchased 2 in the same size, but I also think the slim style (0.8") is really chic.
What Color to Buy
I'm always a fan of neutrals, but if I had to pick just one color it would be black. That was the first color I purchased and what I naturally gravitate towards. However, I've been wearing more tan & beige colors, so the brown was a great second addition. The white is so chic, and the blush is a fun way to add something a little more feminine into your outfit. There are also different textures like crocodile or hardware features like pearls and gemstones. I would suggest if you wear more black shoes go with the black belt and if you wear more neutral shoes, go with brown for the most versatility.