Friday morning I flew to NYC to surprise my best friend and ask her to be my Maid of Honor (she said yes)! I wanted to do something special, and with the help of her husband, we pulled off a great surprise. It was so wonderful to have a girls weekend catching up and spending quality time together. If you've been following me for a while, you may know that NYC is one of my favorite cities to visit. I haven't been during this time of year before; I normally visit during the holidays, summer, and fall. But it was so nice to be there in the spring. While the weather wasn't quite as warm as it had been, it was still enjoyable!
Since it was a quick trip (Friday-Sunday), I forced myself to only bring a carry-on. This might sound like an easy task, however, I typically like to do a little extra shopping while I'm in town, so I knew I was going to have to keep that to a minimum. I followed my packing rules and selected the minimum amount of pieces that could create the maximum amount of outfits. I didn't pre-plan any looks, but I knew I had plenty to choose from depending on the weather conditions. I also had to bring a few extra pieces since I was planning to shoot some blog images with Carter. I was able to fit everything in my carry-on, plus all the extra items I ended up buying.
Below I'm sharing what I packed and fit into my carry-on, the outfits I wore, outfit inspiration for you to use, and the new pieces I brought home with me.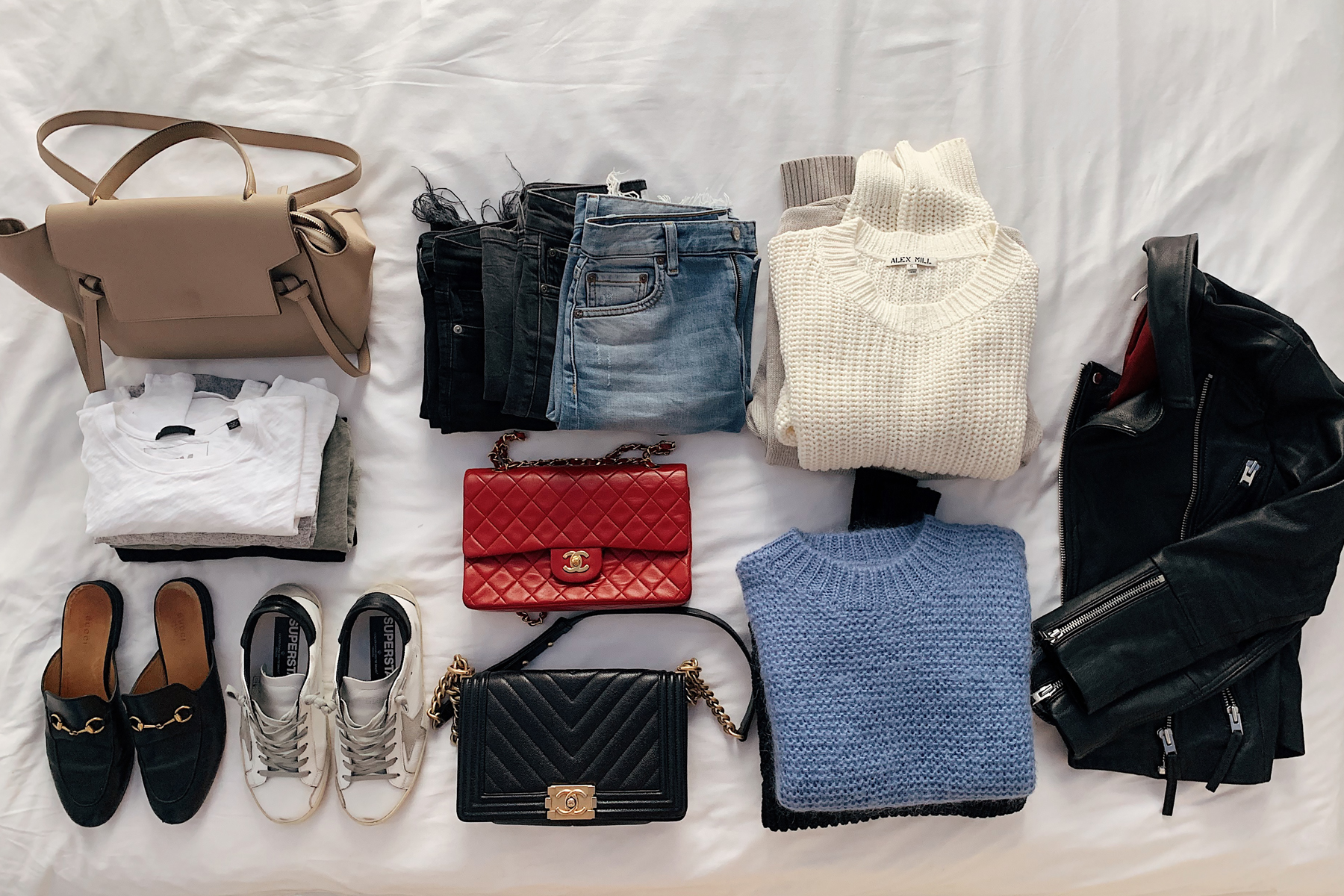 Saturday we went to brunch at one of my favorite spots, Sotto13. It's over in the West Village and I highly recommend if you're ever visiting! It's a fun atmosphere and all their food is so amazing (my favorite is the mushroom pizza)! After brunch, we went up to Bergdorf's so I could look for wedding shoes. I had been doing a lot of shopping online prior to the trip and while I found a few styles I liked, none of them seemed right. We wondered around for a while and after looking at almost every pair of shoes, I finally found THE PAIR. I knew right when I saw them, they were the ones! They fit perfect, were so comfortable, and Cait approved of them! Luckily Bergdorf's was able to ship them to my house so I didn't have to worry about packing them!
After Bergdorf's we made our way back down to Soho to walk around and shop a bit. I had to stop in Anine Bing and What Goes Around Comes Around. I make sure to always stop in these stores while visiting- they are my favorites! We also stopped in Byredo (I got a replacement perfume), Chanel (looking for a white handbag for wedding events), One Kings Lane (they opened a store 6 months ago!), and then hit Broadway for more mainstream shopping. I always go to the Steve Madden store and this time I bought these pumps and these mules - I'm going to live in them this spring! After that I went to Bloomingdale's and bought a new pair of jeans and this fun top!
Sunday morning I shot a few outfits with Carter down in Soho and then went and met up with Cait and her husband for lunch in Brooklyn. I had to head back home that evening, but it was so nice to spend a couple days with them. I was a little disconnected from social media, just trying to have as much quality time as possible. Oh and I forgot to bring my iphone charger, I only had my portable charger, and it lasted me all weekend! You guys, this charger is seriously the best!
These are some of the outfits I created using most of the pieces I brought, and just a few of the pieces I bought. They are all great options for day or night, comfortable, or dressed up. I was never too cold with just the leather jacket, so if you're traveling soon, it was about 55-65 degrees and everything I had was perfect!