Last night I got home from my bachelorette party in Chicago. If you follow me on Instagram, you might have noticed a few stories/posts sharing the celebration. I had THE BEST time celebrating with all of my favorite gals. I picked Chicago as the bachelorette party destination because I wanted a fun city that would have great food, beautiful weather, and an easy location for all my girlfriends to get to. I flew up Thursday morning to meet a few friends who were there early, but the bachelorette weekend officially kicked off on Friday. Keep reading below to find out what I wore and where we went to celebrate my bachelorette party in Chicago.
Thursday: Travel Day
I wanted to keep with the theme of the weekend and wear as much white as I could. I'm taking my role as bride very serious, plus I just love the way all white outfits look. This oversized cardigan was perfect for the flight to Chicago & I'm excited to wear it further into the fall season. I checked in to the Hoxton Hotel Thursday and Cait, my MOH, and I had dinner that night at Bar Siena - it was SO good!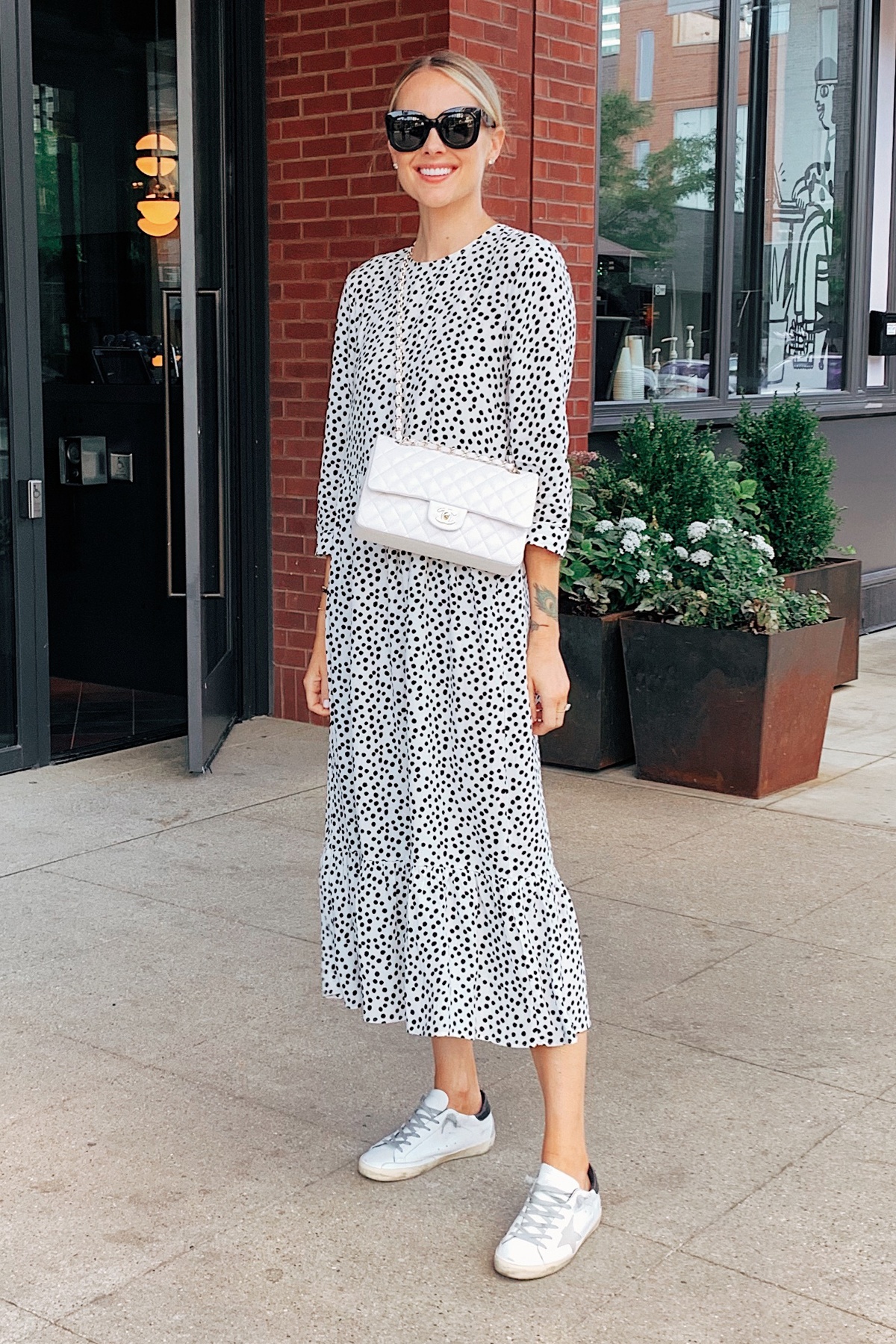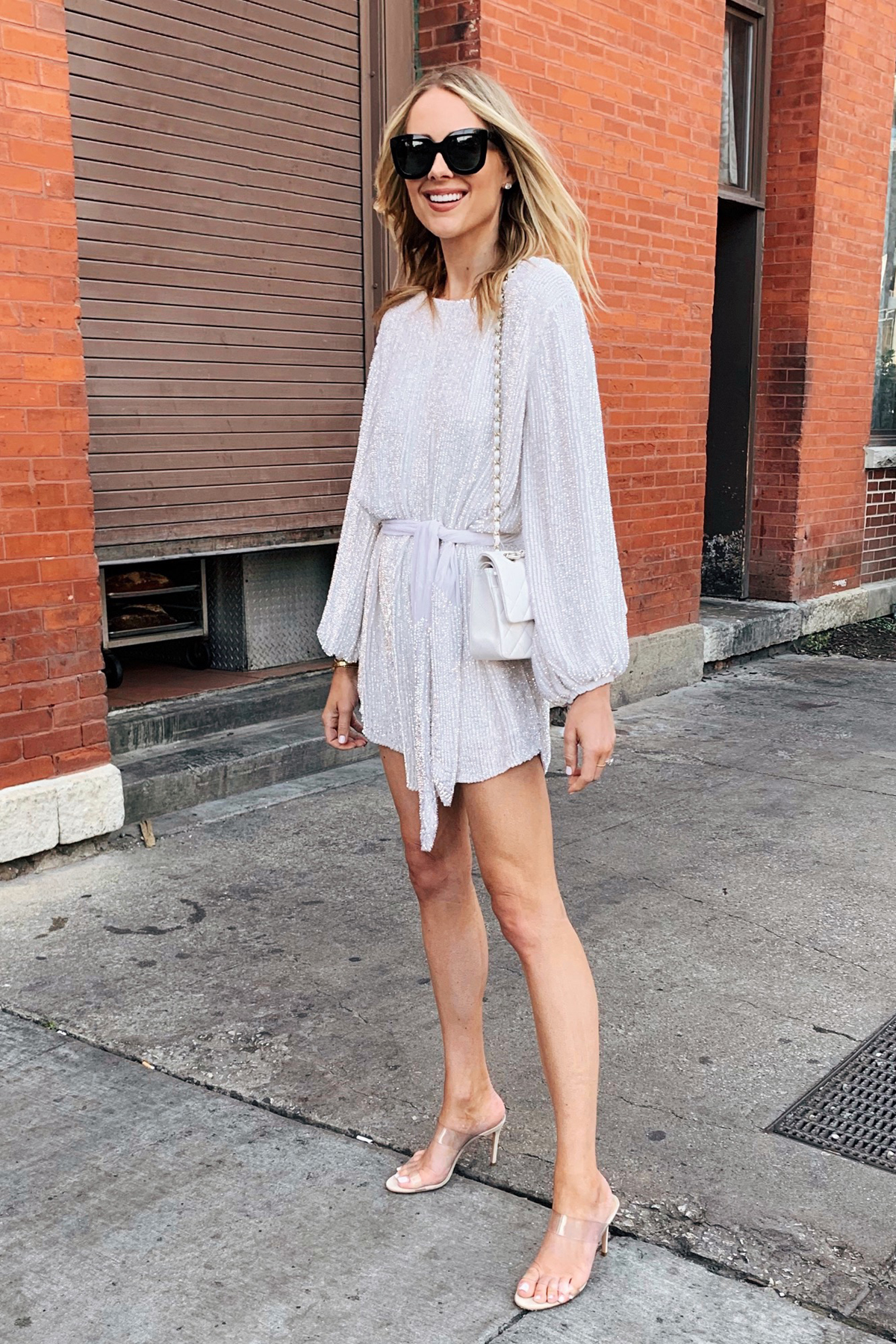 Friday
On Friday, everyone had arrived by the mid-morning, so we headed over to Wicker Park to have lunch at Big Star. I had eaten here once before and it was so good, so I knew I wanted it on the itinerary for my bachelorette party. It's a pretty casual spot with indoor & outdoor seating. Since it was so gorgeous outside, we all sat on the patio while we enjoyed chips/gauc, queso, tacos, and margaritas. After Big Star, we headed over to Paradise Park to hang out for the rest of the afternoon. For dinner that night, we all got dressed up, walked over to Aba and had the most amazing dinner. This is a Mediterranean restaurant that serves everything tapas style, and NOTHING disappointed. I highly recommend Aba if you're ever in Chicago.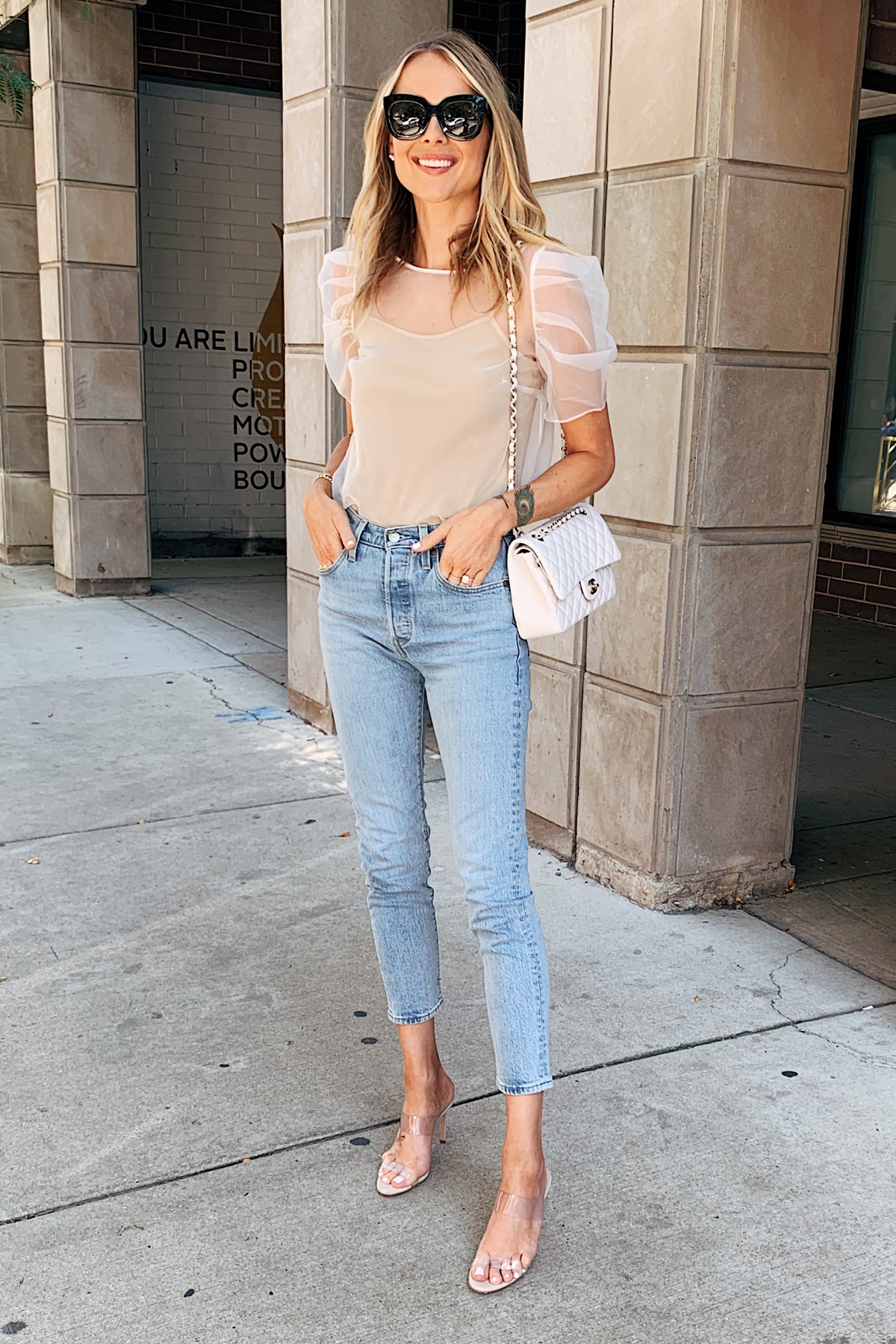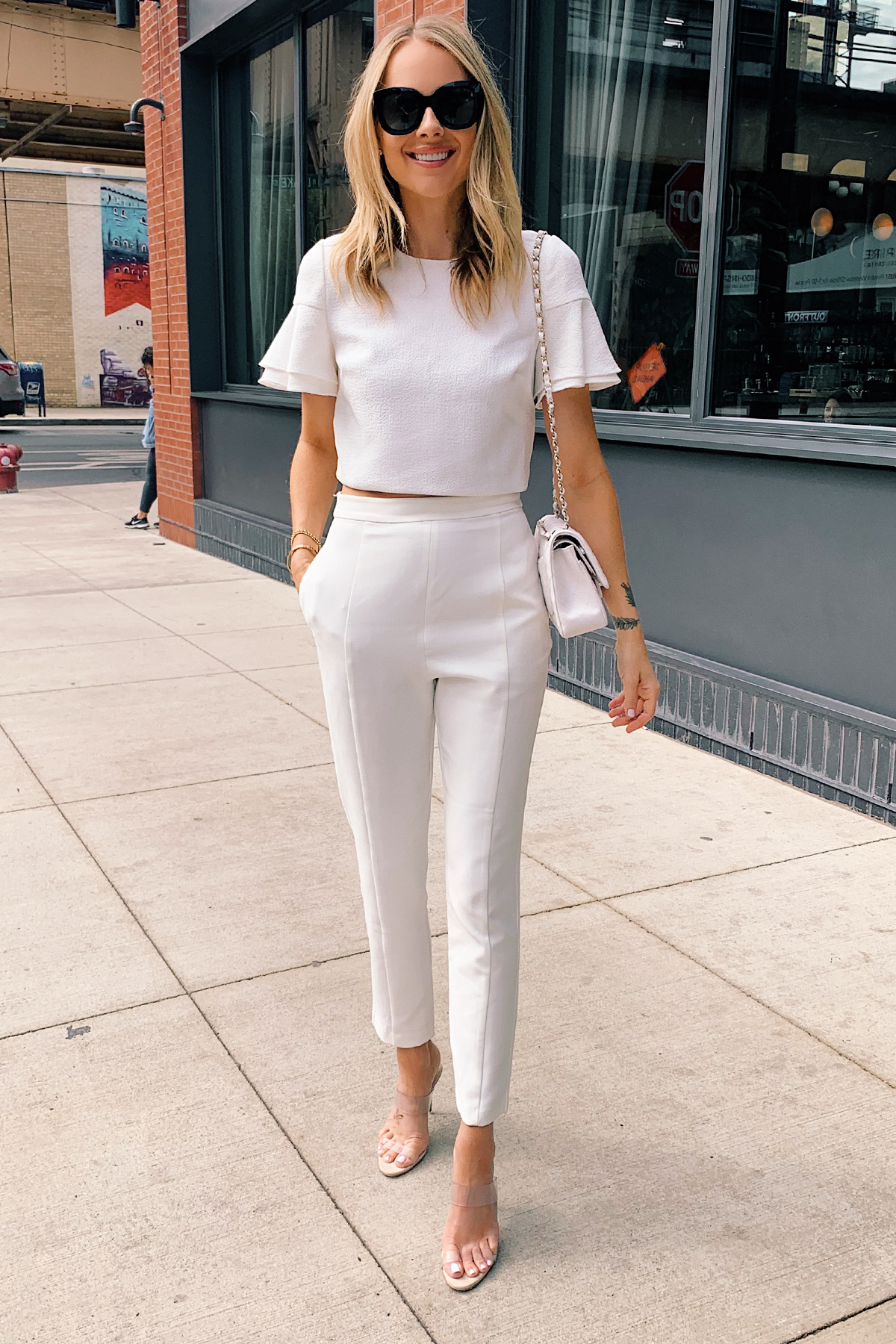 Saturday
Saturday morning we headed back to Wicker Park for brunch at Etta. The atmosphere was so pretty and the food was delicious! I bought this organza top a few weeks before, specifically to bring on my bachelorette party and I'm obsessed with it. It was so comfortable and I loved the sleeve detail. After brunch we headed over to Cindy's for drinks on the rooftop. Cindy's has great views, and the weather was perfect. I definitely recommend adding this to the list if you're ever visiting Chicago. For dinner that night we went to a pizza place near our hotel called, Parlor Pizza Bar; again so good. This 2-piece jumpsuit was perfect for a more casual night, but still felt dressed up enough to celebrate the my bachlorette party.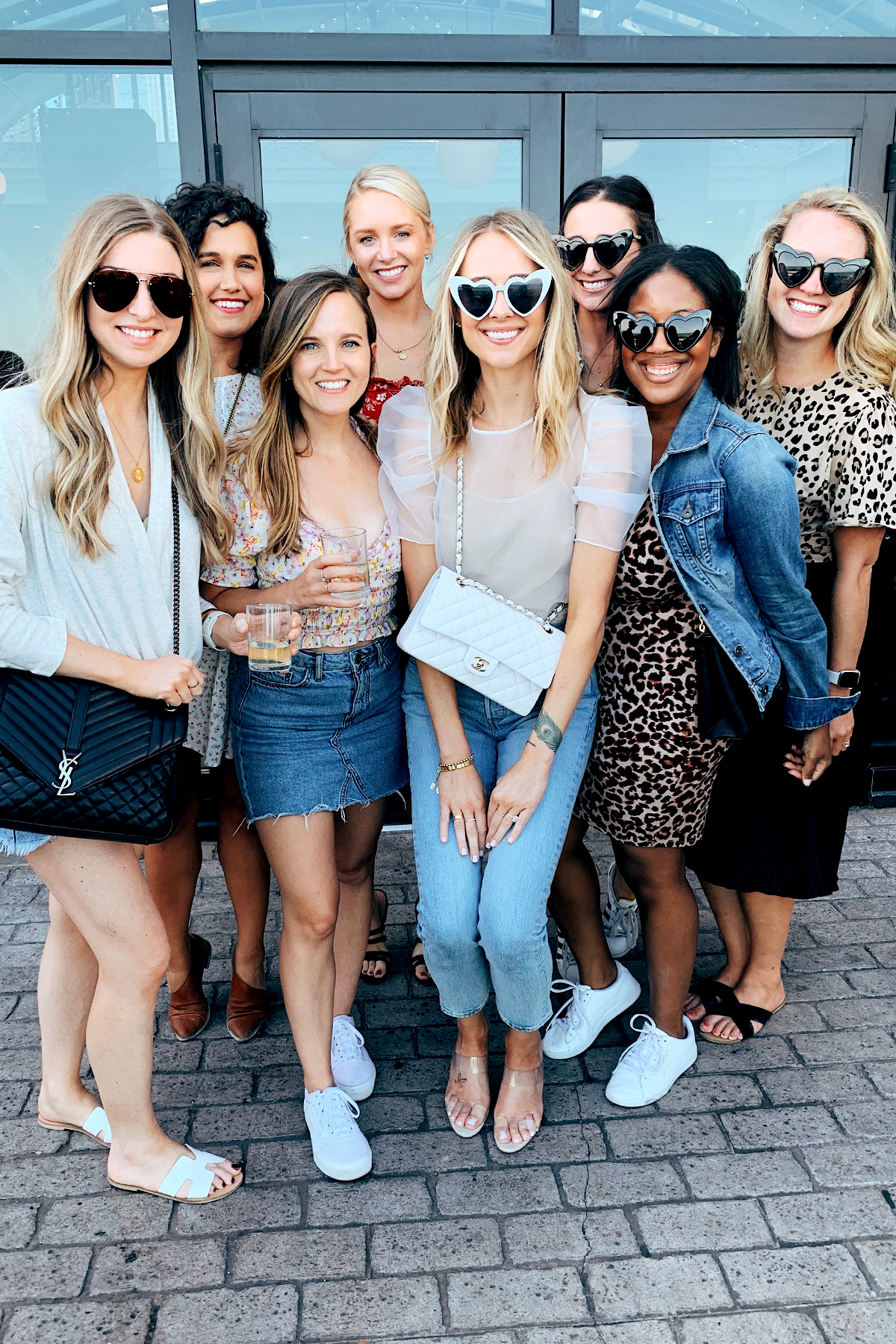 Sunday: Travel Day
I wore this new white tunic sweater on the plane and it was SO comfortable. It's also incredibly warm, so it will be perfect for fall/winter seasons. I typically travel in my Golden Goose sneakers, but the Gucci mules were a great alternative for travel days.
The last day of a vacation is always the hardest, especially when saying good-bye to the best group of friends. This weekend was truly the best, and I owe it all to this wonderful group of girls (not pictured: Leslie). I had the best time celebrating my bachelorette party in Chicago, and I can't wait to see everyone next month for my wedding.