Some days, I love spending longer on getting ready and being thorough and meticulous with my makeup. Most days, though, I don't have the patience for all that so I've been working on perfecting my 5 minute makeup routine by honing in on my 5 minute makeup essentials. This is a quick makeup routine for every day, using all clean makeup brands for a natural, minimalist look. If you've been wondering what you need for a natural makeup look, keep scrolling as I take you through this easy makeup look, step by step!
Make sure to watch my 5 minute makeup routine here!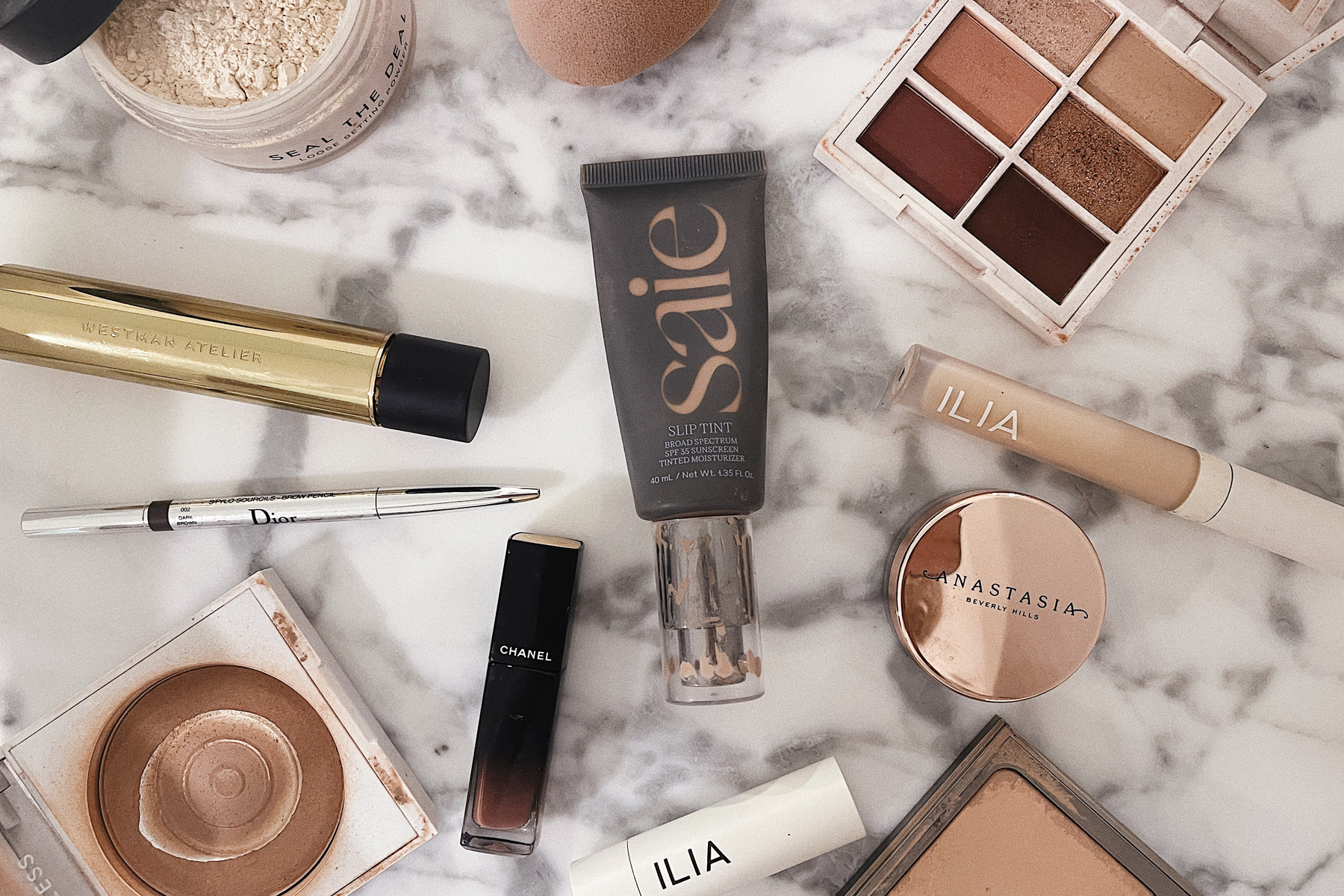 Step 1: Saie's Slip Tint Dewy Tinted Moisturizer SPF 35 Sunscreen
I have been loving this light, natural-looking tinted moisturizer all summer long. I apply it with my Artis Oval 7 brush (of course) to get things started.
Step 2: ILIA's True Skin Serum Concealer
This is some of the best clean concealer I've used. They have plenty of shades so you can find the right one for you. I use it under my eyes and between my eyebrows to conceal fine lines.
Step 3: beautyblender's Nude beautyblender
The beautyblender could be the greatest makeup applicator ever invented, behind the Artis brushes, of course. I use this to blend my concealer!
Step 4: LAWLESS Seal The Deal Loose Setting Powder
I specifically use LAWLESS's Seal The Deal Loose Setting Powder directly over where I put my concealer to set it. This stuff is amazing and so translucent!
Step 5: SISLEY PARIS Blur Expert Matte Finishing Powder Veil
I then use SISLEY PARIS Blur Expert Matte Finishing Powder Veil on the rest of my face for that flawless, airbrushed finish.
Step 6: LAWLESS Summer Skin Velvet Matte Bronzer
The most important step in my 5 minute makeup routine, in my opinion. I've been using the Summer Skin Velvet Matte Bronzer (in Golden Hour) by LAWLESS beauty for years now, and it's seriously the best bronzer I've ever used. It's simply perfect!
Step 7: ILIA The Necessary Eyeshadow Palette
Because this is a 5 minute makeup routine, I don't go crazy with eyeshadow but love putting on a subtle base layer just to even out my eyelid skin tone. I love every color in ILIA's warm nude palette!
Step 8: Dior Diorshow Brow Styler Ultra-Fine Precision Brow Pencil
Then, I brush my eyebrows to get them under control a bit and do light touching up with this amazing ultra-fine precision brow pencil from Dior. I use the "universal shade" and have found it's the perfect bit of filler I need for my eyebrows! I've been using this for 5+ years and its truly the best!
Step 9: Anastasia Beverly Hills' Brow Freeze Styling Wax
To ensure my filled-in eyebrows stay put all day, I use this incredible styling wax from Anastasia Beverly Hills. A little goes a long way, and I can truly say it keeps my eyebrows looking freshly done all day!
Step 10: Westman Atelier Eye Love You Volumizing Mascara
I tried 6 different clean mascaras to find the perfect one, and Westman Atelier is the perfect one. You don't need much because it's so effective, I love the brush, and it washes off easily even after a few coats. Best clean mascara ever!
Step 11: ILIA Balmy Days Lip Balm
Almost done! I always want to prep my lips before putting on any sort of color or lipstick, and ILIA's lip balm is perfect for just that. So hydrating and makes you lips so soft!
Step 12: Chanel Rouge Allure Laque Ultrawear Shine Liquid Lipcolor
The very last step is adding a little color to my lips by way of Chanel's Rouge Allure Laque Ultrawear lipcolor in #63. I use the shade called Ultimate, which looks like a very natural shade on my lips when applied.
That's it! Five minutes, 12 steps, and one super easy, everyday makeup look using all of my favorite clean beauty products.
This post may contain affiliate links, meaning when you click the links and make a purchase, we receive a commission.