I've had a lot on my mind the last few months. One of the heaviest things weighing on my mind, though, has been my journey to get pregnant with my husband, Will. For years, I didn't really pay much attention to the term "clean" when it came to beauty, food, household products, etc. But these last few months, I'm making a much more concentrated effort to swap out my non-clean products with clean products not only for my conception journey but just to live a "cleaner" life in general!
Of course, I can't replace every single thing overnight, so this is definitely going to be a slower process. I'm super thankful for EWG, which is a clean beauty website checker. I'm trying my hardest to buy EWG verified products as I start to build out my new clean beauty routine, so stay tuned as I continue my switch to clean beauty because I know I'll have great new products to share along the way! Below are the products I'm loving already!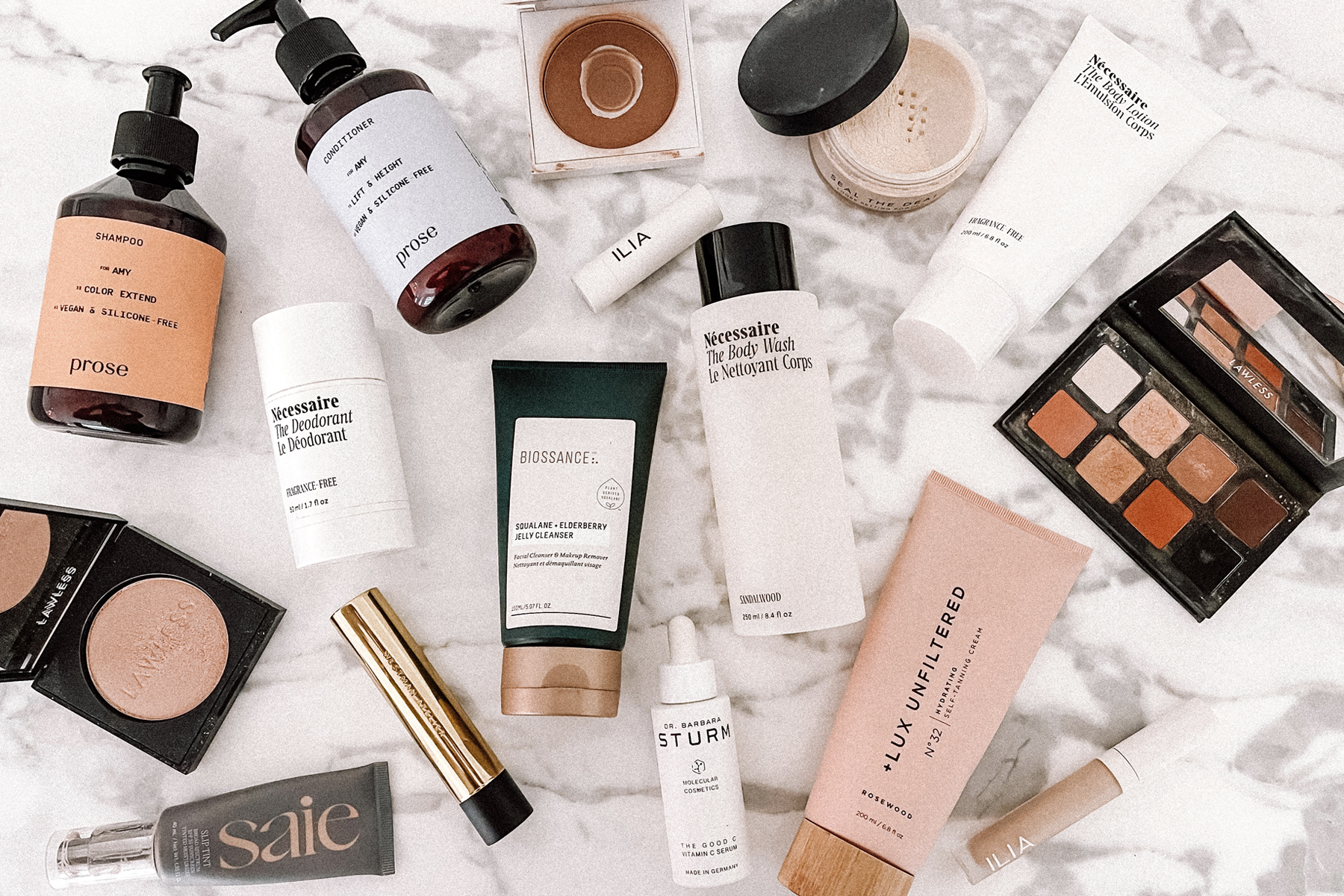 Nécessaire Body Wash
Nécessaire is, by far, one of the best clean beauty skincare brands that I've actually been using for a while now! I feel so fortunate to be an ambassador for them and, because their product is so great, it makes suggesting it to you even easier. All of their products are cruelty-free, vegan, and free of sulfates, parabens, petrochemicals, and all the other unclean stuff you don't want to be putting on your body. I am obsessed with their body wash. I've tried almost every scent (Eucalyptus, Sandalwood, Bergamot) and they all smell incredible and leave me feeling super clean!
Nécessaire Body Lotion
The best body lotion I've ever used, period. It's fragrance-free, clean, and formulated with the simplest, best ingredients. It's not too heavy and greasy, but it's also not watery or too lightweight. It's the perfect consistency and an uncomplicated, clean skincare option.
Nécessaire Exfoliator
The Necessaire Body Exfoliator in the Sandalwood scent is also a must for me. It contains activated bamboo charcoal for a gentle yet highly effective scrub, and should be used once a week in the shower. The formula itself is made for sensitive skin and only works to help, not harm. My skin always feels fresher and smoother after I use it!
Dr. Barbara Sturm's The Good C Vitamin C Serum
As far as the best clean vitamina C serums go, I am loving this bottle from Dr. Barbara Sturm. It's costly, but if you're into skincare at all, you know how important a great vitamin C serum is! This is definitely worth the splurge, IMO.
Anti-Pollution Drops
In addition to her vitamin C serum, I also love Dr. Barbara Sturm's Anti-Pollution Drops. This is a bottle of liquid gold, AKA a daily defense serum that guards your face against all the earthly elements that affect you in ways you hardly notice. Exopolysaccharide is the ingredient that works against pollution and even blue light from your computer and phone, and a strong dose of vitamins A, C, E, and omega-3 fatty acids join in the fight against irritation and aging.
+Lux Unfiltered Nº32 Gradual Self-Tanning Cream
I've been singing this self-tanner praises for months now! +Lux Unfiltered's gradual self-tanning cream is my absolute favorite and checks all the clean beauty skincare boxes. Although I love to lay in the sun during the summer, I don't do it nearly as much as I used to in my youth, so that's where this self-tanner comes into play. You can use it daily or just as needed, depending on what kind of sunless tan you're looking for.
Saie Slip Tint Dewy Tinted Moisturizer SPF 35 Sunscreen
It's a mouthful but it's amazing. I absolutely love the Saie tinted moisturizer and have been wearing it daily! The best part is that they offer confusion-free shades that disappear into a wide range of skin tones so you don't need to overthink which tint is best for you. The coverage and overall effect is gorgeous, and if you don't believe me, read one of the many Saie Slip Tint reviews on Sephora!
ILIA True Skin Serum Concealer
I replaced my Shape Tape with this concealer from ILIA and have no regrets. To give you a full ILIA concealer review, it goes on smooth, the color matches my skin perfectly, it's highly effective at covering up blemishes and dark circles under my eyes, and it's infused with vitamin C to promote further clean beauty skincare. Love it!
LAWLESS Seal The Deal Loose Setting Powder
There's nothing like a good setting powder, and this clean beauty alternative by LAWLESS is perfect! It's available in three shades so you can best match your skin tone, and it does a great job of taking away unwanted shine while giving your makeup that airbrushed kind of finish. 
ILIA Lip Wrap Reviving Balm
Every few years, a daily lip balm comes into my life that I obsess over and this Lip Wrap Reviving Balm by ILIA is that. Packed with hyaluronic acid and sea succulent, this stuff is insanely hydrating and feels amazing on your lips. I have one in my purse, on my bedside table, and in my makeup drawer at all times!
LAWLESS Summer Skin Velvet Matte Bronzer
This bronzer is so good. I have it in the Golden Hour color and it looks so beautiful on the skin. It's the perfect touch of bronzer—finely-milled, talc-free, and the perfect silky, soft formula that blends seamlessly with your makeup!
LAWLESS The Little One Eyeshadow Palette
I could write LAWLESS makeup reviews all day, that's how much I love it all. This eyeshadow palette truly has every color you could ever need in one, little container. I find the eyeshadow to be perfectly pigmented and so easy to apply, too! It's super clean and perfect for travel because it's so small.
LAWLESS Lucid Skin Highlighter
The most gorgeous highlighter, hands down. It's a gorgeous golden peach hue that adds the perfect touch of shimmer in all the right places. A little goes a long way, too! This kind of clean beauty from LAWLESS is what makes me so excited to be making this transition. 
Westman Atelier Eye Love You Volumizing Mascara
Back in June, I tested out six clean mascaras and landed on this one as the best by far. It's voluminous, lengthening, doesn't get clumpy, and lasts all day—what more could you want from a mascara?! Plus, it's easy to wash off at night, which is a dealbreaker for me and mascara. It's a bit pricey at $58, but it's also ranked the #2 best clean mascara on EWG's website so the Westman Atelier mascara is worth it.
Prose Custom Shampoo and Conditioner
In terms of best clean hair products, the hype is real about prose. I can attest. It's all I've been using for months now, and I feel like my hair has never looked better! It's 100% worth taking the test and ordering yourself a custom shampoo and conditioner suited specifically for your hair. Do it and thank me later!
Prose Hair Mask
My customized Prose hair mask has instilled the importance of hair masks to me. I use this religiously once a week to keep my hair soft and healthy, and it makes all the difference. I have seen such a difference in my overall hair health and can't recommend getting your formula enough!
This post may contain affiliate links, meaning when you click the links and make a purchase, we receive a commission.