Whether you're going into the office daily or just a few days a week, sometimes you're in the mood to go all out with your style and other days you're looking for more business casual outfits for work. When I'm in those moods, I almost always know the answer:
Jeans, a black blazer, and black booties!
The right black blazer can make any pair of jeans a perfect casual Friday office outfit because while, yes, it's comfortable, it's also still elevated beyond just a t-shirt or a pullover sweater. If you don't have a basic black blazer in your wardrobe, I highly suggest this one from Amazon's The Drop collection. It's a longer black blazer made from 92% polyester and 2% spandex, so it has just a bit of stretch. The collar is notched to give it a more sophisticated finish. In these pictures, I'm wearing it with my favorite AGOLDE jeans and black suede ankle boots, creating the perfect business casual outfit with jeans and boots (more on my favorite jeans in this post)!
The AGOLDE 90's Pinch Waist jeans are business casual jeans because they're high-waisted, not skin tight, and can be easily dressed up or down. Of course, I wear them in both the professional and unprofessional sense, but it's all about how you make jeans business casual, which is where a nice blazer and chic shoes come in.
This Amazon The Drop blazer isn't fussy. It's flattering on all silhouettes, goes with just about everything, and the spandex allows you to move freely without too much structure throughout the day! You definitely need this for your closet if you don't have one already.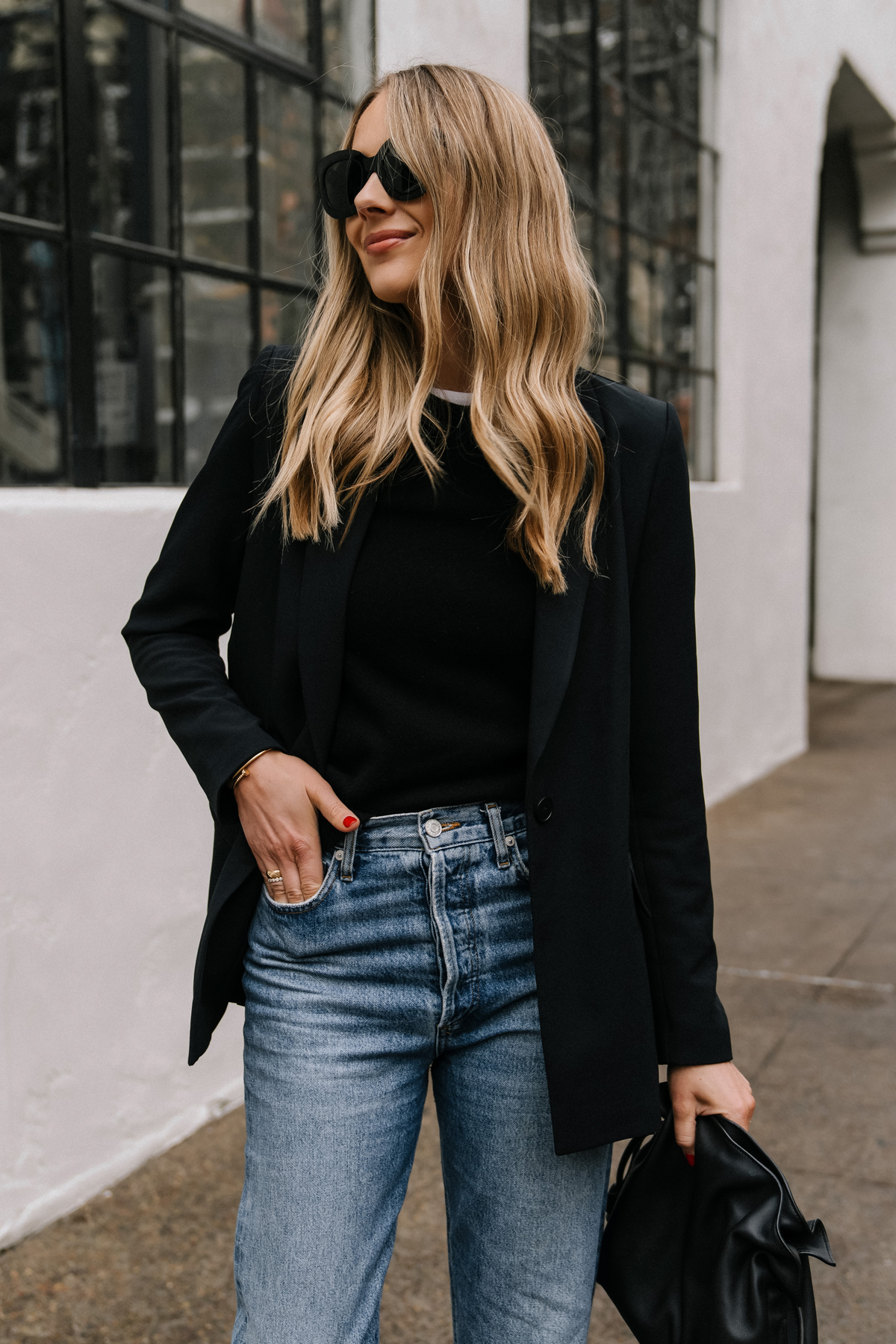 This post may contain affiliate links, meaning when you click the links and make a purchase, we receive a commission.
Photos: Arielle Levy