Welcome to the newly updated weekly Everyday FJ series. Here I'll be sharing a little bit of everything; home updates, life updates, travel plans, what I'm shopping for, Nashville spots I've tried, discount codes, and really anything from the week that you guys might be interested in. I got a lot of requests with what you would like to see here, and it is actually helping me for future blog posts. I wanted this series to just be a true "everyday FJ" anything and everything. As always thank you so much for your support and following along, I truly appreciate you all. If you have a question or request, fill out the contact form or follow along on Instagram and send me a DM.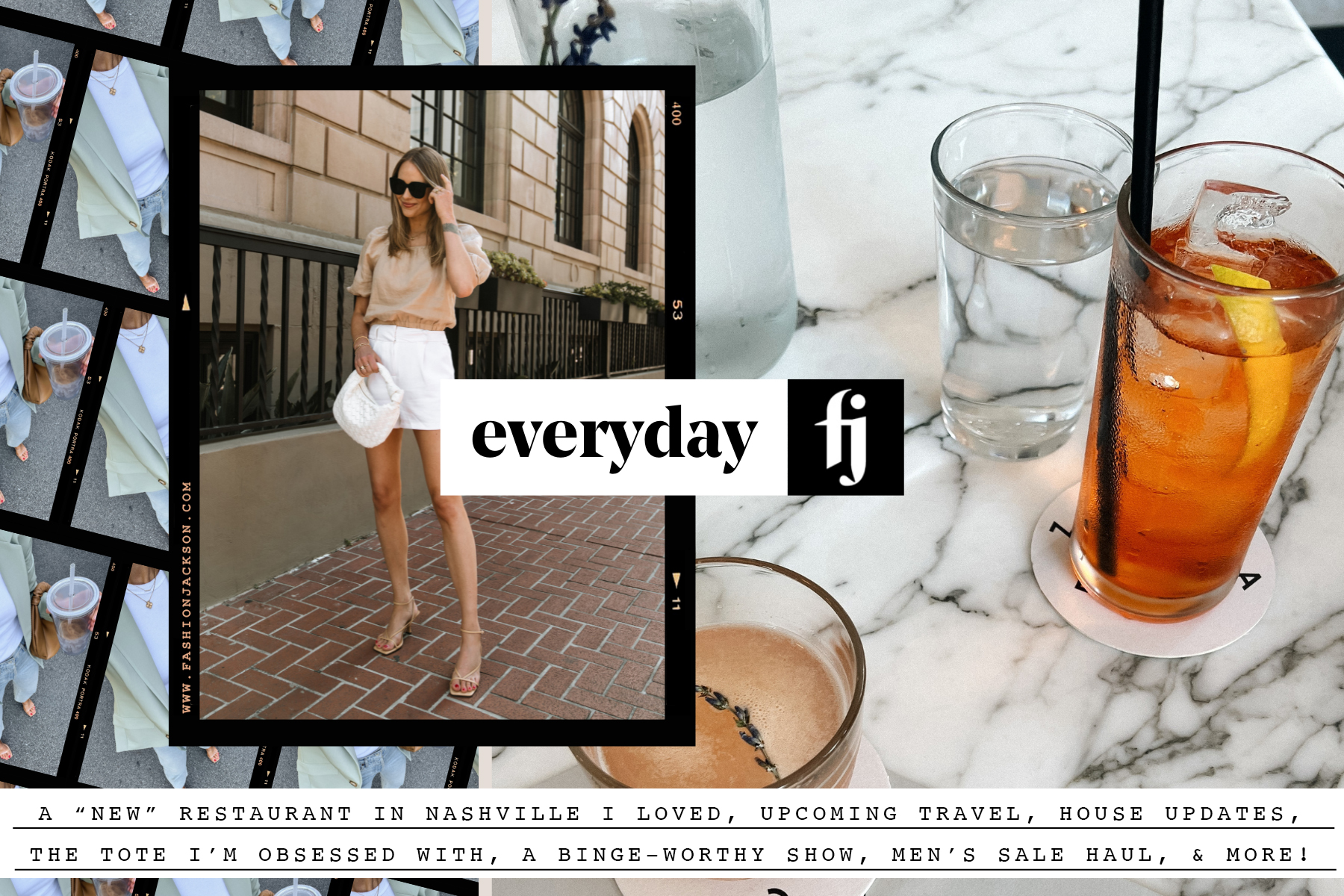 Q: What size did you get in the green Bernardo vest from the NSALE? Did you size down? Reviews are confusing on the website.
A: I took a size XS in the vest. I find that it does run slightly big. I'm generally an xs-small in tops, but found this one to still be slightly roomy when zipped up layered over a long sleeve tee. If you plan to layer over bulkier tops, you might consider taking your true size, vs. sizing down.
Q: I noticed you have the Birkenstock Arizona Big Buckle in white, I'm about to buy the black ones but wanted to ask if they are comfortable?
A: Very comfortable! One of my most worn styles of sandals during the spring/summer/early fall months! I took my true size.
Q: What style of bedding did you order from Boll & Branch and what is the color of your sheets? 
A: We have these sheets in dune and love them. We also have the linen duvet set, which is so great for summer months, and the Percale Hemmed duvet set for the other months. We also have this throw blanket in oatmeal, bed blanket in dune, and this waffle blanket in white. All these items are 20% off on 7/23 with code SUMMER22
Q: I think you posted some stories of Nordstrom Sale picks for Will, if you did can you direct me to where I can find those? 
A: Yes! I ordered a lot of these items for him. He loves hoodie, boots, and polos so much. For more men's looks, check out this post (scroll about half way down).
Q: Can you do a black tie/cocktail wedding guest post again? Thank you! 

P.S.
Are you a member of the exclusive Fashion Jackson newsletter? Sign up here to get exclusive content, exciting announcements, and much more straight to your inbox!
Get discounts on some of my favorite sites using discount codes below! Click to shop!
This post may contain affiliate links, meaning when you click the links and make a purchase, we receive a commission.