Welcome to the newly updated (again) weekly Everyday FJ series. Here I'll be sharing a little bit of everything; home updates, life updates, travel plans, what I'm shopping for, Nashville spots I've tried, discount codes, and really anything from the week that you guys might be interested in. I got a lot of requests with what you would like to see here, and it is actually helping me for future blog posts. I wanted this series to just be a true "everyday FJ" anything and everything.
Each week will include the previous weeks' Everyday FJ for that month! For example, all of May's weekly posts, will be here! Next month will start a new post for June. That way it's easier to catch up in case you miss a week. As always thank you so much for your support and following along, I truly appreciate you all. If you have a question or request, fill out the contact form or follow along on Instagram and send me a DM. 
Discount codes updated weekly at the very end of this post.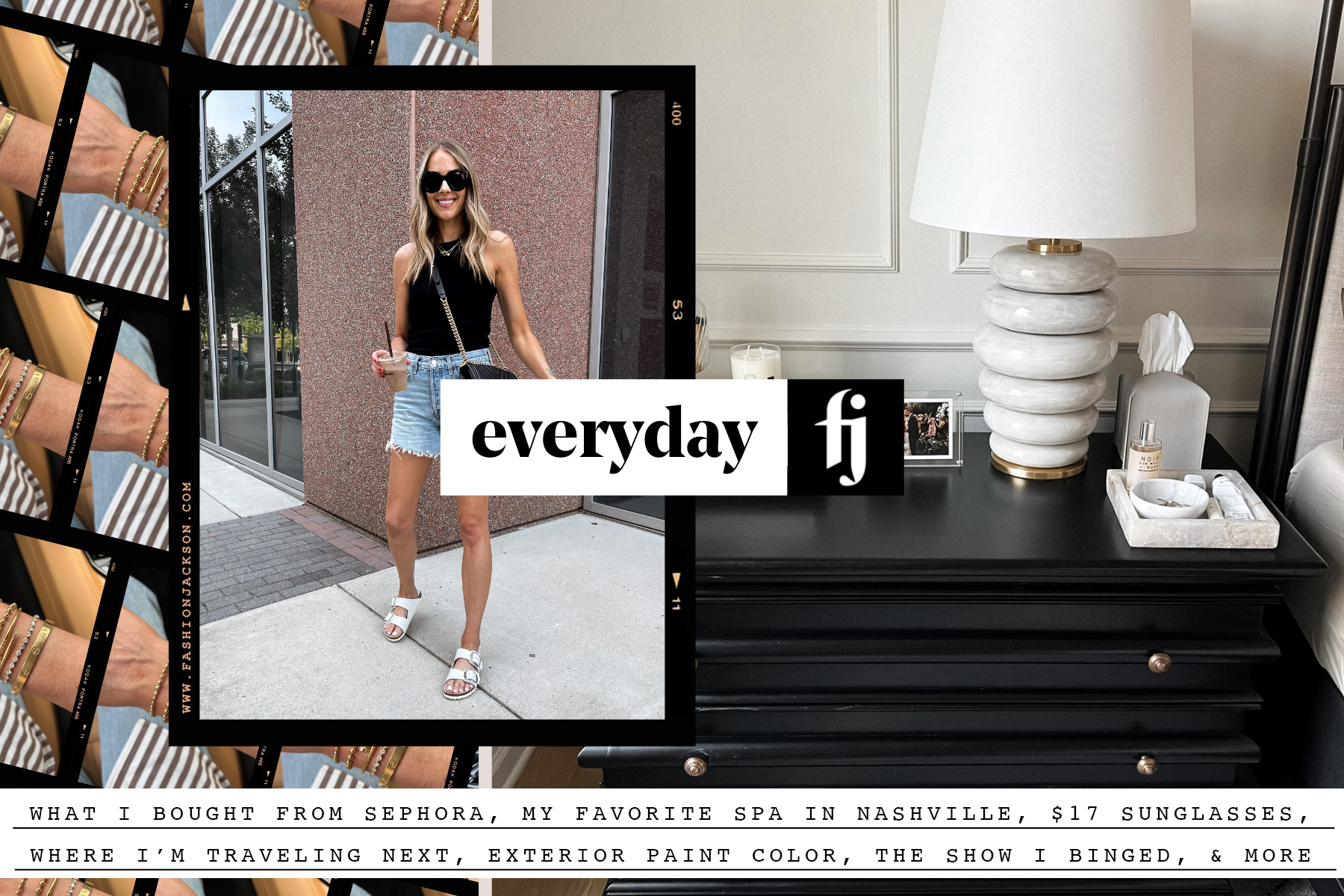 Q: Love how your outdoor space is coming together, what color did you end up painting your house? It looks fantastic!
A: Some of you may or may not remember the saga of trying to pick our exterior paint color. I think there is still a highlight saved on my Instagram feed. After A LOT of samples and swatches, we ended with Benjamin Moore Classic Grey (its basically white). I do love it, but honestly I think the other options were so close, I don't think I would have noticed a difference!
Q: Lighting fixtures on the house, where are those from? 
A: Amazon! They are actually really great, but I think I'm going to move the two that are on the back of the house and replace with something bigger. They scale is a little small, but they do work perfect for the side doors we have around the house. These are the lightbulbs we use.
Q: Where are you gold beaded bracelets from you shared the other day?
A: I linked them all here! The two beaded ones, The London and The Fashion Jackson can use code FJ10 for a discount. This one is Ring Concierge and the other two are Cartier.
Q: Will you be doing an Amazon Summer Capsule like you did for spring and fall? I ended up buying a mix of both pieces from both versions.
A: Absolutely! I love being able to show options for multiple price points! The Amazon version will launch the week of 6/5! 
Q: Random, but did your Il Makiage makeup come/have you reviewed yet? I'm so interested and curious! 
A: It did arrive! TBH I only wore it once this week, because I was trying to to wear makeup all week. I do think its a little light but I think I have a little more of a tan/color than I thought I did when ordering. I'm going to try a few more times, but since we are going into summer I'll probably have to swap anyways. So far though I really liked the consistency/coverage. I will say the primer is AMAZING.
Q: Where was that gold stand from that you have on your entry table with the candle?
A: Etsy! Its such a good find. Looks so much more expensive than it is. Shipping was super fast. Would be a great gift with a candle for a host, friend, in-law, or just to have on hand in case you need a quick gift!

P.S.
Are you a member of the exclusive Fashion Jackson newsletter? Sign up here to get exclusive content, exciting announcements, and much more straight to your inbox!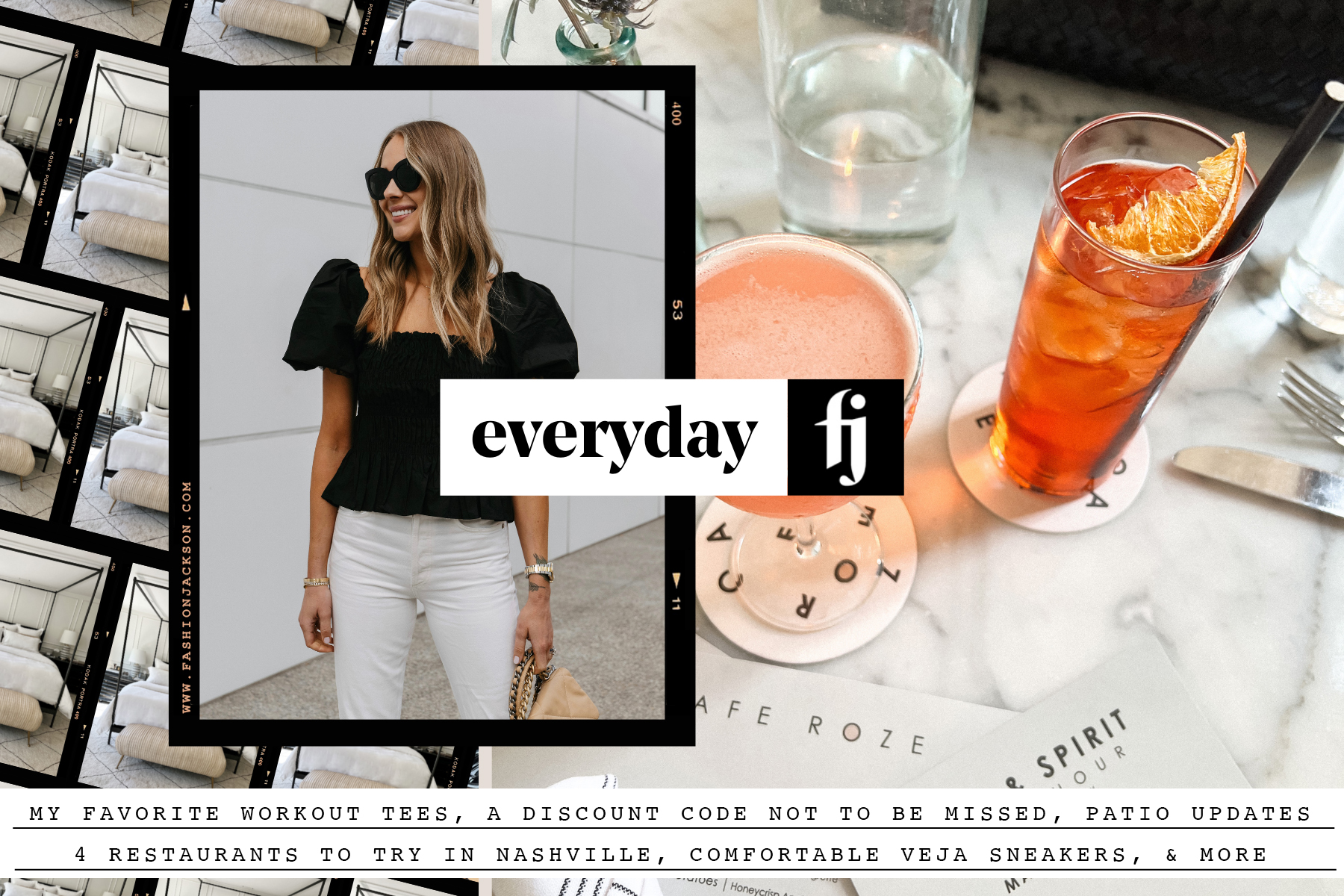 Q: I see you wearing Veja sneakers a lot, which style is the most comfortable? Looking for a white and black pair. Thank you! 
A: I'll start by saying all of the styles are comfortable to me. Some take a little more time breaking in than others, but I've never sent a pair back because they were too uncomfortable. With that said, I think the V-12 and the Recife are the most comfortable street style sneaker. The V-12 are slightly different than the popular V-10 but its because the tongue is shorter and softer. If you're looking for an athletic option, the Condor 2 are INCREDIBLE. I'm an 8.5 and take a 38 in all Vejas, except the Condor 2, I had to get a 39!
Q: What was your power washer recommendation the other day?
A: This one! We already had it and I wanted something a little less intimidating. I bought this back-up option which didn't work at all (right out of the box). So after about an hour of troubleshooting I said forget it and had Will show me how to use the one we already had. Its gas vs. electric which I personally like better because you never have to be near at outlet. Plus its about as close as you can get to a commercial grade power washer. Would make a great gift for homeowners! 
Q: I have seen you in the lululemon t-shirts and need to get something to do my Bar Method classes in. Do you like them for working out? 
A: Yes! Right now these are my favorite lululemon t-shirts. I love the fit and they are so comfortable not only for working out, but also for lounging or casual everyday wear! I already have black and white, but might need to get the color Clay! I take my normal lululemon t-shirt size.
Q: Do you like the Mansur clutch compared to the Bottega one?
A: I have both and like them both for different reasons! They are VERY similar in shape and styling, but VERY different in price. I got the black Bottega pouch in 2019 and love the all over basket weave design. I think it keeps it elevated and its the iconic design of Bottega! The Mansur Gavriel clutch just comes in a solid leather version, which I have in caramel, but I think its a much better price point. They hold the same amount, so I think its just a personal preference on how much you want to spend and the look you're going for! Both come in plenty of color options too!
Q: Do you have AGOLDE white jeans? I'm struggling finding white jeans that aren't see through!
A: Yes! I have this pair and LOVE them. They aren't a stark white, its a little softer which I prefer. I love the fit and took my true AGOLDE jean size.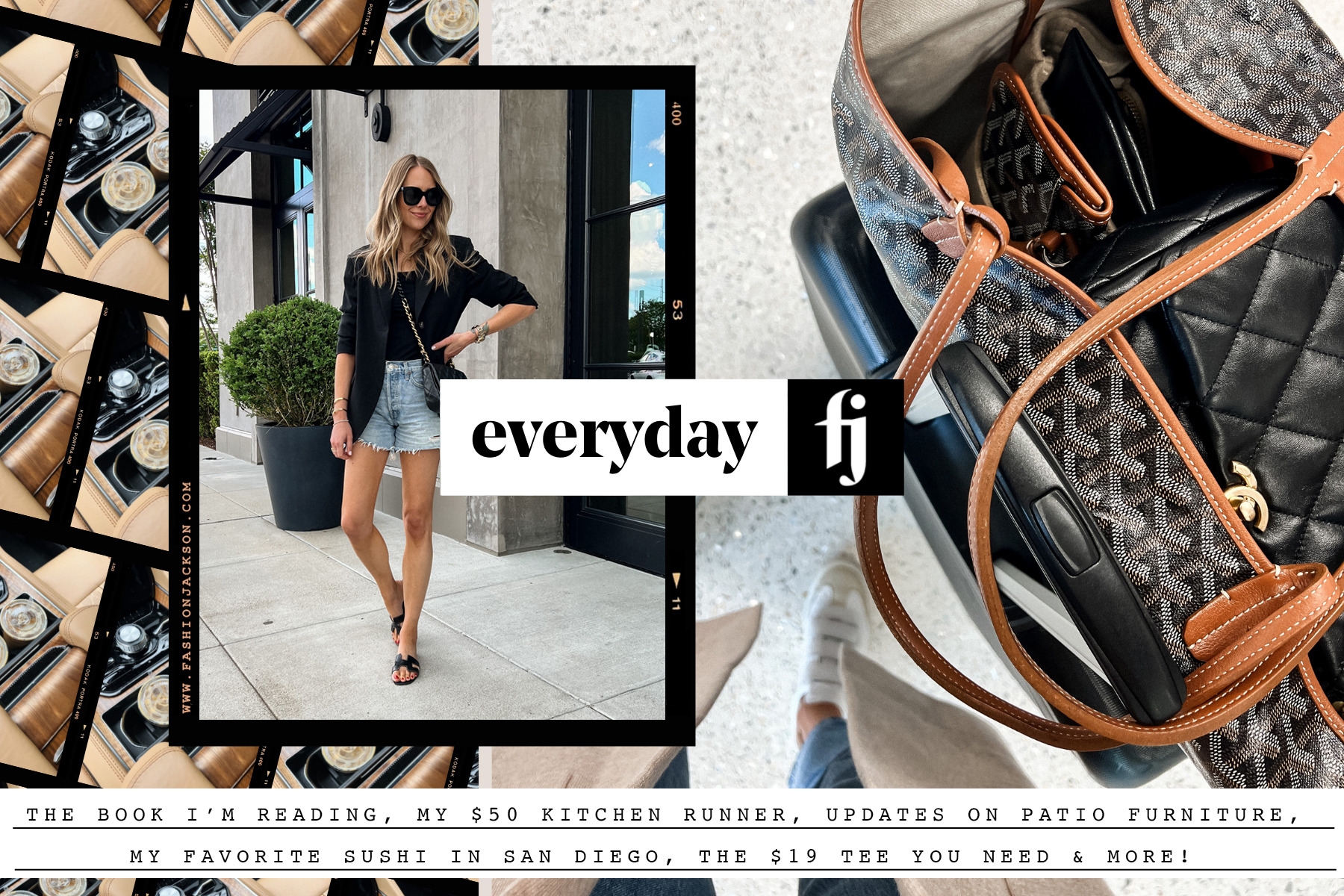 Q: If you had to choose between the Chanel espadrilles and the Hermès Oran sandals, which would you choose? What colors do you have / recommend for each? 
A: Definitely the Hermes Sandals. I just wear sandals way more than espadrilles. In the Hermès Oran sandals I have the gold (brown), black, and white. I wear all three equally so I don't really think you can go wrong with any neutral color. I have a full Hermès sandals review, which covers sizing, comfort, cost, and other FAQs.
Q: I have the Celine belt back in black. I love the structure, but would love for it to relax a little. Should that happen eventually? 
A: Depending on the size you have, it should relax! I have the mini (biggest size) in taupe and that one relaxed A TON. I bought this bag in 2017 and have used it nearly every single day since. It is truly my "everyday" bag. So it gets a lot of use/wear, which is why it has relaxed so much. Depending on how long you've had the bag, and how often you use it will definitely depend on when it relaxes. I can't say exactly when I noticed mine getting that worn-in look, but it was prob after a year or so of daily wear. Now for the micro (next size down), I have this one in black and I actually don't want it to lose it shape/structure. This is one that can be worn crossbody and I need it to keep its structure so it doesn't look sloppy as i wear it. I use these inserts to keep the shape of my bags while I'm not using them. 
Q: Which Vitamix model do you have? 
A: This one which I just noticed is on sale! It's great, I use it daily and have had no issues with in for the past 3 years. You can make SO much in a Vitamix. Highly recommend! 
Q: I feel like I can't find cute jean shorts. Can you do a post on this? 
A: I actually have this post rounding up 9 pairs from AGOLDE! They are my absolute favorite denim shorts. The fit and quality is unmatched, so that's all I buy. The Parker long in swapmeet is my most worn style. 
Q: Love how you styled the Jenni Kayne sweater in your recent reel. Given your love for olive, thoughts on the olive cotton cocoon cardigan? And would you style it with the Jenni Kayne tee or the ATM tee in olive? 
A: Thank you so much! And LOVE the olive green cardigan too! I personally would style it with the Jenni Kayne tee vs. the ATM tee. Mostly because the ATM tee is the slub fabric and I think it competes with the stitch in the cardigan. I would prefer a very simple tee, which is they the Jenni Kayne one is perfect! As always just code JACKSON15 for a discount on everything Jenni Kayne. And now through 5/15 use code FJCOCOON20 for a discount on ANY cocoon style cardigan (cotton or cashmere).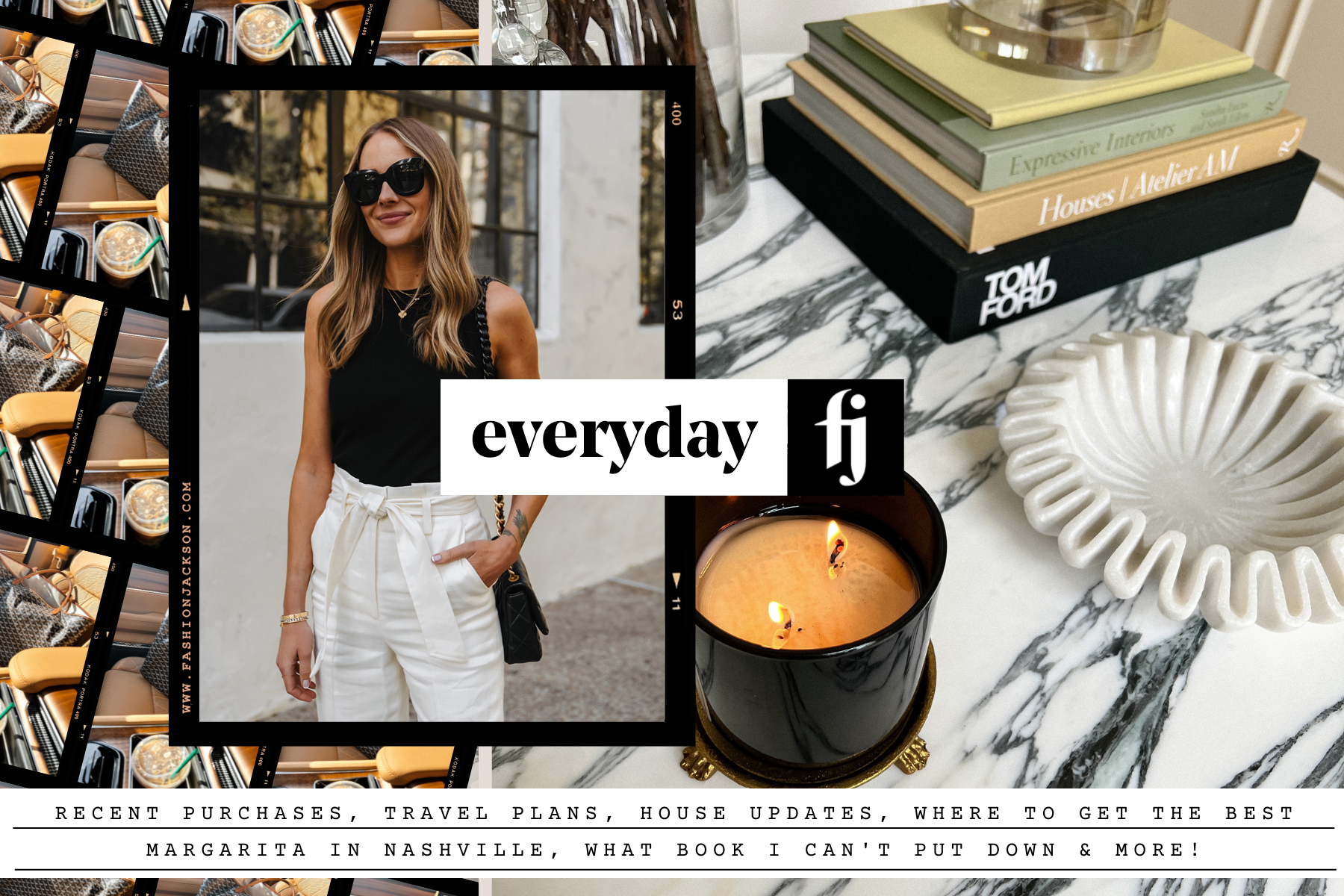 Q: I love the heeled yellow sandals you wore in Palm Beach! Since they don't have half sizes, how do the sizing of these run?
A: Thank you! It's been a while since I got a fun color pair of heels, but I loved these for our Palm Beach trip and will definitely continue to wear them throughout summer. They fit TTS; I'm an 8.5 and got a 39. I would size up if you're between sizes. Right now they are on sale; maybe I should snag the egret as well! 
Q: Which color do you recommend for the Cuyana makeup pouches? I can't decide on which color I want! 
A: I have the blush set and love! But they are all SO pretty; I also love black, pearl grey, ecru, soft rose, and caramel. 
Q: Do you have a favorite bra designer? 
A: My favorite everyday bras are these by True & Co. They are SO comfortable and wear really well. For strapless I've had this one for years. I'm not a huge fan of strapless bras, but this one gets the job done! 
Q: I'm going to Paris this summer. What are your top two designer bag recommendations?  
A: How fun! During my last trip to Paris in 2017 (time to book another trip), I bought my first Chanel bag at the original Chanel boutique on 31 Rue Cambon! If you can, I would definitely vote for Chanel, because its Paris! I also got my Goyard tote during that trip as well. Fun fact, the text on the Goyard tote says Honore Paris, which is the street of the original boutique & where I purchased the bag. You really can't go wrong with either!
Q: I love your patio furniture! Where is it from? 
A: Thank you! The couch and chairs are from CB2. I ordered it last year and it arrived late fall, so I'm excited to finally get some good use out of it this summer. I also bought this couch cover and these chair covers to protect them from the rain.

This post may contain affiliate links, meaning when you click the links and make a purchase, we receive a commission.