Welcome to the newly updated (again) weekly Everyday FJ series. Here I'll be sharing a little bit of everything; home updates, life updates, travel plans, what I'm shopping for, Nashville spots I've tried, discount codes, and really anything from the week that you guys might be interested in. I got a lot of requests with what you would like to see here, and it is actually helping me for future blog posts. I wanted this series to just be a true "everyday FJ" anything and everything.
Each week will include the previous weeks' Everyday FJ for that month! For example, all of May's weekly posts, will be here! Next month will start a new post for June. That way it's easier to catch up in case you miss a week. As always thank you so much for your support and following along, I truly appreciate you all. If you have a question or request, fill out the contact form or follow along on Instagram and send me a DM. 
Discount codes updated weekly at the very end of this post.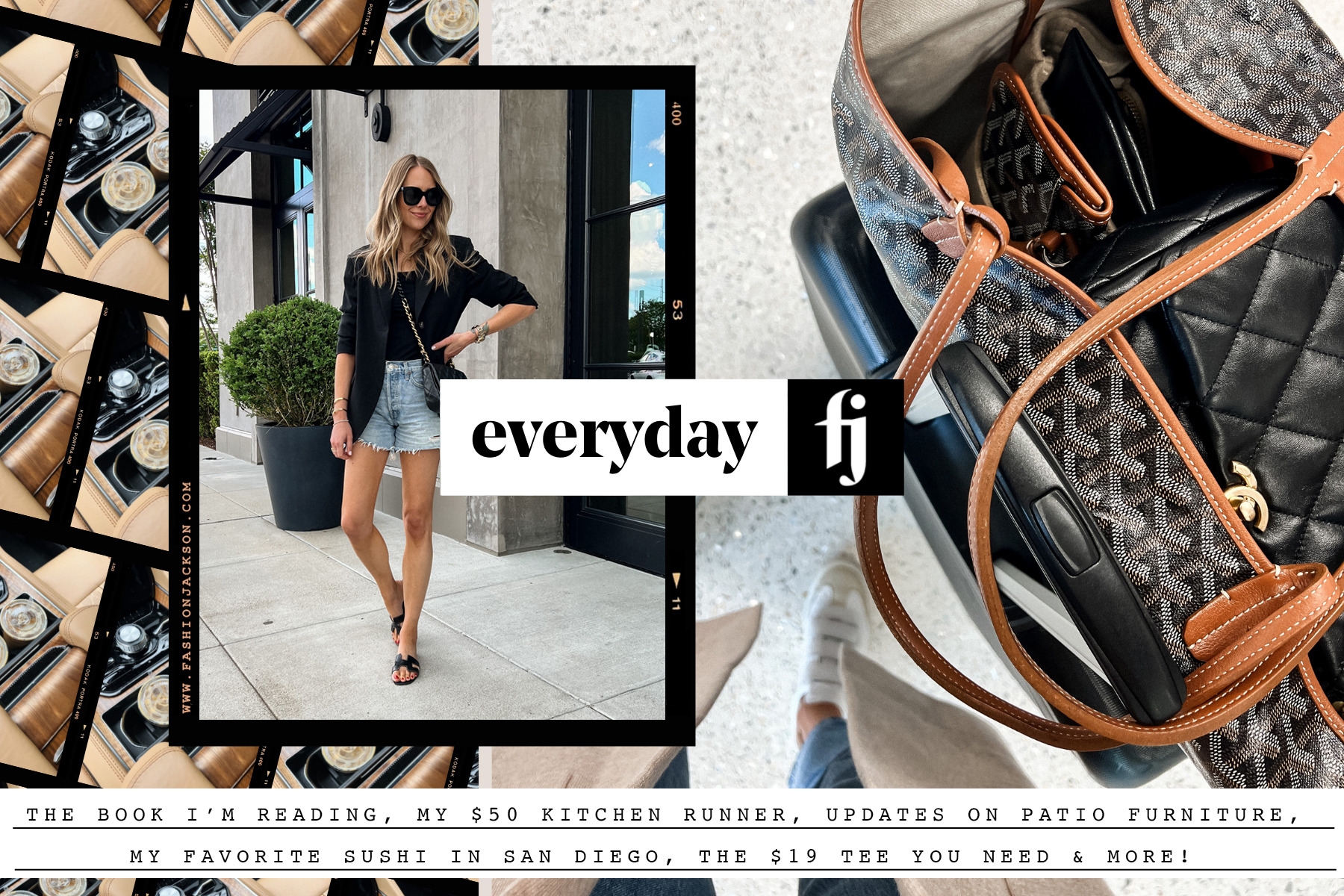 Q: If you had to choose between the Chanel espadrilles and the Hermès Oran sandals, which would you choose? What colors do you have / recommend for each? 
A: Definitely the Hermes Sandals. I just wear sandals way more than espadrilles. In the Hermès Oran sandals I have the gold (brown), black, and white. I wear all three equally so I don't really think you can go wrong with any neutral color. I have a full Hermès sandals review, which covers sizing, comfort, cost, and other FAQs.
Q: I have the Celine belt back in black. I love the structure, but would love for it to relax a little. Should that happen eventually? 
A: Depending on the size you have, it should relax! I have the mini (biggest size) in taupe and that one relaxed A TON. I bought this bag in 2017 and have used it nearly every single day since. It is truly my "everyday" bag. So it gets a lot of use/wear, which is why it has relaxed so much. Depending on how long you've had the bag, and how often you use it will definitely depend on when it relaxes. I can't say exactly when I noticed mine getting that worn-in look, but it was prob after a year or so of daily wear. Now for the micro (next size down), I have this one in black and I actually don't want it to lose it shape/structure. This is one that can be worn crossbody and I need it to keep its structure so it doesn't look sloppy as i wear it. I use these inserts to keep the shape of my bags while I'm not using them. 
Q: Which Vitamix model do you have? 
A: This one which I just noticed is on sale! It's great, I use it daily and have had no issues with in for the past 3 years. You can make SO much in a Vitamix. Highly recommend! 
Q: I feel like I can't find cute jean shorts. Can you do a post on this? 
A: I actually have this post rounding up 9 pairs from AGOLDE! They are my absolute favorite denim shorts. The fit and quality is unmatched, so that's all I buy. The Parker long in swapmeet is my most worn style. 
Q: Love how you styled the Jenni Kayne sweater in your recent reel. Given your love for olive, thoughts on the olive cotton cocoon cardigan? And would you style it with the Jenni Kayne tee or the ATM tee in olive? 
A: Thank you so much! And LOVE the olive green cardigan too! I personally would style it with the Jenni Kayne tee vs. the ATM tee. Mostly because the ATM tee is the slub fabric and I think it competes with the stitch in the cardigan. I would prefer a very simple tee, which is they the Jenni Kayne one is perfect! As always just code JACKSON15 for a discount on everything Jenni Kayne. And now through 5/15 use code FJCOCOON20 for a discount on ANY cocoon style cardigan (cotton or cashmere). 

P.S.
Are you a member of the exclusive Fashion Jackson newsletter? Sign up here to get exclusive content, exciting announcements, and much more straight to your inbox!
Get discounts on some of my favorite sites using discount codes below! Click to shop!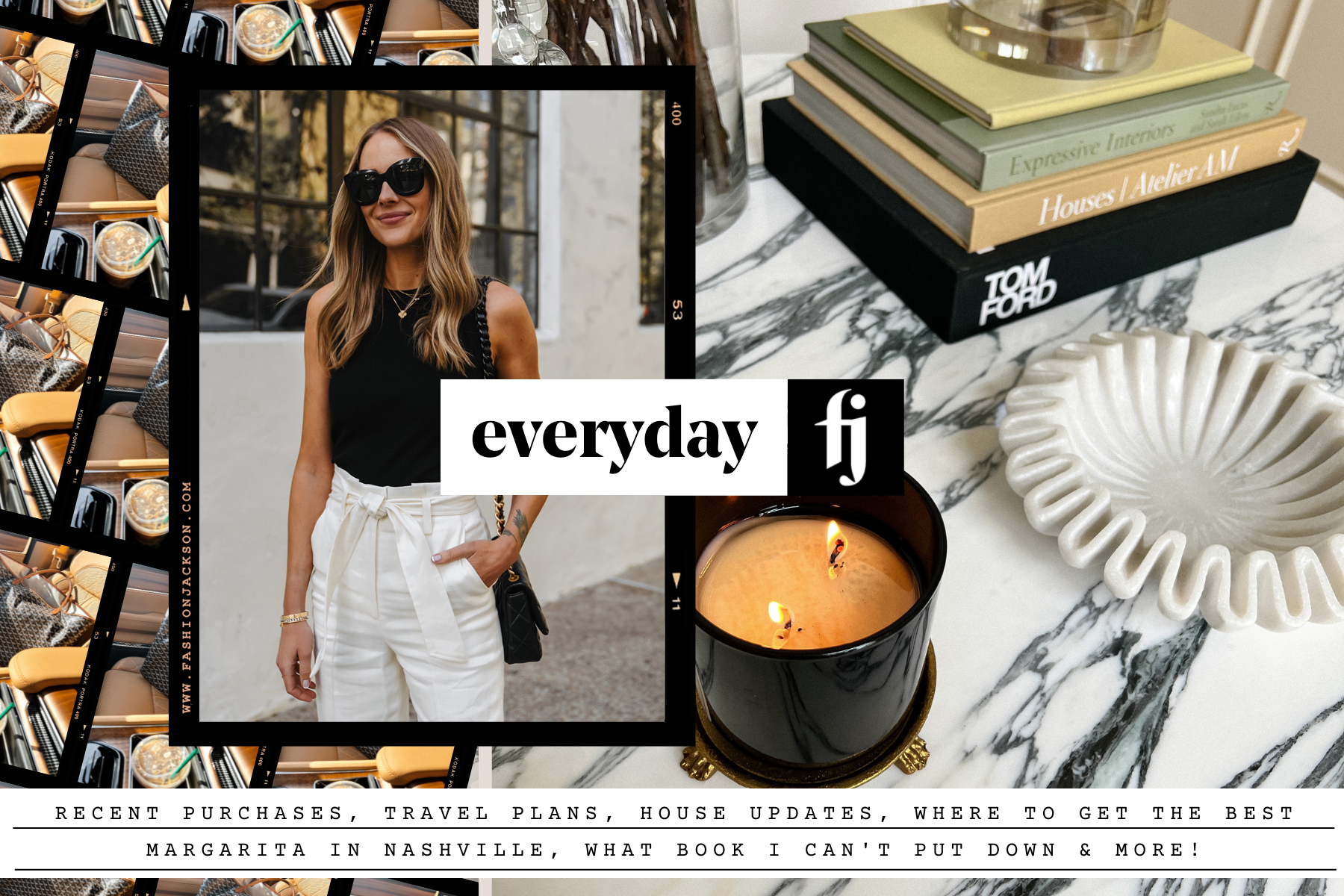 Q: I love the heeled yellow sandals you wore in Palm Beach! Since they don't have half sizes, how do the sizing of these run?
A: Thank you! It's been a while since I got a fun color pair of heels, but I loved these for our Palm Beach trip and will definitely continue to wear them throughout summer. They fit TTS; I'm an 8.5 and got a 39. I would size up if you're between sizes. Right now they are on sale; maybe I should snag the egret as well! 
Q: Which color do you recommend for the Cuyana makeup pouches? I can't decide on which color I want! 
A: I have the blush set and love! But they are all SO pretty; I also love black, pearl grey, ecru, soft rose, and caramel. 
Q: Do you have a favorite bra designer? 
A: My favorite everyday bras are these by True & Co. They are SO comfortable and wear really well. For strapless I've had this one for years. I'm not a huge fan of strapless bras, but this one gets the job done! 
Q: I'm going to Paris this summer. What are your top two designer bag recommendations?  
A: How fun! During my last trip to Paris in 2017 (time to book another trip), I bought my first Chanel bag at the original Chanel boutique on 31 Rue Cambon! If you can, I would definitely vote for Chanel, because its Paris! I also got my Goyard tote during that trip as well. Fun fact, the text on the Goyard tote says Honore Paris, which is the street of the original boutique & where I purchased the bag. You really can't go wrong with either!
Q: I love your patio furniture! Where is it from? 
A: Thank you! The couch and chairs are from CB2. I ordered it last year and it arrived late fall, so I'm excited to finally get some good use out of it this summer. I also bought this couch cover and these chair covers to protect them from the rain.
This post may contain affiliate links, meaning when you click the links and make a purchase, we receive a commission.