Tomorrow is the day! The Nordstrom Anniversary Sale will open to the public Friday 7/20, so all shoppers welcome! Over the past week, I have been continuously shopping the sale, trying as many items as possible to find the best pieces for you, saving you from all the trouble, as it can be a little overwhelming. As I've mentioned in previous posts, the items in this sale are some of my favorites to date! I love shopping The Nordstrom Anniversary Sale to find pieces I can not only wear now, but also into fall/winter. You can see I mainly purchased items that can be mixed and matched in order to create endless styling options. It's such a great time to take advantage of savings, especially as fall items tend to be pricier. Bookmark your favorite items now, so that as soon as the sale goes live, you can shop it before items sell out! I'm also doing a giveaway, so keep reading this post to find out what you need to do!
I will be reviewing each item I purchased below, as well as the fit. As far as sizing goes, I'm 5'10 and about 125lbs. I normally wear a 26 in jeans, XS/S in tops, and 8.5 in shoes. Items will sell out fast, and if your size is gone, just bookmark the page, and keep checking because last year so many pieces came back in stock!
Make sure to check out my other posts from the Nordstrom Anniversary Sale here, here, & here!
Best Coats & Jackets Under $250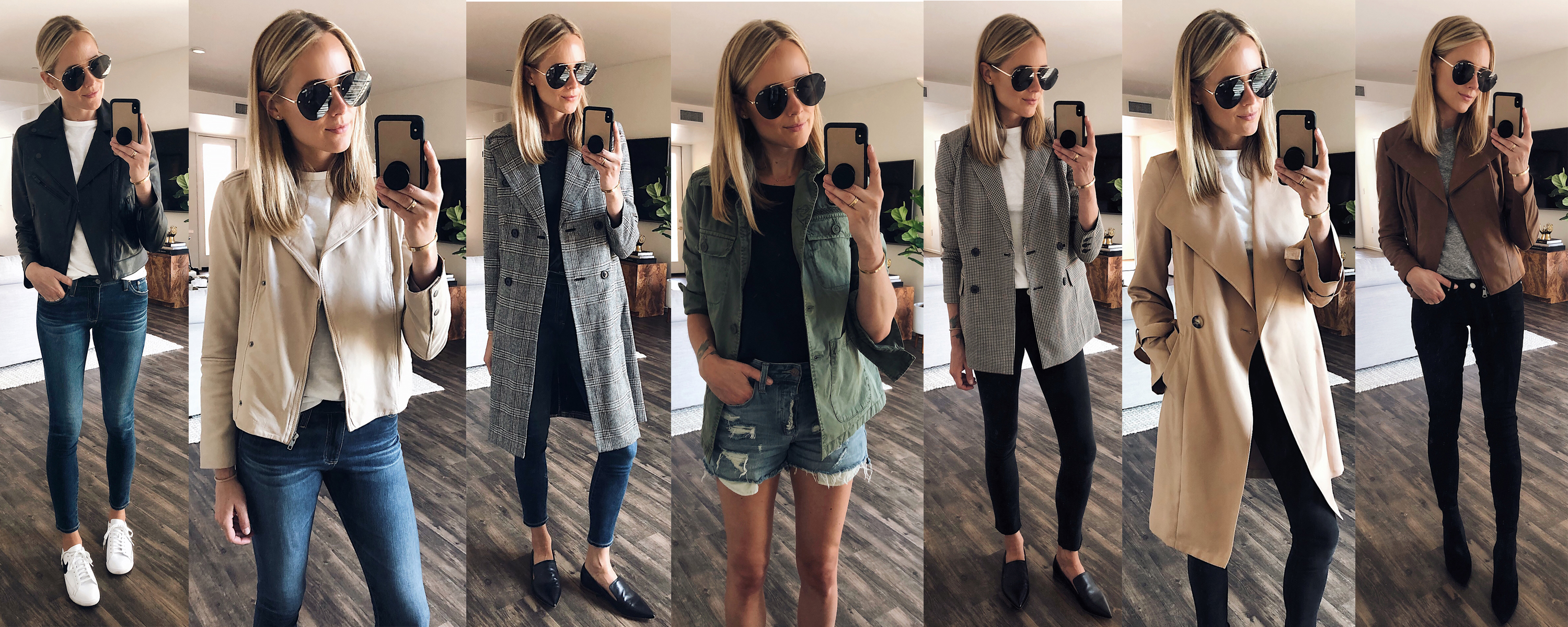 Best Activewear Under $125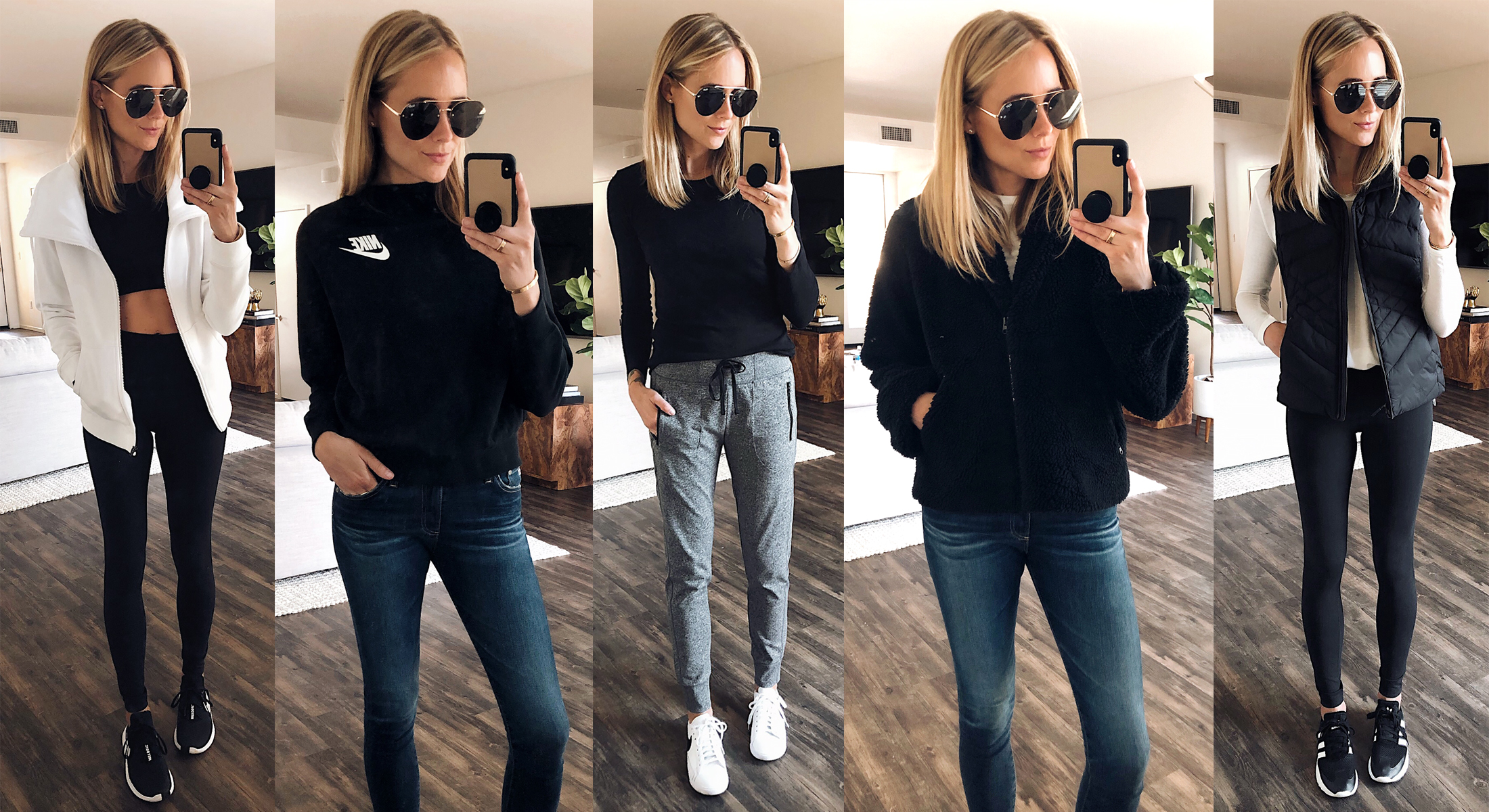 (left to right)
Zella Oversized Jacket: wearing small. Fits true to size | Zella Sports Bra: wearing small. Fits true to size
Zella High Waist Leggings: wearing XS. Fits true to size | Nike Sweatshirt: wearing XS. Fits true to size (boxy)
Zella Joggers: wearing small. Sized up for relaxed fit | Alo Faux Fur Jacket: wearing small. Fits true to size
North Face Down Vest: wearing small. Fits true to size
I'll be the first to admit, I never thought I would wear activewear outside of the gym. However, lately I've been finding so many great pieces, that athleisure has become more a part of my daily wardrobe. You can read this post about my joggers I bought during the #nsale. These Zella leggings are probably the best leggings I've ever owned - they are so comfortable! I can't wait for it to be a little colder so I can cozy up in this faux fur jacket, it's incredibly soft. This down vest is a piece that can be worn with activewear, or a tshirt and jeans, such a versatile piece! I've been looking for a sports bra that is comfortable for both HIIT/LIIS exercises and this is my new favorite - I'm definitely ordering a few! As soon as I saw this Nike sweatshirt, I had to have it. I've been wearing it with leggings as well as jeans, I love it so much. This oversized hoodie jacket is great for layering to the gym, running errands, or just wearing for a cozy outfit.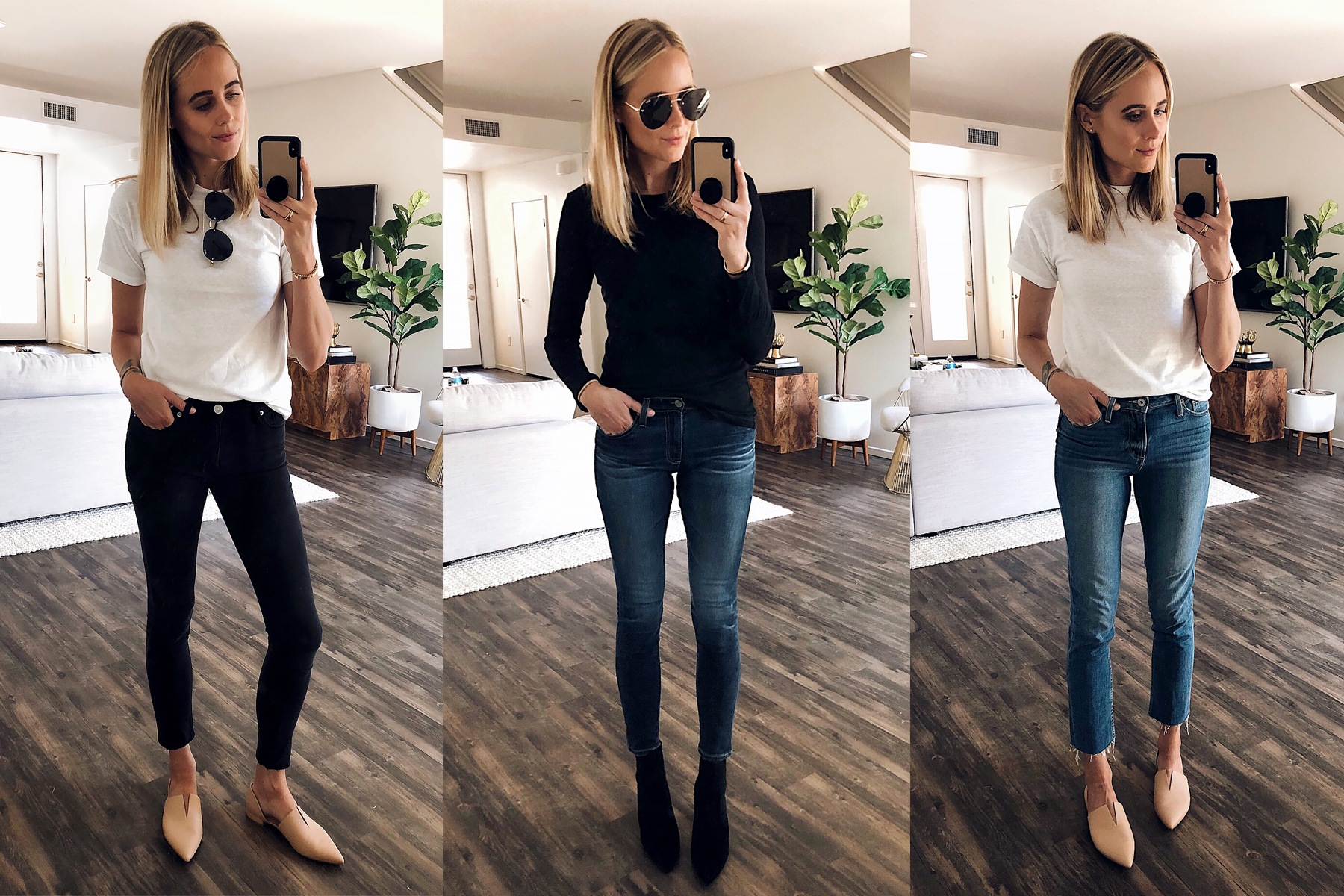 (left to right)
Hudson High Rise Raw Hem Skinny Jeans: wearing 26. Fits true to size (has stretch)
AG Ankle Skinny Jeans: wearing 26. Fits true to size (has stretch)
Paige High Waist Slim Raw Hem Jeans: wearing 25. Size down (has stretch)
I bought more jeans than these three pairs (way more), but after one week, these were the three I continuously reached for. So I figured these are the best options to share! As I mentioned on my Instagram stories a few days ago, this pair of Hudson are probably my favorite black skinny jeans I've ever owned. They fit like a glove, have great stretch (without stretching out), high waisted, raw hem, and the feel of them is so soft! They look great with flats, booties, and heels - the perfect black skinny jean! I don't know the last time I bought a pair of AG jeans, but last year during the sale they were popular, so I decided to give this pair a try. I loved the wash and whisker detail and as soon as I tried them on I was hooked! This pair also fits like a glove, they are the perfect length, high waisted, and make your bum look great! Last but definitely not least are these Paige jeans. I've never owned Paige and when I shopped the sale on the first day, I grabbed these and tried them on with almost everything! The fit is super flattering, but I definitely recommend sizing down. Also, the color on the Nordstrom site is not the true color. My images are closer to the actual wash color. I'm obsessed with all of the jeans and can't wait to wear them all year!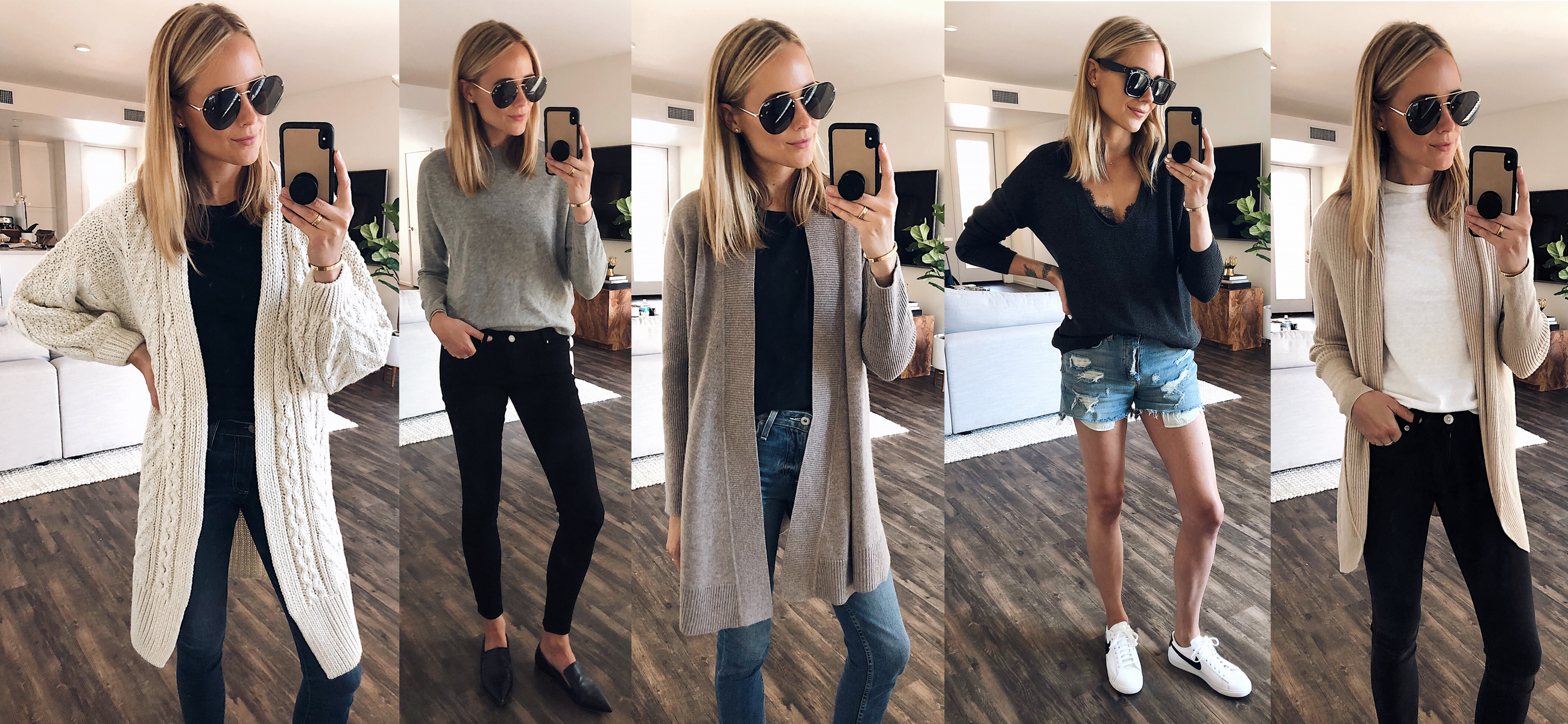 (left to right)
Topshop Cable Cardigan: wearing US4. Fits oversized size down | Vince Cashmere Pullover: wearing small. Fits boxy true to size
Halogen Cashmere Cardigan: wearing xs/x. Fits oversized size down | Textured Vneck Pullover: wearing small. Fits true to size
Leith Shawl Cardigan: wearing small. Fits true to size
Sweaters are some of the pieces that sell the fastest during the sale. This year I bought so many and while they are all great, these are my top 5! This oversized cable cardigan is the coziest! I have been wearing it every morning lounging around the house. If there is one sweater you're going to invest in, it's this one by Vince. I've never felt anything softer! It's the perfect essential and you will get so much use out of it during the year. This cashmere cardigan is another cozy piece and one I'm definitely planning on traveling in - it's perfect for layering. I love this affordable textured pullover. Its casual with denim shorts and sneakers as shown, but could easily be dressed up with skinny jeans and heels! Last, this shawl cardigan is under $50 and comes in a ton of colors. I've been wearing it with lace camis, tshirts, and dresses. Such a great basic.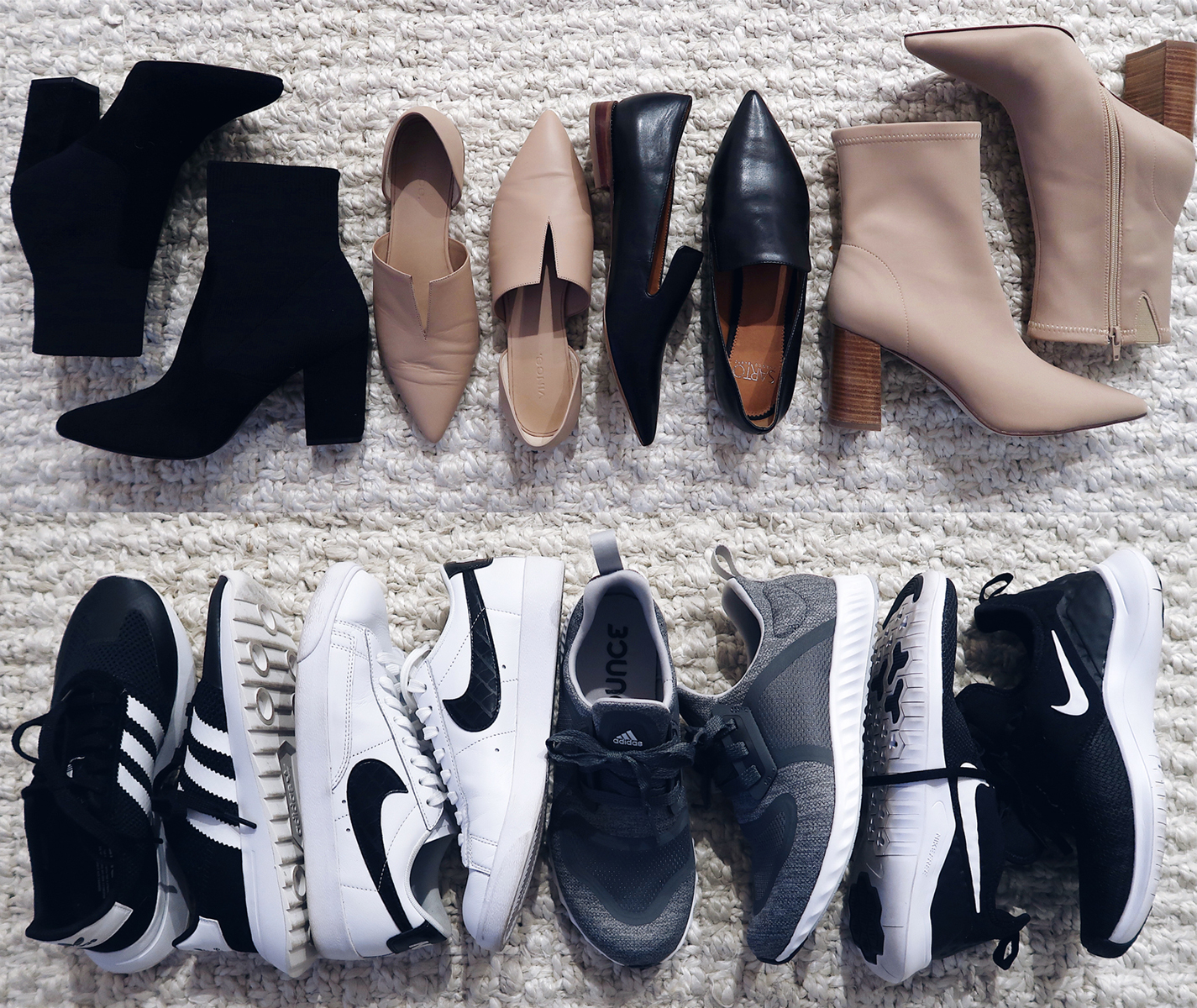 (left to right)
Steve Madden Sock Bootie: wearing 8.5. Fits true to size | Vince Leather Flats: wearing 8.5. Fits true to size
Sarto Black Loafers: wearing 8.5. Fits true to size |  Jeffrey Campbell Stretch Bootie: wearing 8.5. Fits true to size
adidas Flashback Sneaker: wearing 8. Size down 1/2 size | Nike Blazer Sneakers: wearing 8.5. Fits true to size
adidas Running Shoe: wearing 8.5. Fits true to size | Nike TR8 Training Shoe: wearing 8.5. Fits true to size
I think Nordstrom hit the nail on the head this year with the shoes. I found the best elevated essential styles for both casual and active and have been living in them all! First, probably my favorite purchase were the Vince flats. The nude color is gorgeous and will go with my neutral wardrobe effortlessly. This pair of black loafers is a great basic to have and they are SO comfortable, plus they are under $100! I live in booties during pre-fall & fall. I love the stretch/sock bootie trend and plan to wear both the Jeffery Campbell & Steve Madden booties with jeans, skirts, and dresses!
For active, these Nike sneakers have been my go-to during the week for running errands. I know I mentioned true to size, but for me they are about 1/4 too big, however, I know if I got an 8 it would be too small. You definitely need to go down 1/2 size in these adidas sneakers. I also love the casual look of these and they are great for errands, or styled with jeans for an athleisure ensemble. My Nike TR8 were great for the gym! I used them on the bike, treadmill, row machine, and weight training. They are so comfortable! This pair of adidas feel like socks! They have great support and cushion and perfect for running.