Welcome to the newly updated (again) weekly Everyday FJ series. Here I'll be sharing a little bit of everything; home updates, life updates, travel plans, what I'm shopping for, Nashville spots I've tried, discount codes, and really anything from the week that you guys might be interested in. I got a lot of requests with what you would like to see here, and it is actually helping me for future blog posts. I wanted this series to just be a true "everyday FJ" anything and everything. As always thank you so much for your support and following along, I truly appreciate you all. If you have a question or request, fill out the contact form or follow along on Instagram and send me a DM.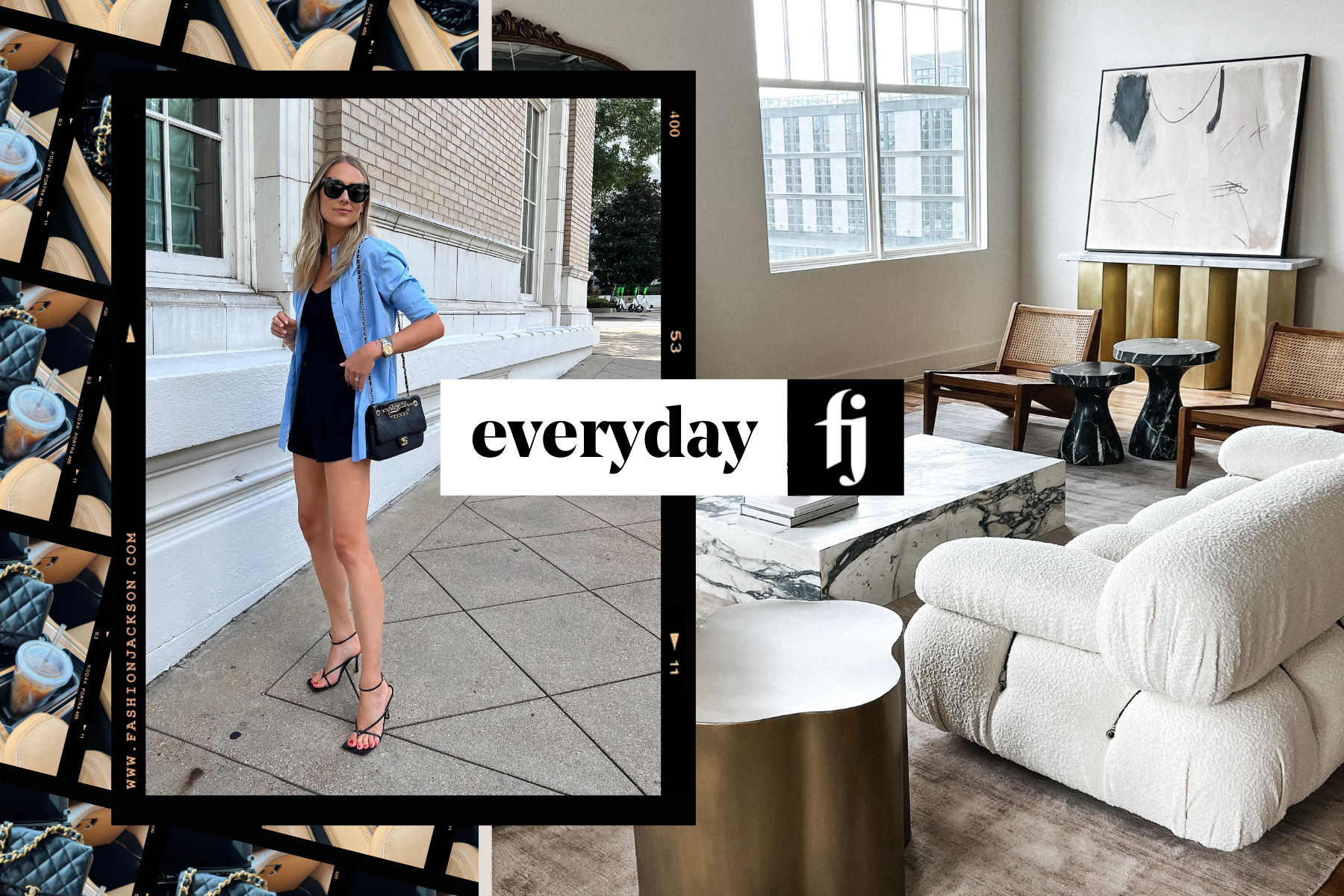 Q: Will you be doing more capsule wardrobes in the future? I love what you have done in the past and would be excited if you come out with more!
A: Thank you so much, and YES! The Fall 2022 Capsule Wardrobe will be out next week! If you missed previous capsules you can see Summer 22, Spring 22, and Fall 21. I missed winter last year, but it's on the schedule for this year as well.
Q: Can you please share the link for the travel cup holder you posted? 
A: Yes! I featured it in this post and you can see it in action in this reel. I got the idea from my friend Aylin and it has definitely come in handy!
Q: What size did you get in your J.Crew camel blazer? 
A: I have had this blazer for yearsssss. It's such a classic closet staple and I even featured it in the Fall 2021 Capsule Wardrobe. I got my true size (2), but it is more on the fitted side. If you're looking for something a little more relaxed, size up! Right now its 30% off so you definitely want to take advantage of it, especially since the price has increased over the years.
Q: Tell me more about the space you revealed! Are you opening a furniture store?
A: While that would be so fun, I've really gotten into interiors over the last year, this is my new office for my team! We are calling it FJHQ. Last year I found the space and while it's taken a while to be completed, it truly was worth the wait. I wanted a place that everyone could work together, come and go as they please, but also have a space for creating content. Plus, big things are happening next year with my business, so having a dedicated office space was essential. I still have pieces I need to order/waiting on, so once its 100% finished I'll do a full reveal.
Q: Do you have designer alternative handbags somewhere around $750?
A: I actually have a round-up here of bags that are perfect for fall and all under $500! I have both this one and this one (love them), but this one is so unique, it's definitely on my radar!

P.S.
Are you a member of the exclusive Fashion Jackson newsletter? Sign up here to get exclusive content, exciting announcements, and much more straight to your inbox!
Get discounts on some of my favorite sites using discount codes below! Click to shop!
This post may contain affiliate links, meaning when you click the links and make a purchase, we receive a commission.