This past summer Noken, a travel app, reached out to see if I was interested in partnering with them and traveling to one of their epic locations using their app. Of course I was so excited to be considered for this opportunity, but I was in the middle of planning a wedding and had a lot of trips already on the books. Luckily we were able to get the trip planned for after the wedding/honeymoon and decided on Iceland as our destination. I thought it would be the perfect time of year to visit this bucket-list country and I knew it was at the top of Will's list; he loves being surrounded by nature.
This trip was truly an experience of a lifetime and I cannot recommend Iceland enough. Honestly, going into it I thought this was going to be a really fun vacation and we would make great memories. However, by the end of the trip Will and I kept saying how it was probably our favorite vacation we have ever taken! The only thing I would change about the trip would be to add one more day in Reykjavik, there was so much more I wanted to see and places to eat! Today I'm sharing our full Iceland itinerary and Noken review using the travel app.
Spoiler alert, I'll never travel again without using the Noken app.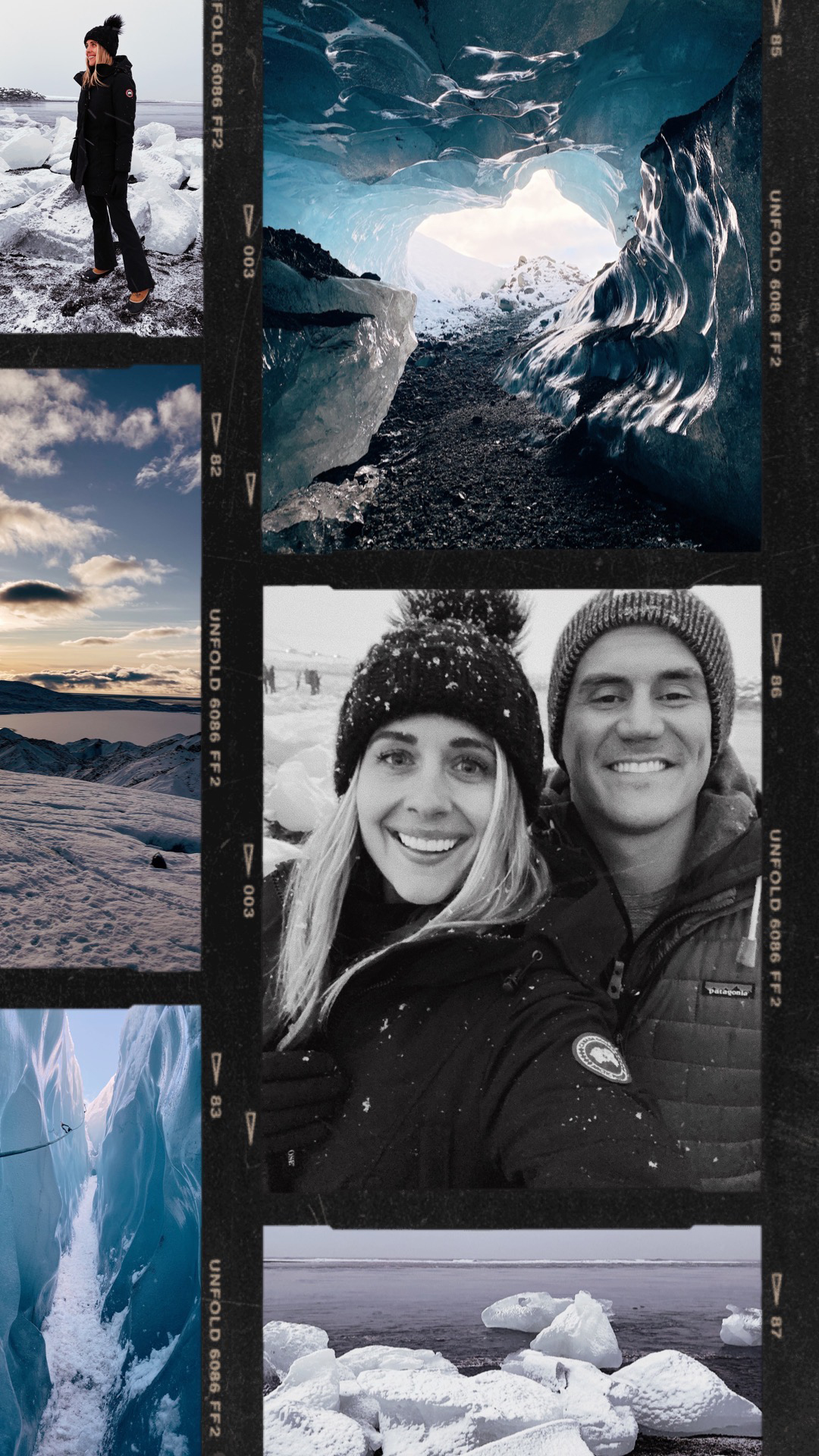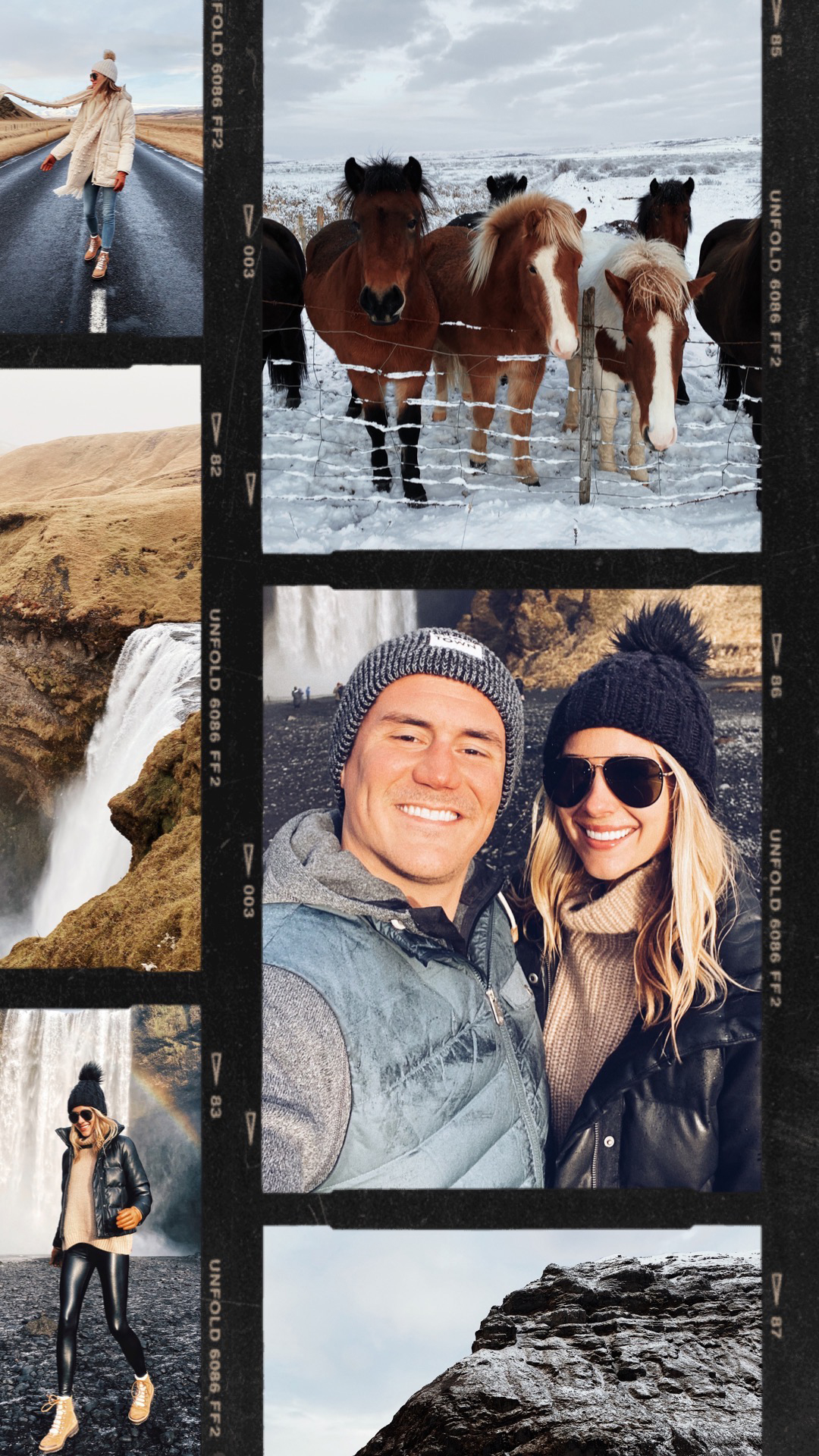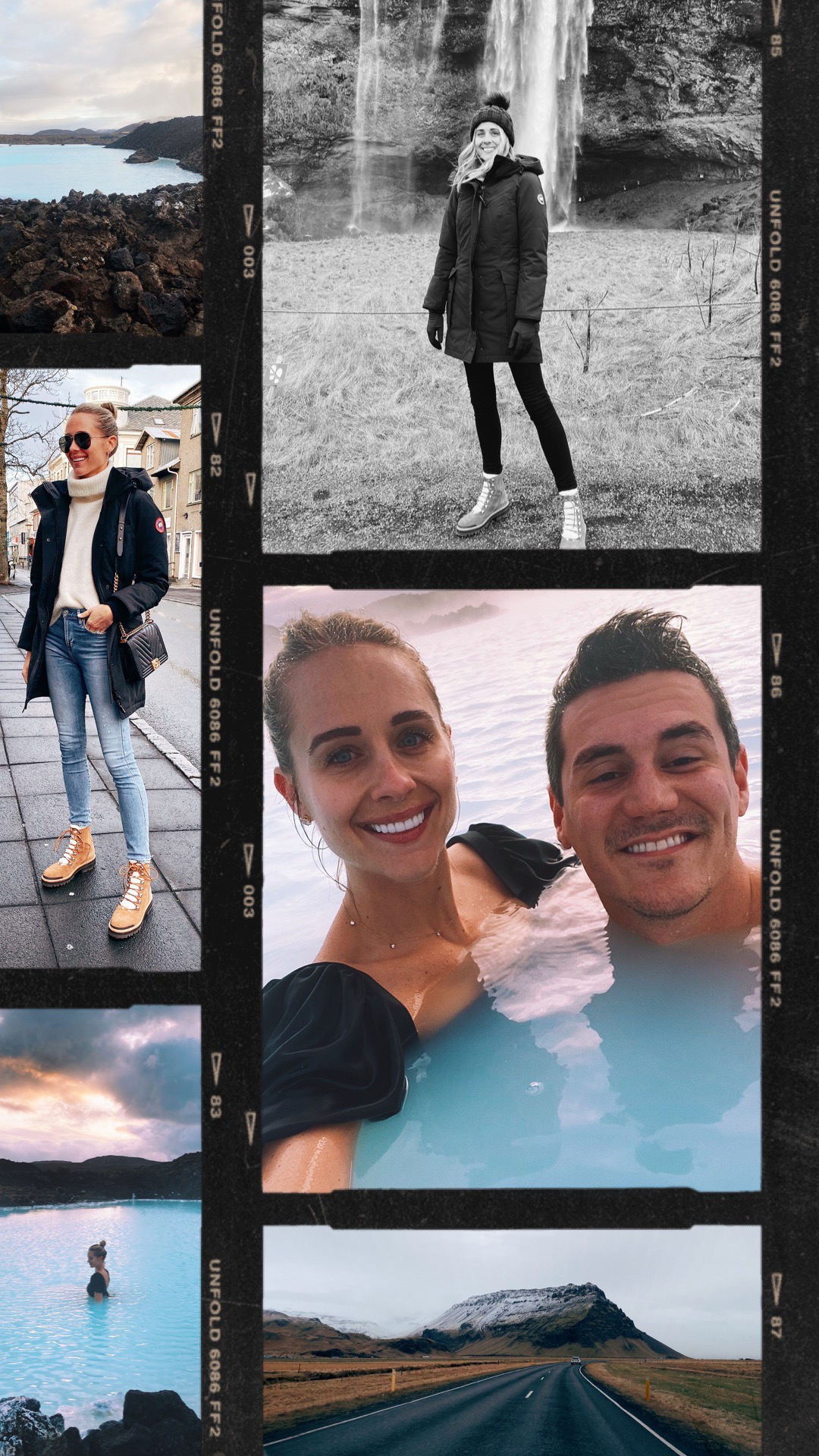 Daily Iceland Itinerary
I want to start by saying the days are super short this time of year, sunrise is around 9am and sunset no later than 5pm. This trip specifically requires a lot of driving so we had to make sure were were up early enough to get breakfast/coffee and get on the road to get everything done before sunset. Also, the weather in Iceland is very fickle. One moment you're enjoying clear skies and gorgeous views of mountains covered in greenery and then moments later you're in the middle of a snow storm, which will definitely slow you down. Honestly, it wasn't bad at all, just something to keep in mind if you're traveling during the winter months.
Traveler's Tip: Get a WiFi hotspot when you rent a car, there isn't much cell service, and this will help keep you connected. Also download an offline Google map via of the country that way if you're without any service, you can still find your way around.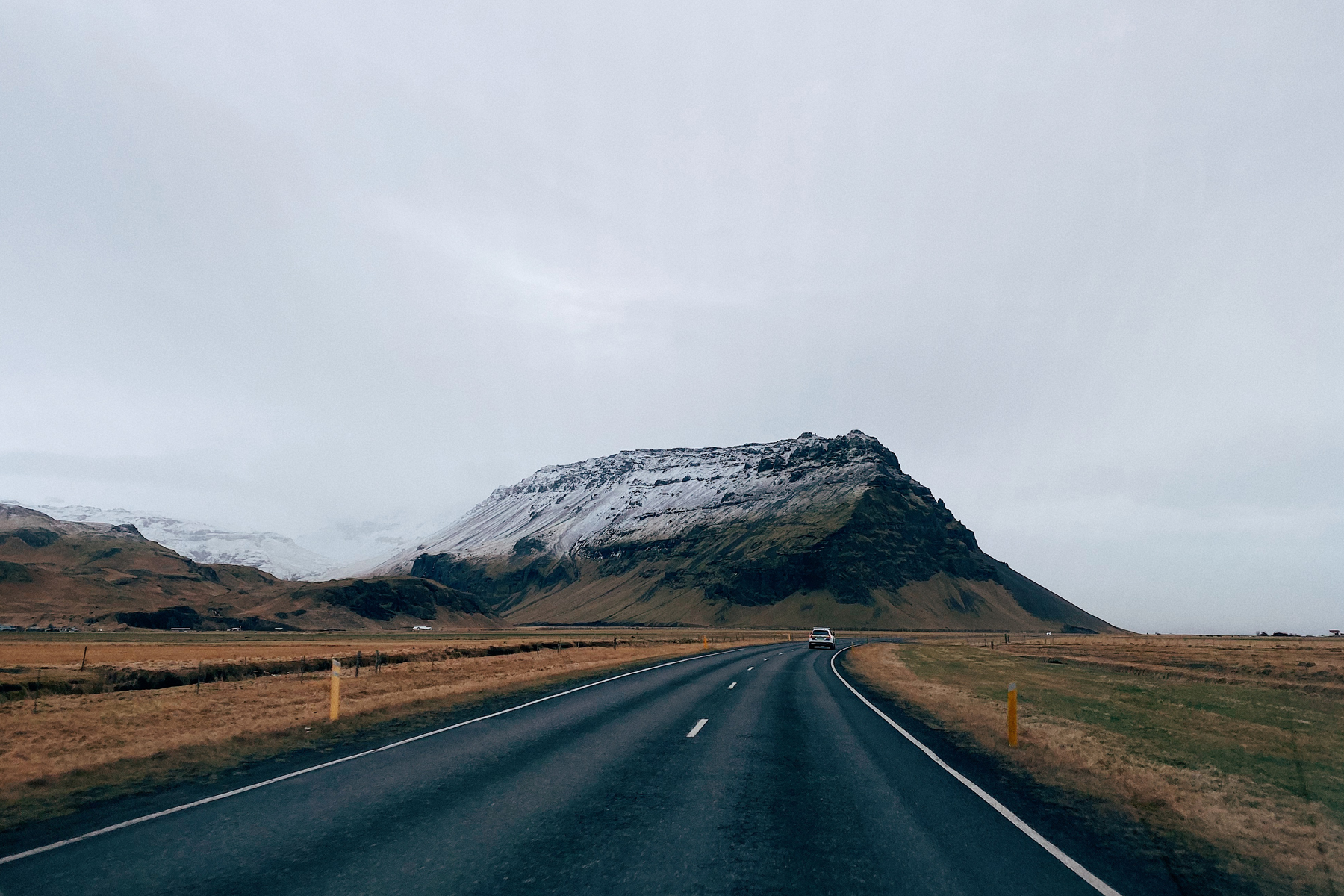 Day 1 - Southwest Coast Road Trip
We arrived in KEF Monday around 7am. After getting our bags and rental car we drove to Reykjavik (about 45 min), to find a place to eat. We stopped at Cafe Paris to have breakfast/coffee and get some work done before starting our adventure for the day. Once we felt awake and energized we got on the road for what would end up being about a 5 hour drive.
The Noken app had about 10 key route stops for us to pick from along the way. We decided to keep this day pretty light since we were getting tired quickly after a long travel day.
We stoped at Seljalandsfoss & Skógafoss which are stunning waterfalls along the way to Vik. It was windy, rainy, and cold, so we walked around at each for about 30 min grabbed some hot chocolate from the local vendor stands and made our way to Vik where we would stay for the first 2 nights.
Other activities Noken recommended: Gljúfrabui (hidden waterfall), Eyjafjallajökull (volcano view), Seljavallalaug (outdoor pool), Skógar (folk museum), Sólheimasandur (1973 plane wreck - everyone survived), Dyrhólaey (rock arc), Reynisfjara (black sand beach).
That evening we had dinner at a local restaurant in Vik for burgers. There aren't a lot of places to eat in Vik (maybe 10 at most), but Smiðjan Brugghús was highly recommended and we just wanted something casual for the fist night. It did not disappoint - their french fries were incredible. Definitely recommend!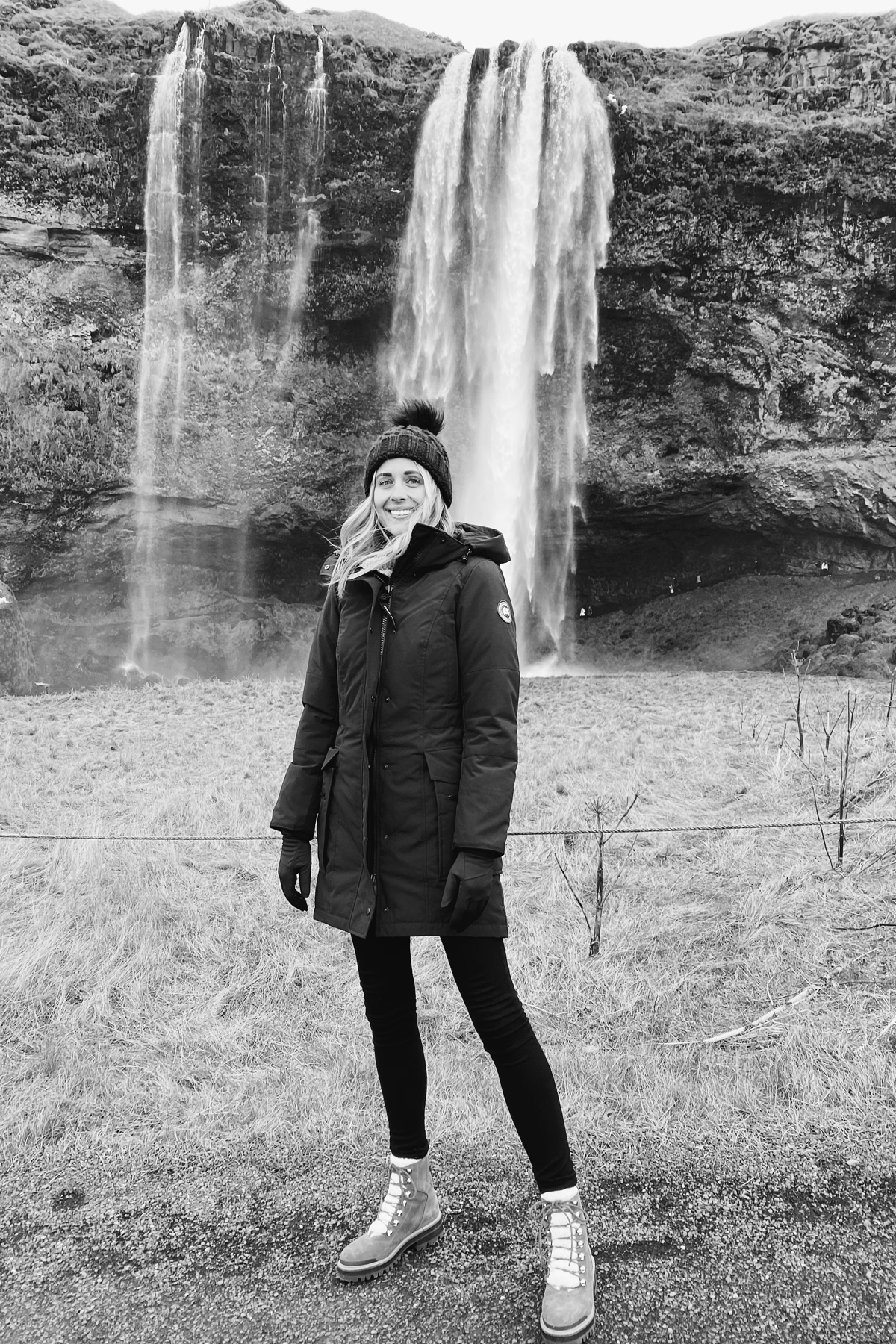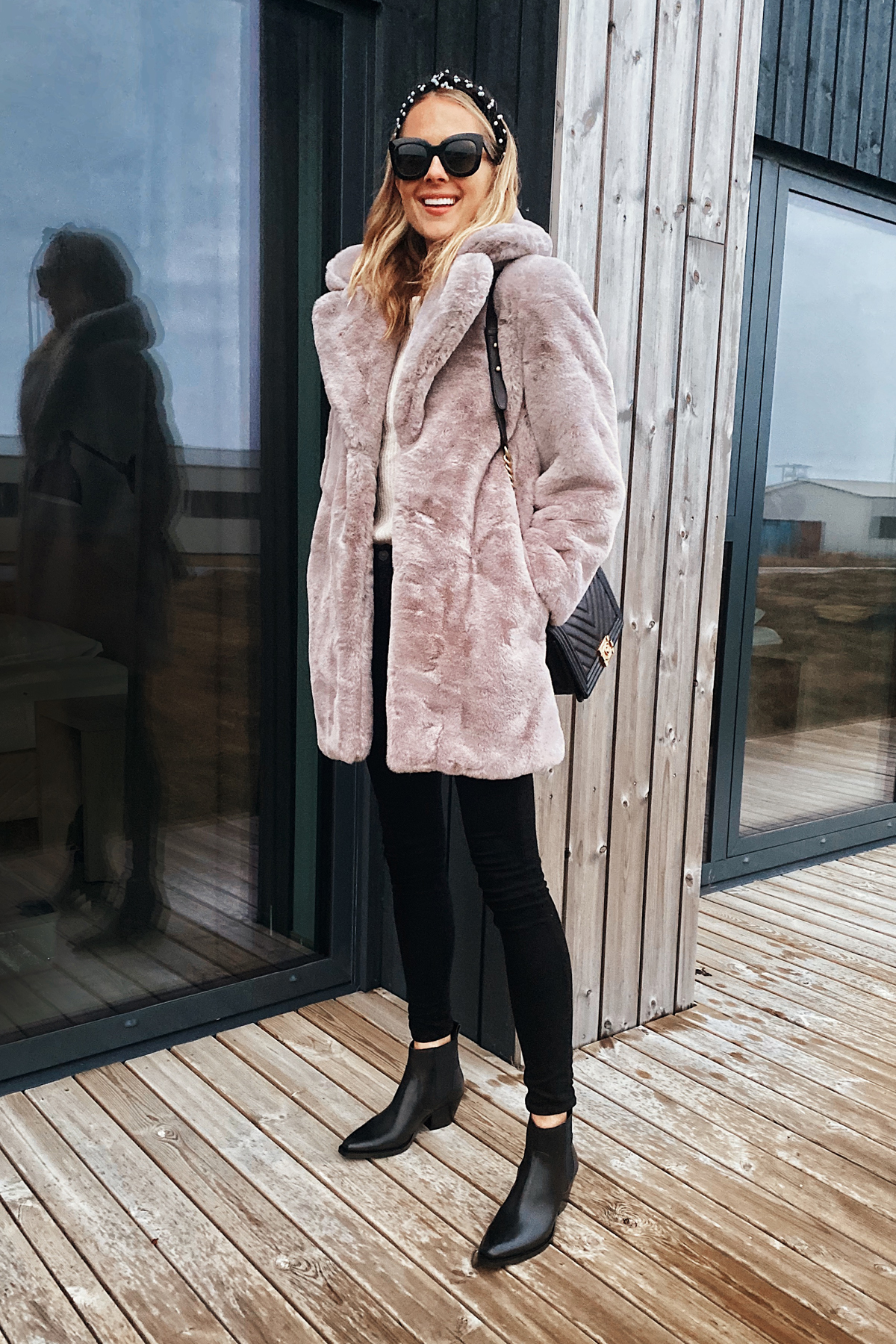 Day 2 - Ice Caves and Southeast Coast
This was probably our favorite day of the trip! We had an ice cave and hiking tour booked for 9:30am at Vatnajokull National Park via Icelandic Mountain Guides, but due to inclement road conditions, we were about 45 min late. Luckily since everything was booked in advance we were able to get on the next tour, which allowed for us to take an hour cat nap in the car (it was much needed)!  I had planned this hike in mind mostly for Will, but once we started, I was having a great time too! It was an incredible experience and I highly recommend this activity if ever in Iceland!
I wore hot chilies layers, ski pants, a Patagonia fleece, winter jacket, gloves, and rented hiking boots (everything linked at the end of the post)
Make sure you go into the visitor center and pay for parking. We didn't and had a $275 ticket!
After the hike, we only had a little over an hour before sunset, there were a lot of key route stops heading along the southeast coast, but since we were tight on time, we just stoped at Diamond Beach which was a priority of mine. We encountered another snow storm, so we ended up getting to the beach right at sunset, but there was still plenty of light to take pictures and enjoy the location. It was so stunning to see the giant icebergs along the black-sand beach. We stayed for about 30 min and then made our way back to Vik which was a little under 2 hours.
That evening Will started feeling a little under the weather, so I got some work done in the room and then grabbed dinner at our hotel restaurant, Drangar. This was the #1 recommended spot to eat and I can see why! It was SO delicious. Their menu is seasonal, but definitely a must if you're in Vik!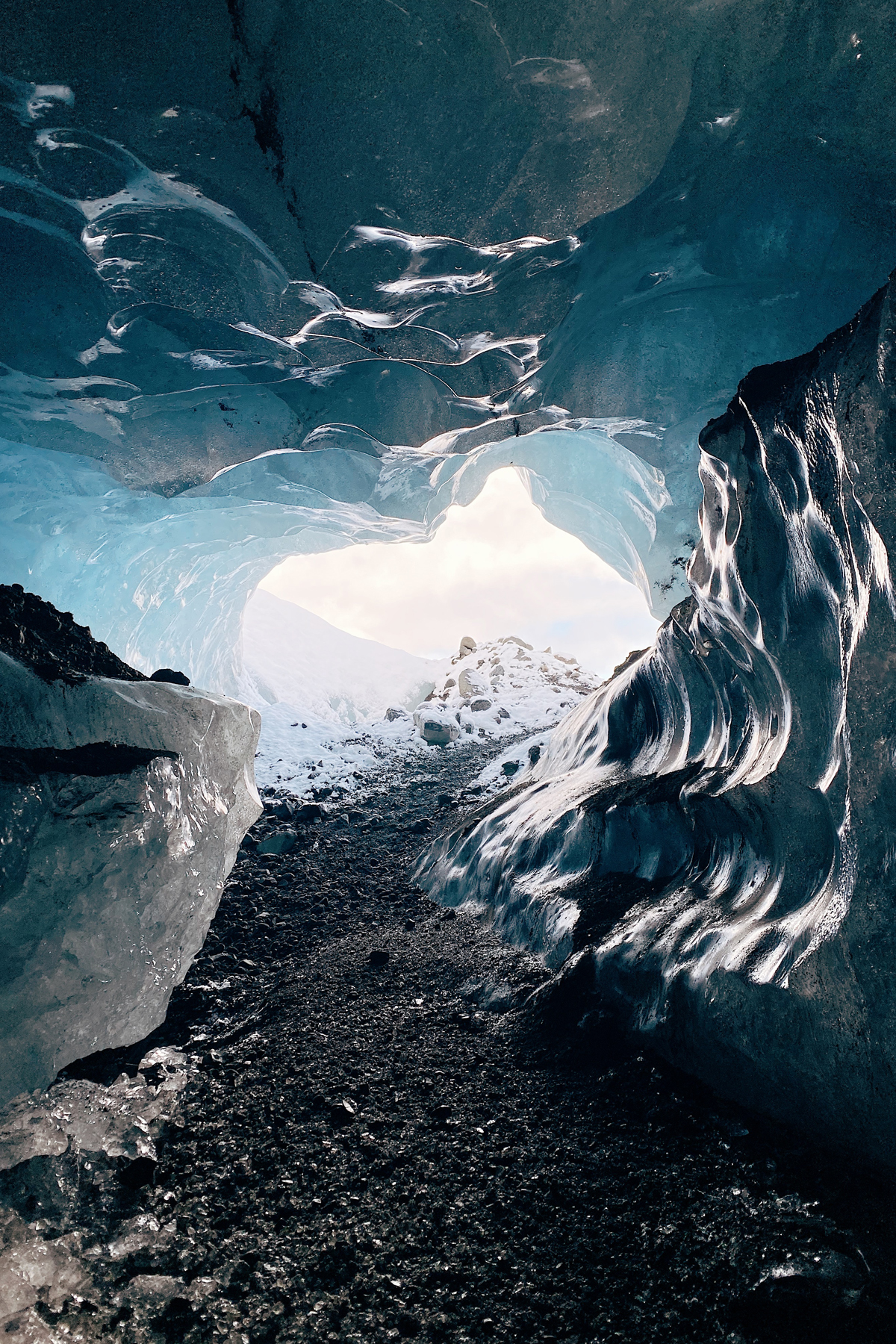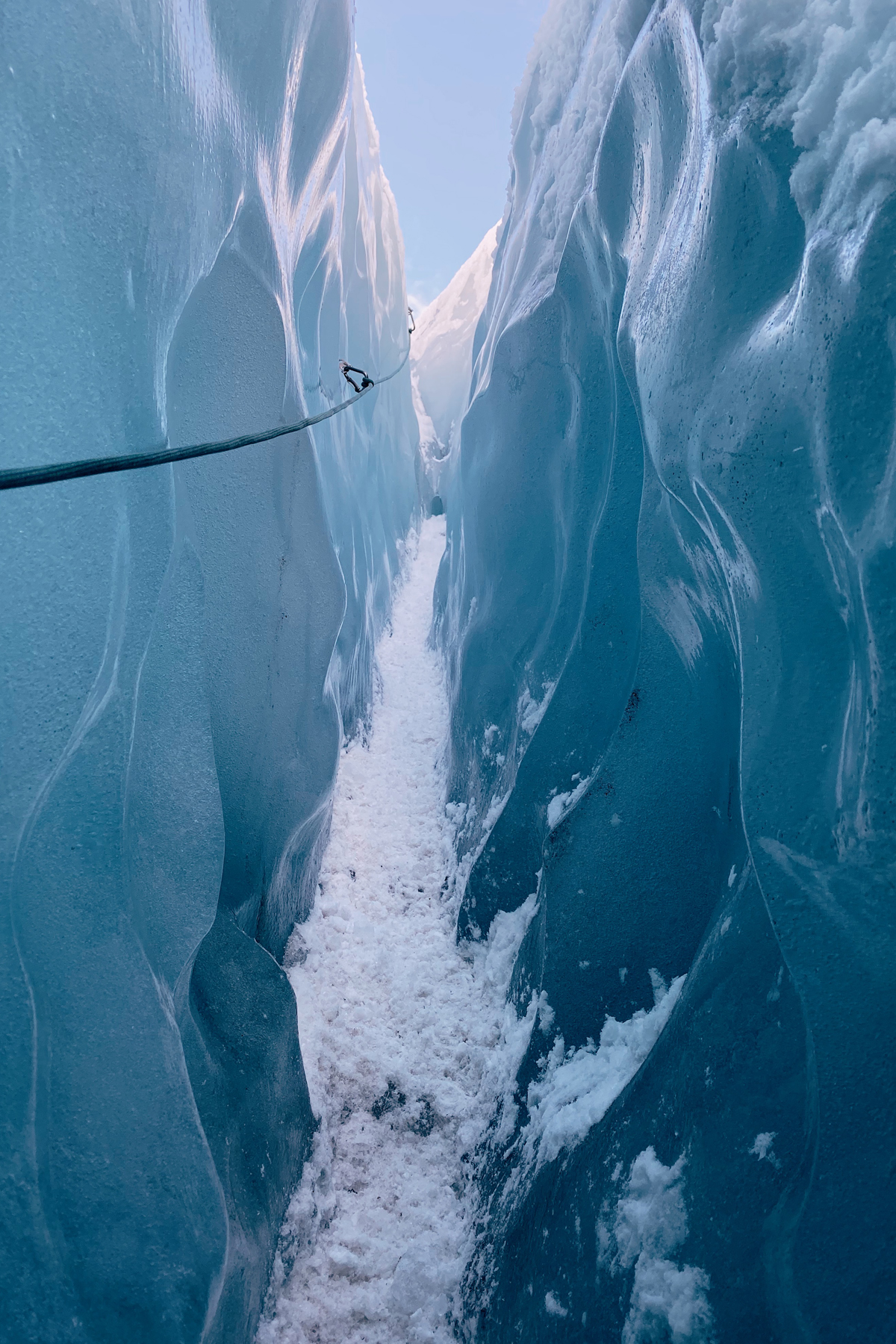 Day 3 - Golden Circle and Reykjavik
This was a long driving day, but with a lot to see along the way! The weather was much nicer than the first day we arrived, so we went back to Skógafoss waterfall to take some pictures and I'm so glad we did! It ended up being beautiful and we saw a stunning rainbow over the waterfall. We had lunch at the local restaurant and it was actually SO good. I had the fish and chips and Will had vegetable soup. It was quick and easy and then we were back on the road.
During our drive the Noken app had 8 key route stops for us to choose from. We decided we would just go with the flow and see how we felt as we were nearing some of the locations.
Along the drive we saw so many Icelandic horses, there was an option to stop at Laxnes Horse Farm and take a tour riding the horses, but we didn't have enough time. Instead we just pulled over on the side of the road when we saw some - took some pictures and said hi. They were the sweetest animals!
Early that evening we stopped at Laugarvatn Fontana to enjoy the thermal baths. The stylish spa is the "not Blue Lagoon" of the area. Its smaller, more affordable, and less crowded. Plus its right on the lake, so you can take an ice cold dip between soothing soaks. Will was brave and did that a few times, while I just stayed in the thermal bath. They have great facilities to change after your soak and a restaurant in case you go during meal-time. We decided to forego eating there and continue on to Reykjavik to have dinner in the city.
We checked in to our hotel, Sand Hotel, and they helped to make a reservation for us at Grillmarkaðurinn. I didn't make any dinner reservations in advance because I didn't know where our days would lead us. Luckily we didn't have any issues getting into any restaurants the whole trip!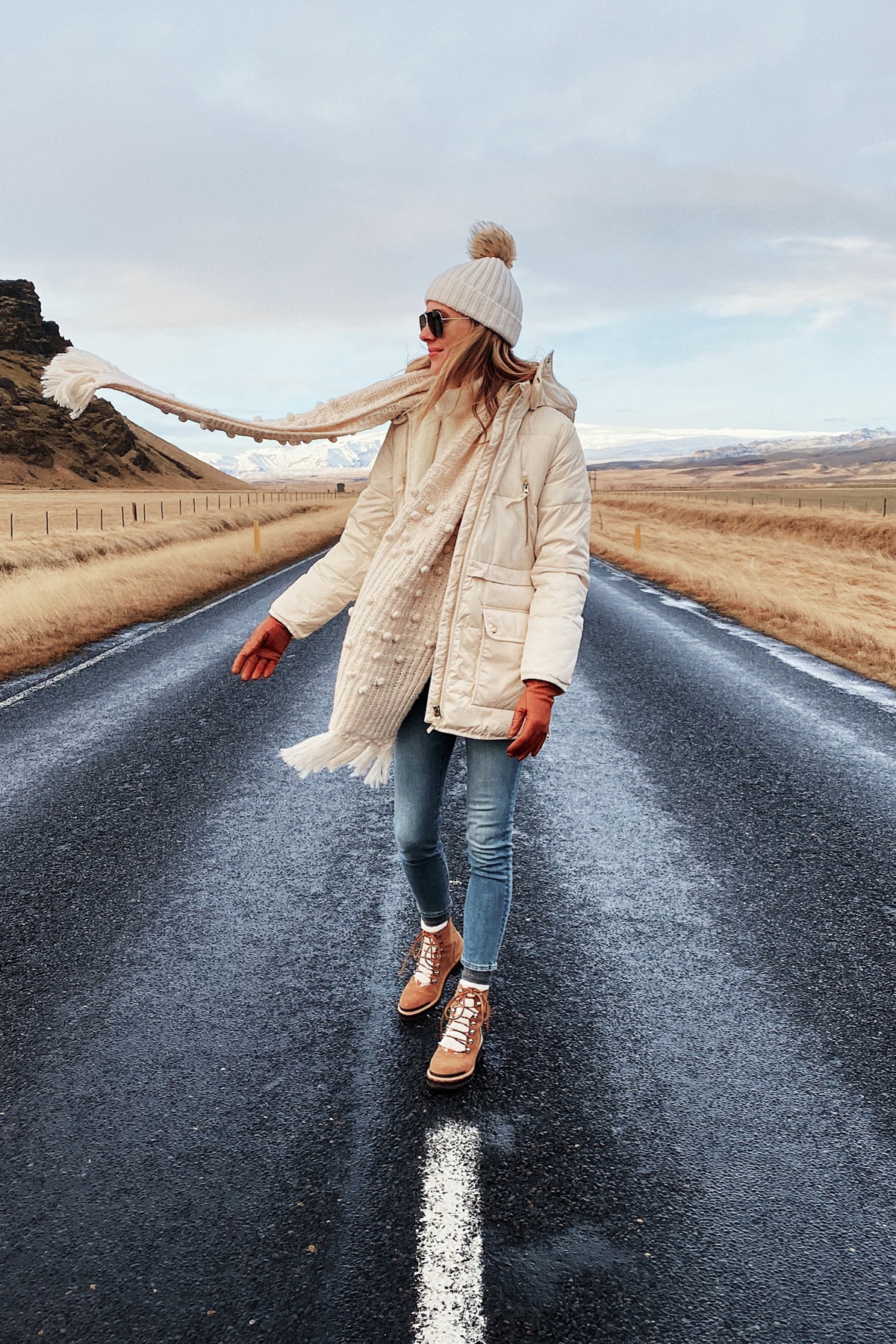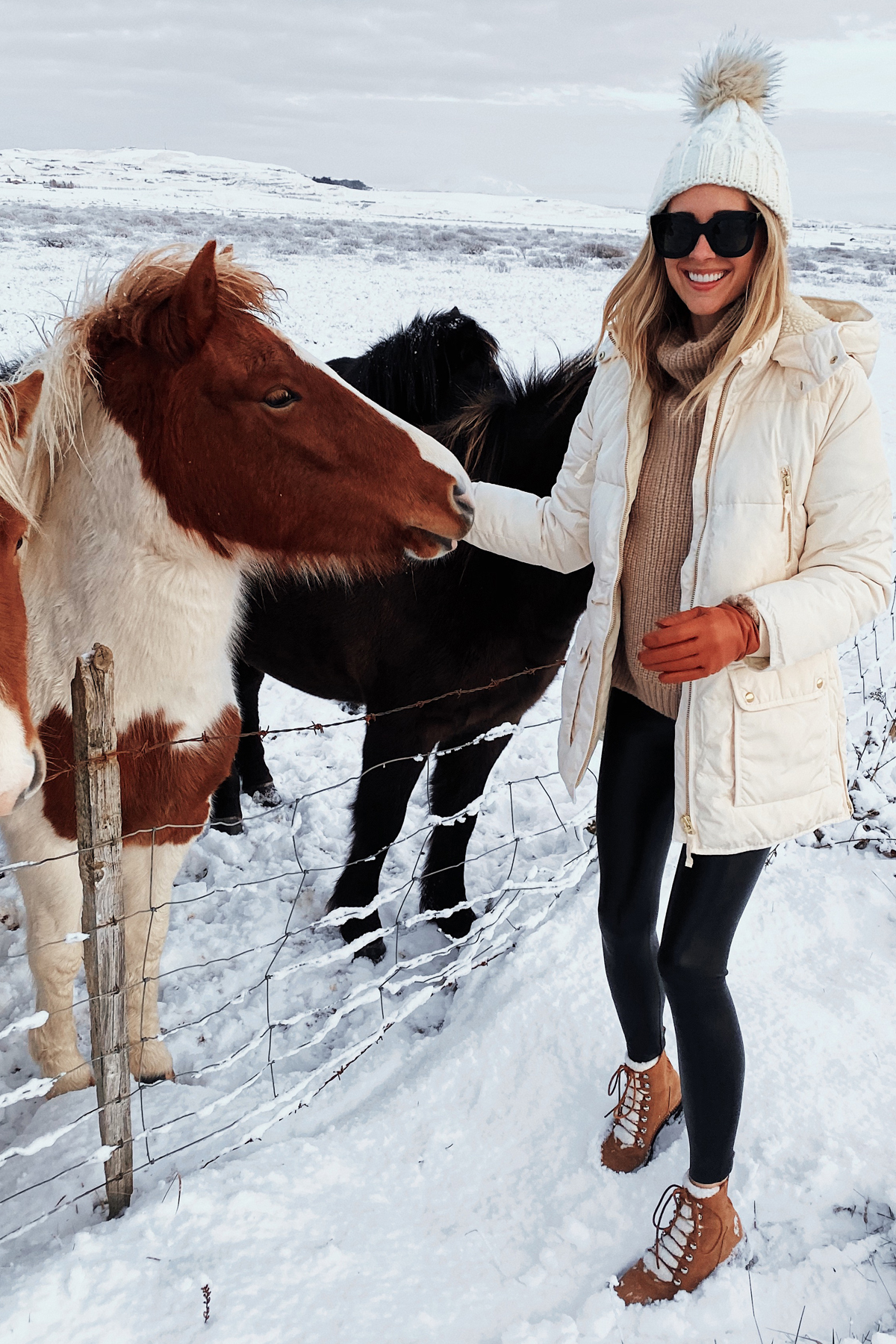 Day 4 - Blue Lagoon and Departure
We started our morning grabbing coffee and pasties next door to our hotel at Bakari Sandholt - best croissant I've ever had! Our hotel had a breakfast included, but we were ready to get on the road and just wanted something light and fast.
The Blue Lagoon is probably one of the most iconic activities to Iceland and definitely a must-do! We had a reservation for 10am, but we were up early and decided to go early and hopefully they would allow for that. Luckily they did so we were able to get a head start on the day. It was the most incredible experience and I'm so glad we did this on the last day. It was nice to have a relaxing soak before a long-haul flight home.
Do NOT get your hair wet, the water makes it feel like cardboard and gets very tangled for WEEKS
Arrive early, it gets crowded quick!
We just did the "casual" soak (least expensive option), and didn't feel like we missed out on anything!
The changing rooms are nice and have everything you need to get ready again
After the Blue Lagoon we made our way back to Reykjavik (about 45 min), and had lunch at ROK. It was tapas style modern Icelandic fare and delicious. After that we walked around the cute little streets of Reykjavik. We saw the Hallgrímskirkja Church, did some shopping at local boutiques on Laugavegur and Skolavordustigur, and grabbed some more coffee at Reykjavik Roasters.
Finally by mid-afternoon we made our way back to KEF to catch our flight home.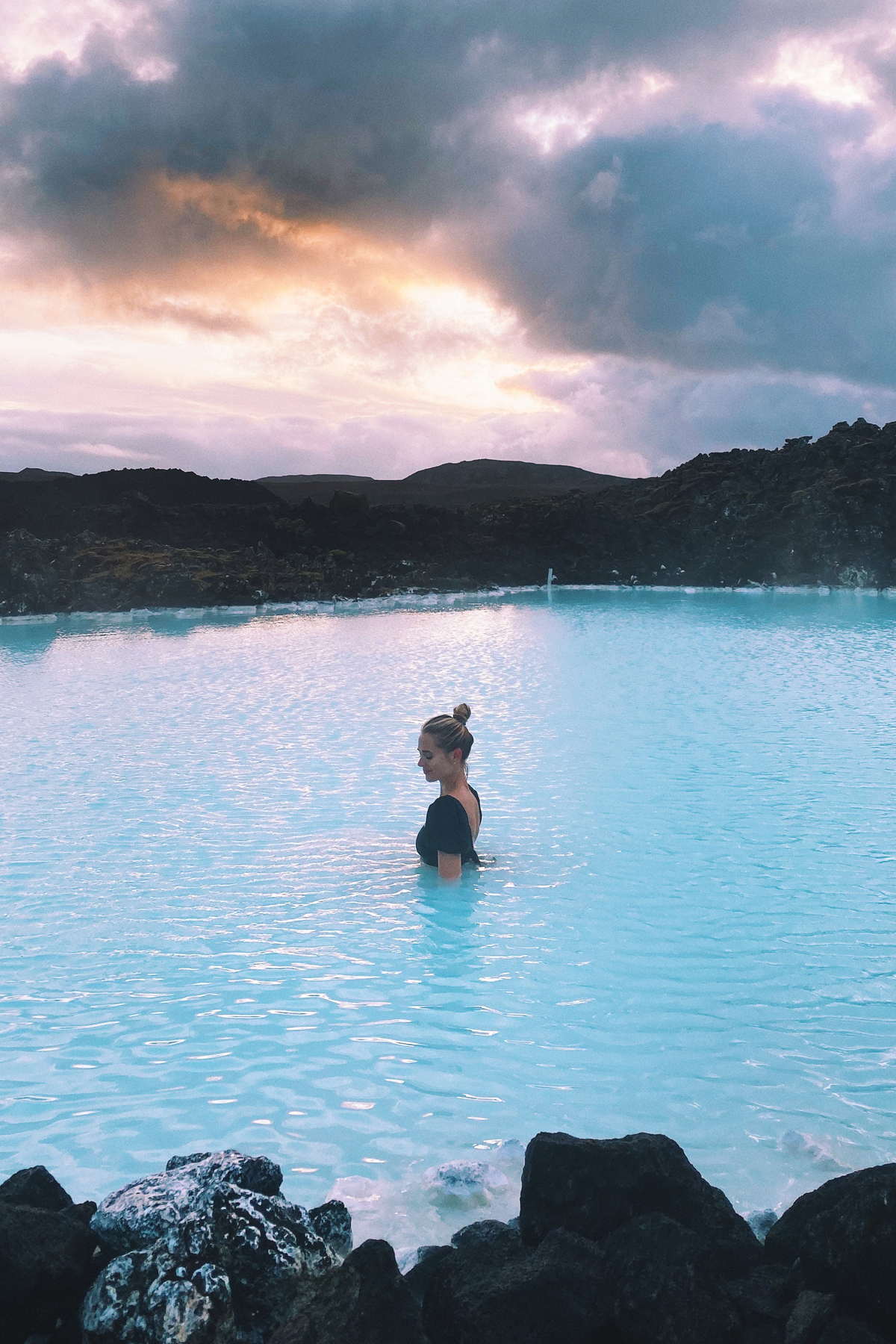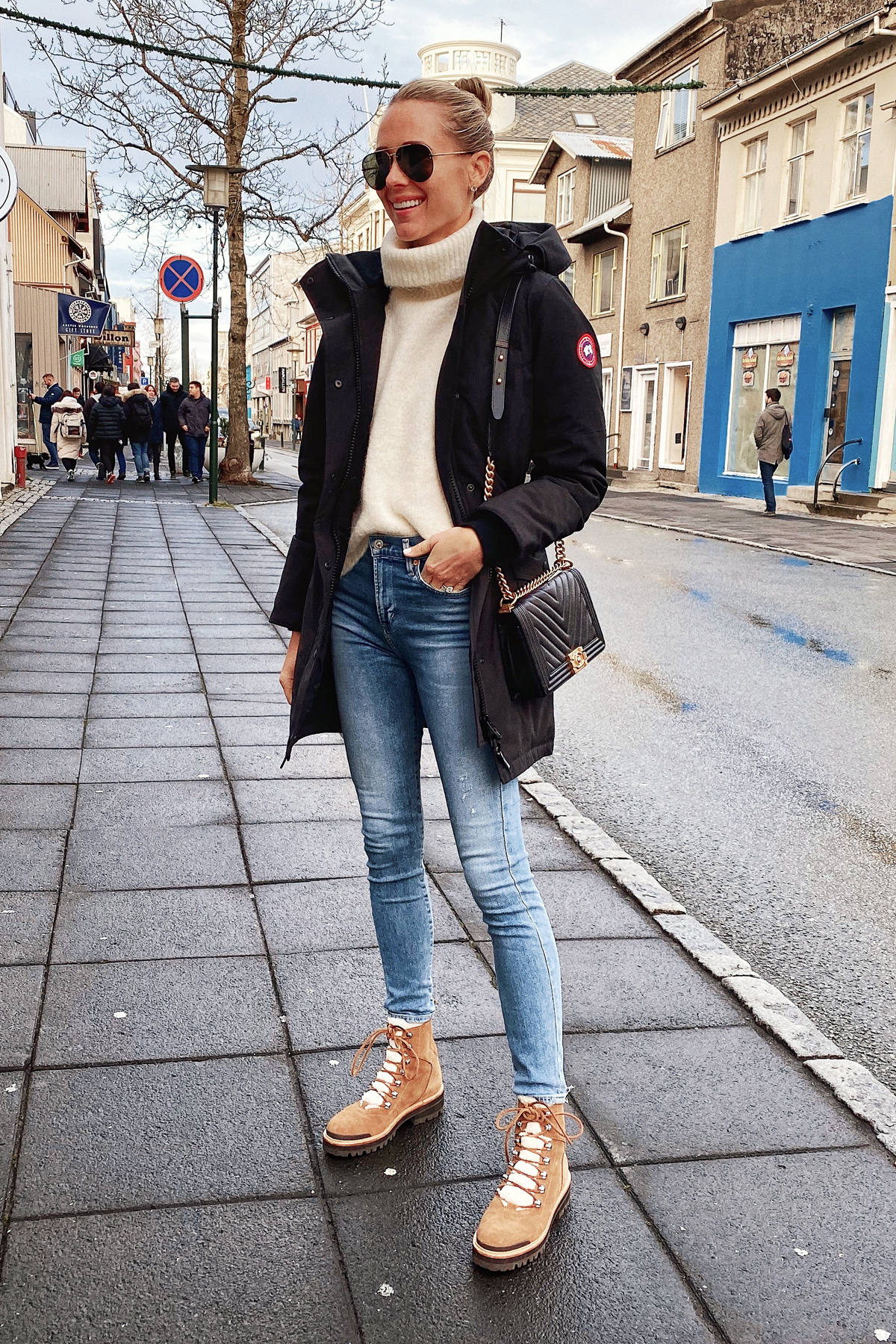 Iceland Hotels
This was our hotel for 2 nights in Vik. There aren't a lot of options in this tiny town, but Hotel Kria was modern, cozy, and perfect for our stay!
This was our hotel for 1 night in Reykjavik. Its a four star luxury property in the heart of downtown Reykjavik. I loved the boutique design style, and the super friendly staff!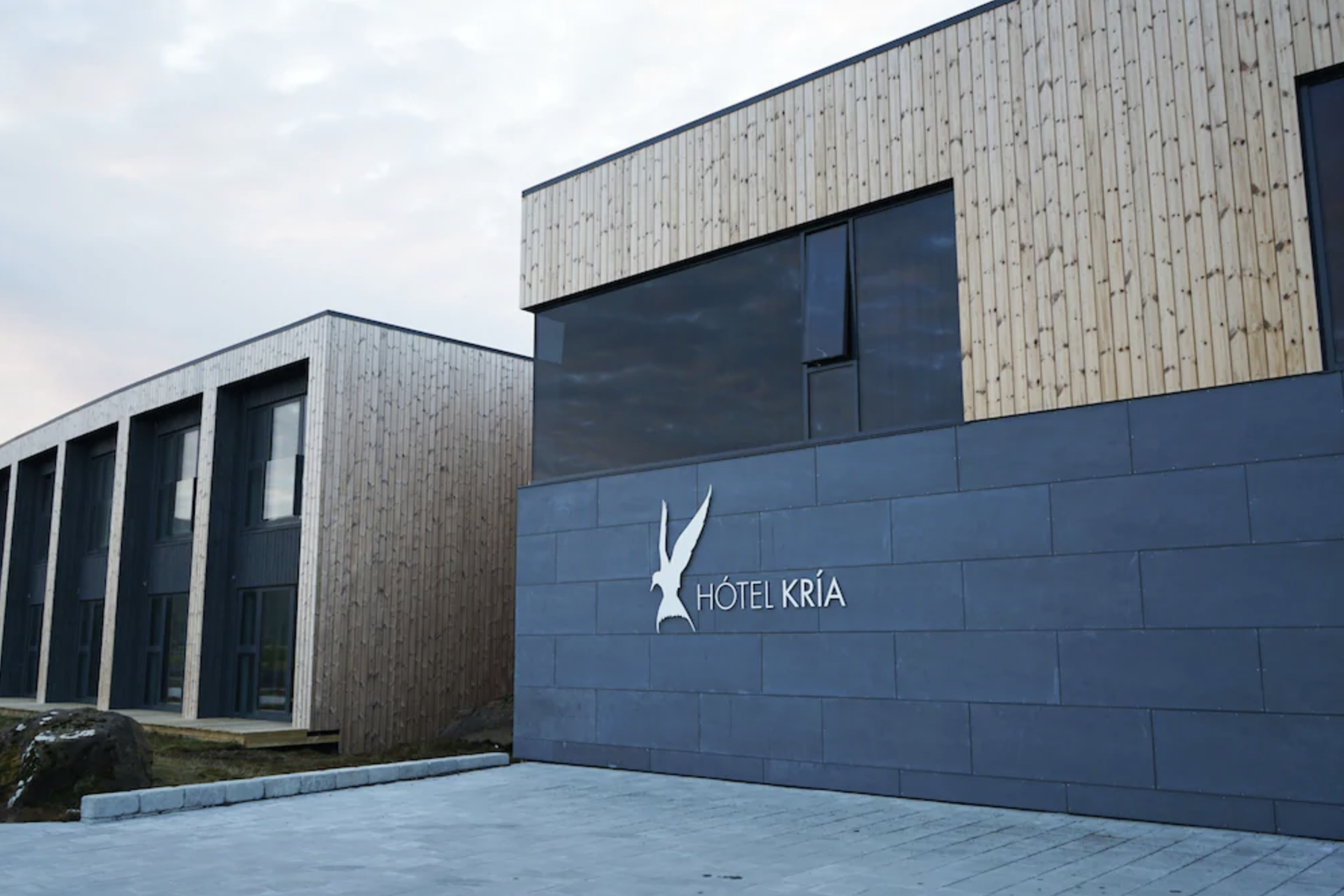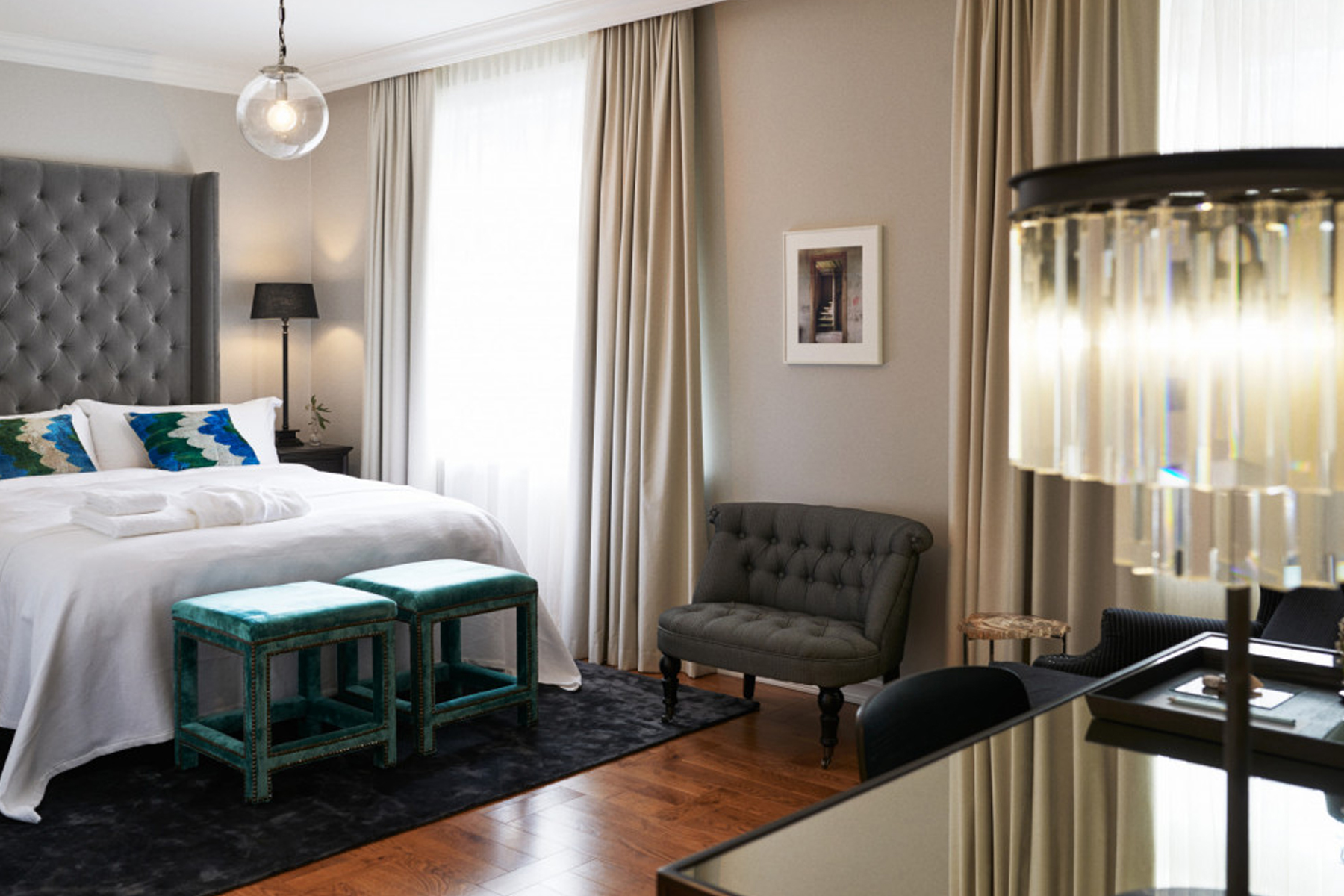 Iceland Restaurants
This was a local burger/brewery in town and was recommended by a lot of you guys! Will and I both had burgers and fries and they were SO GOOD! Since there aren't a lot of options in Vik, and you're looking for something more American, I would definitely recommend this place. I could have eaten all the french fries they were seasoned so well!
This was at our hotel, Kria. Make sure to get a reservation as it's pretty popular.I loved the modern Icelandic cuisine. While their menu is seasonal, I had the Icelandic barley with sweet potatoes and mushrooms, it was delicious! Also, make sure to get dessert, I had the chocolate mousse. Such a great meal!
Fossbúð - Skógafoss Waterfall
We had a quick lunch here after visiting the waterfall. They have free-wifi which was great since our hotspot stopped working. I had the fish and chips and Will had vegetable soup. Its cafe style, so perfect for a quick lunch before getting back on the road.
Another reader recommendation. This was a cozy and quaint eatery perfect for breakfast and coffee. I had pancakes, orange juice, and coffee (delicious). Will had the Lox & Avocado toast with orange juice and coffee too. He said it was the best avocado toast he's ever had!
A family bakery built on decades of tradition. The fourth-generation of artisan bakers from Sandholt offer its customers interesting innovations from one of the oldest operating bakeries in the country. THE BEST croissant I've ever had.
A relaxed coffee shop with pastries, coffee, and teas. I had a dirty chai and will had an oatmilk latte. They were both so flavorful and a great afternoon pick-me-up!
This was the #1 recommend restaurant or Reykjavik and I can see why! A fusion of tradition and modern Icelandic cuisine using locally sourced ingredients. This was our favorite meal of the trip! For apps we had deep fried veggies and mushroom skewers. For mains, I had grilled mountain char and Will had the grilled lamb chops. For sides we had garlic potatoes and grilled corn on the cob, and dessert was the sampler platter (the chocolate lava cake was the winner). We had far too much food, but wanted to try a little bit of everything. It was incredible. I loved the ambience, service, and you MUST eat here when visiting. It was less than a 10min walk from our hotel which was nice after eating all the food.
ROK - Reykjavík
Restaurant is an Icelandic  fine casual restaurant focusing on serving high quality food in a friendly relaxed environment. We went during lunch and since it was tapas style we got a few dishes and shared. We had mushroom risotto, grilled char, garden salad, and chicken skewers, everything was delicious. I loved the atmosphere and location of this restaurant.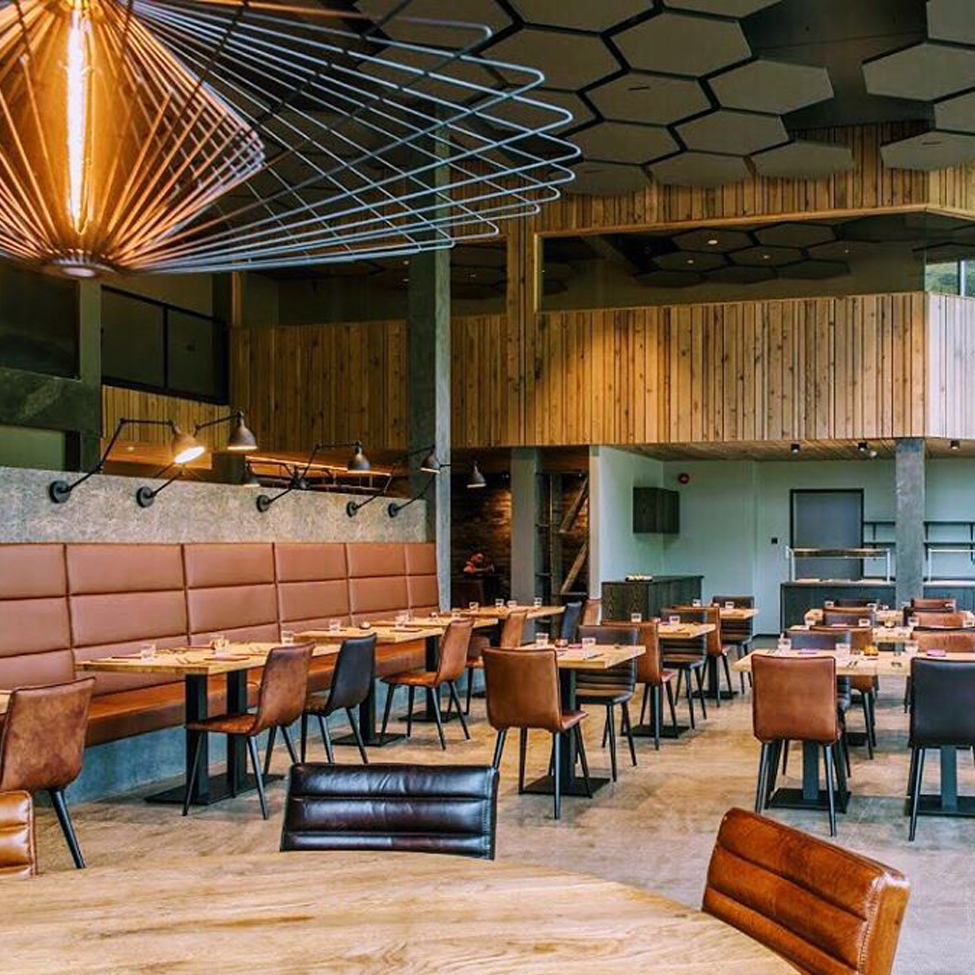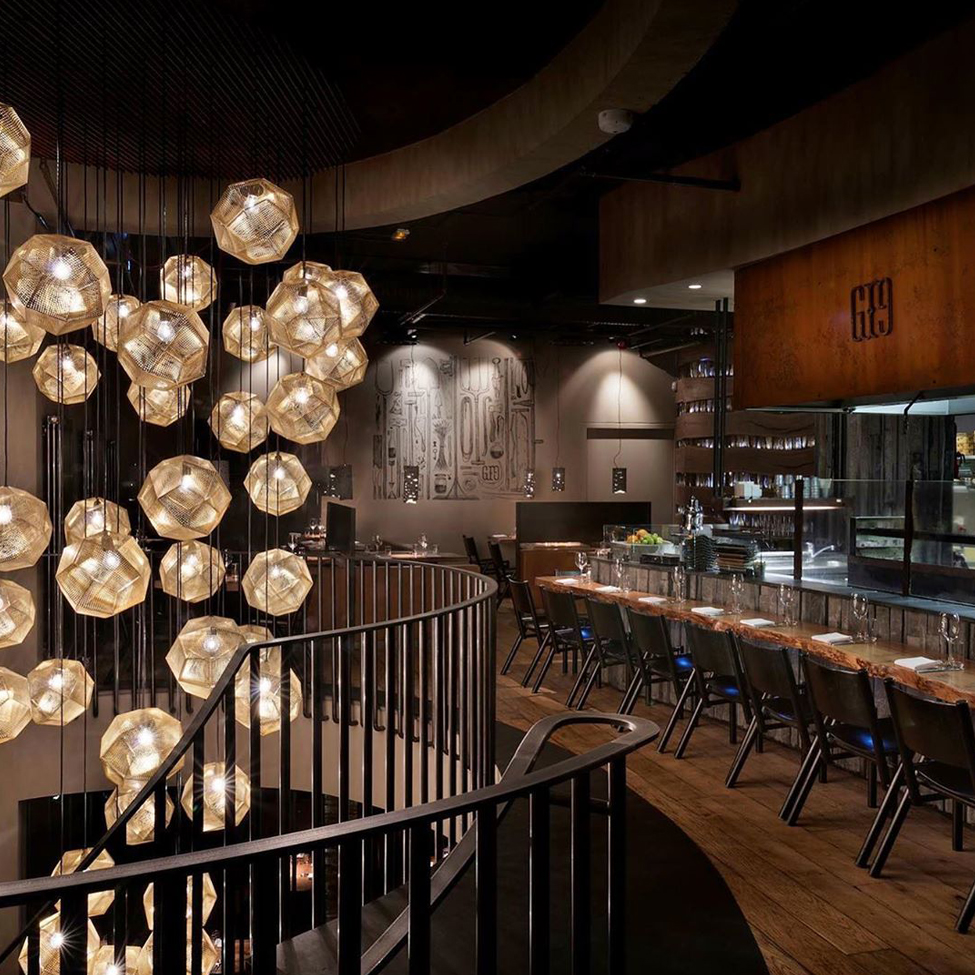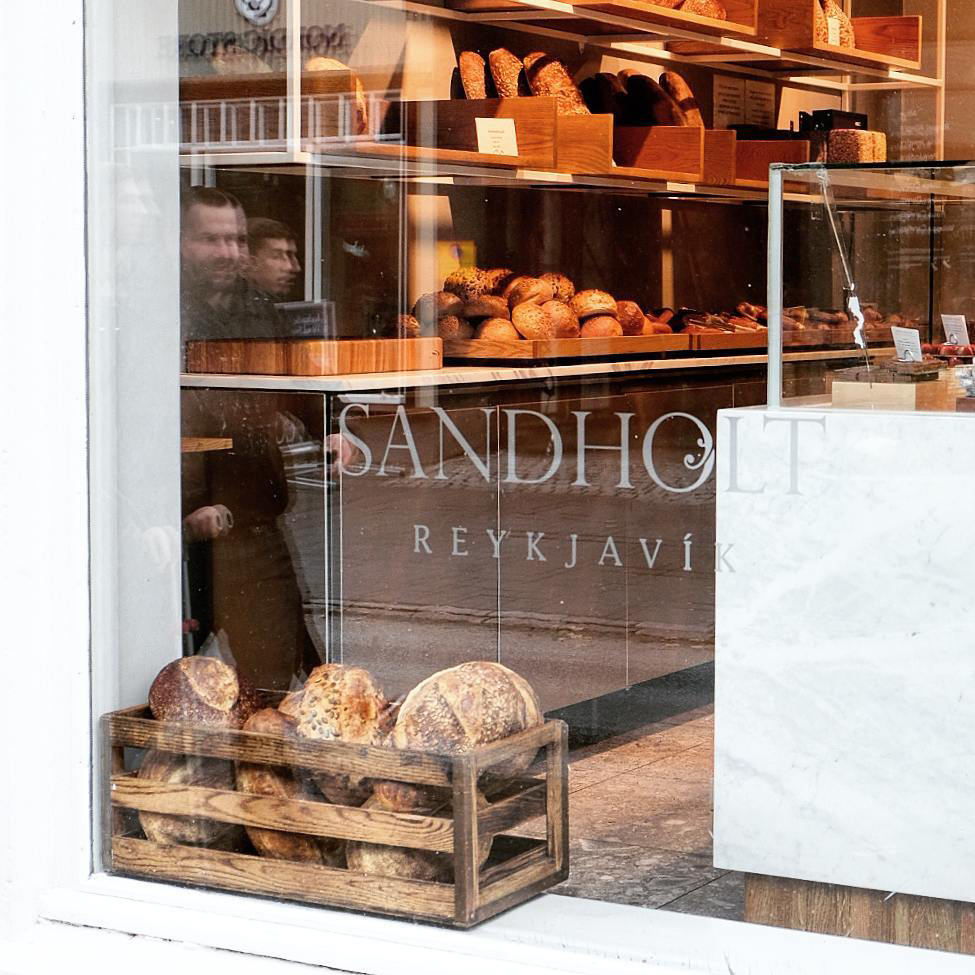 Iceland Trip Highlights
There are so many waterfalls on this country and I'm sure they are all stunning. But there was just something about this waterfall that I loved. The incredible views from the bottom as well as the top! The hike is only about 5-10 min up so its definitely worth it! There is a hidden waterfall nearby that I didn't know about until afterwards, so if you visit make sure to look it up and see if you can find it!
As the Eiffle Tower is to Paris, so the Blue Lagoon is to Iceland. This was one of mine and Will's favorite parts of the trip. Allow yourself plenty of time to soak, relax, and enjoy the natural wonder of the spa.
As mentioned before, this was something I knew Will would love, plus it's not everyday you get to go on a glacier hike. We had so much fun and saw the prettiest sights. The area just had a light snow dusting so the conditions were perfect, any earlier in the year, there might not be enough snow, so just double check before booking!
*Northern Lights
While we tried every night to see the iconic lights, it was too cloudy in close proximity to where we were at the time. We were able to see them from the plane the morning we were flying in, but that was it. You can use the Aurora forecast to track the lights and find the best viewing locations. FYI the map of Iceland shows forecast of cloud cover. Green areas are cloudy and white areas clear skies. Move the slider below the cloud cover map, or click directly on a day or time.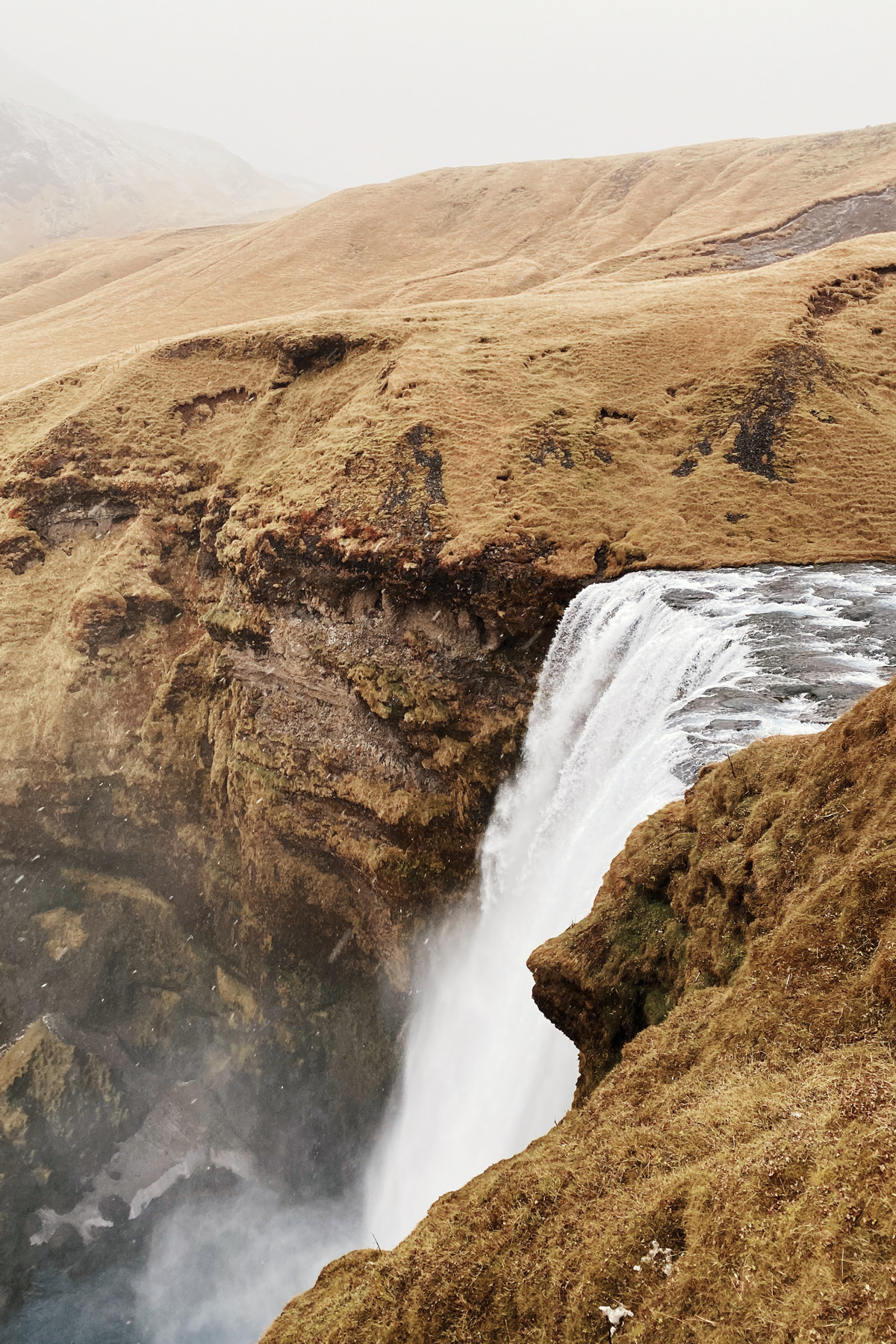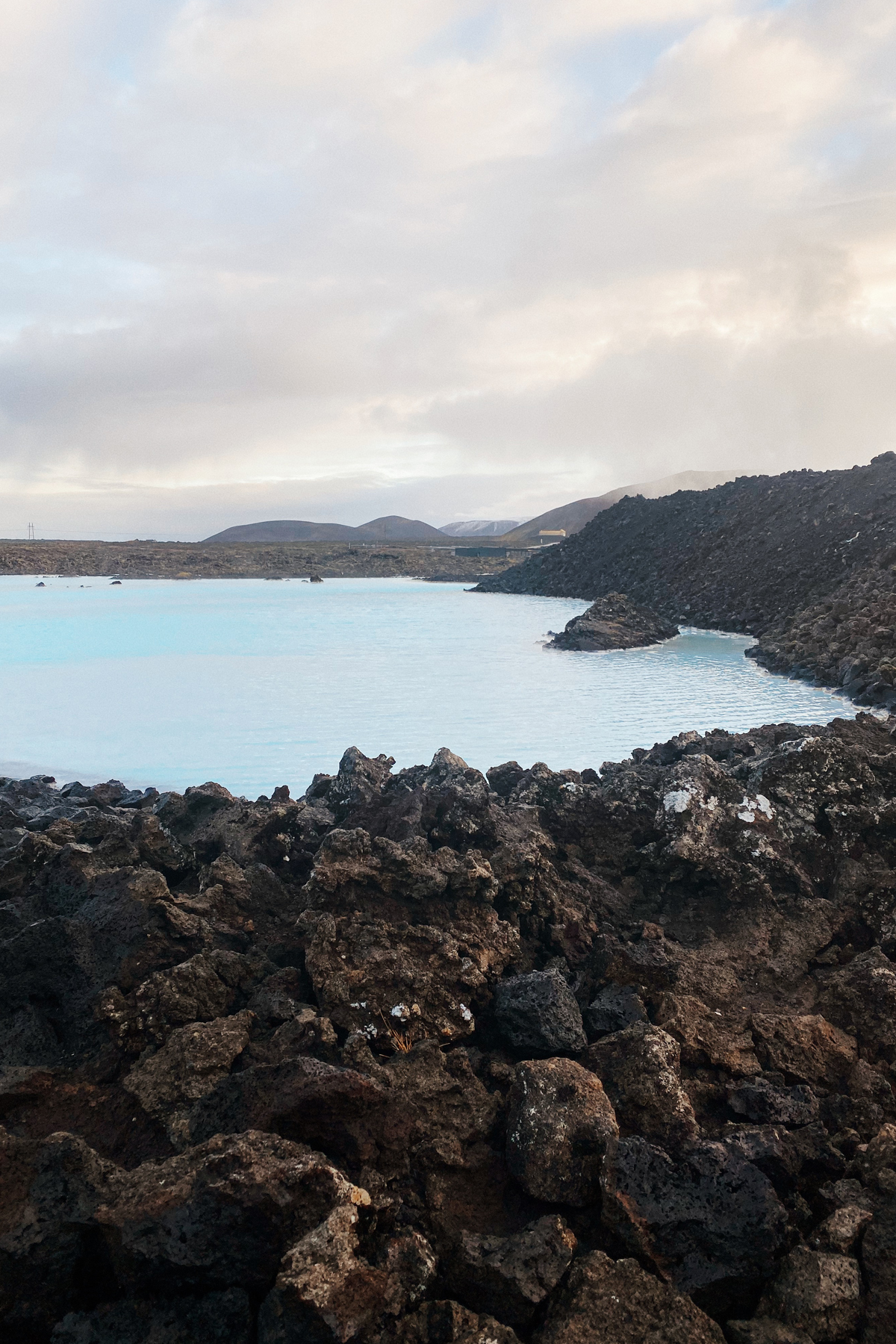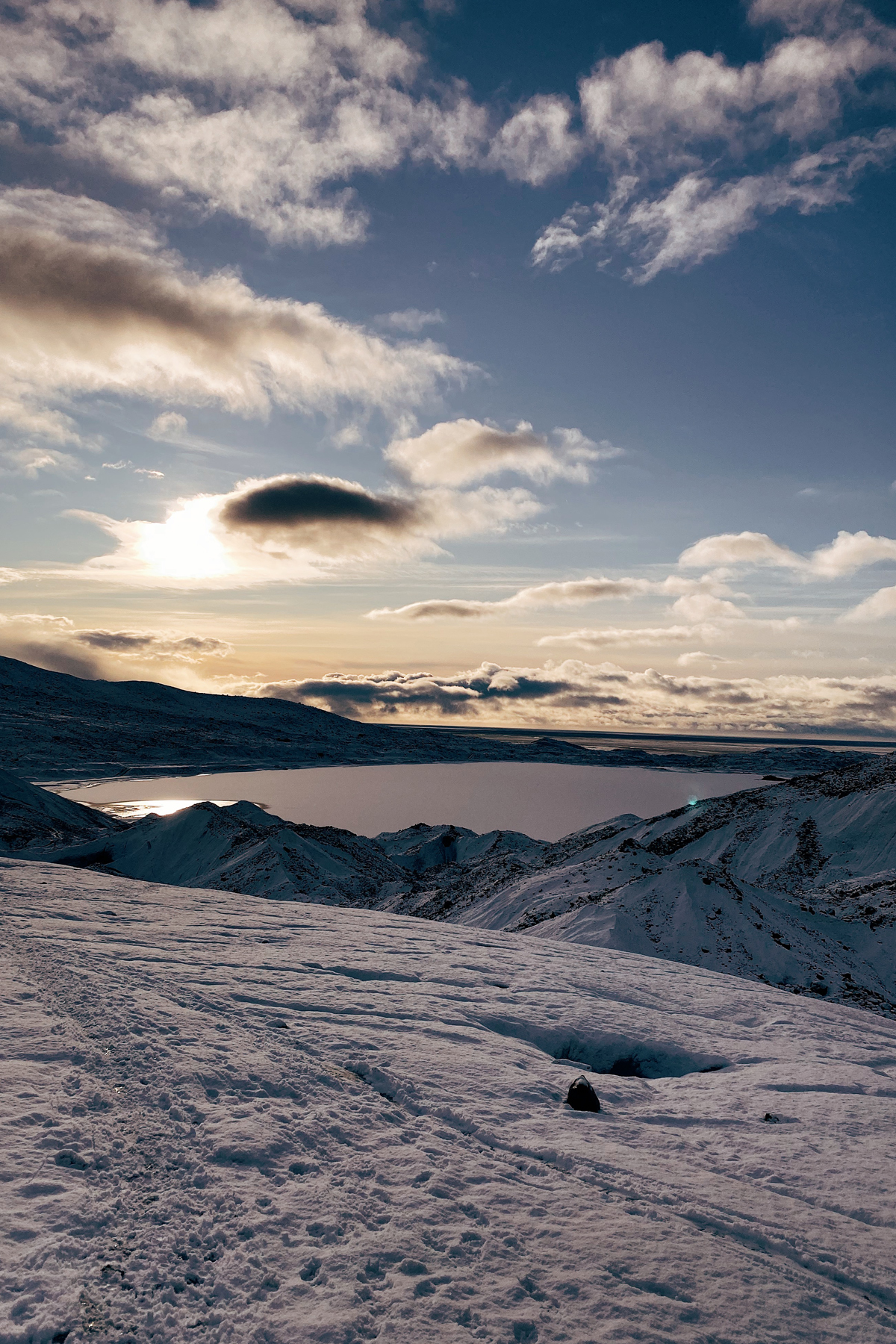 Noken Travel App Review
Even though this trip was in partnership with Noken, I could not recommend the travel app enough. I will 1000% be using the Noken travel app anytime I visit to one of their destinations. I love how seamless the whole process was and how little work I had to do on the front end. As someone who travels often for work/pleasure, I still find that I spend a lot of time researching hotels, where to eat, activities to do that time of year, what to expect, etc. With the Noken travel app, all that is done for you, and so much more! Going into the trip I didn't plan anything except ask you guys for a few dinner recommendations and not once did I feel unprepared during our trip.
App Features
The app breaks down everything by day as well as what you need to know before you go. This includes a packing guide, driving tips, as well as a customer service contact just in case you run into any issues. Another great feature is the app automatically saves an offline version, that way if you are without service, you can still access everything, including a live map. This was a life-saver for us when our hotspot stopped working!
Daily Itinerary Ideas
Each day the app gives you a flexible itinerary based on where you are and what you can do nearby. Within each option, there are numerous suggestions including directions, images, and what you need to know before you go. It takes all the planning/prep work out, so you can literally decide that day (or night before), what you want to do! I personally love this because I'm more of a "fly by the seat of my pants" traveler and like to just go with the flow. I think if everything is too planned out, it tends to feel less of a vacation because I'm having to adhere to a strict schedule.
Restaurant Recommendations
Not only does the app help to recommend daily activities, but it suggests a wide range of restaurants for all meals throughout the day. One thing I loved about the app is how prepared it is for your needs; meaning one of the days were going to be driving a lot, and most places outside Reykjavik close at 9pm so the app made sure to let us know to eat before we got back to our hotel, otherwise we would have been out of luck for dinner that night.
Advanced Bookings
This was probably one of the best features (besides the driving directions/map). Everything we knew we wanted to do/needed bookings for was already taken care of and the booking confirmations/tickets were saved in the app. We never had to research when to go, wait in lines to buy tickets, etc. Everything was booked and paid for ahead of time which was such a relief!
Overall Experience
I love everything about this app and as I mentioned, I cannot recommend it enough. I love that being able to explore at our own pace, choose what we want to see, and be spontaneous! We had the comfort of a plan, with the freedom to create our own adventure.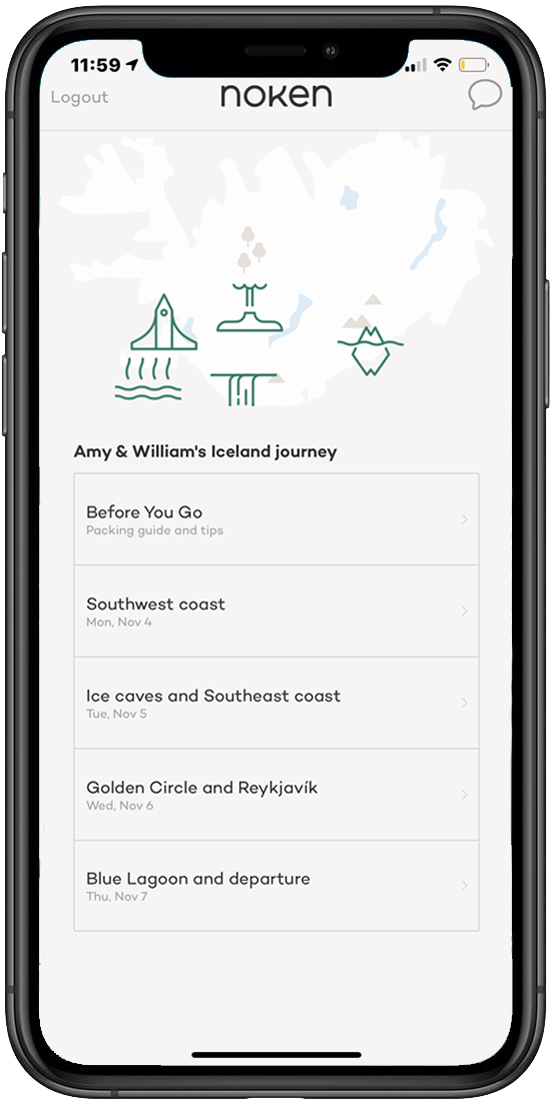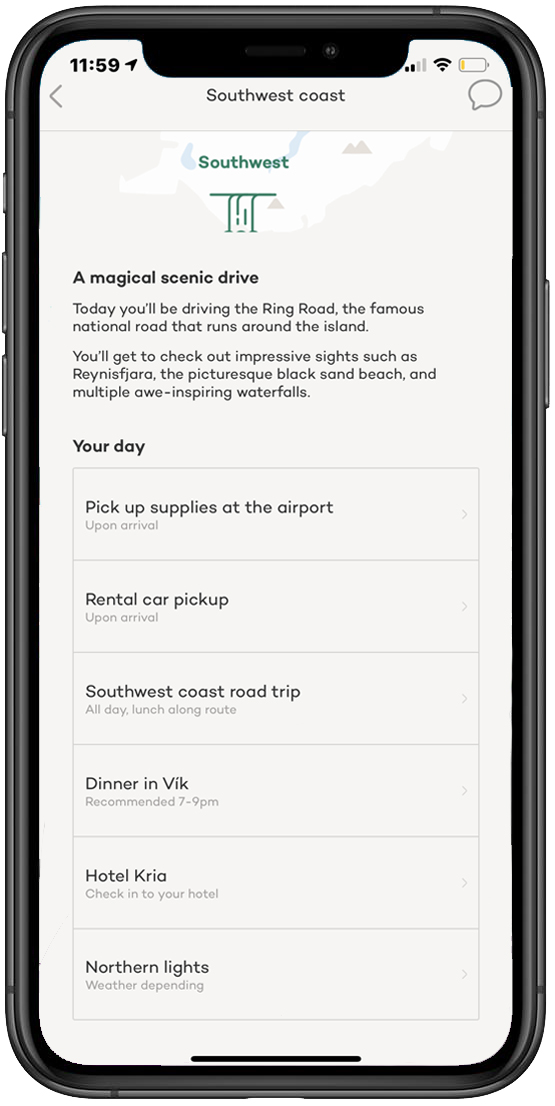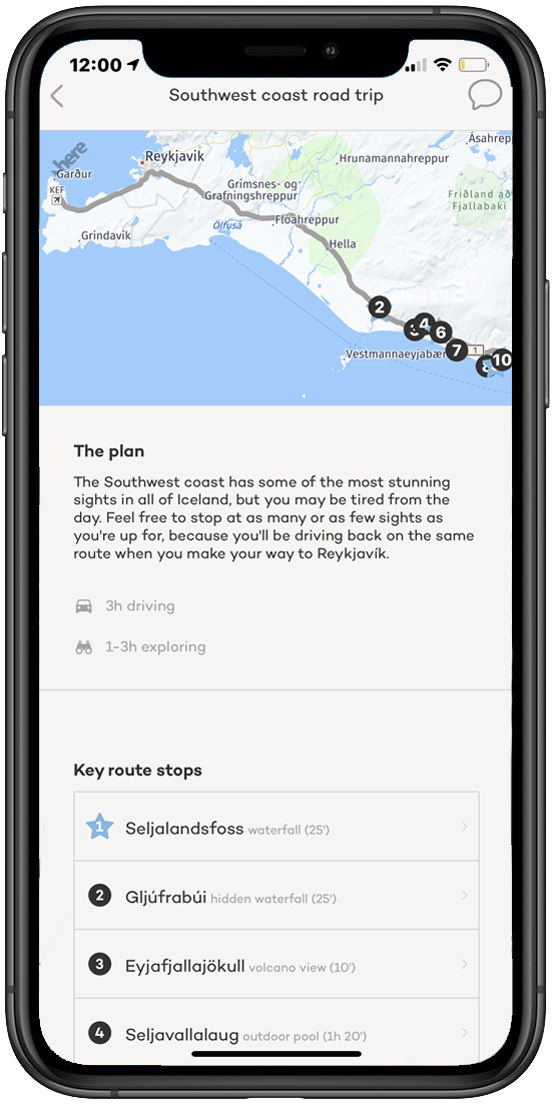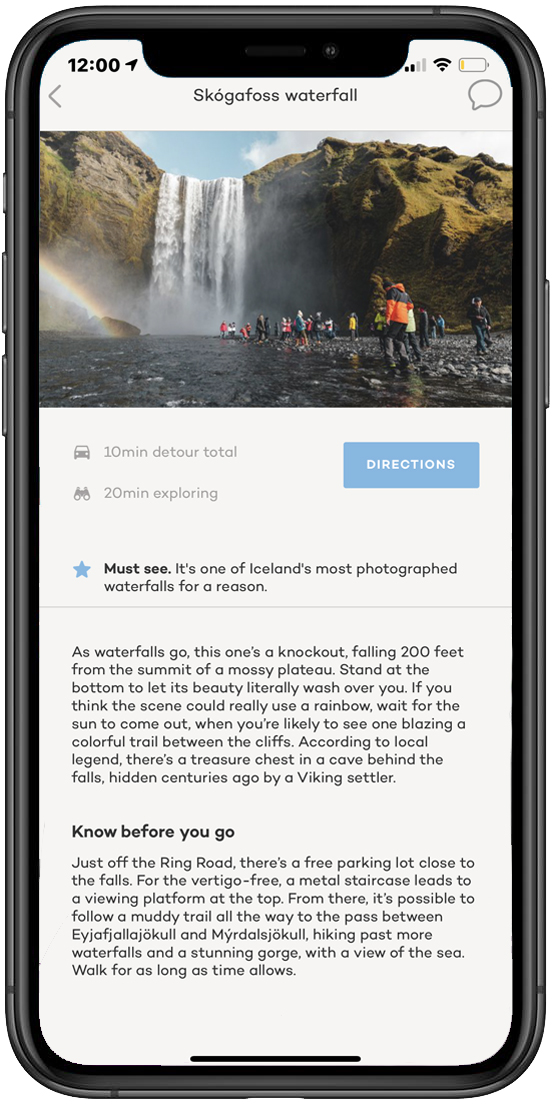 P.S. Outfit ideas for a ski trip & a winter travel outfit.
A special thank you to Noken for sponsoring this post. All thoughts and opinions are my own.