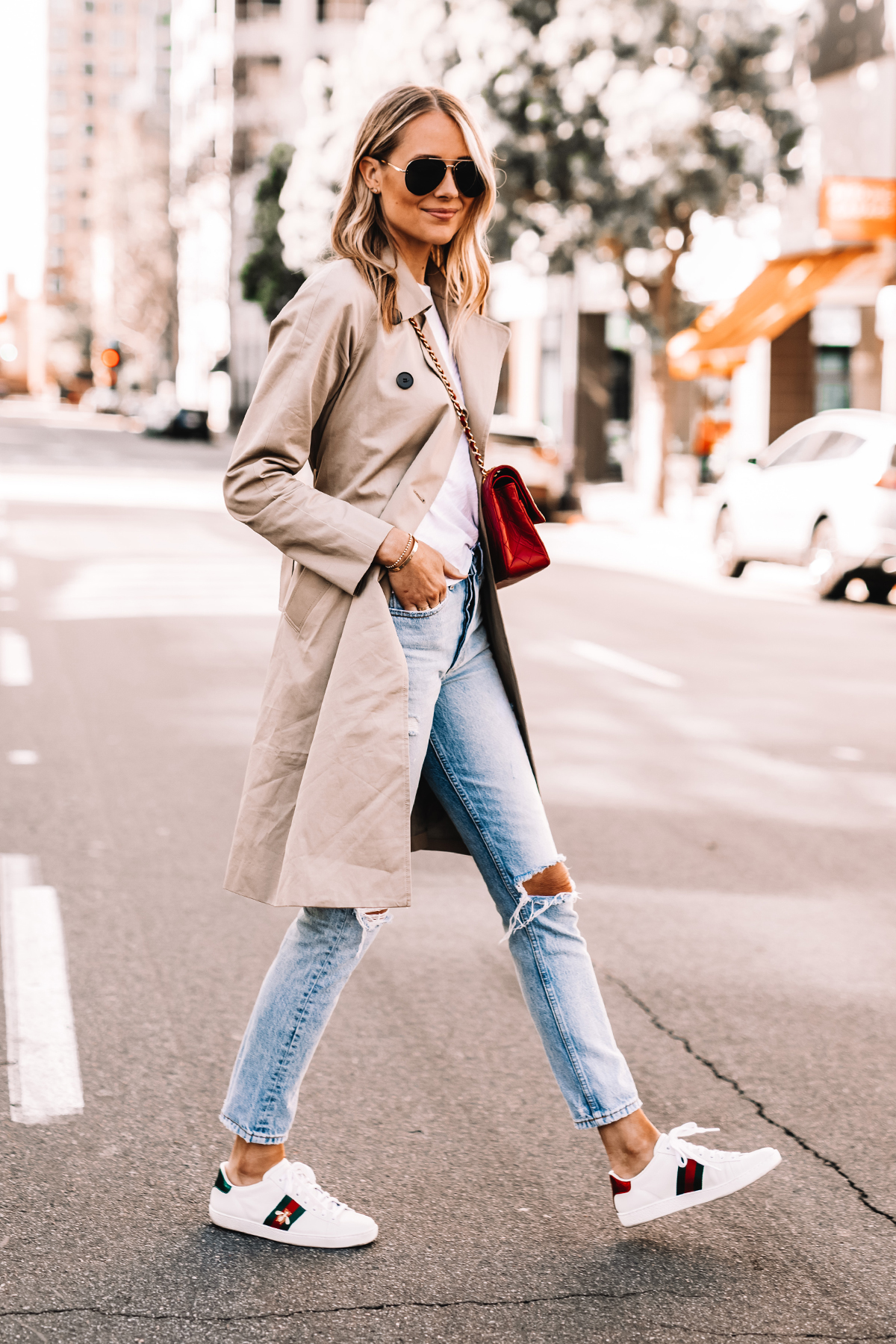 Within the last couple years, I have quickly become a sneaker kind-of-gal. I've always had a few pairs of sneakers that I would wear on the weekends, but it wasn't until recently that I really began loving sneakers and wanting to wear them with not only jeans & t-shirts, but dresses & skirts. It was around the time I bought my first pair of Golden Goose sneakers that I began to realize just how great sneakers were, and that they would soon become a part of my every day wardrobe. Within the last year I've purchased a handful of sneakers that I rotate between and truly wear almost every single day. I've shared my love and reviews of Veja and Golden Goose, and now today I'm sharing my love for Gucci.
Outfit Details
Why I Picked the Gucci Ace Sneakers
First of all, you might wonder why I needed another pair of sneakers to begin with. Well, as I mentioned, I've become a little sneaker obsessed. I knew I would get my monies worth since I practically live in sneakers everyday, so I decided to go with something a little different from what I had. I had actually been eyeing the Gucci Ace Embroidered sneakers for a while. As I do with almost any large purchase, I really take my time to think about it and make sure it's something I know I'll use. I was looking to add a new pair to my sneaker collection but wanted something different than my Golden Goose. I loved the simplicity and styling of my Vejas, and the Gucci reminded me of them, just a little more colorful. I thought they would be so fun with neutral outfits and not only add a little color, but slightly dress up the look.
Where to Buy Gucci Sneakers
There are a few online retailers (besides the Gucci site), which carry the sneakers. Nordstrom, Neiman Marcus, MyTheresa, and SSENSE (which has unbelievably fast shipping) are just a few of the many stores that carry the Gucci Ace Embroidered sneakers.
My Review of the Gucci Ace Embroidered Sneakers
I really don't think I need to go into too much detail here. As I mentioned, I'm obsessed with these sneakers. The Gucci Ace Embroidered sneakers are so comfortable right out of the box, I can't let that go un-noticed. I love the pop of color and the incredibly classic styling. They go so well with all types of outfits, and can really complete a simple look. Because they don't need breaking in, and they are quite comfortable, I would have to rate these sneakers very high on my list. Do I think they're worth it? If you genuinely love to wear sneakers, and you're looking for something a little different and can be dressed up or down, I definitely think the Gucci Ace Embroidered sneakers are for you!
Pros & Cons
Pros: comfortable right out of the box, goes well with everything
Cons: The most expensive of all my designer sneakers. Can get dirty easily since they are white
FAQs About the Gucci Ace Embroidered Sneakers
How does sizing run?
The sales associate said most go down 1/2 a size, and some go down a full size. I went down 1/2 a size and they fit perfect! (bought size 38, same as my Golden Goose)
How do you keep them clean/clean them?
As of now I haven't had to do anything. They really haven't gotten dirty, other than showing daily wear. However, like most sneakers, if they do get any marks on them, I will just wipe down with a damp cloth. I wouldn't recommend putting in the washing machine as you could ruin the shape and the colors could bleed
Did you have to break them in?
Not at all! I wore them the day I got them for 4+ hours and had no issues!
Are they comfortable?
Yes! They are actually very comfortable. Lightweight, easy to walk in, don't need breaking in
Would you pick the Golden Goose or Gucci?
This is such a hard question, they are two totally different shoes and make the same outfit do something completely different. It's too hard to pick one over the other as our styles my differ. But you can read this post which might help you decide
How does sizing compare to Golden Goose?
I normally wear an 8.5 (I'm on the smaller size). For Golden Goose I have all size 38, which is the same size I took for the Gucci. Sneakers tend to run a little bigger than heels/sandals, which is why I size down.
How does sizing compare to Gucci Princetown Mules?
As I mentioned I'm a 8.5 (38.5). I got the 39 in the mules and 38 in the sneakers