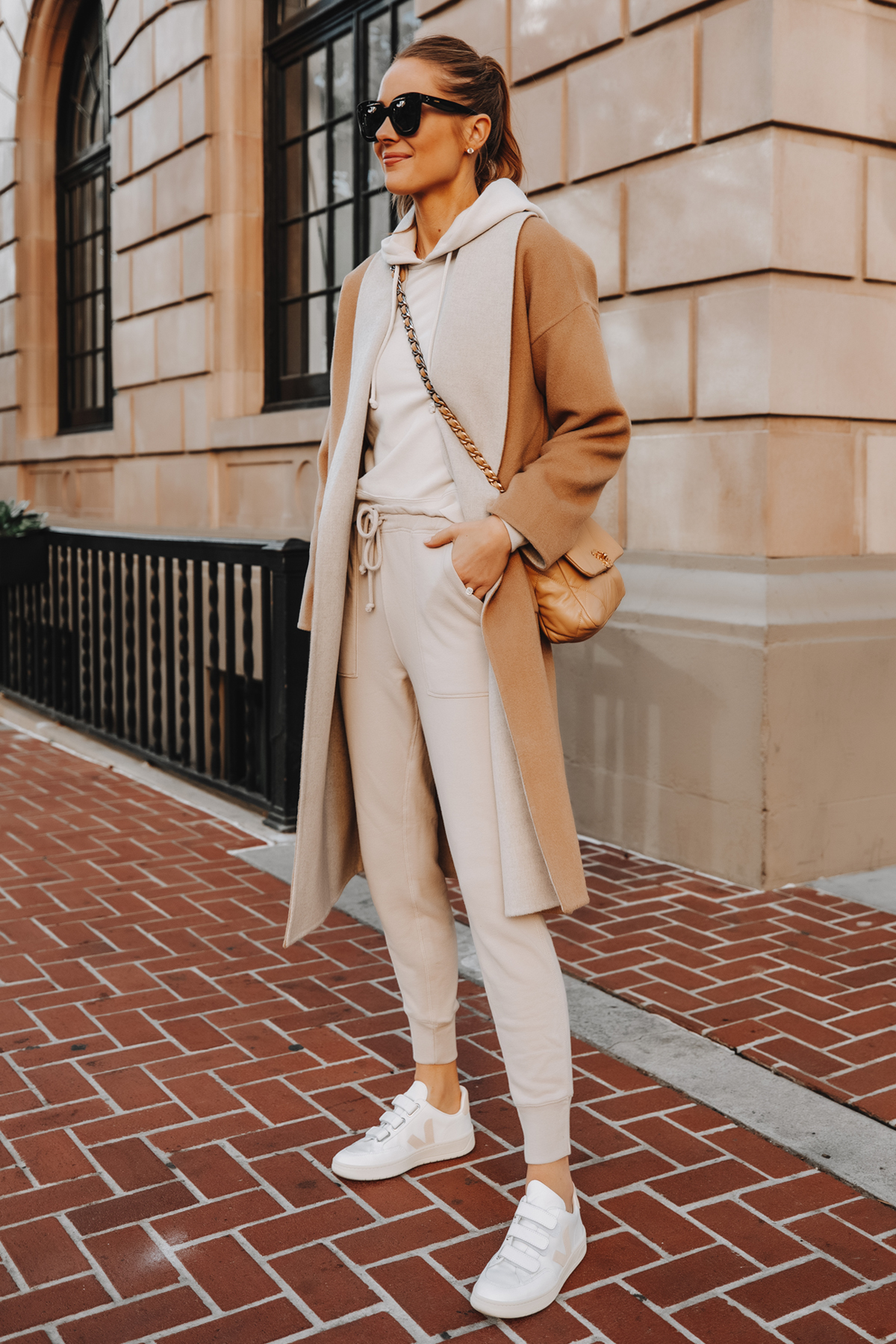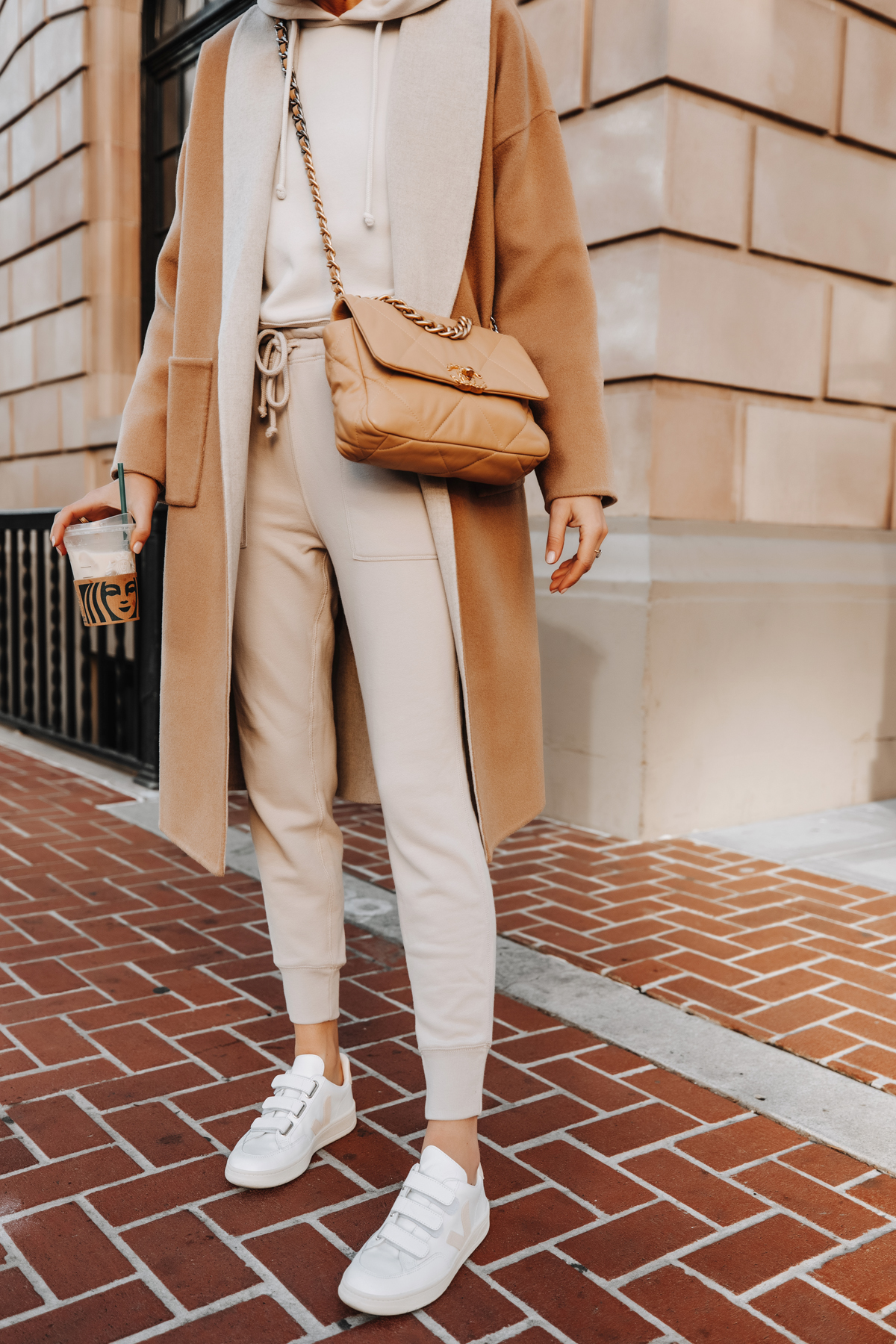 Lately, I haven't taken off my new Veja V-LOCK sneakers. I've been a big fan of Veja sneakers for a while now and had my eyes on the velcro style but never found a color combo I liked, until now. Velcro sneakers are so underrated in my opinion, and I'm so glad Veja agrees and is offering these white sneakers. I've gotten a lot of questions about the Veja V-LOCK sneakers since I started showing them with outfits, so today I'm going to give you a full review that covers Veja sneaker quality, Veja sneaker sizing, and where to buy Veja sneakers. And trust me, I'll continue wearing these all season, so keep following on Instagram for more Veja sneaker outfits.
Outfit Details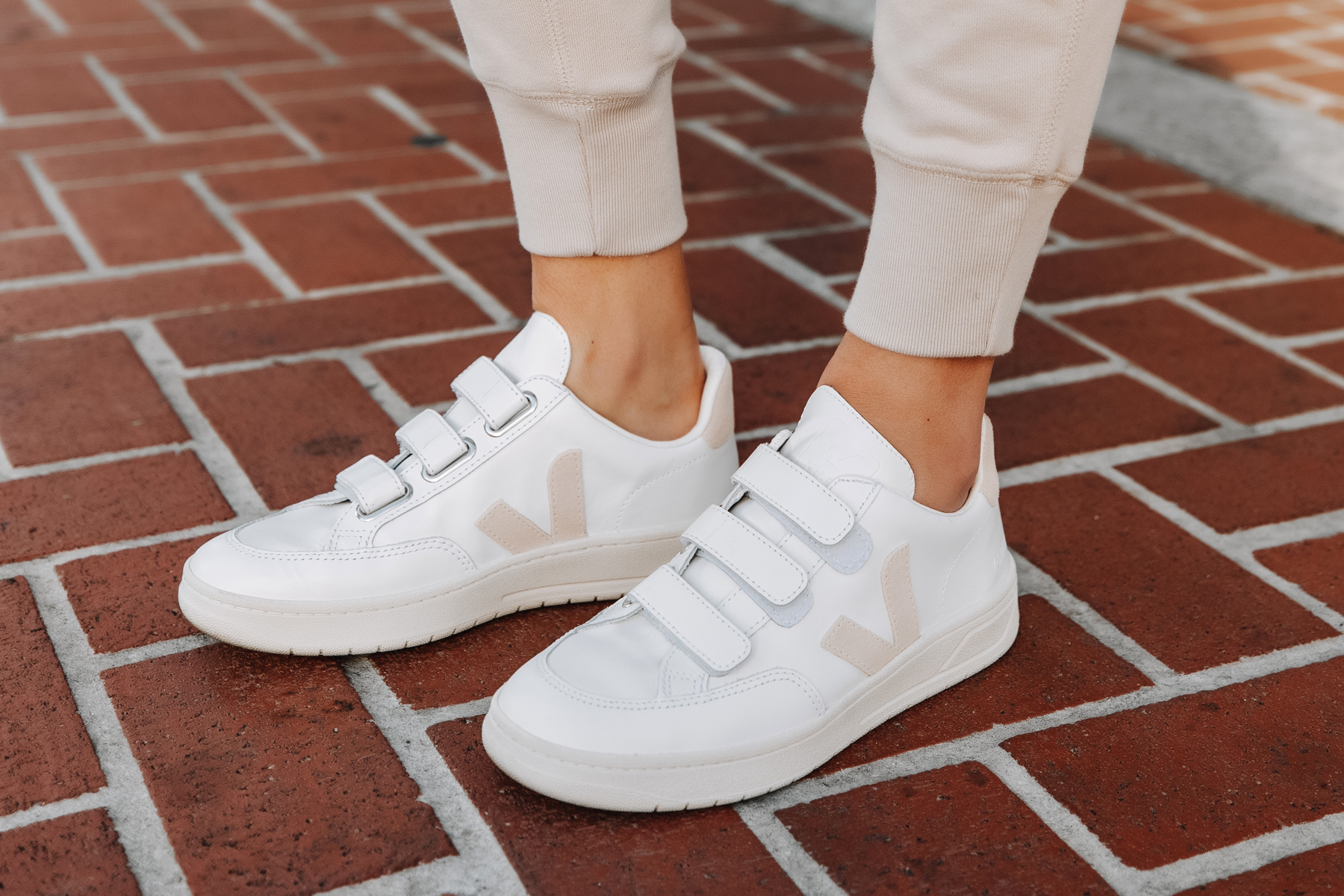 Are Veja Sneakers Comfortable?
This is the most common question I get asked. Short answer yes, Veja sneakers are comfortable. But there are a few things you need to keep in mind, and use my tricks to make them comfortable right out of the box. First thing to keep in mind is know these are not an athletic sneakers. They are a casual lifestyle sneaker. So they will not be as comfortable as Nike, adidas, or other true training sneakers. But thats OK! The Veja V-10 do need some help with comfort with the first wear. It has been known that the tongue is extra long and stiff making it quite uncomfortable with the first few wears. For me, I just slide the tongue over to the side and problem solved. After time, the tongue will relax and not be as stiff. I stopped noticing it after a few wears.
Now, are the Veja V-LOCK sneakers comfortable? 100% yes. This pair actually doesn't have the same tongue issue as the V-10 making them comfortable right out of the box! I wore them all day the first 2 days of having them and zero blisters! The velcro makes them so easy to slip on and off. They have truly become my go-to sneaker.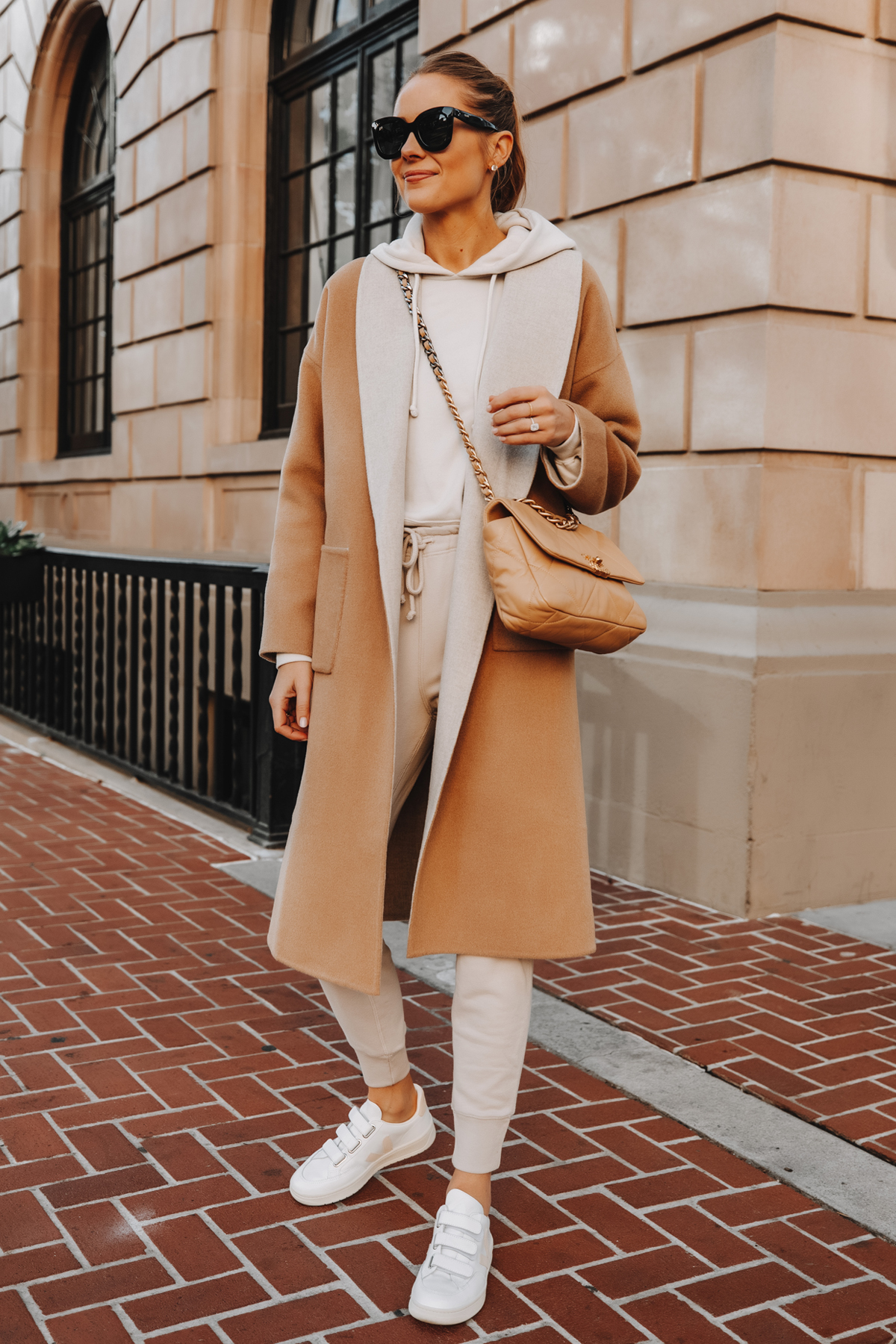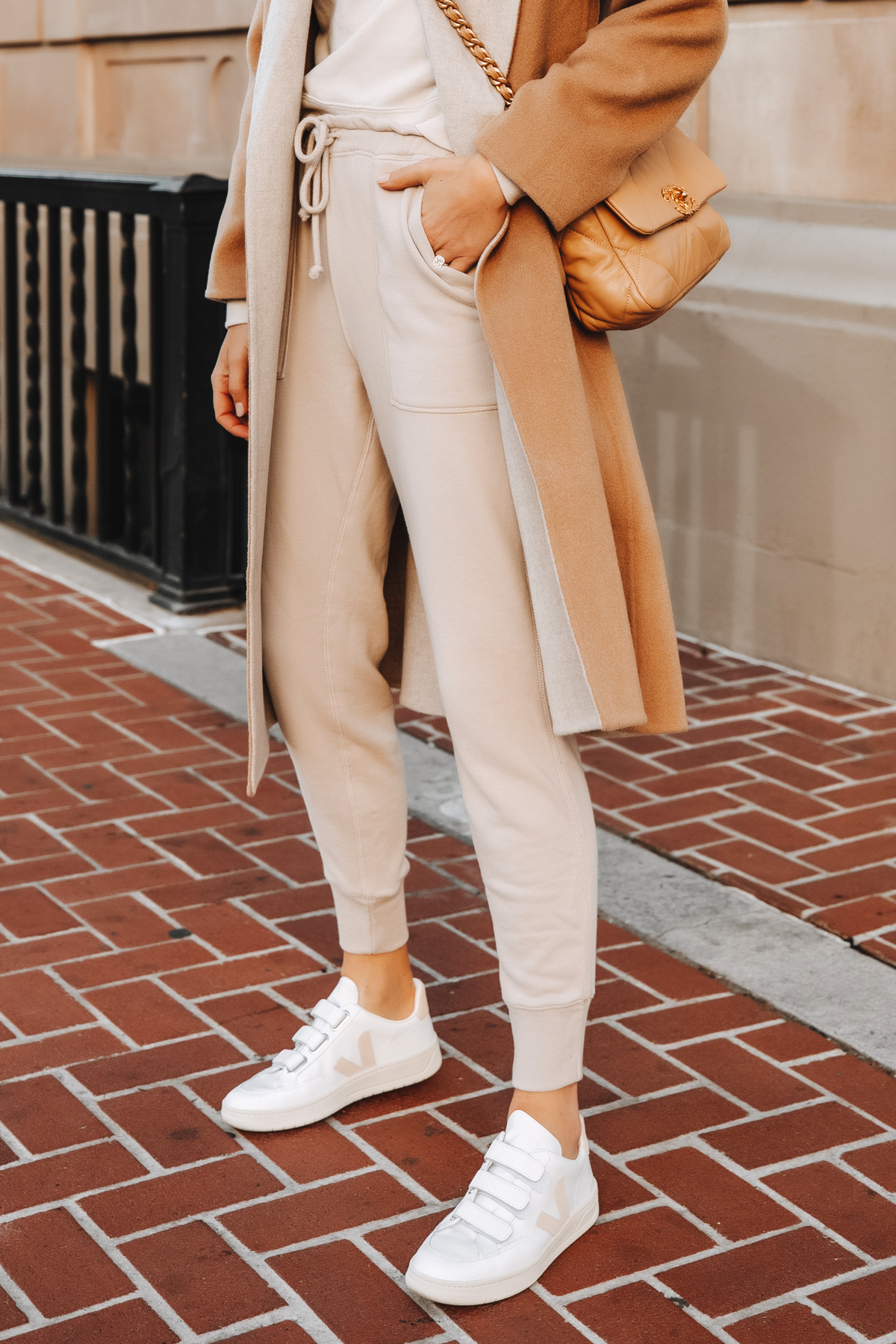 Veja Sneakers Sizing
The next most common question(s) I have regarding any of my Vejas sneakers are, "do Veja sneakers run true to size?" or "how to Veja sneakers fit?" The answer is always big! Here you will find my Veja V-10 Sneaker Review and Esplar comparison, which goes into more detail regarding Veja sneaker sizing. But in general you want to SIZE DOWN. I'm a small US 8.5. I wear a 38 in both the V-10 and Esplars, but this is equivalent to a US 7, which is why I mentioned needing to size down in the Veja V-LOCK sneakers. Veja are measured in EU sizing, which can be a little tricky when comparing to Golden Goose. In Golden Goose, which is Italian sizing I wear a 38 (IT38). So a safe rule of thumb is to just order Vejas in the same sizes as your Golden Goose sneakers if you have them! I also do not recommend size up if you are between sizes. Since I'm a half size, I went down and they are perfect.
Below is a picture of the inside tongue of my V-LOCK sneakers. FYI the size conversion on the Shopbop website is incorrect, which is also how it can become confusig. Nordstrom has the correct conversion. Use below images as a Veja sneaker size guide.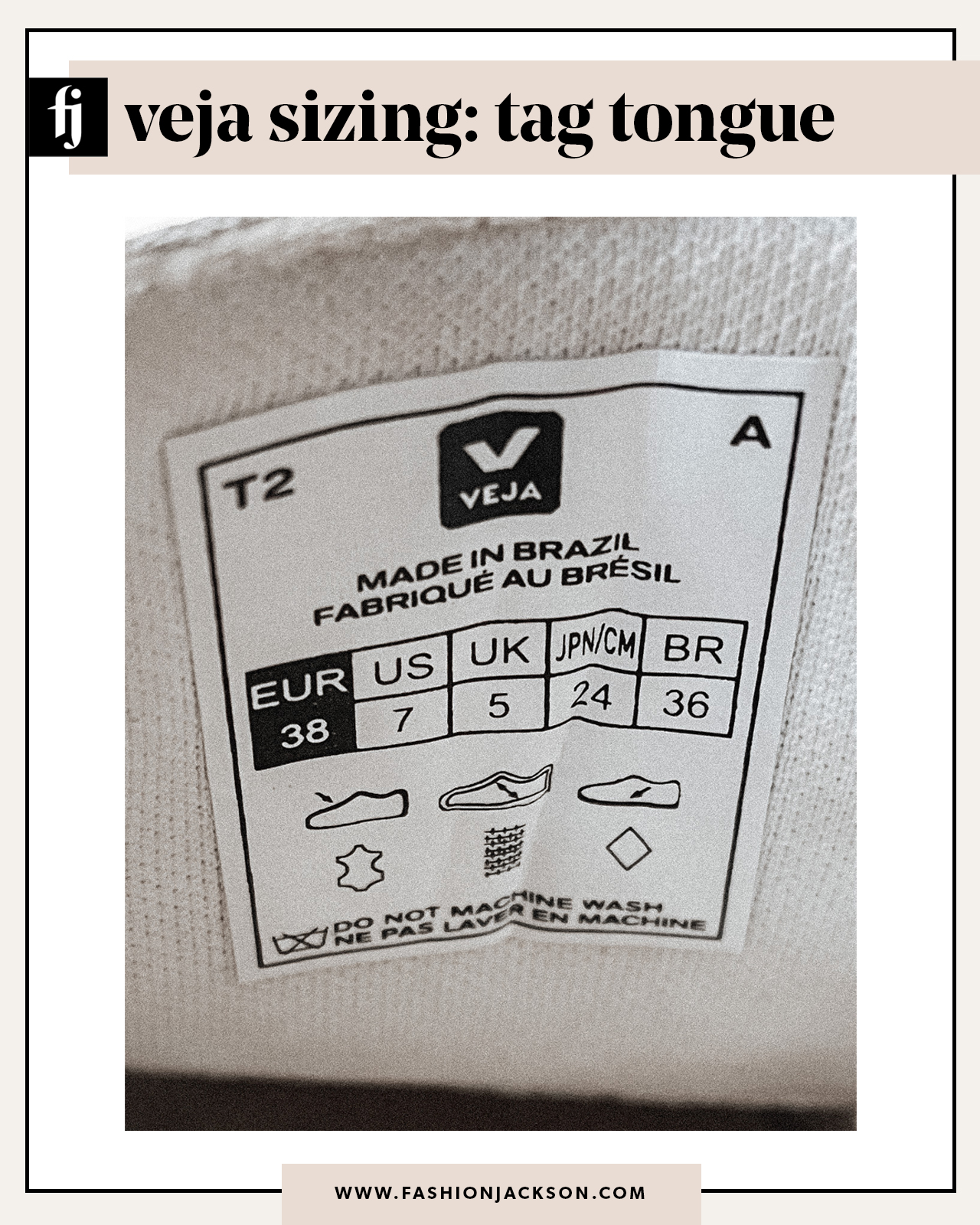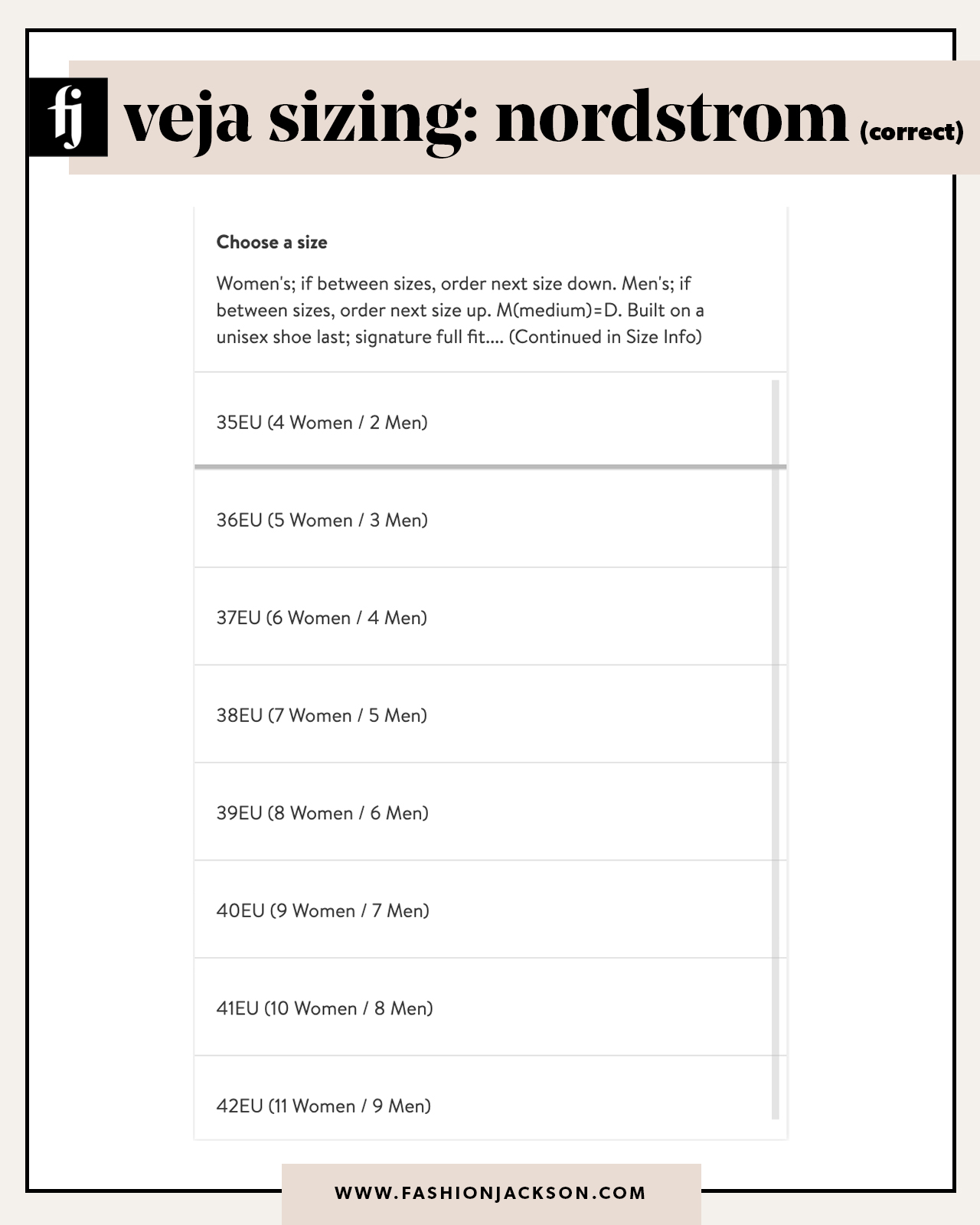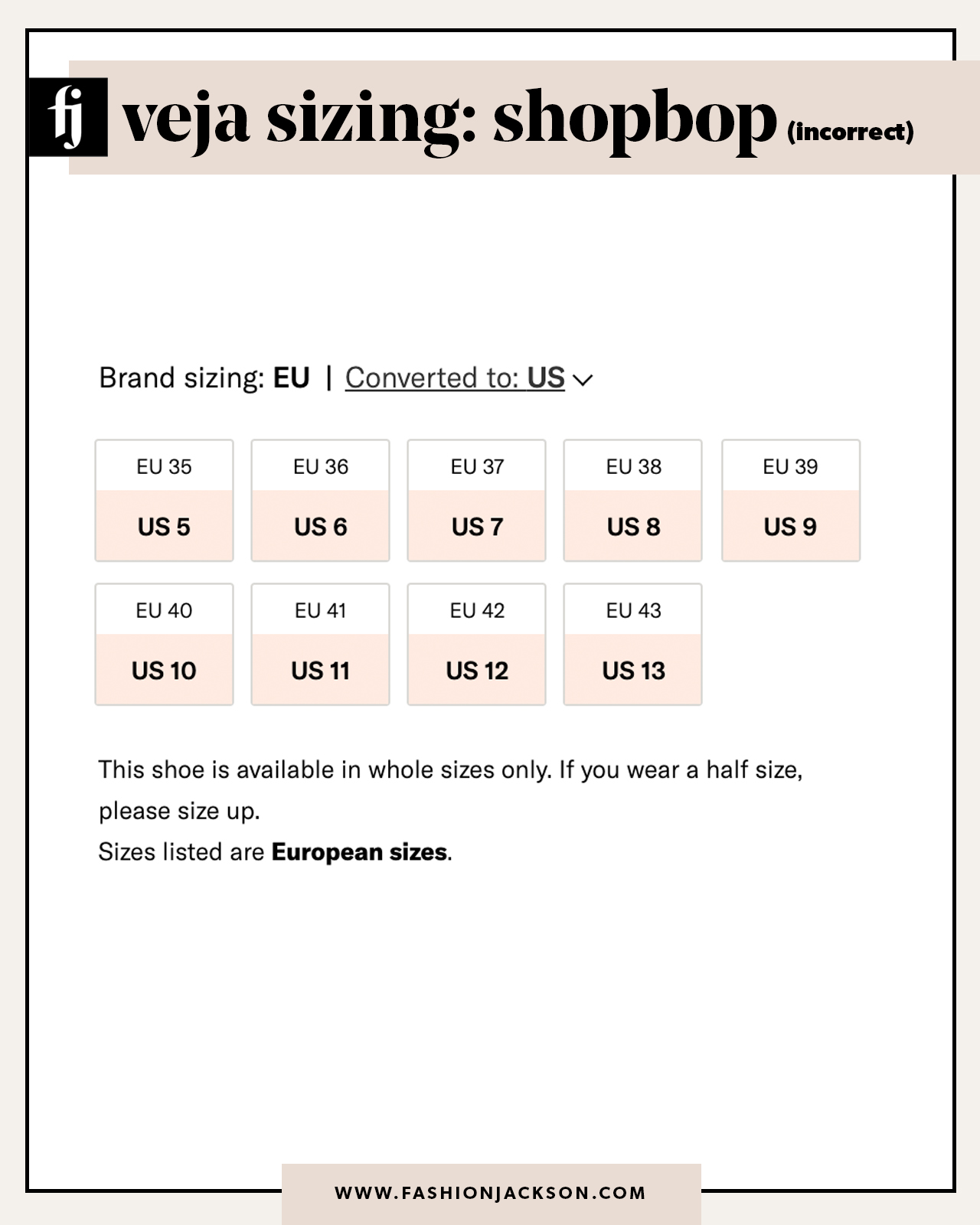 Veja V-LOCK vs. Veja V-10
Looking at the two side by side they are nearly identical. The clear difference is the Veja V-LOCK have 3 velcro tabs vs. the Veja V-10 have traditional laces. Also the V-LOCK are $5 USD more than the V-10 (probably due to the higher cost in Velrco and assembly). But lets dive into the specific product details of each.
Both shoes are made of leather, the V-LOCK use suede for the logo and heel trim detail vs. the V-10 use rubber. The V-LOCK have a soft inner lining (33% organic cotton & 67% recycled plastic bottles), insole made of sugar cane (34%), amazonian rubber (11%), organic cotton (11%) & recycled E.V.A.* (8%). 59% bio-sourced and recycled outsole: made from amazonian rubber (24%), rice waste (23%) & recycled rubber (12%). The V-10 have a lining in jersey (33% organic cotton & 67% recycled polyester), insole made out of wild rubber and other synthetic materials and a sole made of wild rubber from the Amazonian forest (24%). Both are made in Brazil, in the region of Porto Alegre
Right now, I personally prefer the V-LOCK Vejas over the V-10 Vejas, but that might just be due to the fact that they are newer.
Are Veja Sneakers Worth It?
My honest Veja V-LOCK sneaker review is they are 100% worth it. I now own 4 pairs of Vejas and just can't get enough. The Velcro are definitely my favorite! If you're looking for a great pair of white sneakers under $200, Veja is for you! They typically come out with a lot of color combos; I find the best assortment on Shopbop and Nordstrom. The retro look helps them to pair so well with simple outfits like jeans and a white t-shirt, but can also easily be dressed up! Not only are Veja sneakers stylish, Veja sneaker quality is incredible, they offer vegan Veja sneakers as well, and the company believes in transparency, fair trade, upcycling, and so much more. Definitely check out their site for more details.
One last question I often get asked is Veja sneakers vs. Golden Goose sneakers? The decision is really based on personal preference, but I compared the two and showed outfit ideas in this post, to help make your decision!
This post may contain affiliate links, meaning when you click the links and make a purchase, we receive a commission.
Pictures: Arielle Levy