If you follow me closely on Instagram, you'll know that we are somehow nearing the end of our home renovations that started shortly after we moved three years ago this summer! Sections of our house have been dismantled or in disarray in some form or another for years now, and I'm sort of in disbelief that we're almost done with it all. It means that soon, our focus will shift away from big projects and onto smaller details like decor and organization, which are absolutely my forte!
I love organizing small spaces so much, actually, that today's blog post is focused on how I got my bathroom drawers sorted out in an efficient, functional way. Some of us love makeup and skincare and beauty more than others and have a tendency to collect lots of items. If you're "some of us," follow these tips on how to get arguably the most important space in your home as organized as possible!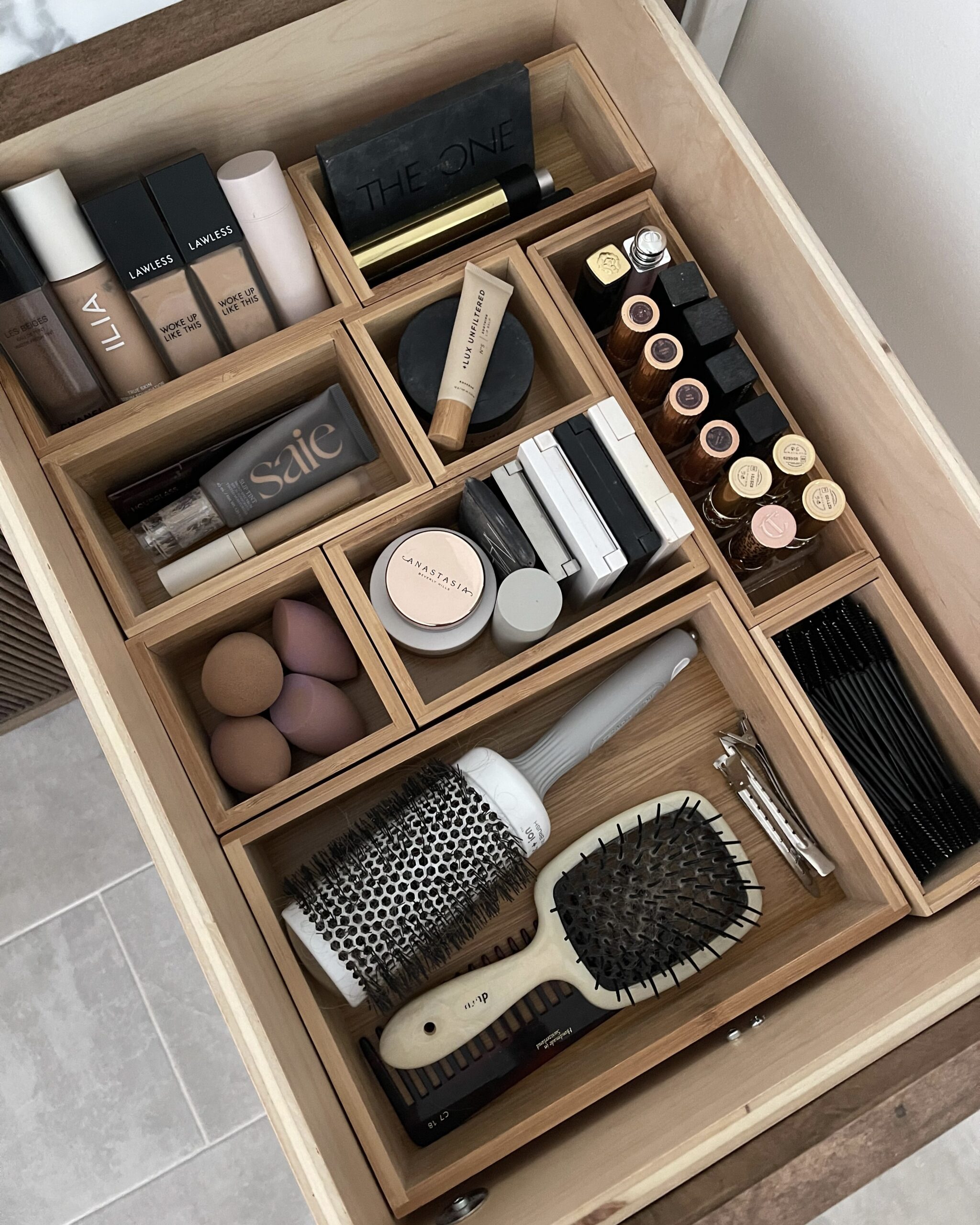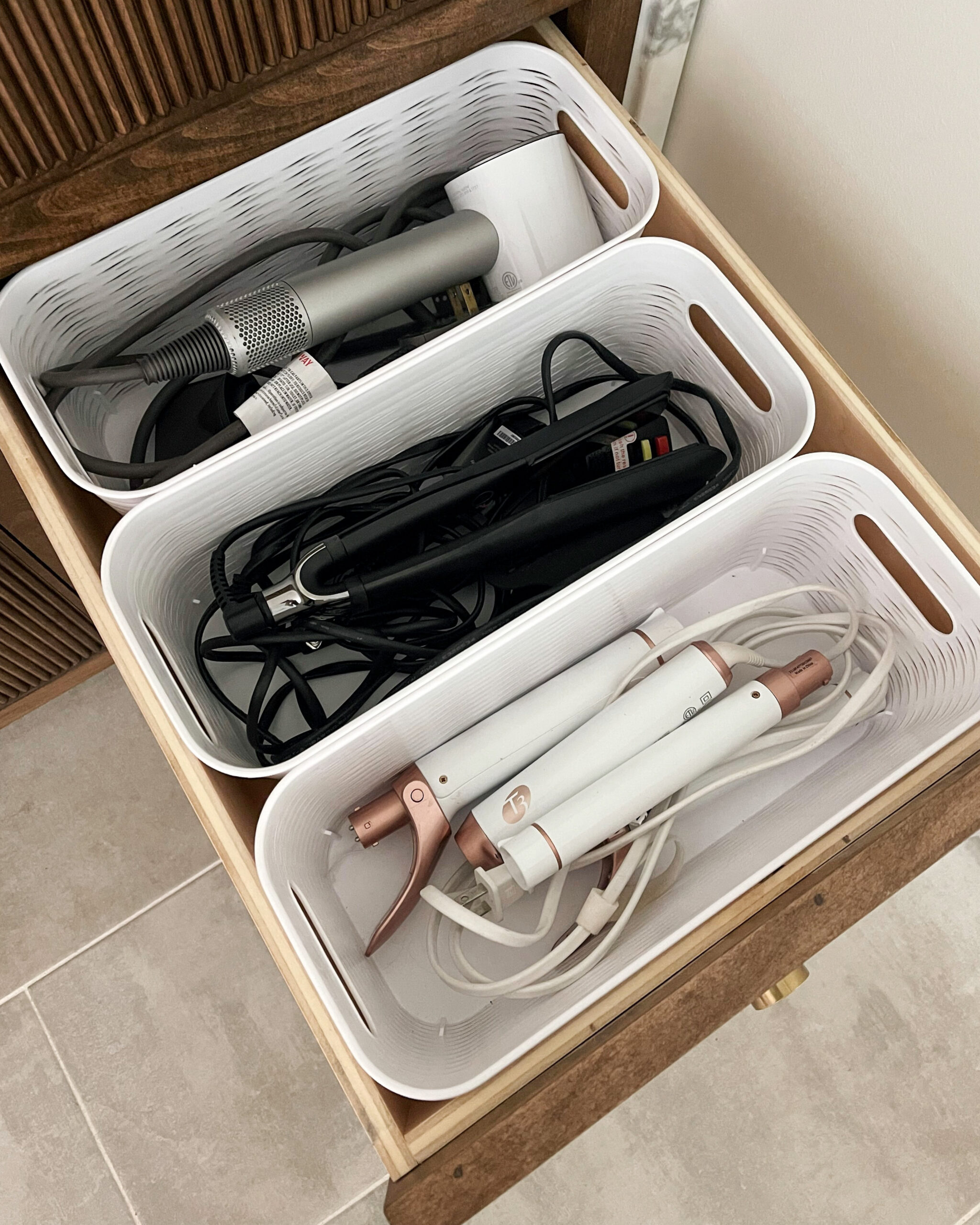 Tip 1: Clean Out The Drawers
I don't mean just empty them. I mean, empty them AND get either a wet rag or your favorite all-purpose cleaner and wipe them down, top to bottom, inside and out. Even if your bathroom drawer looks clean, there's no telling what microscopic makeup and beauty particles are there. Since we're going to go through all of your products, now's the perfect time to take advantage of empty drawers and start with a squeaky clean foundation!
Tip 2: Take Inventory
Divide all of your products into as many groups as you can so you know what you're working with. Example: instead of just doing makeup, skincare, hair products, break it down further like eyeshadow, lipsticks, blushes, moisturizers, serums, etc! Being able to really see everything you've accumulated is going to help immensely with the next step.
Tip 3: Purge, Purge, Purge
You may have loved that one lipstick stage five years ago but haven't worn it since. Or, you could've bought that one "fun" eyeshadow palette on a whim but have only used it once. Sure, that one hair tool seemed like a great idea at the time, but you've realized it doesn't give you the results you want, so you never use it. It's best to pare down when it comes to bathroom products, so have no mercy and get rid of any and all items you've either never used, barely used, or better yet, have expired! Try not to think of the money you spent on said products; after all, finding what you really love and works for you is a process and you have to buy and try to understand!
Tip 4: Start Organizing
My absolute favorite drawer organizers are these bamboo ones from Amazon, as well as these plastic storage bins from Target (similar here). Begin to lay the bamboo organizers inside your makeup/skincare drawers to figure out the best layout (sort of like a game of Tetris), then decide what the best flow would be. Do you want foundation, blushes, and contours/highlighters in one drawer and lipsticks, eyeliners, and mascara in the next? Have fun with setting everything up and experiment with what feels the most natural for you when you stand in front of your mirror and start to get ready. Same goes for your hair tools (which are perfect for the taller, plastic Target bins because of their depth)!
Tip 5: Maintain Your Masterpiece
We all know how easy it is to go through the motions of organizing, only to muck it all up again. However, take pictures of your freshly organized beauty drawers when you're done and favorite them in your camera roll to remind yourself of how lovely it feels to know exactly where everything is at all times. Having pared down product is a total game changer, and you'll be amazed at how much more pleasant getting ready becomes once you follow these tips!


This post may contain affiliate links, meaning when you click the links and make a purchase, we receive a commission.