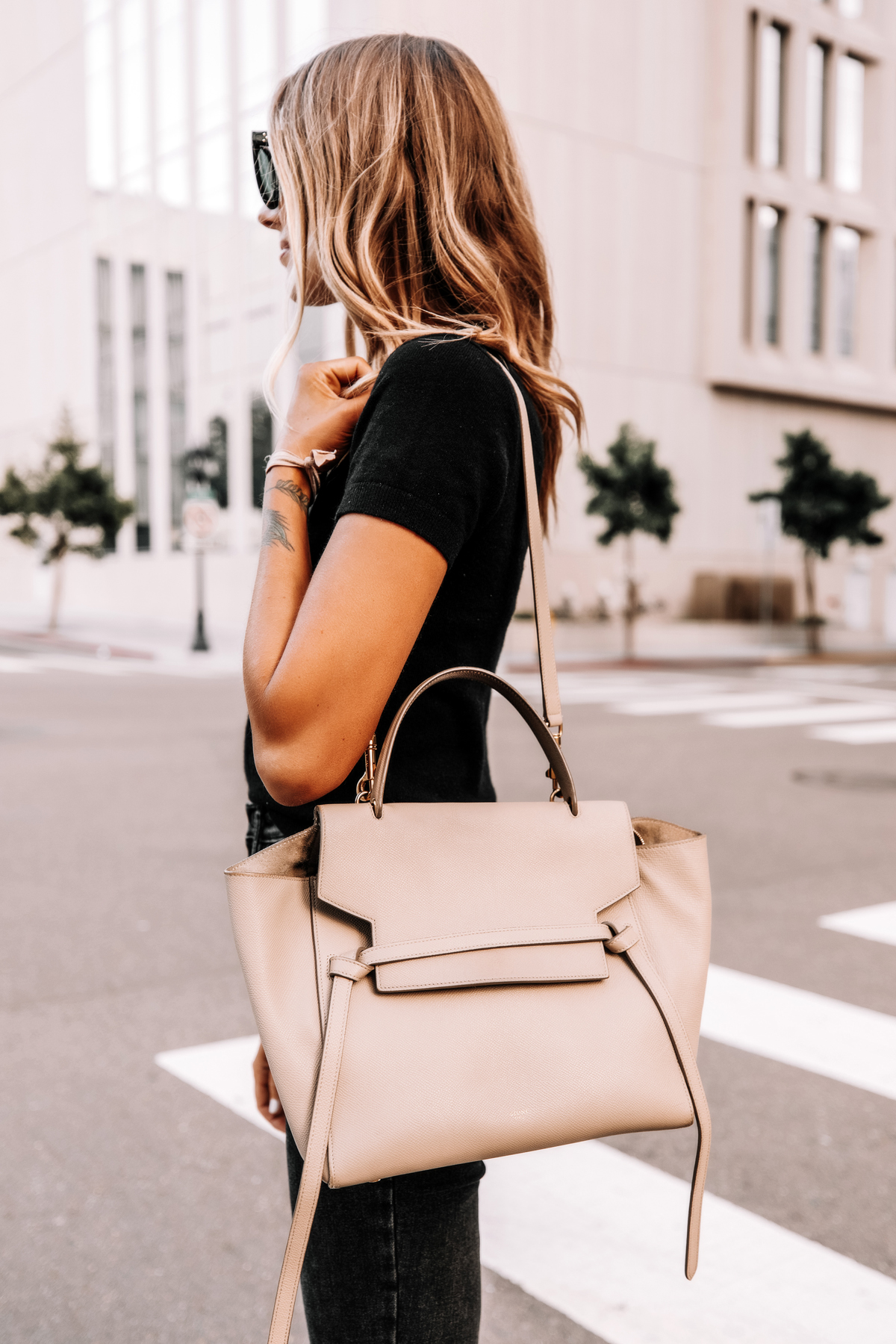 The Celine Mini Belt Bag is one of my favorite handbags, and one I've had for several years now (since 2016, actually!). I wanted to write this review in case you're flirting with the idea of treating yourself to this incredible bag. If you're in the market for an everyday bag of superior quality that will never go out of style and goes with just about everything, the Celine Mini Belt Bag is your girl.
This review is long overdue; I'm actually surprised I haven't written a post on this sooner. Today I will be reviewing my most used bag, the Celine Mini Belt Bag. I have expressed numerous times how much I love this bag and that it's the best designer purchase I've ever made. I can confidently say I've used it 95% of the days I've owned it.
Prior to the purchase, I hadn't given the bag a ton of thought, but anytime I saw it on Instagram, it gave me all the heart eyes. I was in the market for an everyday bag that was classic, versatile, and of good quality. I honestly don't remember the other bags I was considering, maybe the Givenchy Antigona? Regardless, I went to the Celine Boutique in Dallas, and as soon as I put the taupe belt bag on my arm, I didn't take it off. I was sold.
Celine Belt Bags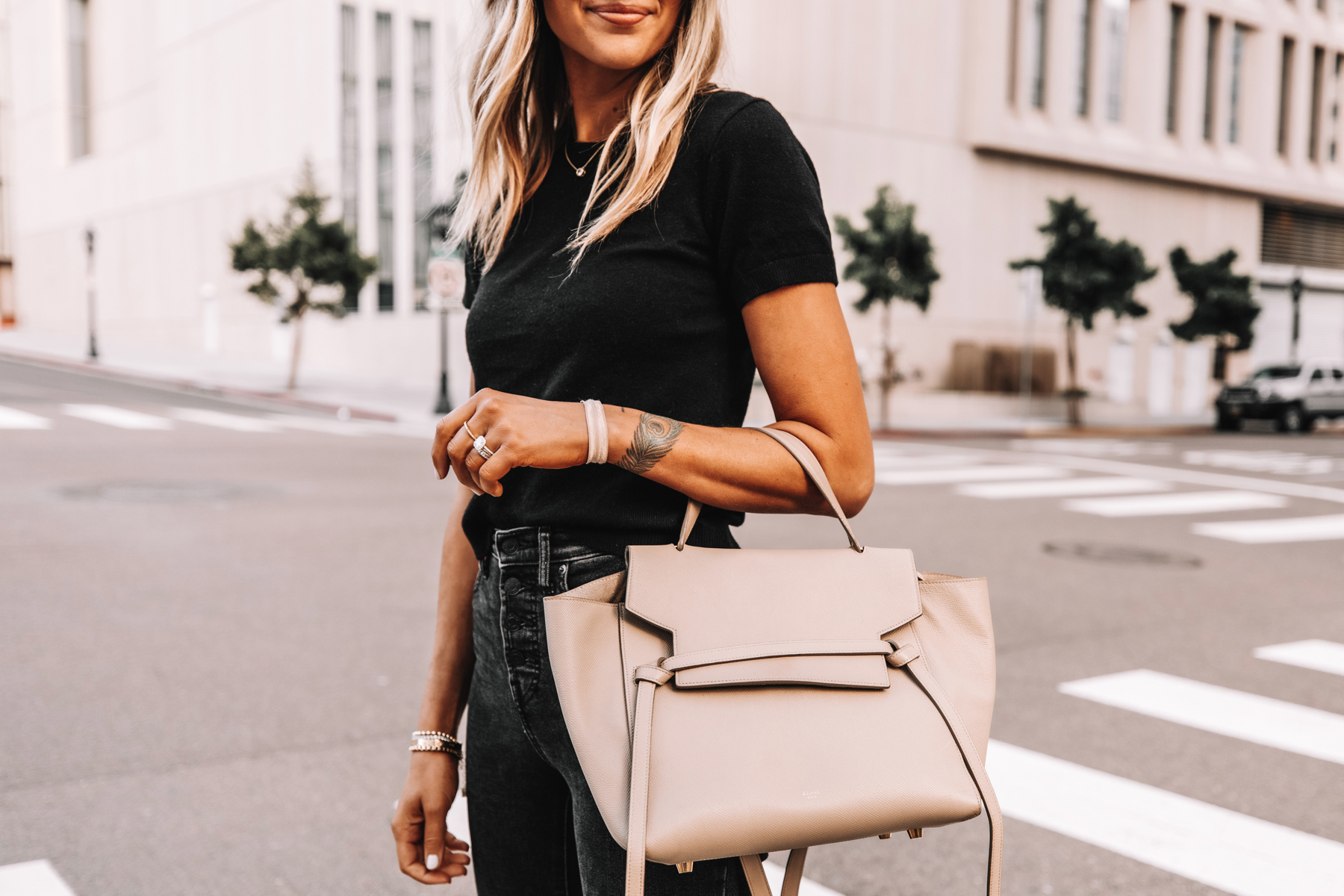 Where to Buy the Celine Mini Belt Bag
Because I bought my Celine Mini Belt Bag back in 2016 when I was still living in Dallas, Texas, I purchased it from the Celine boutique in Highland Park Village (Dallas, TX). You can find a local Celine boutique by searching by city here. They are also carried in certain Nordstrom, Neiman Marcus, Saks, & Bergdorfs locations. More than likely, you won't be able to find them new online from any retailer besides the Celine website & 24 Sèvres.
As an alternative to new, you can also purchase pre-owned from some of my favorite consignment shops. I have had so much luck finding designer items from What Goes Around Comes Around, The Real Real, and Julia Rose Boston. However, most of these sites and sellers don't offer a significant discount, and since the bag is not as expensive as most large designer bags, I would suggest saving to purchase it new!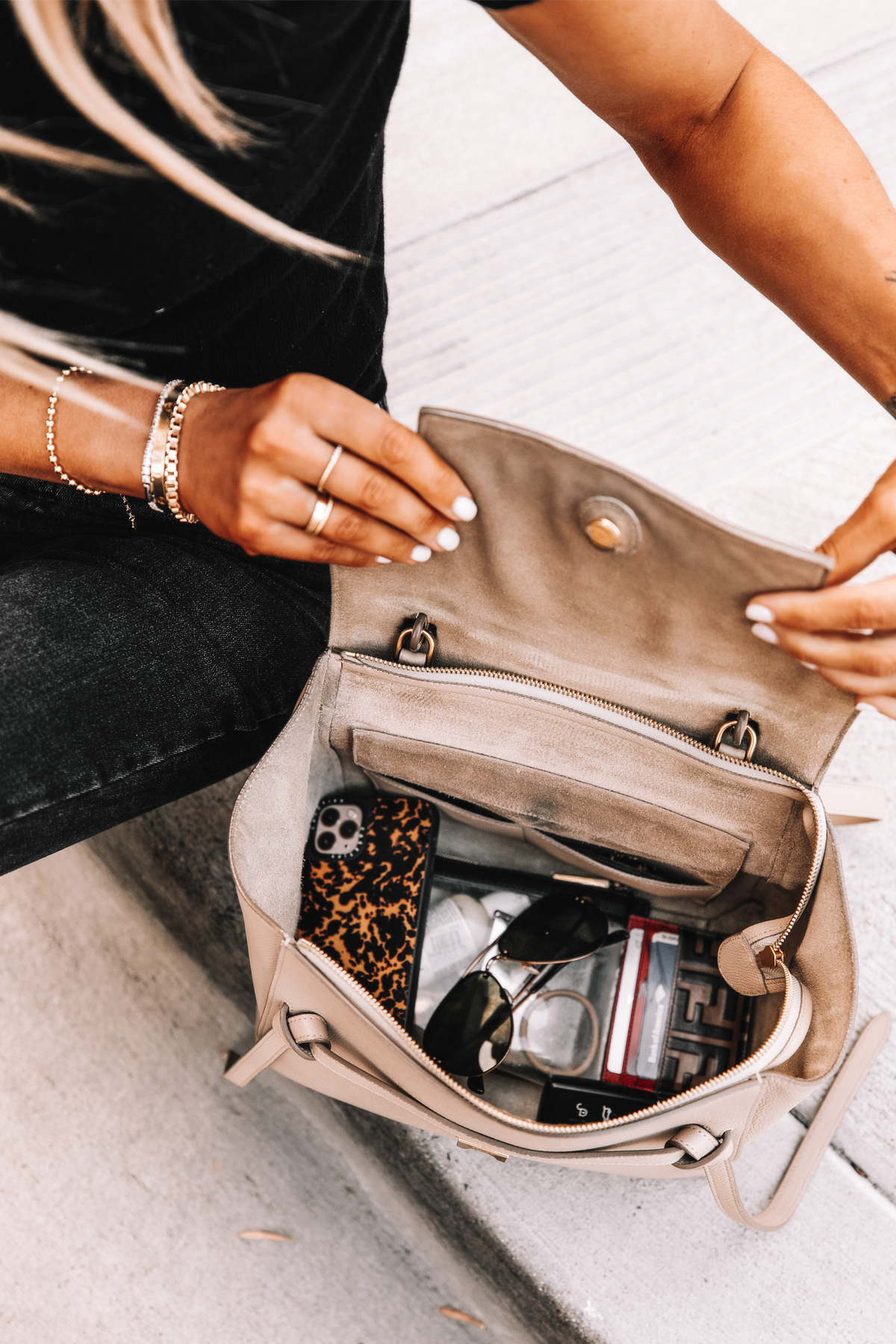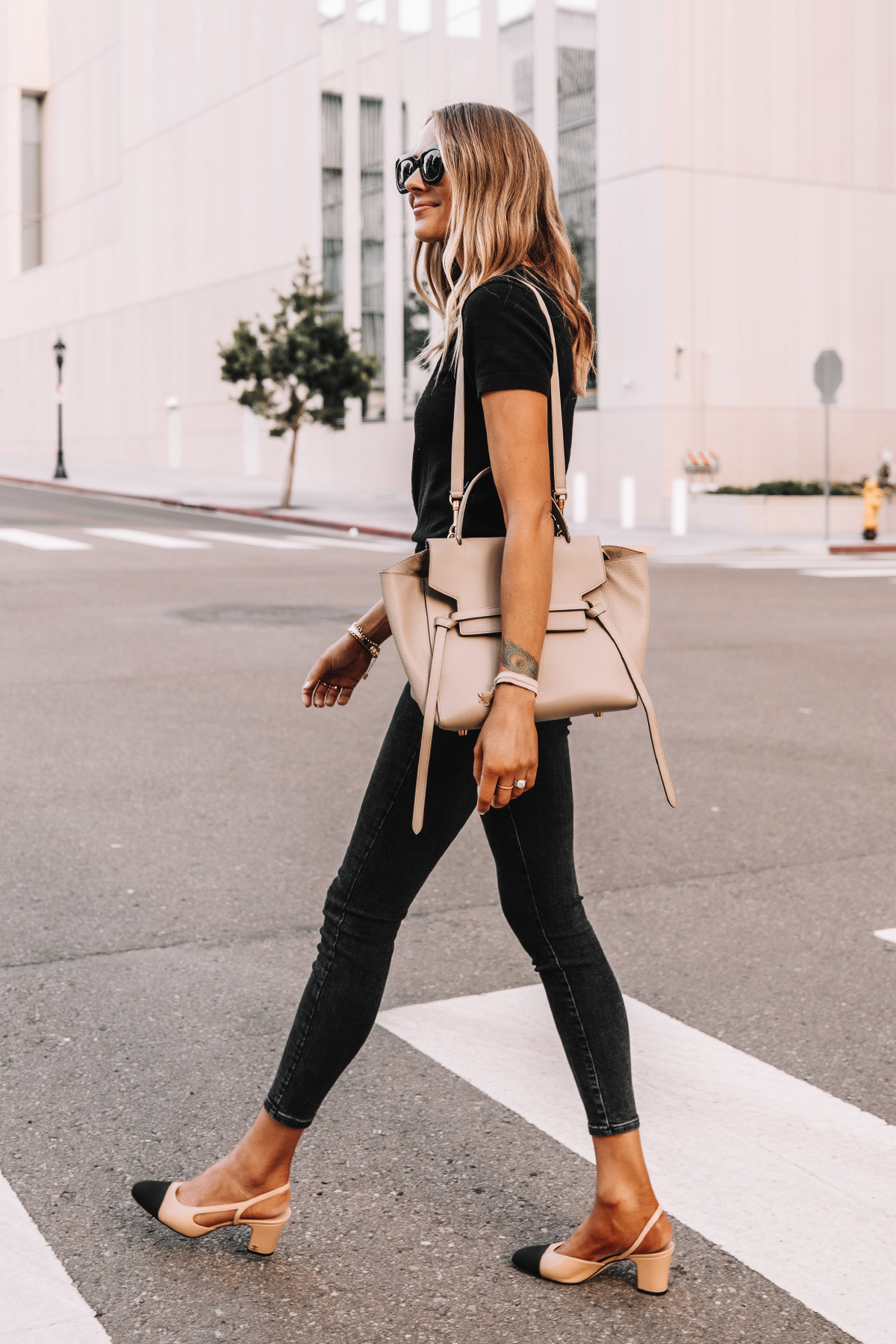 The Differences Between Celine's Nano, Micro, and Mini Belt Bag
Celine offers this iconic bag in four different sizes: Pico, Nano, Micro, and Mini (smallest to largest). While each of these words is another way of saying "small," they truly are varied in their sizing, so let's break those sizes down:
Pico: retails for $1,950 USD and measures 6" x 5" x 4"

Nano: retails for $2,350 USD and measures 8" x 8" x 4"

Micro: retails for $2,600 USD and measures 9" x 8" x 5"

Mini: retails for $2,700 USD and measures 11" x 9" x 7"
They're all made of grained calfskin so they're super durable and each style has both the top handle and shoulder strap. When it comes to the removable and adjustable body straps on each handbag, the Pico's minimum drop is 18" with a max of 23", the Nano's minimum drop is 19" with a max of 23", the Micro's drop is 20", and the Mini's is 14". Because the Mini's shoulder strap is shorter, its primary purpose is a shoulder bag, and cannot be worn crossbody. No matter what size handbag you get, each one is crafted with grained calfskin, making them not only elegant but incredibly durable.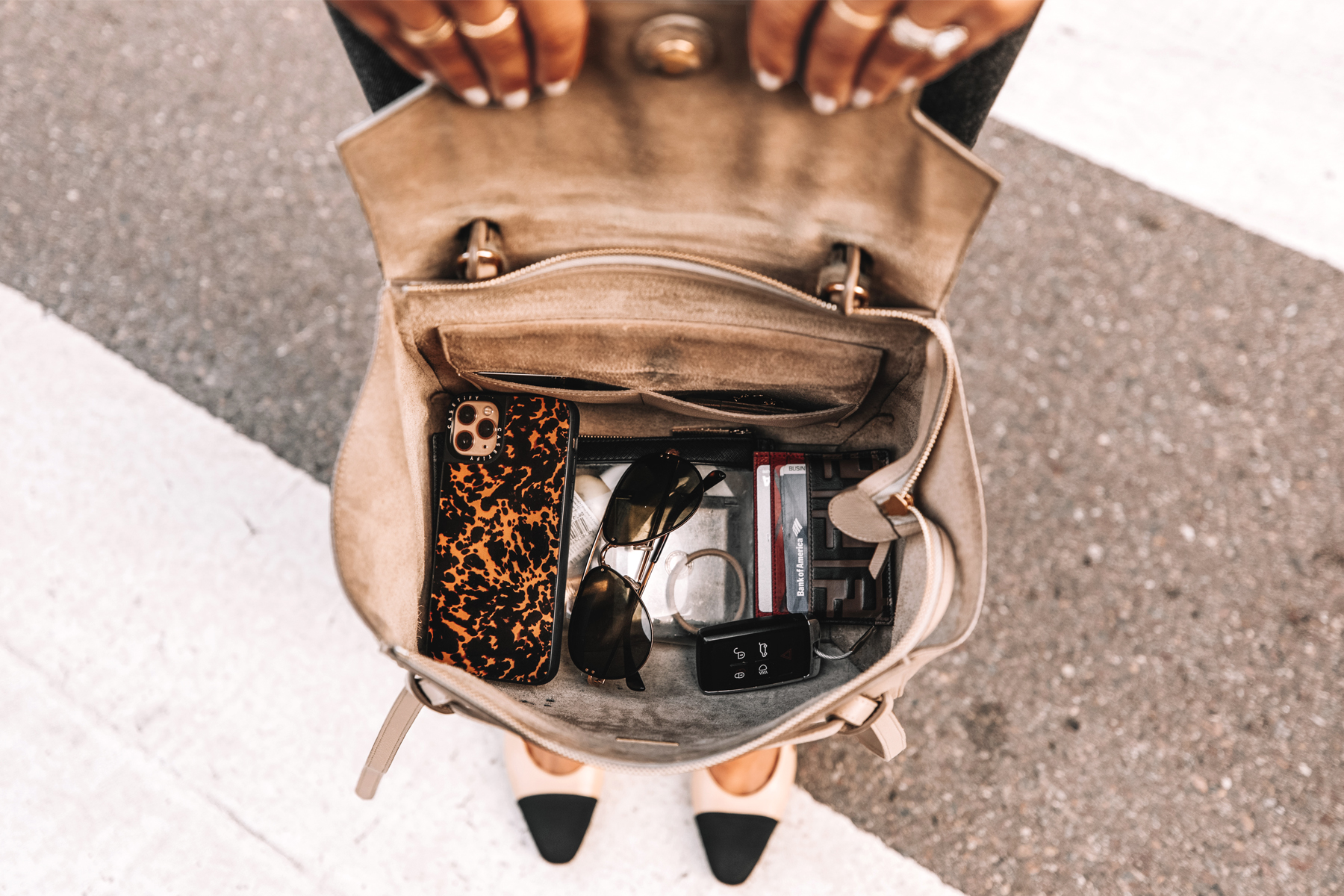 My Review of the Celine Mini Belt Bag
I would say that even after all these years, the Celine Mini Belt Bag is still my ultimate, everyday bag. It's just such a classic, easy bag to carry everywhere and wear with anything. The interior is super spacious, and organized in the sense of having extra slots to keep items in their right place, and there's also an exterior zipper pocket on the back side. 
A big selling point for me with this bag is how easy it is to get in and out of. In fact, I make it even easier by never using the top zipper to keep the bag shut. Instead, I just use the top closure and nothing has ever fallen out! It did take me a couple days to get used to the top closure attachment, but now it's second nature. This bag also has 4 metal gold feet on the bottom of the bag, so it's safe to set down on dirty surfaces!
This bag caught my eye because of its minimal yet classic style. I prefer to keep my bags simple (the less logos the better), and the Celine Mini Belt Bag has that timeless quality to it. In fact, I got it in the taupe color for that very reason! Taupe goes with just about everything in terms of outfits whether you're wearing black, brown, white, navy, or even a bold color like red!
I doubt the Celine Mini Belt Bag would ever be discontinued, but if you're worried of that being a possibility or you're on the fence about the purchase, I would just go for it. It's worth every dollar for an everyday, designer bag.
Pros & Cons of Celine's Belt Bag
Honestly, it was almost impossible to find cons for this bag but I tried!
Pros: High quality, classic, spacious interior, less expensive than most high-end designer bags of similar styling

Cons: Strap isn't long enough on mini for crossbody, top closure can be tricky to use at times
Would I buy the bag again? Absolutely yes! I might get a smaller size, just so I can have the crossbody function because that's my favorite way to carry a bag. Anytime someone asks me for a designer bag recommendation, I always suggest this one!
See below for the FAQs and let me know in the comments if you still have more questions!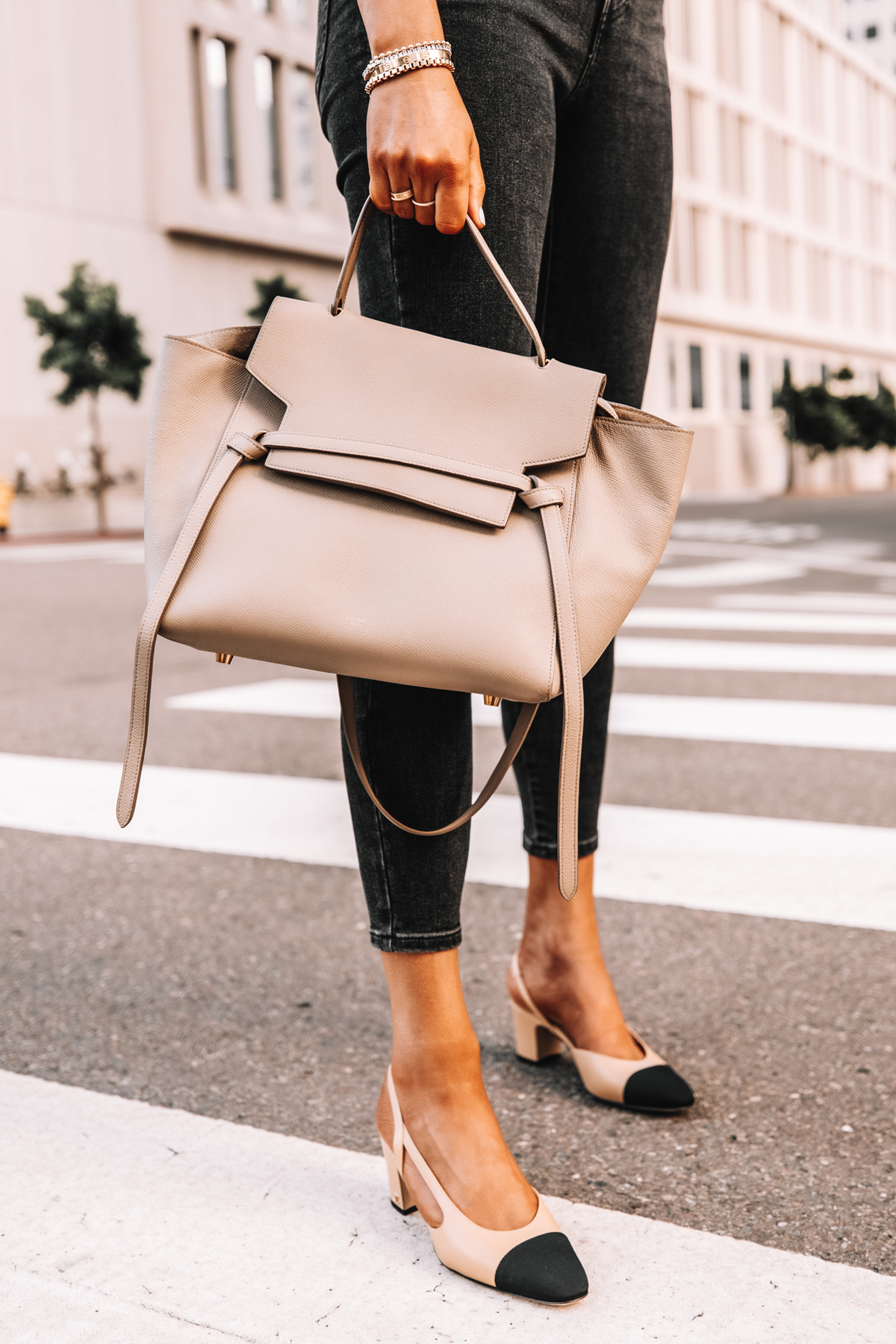 Interior Bag Contents
FAQs About the Celine Mini Belt Bag
Does it hold its shape?
I have just recently noticed it beginning to slouch. The structure is still great when wearing, but when I set it on the shelf it will slouch, so I have started stuffing it when I'm not using.
Will it fit a laptop?
I have a 13" MacBook Pro and it will "fit" in the bag, but it won't close, so I don't recommend it as a laptop bag.
Do the straps bother you at all?
Never. Its very comfortable to carry on my arm using the top handle, or on my shoulder with the strap.
Does denim dye transfer onto the bag?
I haven't had an issue with this at all. I'll be honest though, the bag is just now getting dirty. After wearing for almost 4 years straight and being light colored, I figured it would start to show wear any day now. FYI I didn't do any leather treatments to the bag prior to using. Care tips can be found on their website.


Photos: Arielle Levy
This post may contain affiliate links, meaning when you click the links and make a purchase, we receive a commission.