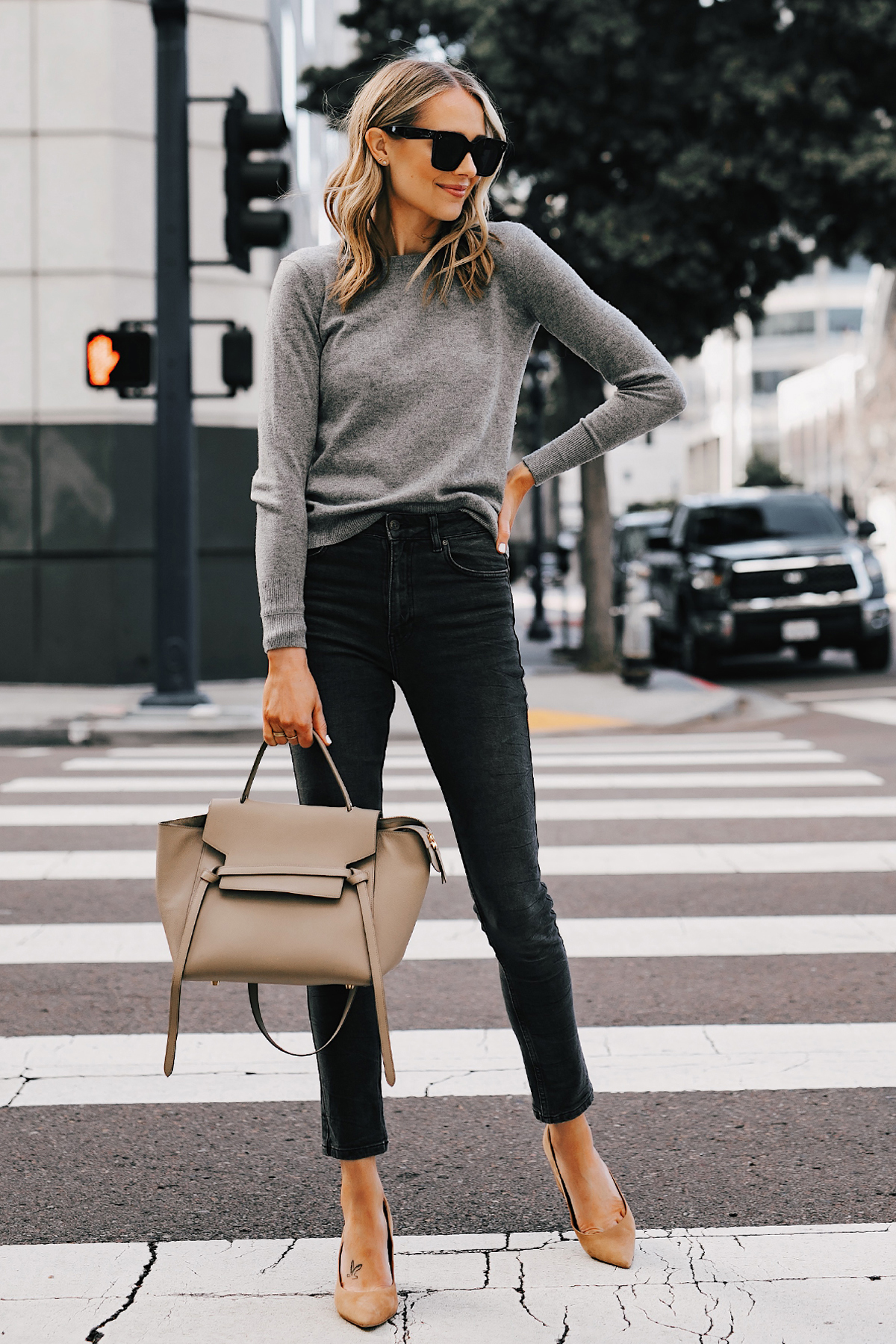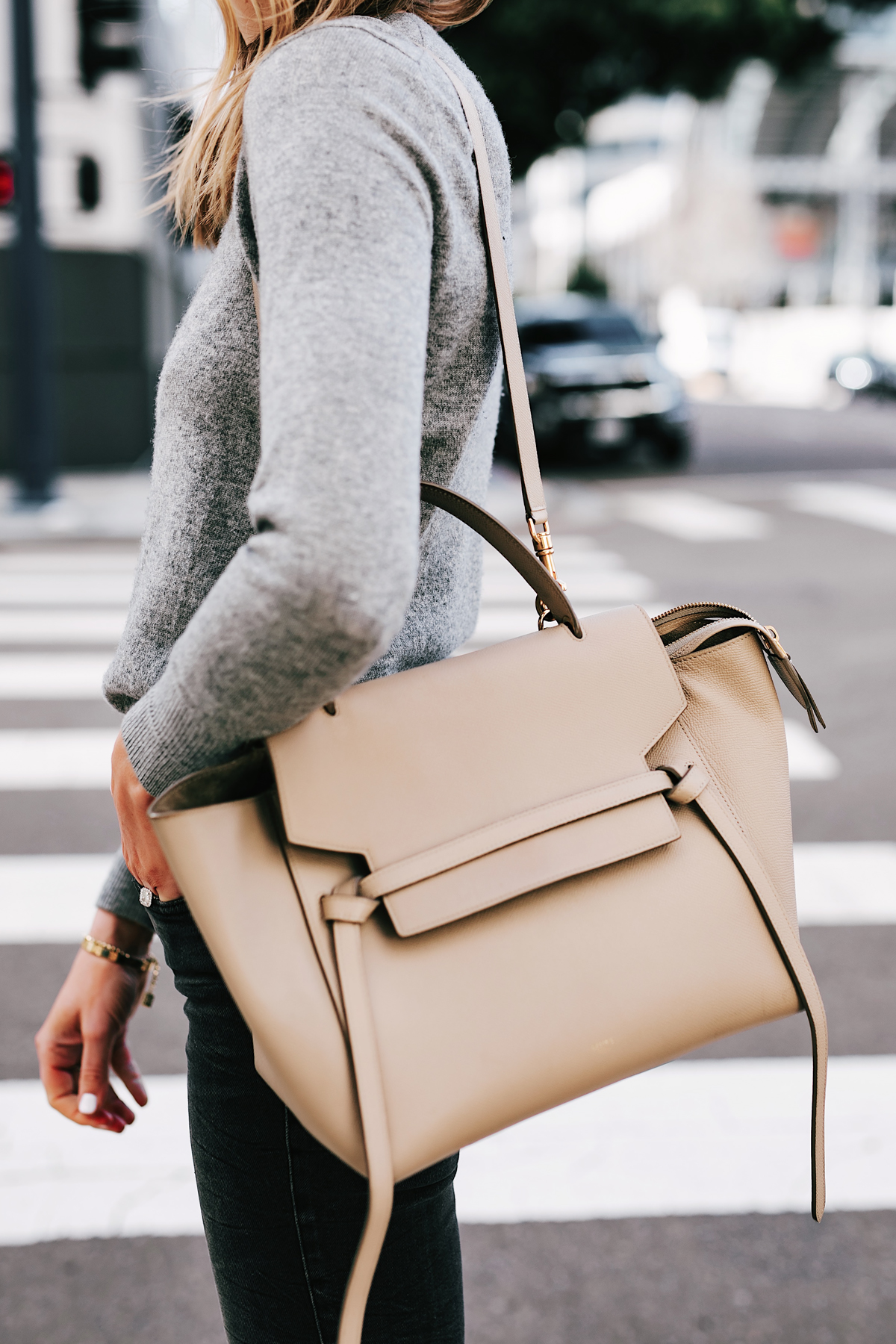 This post is long overdue; I'm actually surprised I haven't written a post on this sooner. Today I will be reviewing my most used bag, the Celine Mini Belt Bag. I have expressed numerous times how much I love this bag and that it's the best designer purchase I've ever made. I bought it over 2 years ago and can confidently say I've used it 95% of the days I've owned it. Prior to the purchase, I hadn't given the bag a ton of thought, but anytime I saw it on Instagram, it gave me all the heart eyes. I was in the market for an everyday bag that was classic, versatile, and of good quality. I honestly don't remember the other bags I was considering, maybe the Givenchy Antigona? Regardless, I went to the Celine Boutique in Dallas, and as soon as I put the taupe belt bag on my arm, I didn't take it off. I was sold.
Outfit Details
Sweater (size XS) | Jeans (TTS) | Heels | Celine Sunglasses (similar) | Celine Mini Belt Bag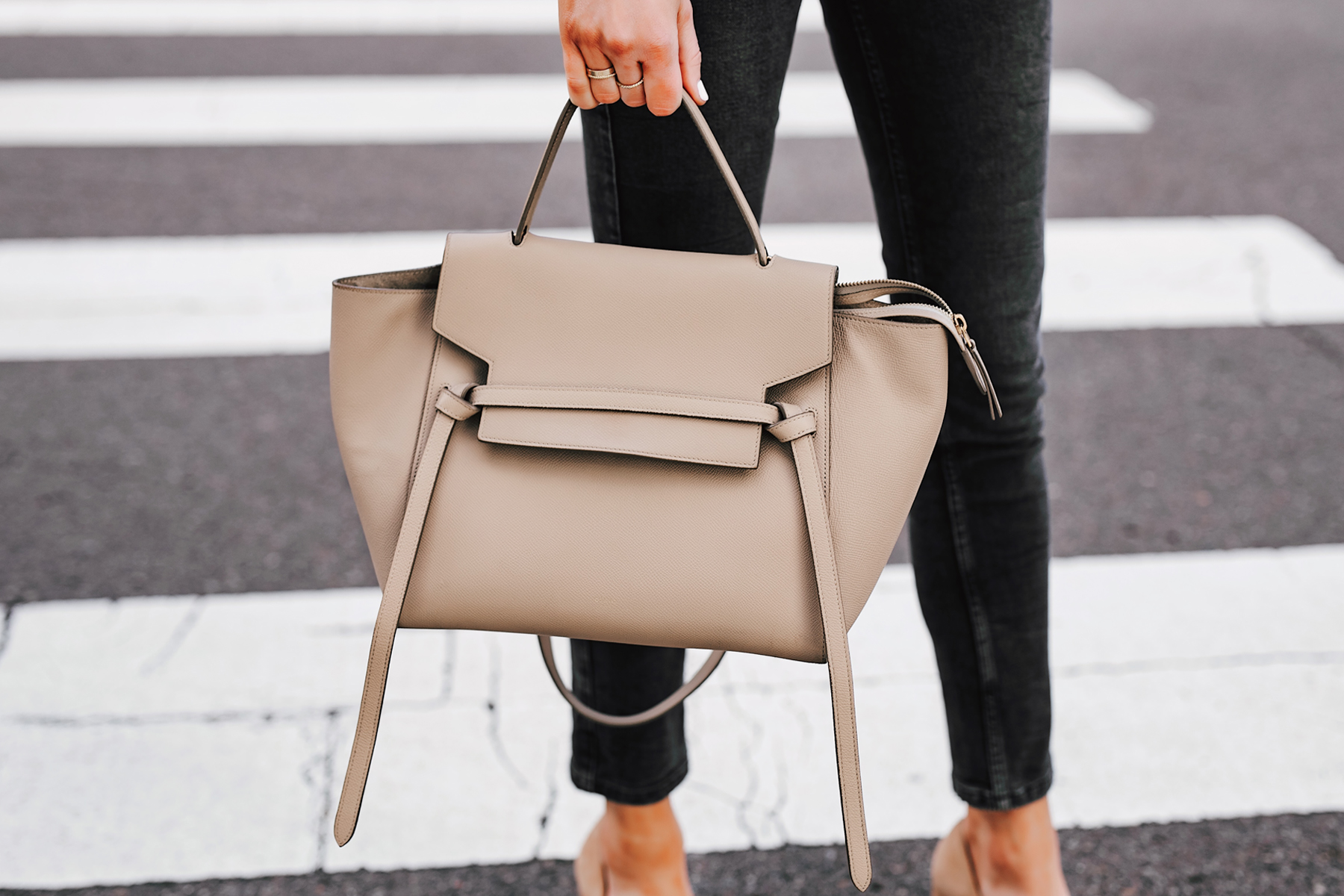 Where to Buy the Celine Mini Belt Bag
As I mentioned, I purchased my Celine Mini Belt Bag from the Celine boutique in Highland Park Village (Dallas, TX). You can find a local Celine boutique by searching by city here. They are also carried in certain Nordstroms, Neiman Marcus', Barneys, Sak's, & Bergdorfs. More than likely you won't be able to find them new online from any retailer besides the Celine website & 24 Sèvres.
As an alternative to new, you can also purchase pre-owned from some of my favorite consignment shops. I have had so much luck finding designer items from What Goes Around Comes Around, The Real Real, and eBay Authenticated Luxury Bags. However, most of these sites don't offer a significant discount, and since the bag is not as expensive as most large designer bags, I would suggest saving to purchase new.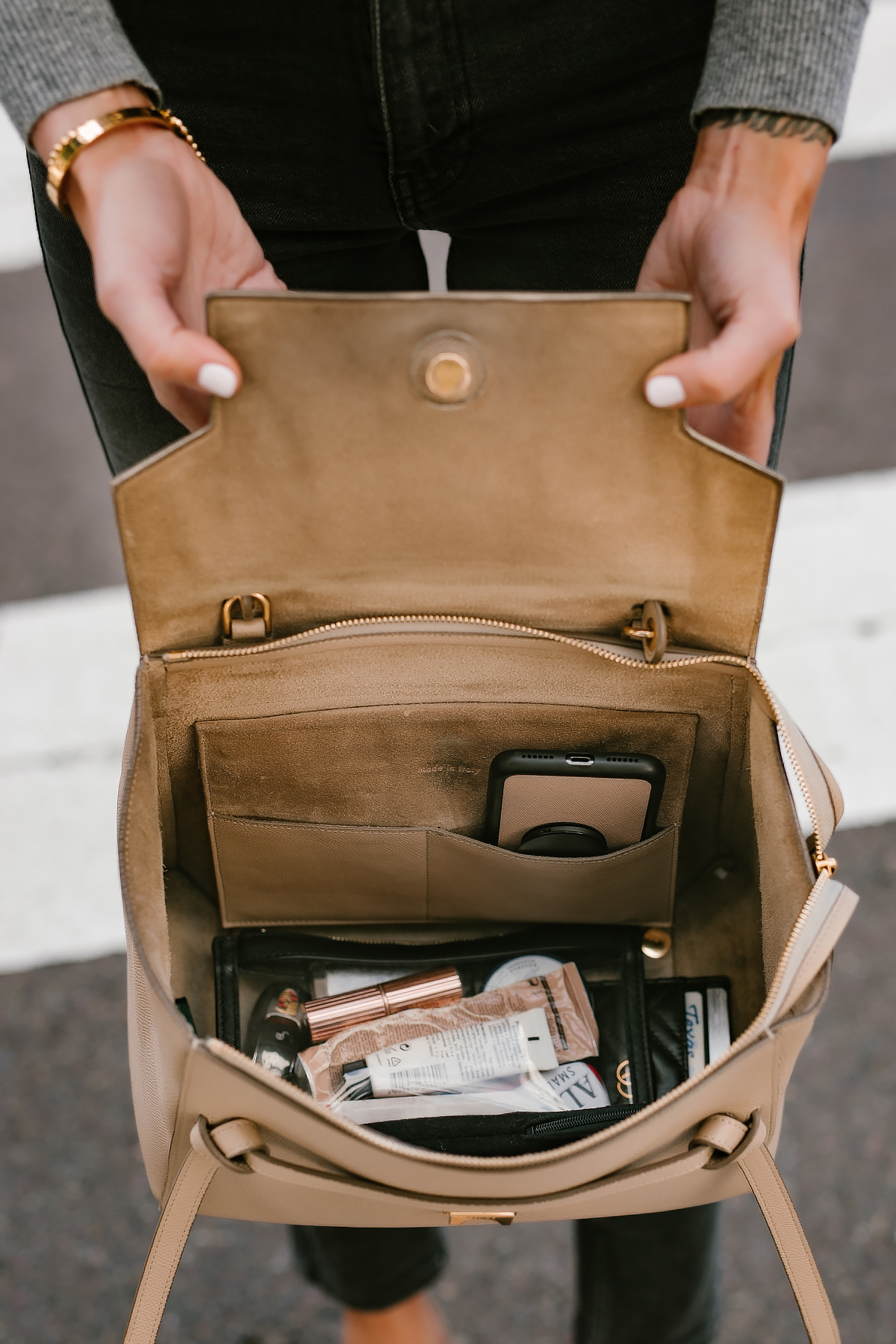 The Differences Between Nano, Micro, and Mini Belt Bag
There is often confusion about the size of the bags offered and which one I have. There are only 3 sizes; nano, micro, and mini. I have the mini which is the largest size offered. They are all made of grained calfskin which I have found to be very durable. Each style has the top handle and shoulder strap. The shoulder strap for the nano and micro is 21", so these styles are workable as a crossbody. The mini shoulder strap is 14", so it only works as a shoulder bag (not crossbody). The prices have increased over the years, because I bought my mini for $2,200 USD in 2016.
Nano: retails for $1950 USD and measures 8" x 8" x 4"
Micro: retails for $2,300 USD and measures 9" x 8" x 5"
Mini: retails for $2,500 USD and measures 11" x 9" x 7"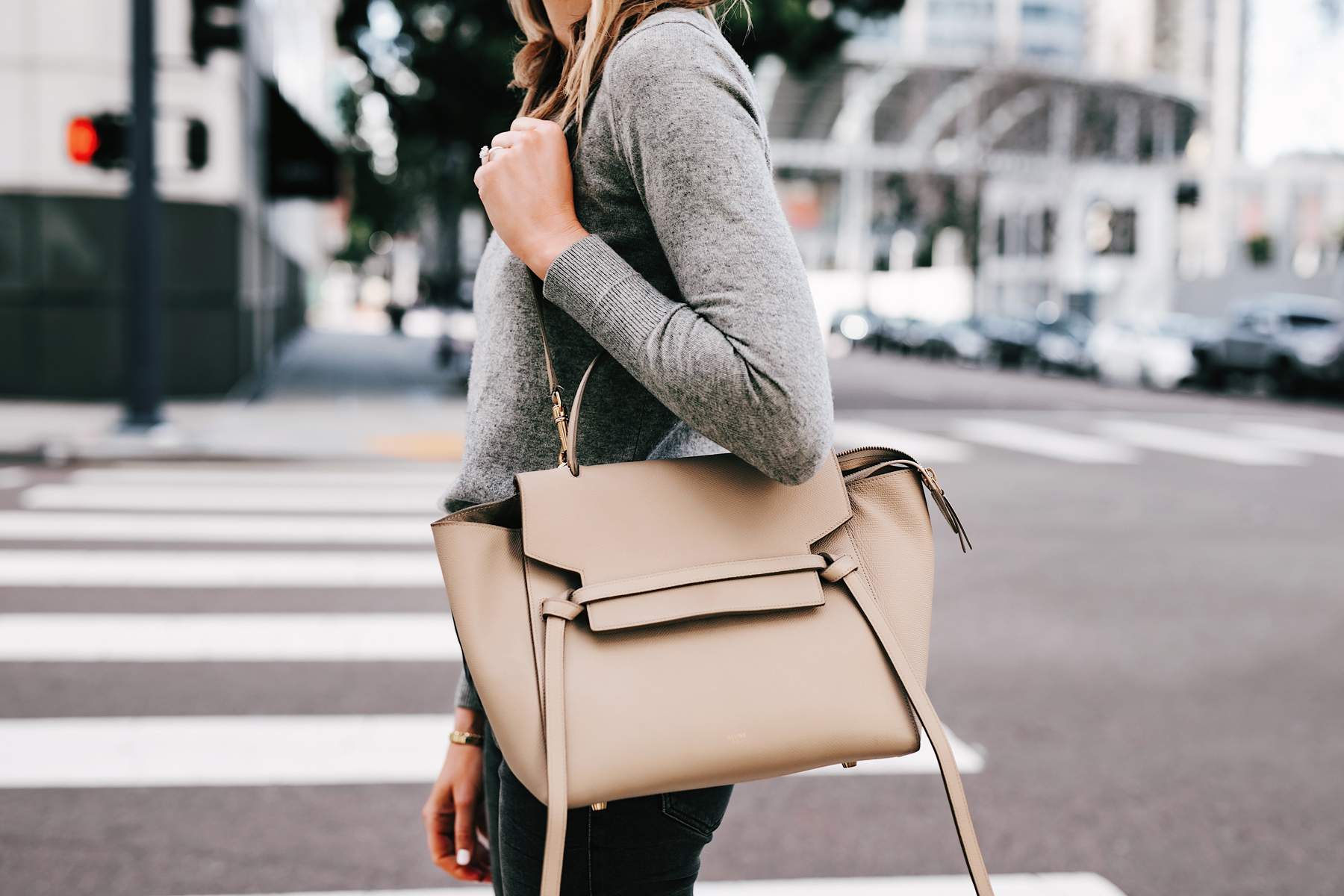 My Review of the Celine Mini Belt Bag
This is my ultimate everyday bag as I reach for it 9 times out of 10. The interior is super spacious, there are a couple slots to keep items organized, as well as an exterior zipper pocket on the back side. It's very easy to get in and out of. I actually don't use the top zipper to keep the bag shut. I just use the top closure and nothing has ever fallen out. It did take me a couple days to get used to the top closure attachment, but now it's really simple to close. Most of the time I just close it over the belt strap as you may have noticed in many pictures. It has 4 metal gold feet on the bottom of the bag to help protect the surface.
The reason I selected this bag over others is based on how minimal, yet classic the style is. I prefect to keep my bags simple (the less logos the better), so I truly consider the Celine Mini Belt Bag to be timeless and there are zero plans of me selling it in the future. I selected the taupe color because I knew I would wear it with everything; black, brown, white, navy, etc. I'd actually like to purchase a second in another color. Black perhaps? I'm not sure if the Celine Mini Belt Bag will be discontinued with the new designer, but if you're worried that might be the case, or you're on the fence about the purchase, I would go for it. Especially if the prices continue to increase over time.
Pros & Cons
I will say it was a little hard finding cons for this bag since it is my favorite.
Pros: high quality, classic, spacious interior, less expensive than most high-end designer bags of similar styling
Cons: strap isn't long enough for crossbody, top closure can be tricky to use at times
Would I buy the bag again? Absolutely yes (see above haha)! I might get a smaller size, just so I can have the crossbody function because that's my favorite way to carry a bag. Anytime someone asks me for a designer bag recommendation, I always suggest this one!
See below for the FAQs and me know in the comments if you still have more questions.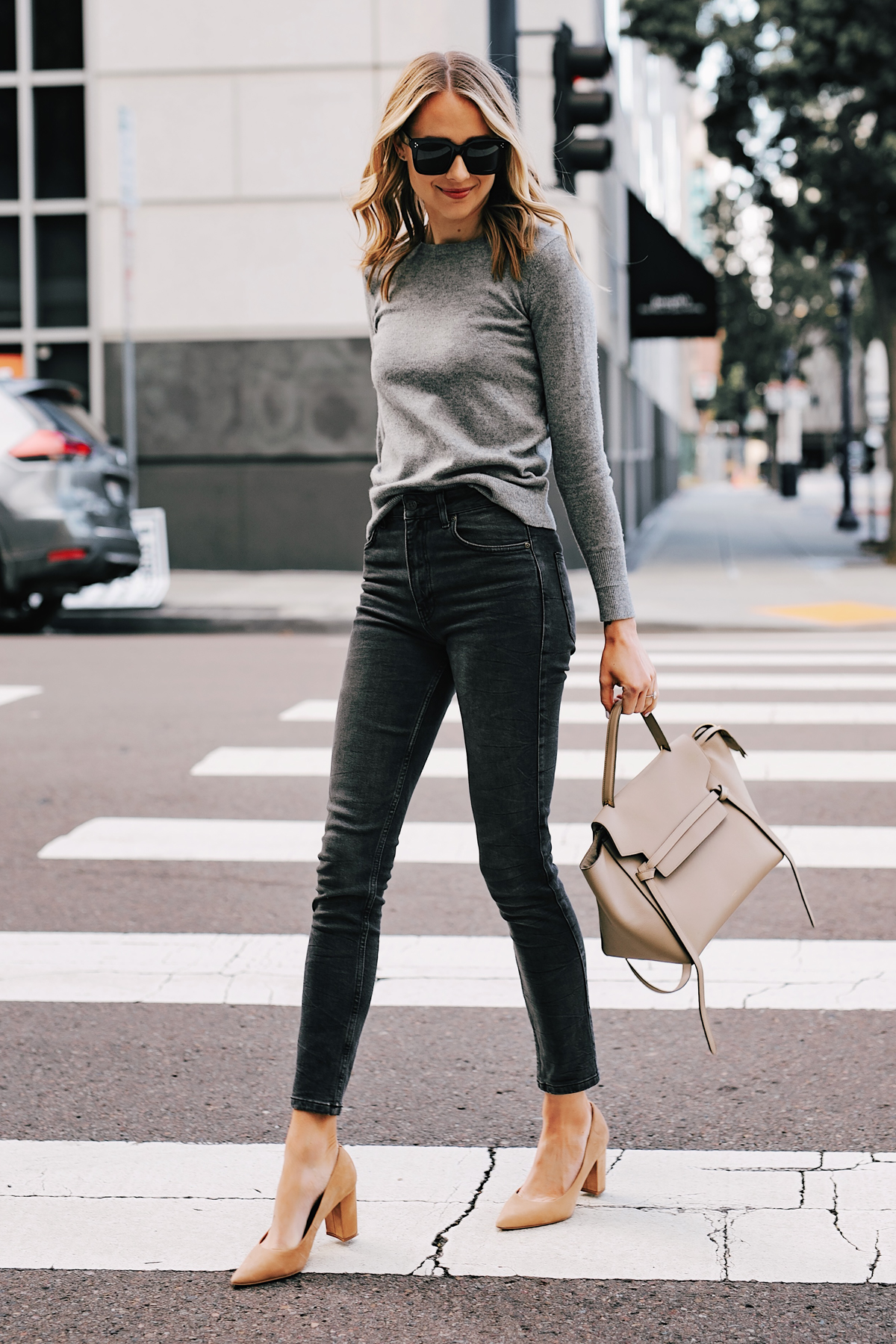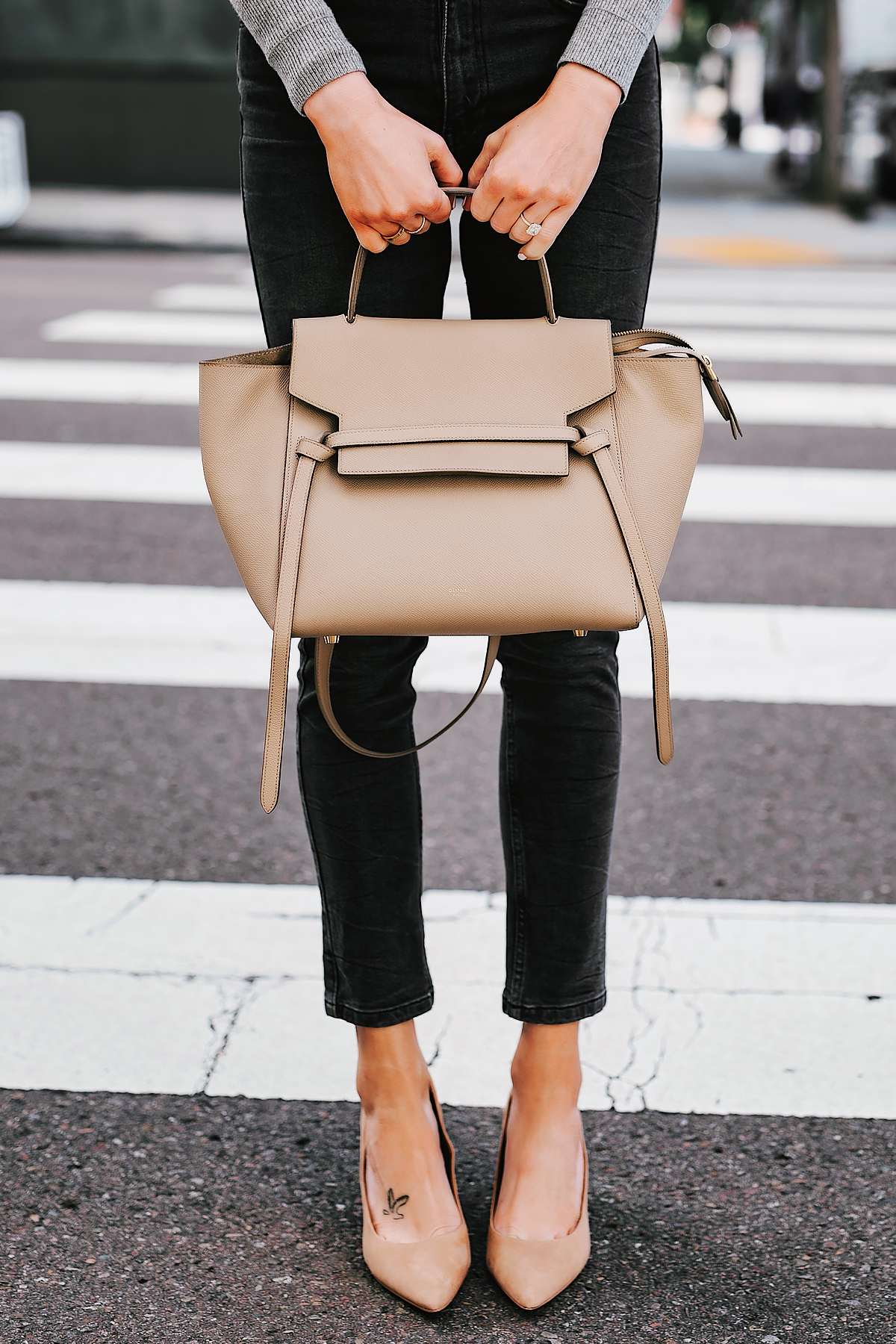 Interior Bag Contents
FAQs About the Celine Mini Belt Bag
Does it hold its shape?
I have just recently noticed it beginning to slouch. The structure is still great when wearing, but when I set it on the shelf it will slouch, so I have started stuffing it when I'm not using.
Will it fit a laptop?
I have a 13" MacBook Pro and it will "fit" in the bag, but it won't close, so I don't recommend it as a laptop bag.
Do the straps bother you at all?
Never. Its very comfortable to carry on my arm using the top handle, or on my shoulder with the strap.
Does denim dye transfer onto the bag?
I haven't had an issue with this at all. I'll be honest though, the bag is just now getting dirty. After wearing for almost 700 days straight and being light colored, I figured it would start to show wear any day now. FYI I didn't do any leather treatments to the bag prior to using. Care tips can be found on their website.
Belt Bag vs. Similar high-end designer bags at lower prices?