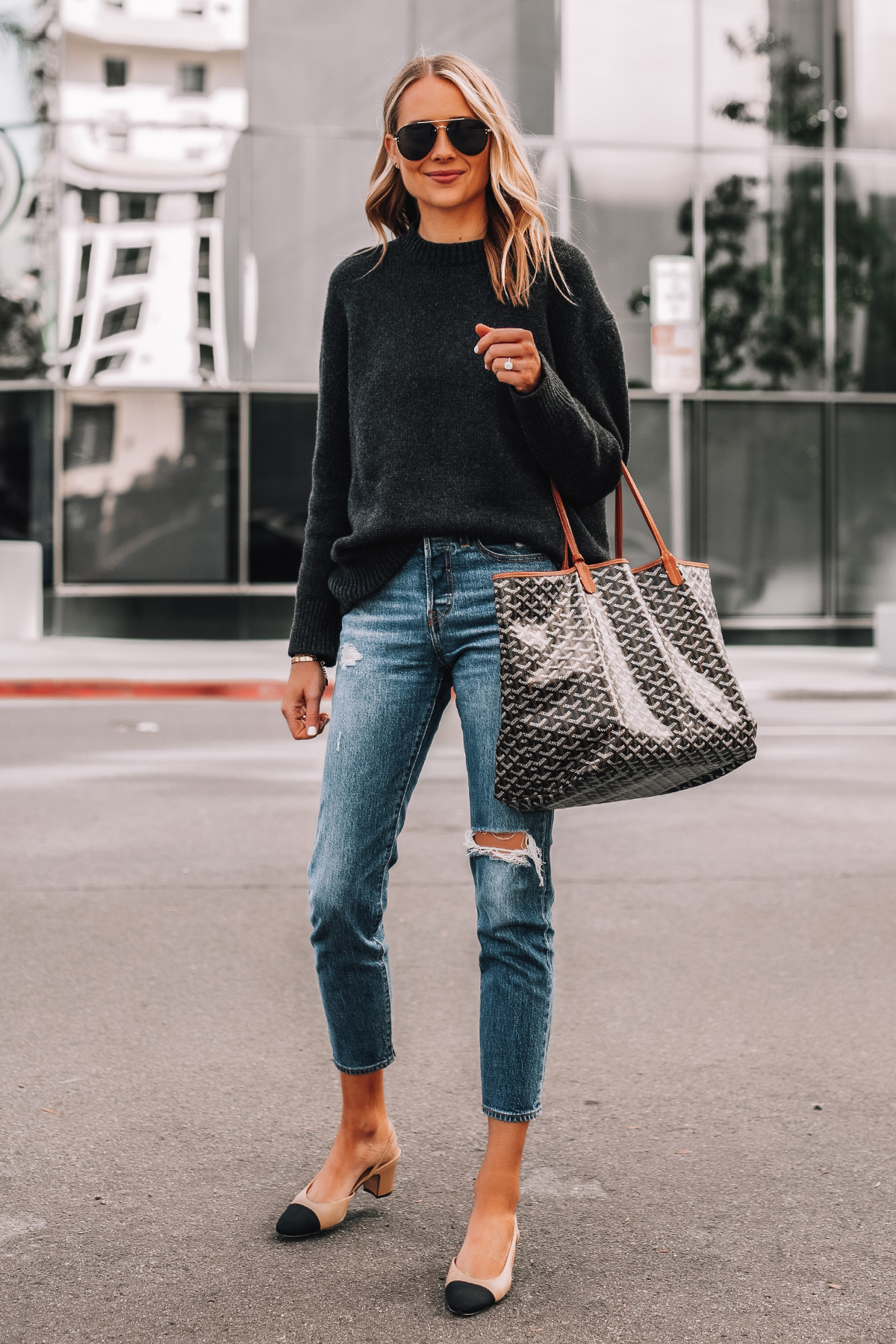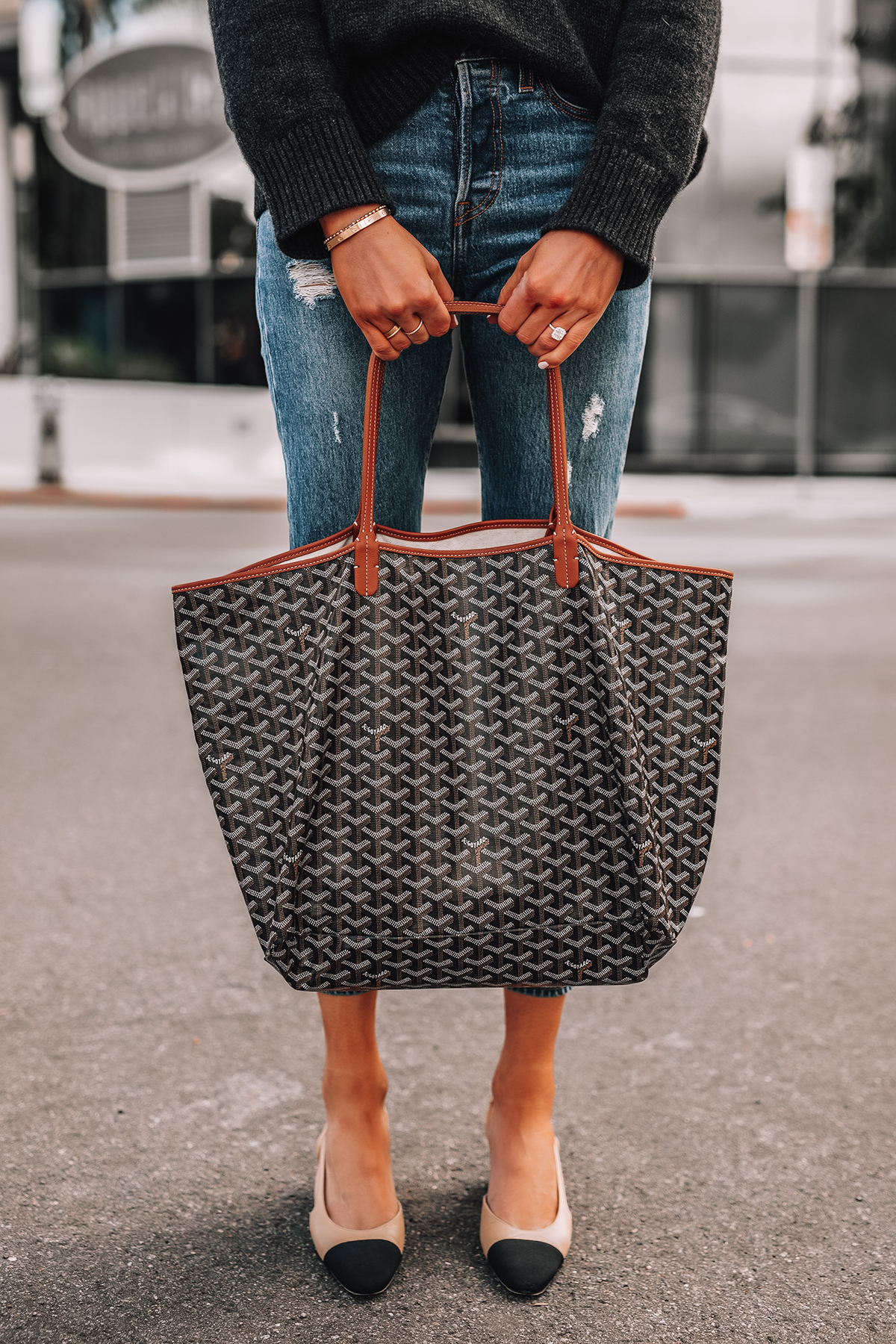 Over the past few years, I've started investing in designer handbags. I wanted to find timeless & classic styles that would hold up over over the years, especially with all the wear they would go through. One of my more recent designer handbag purchases was the Goyard St Louis GM tote. I was in the market for a new tote that I could use mostly for work & travel, and ultimately decided on the Goyard St Louis GM tote. I'm still so happy with my decision, so today I'll be sharing my honest review of the Goyard St Louis GM tote, as well as answering some of your most asked questions.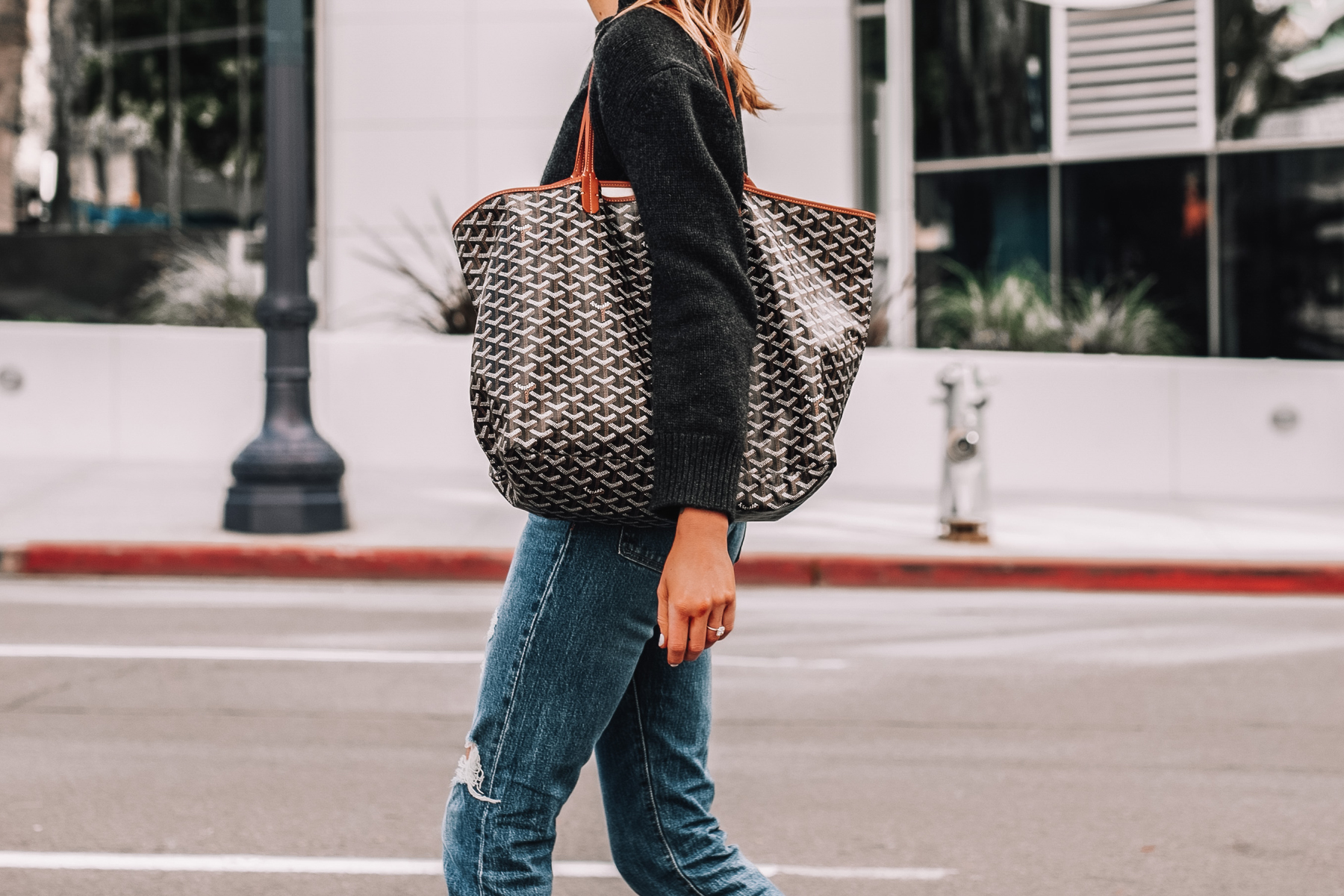 About Goyard
First, a little about the Goyard brand. Prior to the House of Goyard, was the House of Martin and Morel, founded in 1792. Specializing in box-making, trunks, and packing, the house was ahead of its time, focusing more on packing garments and delicate items. In 1845 the House of Martin and Morel hired 17-year old apprentice François Goyard who would work for 32 years before passing down to his son Edmond Goyard in 1885. Edmond turned the now iconic store on rue Saint-Honoré into a shopping destination for the elite. By opening state of the art factories, he had complete control of the manufacturing process ensuring the highest level of excellence in workmanship. The House of Goyard was bought in 1998 by Signoles, who shared the same passion for high quality production and craftsmanship. Within 10 years the Goyard brand was re-established with timeless elegance, craftsmanship and exclusivity.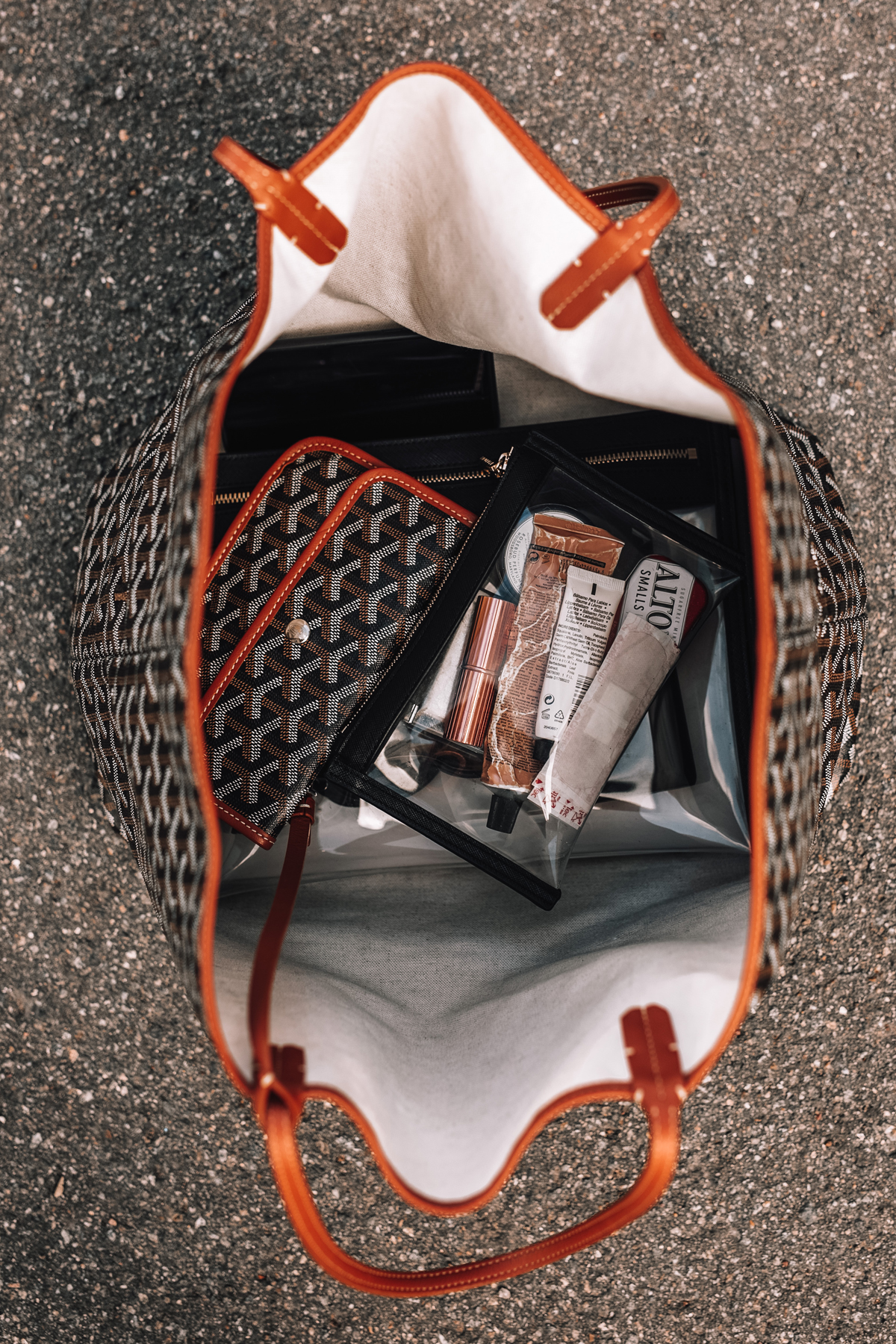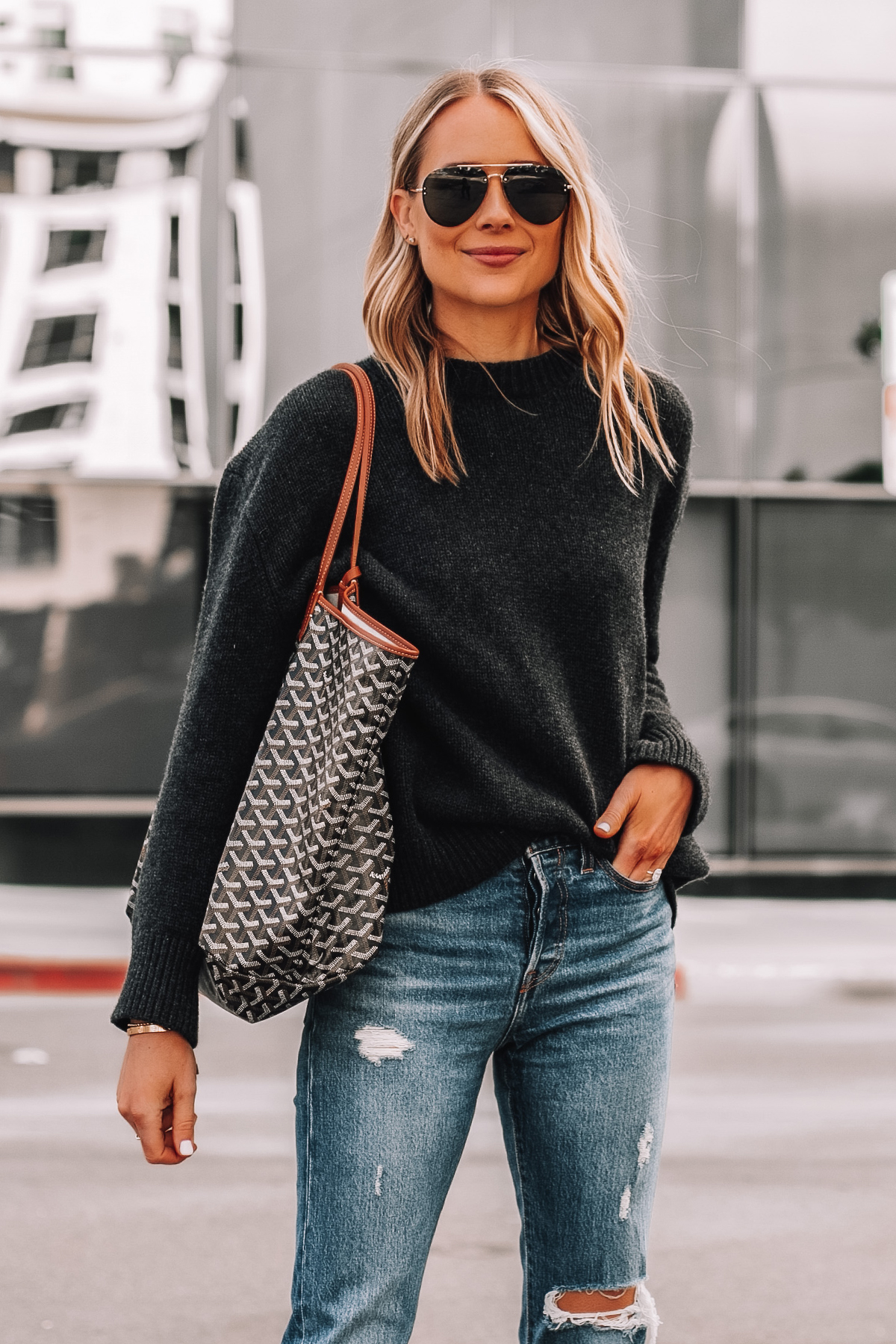 Goyardine St Louis GM Tote Fabric, Size, & Price
I bought my tote at the original Goyard boutique on rue Saint-Honoré in Paris during the fall of 2017. As there are no details online regarding pricing (the don't give out via email or phone either), I was really unsure of the exact price prior to visiting the boutique. I purchased my Goyard St Louis GM tote for $1,100 USD (based on the conversion rate at the time). Because this was over a year ago, I am not sure if the prices have changed, and it makes it a little more complicated since I bought it abroad and there is obviously a conversion rate to factor in. If you want to purchase a new Goyard product, you'll have to visit one of their worldwide boutiques. If you're interested in purchasing a pre-owned Goyard product, I recommend Fashionphile, Rebag, & What Goes Around Comes Around.
The Goyard St Louis GM tote measures 22.25" x 13.25" x 7.25" and has a 7.625" x 4.25" detachable leather pouch. To clarify, the pouch does detach, however the strap that attaches to the pouch stays attached to the shoulder straps. The shoulder strap has approximately an 8.5" drop. Although its appearance is similar to leather, the Goyardine is made with natural coated cloth mixing linen and cotton, which creates the iconic canvas fabric.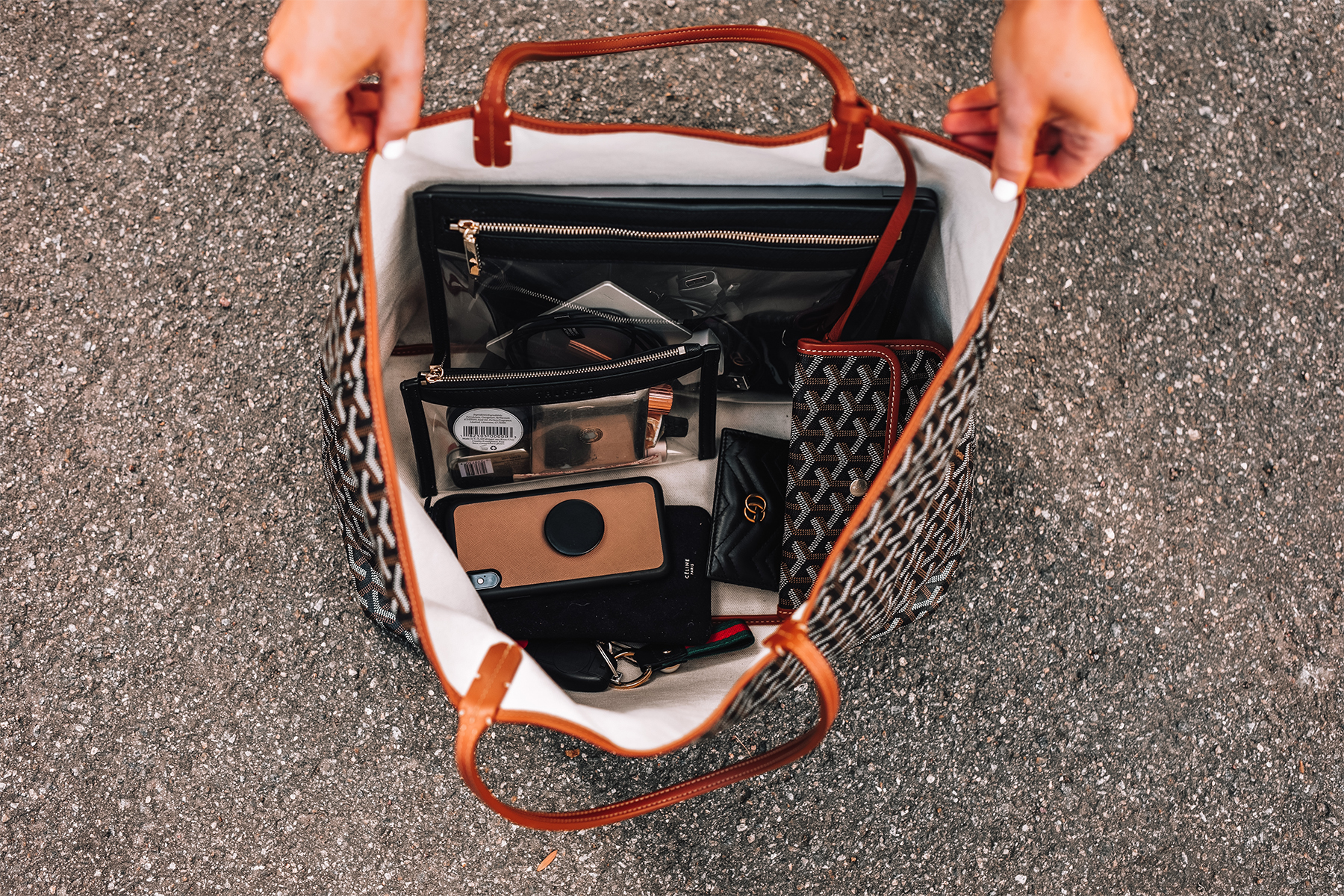 Interior Tote Contents
FAQs about the Goyard St Louis GM Tote
How do you keep it organized? I use a few of my Truffle cases
What's the most versatile color? My personal choice was black & tan because it goes with most of my apparel. I also love the white!
How do you care for your bag? I didn't do anything specific - read here for more care tips
Does it hold its shape? So far, yes.
Did you/can you monogram? I didn't monogram mine, but yes, you can. Read here for more details
Does it close? If not, is that a problem? There is no top zipper. Only when traveling do I wish there was a top zipper
Can you fit your laptop in it? Yes, with plenty of room.
Weight capacity? I don't know the exact weight capacity, but the heavier it gets, the less comfortable the shoulder straps become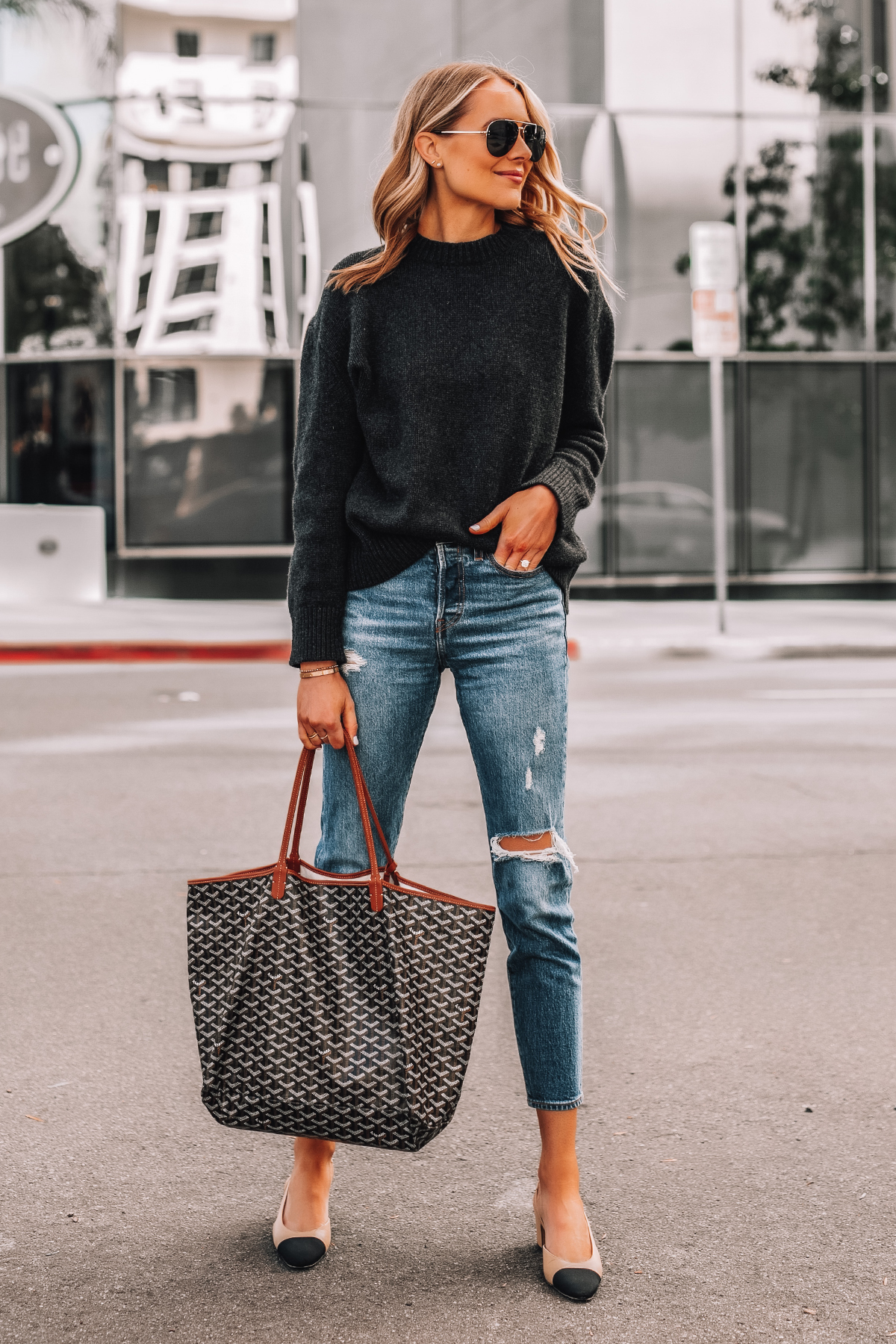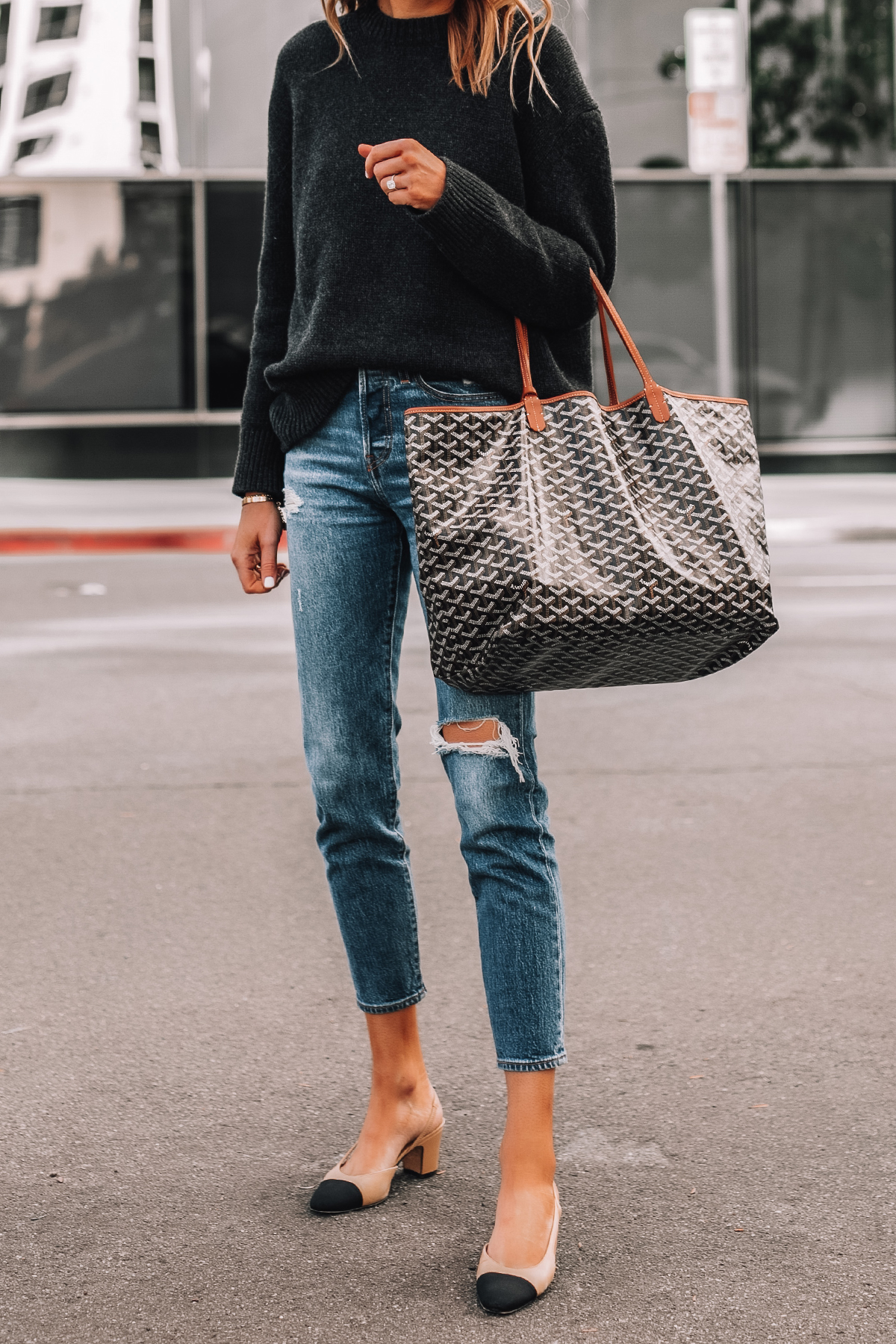 My Review of the Goyard St Louis GM Tote
Now that I've had the tote for over a year, it's definitely seen is fare share of use. While it isn't my "everyday" bag, I do use it about 2-3 times a week for work as well as every time I travel (for a few months it was even my gym bag). It honestly still looks brand new, except for the pen ink stain on the interior - oops. The straps don't show any signs of wear or cracking and the canvas is still in excellent condition.
Day-to-day I carry my 13" laptop, a couple Truffle pouch organizers, phone, wallet, keys, sunglasses, and maybe a few other small items. There is more than enough room. When traveling I'll carry the same items, as well has a small handbag, my headphones, a book, water bottle, and sometimes a neck pillow. Again there is plenty of room. It's almost like my Mary Poppins bag!
Update: I now use this tote organizer, to keep above items even more organized and it gives structure to the tote!
A lot of you guys asked why I chose the Goyard Tote over the Louis Vuitton Neverfull (MM or GM), and honestly it was just personal preference. Louis Vuitton makes beautiful products which I love, but I was more attracted to the Goyard tote at the end of the day. If you're deciding between the two brands, you honestly can't go wrong. I haven't reviewed the LV Neverfull, so I can't compare the Goyard tote to Louis Vuitton tote. Below I'm sharing my pros & cons about the Goyardine St Louis GM Tote.
Pros: durable, classic, holds a ton, less expensive than the Louis Vuitton Neverfull MM and GM
Cons: still costly, straps aren't comfortable when bag is heavy, no top zipper to close tote
Would I buy the tote again? Yes! As someone who doesn't take the best care of my handbags (I'm a little lazy), this bag seriously still looks brand new! Quality will always win in my book. Let me know in the comments below if you still have more questions.
Outfit Deatils
Photos: Arielle Levy
This post may contain affiliate links, meaning when you click the links and make a purchase, we receive a commission.