Today I'm revamping the weekly Everyday FJ series. Here I'll be sharing a little bit of everything; home updates, life updates, travel plans, what I'm shopping for, Nashville spots I've tried, discount codes, and really anything from the week that you guys might be interested in. I got a lot of requests with what you would like to see here, and it is actually helping me for future blog posts. I wanted this series to just be a true "everyday FJ" anything and everything. The more specific suggestions have been heard and for the majority of you, next weeks post is going to be exactly what you've been asking for! As always thank you so much for your support and following along, I truly appreciate you all. If you have a question or request, fill out the contact form or follow along on Instagram and send me a DM!
Click the images to shop products directly. Featured image details here.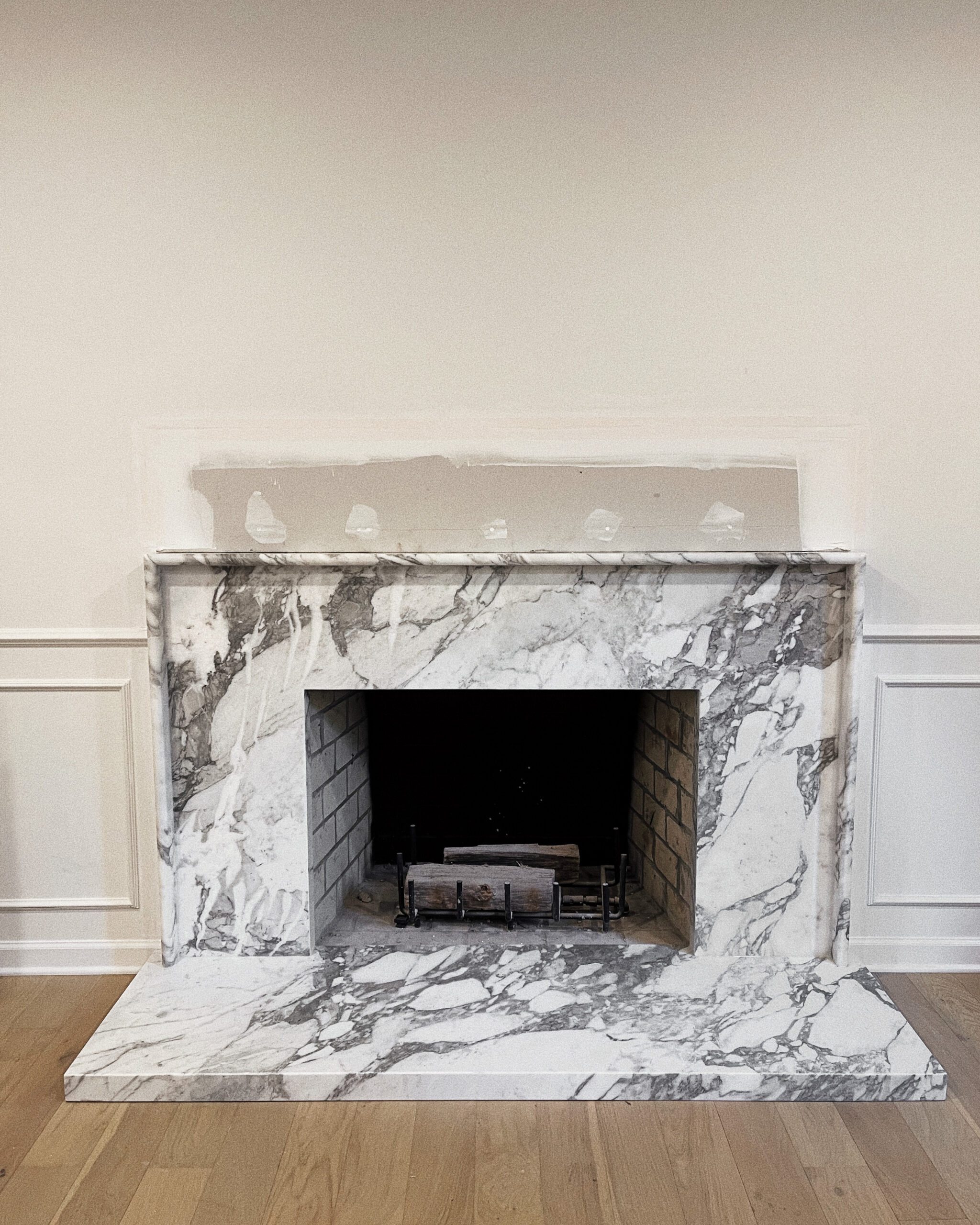 Recently
House Updates
This week the marble was installed on our fireplace in the formal living room! I'm so excited with how this space is turning out. Drywall and paint will be completed at the end of next week. A few weeks ago I surprised will with a baby grand piano, which is in the same room and Julie Couch is helping with the interior design for the rest of the space. Can't wait for it to be done.  Our closet is also in the process of getting installed. I believe that will be done at the end of next week as well, which is exciting because I'm ready for a closet purge!
There was a delay with the french doors we ordered for our kitchen patio, so unfortunately, the family room progress has been delayed due to this as they are connected.
Travel
I just got back from a long weekend in San Diego visiting my family and girlfriend, Merritt, who was vacationing from Dallas. The weather was gorgeous so we spent a lot of time at the pool and going out to dinner. The Waverly was my favorite place we ate, definitely check it out if you're going to San Diego soon. I was able to shoot with Arielle at her new loft which is where we took the featured image pics. If you ever need pictures and you live in southern CA, contact her. She is SO talented!
Mine and Will's 2 year anniversary is in a few weeks and we are trying to find something last minute we can escape to for a few days. We did Palmetto Bluff last year and LOVED it, so looking for something along the same lines. These were the top suggestions you guys sent in: Sea Island, Kiawah Island, Half-Mile Farm Old Edwards Inn, Jekyll Island, Barnesly Gardens, High Hampton, Blackberry Mountain (different from Blackberry Farm), The Biltmore in Asheville, Ritz Carlton Lake Oconee, & Snow Bird Lodge. Hopefully we can find something on such short notice!
Also need to plan another trip to Dallas in October for work/visit with friends before the holiday (oh my gosh) season kicks off!
Shopping
Shopbop has had my attention lately, I'm guessing it's because I'm ready for fall. I placed an order the other day and I'm excited to wear these new pieces. All my Shopbop essentials can be found here.
12 new styles from J.Crew and a lot are 40% off right now. I'm definitely ordering this in grey!
I got these jeans from Madewell and can't get over how comfortable they are! I did size up for a relaxed fit. See how I styled theme here. And here are 8 more styles I'm loving and all are under $150.
On Wednesday I wore this hoodie (in Opal) and got a ton of questions about it. I grabbed it when I was in San Diego and paired it with these jeans and sneakers. Also loving these styles as well!
Have a fall wedding or event to go to? Check out these 16 gorgeous styles!
Nashville
Thursday night I went to dinner at Char with my girlfriend Kimberly and wore this. We usually go to Santo, Josephine, or Giovanni, which are all high on my list. I'm not sure I cared for Char enough to go back, or maybe I need to try another dish - just my honest opinion!
If you've been following for a while, you might already know this but E + Rose is one of mine and Will's go-to spots for brunch/lunch/coffee. I go there at least once a week for a working lunch and this week tried their 'Nashville Hot" Kale Wrap which might be my favorite thing on the menu now. Their bulletproof smoothie is SO GOOD too. If you're vegan, gluten free, plant based, vegetarian, this is the place for you! Even if you're not, trust me you'll love it.
I recently switched to a non-toxic nail salon called Freecoat and I've been loving it! I always do gel mani/pedis and get either red or a neutral classic color. Poppy & Monroe and Chao Nail Bar are other non-toxic salons I'm want to try.
Watching/Listening
We are pretty boring when it comes to shows, in the sense that once we start one, we don't watch anything else until we are done with the series, so it could be a while before there are updates. We just finished Bosch on Amazon Prime. One of the best shows ever. Right now we are on season 3 of Billions, another great show. I just saw they are making a 'How I Met Your Father' starring Hillary Duff. I loved her in Younger, and I also loved 'How I Met Your Mother', so I'm excited for this one!
I'm probably the only one out there, but I rarely listen to music in the car when driving around town. It's my time to decompress and I just like to relax and not have anything on. BUT if I'm driving long distance I have to have music. When we were driving back from Telluride we started the podcast Serial (SUPER late to the game) and loved it! We have one episode left of season 1 and probably won't finish until we drive for our anniversary trip.
On The Blog
Everything I Wore on Instagram in August
10 Products You Loved in August
1. White Button Down Shirt: If you don't have a white button down shirt in your closet already, you need one. It's 100% a closet staple and this one from Jenni Kayne is my favorite. I love the oversized boyfriend fit because it's easy to dress up for work or wear casually for weekends. Plus right now its 20% off with code FRESHSTART for the weekend. Fits TTS - I wear an xs.
2. White Sneakers: I've had these sneakers for over a year and first off, they are SO comfortable. Second, they are a great alternative to Golden Goose because they have the similar style for a fraction of the price. Third, they are on major sale right now! FYI I always go down 1/2 a size in this brand. More sizes here!
3. Maxi Dress: I got this dress during my trip to San Diego last week and it was the perfect addition for end of summer. I love the feminine eyelet and ruffle details. I works perfect with sandals right now, but I'll def be pairing it with sneakers and a denim jacket for chilly days before fall starts! Fits TTS - wearing a 2.
4. Chain Heels: I mean...how cool are these heels?! I love the chain detail paired with a classic nude mule style. They elevate these heels to help make your look just a little more fun. The chain detail isn't uncomfortable either! Fits TTS for this brand.
5. Levi's 501 Jeans: One of my favorite pairs of Levi's jeans. Classic fit. They have stretch and go with everything. These are always a favorite for travel too because they are just so comfortable. Plus they are under $100! Fits TTS for Levi's.
P.S.
1. Have you signed up for the Fashion Jackson newsletter yet? I share exclusive content, exciting announcements, and much more! Sign up here and get Fashion Jackson straight to your inbox!
2. Want to shop my closet? Follow my Poshmark account here!
3. In the last Everyday FJ I shared my...
This post may contain affiliate links, meaning when you click the links and make a purchase, we receive a commission.