It should come as no surprise that sweaters are what most of us are living in right now. Some of you might have started wearing them early fall depending on where you live. It wasn't until just a few weeks ago, that I really began wearing them daily here in San Diego. But since December is in just a couple days (where did November go?!), I know most of us are wearing sweaters everyday. While there are SO many styles to choose from between color, texture, style, silhouette, I wanted to share my top sweater styles that you need to kick off winter. These are the styles I have found to wear the most because they are not only versatile and stylish, but they also serve a purpose - to keep me warm! Keep reading to find the 7 sweater styles you need for winter!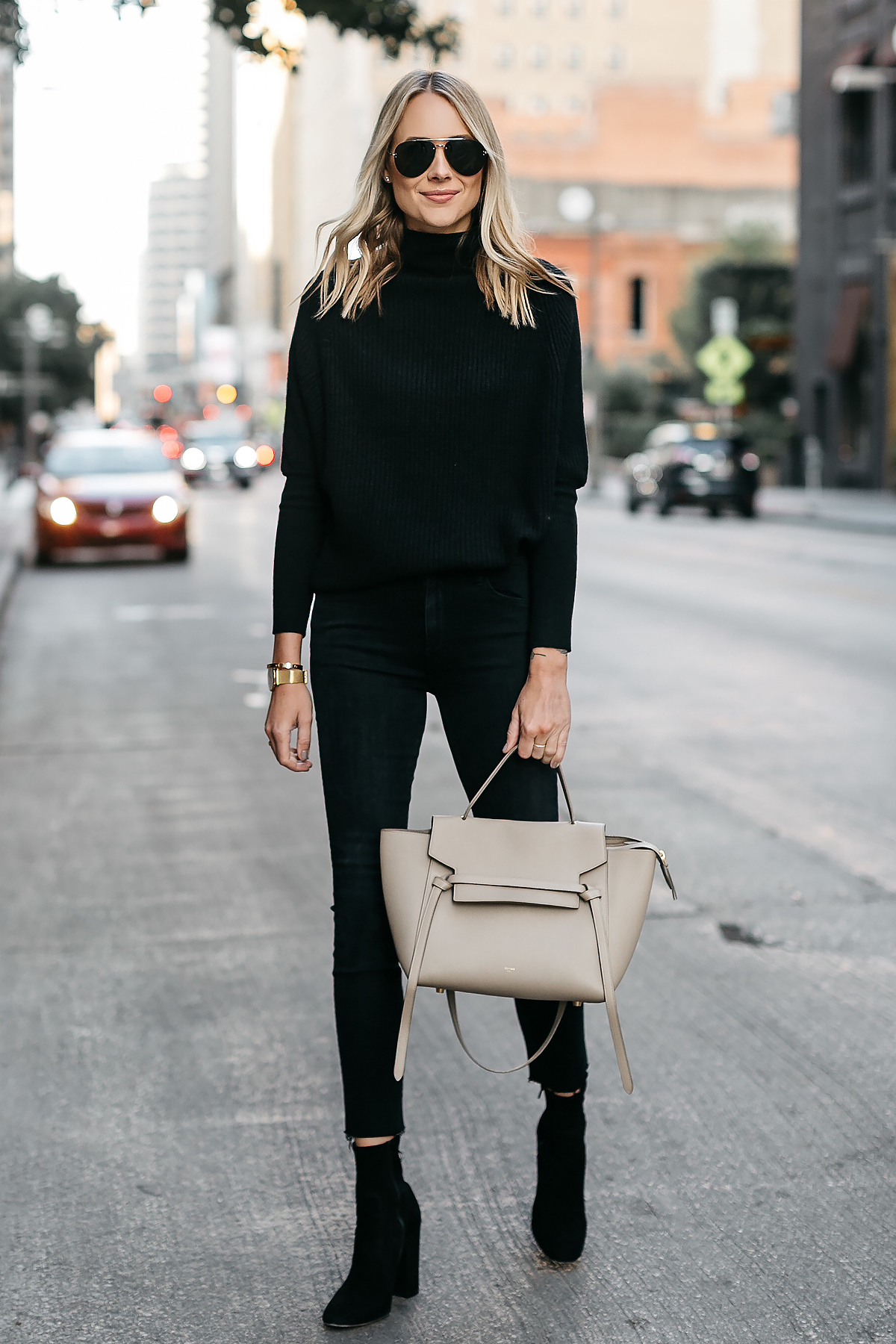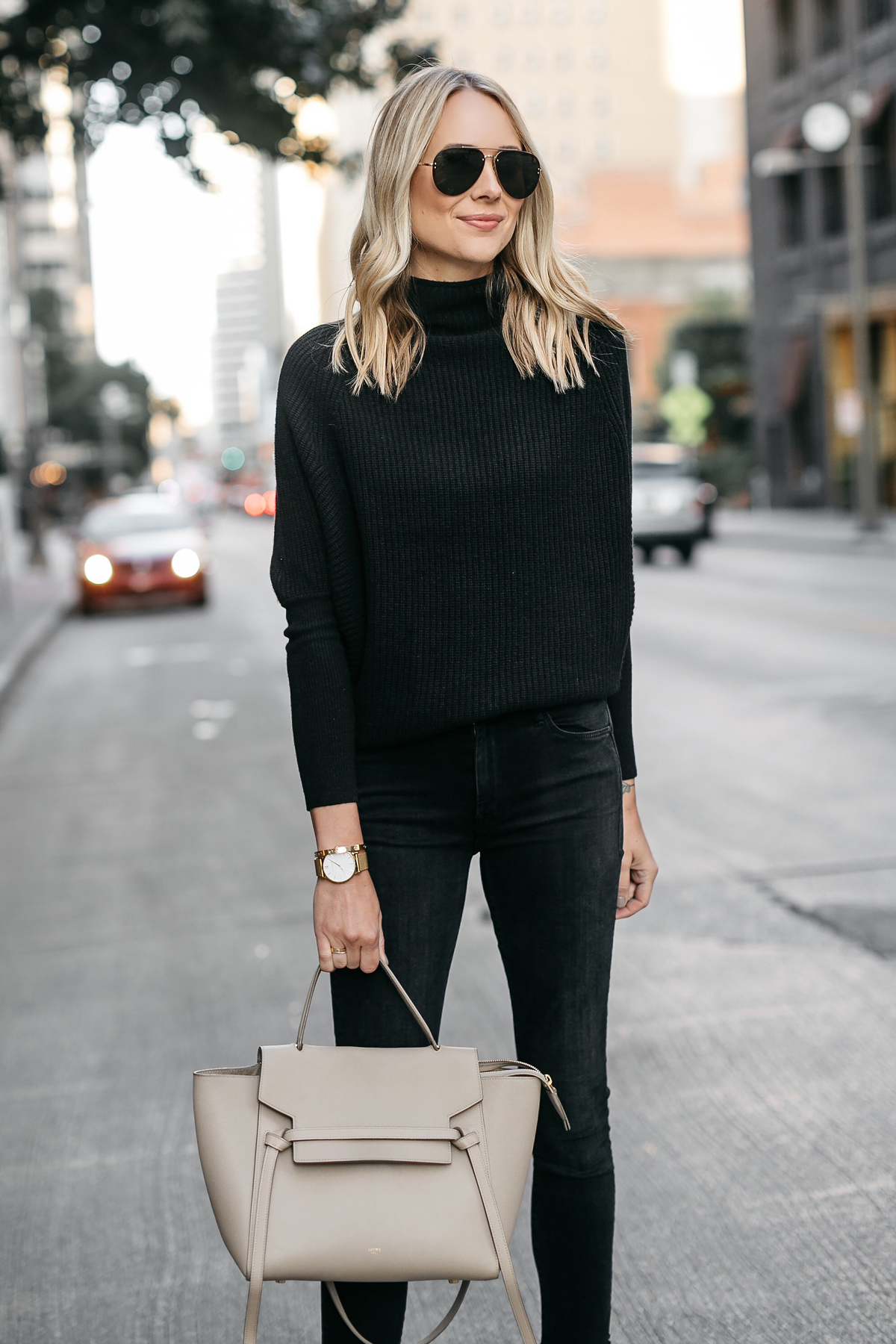 I know this isn't really a "style", its a color, however the color is what creates the overall style that I'm going for. You know how much I love to wear all black, and honestly winter is a great time because then your winter accessories like coats, scarves, and beanies can really stand out! Plus there is nothing more chic than an head-to-toe black outfit. Don't believe me? Try it one day and see how great you feel, and I guarantee you'll get a compliment or two 🙂 If all black seems a little boring to you, look for a black sweater that has a little texture to it! Here is a casual way I wore an all black outfit.
What I'm Wearing
Sweater: Club Monaco c/o (size XS) | Jeans: Similar | Booties: Similar | Handbag: Celine (similar)
Sunglasses: Celine | Watch: Larsson & Jennings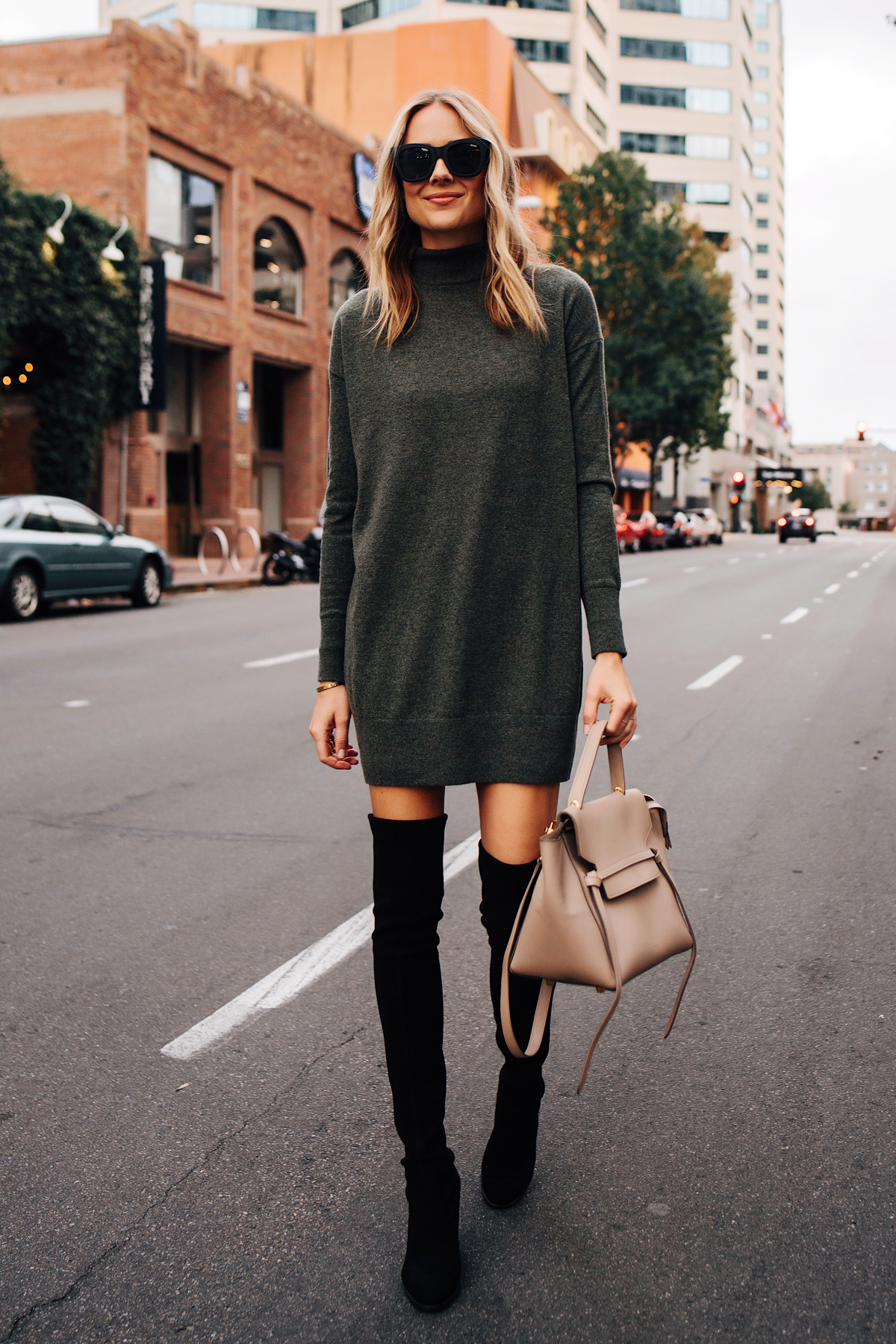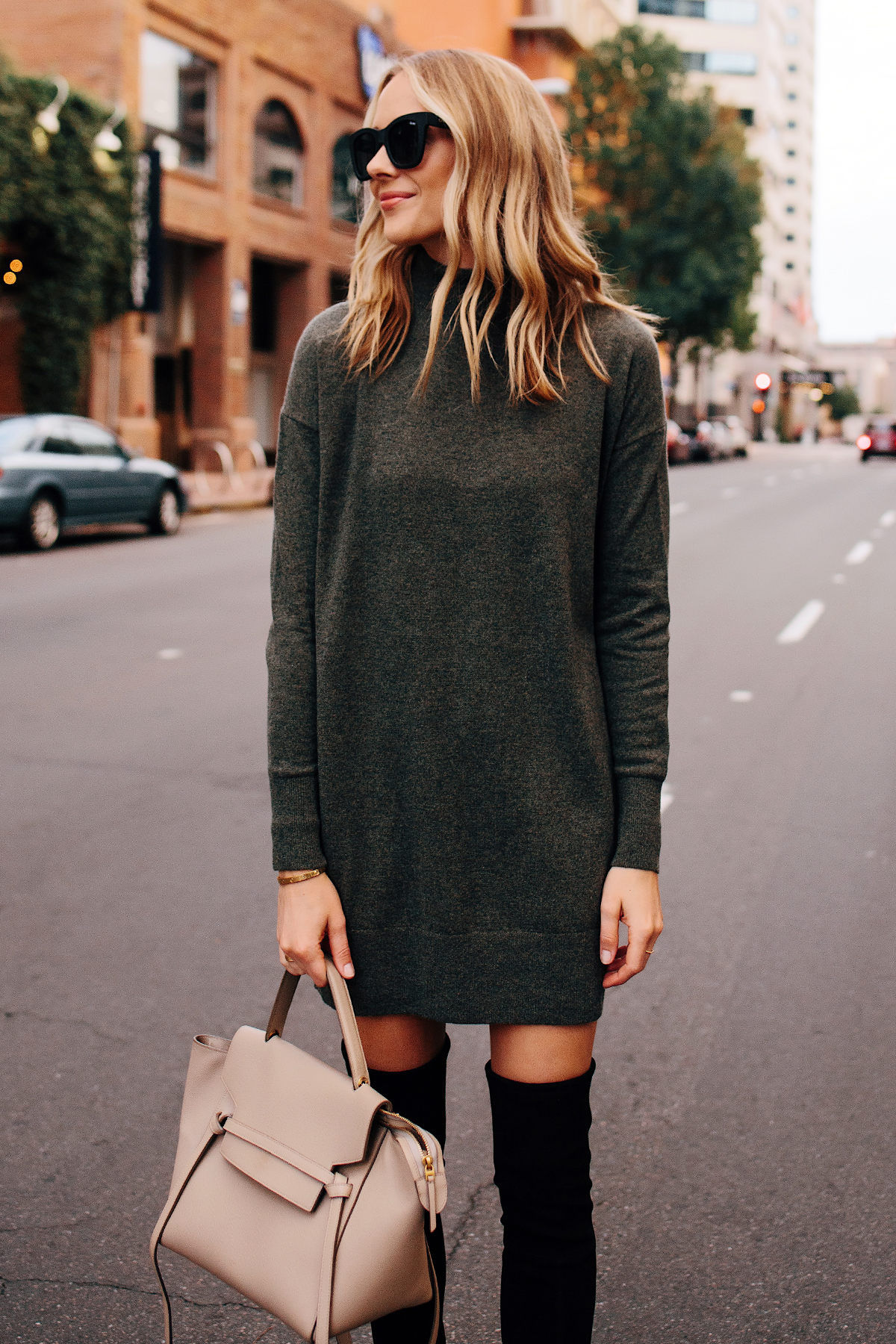 Sweater dresses are great this time of year, because you can dress them up or down! OTK boots, booties, heels, loafers, sneakers, you name it, these shoes all work so well with sweater dresses. I also think they are a great alternative to holiday dresses. As much as I love getting super dressed up for all the parties this time of year, it's not always realistic. Sweater dresses are a great alternative and you can be so much more comfortable, and lets face it, comfort is key! Add some bold earrings to make more a of statement with your outfit if you're trying to dress it up a bit!
What I'm Wearing
Dress: Everlane c/o (color Loden size small) | Boots: Stuart Weitzman c/o (similar) | Handbag: Celine (similar) | Sunglasses: Quay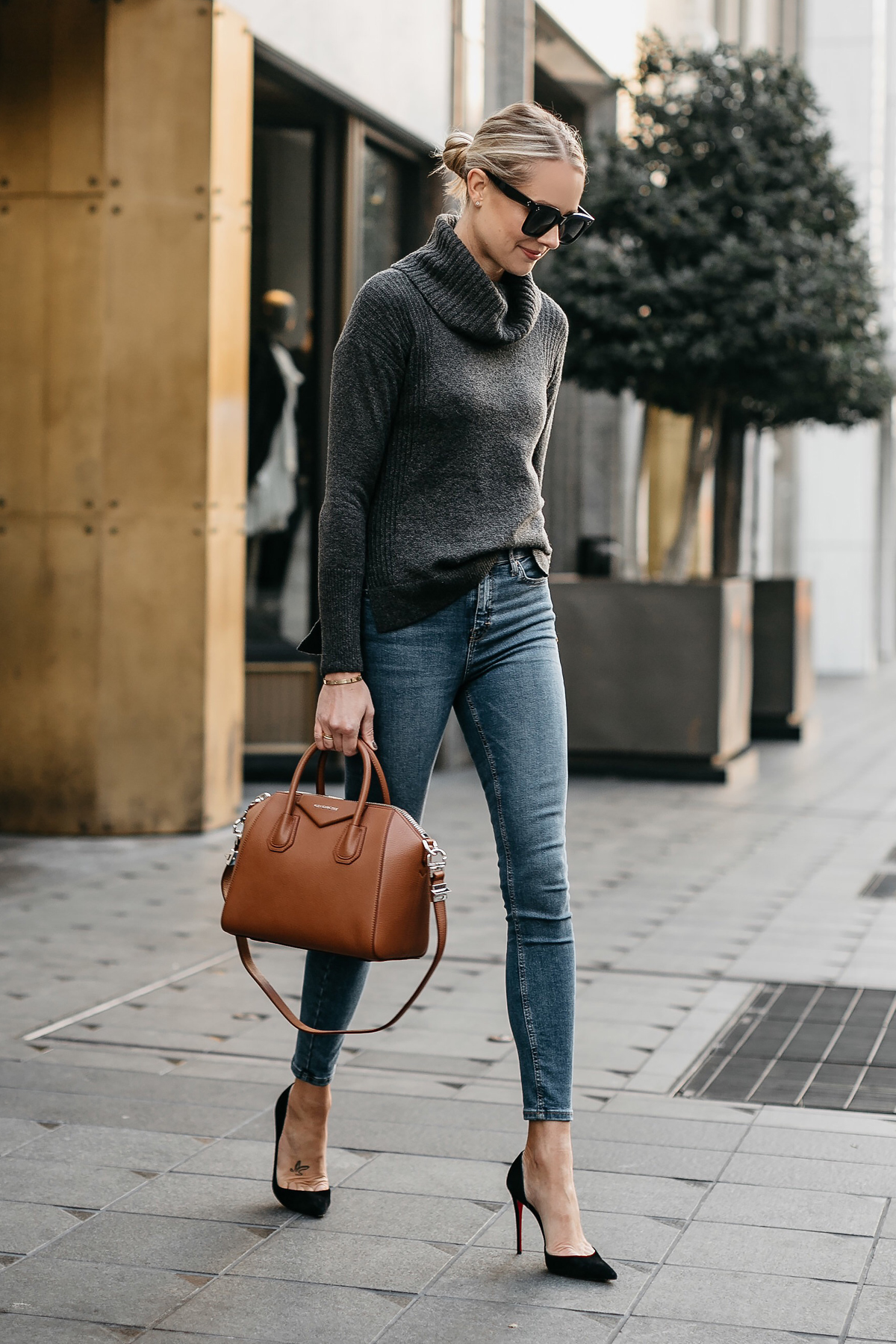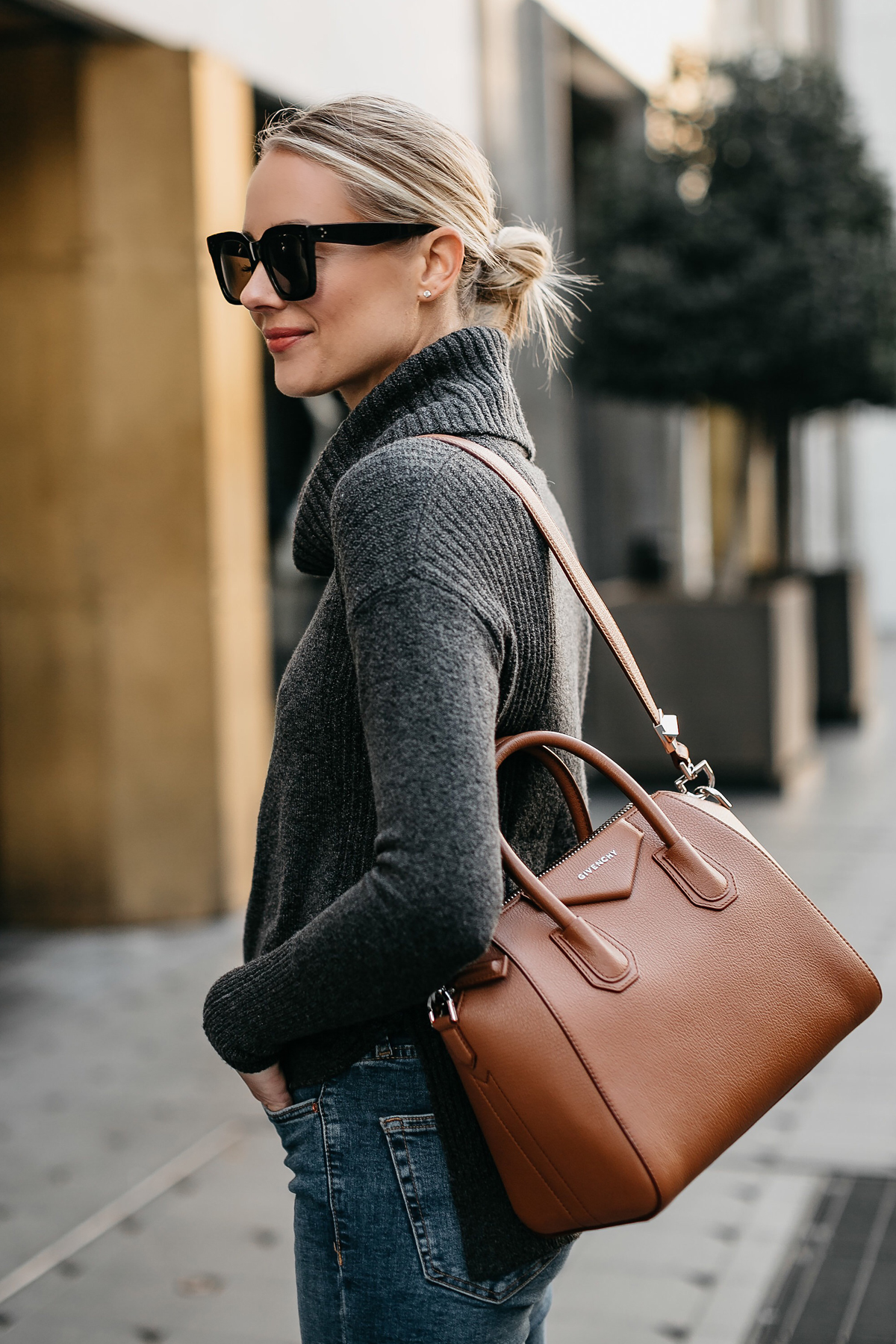 This is definitely the most common sweater style during the winter, and if you live somewhere very cold, the most practical. I love a great oversized turtleneck - or cowl neck style. Pairing them with jeans and layering under coats makes such a cozy winter outfit. This was one of my favorite looks from last year! They are also so easy to dress up as pictured above!
What I'm Wearing
Sweater: Similar | Jeans: Topshop | Heels: Christian Louboutin (similar) | Handbag: Givenchy (similar) | Sunglasses: Celine (similar)
This is probably one of the easier and more versatile styles of sweaters to wear. They can pretty much be worn all year, so finding just a few core styles is great for longevity. I always have a black, grey, and beige cardigan hanging in my closet that I can wear all year. Each season I'll pick up a few more cardigan styles that are more season appropriate. I love oversized chunky cardigans to cozy up at home. But they are also great for dressing up maybe over a lace camisole, skinny jeans, and heels! That would be a fun holiday look too!
What I'm Wearing
Sweater: Madewell (size XS) | Jeans: Madewell (size down) | Top: Nordstrom (size small) | Shoes: Gucci (similar)
Handbag: Chanel (similar) | Sunglasses: Celine | Necklaces: Missoma here & here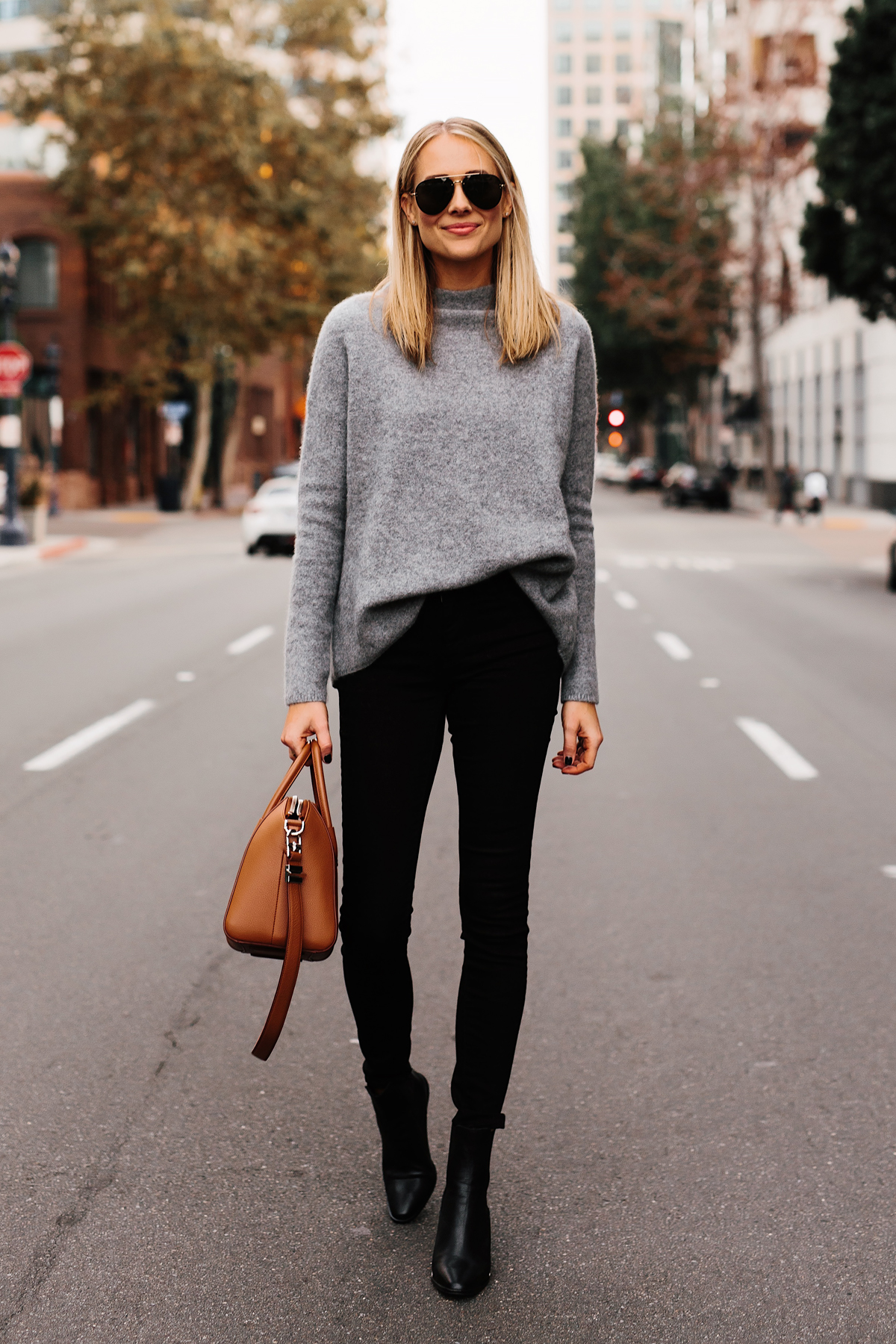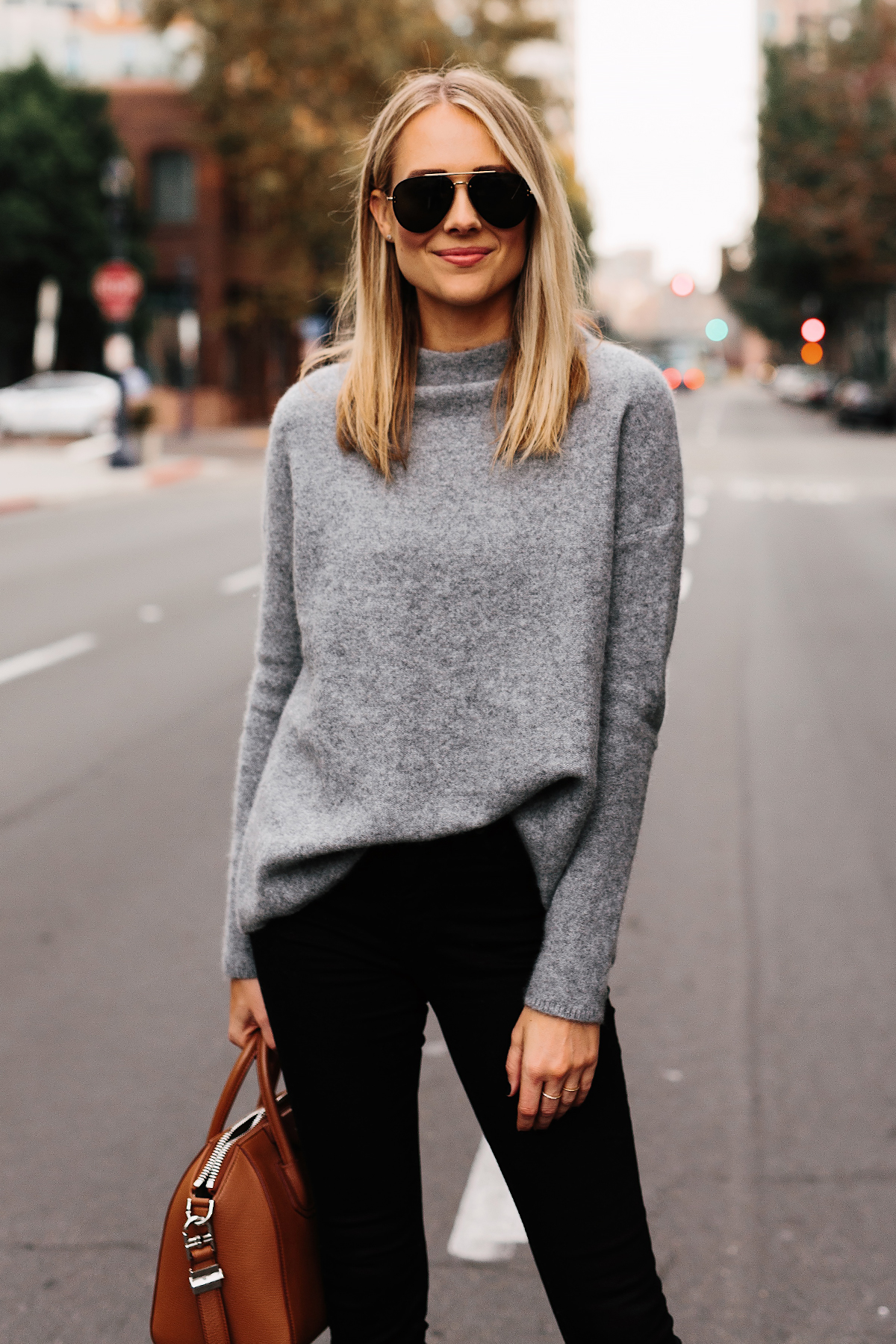 Oversized is definitely one I'm living in during the work week. Since I do work from home, its easiest for me to throw on skinny jeans and an oversized sweater with either sneakers or booties. I feel comfortable, but still look put together. Oversized sweaters are also great for traveling, even after the winter months. Its always so cold on planes, so wearing an oversized sweater keeps me warm and cozy. Traveling somewhere hot? No problem, just throw the oversized sweater on over a tee or tank, and take off once you land, then you're not uncomfortable when you arrive. Style tip: found a sweater you love that isn't oversized? Try going up 1-2 sizes to achieve that oversized cozy look.
What I'm Wearing
Sweater: Bloomingdale's (size XS) | Jeans: Madewell (size down) | Booties: Topshop
Handbag: Givenchy (similar) | Sunglasses: Celine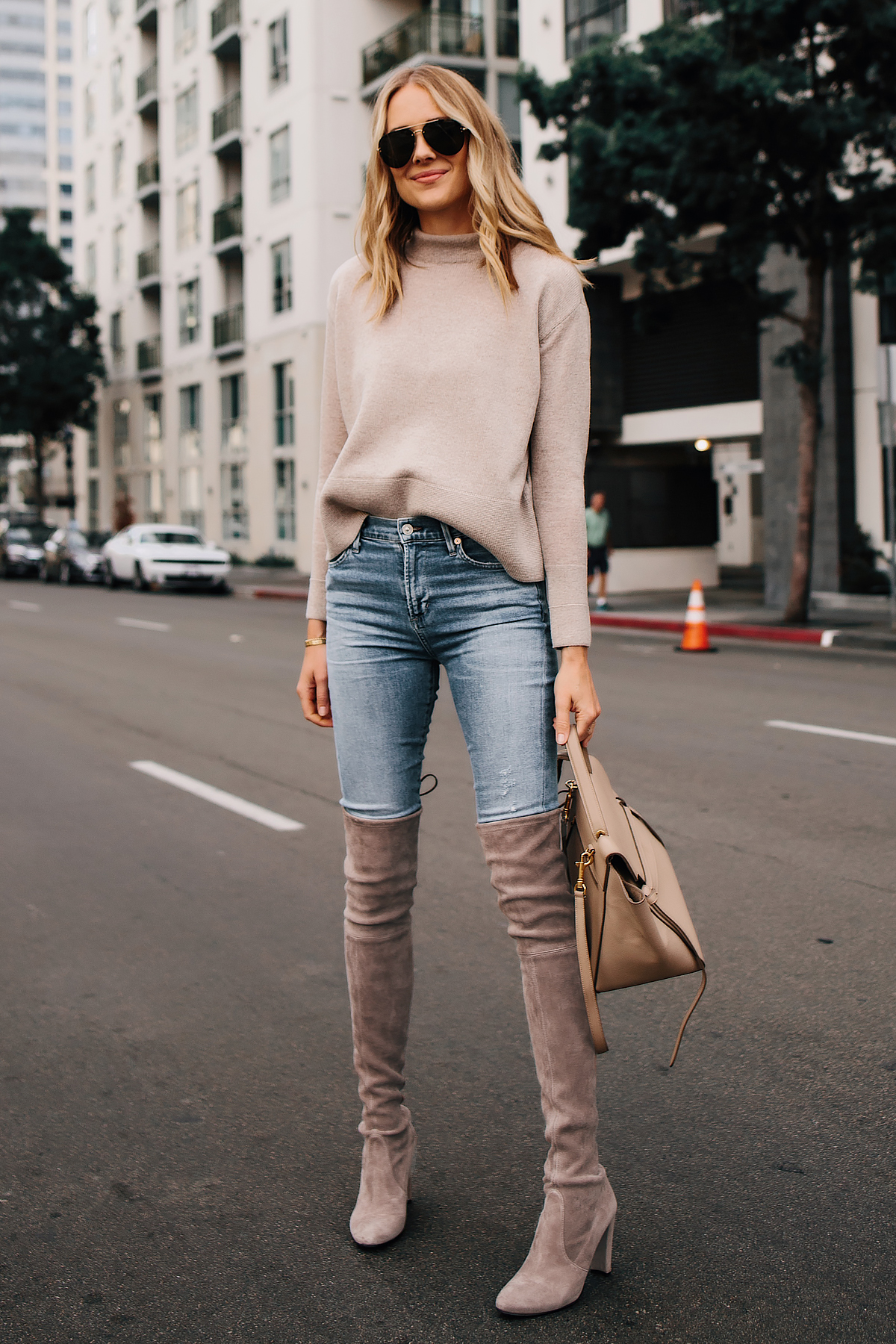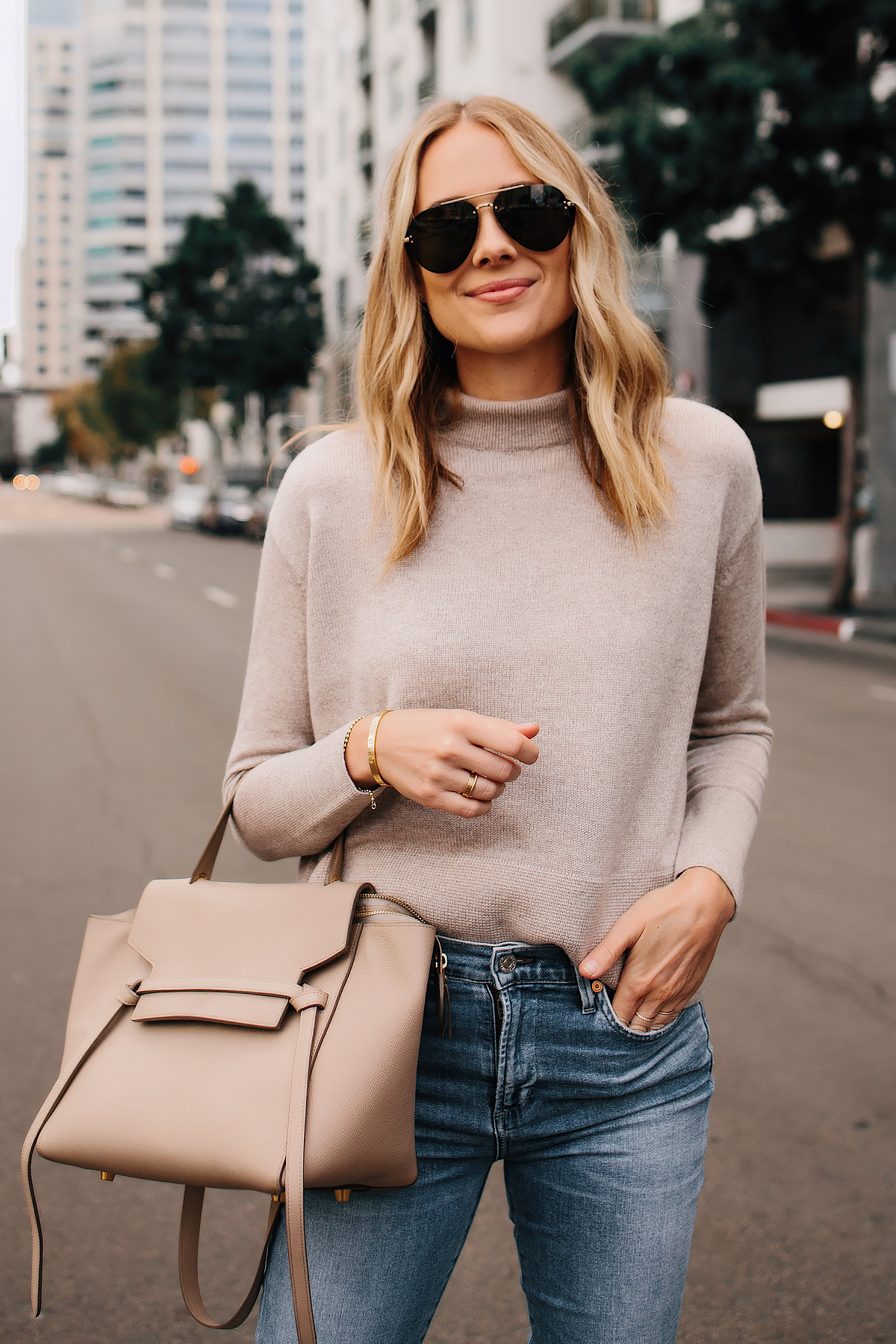 This is my FAVORITE kind of sweater to wear. There is nothing better than a cashmere sweater. I know the cost can be intimidating because they aren't as budget friendly as other styles. However, I have a secret. Well, if you've been following me for a while, it's not a secret to you. Everlane. Not only are they my first destination when buying sweaters (read this post), they are the only place I will buy cashmere sweaters from. The quality is THE BEST and the prices are beyond fair. Plus I love what the brand and company stands for. Ok back to cashmere. Nothing beats wearing a butter soft sweater with jeans, joggers, dress pants, skirts, really anything! Make sure you have at least one cashmere sweater in your wardrobe this season this essential crew would be a great style to start with!
What I'm Wearing
Sweater: Everlane c/o ( 'light oatmeal' size XS - folded the turtleneck down a little) | Jeans: Similar | Boots: Stuart Weitzman (similar)
Handbag: Celine (similar) | Sunglasses: Celine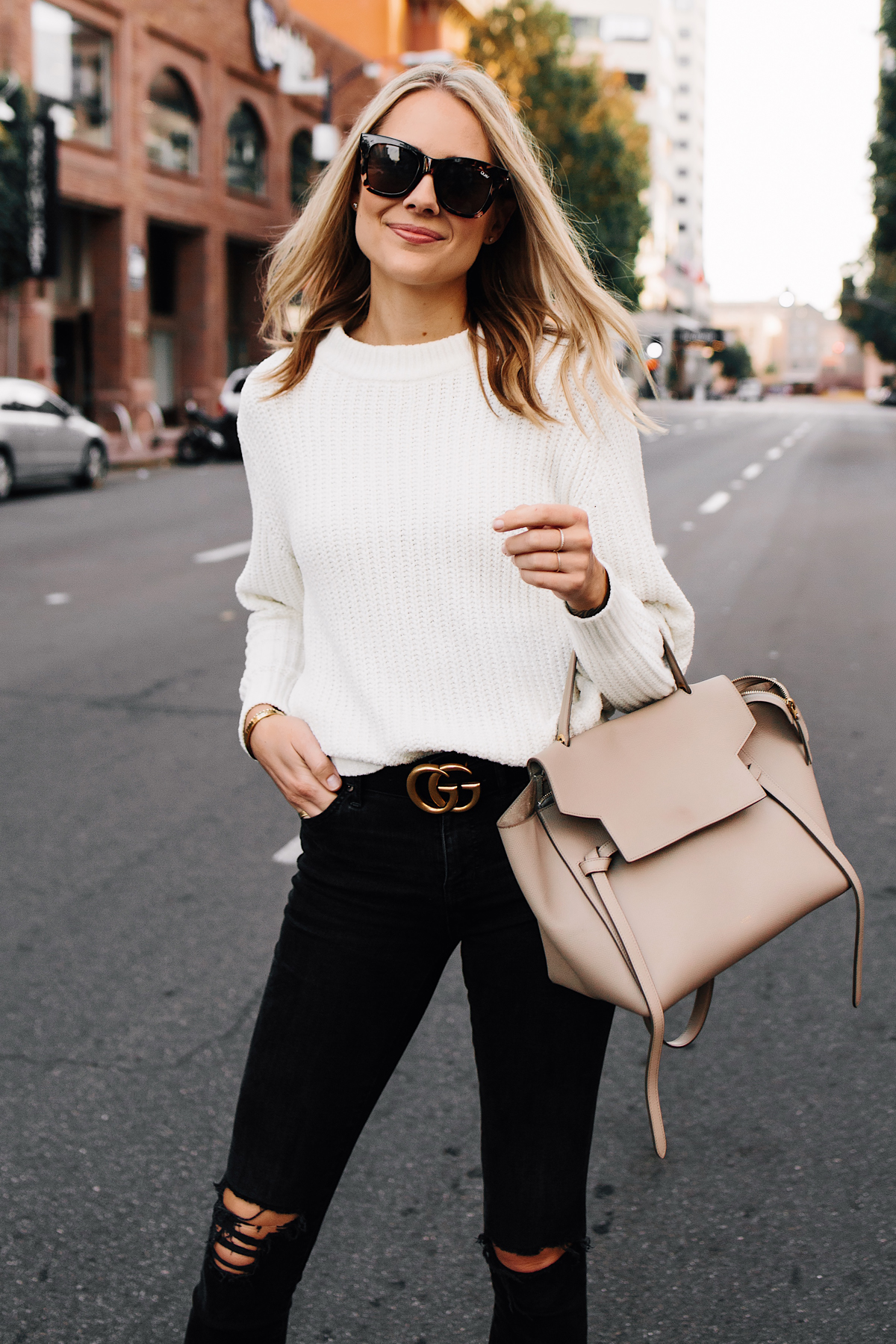 I don't follow the "no white" rule after labor day, I wear what I feel the most confident in and I think there are stylish ways to wear winter white. So on the flip side of buying a black sweater for winter, yes you definitely need a winter white sweater. I can't tell you how many people have complimented my outfit anytime I wear winter white. There is something so chic about them, especially paired with neutrals. This outfit was one of my favorite times I wore winter white.
What I'm Wearing
Sweater: Aritzia (similar) | Jeans: Madewell (size down) | Belt: Gucci (similar) | Booties: Steve Madden
Handbag: Celine (similar) | Sunglasses: Quay