Celine has by far been my favorite brand for handbags. I remember how excited I was when I bought my very first, the Celine Mini Belt Bag, back in late 2016. It immediately became my favorite bag and still to this day is in my top 3. Since that first purchase, my Celine handbag collection has grown, especially as of late. I think what really makes Celine handbags special is the quality you get for the price with such a big designer name. There are so many different styles, materials, and sizes to choose from and honestly they are all amazing. My personal favorites are the more subtle quiet luxury handbags like the belt bags, the romy, and the bucket bag.
Below I'm diving into my personal Celine handbag collection and sharing mini reviews on each. If you're looking for where to buy Celine handbags, I've purchased mine through the Celine boutiques, select Nordstrom stores, 24s, and Fashionphile for pre-loved options. Keep scrolling past the reviews for more Celine handbags I'm loving.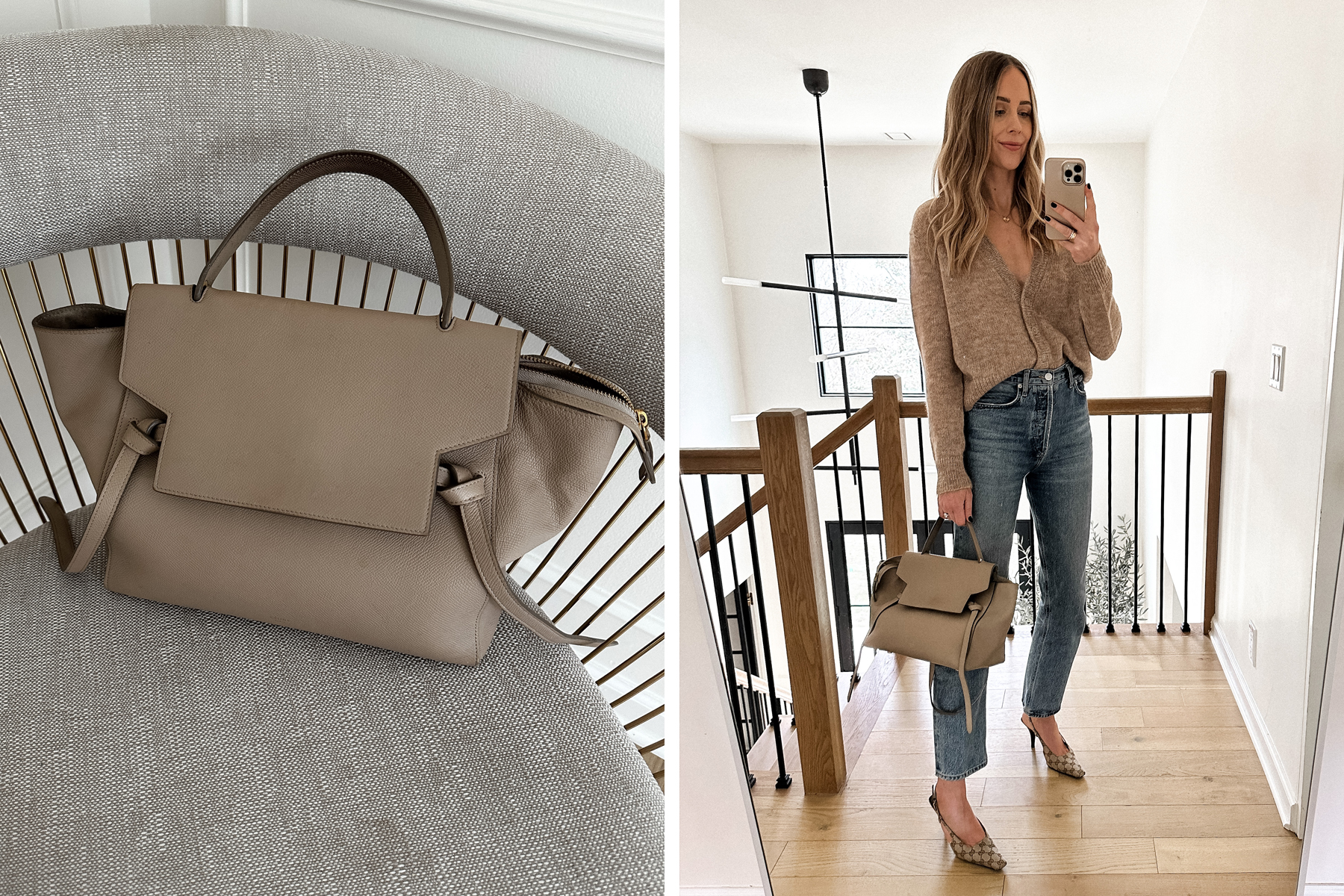 Celine: Mini Belt Bag
Price: $2850 USD
Size: 11 X 9 X 6 IN (28 X 23 X 16 CM)
SHOP NEW
My very first Celine bag and most used bag of all time! I bought it from the boutique in Dallas in 2016. It's the most versatile, subtle, classic handbag to date. The light taupe color makes it easy to go from day to night. While this is the largest size in the belt bag collection, you cannot fit a laptop in the Celine mini belt bag. The strap it comes with is only long enough to be worn on your shoulder, not crossbody. I have this one to wear the Celine mini belt bag crossbody. Truly my favorite bag ever.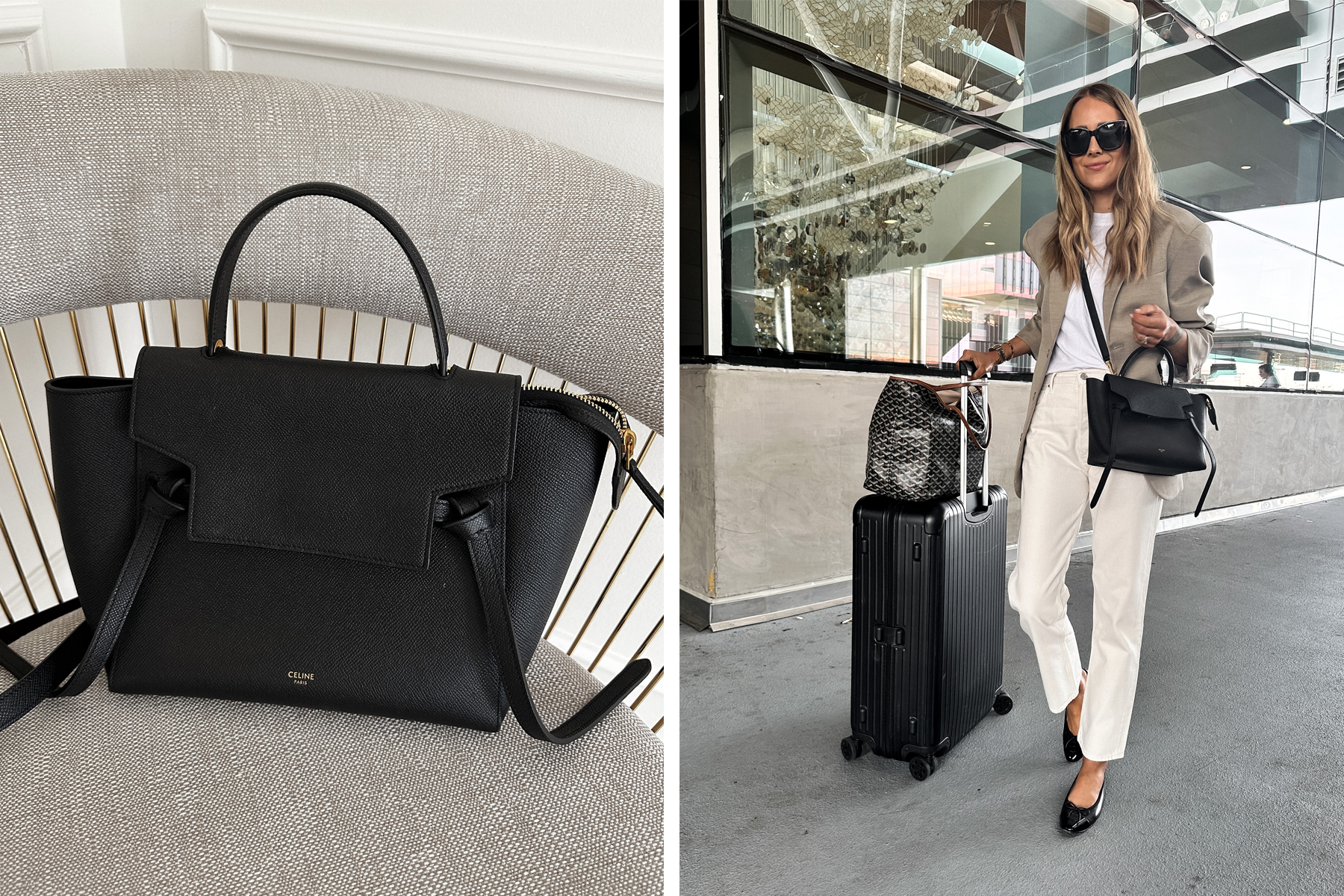 Celine: Micro Belt Bag
Price: $2700 USD
Size: 9 X 8 X 5 IN (24 X 20 X 13 CM)
SHOP NEW
I bought the micro belt bag just a couple years ago from Nordstrom and its a great size for day to night without being overwhelming. This one has a longer strap so you can wear crossbody if you like, that is my preference for this style. The strap is removable so you can carry using top handle only if you like. While the micro is smaller than the mini belt bag, it still holds all my essentials with room to spare. This is a great "starter" Celine bag if you're in the market.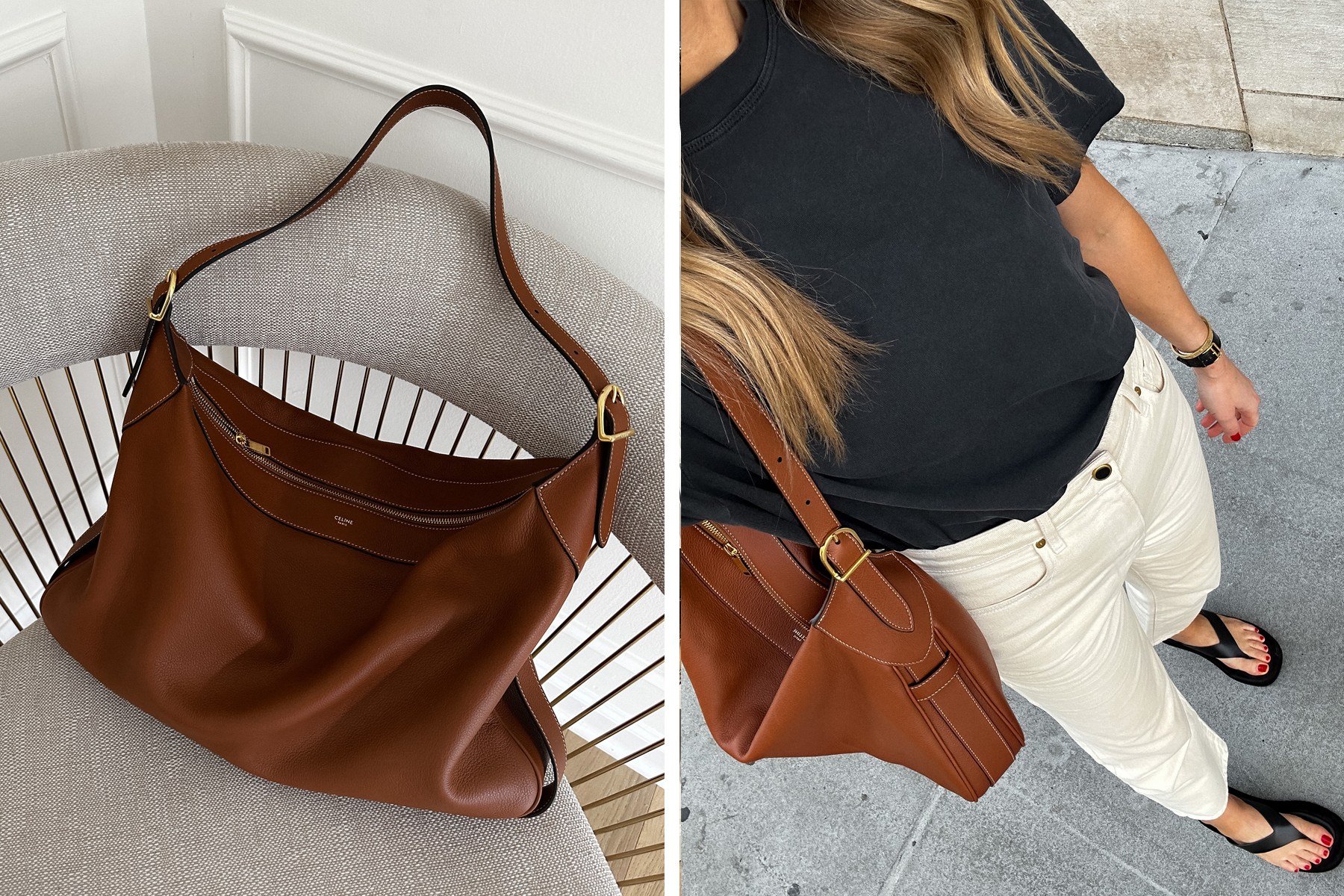 Celine: Large Romy Bag
Price: $3450 USD
Size: 17 X 11 X 2 IN (42 X 29 X 6 CM)
SHOP NEW
My most recent Celine bag purchase has quickly become my favorite! It's so roomy, the grained leather is soft and buttery, and the shape is so great. I typically don't like hobo style bags, but this one just caught my eye and I immediately fell in love. Plus the color is stunning. I love that it goes back to all my favorite neutrals effortlessly. There is a smaller option, the Celine Medium Romy bag, but I loved the large for an everyday style. I purchased this one from the boutique in Soho.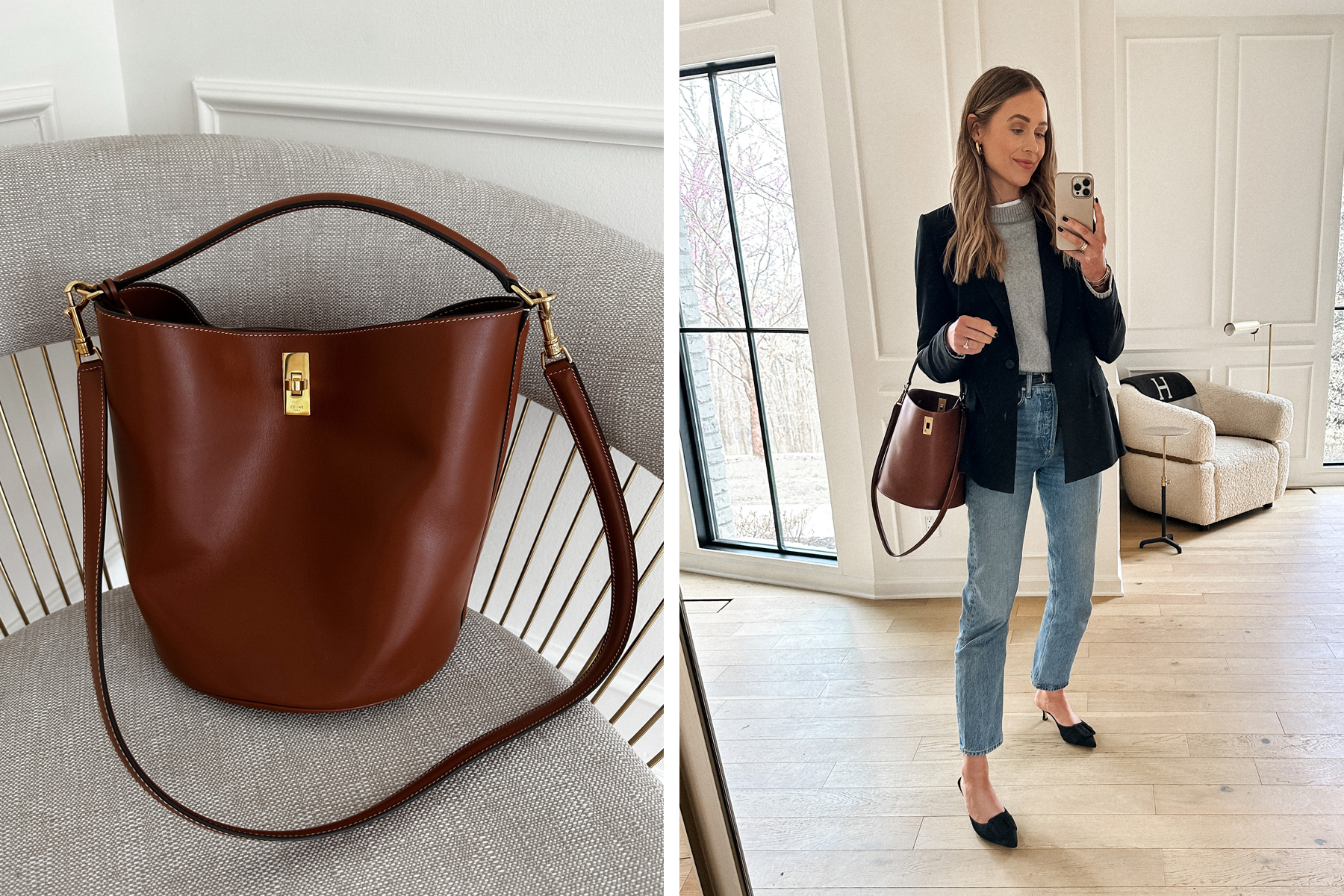 Celine: 16 Bucket Bag
Price: $2950 USD
Size: 9 X 10 X 9 IN (23 X 24.5 X 23 CM)
SHOP NEW
The Celine bucket bag had been on my list as soon as it came out and I finally found the large size (not the teen) at Nordstrom in San Diego. The large size is actually very spacious. Now, bucket bags can be a little difficult to wear based on the bag size and the individual. I find this one best worn on the shoulder, by the top handle, or crook of the arm. While I can wear it crossbody, it's not as comfortable. This has a latch closure which gets the bag almost 100% closed.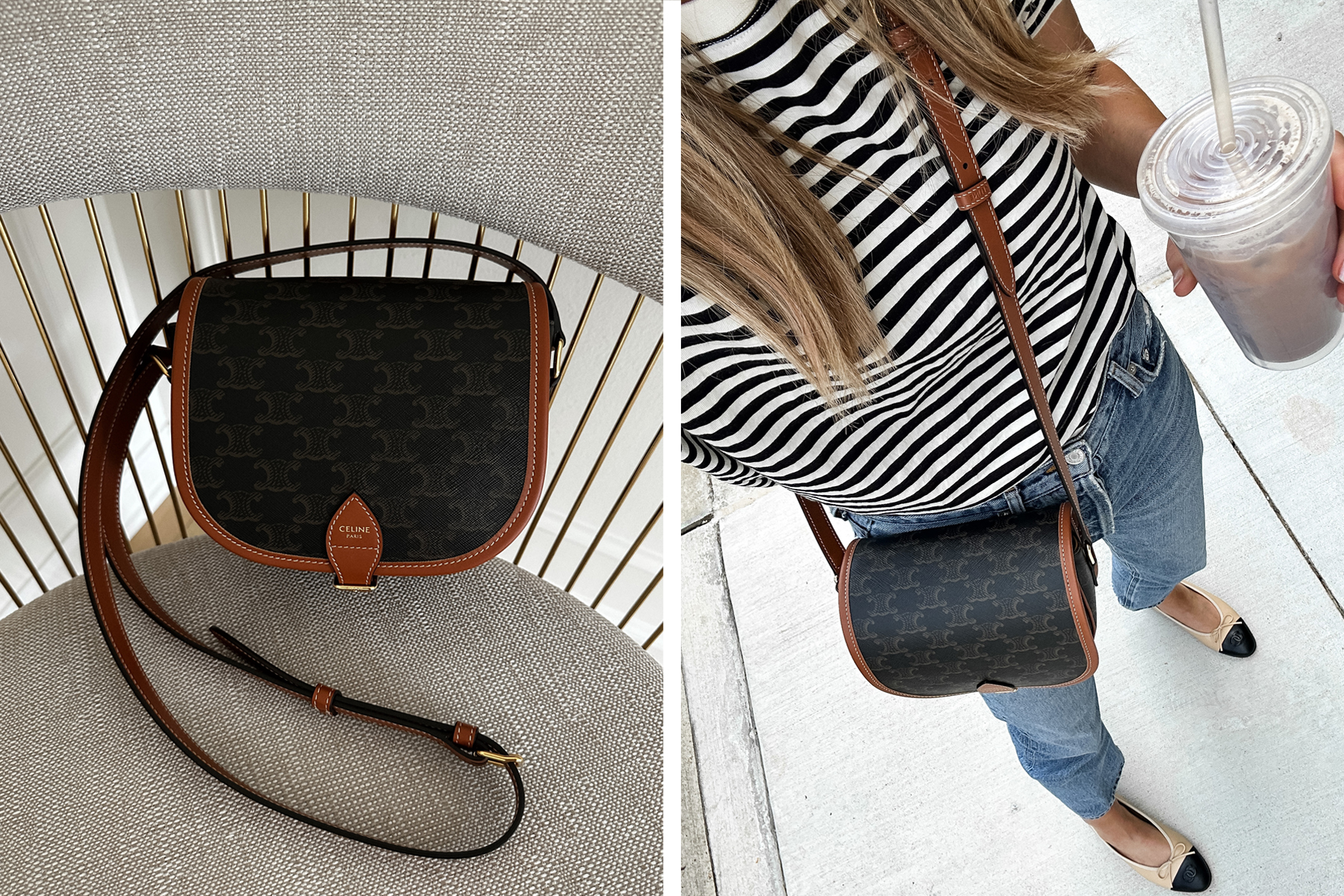 Celine: Medium Folco Triomphe Bag
Price: $1700 USD
Size: 7 X 7 X 3 IN (18.5 X 17 X 7 CM)
SHOP NEW
I don't normally like bags with logos printed on them, but the darker color makes it more subtle while still feeling classic. I bought this one at Nordstrom in Nashville. This bag is TINY though. It will fit my iPhone 14 Pro Max, card holder (not full size wallet), keys, sunglasses (no case), & 1 or 2 very small items. It's still so cute & serves a purpose when I dont need to carry a large big. I wear it crossbody the most!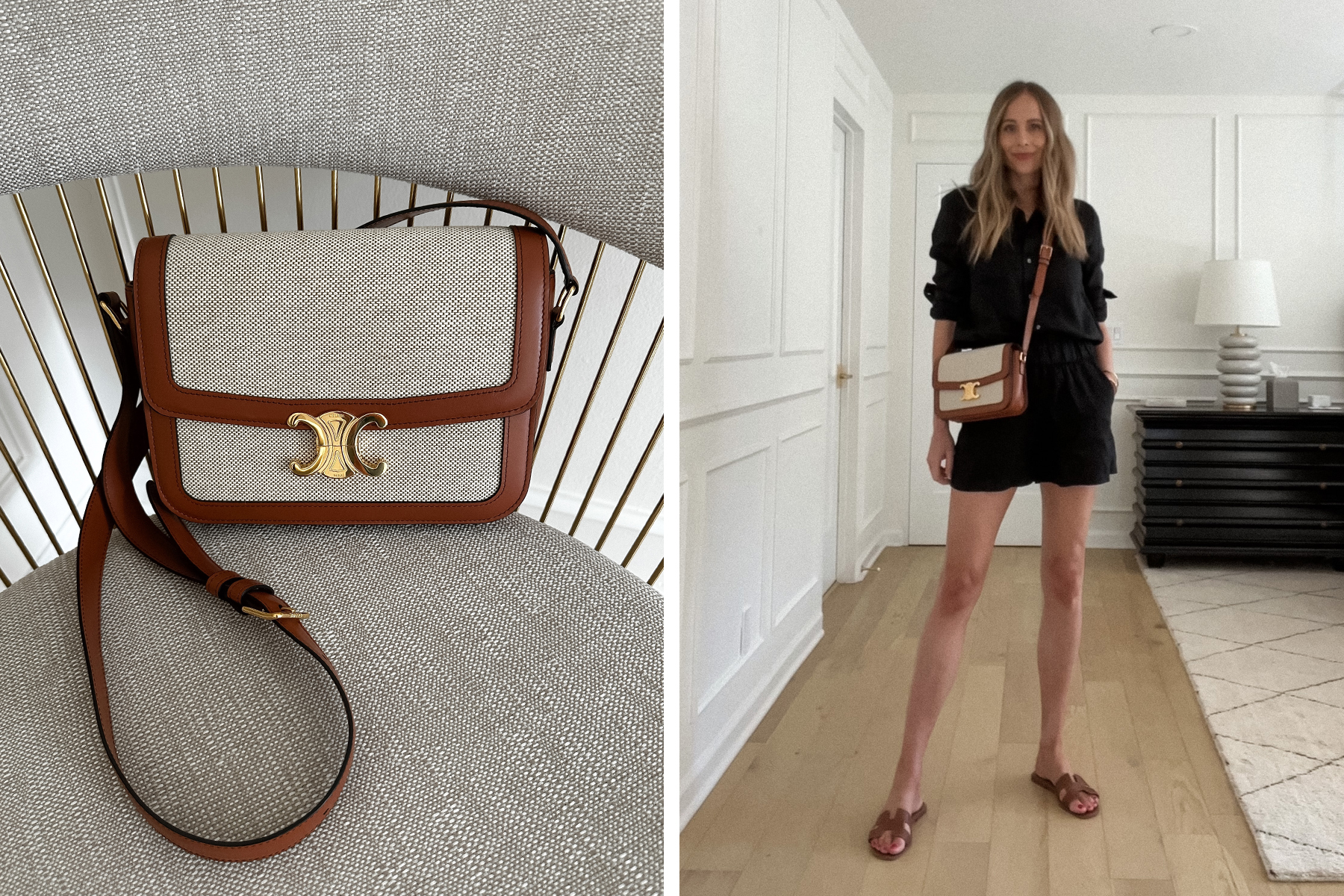 Celine: Classique Triomphe Textile Bag
Price: $3950 USD
Size: 9 X 6 X 2 IN (22 X 15.5 X 6 CM)
SHOP NEW
Another Fashionphile find at a great price, this one was featured in my Summer Capsule collection & its such a great bag for summer. I love the canvas & leather combo. While this does have box bag similarities, I find it a little more manageable with the compartments inside the bag. It has an adjustable strap & is comfortable to wear. This style does come in a few sizes & materials, so lots of options to choose from!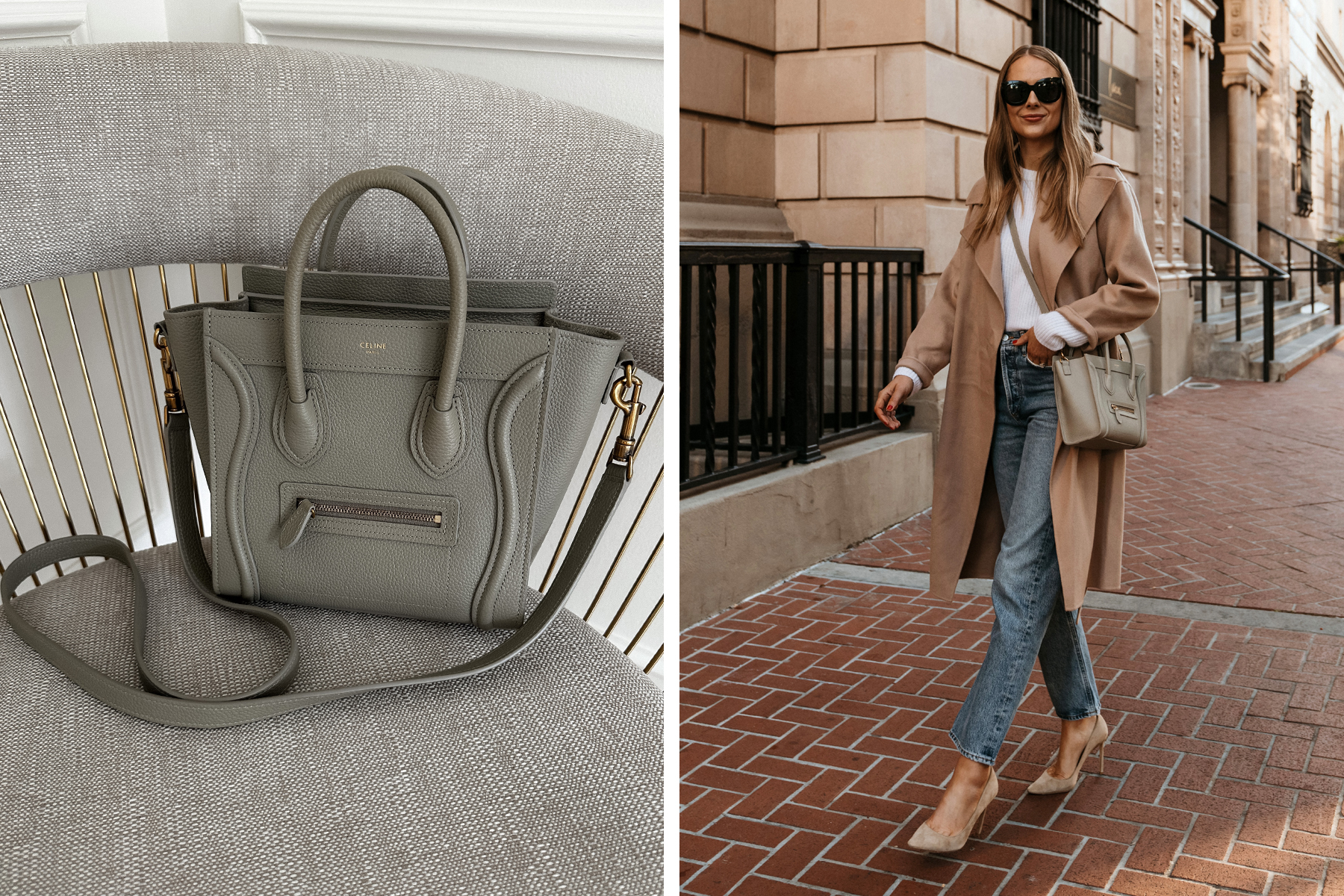 Celine: Nano Luggage Bag
Price: $2800 USD
Size: 8 X 7 X 4 IN (20 X 19 X 9 CM)
SHOP SIMILAR NEW
This is one of the more iconic styles going back almost 15 years! I purchased a few years ago from Nordstrom in San Diego after falling in love with the gorgeous sage color. I don't use this one as often, but I do love bringing it out for vacation or adding a subtle pop of color to my neutral outfits. The strap is a little long and not adjustable so it hits lower on my body. I really prefer to just hold it by the top handles, especially since it is a more fun and smaller bag.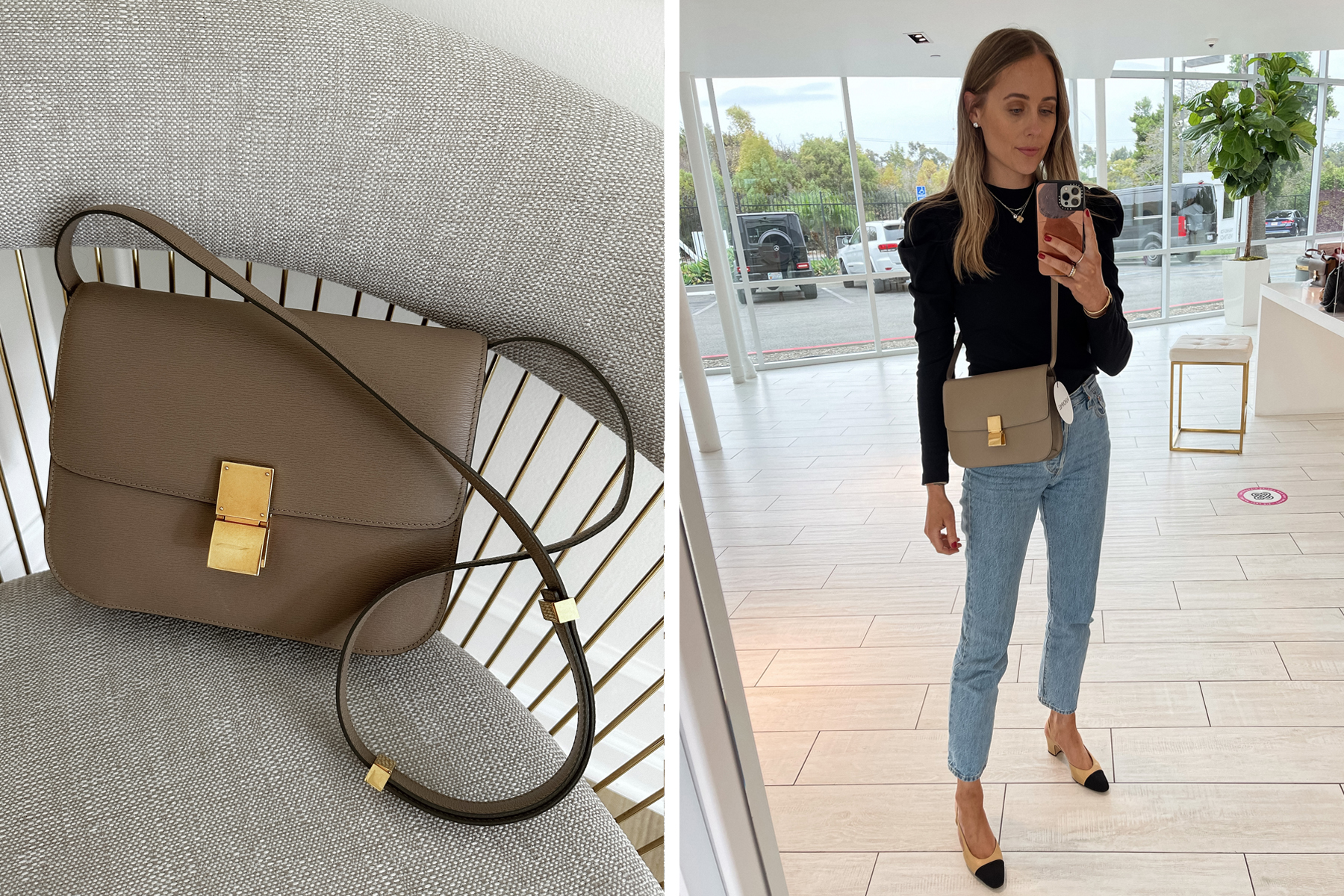 Celine: Box Bag
Price: $4200 USD (estimate)
Size: 9 X 7 X 2 IN (23 X 18 X 6 CM)
DISCONTINUED
After I got my first Celine handbag, the Celine medium box bag was next on my list, but I couldn't justify the price. I waited years before purchasing and really considering if it was a bag I "needed". I ended up buying pre-loved from Fashionphile and got an incredible deal but sadly, I have still only worn a handful of times. The comportments inside are restrictive and my hair gets caught in the strap hardware. I wish I loved this bag more, but I'll eventually sell it.


This post may contain affiliate links, meaning when you click the links and make a purchase, we receive a commission.