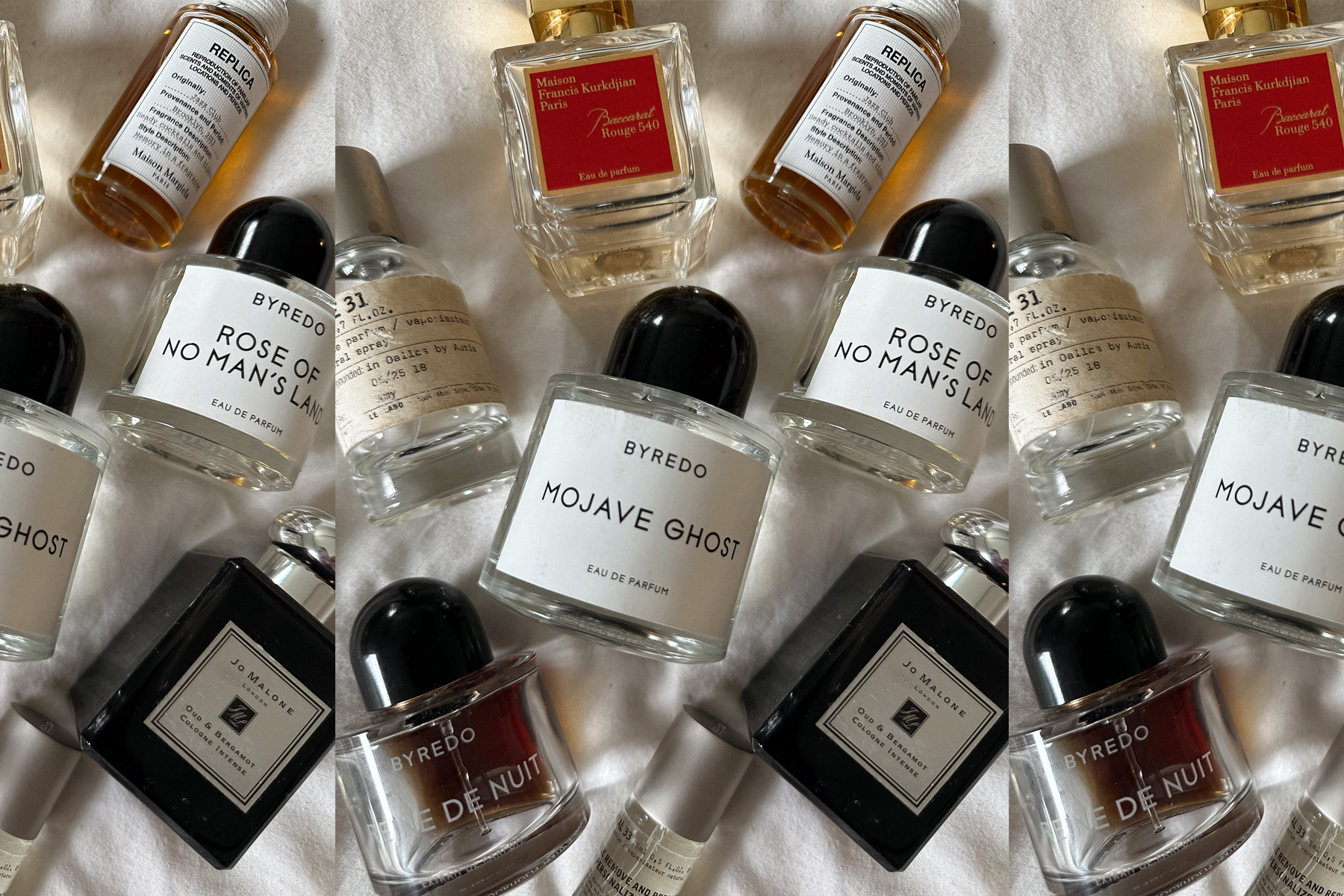 Scent is such a personal and vital addition to your overall style and wardrobe. Yes, scent. How many times have you been out and about and someone walks by you, leaving a lingering scent that makes you want to run up to them and ask "what perfume are you wearing?" Smells have the ability to leave their mark in the most beautiful ways when you choose the right perfume for you, which is why I wanted to share what I consider my personal favorites from Nordstrom, but some of the best perfumes for women. If you've been looking for new perfumes to try or have been on the hunt for the best summer perfumes, I highly recommend starting at Nordstrom because of their vast and varied perfume selection!


How to Shop for Fragrances Online

Tip #1
Learn and become familiar with the fragrance families (floral, fresh, woody, and amber) so you know which one you gravitate toward naturally. This will help eliminate a lot of options when you're browsing online.

Tip #2
Have an understanding of how "notes" work. There are top notes (i.e. scent that is evident as soon as you spritz your first spray), middle notes (i.e. scent that really unfolds 10 to 15 minutes after you've applied the perfume), and base notes (i.e. the heavy scent notes that bring up the rear, allowing your perfume to last longer on your skin).

Tip #3
Go through your current scents and consider what's missing. You may want a fragrance from each family to create a full scent library, or you may be loyal to anything amber. Test out what you already have to determine which way you want to go.


Okay, with all that out of the way, let's dive into my five go-to scents. For a lot of people, there is no such thing as just one perfect perfume. Sometimes it works out like that, but a lot of the time, it's nice to have a few you can choose from depending on the day, mood, and vibe you're going for, and all five of these cover that.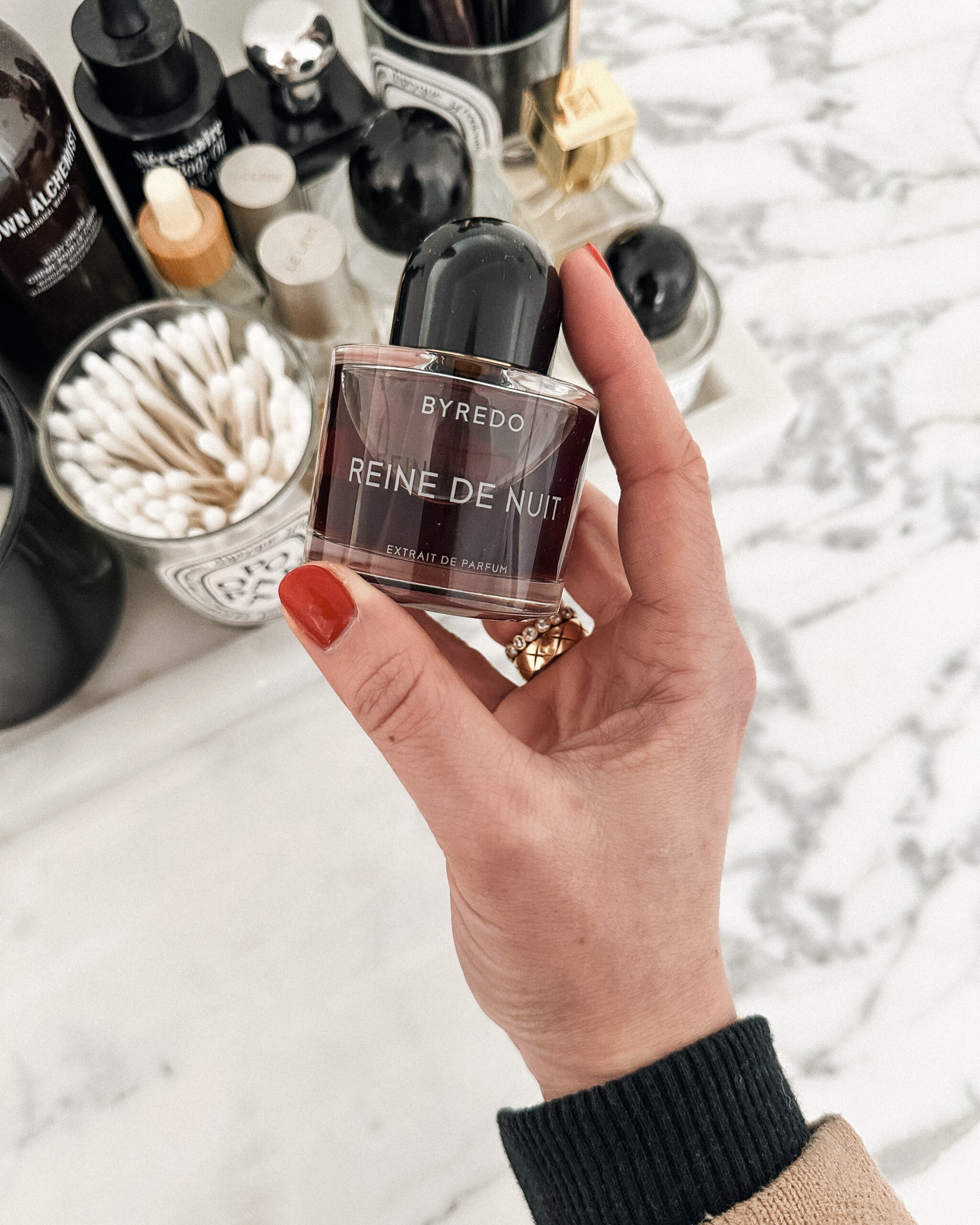 rein de nuit
byredo
If it's a nighttime-exclusive scent you're on the hunt for, another Byredo called Reine de Nuit Night Veils will stop you in your tracks. The notes in this perfume are intense and intoxicating in all the best ways and offer a sexy, mysterious, rich scent that will turn heads as you make your way through the restaurant to your table.
Top: black currant, saffron
Middle: incense, rose
Base: ambrette seeds, patchouli
Scents change and shift as night falls, and this is the embodiment of that in a perfume.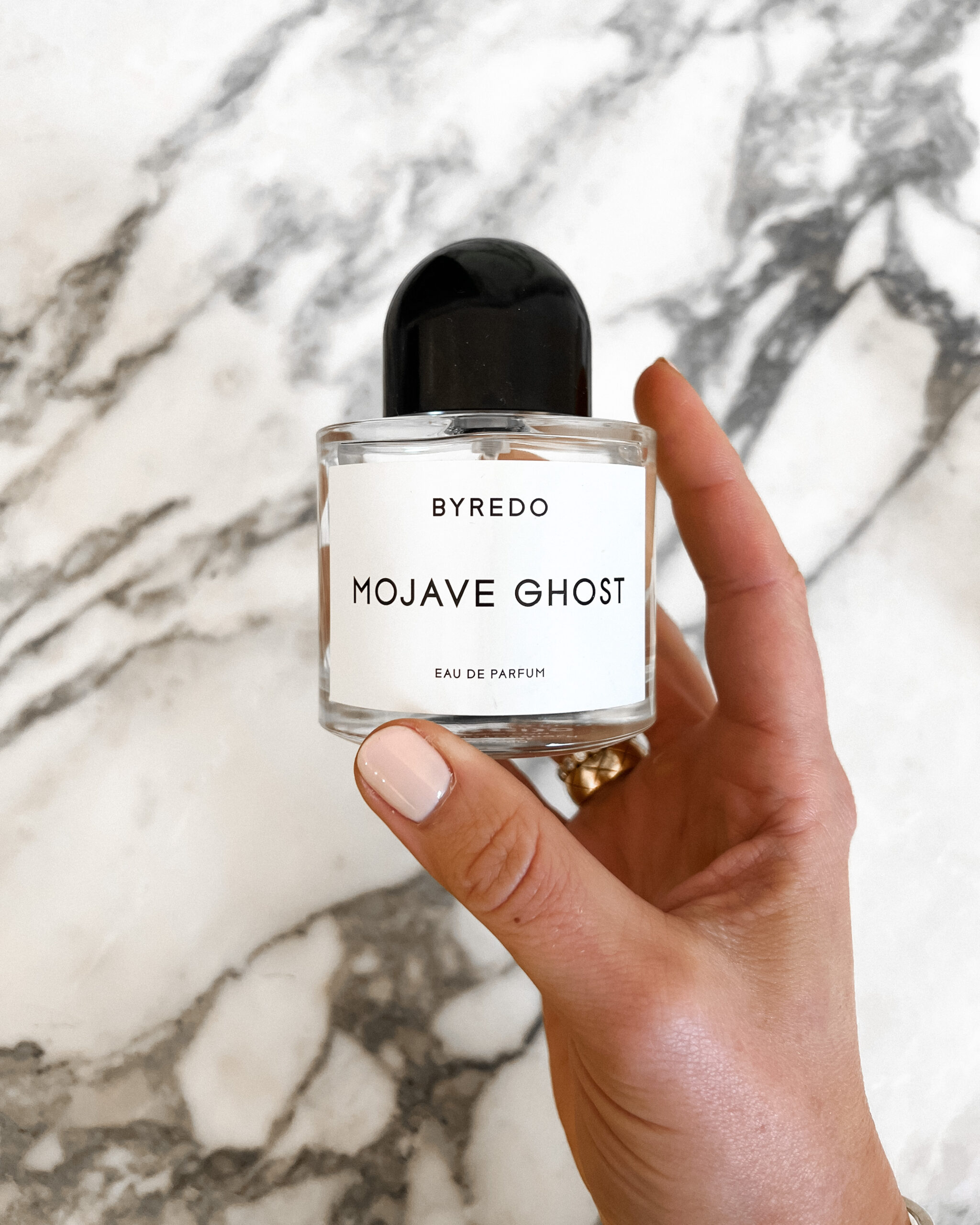 mojave ghost
byredo
If woody, romantic scents laced with sandalwood naturally attract you, you will die for this perfume by BYREDO. During the spring and summer, this is my daily go-to because it combines all the elements I love in a scent. The notes in this Mojave Ghost perfume are:
Top: ambrette, Jamaican nesberry
Middle: violet, sandalwood, magnolia
Base: chantilly musk, crisp amber, cedarwood
The ghost flower this perfume is named after grows and thrives in the unrelenting heat of the Mojave desert, which makes the scent just as rare as the flower itself. This perfume is not cruelty-free or vegan.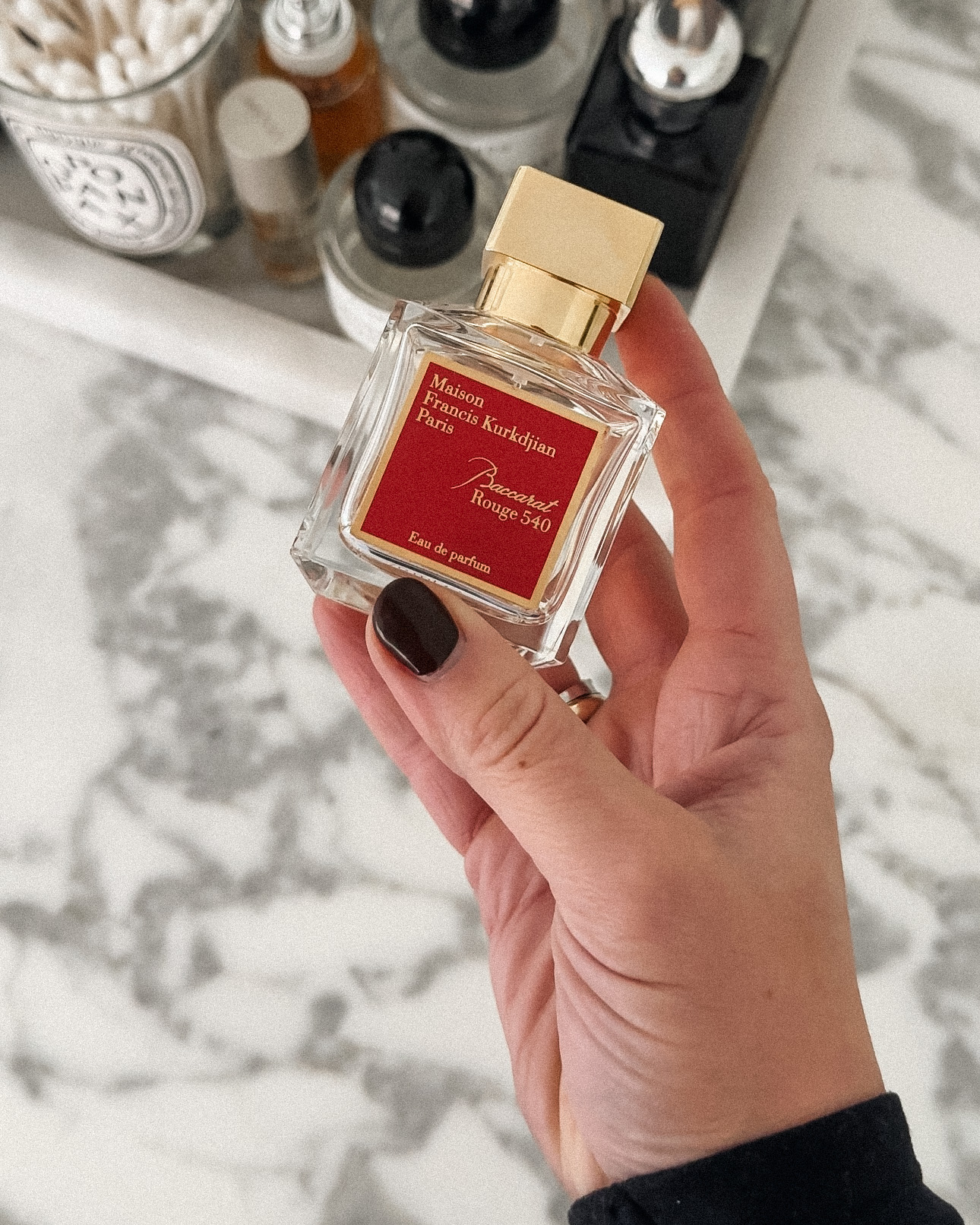 baccarat rouge 540
maison francis kurkdjian
If you're into perfumes at all, you'll instantly recognize this name. It's a very popular perfume for women, and what you could classify as a "cult favorite." Spoiler alert: it's just as gorgeous as everyone says it is.
Top: saffron
Middle: cedarwood, jasmine
Base: ambergris
It's also expensive, so I use this scent sparingly and mostly during the fall/winter because the notes are much warmer and have a layer of spice to them. With jasmine, saffron, cedarwood, and ambergris, the smell is like a floral, woody breeze coated with amber, AKA beautiful. People often search for Baccarat Rouge 540 at Sephora but I'm here to let you know it is not sold there. You can find it at Nordstrom, and you can even opt for a Baccarat Rouge 540 travel size bottle to test drive it before you fully commit!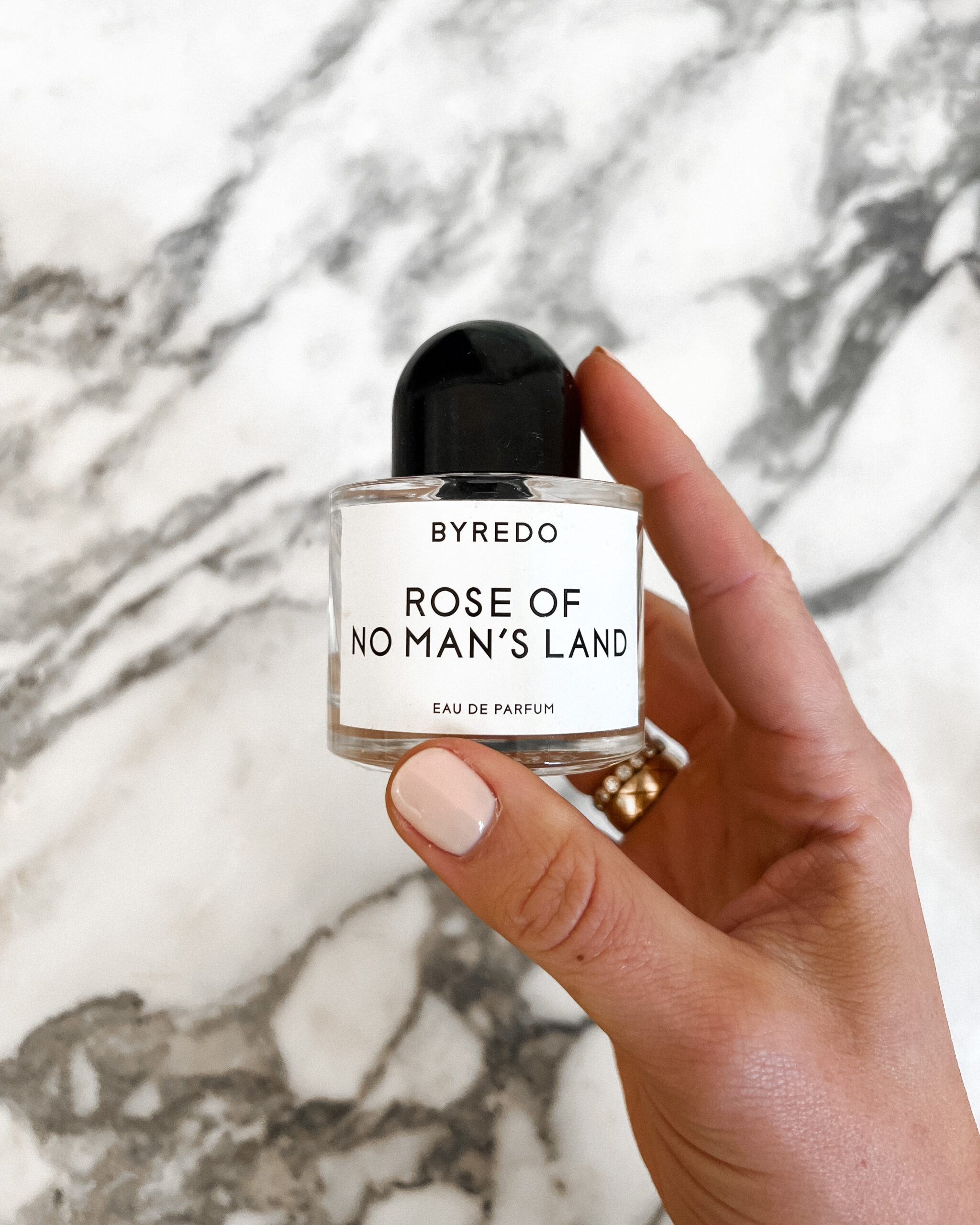 rose of no man's land
byredo
Another perfume from BYREDO that I consider a daily option all year round is Rose of No Man's Land. The notes in this perfume are:
Top: pink pepper, Turkish rose petals
Middle: raspberry blossom, Turkish rose absolute
Base: papyrus, white amber
I love how fresh this perfume smells. It has the sensuality built into it with the white amber and pink pepper, and the rose petals and rose absolute deliver a garden of fresh, lively fragrance. BYREDO is one of my favorite perfume brands for women because every scent they make is unique and stunning.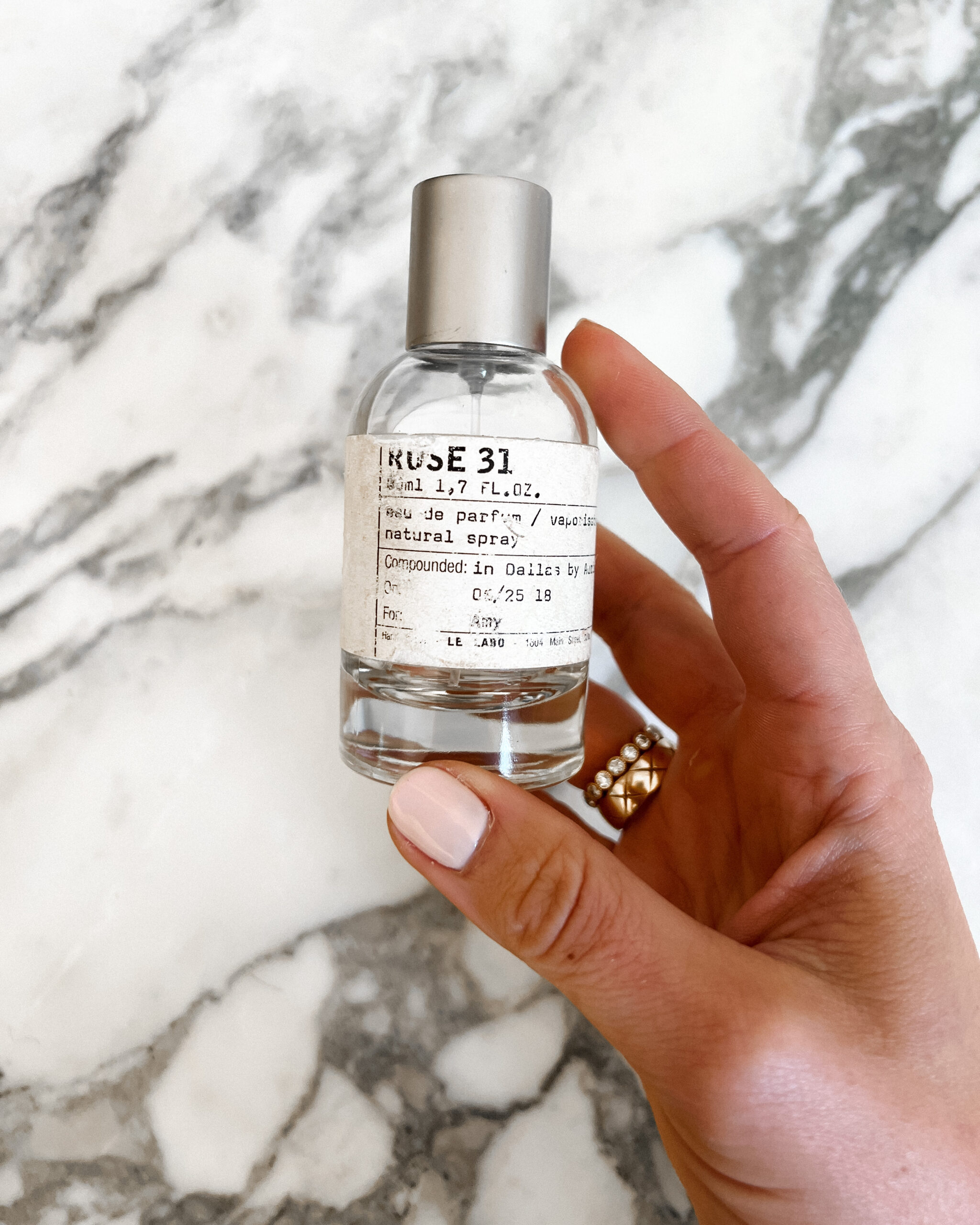 rose 31
le labo
Bet you thought you would see Santal 33 on this list, didn't you? While I love the cult classic, I love Rose 31 by Le Labo more. But, in truth, Le Labo (which is all cruelty-free, by the way. Not 100% vegan though) doesn't make a bad perfume. What's more is that, while perfumes tend to be targeted more toward women, Le Labo is proudly unisex and worn by men, too! 
Top: rose absolute, cumin
Middle: vetiver, cedar
Base: amber, cistus, musks
Rose 31 is an intricate mix of rose with a number of other notes you'd never think to put together including rose absolute, cumin, vetiver, musks, cedar, agarwood, olibanium, amber, guaiacwood, and cistus. In short, it's complicated and attention-grabbing in the best way.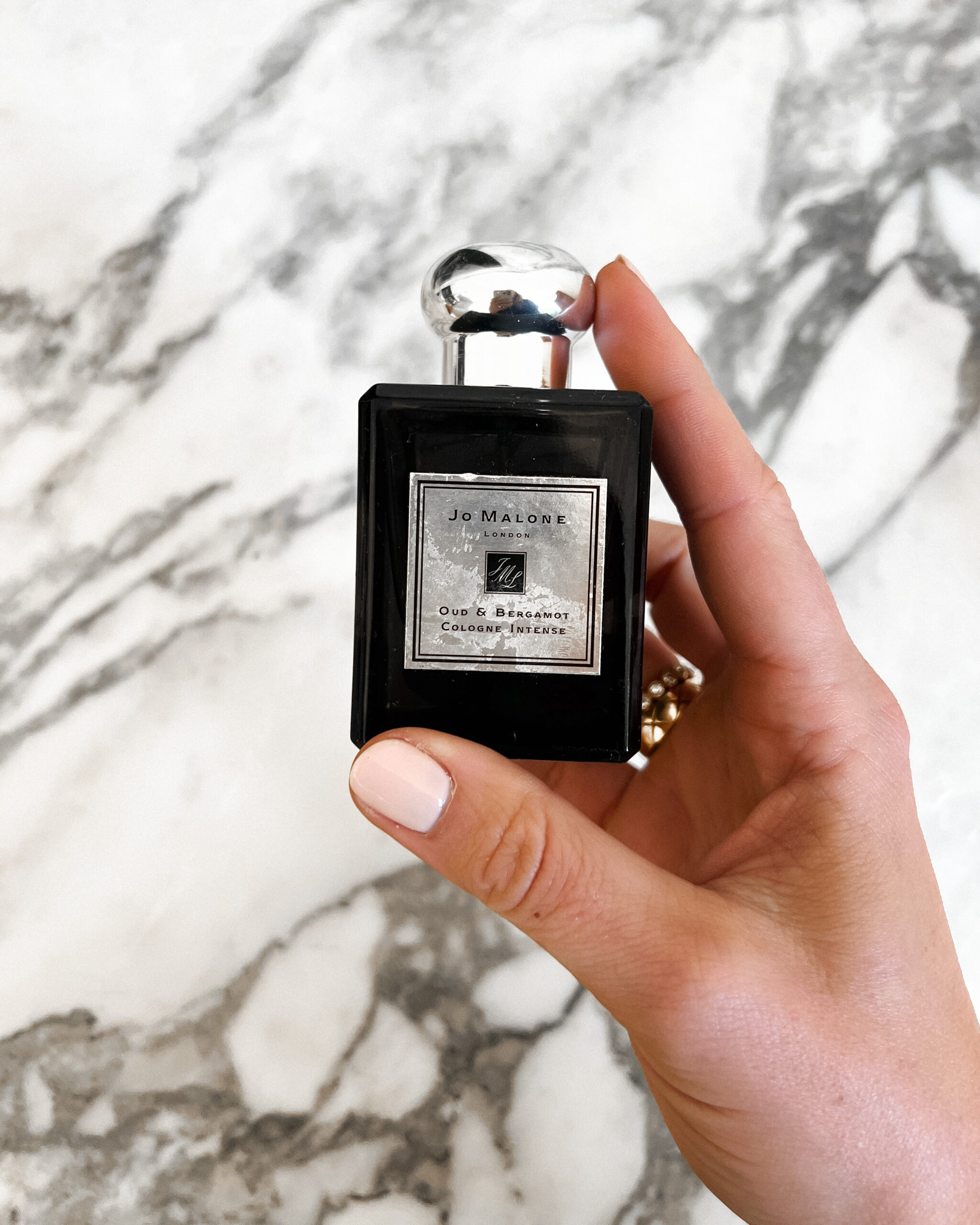 oud & bergamot
jo malone
I have had a bottle of this fragrance on hand for years and years. It's one of my OG perfumes. Because of the smoky, mysterious scent of oud wood (one of my absolute favorite scents in any format, by the way), I reserve this Jo Malone cologne for fall and winter.
Top: bergamot
Middle: cedarwood
Base: oud
The top note is bergamot, the middle is cedarwood, and oud is what finishes out this fragrance and makes it instantly recognizable. If you're looking for a signature scent people will remember you for, this could be a perfume you really like.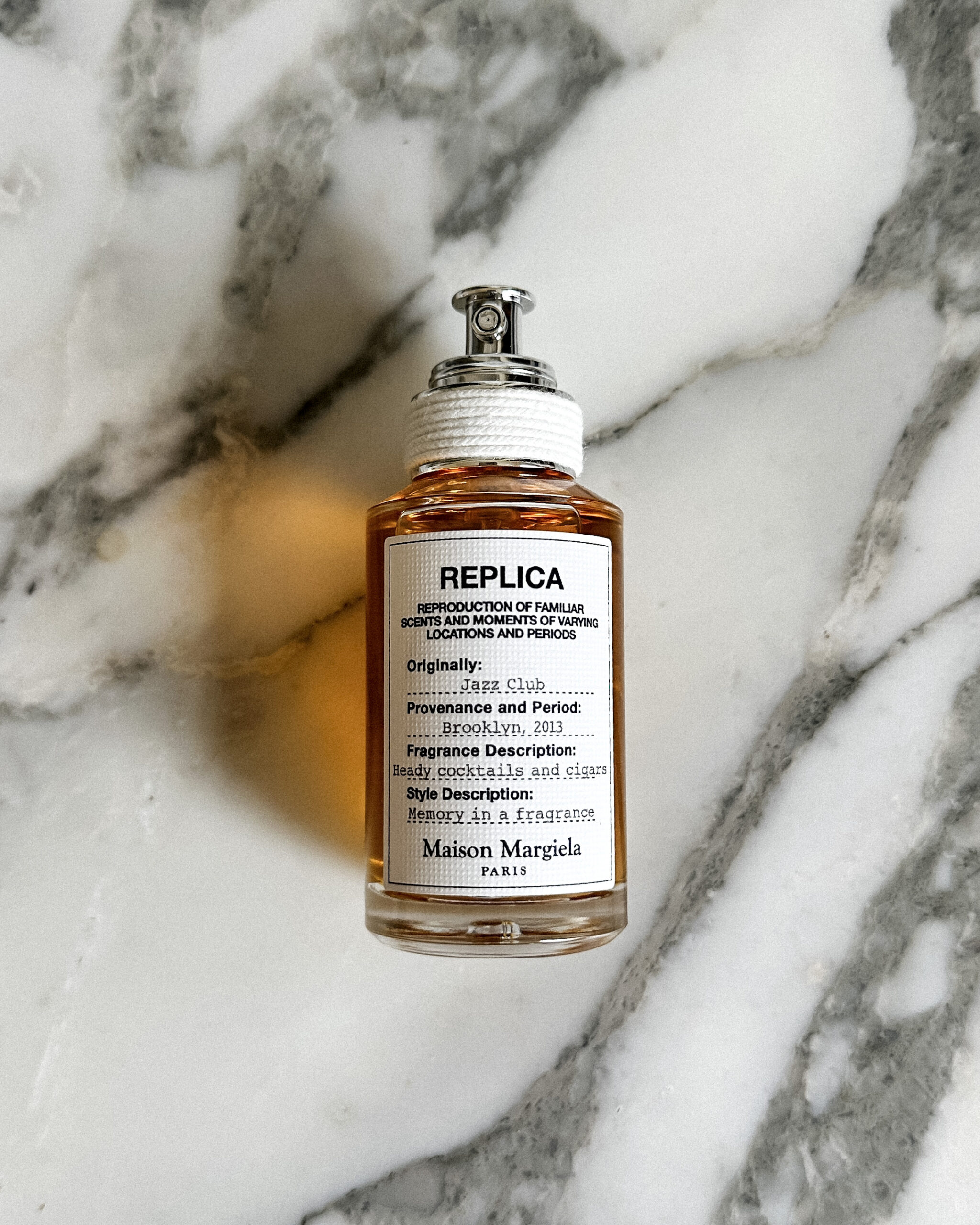 replica jazz club
maison margiela
While this is classified as a "cologne," it isn't just for men. This eau de toilette is another nighttime favorite that I don't reach for often but, when I do, always makes a statement. The fragrance description given by Maison Margiela is "heady cocktails and cigars," and that is very accurate.
Top: pink pepper, primofiore lemon, neroli oil
Middle: rum absolute, clary sage oil, java vetiver oil
Base: tobacco leaf absolute, vanilla bean, styrax resin
Think a dark cocktail bar with worn-in leather bar stools, a cigar room in the back, and a sexy date night with your SO!


santal 33
le labo
This wouldn't be a complete perfume post if I didn't include Santal 33. Like I stated up top, I like Rose 31 more but that doesn't mean I don't like Santal 33. I have a smaller bottle of this that I don't use often, but when I do, I've found it's a conversation starter because nearly every red-blooded woman can name this scent from a mile away!
Top: violet accord, cardamom
Middle: iris, ambrox
Base: cedarwood, leather, sandalwood
It's rich, it's woody, and yet feminine all at once. It's a cult favorite for a reason!


A Note About Perfume Expiration Dates:
It's often asked if perfume expires? The answer is yes, but that "yes" could span anywhere from 1-10 years! On each box of perfume, there should be a PAO label (Period After Opening) that starts with the letter M (for "month) which indicates the amount of months your fragrance will last. Pro Tip: Take a Sharpie, and write the month and year on the bottom of all your cosmetics so you know exactly when they were opened.


A special thank you to Nordstrom for sponsoring this post. All thoughts and opinions are my own.
This post may contain affiliate links, meaning when you click the links and make a purchase, we receive a commission.