Telluride CO is one of mine and Will's favorite places to visit. We always come during the winter months for ski season, but decided to come during the summer this year. Will used to live here and said summer is his favorite time of year, which I'm now understanding why! Its such an incredible town and the summer seasons with the beautiful trees and nature just makes it that much better! I'm actually having a hard time deciding which season I prefer, winter or summer.
Below I'm recapping everything we did, where we ate, where to stay, what to wear, etc. There are so many summer activities in Telluride, I included some that we didn't do this trip, but have in the past and are worth mentioning! If you're planning a Telluride vacation soon, definitely save this post for ideas. I also have a full post on what to pack for a ski vacation if you plan to visit Telluride in the winter and a Telluride Travel Guide.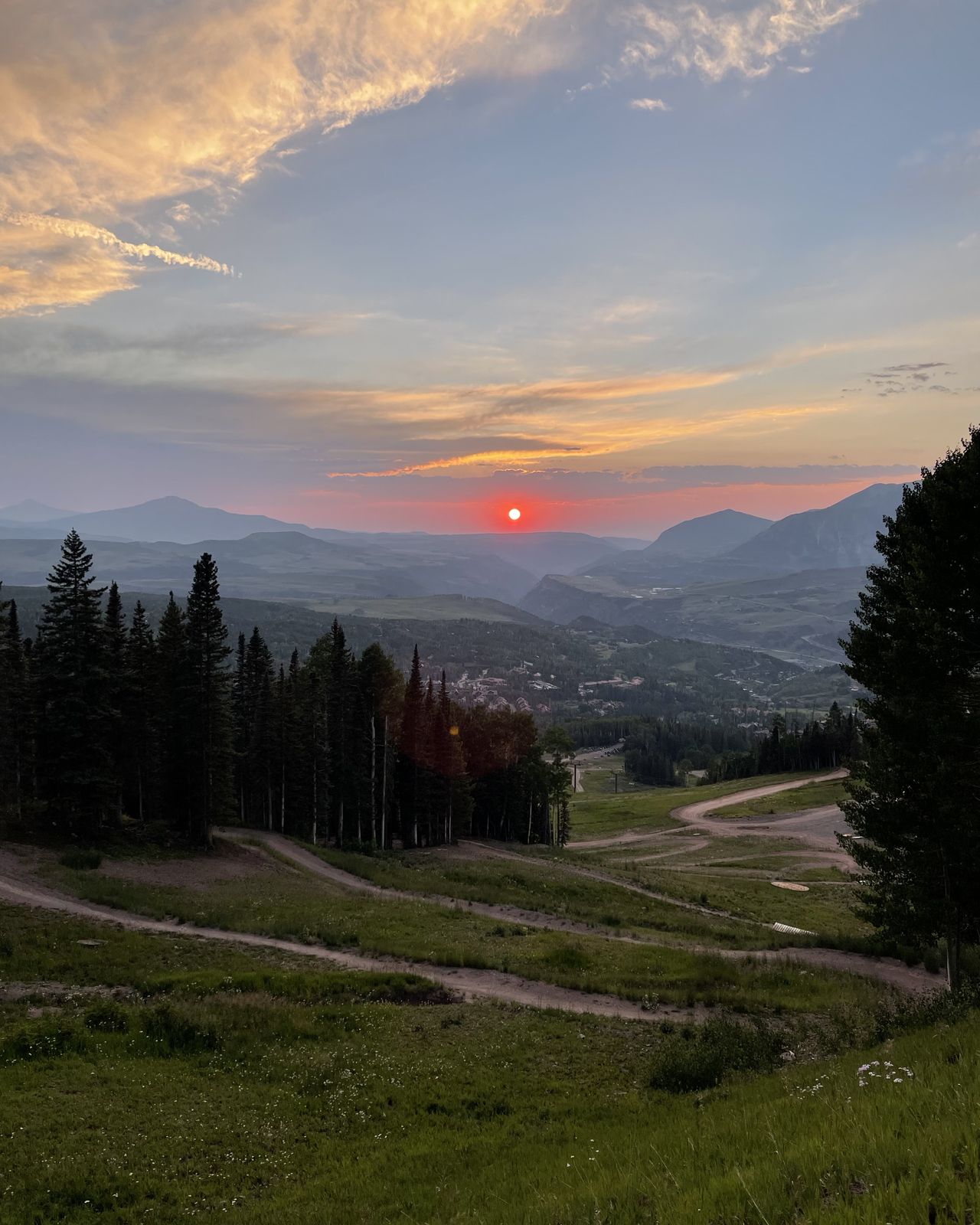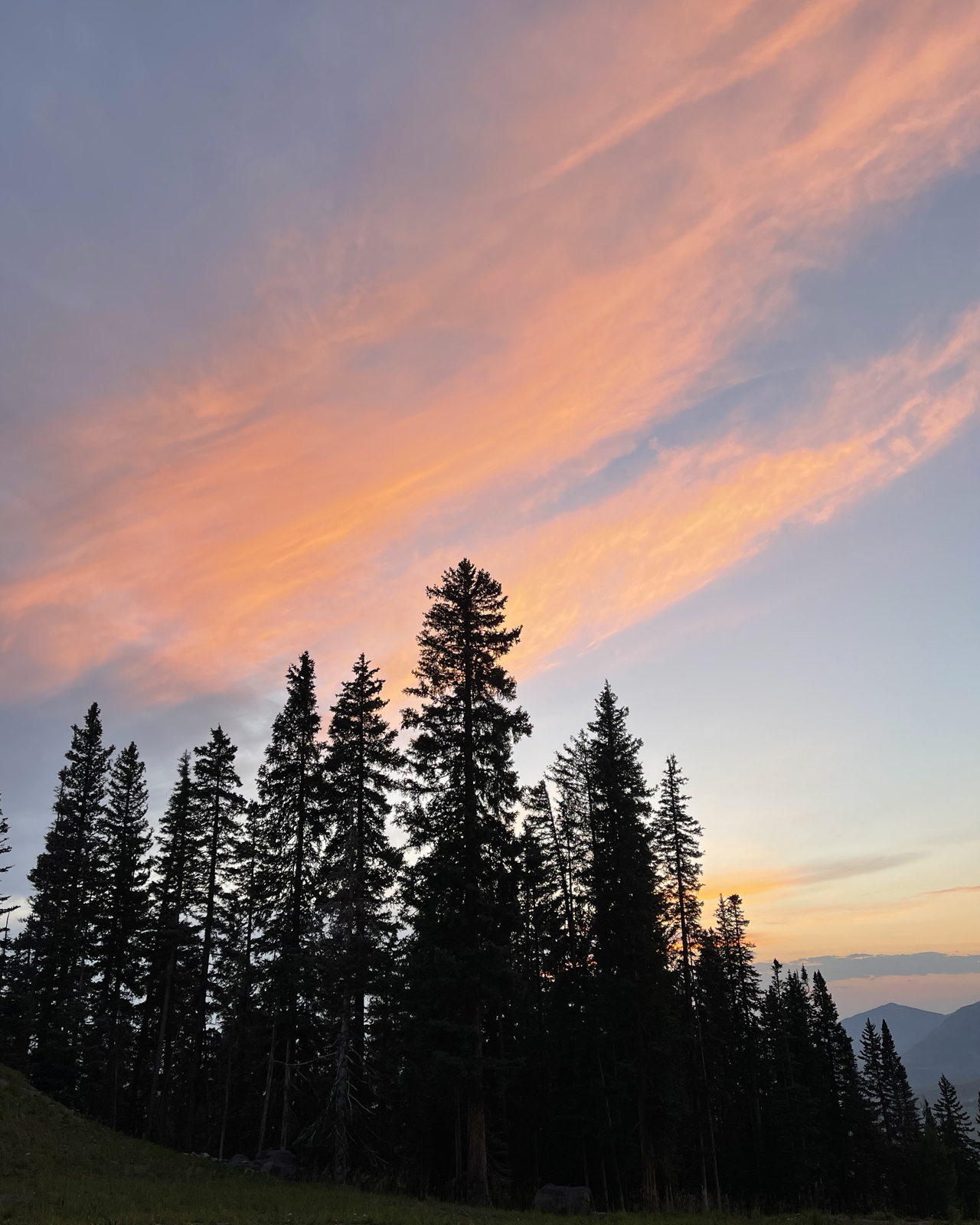 Where to Stay
Element 52
This is our #1 choice of property to stay at when visiting Telluride. Element 52 is located in town, which is our personal preference (instead of Mountain Village). At the base of the mountain you have more privacy than most of the hotels in town. Plus it's the only ski-in / ski-out hotel in town during winter. The staff goes above and beyond and most of the properties are dog-friendly which is a must for us! We typically rent a 2 bed/ 2.5 bath condo which gives us (and all the dogs), plenty of room to relax and really make ourselves at home. We love having a full kitchen too so we don't have to eat out for every meal. This was the condo we stayed in for our summer visit.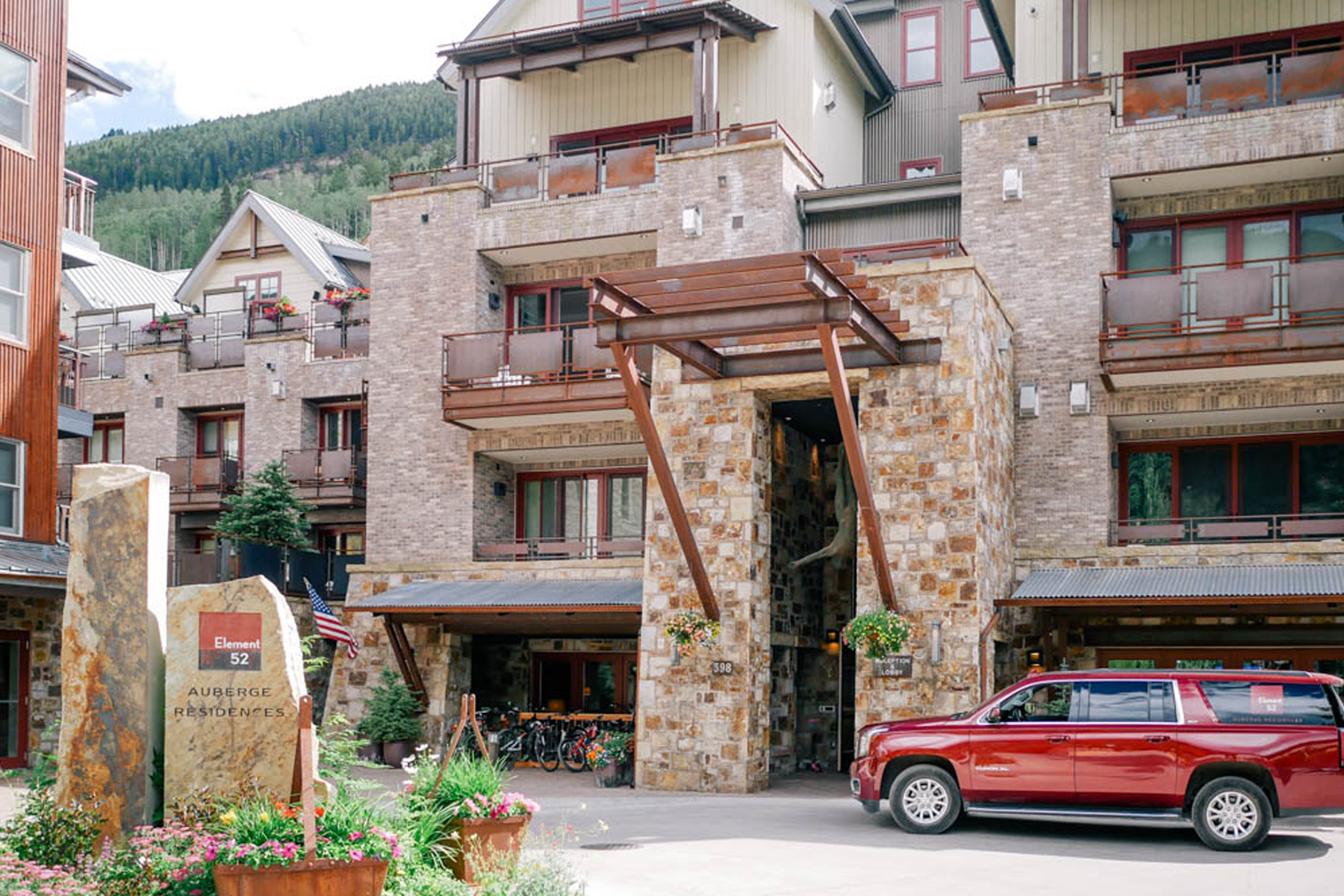 Where to Eat
221 South Oak
This is our favorite spot for dinner! Award-winning chef and owner of 221 South Oak, Eliza Gavin, earned a spot in Season 10's Top Chef competition on Bravo, and you'll know why after dining here. 221 South Oak prepares fresh, quality ingredients together skillfully and there is always something new. What is so impressive is the FULL vegetarian menu 221 offers as well! Make sure you get the soup duo (this is Eliza's specialty) and any of the desserts offered at the time. You won't be dissapointed.
The National
This was our first time dining at The National and we were SO impressed. An elevated gathering place that offers unconventional yet approachable dining experiences. The menu is artistically crafted while working closely with the farms and surrounding communities. Our favorite dishes were the cauliflower soup, corn appetizer, the vegan lasagna, and the trout. The chocolate delice was incredible, but very rich and worth sharing.
There Bar
There is a must if you like good food, drinks, ambiance, and a relaxed/casual vibe. This tiny restaurant seats just 30 people at a time and reservations are required. Here, dinner is not a moment in time each day; it is a creative, dynamic experience. From their menu to the handcrafted cocktails, fun and adventure are at their core. The brussels, shiitake buns, patatas bravas, tuna tostadas, waygu and greens are a few of my favorites. Make sure to try a jam drink, but the diablo is my favorite.
Wood Ear
This is somewhat of a newer restaurant, I think it opened 2 years ago and I feel like its gets better every time! Wood Ear is a noodle bar and whiskey lounge and it does not disappoint. Think Texas smokehouse classics meets Asian cuisine. The ramen bowls, rice plates, edamame, its all mouth watering and the ambiance is so cool. This is a must when visiting Telluride!
Rustico
I ate here my first visit to Telluride years ago and not again until this trip. Rustico is an Italian restaurant which is normally pretty busy. Since we eat a lot of pasta at home, it;s not normally top of our list, especially since there are so many other amazing restaurants in town. However, we had dinner here late Saturday night and it was SO good. We sat on the patio, split two pastas and a pizza and had to crawl home (kidding), but it was worth it and I'm so glad we gave it another shot! Will had the ravioli and I had the mushroom fettuccini special. We also got the white pizza and added mushrooms and peppers. Very good!
Siam
We came to Siam (in town, not Mountain Village), our first night in Telluride. Sadly, they only offer to-go food and a fraction of the menu they had before, which was incredible. It's still SO good, but we missed out on a lot of our favorites. We ordered to-go and just sat on the patio and ate about 30 min later. The spring rolls and tofu Pad Thai are my personal favorite.
LittleHouse
For lunch one day we ate at another new place called LittleHouse which is actually owned by The National, so we had a good feeling about our meal! LittleHouse is an elevated fresh organic dine-in or take-out eatery with European influences. We ordered deviled egg salad, which I am typically not a fan of and LOVED it. I had the toasted caprese sandwich with fries, and Will had mixed mushroom pappardelle (that was the best dish by far!). This is a great place for lunch to sit on the patio, bring your dogs, and just enjoy good food!
Ghost Town
If you're looking for a quick late breakfast or lunch Ghost Town is your spot. I eat here numerous times during our trips because the "toasts" are just SO good. They offer so many different kinds, but the #1, #2, #3, and #4 are my favorites. Will LOVES the Townie salad and their fresh juices are delicious. Definitely go to Ghost Town and find your favorite toast!
*Update: Sadly Ghost Town will be closing its doors 8/28/21
The Butcher & The Baker
Another local & popular favorite for breakfast/brunch. The Butcher & The Baker specializes in handcrafted, fresh and local cuisine offering a farm-to-table approach. You really can't go wrong with anything you order here. The pastries are incredible and breakfast sandwiches are savory. Try to get there early to miss the weekend rush or you'll wait about 30-45 min before ordering.
Coffee Cowboy
There is no Starbucks in town. I repeat there is no Starbucks in town and that's 100% OK, because Coffee Cowboy is the only place you need! Located on Main Street in an airstream you'll have the BEST coffee your entire stay. TRUST ME. Of course I always get an iced almond milk dirty chai. They also have fresh smoothies and a few grab and go pastries, should the line at Butcher be too long. Don't forget to pay it forward and buy a drink for the next person in need!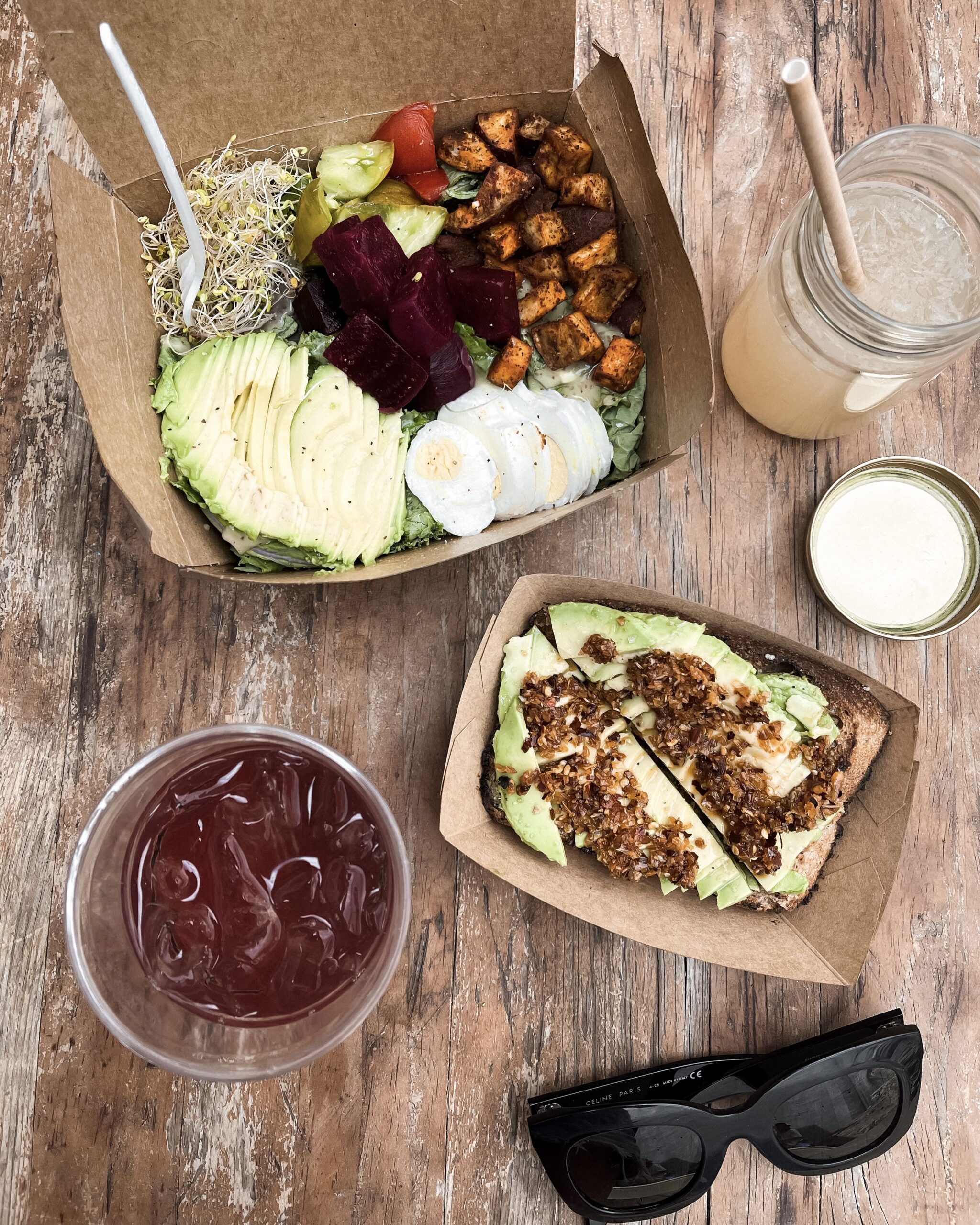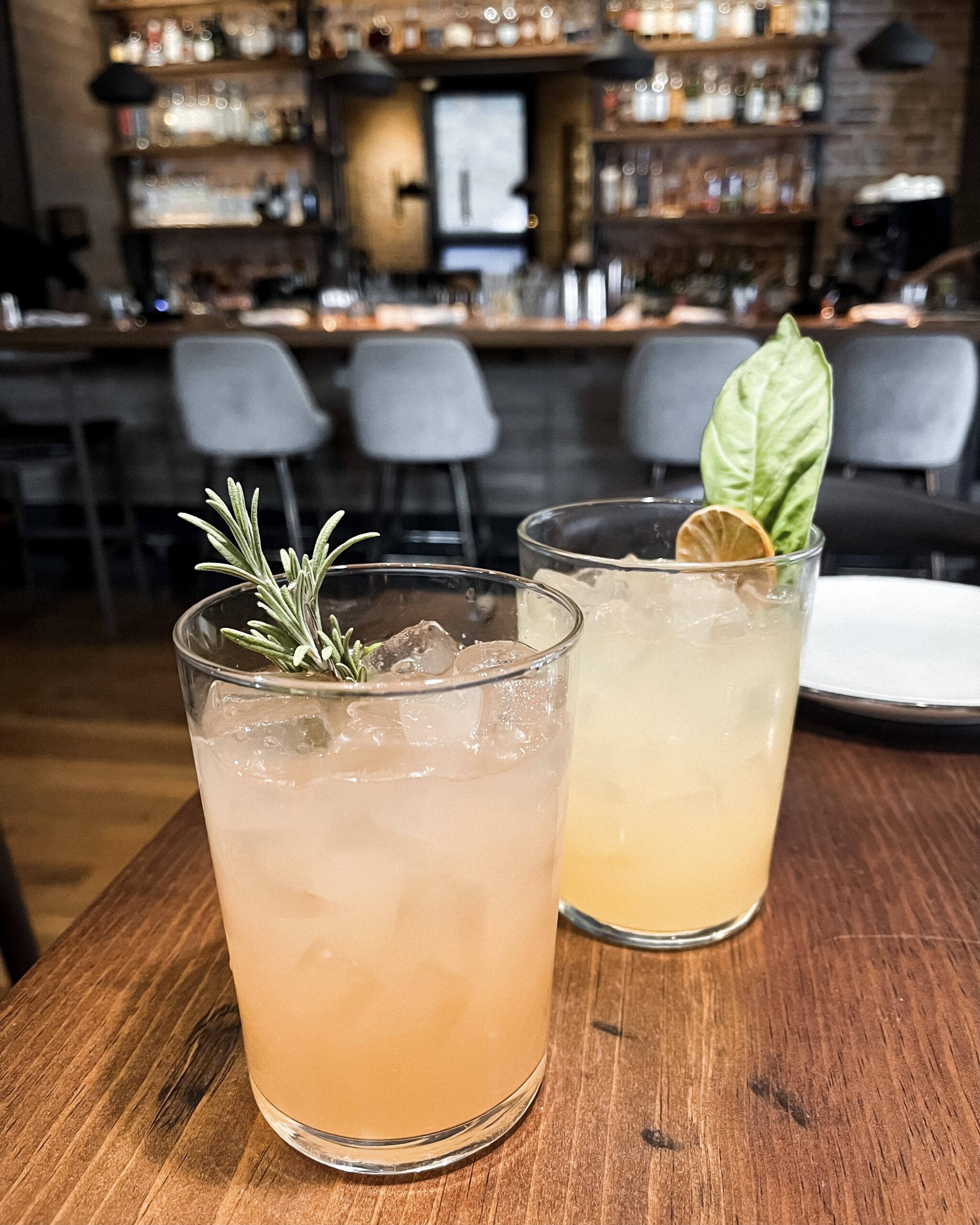 What to Do
Bridal Veil Falls
The spectacular Bridal Veil Falls are the tallest free-falling falls in Colorado at 365 feet in height. This was my first time doing the hike and it was incredible. We took the new trail that runs from the parking area to the bottom of the falls. This single track trail is approximately 1.2 miles (one way) and is NOT recommended for beginner hikers. The terrain is rough and the ground is uneven. There is also a hazardous water crossing that is dangerous during spring and early summer. We took both of our dogs and saw a lot of other hikers with their dogs as well. Along the hike there are 2 waterfalls until you get to the top for the final waterfall. After that, we continued to hike up the mountain to the historic power plant sits atop the falls and enjoyed the gorgeous views. Time was about 1.5 hours from parking lot to the 3rd waterfall and about 30 min to the top of the mountain. Round trip took us roughly 3 hours.
Jud Wiebe Hike
Jud Wiebe Trail is a 3.1 mile hike located in town. It's a moderate hike with stunning views of the town at one of the overlooks. This is a more popular hike, so it can be a little crowded at times. Dogs are able to use the hike, but must remain on leash. The first mile or so is basically hiking straight up the mountain, so it's tough but after that it's fairly "easy". About halfway through you get into the forrest and there will be some incredible views of the town. There can be slippery areas of the hike with loose rock, so I definitely recommend wearing hiking shoes.
Durango/Silverton Train
The Durango/Silverton train ride was the top of Will's list for us to do, and I'll admit I wasn't too thrilled of the idea, however I'm SO happy we did it! It was such an incredible experience. We opted to do the one-way from Durango to Silverton just because we didn't want another full day of travel (after being in the car for 2 days straight). We booked the Diesel train with first class seats which had a glass roof and open sides (no glass windows). This gave us the best views, however it was very chilly for the first hour so definitely wear layers/bring a jacket. They serve food/drinks the entire time and have bathrooms on board. We also had a personal guide in our section who shared the history, facts, and other fun stories along the way.
We drove our car from Telluride to Silverton (about 2 hours), then had Mountain Limo drive us from Silverton to Durango (about 1 hour). We caught the train at 730am (yes, we left Telluride at 430am) in Durango and made our way to Silverton arriving about 3.5 hours later. We planned to have lunch in Silverton, but so many places were closed, so we just went back to Telluride and grabbed food and a much needed nap. I highly recommend fitting this into your schedule if possible. It was such a fun experience!
Dunton Hot Springs
We actually didn't visit Dunton this trip, we have in the past, but its worth making note of. Dunton is about an hour away during the summer months and 2 hours away during the winter months due to certain road closures. There are so many summer and winter activities depending on what you're looking for. There are options to go out for a day and make use of the facility, but we usually just spend the night so we get the most out of it! The staff is incredible and it's truly one of the best places I've ever stayed/experienced.
Summer Festivals
During the summer months, Telluride has festivals nearly every weekend. The Telluride site has a calendar of all summer events happening. Just note it gets very crowded during festival season, so plan in advance and accordingly.
Ride the Gondola
Take the gondola from town to the top of the mountain and get off at Allreds. From there, walk over to the Saint Sophia overlook and watch the sunset and the famous pink sky. We also walked a little ways up See Forever to watch the sunset as well. The pink sky lights up every night and it's just magical.
What to Wear
Telluride is definitely a casual mountain town, and everyone is VERY relaxed in what they wear. Mostly activewear, t-shirts, denim shorts, jeans, Birkenstocks etc. I still like to dress true to my style, so during the day its a white t-shirt & denim shorts, but at night, I'll opt for something a little nicer, but maybe pair with sneakers instead of heels. You definitely don't need fancy heels. Boots/Booties would be the fanciest shoes I would wear. I lived in my Birkenstocks during the day and Hermès sandals at night.
Before we left the weather said highs of 75 and lows of 55 (roughly). So I packed like I was ready for fall. I normally run cold, so I packed lots of layers to transition from day to night. However, it was HOT during the day and only mildly chilly at night. Below are the outfits I wore during my summer vacation in Telluride.
Check out my Telluride summer packing guide here!