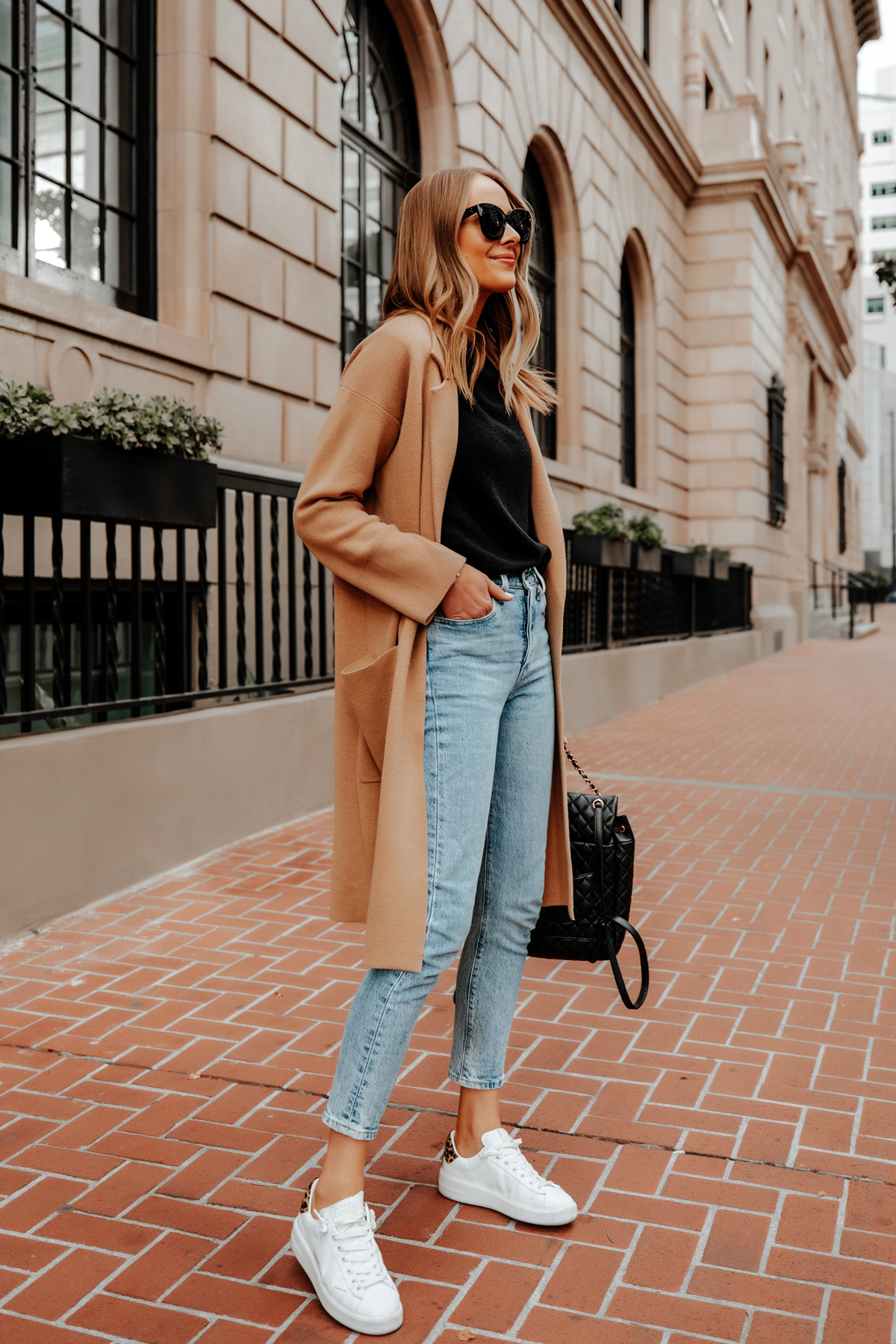 Never thought I would see the day where sneakers were all I preferred to wear, but here we are! I've become more obsessed with sneakers in the last few years, but especially now with comfort being key. One of my favorite things to do on here is share reviews with you guys, and I have another one for today: my honest review of Golden Goose's PURESTAR sneakers. I get questions all the time like which Golden Goose sneakers to buy, are Golden Goose sneakers worth it, and do Golden Goose ever go on sale?! Now, with the PURESTARS, I'm sure you guys will be wondering about Golden Goose PURESTAR vs. Superstar, and I plan to answer all this and more!
It's not news that I love Golden Goose sneakers and find them to be totally worth their price. GG's latest sneaker, the PURESTAR, is their most comfortable yet! The fit is flexible and extra cushioned, and that's just the start of why I love them. Keep scrolling to read my full review and see my full Golden Goose PURESTAR outfit of the day! 
Outfit Details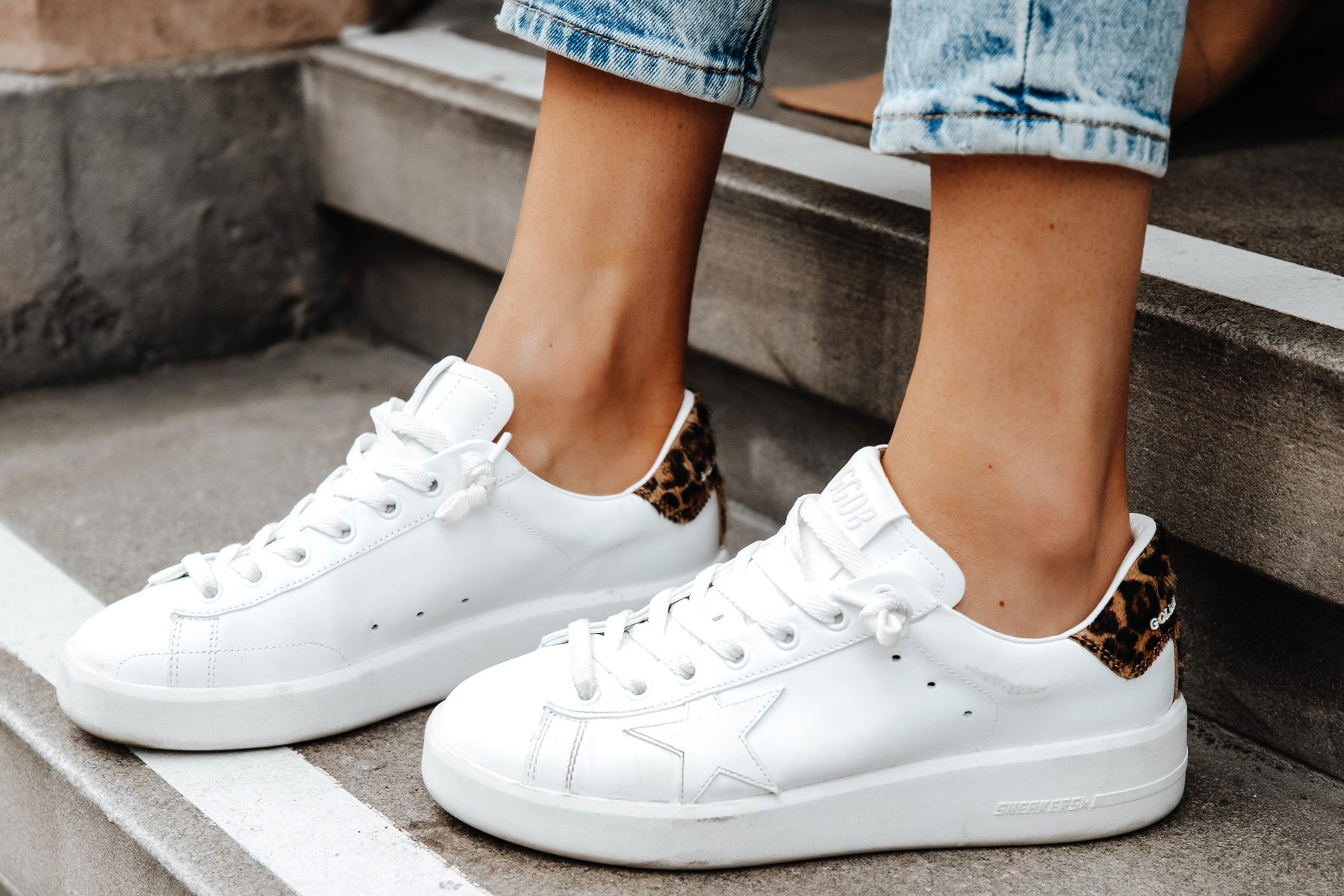 Are Golden Goose PURESTARS Comfortable?
Yes, Golden Goose PURESTAR sneakers are comfortable! In fact, they are more comfortable than the traditional Superstar sneakers. They have shock absorbing technology that guarantees comfort step after step. As soon as I put this pair on for the first time, I could instantly feel how comfortable they were. They have a very cushioned sole. Quite similar to the comfort of my adidas Sleek sneakers! There is no need to break in the Golden Goose PURESTARS as they are comfortable right out of the box.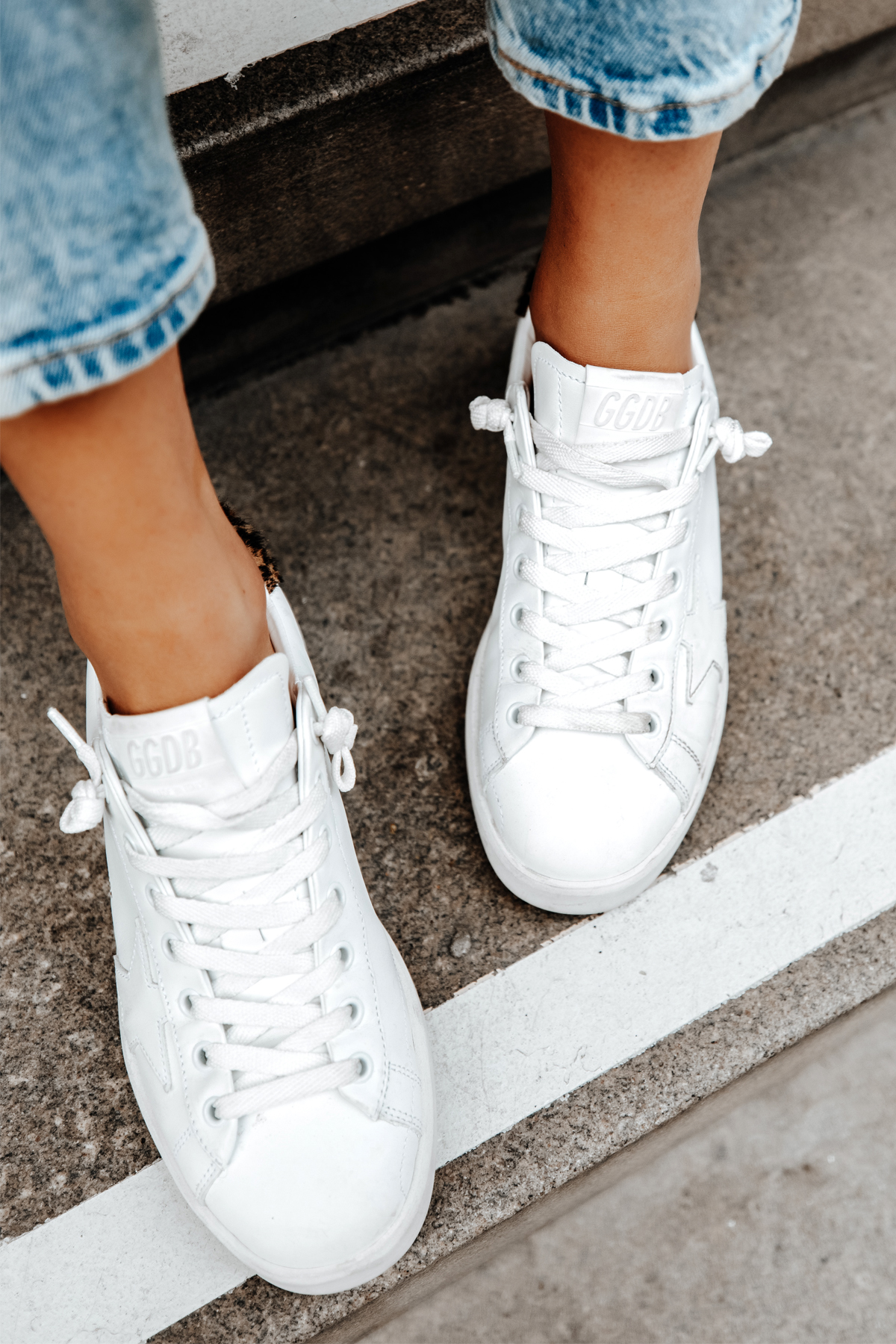 Golden Goose Sneaker Sizing
One of the most asked question(s) I have regarding any of my Golden Goose sneakers are, "do Golden Goose sneakers run true to size?" or "how to Golden Goose sneakers fit?" The answer is true to size. I'm a small US 8.5. I wear a 38 in both the PURESTARS and Superstars. Since Golden Goose sneakers only come in whole sizes, I opted to size down since I typically don't wear socks with them, and keep them loosely tied. However, if you're between sizes and wear no-show socks or tend to size up in sneakers, then I would size up! To play it safe you can always order both sizes and send back the one that doesn't fit best. After you know your Golden Goose sneakers size, they are all consistent between styles.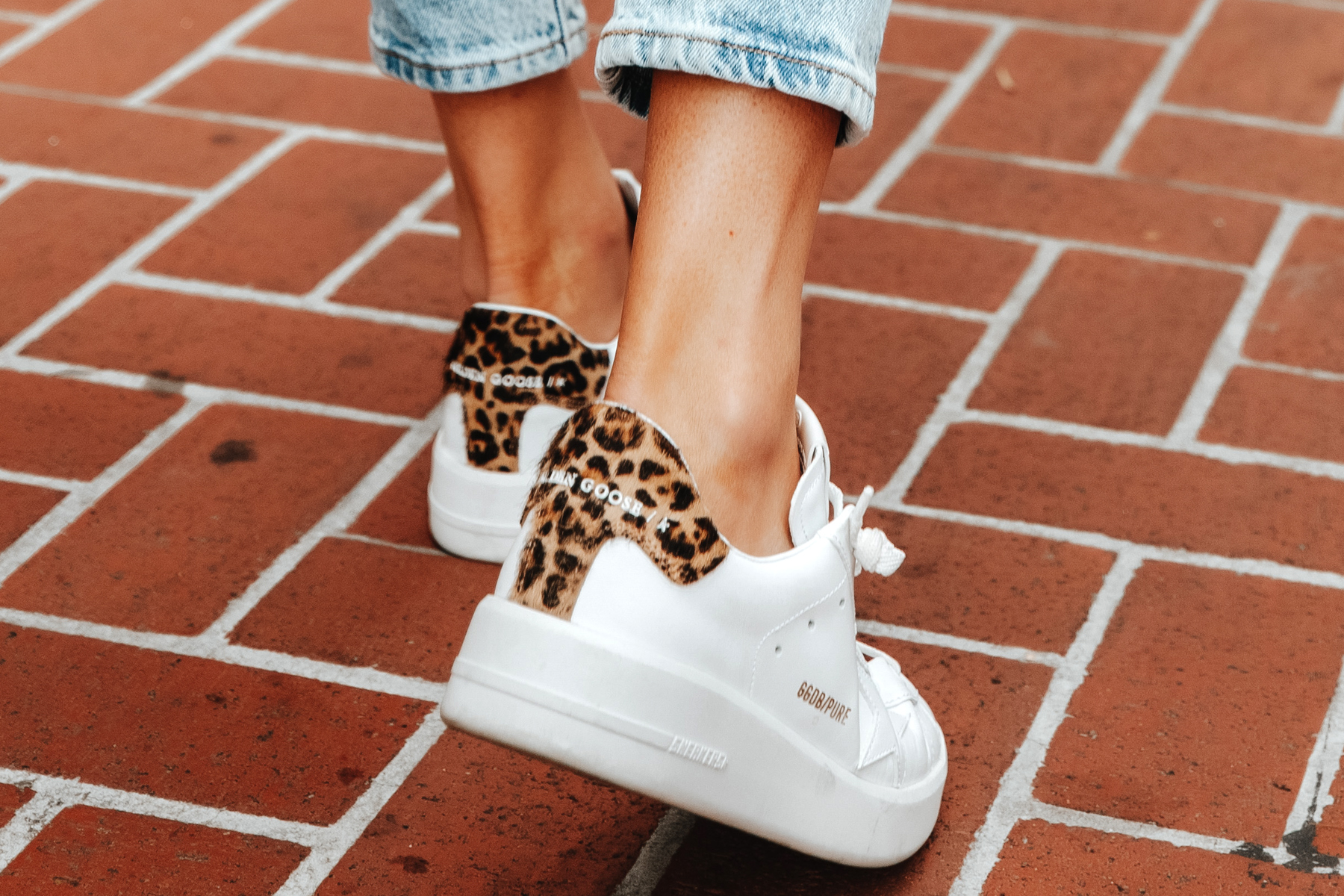 PURESTAR vs. SUPERSTAR
Looking at the two side by side there are a lot of differences. The PURESTAR are definitely the "cleaner" style of sneaker. If you prefer the look of clean white sneakers or don't want to pay for already dirty sneakers, this is the pair for you. However, you definitely have to be more careful with them as scuff marks show up a lot quicker than with traditional Superstar sneakers. PURESTAR sneakers also have more of a platform sole. The PURESTAR heel height is 1.5" or 40mm so its more elevated than the Superstars with a heel height of 1" or 25mm. Sizing runs the same for the sneakers. PURESTAR are more comfortable out of the box. Both can be tied loosley; I have a tutorial saved on my Instagram highlights under GGDB. Superstars do come in a lot more styles/color combos and typically have more new releases. To me Superstars are the trendier option vs. PURESTARS which are a safer option from Golden Goose, in my opinion.
Are Golden Goose Sneakers Worth It?
Do I think Golden Goose sneakers are worth it? If you wear sneakers a few times a week, then yes. I definitely recommend GGDB sneakers. Read my full review on Golden Goose sneakers here. I have found that Shopbop, Nordstrom, mytheresa.com  and Harvey Nichols tend to have the biggest selection of GGDB sneakers with more sizes stocked. But SSENSE, Net-a-Porter, Revolve, & Farfetch all carry them as well. I have ordered from every single one of these sites, and have had no issues with purchases, shipping, or returns. FYI SSENSE and mytheresa.com has the fastest shipping for being international; I have received orders in less than 48 hours!
This post may contain affiliate links, meaning when you click the links and make a purchase, we receive a commission.
Pictures: Arielle Levy