A couple weeks ago I was in Dallas for a work trip and was finally able to get my hair colored in over a year (literally 14 months). I have been going to Adriana, owner of Revel Workshop in Dallas for 7+ years now and always get so many compliments about the color. At this point I had so much natural growth, I was loving how low maintenance it was and coming around to the idea of keeping it on the "bronde" side. This way as my hair grey out, it could be even more low maintenance and maybe just get highlights once a year. I absolutely love how it turned out and really can't imagine having my hair bright blonde again! Keep reading for exactly what Adriana did to achieve my new bronde hair color. FYI there are no filters on these images so you can see the true before and after hair color.
Before
Grown out highlights/babylights/balayage and not properly cut in over a year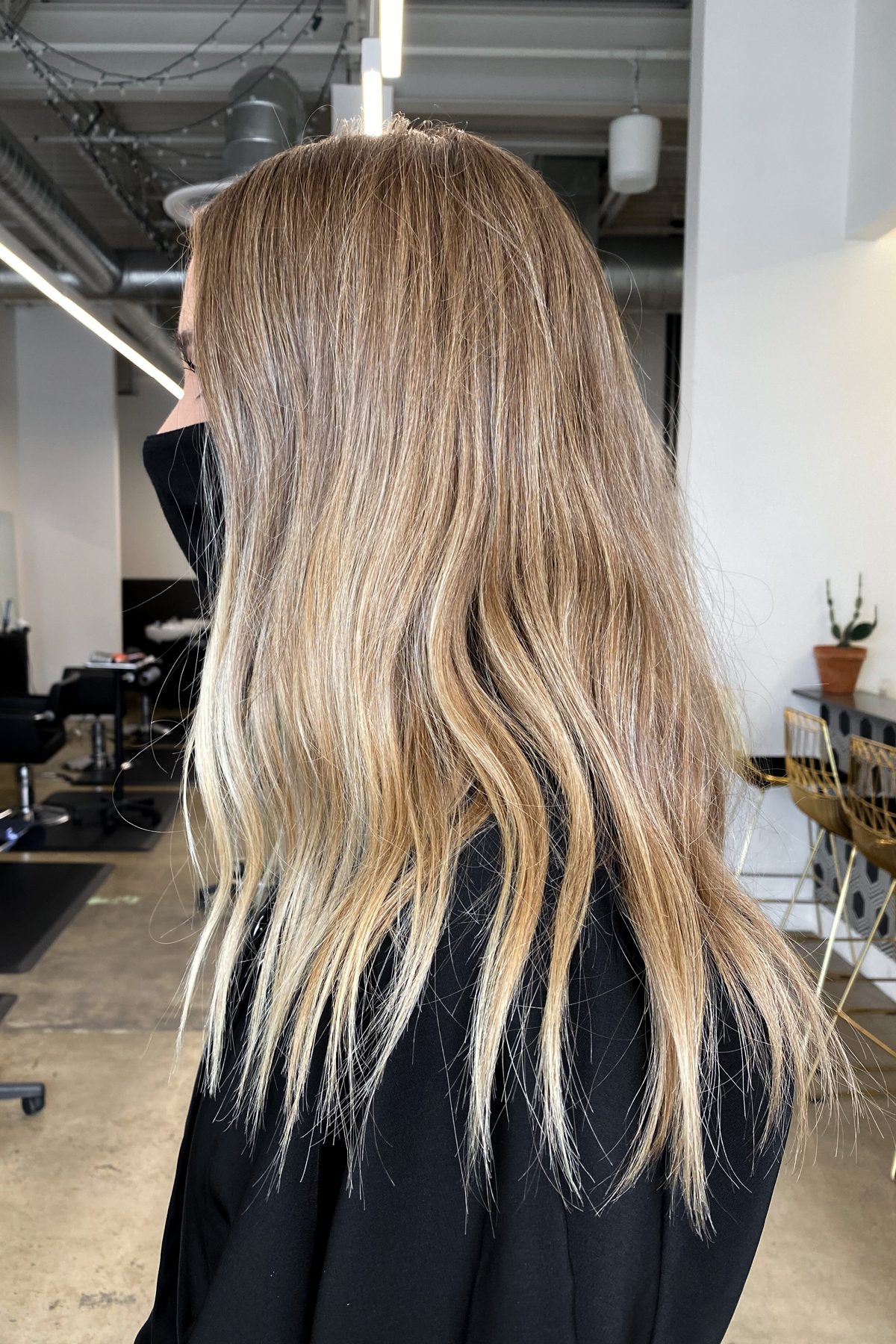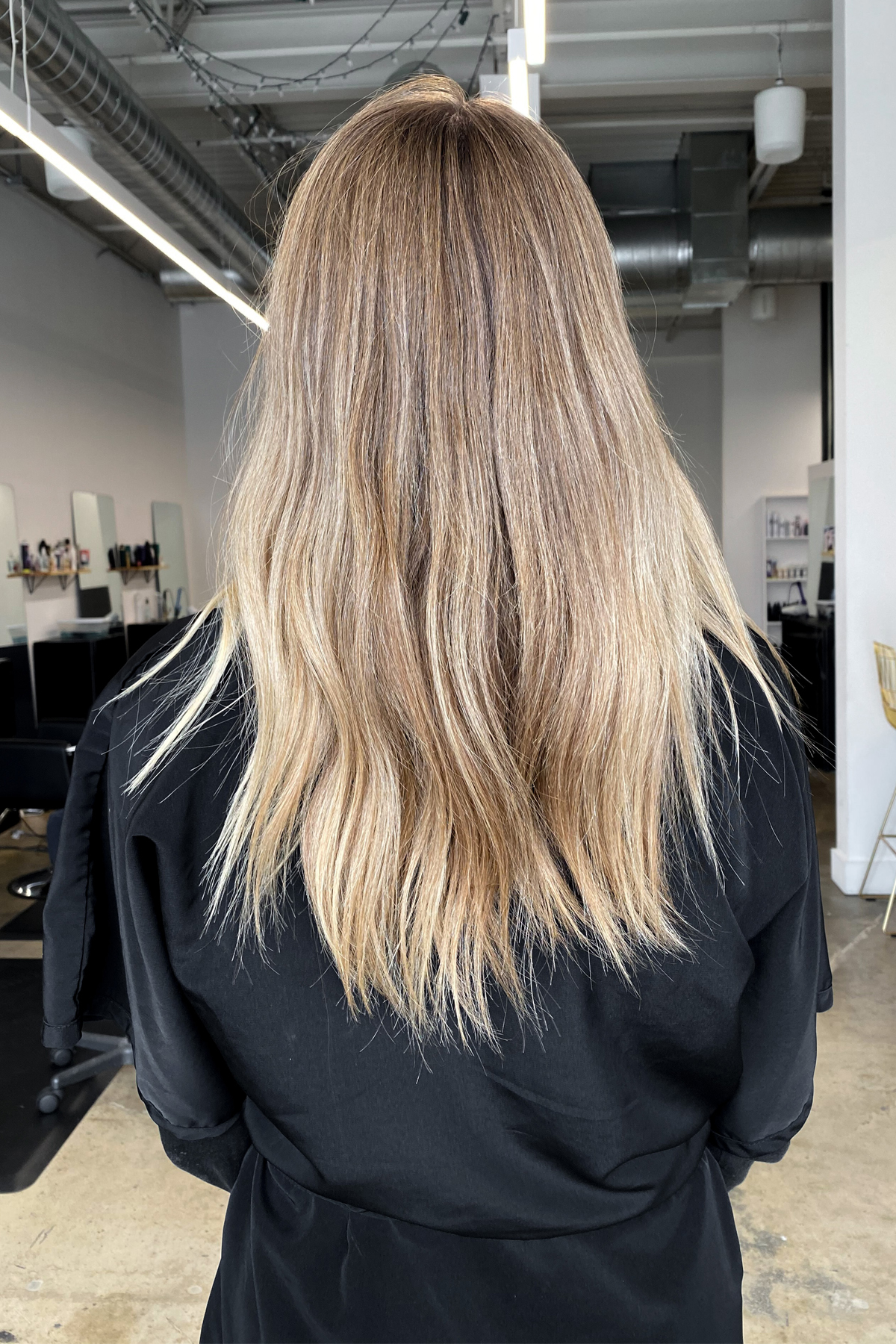 About My Hair
I have naturally fine hair and a lot of it. The texture is more on the wavy/curly side. If I let my hair air dry, its very wavy on the bottom layers. The top portion of my hair dries straight, but that's just due to all the processing over the years. My natural color is dark ashy blonde.
What I Ask My Hair Colorist
We always evaluate my hair at the beginning of the appointment to check out the growth, then determine what I want the final look to be. I keep it pretty much the same with each visit. I used to be very blonde, but it was too high maintenance and it was really damaging to my hair. As mentioned above, I was loving the grown out look of my natural color, so I told Adriana I wanted to go bronde: mix between blonde and brown.
Balayage vs. Highlights
In the past we would alternate between balayage and baby highlights. Balayage is used for the more natural and grown out look. I love doing this because that means I don't have to go the the salon as frequently. If I'm wanting my hair to be overall more blonde, we will do baby highlights (very fine tiny highlights). I really love the look of baby highlights, but I have to go in about every 10 weeks to keep up with the appearance.
For this past visit, we did just highlights/babylights and lowlights.
Bronde Formula From My Hair Colorist
Highlights: Babylights toned with 9GI Redken shades
Lowlights: L'Oreal Pro Richesse 7.23
She alternated 2 hightlights to 1 lowlight. Around my face she only did highlights but didn't pack them in since I didn't want my hair super bright framing my face. She uses a low volume developer and bond builder to help protect and strengthen my hair during the color process. After all the color has been applied, I will sit for 30-40 minutes NOT under a heat lamp. 
After
Fresh highlights/babylights and a blunt cut with no layers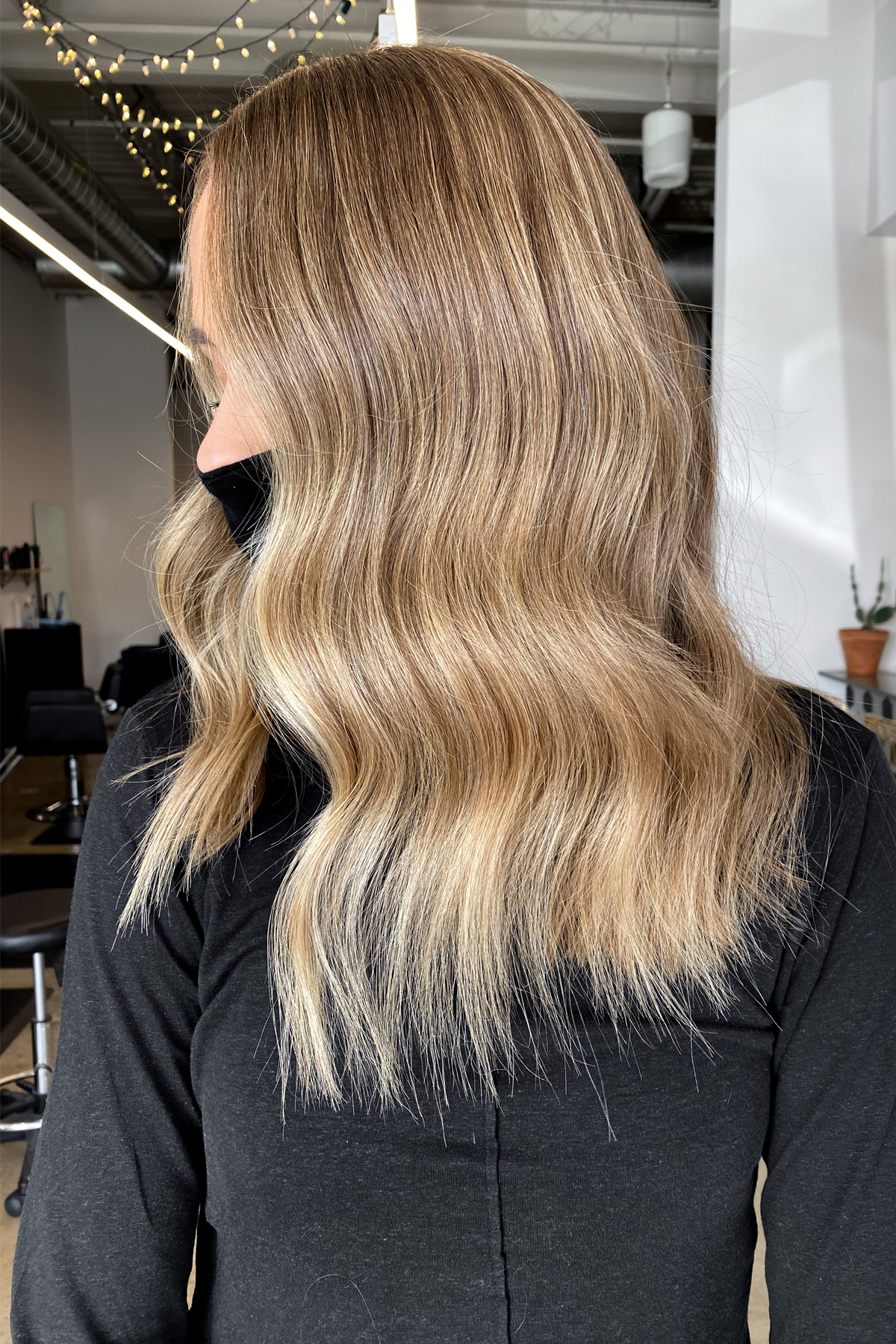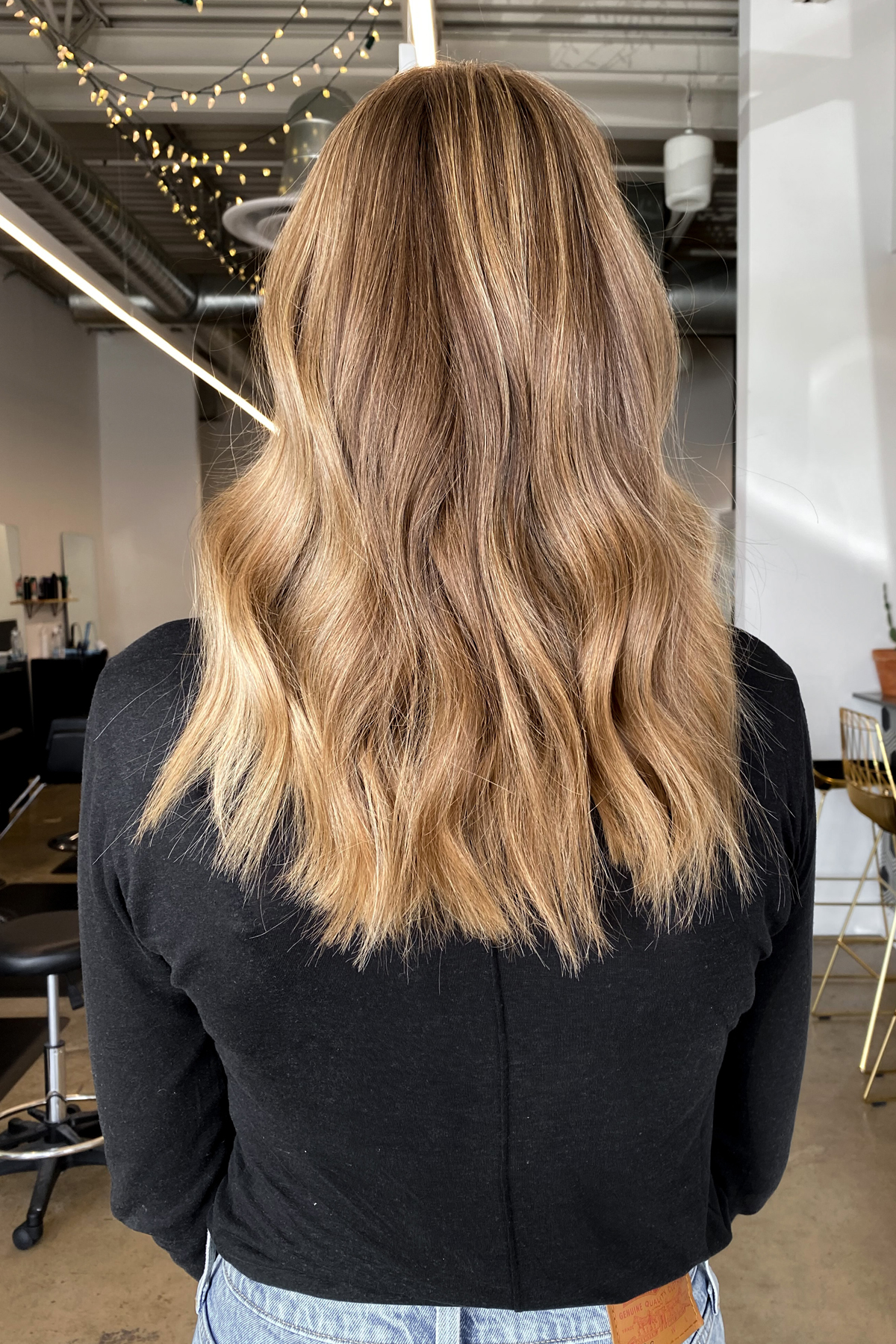 Frequently Asked Questions: Hair 
What dry shampoo do you use?
I love both this one and this one! They are both powder formulas which I prefer over aerosol. I love the texture it adds, and it also helps to lift my roots for a little extra volume. I only have to apply day 1 of not washing, then I typically don't need to apply again until I wash my hair and start the cycle over.
How often do you wash your hair?
Once a week
How do you go so long without washing hair while working out?
I'm a little lucky in this category - I don't sweat very much to the point where my hair seems super wet after working out. I use dry shampoo, texture spray, and I might quickly cool dry it with my Dyson to give it a more clean look. If it's really bad, I'll either put it in a low bun, or wash it.
Do Silk pillowcases help hair?
YES! When I received my first one, I went on a trip about a week later and didn't take the pillowcase with me. I woke up in the morning not only to crease marks on my face, but bent/creased hair marks. I never have this issue when using the Silk pillowcase. It's so much softer for my hair & skin.
Anything for growth that actually works?
I have been struggling to get my hair to grow for decades. I've tried EVERYTHING under the sun, but I think using less heat products, only washing once a week, and going forward hair cuts every 6-8 weeks will help it to grow. If you've tried any plant-based supplements that work, leave a comment below!
How do you get your curls to stay if you don't like hairspray?
I've mentioned before I'm not a fan of hairspray, but I recently started using this finishing spray and I love it! It adds a little texture and grit while giving my curls the flexible hold they need. Definitely recommend this!
How important is heat protectant and how soon to use it before applying heat. 
Always use it! You can apply to wet hair, comb through then begin using heat tools. If you are going to curl your hair after blow-drying, you don't need to apply the heat protectant again. It will work through both drying and styling. This one is the best!
How do you prevent breakage?
Try to limit the amount of heat products you are using. Also make sure to use a hair mask 1-2 times a week. I also swear by this hairbrush. It's truly the best.
Best drugstore shampoo / conditioner?
Anything that is sulfate free
#1 Hair product I can't live without.
Definitely this one. It's a game changer!
What hair products do you use?
I'm constantly trying new products. Right now these are my favorites:
Hair Styling Products & Tools