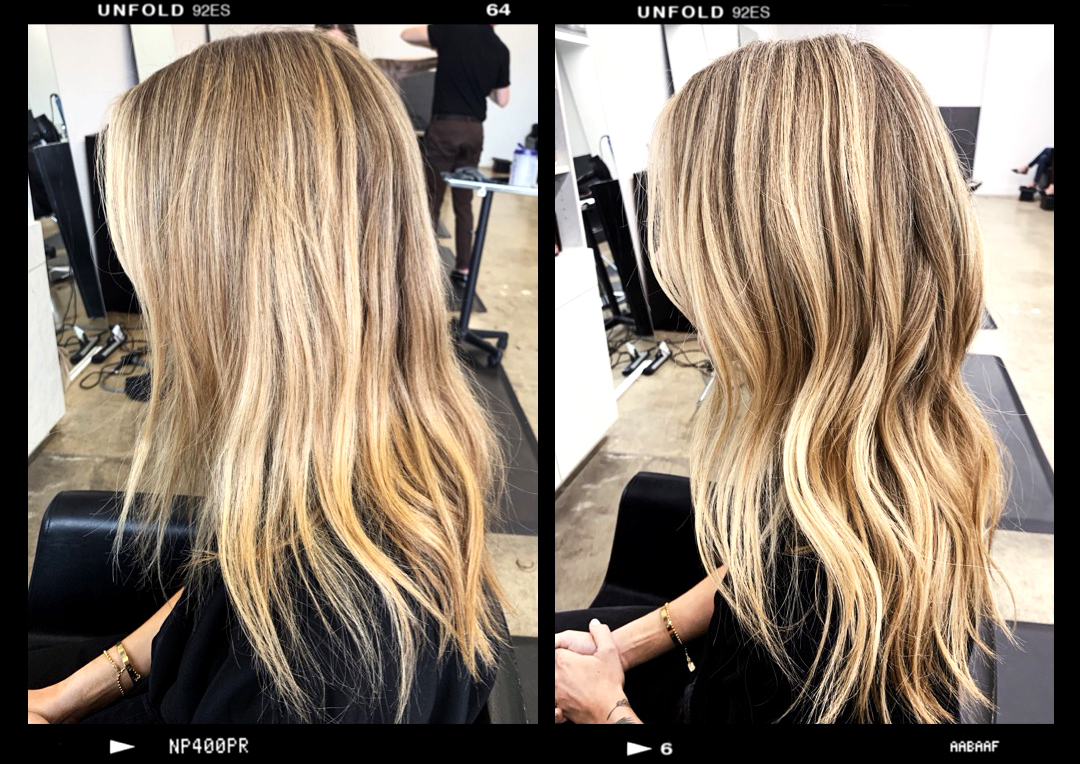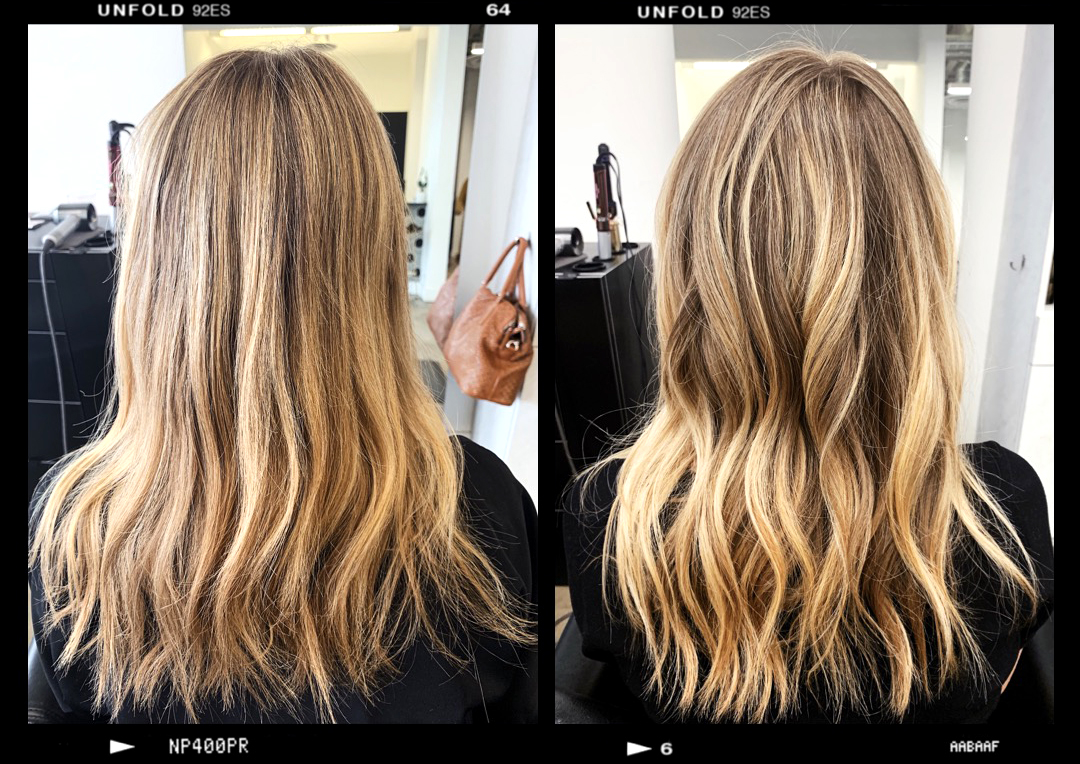 I have been going to Adriana, owner of Revel Workshop, for about 7 years now. I always get so many people asking about my hair and complimenting the color. While I wish I could take credit for it, it's all thanks to the talent of Adriana. I decided to snap a few before and after pics to give you guys a better image of my hair and also fill you in on what I ask for to achieve the overall low maintenance look.
A few things to note. I prefer to keep my hair very low maintenance. So ideally I only get my hair colored 3-4 times a year. In order to keep this low maintenance method workable, I have a few tips & tricks I will share below!
About My Hair
I have naturally fine hair and a lot of it. The texture is more on the wavy/curly side. If I let my hair air dry, its very wavy on the bottom layers. The top portion of my hair dries straight, but that's just due to all the processing over the years. My natural color is dark ashy blonde.
What I Ask My Hair Colorist
We always evaluate my hair at the beginning of the appointment to check out the growth, then determine what I want the final look to be. I keep it pretty much the same with each visit. I used to be very blonde, but it was too high maintenance and it was really damaging to my hair. Over the last 2-3 years I have started to love the look of a warm blonde color. I think a lot of people quickly associate warmth with brassy, which is not the case at all.
Balayage vs. Highlights
We typically alternate between balayage and baby highlights. Balayage is used for the more natural and grown out look. I love doing this because that means I don't have to go the the salon as frequently. If I'm wanting my hair to be overall more blonde, we will do baby highlights (very fine tiny highlights). I really love the look of baby highlights, but I have to go in about every 10 weeks to keep up with the appearance.
This past visit, we did a combination of the two. The baby highlights were used just to brighten the color on the top layer of my hair near the roots. The balayage was done more towards the bottom of my hair to add some dimension and brighten my hair, but keep it well blended to give that natural grown out look.
What My Hair Colorist Does to My Hair 
Regardless of balayage or baby highlights, the products used to achieve my color are the same. She uses a lightener with low volume developer and bond builder. The bond builder helps to protect and strengthen my hair during the color process. After she has applied the color, I will sit for 30-40 minutes NOT under a heat lamp. Once the color has lifted to the desired shade, she will add a toner to balance the old and new highlights together.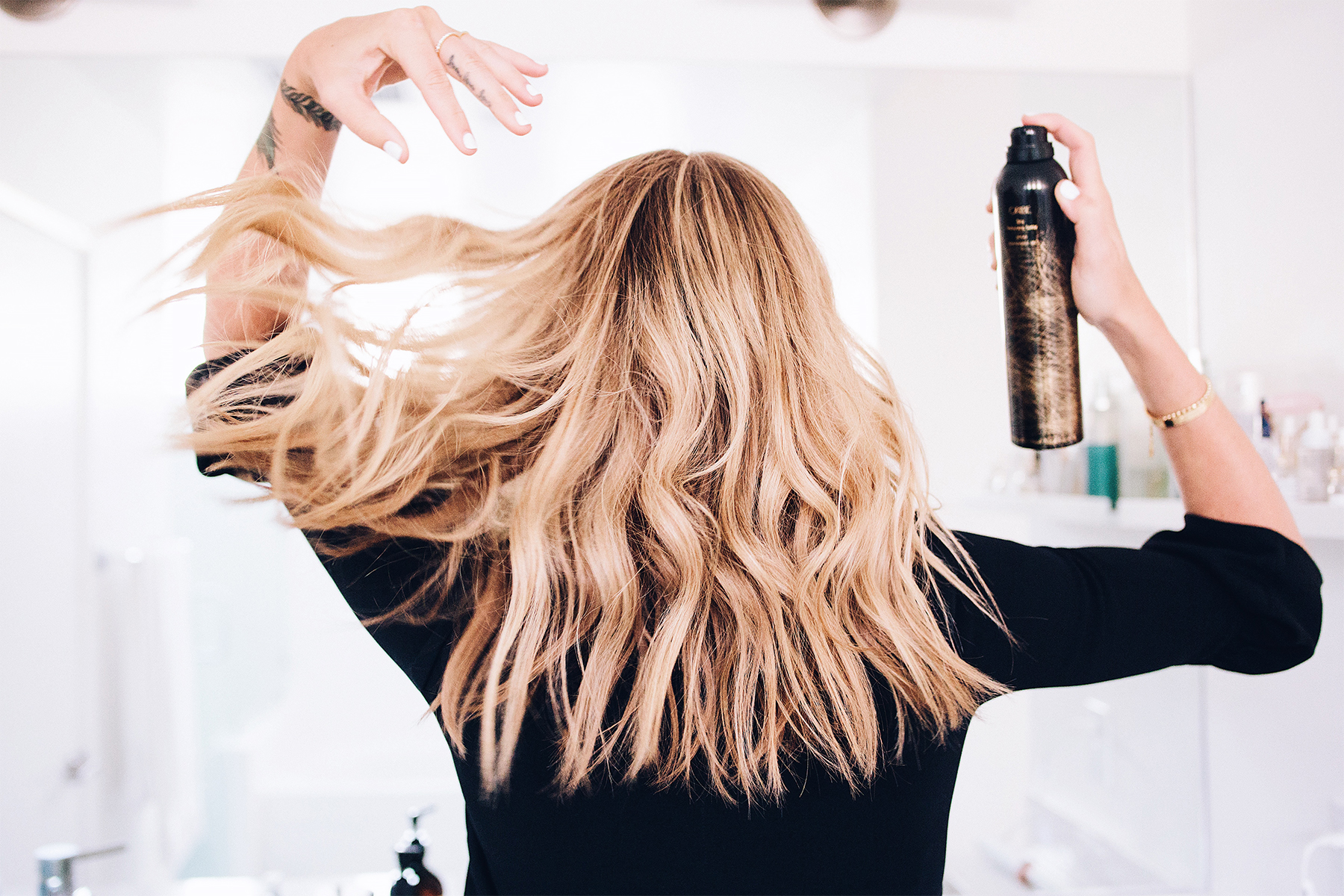 14 Hair Frequently Asked Questions 
What dry shampoo do you use?
This one! It's been my favorite for over a year now. I love the texture it adds, and it also helps to lift my roots for a little extra volume. I apply day 1 and 2 of not washing, then I typically don't need to apply again until I wash my hair and start the cycle over.
How often do you wash your hair?
I try to only wash once a week, but typically its 1-2 times a week.
How do you go so long without washing hair while working out?
I'm a little lucky in this category - I don't sweat very much to where my hair seems super wet after working out. I go to the gym tues/thurs/friday, so I will always wash my hair on Tuesday and maybe Saturday. I use dry shampoo, texture spray, and I might quickly cool dry it with my Dyson to give it a more clean look. If it's really bad, I'll either put it in a low bun, or wash it.
Do Silk pillowcases help hair?
YES! When I received my first one, I went on a trip about a week later and didn't take the pillowcase with me. I woke up in the morning not only to crease marks on my face, but bent/creased hair marks. I never have this issue when using the Silk pillowcase. It's so much softer for my hair & skin.
Anything for growth that actually works?
I have been struggling to get my hair to grow for decades. I've tried EVERYTHING under the sun, but most recently I started taking Nutrafol and I think its really working! I have been taking the pills for almost 3 months, and that's the point where I feel like I've noticed the biggest difference. Not only is my hair growing faster, it feels so much healthier.
Best shampoo and conditioner for frizzy hair?
This shampoo & this conditioner from R+Co. I've tried these - they were recommended by my colorist, but I use R+Co products and love them!
Why does my hair always turn yellow?
Think of your hair as a white t-shirt. Every now and then it has to be really cleaned. Try a clarifying shampoo to help clean out the impurities from styling and the environment. This one by Oribe (pronounced OR-bay) was recommended by my colorist.
Best products for a bit of volume at the roots?
This one and this one were both recommended by my colorist. Again I love anything from R+Co and Oribe!
How important is heat protectant and how soon to use it before applying heat. 
Always use it! You can apply to wet hair, comb through then begin using heat tools. If you are going to curl your hair after blow-drying, you don't need to apply the heat protectant again. It will work through both drying and styling. This one is the best!
Is purple shampoo necessary for any/all blondes?
If you're a cool blonde, yet. If you're a warm blonde (like me), no. I've never used a purple shampoo before.
How do you prevent breakage?
Try to limit the amount of heat products you are using. Also make sure to use a hair mask 1-2 times a week. Use a comb instead of brush for wet hair.
Best drugstore shampoo / conditioner?
Anything that is sulfate free
#1 Hair product I can't live without.
Definitely this one. It's a game changer!
What hair products do you use?
I'm constantly trying new products. Right now these are my favorites:
Make sure to read this post on "How I curl my hair with the T3 wand" and this post "Is the Dyson Hair dryer worth it?"