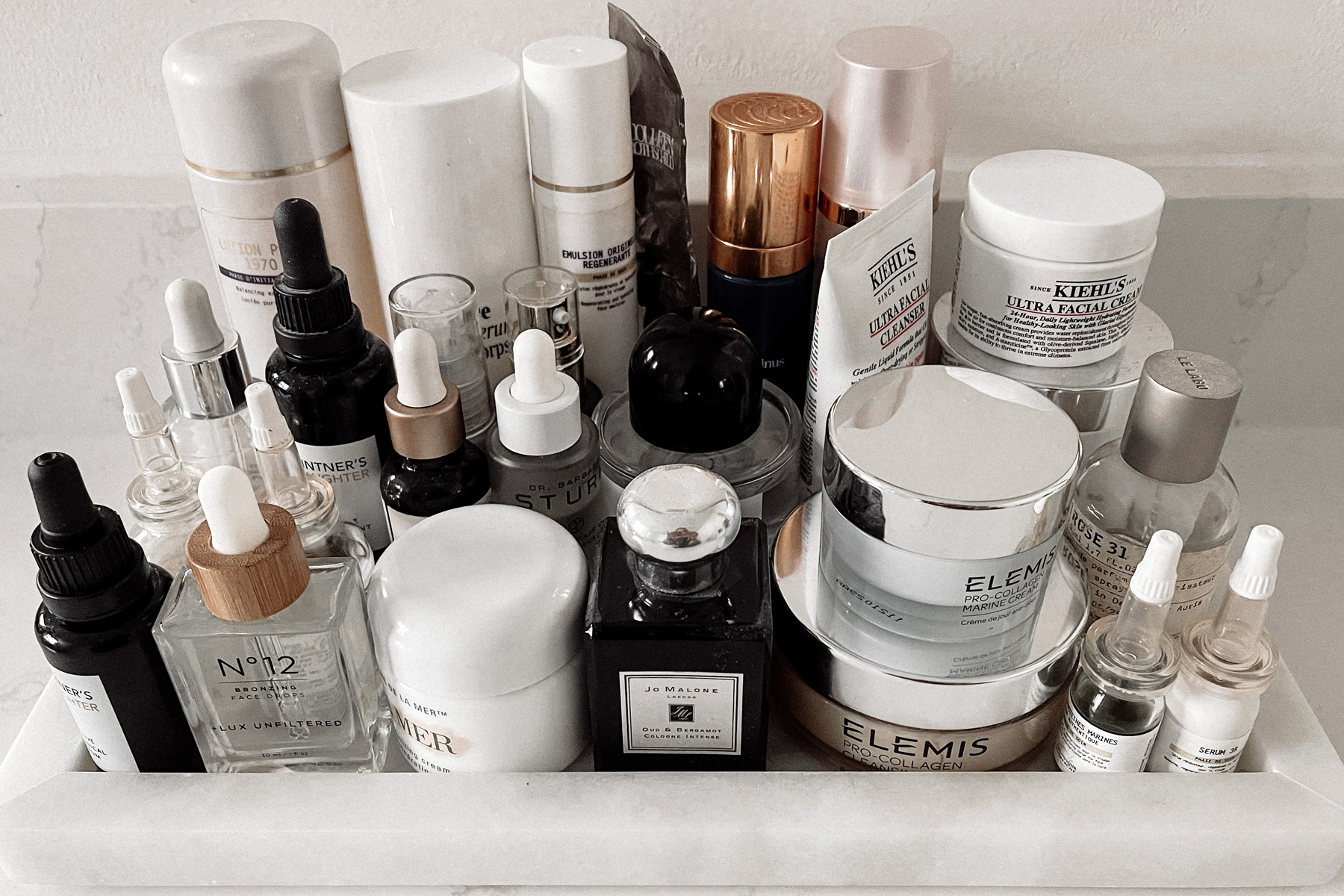 In my early 20s, I was way too concerned with partying and figuring out how much money my roommate and I needed for a night out on the town followed by pizza to worry about much else. I patted myself on the back if I remembered to simply wash my face before falling into bed at night! As I got older, though, and more enveloped in the fashion world, I started to realize just how important skincare really is and the difference between skincare in your 30s compared to your 20s.
Why does skincare matter? Well, because it's your skin! Your skin is extremely delicate and is shedding skin cells throughout the day, so keeping it glowing and in good condition is only helping to keep you even more protected against mother nature's elements. A routine you stick to day in and day out can help prevent acne flare-ups, treat wrinkles, and help in maintaining the good health of your skin.
For the longest time, the exact right way to "skincare layer" has been debated. Is it oil first, moisturizer second or vice versa? What exactly is a toner and do I need one? Is the double cleanse really necessary? Because I've spent a lot of time figuring out my own skincare essentials, I wanted to put together the ultimate, no-nonsense guide to skincare steps. I was pretty lost myself when trying to figure out where to start with skincare so, in this post, I'll share the products I use for both my morning skincare routine and my evening skincare routine, and the exact order in which I apply them!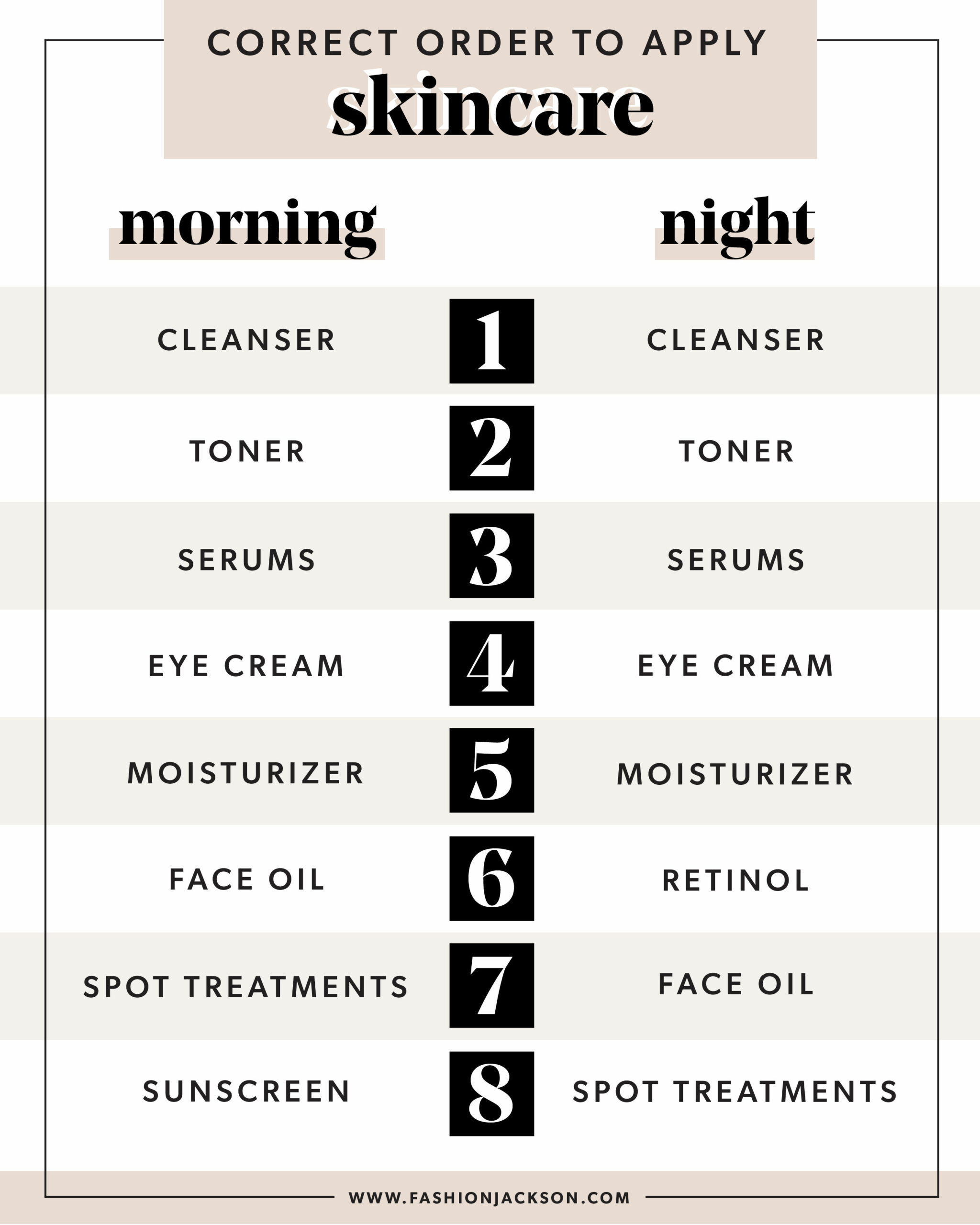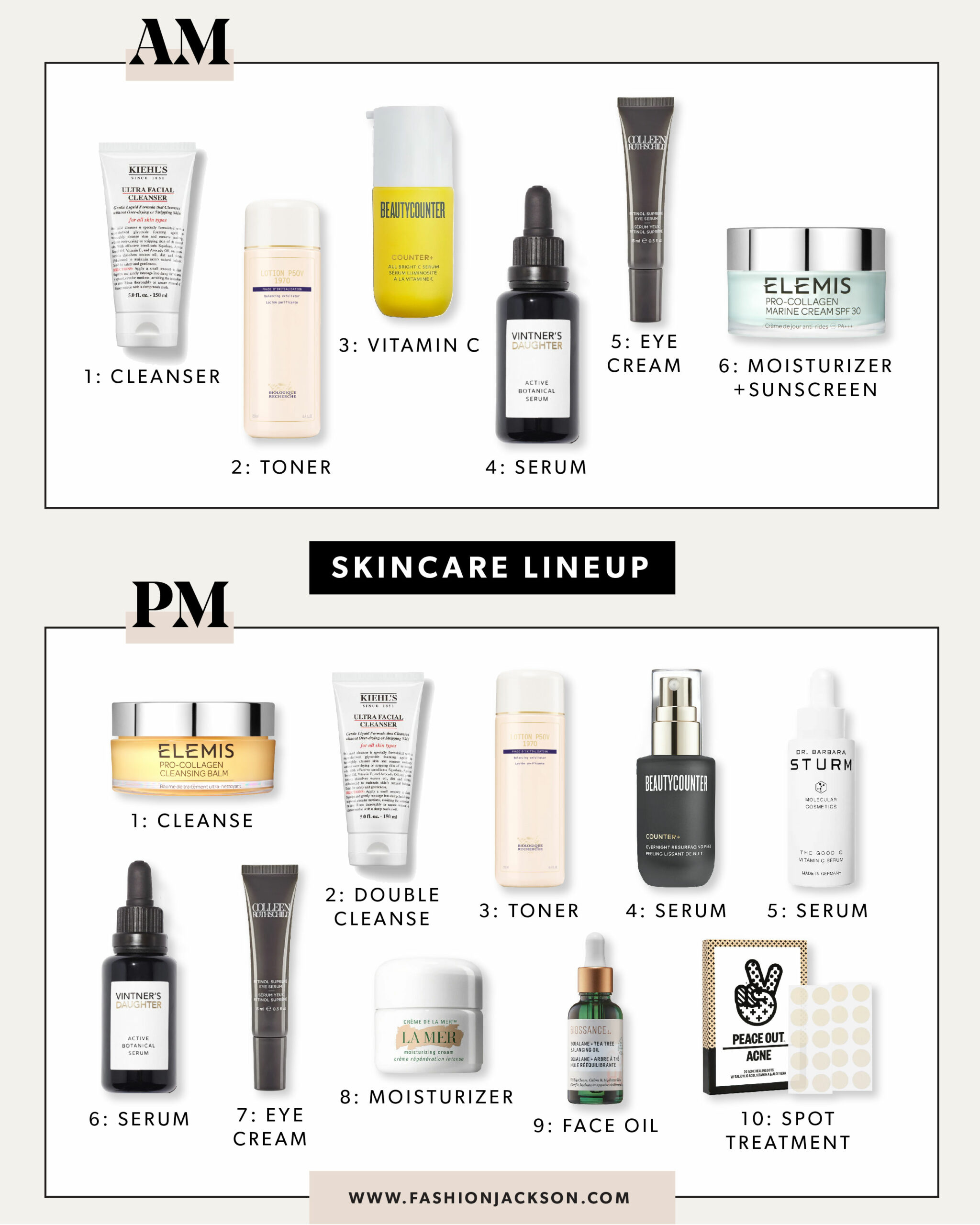 Morning Skincare Routine
After scouring the internet for what order to do your morning skincare routine, I finally found it. The morning skincare routine for glowing skin is as follows:
Cleanser

Toner

Serums

Eye Cream

Moisturizer

Face Oil

Spot Treatments*

Sunscreen
Just 8 simple steps, right?! It seems like a lot, but once you get into the habit of it, it becomes something you look forward to. Now let's go over the exact products I use to achieve all these steps.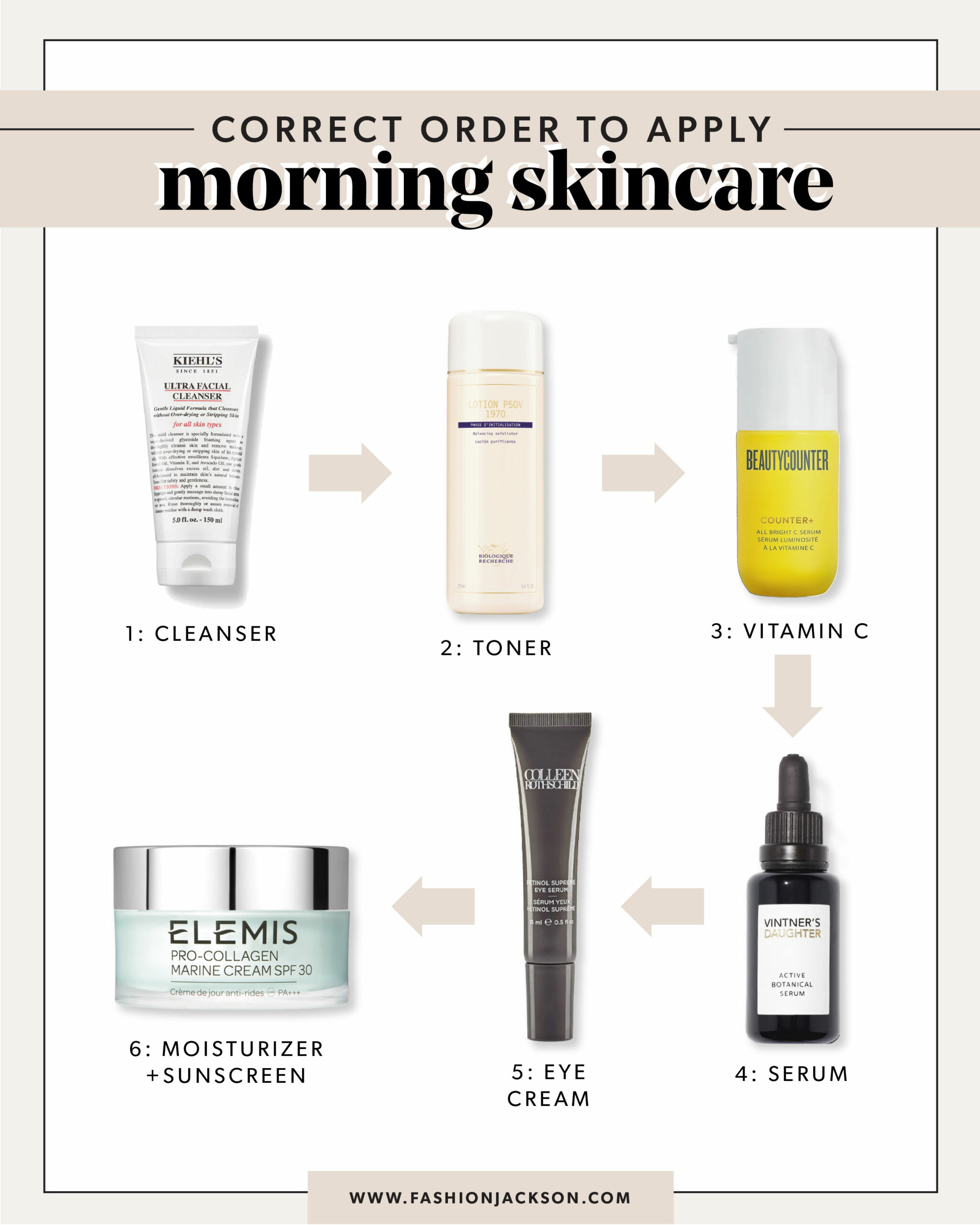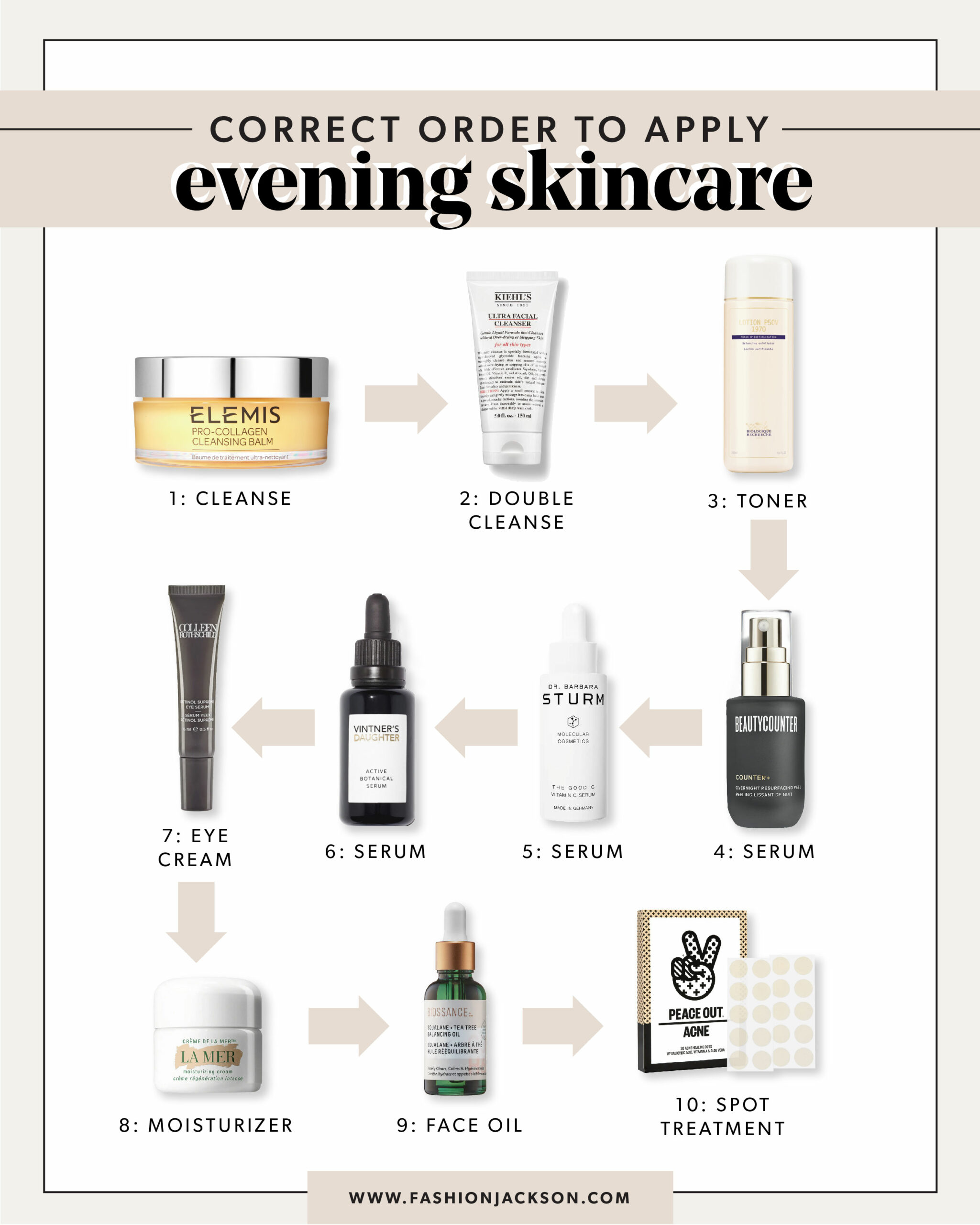 Evening Skincare Routine
Now let's talk about how to layer evening skincare, because although it's not super different, the few changes are worth noting:
Cleanser

Toner

Serums

Eye Cream

Moisturizer

Retinol

Face Oil

Spot Treatments
As you can see, your morning skincare layering order and evening skincare layering order are pretty similar except for the last part. You replace sunscreen with retinol and face oil comes last!
And, of course once I'm in bed, I reach for the best lip sleeping mask ever by Laneige. This is wildly popular because it's so effective. The Laneige lip sleeping mask has saved my lips and works to keep them hydrated overnight!
I hope this ultimate, no-nonsense skincare guide has helped clear up any questions you might've had about in what order to apply skincare products and maybe even inspired you to try a few new one that are FJ approved. Taking care of your skin is so important the older you get and has become my favorite morning and evening routine!
P.S. Answering popular beauty questions here & my favorite beauty products here!
This post may contain affiliate links, meaning when you click the links and make a purchase, we receive a commission.