When I was younger, US Weekly magazine was my favorite thing to pick up every single week. Of course, I loved catching up on the latest celeb gossip and fashion, but my favorite section was always the What's In My Bag section where a celebrity would quite literally spill her bag to show what she carried with her at all times.
Over the years, I've become super particular about how I organize all the bags in my life from my travel bag to my makeup bag and, of course, my everyday bag. Keep reading to see what's in all my bags and how I organize them!
Everyday Bag
It's safe to say my Celine Belt Bag is my favorite everyday bag. I've pretty much used it non-stop since I bought it nearly 5 years ago. You can read my Celine Mini Belt Bag review here. As far as what goes inside the bag; I don't keep much in my everyday bag, truly just the essentials. Of course, I always have a mini makeup bag on hand for the on-the-go makeup essentials, but below are a few other things I think every woman should have in her purse.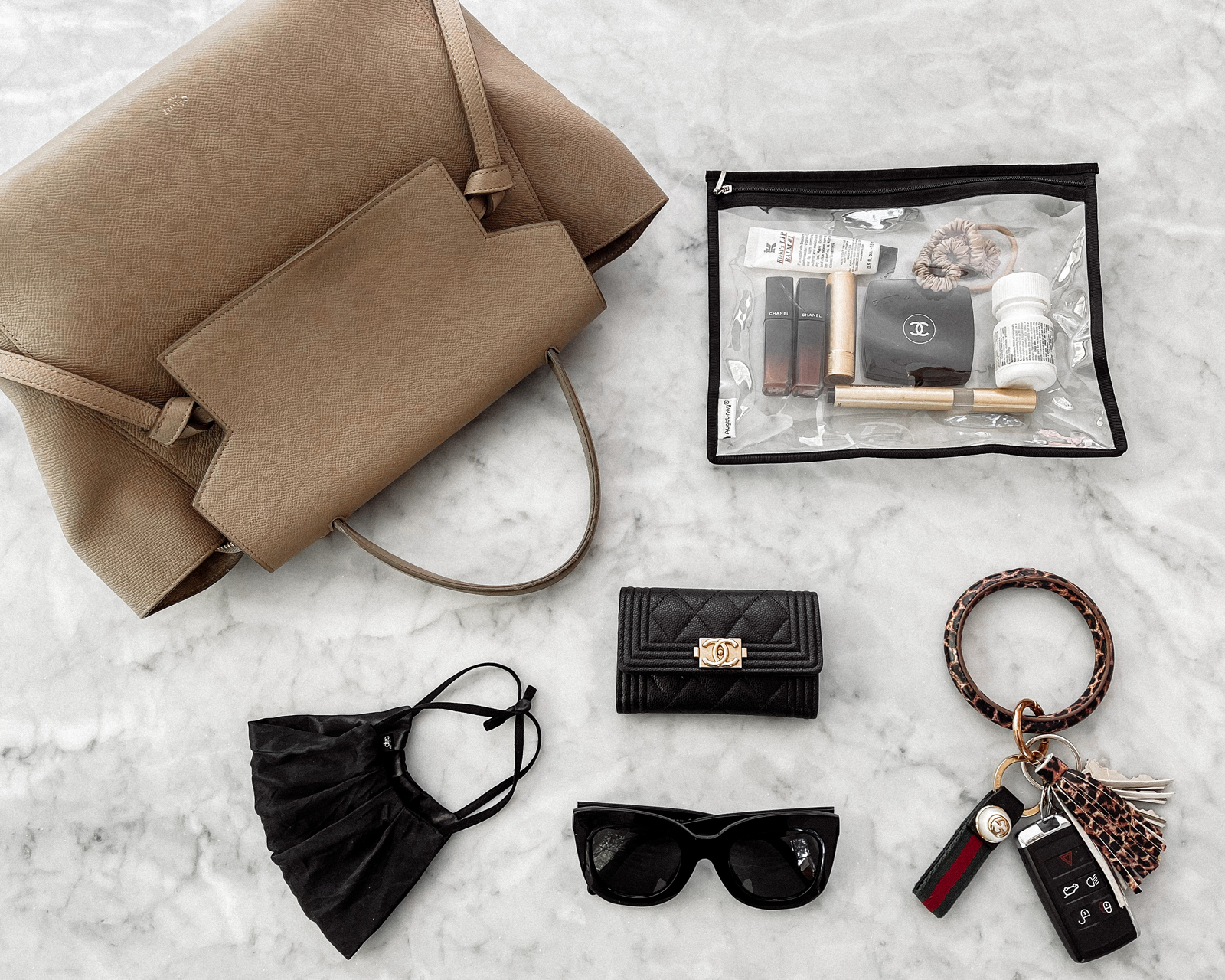 SMALL STORAGE POUCHES: Seriously you need them everywhere you can have them. I use the small size for my everyday handbag. Perfect for storing my on the go makeup essentials and things every woman should have in her purse
WALLET: I personally like a smaller wallet or card holder because it takes up less space and that way I don't fill it with unnecessary items.
KEY RING: This key ring has been a game changer for me. I literally don't know how I'd ever be able to track down my keys without it. Plus its great if I'm just running a quick errand and don't need to take my entire handbag with me. 
MISCELLANEOUS ITEMS: I never leave home without my face mask or sunglasses!
Click images to shop products directly.
Travel Bag
Having a carry-on catch-all that you love is essential for travel. I love my Goyard for travel and always pack it for a vacation. I consider it both my vacation carry-on but also pack it like a work bag for travel when necessary! Read my Goyard Louis GM tote review here. All of my Amazon travel essentials are in this post!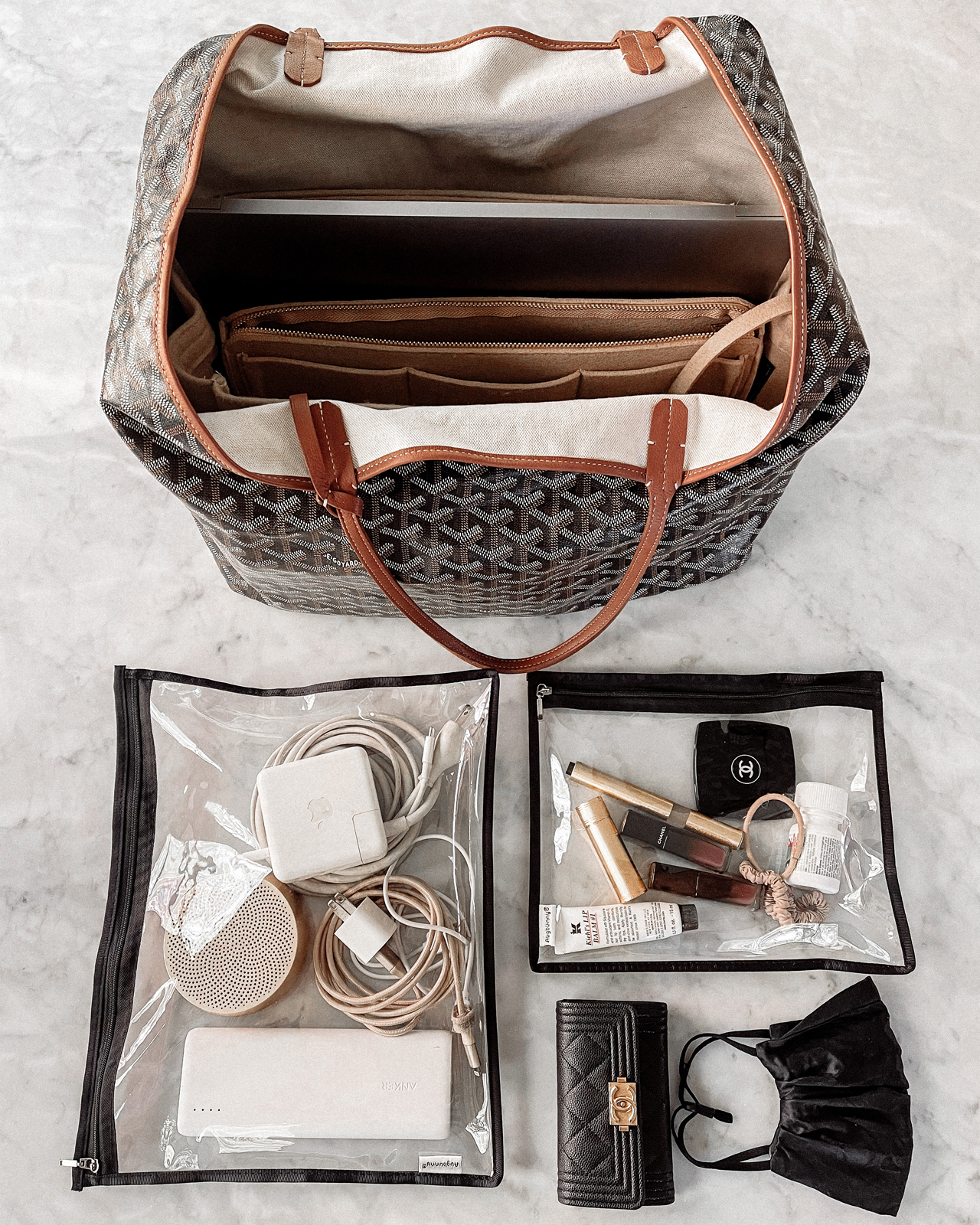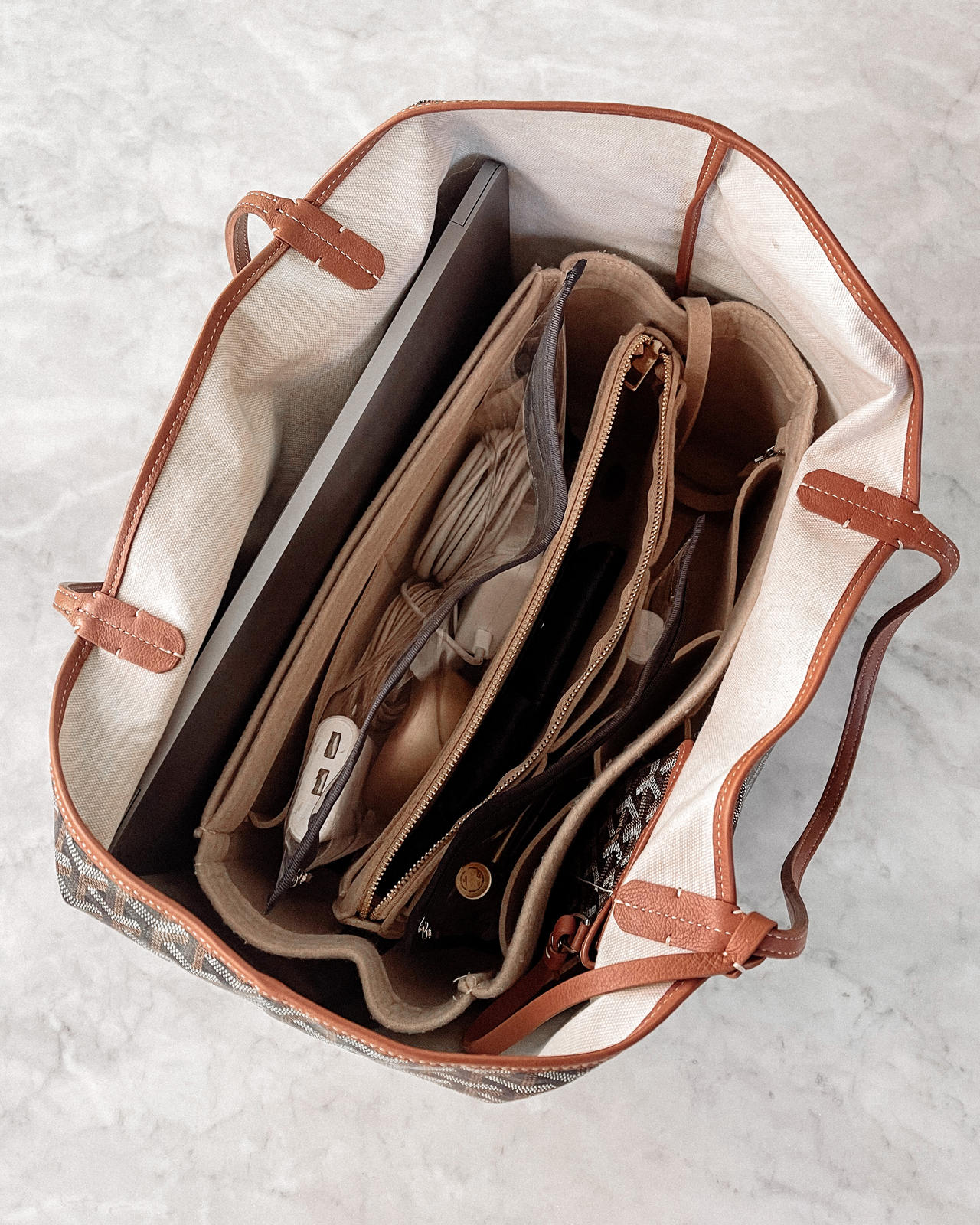 TOTE ORGANIZER: This was one of the best purchases I made after getting the Goyard tote. Not only does it provide structure to the bag, its a great way to organize my travel/work bag.
LARGE STORAGE POUCHES: These clear storage pouches really come in handy. I use the large size for storing all my electronics/cords/charges/etc. It keeps everything organized without getting tangled.
MISCELLANEOUS ITEMS: Face mask, water bottle, and laptop case, are a few other items that can be found in both my travel and work tote.
Click images to shop products directly.
Makeup Bag
So now the question is, what's in my makeup bag? I try to keep my daily beauty routine to the bare minimum so you'll only find my top beauty essentials and can't live without makeup in my daily makeup bag. The best way to pack a makeup bag for travel is in one big pouch like this Cuyana case and a few clear pouches so you can see exactly which makeup is where at all times!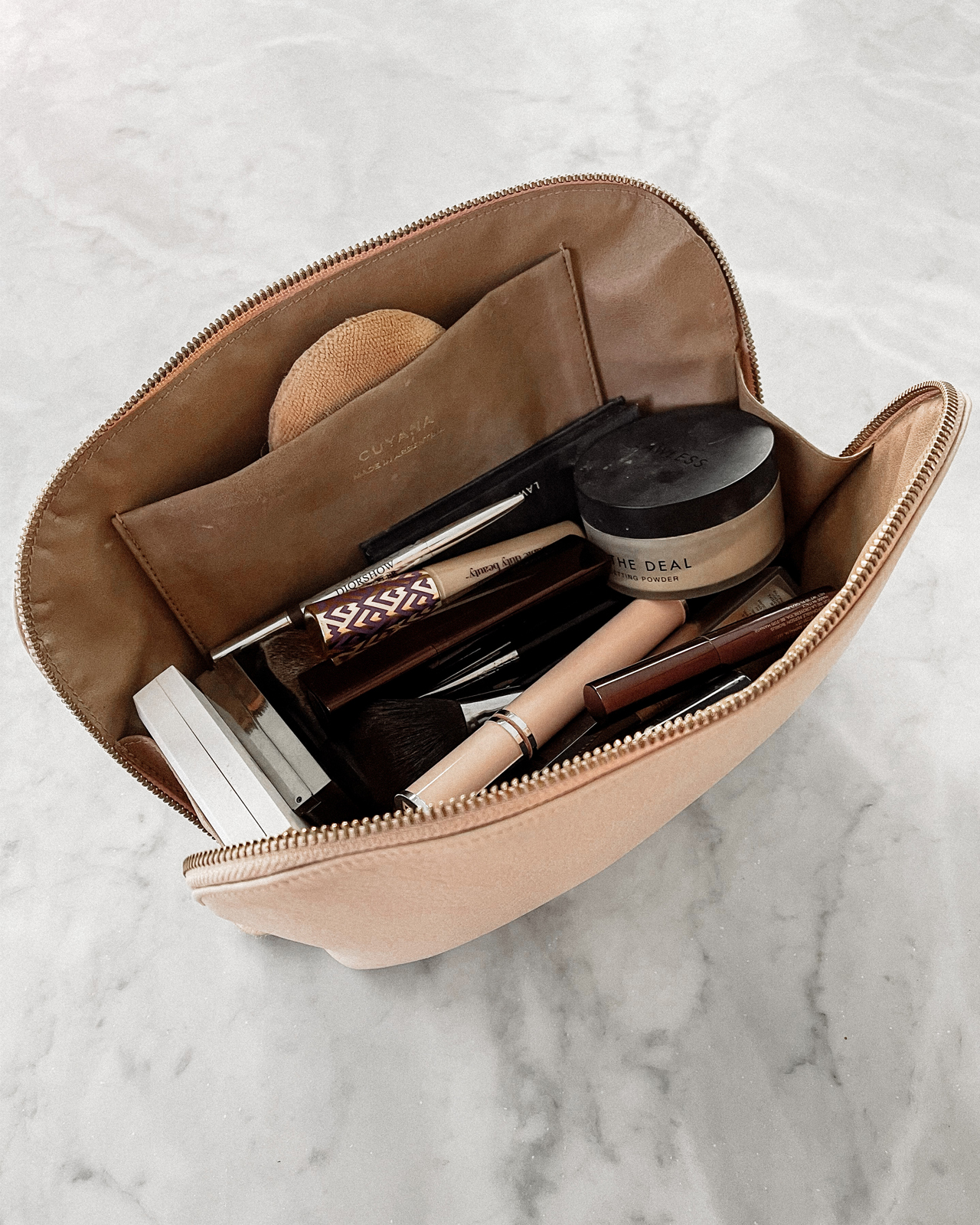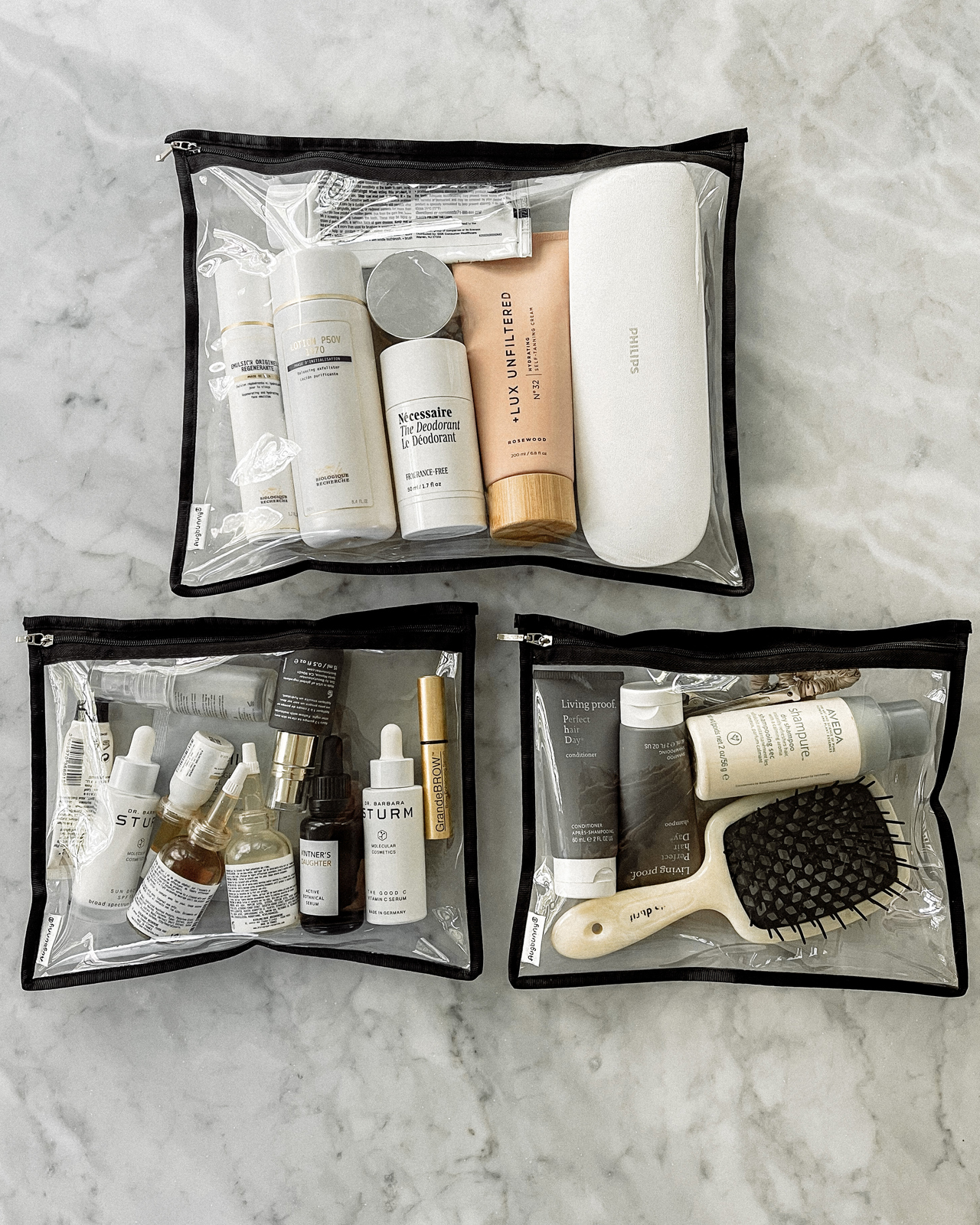 SMALL STORAGE POUCHES: I keep some of my skincare, haircare, and beauty essentials in these clear storage pouches. They keep everything protected while traveling.
MAKEUP CASE: While the clear storage pouches could also work for my makeup, I've had this leather makeup case for years and its my absolute favorite. I keep all my makeup including my makeup brushes in these cases for travel. Truly one of the best items I own.
LARGE STORAGE POUCHES: For oversized beauty products like my electric toothbrush, lotion, deodorant, etc. the large storage pouches are my go-to. They are the perfect catch all for all my beauty favorites.
Click images to shop products directly.
This post may contain affiliate links, meaning when you click the links and make a purchase, we receive a commission.