Welcome to the weekly Everyday FJ series. Here I'll be sharing a little bit of everything; home updates, life updates, travel plans, what I'm shopping for, Nashville spots I've tried, discount codes, and really anything from the week that you guys might be interested in. I got a lot of requests with what you would like to see here, and it is actually helping me for future blog posts. I wanted this series to just be a true "everyday FJ" anything and everything. As always thank you so much for your support and following along, I truly appreciate you all. If you have a question or request, fill out the contact form or follow along on Instagram and send me a DM.
Discount codes updated weekly at the end of this post.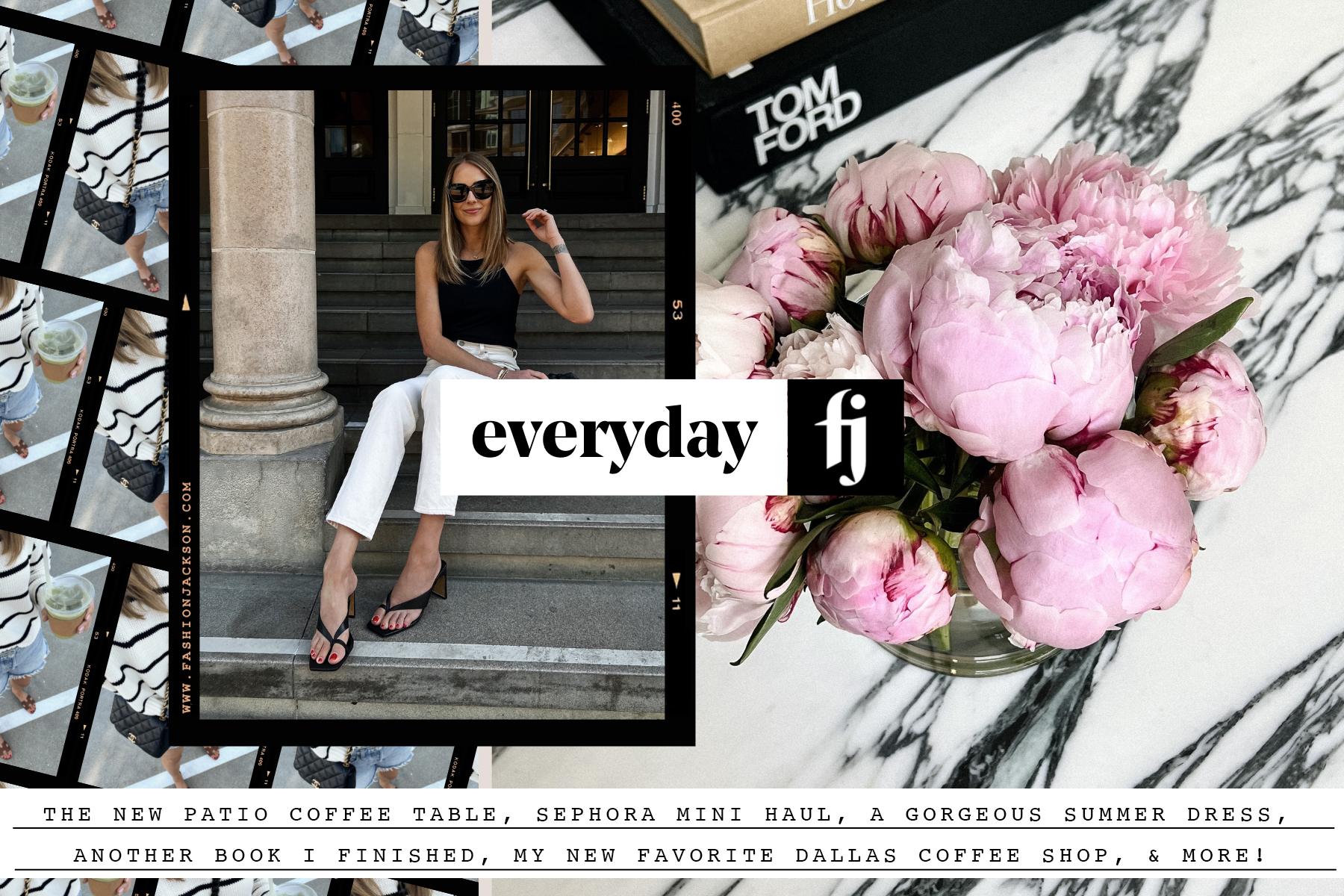 Q: Help! Can you post some fun wedding guest outfit options? Attending a wedding this year and need inspiration! 
A: Yes! I rounded up 12 gorgeous bright and fun wedding guest dress options here! Options for anything from beach to formal summer weddings!
Q: Love the white dress from Amazon, I bought 3 more colors! Can you do more from Amazon please 
A: Glad you loved this dress! It's one of my favorites. I actually have a ton of posts on Amazon! You can see them all here and visit my Amazon Storefront here!
Q: Where did you get your mouse pad from? 
A: I had so many questions about my mousepad, blue light glasses, and mouse when I shared this pic! Everything linked here!
Q: The denim shirt jacket you wore traveling, what size do you wear?
A: Normally I would have bought a small, but I really wanted it to be an oversized fit for layering, so I got a medium in this shirt jacket (FYI I'm 5'10 if that's helpful)
Q: Did you recently post a story about the Drbar Blow-Dryer brush? I saw it somewhere but can't find on your site?
A: Yes! I bought the Blow-Dryer brush a few weeks ago and have been loving it! I even convinced a few of my friends to try it too (instead of the Revlon one) and they love it! I love how easy it is to use, gives a great blow out, and doesn't get too hot!

P.S.
Are you a member of the exclusive Fashion Jackson newsletter? Sign up here to get exclusive content, exciting announcements, and much more straight to your inbox!


Q: Your favorite white Madewell jeans, do you buy those in standard or tall? I love where they hit on your. 
A: I have these white jeans in the standard length. I'm 5'10 but love the look of them being slightly cropped! They fit TTS, have stretch, and aren't see though. My favorite pair for summer!
Q: What kind of bra do you wear with this dress (or similar w/open back)? Always love your recommendations! 
A: For dresses like this one and this one, I use these! They are minimal, comfortable, don't show, and last with multiple wears!
Q: What size do you wear in the Amazon long workout tanks? 
A: Literally my favorite workout tanks ever! I take my true size and wear a small. They are fitted and I have a smaller chest. They do have removable cups though, which I love!
Q: Where is your tray from on your nightstand? I love it! 
A: Thank you! I linked it here! It's great quality and under $100!
Q: Where is the robe from you were wearing in your recent reel?
A: Pottery Barn! I've had it for years, it's such good quality.

Q: Do you use an insert in your Goyard bag? 
A: Yes! I got this one from Amazon about 4 years ago and it's such a game changer. Not only does it keep everything organized, it also helps to give the bag structure. I have the GM Goyard tote and the XL tote organizer. If you aren't sure which size to get, just measure your bag and look at the dimensions of the different size organizers online to determine which will fit best! Read here for my Goyard Tote Review. 
Q: Who makes your canopy bed and bedroom rug? I've been on the hunt! 
A: My bed is from Restoration Hardware and my rug is Annie Selke. I have all my home decor pictures/links by room here! 
Q: I love the crossbody from the capsule, but it's already sold out! Have you seen any others that are similar? 
A: It looks like this one has come in and out of stock, so keep and eye on it! But this one, this one, this one, and this one (under $100!) are some great alternatives!
Q: I love your style and get a lot of inspiration from you. Can you share some affordable summer tops? 
A: Thank you! Here are 9 fun summer tops all under $75 and most come in more colors! 

This post may contain affiliate links, meaning when you click the links and make a purchase, we receive a commission.